Art Eddy III
This user hasn't shared any biographical information
Jabber/GTalk: Art Eddy III
Posts by Art Eddy III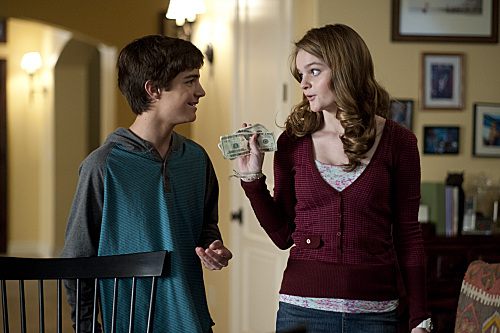 Devon Bagby can be seen in the brand new Showtime hit series "Ray Donovan" as 'Conor,' son to Ray, played by Liev Schreiber and grandson to Mickey who is played by Jon Voight. He has also worked on the DreamWorks animated project "Puss and Boots" and also guest starred on an episode of "CSI: NY."
Devon was able to chat with me about his role on "Ray Donovan" and what he learned from Liev Schreiber and Jon Voight.
Art Eddy: First off I have to say congratulations on having "Ray Donovan" being picked up for another season on Showtime. How exciting was it to hear that news?
Devon Bagby: It was absolutely amazing. I felt so proud of Ann Biderman. Her writing and creation is genius and our team of writers have a talent of bringing her characters to life. I'm always excited for the next script and the table reads brought an energy to our entire team. Just being at the table reads made you feel like season 2 would be coming. Ray Donovan was cast perfectly. Every single cast member brings something unique to the table and there is a character for every audience member to love. I am so blessed to be a part of this team.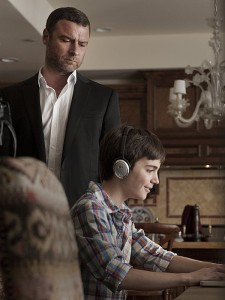 AE: Did you and rest of the cast kind of see this coming since the pilot episode broke records of viewership, becoming the biggest premiere of all time on Showtime?
DB: I think most of us knew it was coming from reading the scripts. You could tell just reading the scripts with the cast members together that something special was happening. I mean really, Liev Schreiber, Jon Voight, Paula Malcomson, Eddie Marsan, Dash Mihok, Pooch Hall, Kerris Dorsey as a family.
Then pack on top of that, Steven Bauer, Elliot Gould, Johnathon Schaech, Denise Crosby, Brook Smith, James Woods, Rosanna Arquette, Ambyr Childers and more. It is just an overwhelming amount of talent. When you have that much talent sitting at one large table, it's like lightning bolts.
I've often wanted to count how many years of experience, how many films, TV shows and plays this cast has accomplished. It would be an amazing figure for sure.
AE: You play as Conor, who is the son to Ray, played by Liev Schreiber and grandson to Mickey who is played by Jon Voight.  What has it been like to work with them?
DB: It's been surreal. I am having the opportunity of a lifetime. They have both taught me so much. They have taken me under their wings and taught me hands on tips based on their experience that you cannot learn in an acting class. I am definitely a better actor after working with them and I learn something new every day. They are forming who I am as an actor along with the amazing directors. I will always be grateful to them.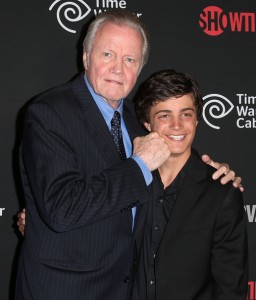 AE: Do you ever ask them about any acting tips since these two have been in the business for a long time?
DB: Jon and Liev have both given me advice. They are eager to make the scene real. That's what I love about them. Between the both of them there is over 75 years of acting experience. As an actor life doesn't get better than that. Ray Donovan is the best acting school any actor could possibly ask for.
AE: How has your character evolved from the first episode to now?
DB: Conor is getting older every episode. He is entering his teen years full force. He is starting to take on some character traits of the male role models in his life. He has a temper but if you notice he has a special bond with his father. He can't lie to him. He has no problem lying but he won't lie to his Dad. Conor also has a way of finding trouble. I have a feeling that Conor will continue to find trouble as we watch him grow up.
AE: What was the audition process like for this role?
DB: I had to go back quite a few times. When I met Ann Biderman, Bryan Zuriff and John Papsidera all together there was a very good energy in the room. The next meeting included our award winning director Allen Coulter. I had no idea who he was as I was only 13. The very minute I met this man I knew I had to work with him. I wanted nothing more in my entire life. The way he directed me during the process brought my instinct out. It immediately felt like i had arrived as an actor. I was blessed the day I met him and I was blessed they all chose me.
AE: You also were in an episode of "CSI:NY." What was it to be on that set?
DB: "CSI:NY" was a great show. I think meeting Gary Sinise was the highlight of "CSI:NY" for me. I respect him as an actor immensely. I hope to work with him again in the future.
AE: What is the next project that you are looking to work on?
DB: When I'm on hiatus from "Ray Donovan", I'm looking forward to a feature film. I have read a few scripts but haven't found the right one yet. I have faith that it will come soon. Things move fast in Hollywood.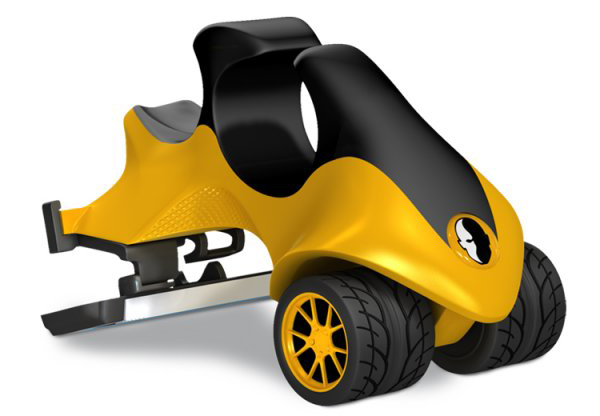 The ATX All Terrain Razor may look like a snow mobile made for an action figure, but the ATX is not a joke. The latest edition from HeadBlade has multiple blades on the razor that allow it to form to your head and a handy grip on the top of device allows you to follow a smooth path all around your head. The blade's grip is designed for your forefinger, middle finger and pinkie finger to slide into comfortably. The circular grip can even be adjusted to fit your hand. You don't need to apply any pressure to the blades since the wheels help out with a perfect shave.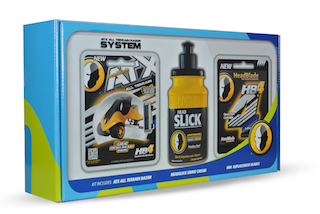 The ATX All Terrain Razor has been in development for over three years. It had to pass four official mandates before hitting store shelves. One was to utilize new multi-blade technology that had flow through design. Second it needed to eliminate the learning curve for anyone who previously used a conventional razor. Next HeadBlade wanted it to be an effective and versatile face, body, and leg shaver. Lastly they wanted it to be a faster, easier, and more efficient head shave than any previous HeadBlade.
The HeadBlade ATX comes standard with our HB4 blades and is also compatible with the HB6. The HeadBlade ATX All Terrain Razor is available with a suggested retail price of $15 at headblade.com.
The ATX All Terrain Razor utilizes HeadBlade's patented finger ring and car-like suspension, but the new design now has the blade suspended in the back by a spring action device, reducing any learning curve and virtually eliminating the chance of nicks or cuts.
So if you are fan of the Lex Luthor or Howie Mandel look you might want to give HeadBlade a try.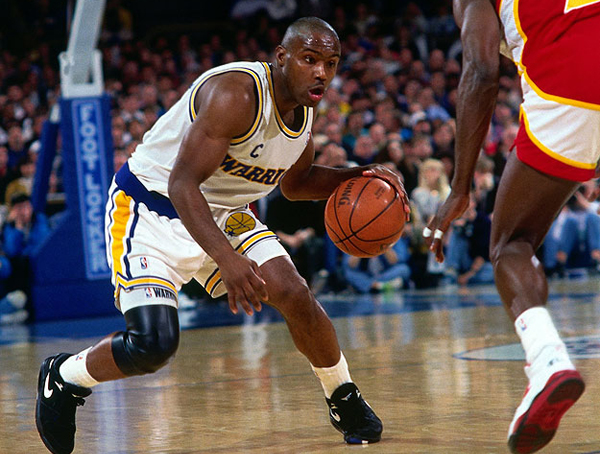 Tim Hardaway was fun player to watch in the NBA. Tim entered into the NBA in 1989 from his college playing days at UTEP. He played for the Golden State Warriors, Miami Heat, Dallas Mavericks, Denver Nuggets, and Indiana Pacers. He was a five time NBA All-Star and had his numbered retired by the Miami Heat.
Now Tim gets to watch his son, Tim Jr. follow his footsteps by playing in the NBA. Tim's son got drafted this year by the New York Knicks. Hardaway also started up the Tim Hardaway Foundation to help kids have a brighter future.
I was able to chat with Tim about his playing days in the NBA, fatherhood, and his foundation.
Art Eddy: You played in college for UTEP and then was drafted in 1989 by Golden State. What was the toughest transition for you from college to the NBA?
Tim Hardaway: I really didn't have a tough transition from college to the NBA because I had the best of both worlds. Every time that I went home during the summer I would play against NBA All-Stars. Michael Jordan, Craig Hodges, Mo Cheeks, Isiah Thomas, Doc Rivers, Terry Cummings, overseas guys, so I had the best of both worlds.
I had a whole bunch of guys that taught me about how to play the game of basketball. I was fortunate to have them to come back to Chicago and play in all the Pro-Am tournaments around the Chicago area. That's how I became confident. That's how I became real tough. So my transition from college to the NBA wasn't that difficult. Plus, I went four years in college so that was great.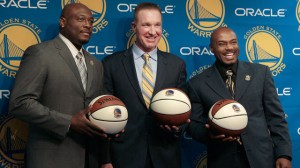 AE: I loved the nickname "Run TMC" given to you and the two other Golden State greats Mitch Richmond and Chris Mullin. How quick was it to build chemistry with those guys?
TH: It was great. You had (Mitch) Rookie of the Year the year I was coming in. You got an established ball player, a two time Big East Player of the Year in Chris Mullin. You had great guys on the team like Rod Higgins, Tom Tolbert, Jim Peterson, Alton Lister, Sarunas Marciulionis. You had a great Hall of Fame coach in Don Nelson. Had some great assistant coaches. The organization was great.
I couldn't have thought about coming into a better situation for myself. It was an easy transition for me because I had people that cared about young people and guys who were veterans.
AE: You were known for your killer crossover move that would break ankles. When in your career did you master that and did it become your go to move?
TH: It wasn't my go to move. I just did it. I just came down the court and did it. It wasn't like I was going to do the move on this guy. I just came down the court and did a series of moves. If it was a crossover, it was a crossover. If was me in an in and out move coming off a pick and roll, I was going to pick and roll. I just worked on my game to perfection to do all those things the correct way. I would try and get me and my teammates open for a better shot. I worked hard on my game to get it to where it was real good.
AE: You reached 5,000 points and 2,500 assists faster than any other NBA player, except Oscar Robertson. What did that milestone mean to you? To me that is an amazing stat.
TH: That is an amazing stat. I couldn't have done it without coach giving me the ball and saying, 'Go for it you are running my team.' You can't have assists without guys that can put the ball in the basket. I was fortunate to have all this stuff play out in a way that I like to play and a coach that gave me the ball and said 'run my team.'
I had great guys on my team that loved to play and I loved giving the ball to them. It was an accolade that I never knew nothing about. You always have to get accolades. It was nice then, but I always wanted more.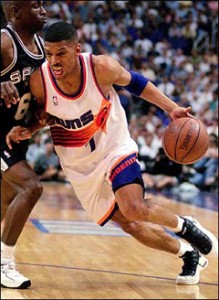 AE: Who gave you the biggest headache on the court?
TH: Oh man, Kevin Johnson. Rod Strickland, Gary Payton, John Stockton. Each and every night you had a game to play. You had Magic Johnson and Byron Scott and Coop (Michael Cooper). Every game was tough. I guess to answer your question the guys that I liked and loved going against were Kevin Johnson was one, John Stockton was two, and Gary Payton was three. It was tough day in and day out on the west coast.
AE: As a father you get to watch your son, Tim Jr., play in the NBA. He just recently got drafted by the New York Knicks. What advice did you give him about playing in the NBA?
TH: I think that he already understands. He is very humble. He is like a sponge. He wants to learn. He doesn't like losing. He is a competitor. He has heart. He has confidence, all you want in a basketball player.
He is going to a team that is trying to get their image to be well liked around the NBA. I think that they have done that. They brought in some key pieces. I think fans around the NBA like what they are doing. He will be a consummate pro. He is going out there and learn and be taught and just like a sponge he is going to absorb everything.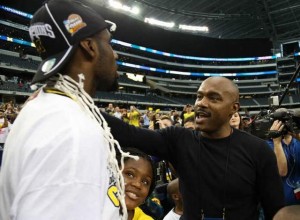 AE: Also he and his fellow teammates at Michigan had a heartbreaking loss in this year's NCAA tournament. What did you tell him after the game?
TH: It was hard to try and tell him anything. I think that he understood the situation. I think the coach handled it in great fashion. They exceeded all expectations. If it wasn't for Behanan getting three or four offensive rebounds they could have won. They took it as well as I expected.
I didn't have to say nothing. When I asked him, 'How are you doing?' He said, 'It hurts, but I am fine.' That was the extent of our conversation. That was if for that. As long as he said he was fine. You got to let your kids, like I was brought up, you got to let them get through the bumps and bruises. The good and the bad and the heartbreaks of the game. They did that all season long. It is going to prepare him for the next challenge in his life in the NBA.
AE: Tell me about the great work you do with your foundation.
TH: The Tim Hardaway Leadership Academy is about reaching out to the kids and preparing them for life. Making sure that we care about them. Making sure that they understand to respect themselves. Go to school and get their education. Respect their parents. Respect the teachers that are teaching them.
My grandmother always quoted Martin Luther King, 'Be somebody.' Make your parents proud. We are going to help you out with tutoring. We are going to help you out with counseling. We are all here to build a village. It is just not one person to build a village. Everybody has to come out and build a village. That is what we try and do. We are out here as a team and helping each other and working with each other to strive for better in the world. That is what the Tim Hardaway Leadership Academy is all about.
AE: What motivated you to start that up?
TH: People gave back to me. I wouldn't be here today if people didn't give back to me. They opened up their eyes and helped me out to keep me off the streets of Chicago. They cared about me to point me in the right direction. You don't need to go there. You need to go this way.
I had parents too. A lot of kids don't have both of their parents. I was lucky. I had both of my parents. Even though my parents were divorced, my dad used to live right down the street. My mom would him and say the boys are acting up. He would be there Johnny on the spot with his belt ready to discipline us.
I wish more kids had both of their parents, their moms and their dads especially their dads. No matter if you are a girl or a boy. You definitely need your dad in your life. People gave back to me. I want to give back to them to help these kids out. These kids are our future. I am on my kids every day. Talking to them and making them understand saying, 'No that wasn't right.' You got to have them accountable for what they do. If they aren't accountable for what they do than they can go anywhere and do anything that they are not supposed to do. So that is why I am here and I am doing it.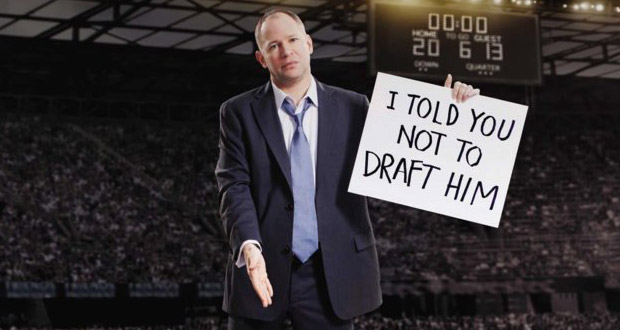 If you are into fantasy baseball or football leagues you know the name Matthew Berry. The man dubbed "The Talented Mr. Roto" can be seen on ESPN or heard on podcasts everywhere breaking down who you need and should draft for your fantasy league.
This month Matthew released his book called "Fantasy Life." Whether you are a fan of fantasy leagues or not this is a must read. There are stories in this book that will inspire you, make you cry, make you laugh, and reassure you that you are not as crazy as you thought. There are stories of people eating moths as a rite of passage to get into one league and in another league you must get a tattoo if you come in last place. See you and your league are not so crazy after all.
"Fantasy Life" is a great read. You find out where Matthew got his start in the entertainment field and at what age he started his journey into the fantasy sports world. Get the book here!
Matthew was able to chat with me about the book, working at ESPN, and he even gave me his top three players that you should draft for this year's fantasy football league.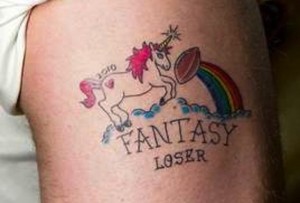 Art Eddy: Lot of questions I want to ask you, but let's start out talking about your fantastic book "Fantasy Life." Love all the stories that you share whether they are your own or if they are from other people like the tattoo league. When did you realize you wanted to write this book?
Matthew Berry: This is going to sound a little bit trite, but it is a two part answer. The trite part is I felt like I finally had a last chapter. Book starts off with me as a fourteen year old boy in my very first fantasy league. If you have ever read my columns you know that I always put in a personal story in every single column.
Every chapter has a personal story in my life starting when I was fourteen years old ending up at ESPN, married, and the birth of my daughter. So I felt like I finally had kind of a last chapter that the journey, not over, but completed. At least that particular journey. From point A to point B that coincided with the rise of fantasy sports in America.
The other thing was that I had so many stories that I wanted to do something with them. I didn't have any place to put them. You mention the tattoo league. There are these guys in Omaha, Nebraska called the tattoo league. Go to YouTube and search "tattoo league" and you will see it. It is hilarious. The loser of this league has to get a tattoo chosen by the winner. It is unreal. There is a twenty five year old guy that is walking around Nebraska right now with a tattoo of Justin Bieber's face. They sent me that. They have done this for three years now. I am like I got to do something with that. I got to put this in a book. I got to do something with this. So those were the two things.
AE: You started playing in fantasy leagues at the age of fourteen. There are a lot of mentions in your book where how leagues worked back in the day to now. Smartphones and tablets help people out these days. Are you a traditionalist or are you happy with all the great innovations there are now for the world of fantasy leagues?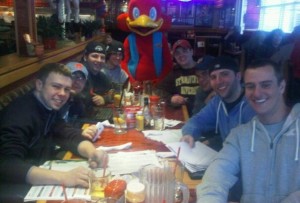 MB: To answer your question it is a little bit of both. Obviously I like the fact that I can play fantasy football on my phone or my iPad. The one thing that I am old school about is and is kind of disappointing is that thanks to all the great advances in technology you no longer have to be in the same room to draft. I think that it lessens the experience.
Drafting is such a great day and experience. It is so amazing. I got unbelievable draft stories in the book. Two hours before he is supposed to draft a guy gets called into work. Everyone is like this is the only time that we are together and the season starts tomorrow. He is like, 'Dude, what do you want from me? I need this job. Somebody called in sick. They called me into work. I got to do it. I can't lose this job.'
They are going to go to his work and do the draft while he is at work. The place where the guy was working was the Red Robin restaurant, where he was dressed as the Red Robin. Every ten minutes or so he would waddle over see what they picked. As he said it turns out a cheat sheet in taped inside my beak was not ideal. But he ended up getting it done.
You can do it online and you can do it from your phone, but that is a memory that they will always have. It was the most fun draft that they ever had in the history of this league. I got a picture in this book with nine guys and this guy in a big red bird costume. It is just one of those things where I think that I am old school in that you need to be in the same room to draft. I hate the online draft.
AE: Speaking of pictures in the book. How many times do you get a Napoleon Dynamite reference when people see that picture of you when you were fourteen?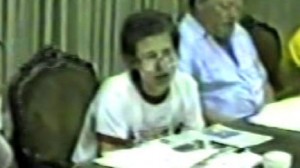 MB: Every time. I think that I have a lawsuit there. I got the big frizzy hair and the thick glasses. It was brutal. I absolutely have a lawsuit against Napoleon Dynamite.
AE: I am a big fan of fantasy leagues. I love being in them. Not only does being in a league make the NFL more interesting, but the relationships that are created and maintained is something you illustrate in your book. I love the story about BJ and his friends coming to visit him in the hospital. With all the stories you have seen it just goes to show the reader how strong a bond people have in these leagues right?
MB: Absolutely. They are an extended family. They are the people who you become closest to. I think that is one of the themes that is in the book. It is sort of what fantasy means. There are a lot of wacky hijinks obviously.  There are crazy stories, but there are also stories about fantasy bringing people together. Families, husbands, wives. I talk about the league that I do with my wife, my kids, their friends, and their parents as well.  Fantasy brings people together.
AE: How many texts do you get from your close friends for help with their fantasy team? Any sport worse than others?
MB: Maybe ten or fifteen, not a ton. Most have already emailed me earlier in the week. I get some panicked texts Sunday morning, but not a crazy amount. I get a couple thousand tweets. It's insane. There is no lack of people trying to get advice one way or the other.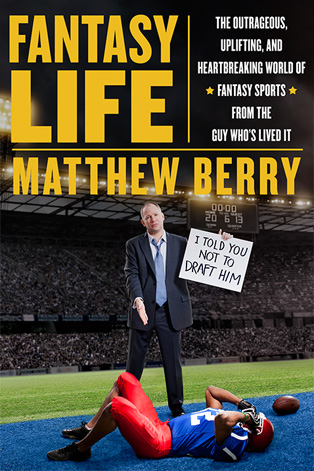 AE: For people who are looking to get into fantasy leagues, is football the best sport to try first?
MB: You should join a league with a sport that you love. If you are a baseball fan and not a football fan it makes a lot more sense to go there. In general you are right. (Football) is a shorter season. There are less players to know. In fantasy football it is mostly the stars that you are drafting. It is the quarterbacks, running backs, wide receivers. It's a tight end.  It is a team defense. So it is all name players.
Baseball and basketball go a little bit deeper. It is an easier barrier to enter. There is also a lot more people playing, so it is easier to find a league. I feel like everyone has a fantasy football league.
AE: You are a father and you say you do a few leagues with the family. Isn't that a great way for a family to bond? Well unless you are Michael All who beat up his 66 year old dad over their fantasy league. When you saw that story did you question if that story was even real?
MB: Yea. I found it through news reports. It is one of those things where you say where did life go wrong? What happened on the path where you find yourself in a fantasy league with your father and then beating him up over payouts?
The thing that I love about that is can imagine you got to jail and you get your one call. The kid, his one call is like, 'Hey mom, can you bail me out of jail? I kind of beat up dad.' What the hell?
AE: Speaking of fatherhood your chapter on cheating is a good way to show your kids that cheaters never win. Just another great way fantasy leagues help us in life. Do you talk to your kids on cheating using your family's fantasy league as an example?
MB: Well for us it is a very low stakes league. So no, we never had the opportunity. Something hasn't come up where we needed to address it. I am the commissioner of the league. I run it with a strong firm hand. The kids have been raised right so they know in general cheating is wrong.
AE: Right now for fantasy football who are the top three guys in order you have going first, second, and third in this year's draft?
MB: I think you have to go running back early this year. At the moment I have Adrian Peterson, Arian Foster, and Doug Martin.


Wicked Audio, manufacturers of stylish headphones for the rocker in all of us, recently teamed up with ZING Revolution and Virtual Piggy as official sponsors for Vans Warped Tour this summer.
In its 19th year, Vans Warped Tour is once again journeying through the United States and Europe as the top alternative rock tour in America. Big names at this year's show include Hawthorne Heights, Forever the Sickest Kids and Motion City Soundtrack. Tickets are available now on Live Nation.
You can find Wicked Audio's edgy audio line at the ZING Revolution tent. From in-ear buds to over-ear headphones, concertgoers can purchase Wicked Audio's collection of high quality headphones that won't compromise your individual rocker style. With options like Wicked Audio's Heist, Metallic, Mojo and Wicked headphones, everyone will find their perfect pair.
ZING Revolution is also offering its wide selection of eDevice skins as the official vinyl skin distributor for the Warped Tour. ZING Revolution is a leading provider in pop culture and personalized cases and skins for electronic devices. Virtual Piggy, a website that teaches kids the responsibility of online spending through parental supervision, will also be at ZING Revolution's tent.
Check out Wicked Audio, ZING Revolution and Virtual Piggy at the ZING Revolution tent when Vans Warped Tour stops by your town from June 15th to August 4th.
If you can't make it to Vans Warped Tour this year, you can check out Wicked Audio's collection of headphones at www.wickedaudio.com.


A new mobile app launched by Campus Insiders takes fans deep inside college sports with game highlights, interviews and a behind-the-scenes perspective of the trending stories of the day, from on-camera hosts Bonnie Bernstein and Seth Davis, as well as top college analysts, former coaches and special contributors.
Campus Insiders is the online destination and leading digital content syndication source for college sports fans. The app is free and now available for iPhone, iPad and Android devices. It provides an interactive user experience that enables college sports fans to access the same content available at CampusInsiders.com, along with the insight and perspective of Campus Insiders' stable of experts, including broadcasters Bonnie Bernstein, Seth Davis and the nearly 100 Insiders from college campuses across the country.
The Campus Insiders app features breaking news and video alert, video on-demand, filtered by sport, and daily original programming, including live programming (starting this Fall) featuring Bonnie Bernstein and Seth Davis.
I had the great pleasure to speak with Bonnie Bernstein about the Campus Insider website and app, her career in sports journalism, and much more. Be sure to click on the link below to listen to the entire interview.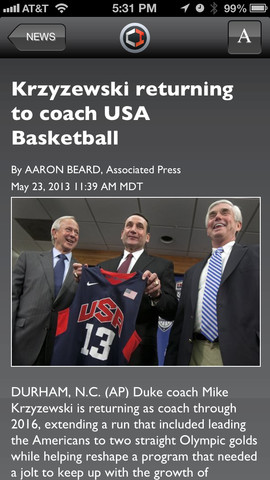 Art Eddy: You and your team at Campus Insiders created a very cool app. Tell me about the app and why people should download it to their smartphone or tablet?
Bonnie Bernstein: The app is one of the many Campus Insider platforms we have. Of course we have the website, we have the app available for your mobile, your smartphone, and iPad. Just like the network that was in its fledgling stages we have written editorial and video, but we are really emphasizing the video right now.
All of the different segments that we create during our live shows will also be available on demand on the app. In the event you miss my show or Seth Davis' show you can find it any time. We have a whole written editorial side Pete Fiutak, our managing editor, he is terrific.
One of the really exciting pieces is that we are shooting for by the time the college football season starts, the ability to live stream games. We have exclusive digital rights to some of those smaller conferences like Mountain West, West Coast Conference. We are working on the Patriot League. We are in discussions with some other conferences. Just like so many people go to their television to watch games, you are going to be able to watch it on your app or online at Campus Insiders.
AE: One of the cool things I like about the app is the behind-the-scenes content. What made you guys decide to do that?
BB: We really wanted to our name to as a literal extent as we can. The whole premise of Campus Insiders is that we will have our "insiders" embedded on campuses all over the country. If there is a breaking story ESPN, CBS, or Yahoo would send a reporter to that site. We are going to have our insiders embedded on campuses, embedded with the teams, dealing with the coaches on a daily basis.
We are really encouraging to break their news with us. These are play by play guys, color guys, beat reporters, newspaper reporters. They are all the reporters that are covering these teams. We are incentivizing them to break stories with us. Give us that inside look. What is going on in practice and send us an Instagram photo. If you are on sideline and there is a star player who is questionable because he tweaked his ankle, get that information to us.
We really want to take our viewers and our fans inside what we do as a network. We are in this day and age where we are all trying to get our heads around what is it that make a video go viral. What my sense is that it is not the polished journalistic video unless of course you are breaking news. It is that raw behind the scenes how are you making the sausage kind of video. We want to take people inside our production meetings and let them see how it is that we are deciding what we are going to be talking about during my show. Go into the control room and see how the producers are working. See how the directors are working the shots. That is a really exciting part of what we are doing and it is kind of unique.
AE: Tell me about the site Campus Insiders itself. What was the catalyst to start up that site?
BB: Campus Insiders is a partnership between IMG College, which is America's largest college sports marketing firm, and Silver Chalice. (Silver Chalice) is a digital media company that was founded by Jerry Reinsdorf, who owns the White Sox and Bulls.
Silver Chalice has already had success, most prominently with the ACC Digital Network, which fairly recently superseded the SEC Digital Network as the number one most viewed college sports site. IMG College was looking for a way to take all of their great properties and the relationships they have with their schools and create content with it.
So IMG College spent a year talking to the AOL's, the Yahoo's of the world and trying to find the right digital media partner and came upon Silver Chalice. After a lot discussions they felt as though we were the best fit. They understand the extraordinary production value that we bring to the table and we partnered up.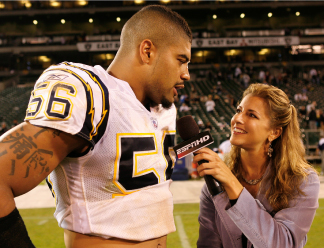 AE: What drove you to get into sports journalism?
BB: I have always maintained that you are a product of your own environment and both of my parents are die-hard sports fans. It is basically that simplistic. When I was a kid we didn't have remote controls that you could steal from mom and dad and put on whatever you wanted to watch. You physically had to walk up to the television and change the channel. If you knew my dad you know that he is tall and imposing. Whatever dad wanted to watch, the kids are watching.
It is not just my dad, my mom is a die-hard sports fan. Both of them grew up in Brooklyn. Die-hard Dodgers fans. When they moved out west and the Mets came into town. We are a baseball family. We are a football family. My parents are more passionate about the NBA and my mom in particular with hockey than I am.
When I would be out covering games for the NFL on CBS I would call my mom. You are covering the game and you can't keep an eye on everything else that is going on. My mom would be the human sports ticker. The Jets lost. The Giants lost. This one threw for four touchdowns. Because I was exposed to sports at such an early age it was just something that naturally rubbed off on me.
I did a lot of creative writing. I remember the third grade and fourth grade I have always been an athlete. I played soccer when I was five and gymnastics, my primary sports, when I was seven. I did that for fourteen years all the way to the University of Maryland.
I realized very early on that not only did I love sports, but I loved writing. I decided to find a career that enabled me to tap into both of those passions. I wrote about sports in my high school's paper and specifically went to the University of Maryland because of the reputability of their journalism school. Wound up gravitating toward broadcast, which wasn't really in the plan. I really wanted to write for Sports Illustrated, but I loved the TV classes at Maryland and I sort of stuck with it. Twenty plus years later here we are. I feel very blessed that I established a dream early on and I have really been able to achieve it.
AE: How tough was it and is it still today to be a woman in sports journalism?
BB: Well relatively speaking I think it is easier. The Lisa Olson's, the Lesley Visser's, and the Christine Brennan's of the world paved the way for us. Years ago women were not allowed to be in locker rooms. So just that very fact that we are enables us to do our job.
I think the thing that people don't realize is that we are not going into locker rooms because we want to. The simple fact of the matter is that we are on deadline. Once the game is over you have to get in. You don't have time to wait for players to take their showers, to put their jewelry on, their suits on and walk outside and be all relaxed. You got to a story to write or you got a TV show to get ready for. So more than anything it is a matter of time.
In terms of the perception of women in the business I think that it has gotten better overall. To a certain degree I think that it is an individual thing. I think it is incumbent upon any woman who wants to get into sports journalism to take pride in her work. I hope that fans make their judgment on sort of a case by case basis. If you are good at what you do and you do it well consistently, then there is really no room for people to criticize. Unless they simply don't feel that women have any business covering sports that they haven't played.
People are certainly entitled to their own opinion. The one thing that I don't think that fans understand is that there are many, many men, who cover sports, who haven't played that sport as well. When you take that into consideration, the fact that I played a Division I sport, from a psychological and preparatory stand point puts me on par with anybody. I know what the mental process is like to prepare and to be in the heat of competition and the amount of focus that it requires. So when I am formulating questions they are coming from experience.
AE: What advice would you want to give women who are thinking about a career in that field?
BB: Well I would say don't just watch sports, but really listen. By that I mean don't watch the big game on a Saturday night with a bunch of friends at a bar. If you really want to learn about sports not only do you learn by watching, but by listening to what the play by play, the color announcer, the sideline reporter are talking about. You would be amazed at how much you can learn about sports.
Watching the games. Watching the specialty shows, like College Football Live, there are so many shows out there. The other thing that I would really recommend is networking. If you are in college right now or in high school, make sure you seize all the opportunities. Intern or serve as a runner for the networks when they are coming to cover the events. Show them that you have that passion and that you are willing to take that initiative. Collect those business card and stay in touch with those people. You never know that those folks that you meet along the way can be a tremendous resource in helping you get a job.
AE: You have covered a ton of great sporting events like a few Super Bowls. Is there an event that stands out more than others?
BB: I would say two in particular. The very first Super Bowl I covered which was down in Tampa in 2001. The Ravens Giants (game). New York kind of got pounded, but it was the first Super Bowl that I have done sideline for. It just so happened that I was assigned to the Giants sideline.
I had to interview Jim Fassel before the game. Just having access to the team and the coaches before the game and I remember the day before the game. The Giants has their final run through. I walked with Fassel from midfield to into the tunnel as he was going into the locker room. Just having the ability to have that conversation with a coach about what is going on in his mind as he is preparing his team to play in the "holy grail" of NFL events. I really took the time to soak that up.
The other big one was the Maryland run to the 2002 National Basketball Championship. I went to Maryland and I was there from late 80s early 90s. I call it the dark days of Maryland basketball. I got there and we were not too far removed from Len Bias. My freshman year the basketball team the coach there got nailed for all of these NCAA recruiting violations.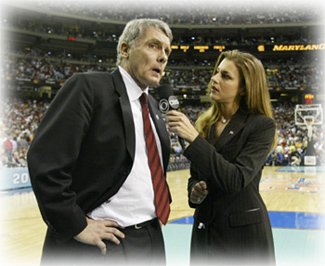 Gary Williams came in my sophomore year. He was faced with probation, TV bans, and postseason bans. It really was a mess. I did stuff for our school. I did campus newspaper, campus radio station, and campus TV station. I had the chance to meet Gary Williams when I was a sophomore in college.
So to see all of his hard work culminate in a National Championship, when I got the opportunity to cover every single one Maryland's games with Jim Nantz and Billy Packer. To be standing on the court at the Georgia Dome watching the players standing on the podium. Watching themselves in highlights of one shining moment was so surreal. I sort of felt like very few people in that arena that night that could appreciate how monumental of a moment that was because where the program came from. It was really, really special to me.
Since Bonnie is well versed in every aspect of sports I asked her opinion on the whole Johnny Manziel situation. To listen to her take on that issue, challenging Dan Le Batard and his father to a showdown with Bonnie and her mother on a sports show, and the entire interview click here.


Tomorrow the film "R.I.P.D." hits the theaters. The film stars Jeff Bridges and Ryan Reynolds as two cops dispatched by the otherworldly Rest In Peace Department to protect and serve the living from an increasingly destructive array of souls who refuse to move peacefully to the other side.
I was able to chat with Tim Jacobs who stars in the film along with Jeff Bridges, Ryan Reynolds, and Kevin Bacon. Jacobs plays a "Deados" character who helps out Bacon's character Hayes. Tim explained what the audition process was like and what he learned from being on a movie set.
Tim has done theater as well. We talk about the difference between shooting a film and performing on stage.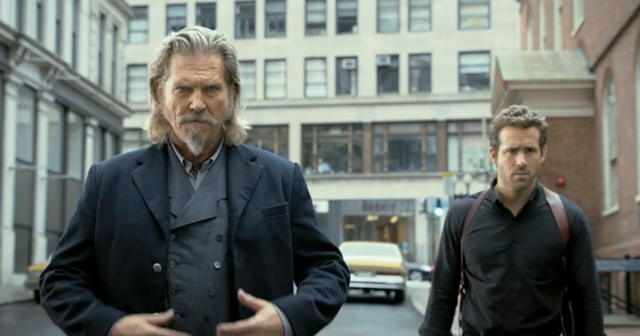 Art Eddy: You are in the film "R.I.P.D." that comes out this Friday. Can you tell me a bit about your role and the basic plot of the film?
Tim Jacobs: "R.I.P.D" is about a supernatural police force (Rest in Peace Department) that is charged with finding and "arresting" evil souls that somehow escaped judgment and are hiding on earth. Nick (Ryan Reynolds) joins the force after being gunned down in raid. He and his partner Roy (Jeff Bridges) chase down the evildoers (Deados) and bring them to justice.
They get all they can handle when they meet Hayes (Kevin Bacon) as he threatens to destroy the world. In the movie, I was one of the Deados that worked closely with Hayes to bring about the end of the world as we know it.
AE: What was the audition process like?
TJ: This was the best audition I have had in a while! The casting call they put out was for athletic men over 6 feet tall. The night before the audition, they asked us to come dressed ready to move. They didn't tell us if it was indoors or outdoors or what we would be doing so I dressed like I was going to play flag football in November.
When we arrived, we filled out all the proper forms and met with the stunt coordinator. From there it was basically a physical fitness test. We did push-ups, pull-ups, jumped rope, box jumps, and even some stage combat. From there, they picked who they liked and sent the rest on their way. From there we went immediately to wardrobe and were measured for costumes. It was all kind of a blur.
AE: The film was based of the comic book from Dark Horse Comics. Did you read the comic series at all?
TJ: We had a copy of it with us when we were shooting. I did peruse it, but never read the whole thing.
AE: The film also stars a bunch of great actors like Jeff Bridges, Ryan Reynolds, and Kevin Bacon. Did you get a chance to pick their brain on working in Hollywood?
TJ: While we did work with those guys, we didn't really get a chance to converse for long with them. The time between takes was never very long, so while there was chatter, it wasn't anything substantial. I will say that Jeff Bridges is an incredible person. I don't think I saw him once without a smile on his face between takes. Kevin Bacon is also hilarious, but we already knew that.
AE: What will you take most from that experience on the set of the film?
TJ: My first time on a movie set was invaluable. You always have to keep your head on a swivel. The entire set changes between scenes. People are all moving where they need to go and woe to you if you get in their way. It is all fast paced on the set.
AE: I know that you have done theater as well. Do you prefer one over the other?
TJ: They are both entirely different beasts. Movies are wonderful for how big they can get while still having incredibly intimate moments. The number of takes you can have means that you can strive for perfection. In a live theatrical performance there is no second take. What you do is what the audience gets. The thrill of live performance is something that is hard to replicate. That being said, I don't think I have a distinct preference for one over the other.
AE: Did you go to acting school to hone your craft?
ATJ: I started acting in middle school, but didn't get serious about it until after my first year of college. After dabbling in photography and criminal justice, I decided that what I really wanted to do was be myself in many different iterations.
As an actor, I am allowed to takes parts of myself and relate them to my characters and bring those specific parts out on stage. It really is taking a microscope and turning it in on yourself. I did go to college at the University of Wisconsin – Eau Claire and earned my degree in Theatre.
AE: What advice can you give other young actors who are looking to get into acting?
TJ: Don't get discouraged, we all get rejected. Be realistic though. If you are not going to put 100% of your effort into being an actor, you probably won't be the next superstar. It is hard, but if you love to act, it is worth it.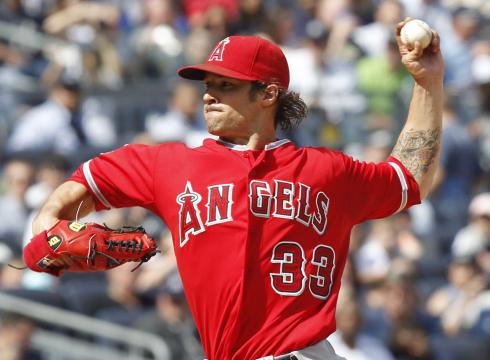 C.J. Wilson was in New York City today as he was taking in some of the MLB All-Star Game festivities. He and his team the L.A. Angels are 11 games behind the Oakland A's in the American League West. He knows that after the All-Star break the Angels need to start playing at a higher level to even get a chance to play in the postseason.
Wilson and I were able to chat about the All-Star Game, his transition from Texas to L.A., and where are some of the toughest places to play.
I was able to chat with C.J. thanks to Head and Shoulders and their "Season of the Whiff" program. For every "whiff" across the league during the 2013 regular season, Head & Shoulders will make a $1 donation to the MLB Reviving Baseball in Inner Cities (RBI) program.
Art Eddy: You are in New York for the All-Star Game festivities. How has it been so for in NYC?
C.J. Wilson: I am doing great. It's a blistering hot day in New York. I am indoors in the air conditioning. I hope you are too.
AE: I am. I take it the heat in L.A. is a dry heat.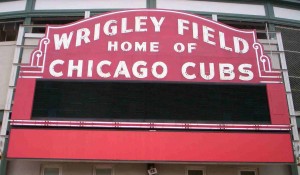 CW: That whole dry heat thing is a sham. You go to Arizona and it is 120 degrees. An oven is a dry heat, but if you stand in there long enough you are going to feel the effects. When we travel to go play in different cities you experience heat in different ways depending on the configuration of the ballpark.
Some ballparks aren't bad. We were in Chicago the other day. The dugout is so small, in Wrigley Field. The dugout was so small that there was no way to escape the heat. It was really funny. We were all sitting there thinking of ways to cool off. We had no room to wave anything at all without hitting each other in the face.
AE: That is hilarious. This week is All-Star Week and today is the All-Star Game. You played the past two years in that game. What is it like to play in that game?
CW: The All-Star Game is cool, but it is also really weird. It is a bit of a circus and you don't get the same amount of time to prepare for the game. You don't get to get a scouting report. You show up to the stadium at 5 o'clock because you are coming back from media availability.
After those interviews it is like okay no go in the bullpen to get ready. You are like who is going to warm me up? They are like there is only one catcher. I ask if there is anyone to throw a long toss with and they say there is no time for that.
It is a little bit different, but it is very exciting too. The game is going to be sold out. You got to see some of these guys up close and get to know them. I didn't know Robinson Cano was the coolest dude on the planet. Now I know that he is the coolest guy. I just thought he was a guy that smiled a lot and was really good at baseball. That is kind of the fun part for the players.
Players enjoy that kind of stuff. The travel is a little bit hectic. For us we played in Seattle, so (Mike) Trout had to fly a red eye from Seattle to New York. He had to be ready for media availability yesterday morning. Things like that is hectic. It is nice when it is in a place like Kansas City, where everyone is about a 2 hour flight away.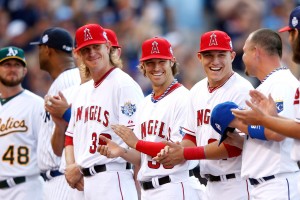 AE: Even though the league that wins that game get home field advantage in the World Series is there less of a competitive vibe in that game?
CW: We are all hyper competitive, which is why we are professional athletes. There are guys who are very competitive and they end up having off the field issues. Like Michael Jordan had the golf gambling thing a few years ago. All professional athletes are hyper competitive or they just don't stay in the league long enough.
Everyone wants to win and everyone wants to do their best. If you make one mistake than you lose the game and you are the goat. That is what happened to me a couple of years ago. That really sucked. We didn't score that many runs and I think we lost 3 to 1. The game is always fun. You are always trying to win. You are not necessarily thinking about October, but about how can I pitcher really well. You are always trying to do well whatever they are doing.
AE: You are now in your second year with the Angels. How has this year been different from last year for you?
CW: For me it has been a little bit better in terms of my health and my performance. About this time last year was when my season was going south with my elbow. The changes I have made to my mechanics are going to keep me healthy for the rest of my career.
We are down below 500 which is not very good. We have a lot of potential and a lot of talent, but potential is kind of a four letter word for baseball. We are looking to improve on that. We only have so many games left. We got to start winning.
AE: You kind of hit on something I want to talk about. Do you look at the media and read that you and your team are underachieving or do you just not even pick up the paper?
CW: No, we feel that way. We feel like we should be better. Some think that teams and players are oblivious to that fact. We are not totally oblivious. We are not going to read the papers if we are not doing well. What is the point of reading the papers if you are below 500.
If you are in first place by 15 games, well of course you are going to read the papers since they are talking about how awesome you are. It helps boost your confidence. You just have to control yourself and find the best way to play your best baseball. We have been through some good stretches as well as bad ones. We have to play great baseball every day. Players like myself, Josh Hamilton, Albert Pujols have played on Championship teams. You have to bring your A game every day to win 90 games.
AE: Where is the toughest place to play for you whether it be a hitter's park or the crowd gets into it?
CW: It goes in waves. Sometimes you will step into a place and you won't really feel good pitching there. Then all of a sudden you will have a good game. I didn't used to like playing in Yankee Stadium, but now I do. It goes up and down. I really like pitching in Seattle. I like pitching in Anaheim and Dodgers Stadium.
For whatever reason I don't do real well in Detroit. It is supposedly a good pitcher's park. I have given up some weird opposite field home runs there. The dimensions there don't help me out at all. It is deep in center field, but I don't give up home runs in center field.  If I give up a home run it is straight down the right field line. It is kind of a quirky thing.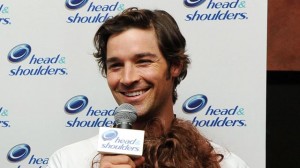 AE: How is it to be a "Mane Man" for Head and Shoulders?
CW: Well the cool thing that is going on for the All-Star Game tonight is that whoever is pitching in the second inning strikes out the side then they win 1 million dollars for their RBI program. Head and Shoulders will donate a million bucks to help kids who normally couldn't play baseball now can. They are going to get equipment, coaching facilities and all that good stuff. Since this is 'Season of the Whiff,' so they are doing a strikeout theme this year at the All-Star Game. For this season Head and Shoulders will donate a dollar for every strikeout for the RBI program.
AE: Tell me about your foundation, the C.J. Wilson Children's Charity.
CW: In baseball you get opportunities to get out into the community. When I was with the Rangers they encouraged us to get out and help out the community. One of the first things I did was a Christmas event. I met this kid at the Children's Hospital. We had a moment. We were talking for a bit. I met his dad. I didn't really think that much of it.
He wrote me a letter and included a picture of me and his son. It was really inspirational letter. He said that I was really good at this and that I should do more of this type of work. I took that personally and hit him up to see if he could help me. He had mentioned that he was on a board for a charity.
Since 2006 we have done a lot of events. We had video game tournaments, bowling events, and stuff with my racecar team. We even did a charity concert at my car dealership. It is really cool to have the charity tie in everything with my off the field interest with my on the field performance for a good cause. We raise money for Children's Hospital and kid's camps and things like that.


Here are few sweet upgrades that you can add to your smartphone or tablet. They are a handful of apps and gadgets that will turn your device into even more of a Swiss army knife.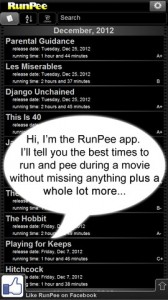 RunPee App
The first one is called the RunPee app. This app is always being updated each day when movies are released. This app notifies you with the best time to run and pee during your favorite movies without missing anything important. After you chug the 3 gallon soda that is considered a small at the theaters, you will need to know when the optimal time to go to the bathroom will be.
The RunPee app also helps you know if there is anything extra after the end credits and even gives you a synopsis of the first 3 minutes of a movie in case you're running late. There a feature that has a timer that will vibrate your phone before each peetime. This allows you to use the app to watch a movie and not bother people around you in the theatre. It runs on iPhone, Android, and Windows devices. Experience an unforgettable painting experience by combining the pressure sensitivity of a Wacom Tablet with the digital art expertise.
Outdoor Tech: DJ Slims

Outdoor Tech made wireless headphones with a built-in microphone for hands-free call availability. The DJ Slims are very light and have a low profile. I used these gems while I was running and they stayed in place. I loved the fact that these headphones were wireless so I didn't have to worry about wires getting in my way while I was working out.
The DJ Slims wirelessly connect with your smartphone, tablet, laptop, or any other Bluetooth-enabled device. The headphones connected easily to my iPhone after I had the initially charged the DJ Slims. Speaking of charging the headphones, the battery life goes for nine hours and had a range of 30 feet. There is also a built-in microphone that allows you to make and receive hands-free calls from anywhere, any time. These sell for around $64 and you can get them at Amazon.com

Carbon Audio LLC: Zooka
Carbon Audio created the Zooka. No it is not a new dance move or a character in "The Hobbit" films. The Zooka is a Red Dot Award winning design and top-selling wireless Bluetooth speaker. Zooka is a wireless speaker designed to be as mobile as your media. With a 30-foot Bluetooth range, multiple vibrant colors, and a low price point there are more than a few reasons for you to listen "LOUDERER" with Zooka. So whether its movies, music or a video of a toy monkey playing the drums, you can be sure you'll hear it louder.
It has a built-in microphone that enhances the use of Skype and FaceTime, and is perfect for incoming and outgoing phone calls. The Zooka slides onto the edge of your laptop giving you portability without inhibiting the use of the camera. It also has a kickstand that can be added to the iPad to create a perfect viewing angle.
Outdoor Tech: Turtle Shell

Outdoor Tech has made it on the list for a second time with the Turtle Shell. This portable speaker is a water and dust resistant Bluetooth do-anything, go-anywhere Hi-Fi boom box. It features an angular, triangle-themed construction that fits in as well in the house as it does the outdoors.  The Turtle Shell has a rubber-coated shell to keep out dust and absorb substantial impacts. Just like the DJ Slims, the Turtle Shell wirelessly connects with your smartphone, tablet, laptop, or any other Bluetooth-enabled device and streams crystal clear audio up to 30 feet for up to 9 hours.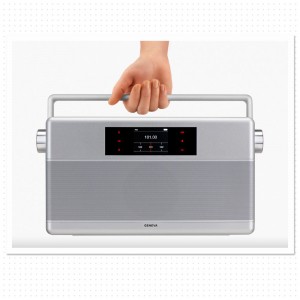 Geneva: WorldRadio
Geneva takes a contemporary take on the classic radio receiver combined with Bluetooth technology and HiFi sound. The WorldRadio receives all available radio stations using the broadcasting technologies of FM, long and short wave radio of a forgotten era. It also features a powerful audio system, digital color display with touch controls, digital FM tuner, Bluetooth receiver, and alarm clock.
The WorldRadio has a high-performance amplifier and full-range loudspeaker play mid and high frequencies with absolute accuracy, and produce warm, rich bass below 80Hz. It can receive both FM and digital (DAB+ version, Europe only) radio stations, and can wirelessly stream Internet radio stations from any Bluetooth-enabled device.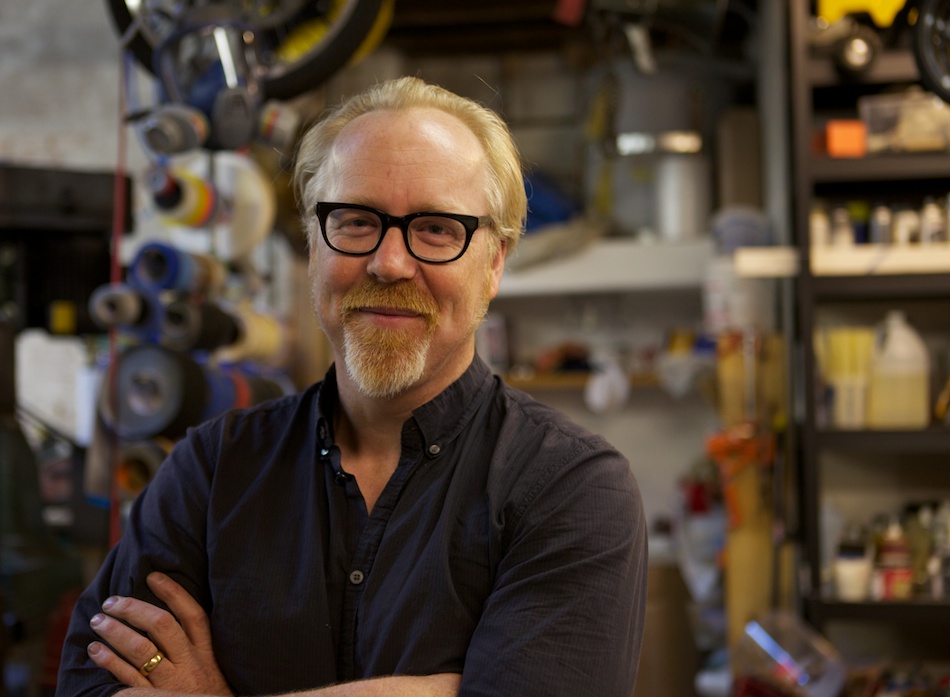 If you ever have watched "Mythbusters" you know that the show's co-host Adam Savage has a deep passion for science. He and his partner in crime, Jamie Hyneman, along with the rest of the "Mythbusters" crew is celebrating the show's 10 year anniversary this season.
Savage is a modern day "Renaissance Man." Not only is he heavily involved in science, but Adam had a love for the arts. In his free time he sculpts and has had his work on display in San Francisco, New York and Charleston, West Virginia.
Adam has done special effects work from notable films and TV shows. He has worked on props for films like "Star Wars Episode I: The Phantom Menace," "Star Wars Episode II: Attack of the Clones", "Galaxy Quest", and "Terminator 3."
I was able to chat with Adam about the longevity of "Mythbusters," sculpting, and his work on film sets.
Art Eddy: First off I have to say congrats to you and the rest of the crew on "Mythbusters" for celebrating the show's 10 year anniversary this year. I know the cliché is time flies when you are having fun, but do you feel like the show has been on for that long?
Adam Savage: No. Not at all. We kind of joke about it. When we go back through the stuff that we have done the thing that lets us know that it has been that long is that it is kind of an unbelievable mountain of things we did when we start to review for new episodes. We would be like oh I think that we already have done that.
We will remember a whole bunch of things from that episode we did seven years ago. For the most part we are having so much fun that I can't remember what we did a couple of weeks ago.
AE: Do you have a favorite all time episode?
AS: It is impossible to choose. There are so many categories of things that were great to do. I love "Duct Tape Island" and "Duct Tape Cannon", escaping from the Grand Canyon with Duct Tape. I think that these are really wonderful stories that were fun to tell.
I enjoyed very much the hybrid storytelling of jumping outside the standard "Mythbusters" format to still tell a story that was a true story in terms of the physics and in terms of the materials. I also love shows where we have done research that was genuinely part of some actual scientific published paper.
When we did "Drain Disaster" where we had manhole covers being blown off from the sewer. That was actually part of a published scientific paper that researchers helped us with that and we helped them. They were the leaders in their field of investigating the composition of gases at near supersonic speeds in sewer explosions. They never had the ability to build an experiment as large as the one we were able to build with their help. We were really proud that we were able to contribute to that.
All told with the storytelling and the problem solving in the science, really a high point and a great example of the highest ideal for both me and Jamie is "Lead Balloon." We really feel that "Lead Balloon" shows this beautiful balance between taking something that is essentially mundane like building a bag that holds air that is made out of rolled lead. It demonstrates how difficult the process is, how much you kind of have to see into the future to understand on how to solve that problem. The way that Jamie and I worked together in a kind of unique way in which the participation of the two of us exceeds what one of us could do on our own.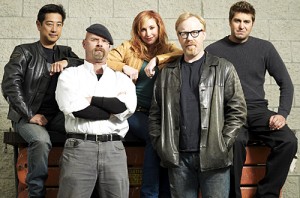 AE: Was there ever a time where you went back after the show and did an experiment because you didn't trust the results the first time?
AS: That is an interesting question. There are times when we are trying to do something sensitive. We actually might send the crew out so that we can really concentrate. When it is really working we are able to film everything that we are doing all at the same time.
There are times where we need all of our concentration on the experiment itself and not be thinking about the storytelling. We might send the crew out while we fix it or figure out what's wrong. Wrap our heads around what is happening. Then bring them back and backfill what happened. No one ever made a lead balloon before.
That's another thing that I am quite proud of over the years. I know we have done several things on this show that no one has ever achieved before. Most of those thing are quite mundane, but it is lovely to be first somewhere.
AE: At what point or which season did you and your co-host Jamie Hyneman feel like you had something special in "Mythbusters?"
AS: That all really happened quite slowly for us. We were originally hired talent on "Mythbusters." We learned how to be on television while being on television. It is actually the same way both of us learned most of our professional skills over the years. We call it "the learn while you earn program."
Given that it took us a while to really understand that the show's structure and story was based on our enthusiasm. The best episodes were the ones where we were having the most fun. Not necessarily the genuine fun, but the ones where we were most involved. The science was really interesting to us or the experimental methodology, or the build, or the mechanics or the physics, those were the ones that sang.
I guess it was about two and a half or three years in that we really started to understand that. I feel like that was right around "The Hindenburg" episode, which I think is episode 60, where we really genuinely began to feel like the show was ours. We had a handle on it. We knew how to approach these problems.
AE: You are also are a sculptor. How did you get into that form of art?
AS: That's interesting because it's something that I have been thinking about a lot right now. I grew up with a father who was a working artist, a painter. He engineered his whole life so he could work for three or four months of the year and pay for his mortgage. He would spend the rest of his time painting full time. I mean like four to five hours a day every single day.
I grew up with a lot of artists. Art is a conversation. It is not just a conversation between the artist and the culture. I think that at its best it is a conversation between the culture and itself. The artist is a conduit to what the culture is thinking about itself. So there is a wider consciousness there.
Freud might have called it the oceanic feeling, but I think of the artist as a kind of conduit. I spent a lot of time in my early 20s in being an artist. There was a switch when I discovered these skills that led me so creatively as an artist also fed me creatively and professionally in special effects. I made a turn.
I don't think that I have stopped being an artist. I don't think that I have stopped having that conversation with my culture, but I put it in a different context. I am in the process of looking at the things I do in my personal life like replicate movie props that I loved, film things that I want to film, and try things that I want to try out. I am starting to think about them in the context of how they fit into the culture that I am a part of and how I might be a part of the conversation.
AE: I love the fact that you have done special effects for "Star Wars Episode I and Episode II." What were some of the parts of each film that you worked on?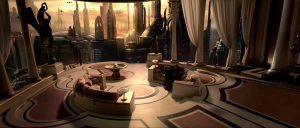 AS: For "Episode I" I got to work with a wonderful longtime ILM employee named Larry Tan on Nute and Rune's Neimoidian shuttle. So when it lands on Naboo and you see the shuttle on the deck in Naboo and the two characters get out, the home landing bay, the interior of it I got to build it. I worked on the design of it with Doug Chiang, the production designer, and I got to paint it and light it. It was really thrilling. It was one of my first big jobs at ILM getting to work on a spaceship which was all I wanted to do since I was 11 years old.
For "Episode II" there are a bunch of exterior close ups of Padme's apartment. That was actually a model. My friend Fon Davis and I built a large six foot tall model of Padme's apartment with the windows and interior all accurate so that they could match up the inside and outside.
I think one of the most fun things I have worked on the whole time I was at ILM is the space shuttle for Clint Eastwood's movie "Space Cowboys." That was a team about six of us that spent three or four months, maybe even longer, making what I think must be one of the most accurate models of a space shuttle ever built for film.
AE: Speaking of "Star Wars" I saw a video of you and Jamie talking about your favorite film characters. He said Chewbacca was like Jar Jar Binks. I have to say I was stunned when I heard that. How much "hate mail" did Jamie get?
AS: I have no idea. I just viewed that as so incendiary. I have to chalk it up to that Jamie was just merely in a bad mood and looking for a fight. I can't accept in any way that a human can look at Jar Jar bouncing around the world and look at Chewbacca, this wonderful example of the ultimate right hand man and think that they are in all comparable in any way, shape or form.
To listen to the entire interview click here.