Art Eddy III
This user hasn't shared any biographical information
Jabber/GTalk: Art Eddy III
Posts by Art Eddy III


Every year on May 4th fans of the "Star Wars" saga go out and revel in everything about a galaxy that is far, far away. Whether you hear someone say to you, "May the fourth be with you," or see some posts on Facebook or Twitter you can spot fans of the film.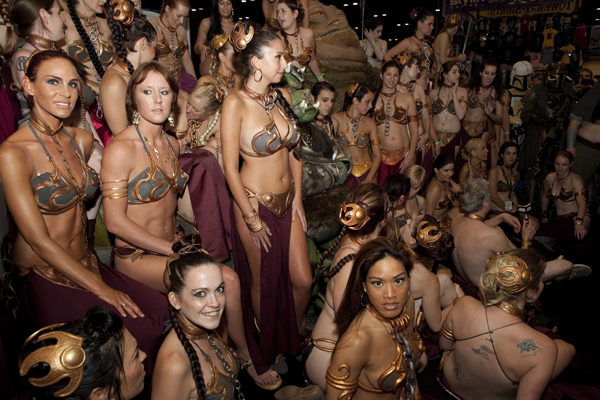 The day started out as a grassroots campaign that came from the famous Jedi line "May the Force be with you." Every year there became a bigger following and more and more people were celebrating "Star Wars" on that day.
You can show your support by going on Twitter and Facebook and use the hashtag #MayThe4thBeWithYou to show that you are enjoying "Star Wars" Day. There was even a video made from Lucasfilm of Bonnie Burton asking people on the streets of San Francisco about "Star Wars" Day and how fans can celebrate.
In case you would like to participate in the celebration on May 4th, here are ten fun ways that you can enjoy and partake in the festivities. This list is courtesy of StarWars.com.
1. Have a "Star Wars" movie marathon with friends and family! But do you start with the prequels or the original trilogy? Do you mix in some episodes of "The Clone Wars"? Better decide before your guests arrive, or you may spend the day in a heated debate.
2. Dressing up for special occasions is important, and May the 4th is no different. Wearing anything from your favorite "Star Wars" shirt to full-on Stormtrooper gear is completely acceptable. (It's okay to dress up your pet, too. Bounty hunter bulldogs are especially encouraged.)
3. Food is an essential part of any holiday. Death Star Popcorn Balls or Wookiee Cookies, anyone? Find a variety of recipes on StarWars.com!
4. Toast the saga with the ultimate "Star Wars"-themed beverage: blue milk, just like Aunt Beru used to make!
5. Feel the Force with "Star Wars" crafts: turn old socks and rocks into awesome "Star Wars" keepsakes! Learn how to make a Chewbacca Sock Puppet, "Star Wars" Snow Globe, and more at StarWars.com!
6. Have you Vadered anyone yet? Now's the time to give it a try and be sure to Tweet your photo to @starwars!
7. You know that Rebel Alliance symbol tattoo you've been thinking about getting? Today's the day.
8. Sometimes people use holidays to travel to new places. Why not go to Disneyland or Disney World and ride Star Tours? There are over 50 separate mission possibilities.
9. As Yoda said, "Pass on what you have learned." Introduce a younger sibling, family member, or friend to "Star Wars"!
10. Do you have any "Star Wars" toys that you don't need any more? Donate them and make May the 4th really memorable for children in need.
Plus this year marks the 30th anniversary of "Return of the Jedi" which makes this year's celebration even more special. Also fans of the movie franchise are stoked with the new trilogy of movies beginning with "Star Wars: Episode VII" that will be coming to theaters soon. So this May 4th remember to party like you just defeated the Empire and as always, "May the fourth and the Force be with you!"
If you are looking to try out some of the family friendly drink recipes check out a few here to get you started as you watch the "Star Wars" saga.
Blue Milk
Ingredients:
1 cup milk
½ teaspoon unsweetened blue fruit punch mix
Sugar
Directions:
Pour the milk into a tall glass and gently stir in the blue fruit punch mix. The drink should be lightly tinted blue. Adjust the amount of mix to get the color that you like. Add sugar to taste.
Greedo Fauxito
For those who might not remember Greedo was the bounty hunter in "Episode IV: A New Hope" that tried to bring Han Solo back to Jabba the Hutt. Here is drink recipe that pays him homage.
Ingredients:
One lime
8-10 fresh mint leaves
Lemon-lime soda
Directions:
Squeeze juice of one lime into a tall glass. Add fresh mint leaves and muddle with a cocktail muddler or spoon. Fill glass with ice. Add lemon-lime soda to fill the glass.
Tatooine Sunset
Ingredients:
1 cup orange juice
¼ cup grenadine syrup (approximately)
Directions:
Fill a tall glass with ice, and orange juice. Slowly pour in grenadine syrup and allow to settle on the bottom.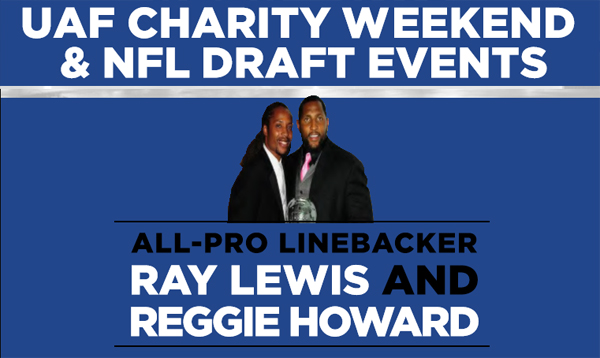 Reggie Howard played for six years in the NFL. He played for the Miami Dolphins and the Carolina Panthers. He is retired from the game and is now helping out other athletes by empowering then to impact communities through education and social development. Along with Ray Lewis, Julius Erving and others they are looking to make a difference in their communities with the United Athletes Foundation.
They are having a raffle where you have a chance to win a trip to New York City to meet Ray Lewis during NFL Draft weekend at various VIP events! The deadline to enter is April 23! Click here for more details.
The United Athletes Foundation is a 501c3 public non-profit organization created in 2008 by a group of professional athletes who understood their unique role in improving the lives of both the athlete fraternity and society in its entirety. To date, there are more than 90 professional athletes associated with the UAF including members of the NFL, NBA, MLB, WNBA and professional boxing.
I was able to chat with Reggie about the NFL Draft weekend promotion, the UAF, and football.
Art Eddy: Tell me about the promotion you have for your foundation, the United Athletes Foundation and how it revolves around the NFL Draft weekend.
Reggie Howard: We have a nice promotion for the fans. For the past four years we have been working events at the NFL Draft weekend with players become of aware of financial security. We also have an award ceremony where we give an award to the MVP of the community.
So this year we thought it would be great to have this promotion where we put out a raffle where one lucky fan can have the opportunity to attend the event with an all-expense paid trip to New York City and bring one guest to hang out with the UAF. We have been getting the word out about and people are getting excited. This year we have one of the key members of the United Athletes Foundation, Ray Lewis and he is the key spokesperson for this. The winner gets to spend time with us and see what our foundation does and how we help out the community.
AE: You are working with Ray Lewis for this promotion with the UAF for the NFL Draft weekend. How is it to work with Ray for this promotion?
RH: Ray has been great. He is actually one of the co-founders of the United Athletes Foundation and is also the chairman. He is a guy that really cares about the community and has a big heart. One of the main things that we focus here in our organization is to let guys know how important it is to be community leaders.
The second thing is that the NFL is great, but there are things outside of the game that we really need to have a focus on and that is family, community, and a great understanding as it pertains to financial literacy. That is one of the big things in our organization. We need to put things in place where guys have resources where they can learn more about finances. They can also learn to be protected from fraudulent financial activity from advisors.
It is a great weekend because we have great events planned. We had Jim Brown pass the torch so to speak to Ray and one of the people we are thinking of presenting the MVP award to is Adrian Peterson. He is a great guy that is not only a stellar player on the field, but also has a big, big heart for his community. UAF is all about team concept in the world of philanthropy and showing the importance of what our responsibility is to the community.
AE: In your NFL career you played mostly for the Panthers. Looking back at your career what stands out the most with your time in the NFL?
RH: I really enjoyed my time playing in the NFL. It was a great experience. I would say the biggest thing is the camaraderie of playing with players and competing on the top stage. Playing in the NFL is going up against the best of the best. Every day that you go out you are competing at your highest level.
One thing coach (John) Fox told us is that if you are not getting better you are getting worse. Nobody ever stands still. It is a true statement. Anytime that you are not putting forth your best effort you give an opportunity for your competition to get better. For me it was definitely the camaraderie of it. The highlight was playing in the Super Bowl. There is no feeling like that. To be on stage where all eyes are on you and you are trying to win a championship. Not everybody gets that opportunity and when you get there it is a special, special moment.
AE: Speaking of Super Bowl XXXVIII, you and the Panthers fell short of beating the New England Patriots. You did intercept Tom Brady though not that many people can say they did that. Do you remember that play?
RH: You remember everything you did in that game. It was funny because when we were preparing for the Patriots it was very hard. They had so many packages out there offensively that you never knew what they were going to do. They had so many things that they could do as an offense that it was hard to prepare for them. It is hard for a defense to pick up tendencies on teams like the Patriots. That is why they are so successful offensively.
On that play that I got the interception on is funny because that is one of their key plays and key formations that they run. This was one formation that we prepared for that week. They like to have trips on one side and two receivers on the other side. They like to run double smashes from the outside receivers and have the inside receiver run the seven route to the corner.
I basically recognized the formation. I played it where I led Tom believe that I was going to man to man and then I actually backed up and I got the interception. I got tripped up by one guy and if not for him I could have taken it all the way. Muhsin Muhammad took it to the house after we got the turnover and helped us with gaining some momentum. It was a great game and it came down to the wire. We are not the only team to lose to the leg of Adam Vinatieri. (Laughs) After that the NFC Championship ring went back in the closet and I didn't want to see anything with a Patriot sign on it. It is no fun being second place at the Super Bowl.
AE: Playing cornerback is tough since you are going up against some great athletes. Who was the hardest wide receiver to cover?
RH: I would have to say Randy Moss. At that time he was playing in Minnesota and that guy was tough to cover. He was well feared by players back at that time.
AE: Who talked the most trash?
RH: Keyshawn Johnson by far. Keyshawn talked a lot. I would say looking back it had to be Keyshawn. That guy was always talking.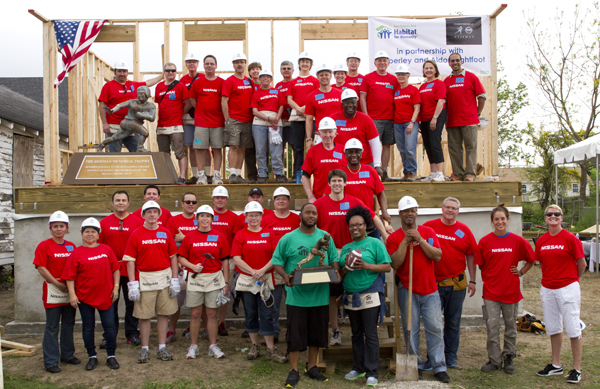 On most days, Aldon Lightfoot works with fellow longshoremen to load and unload ships at the Port of New Orleans. Earlier this week Lightfoot worked alongside seven members of an elite class of athletes, Heisman Memorial Trophy winners to build a Habitat home for his growing family.
The house of Aldon Lightfoot and Kimberly Jones and their three children will be built with help from a construction crew that includes celebrated Heisman Trophy winners John Lattner (1953, University of Notre Dame), Johnny Rodgers (1972, University of Nebraska), George Rogers (1980, University of South Carolina), Mike Rozier (1983, University of Nebraska), Danny Wuerffel (1996, University of Florida), Eric Crouch (2001, University of Nebraska) and Mark Ingram (2009, University of Alabama).
This unique collaboration grew out of existing relationships among Nissan and its partners Habitat for Humanity and the Heisman Trophy Trust. Together, the three organizations will team up with New Orleans Area Habitat for Humanity to build a home in partnership with the Lightfoot family.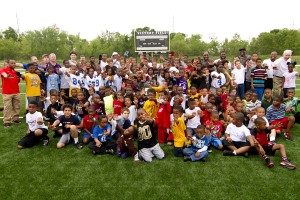 "Nissan is committed to improving the communities where our employees and customers live. Joining with Habitat for Humanity and the Heisman Trust, who share this mission of community service, is an ideal extension of our partnership with both organizations," said Nissan Marketing Vice President Jon Brancheau. "We are grateful to these athletes for joining in this one-of-a-kind partnership to build this house alongside a New Orleans family."
The "Heisman House" concept launched by Nissan in 2011 highlights its sponsorship of The Heisman Memorial Trophy, which is awarded annually to an outstanding college football player. The campaign gathers many of the most celebrated college football players of the last 30 years into the fraternal order of the Heisman House.
"We are proud to partner with our premier sponsor, Nissan, these former Heisman winners and Habitat for Humanity on this worthwhile project," said William J. Dockery, President of the Heisman Trust. "When most people hear the word Heisman, they immediately think of the trophy and college football. Many do not realize the mission of The Heisman Trust is to support the underprivileged and underserved. This is just another example of the work the Heisman Trust is doing all year long."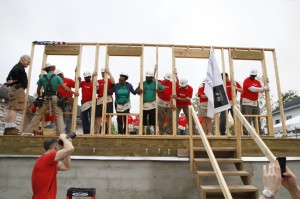 Partnering with New Orleans Area Habitat for Humanity, the Lightfoot family will move into their new three-bedroom Habitat home in Central City from a one-bedroom apartment. The family includes a daughter, 8, two sons, ages 5 and 2 months, and a new baby on the way.
"We are grateful for Nissan's long-time support in helping to make affordable housing possible and for extending an opportunity for the Heisman Trophy Trust and athletes to get involved in our work," said Kymberly Wolff, senior vice president of Development at Habitat for Humanity International. "We look forward to continuing to partner together to help families fulfill their dreams of home ownership."
Nissan's national partnership with Habitat dates to 2005, following hurricanes Katrina and Rita. Since 2006, Nissan has contributed more than $9 million to Habitat for Humanity. Nissan employees have helped to build more than 62 homes across the United States, and the company has donated 111 vehicles to support Habitat's mission.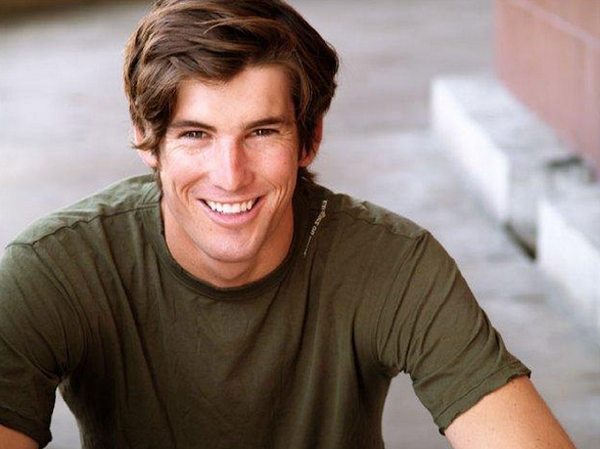 "Language of a Broken Heart" is a new romantic comedy that is now out in theaters. It follows a guy named Nick looking to repair his heart after a devastating breakup. Nick is a best-selling author on love, and he finds his fiancé with another man. His heartbreak drives him crazy and he starts reflecting on his many romantic failures.
I was able to talk with the writer and actor Juddy Talt, who plays Nick in the film. The movie also stars Oscar Nunez, Kate French, and Julie White. Juddy and I talk about how he came up with the concept of the film and the process of getting the film from paper to the big screen.
Art Eddy: You wrote and star in the film "Language of a Broken Heart". Tell me about the film and how you came up with the story?
Juddy Talt: This has been a long process. When I graduated at the University of Southern California I knew I wanted to make my own film. For this film it stems from a breakup. Well I should say a combination of a lot of breakups, but mostly on one that took some time for me to get over. It helps that I am a fan of movies like "Say Anything" and a lot of Woody Allen films. There are a lot of neurotic characters in Woody Allen films so that was something I thought about as I was doing my film.
I had a tough breakup so I decided that I needed to do a film about that. What did Henry Miller once say? It was something like the best way to get over a woman is to turn her into literature. A therapist once told me the best way to get over a woman is to get under another one. To me that sounded as odd and inappropriate advice.
So I went with the film route. I wrote it from my experience and it came out pretty quickly. It is a highly fictionalized version of this breakup. I find that breakup stories are such a universally accepted topic and people can relate to this story. My character has a broken heart, but you see him go through things that are sad and humorous at the same time. When I was dealing with a break up in my real life I looked back and thought there was some funny things I did. My dad even told me that I needed to get laid. It is funny now as I reflect on that and I think people will see the humor in what my character goes through in the film.
My character goes home and repairs his relationship with his mother and viewers start to see that this broken heart keeps on going around to different characters in the film. We have been getting great reviews so far and I am pleased with the viewer's reaction to the film.
AE: Since you wrote the story for the film, did you feel that acting in that role was easier than other projects that you were in before?
JT: I would say yes and no. I think it is very easy in a sense since you have been with the material for so long. Yet that can be a big downfall because you can hire an actor who brings something to the script that you never thought of before. It is fun when an actor comes and surprises you with a new take on the role. I have similarities to this character obviously. Yet this character is very obsessive and very neurotic and I hope that I am not like that in real life. (Laughs) The jury is still out.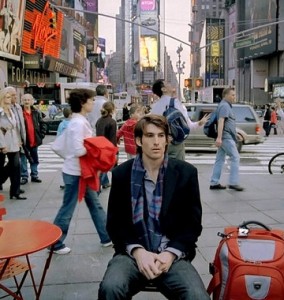 AE: The film also stars also stars Oscar Nunez, Kate French, and Julie White. Were you part of the casting process to get these actors?
JT: Absolutely. When I was in Los Angeles I got Ronnie Yeskel to be the casting director for the film. She is a well-known casting director and she responded well to the script. I was very much involved with her in casting for the film. We read with Kate (French) and Lara Pulver. Then we read with Ethan Cohn, who plays Cubbie in the film.
For Julie White and Oscar Nunez they were just straight out offers. We really wanted them. We were about to start shooting the film and we didn't even have them yet. We shot the film in New York and in Dallas. We heard that Julie was in Dallas so we thought that this was our chance to get her for the film.
Two weeks before we started filming in Dallas we started stalking Julie since she was in Dallas. We knew she was at her mother's house. We wondered if we should just show up at the house and just drop off the script. The funny thing about the whole stalking Julie thing was that it goes right along with a scene in the film. The main character's ex-girlfriend says to my character to stop stalking her and stop leaving notes and things on her car and house. My character then says something like what is the difference between stalking and being romantic. Luckily Julie liked the script and we got her for the film.
AE: How long did it take to bring the film from concept to screen?
JT: It was pretty long. I also produced it too. I was out there raising a lot of the money for the film. Even once I had the script I would say that it took about a year to a year and a half to start filming. I was also trying to get another project off the ground at that time. I switched my focus to this film because the other one was starting to get really expensive.
Yet overall all after the script for "Language of a Broken Heart" was done we were able to start shooting in a year or so. Now the film is in select theaters and that was not an easy task, so I am happy that it is in theaters.
AE: Do you preference of acting or writing?
JT: Every day I can wake up and write. It is a great way to get out what I need to get out. I really enjoy writing. I grew up on the stage acting. I did a bunch of community theatre growing up in Pasadena. I continued with that passion as I grew older. I love the both so it is nice to be able to do both.
AE: Are there any type of stories you would you like to tell that you feel the film industry has not touched on yet?
JT: Definitely. I think that this is a good starting point for me. This film doesn't reinvent the wheel. It is a very poignant little film. Viewers really responded well to it so far. If you go on sites like Fandango you see that audiences are really behind this film and are encouraging people to go check this film out. I don't have a big marketing budget so word of mouth is great.
For me, I love to mix comedy and drama. It is a tough thing to do, but I want to keep on making films like that. I want to show people how life is and that there will be good and bad times in everyone's life. I love films like "Almost Famous" and "Say Anything" since the blend drama and comedy is done so well. Even in stories that are tragic I want to show some sense of humor in part of that story. People will walk away from those films saying that is true to life. That is what I want to do in the future.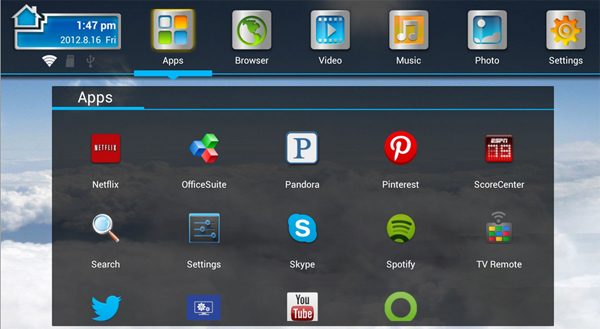 If you were looking to upgrade your old flat screen TV with a new smart TV you might want to check out the SmartStick first. If your TV is still in great shape why not just spend $50 instead of $1500. A company called FAVI Entertainment can upgrade your TV for 50 bucks as long as your TV has an HDMI input.
SmartStick has a HDMI connector that is built right on the stick that looks like a flash drive and it plugs directly into your HDTV with no cables or confusing adapters. The DC power is supplied over a mini-USB port, and the included mini-USB to USB connection is just the right length, to reach the USB port on your HDTV.
The Interface application is great. The application lets you access apps, the web, and multimedia content. The SmartStick actually gets you! I am serious. This device adapts itself to present your preferred content first. The homepage will remain constantly updated to display your 6 favorite applications, and any two widgets of your choice.
There is a browser tab to search the web. A video tab that will search through your attached storage devices and present all of your video files. Plus there is a music tab that will look out for audio files no matter which folder they're located in and present them for easy access.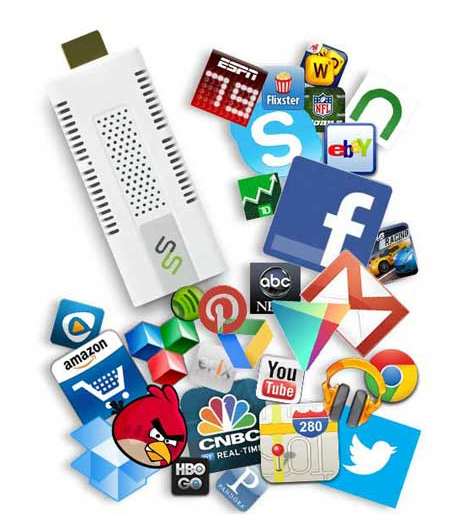 It also works with Google Play, Android apps, Netflix, Hulu and more. I was able to stream shows from my Netflix and HBO accounts. All of these shows are in HD quality since it hooks up to a HDMI port.
With the included PLEX app, you can now wirelessly deliver saved content directly to your SmartStick enabled TV. Just host your computer's media collection with Plex Media Server, open the PLEX app on your SmartStick and you are connected.
To even add more ease when using the SmartStick pick up the pocket sized keyboard with touch pad mouse. This keyboard lets you quickly respond to email and enjoy a complete web browsing experience. The keyboard setup is very similar to the Android hot keys that are located beneath the touch pad of the controller. If you like playing games on your Android devices then the touch pad will make gaming a lot easier and your gaming experience will be that much better on your flat screen TV. Whether you go with either the 4 GB or 8 GB of internal storage, the stick also has a microSD card slot that holds up to 32 GB. This is another way to watch movies on your TV.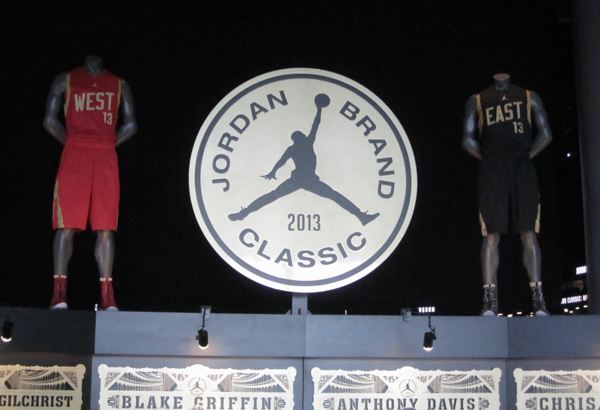 Last night the Barclays Center showcased three games. The first game was the International Game that had the best and brightest from players all around the world compete. The second game was a Regional Game in which every player was from the New York area. In this game it had the best high school players from the city to go up against players from the New York suburbs.
The final game was the National Game which filled up the Barclays Center with fans to see the future stars of the NBA. This game displayed the talents of the top rated high school players from all over the country. The future of Kentucky basketball was well represented last night. There was a total of six players in the game. Three on Team East and three on Team West.
Julius Randle, who is one of the players that will be playing ball for Kentucky, shared in the MVP Honors. He had 19 points and seven rebounds.  The other MVP was Jabari Parker, who will be playing for Duke next year. He scored 16 points and seven boards as he and the West Team beat the East 102-98.
Other Kentucky bound players put in work as well last night. James Young had 10 points. Dakari Johnson contributed with eight points. Brothers Andrew and Aaron Harrison chipped in each with six points.
Indiana University looks to have a promising future as both future Hoosiers Troy Williams and Noah Vonleh played well for the West.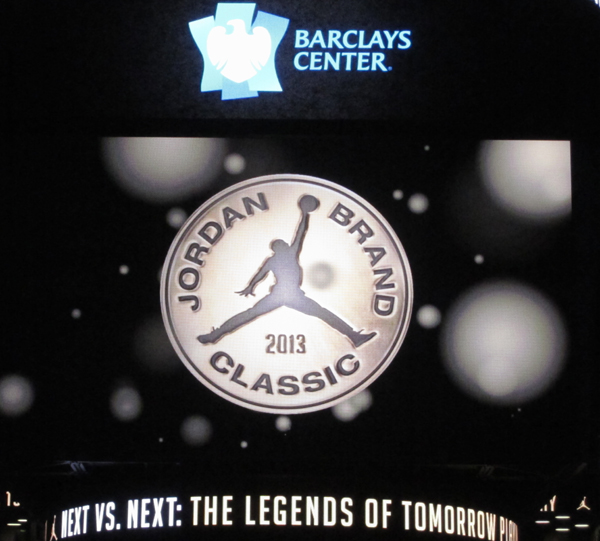 Along with the game the Jordan Brand Classic had some notable people in the stands. Since the game has his namesake, Michael Jordan came to watch the game in a suite. He got an enormous round of applause when he was mentioned during the festivities.
Even though the Barclays Center is home to the Brooklyn Nets there were some New York Knicks in attendance. Amar'e Stoudemire, Carmelo Anthony and J.R. Smith sat courtside. Spike Lee, Drake, who performed at the game was on hand. Plus CC Sabathia, Eric LeGrand, Fabolous, Chromeo, Andre Ward, Busta Rhymes and Michael K. Williams checked out the Jordan Brand Classic.
Carmelo even took the time to take a picture with Co-MVP's Julius Randle and Jabari Parker. Earlier this past week I caught up with Randle during the East's practice. I asked him about the game and if he was looking to build chemistry with his future Wildcats teammates. He said, "Oh yea definitely. Last week I played with Dekari Johnson and it was great. This week I am playing with the Harrison twins (Andrew and Aaron). It is crazy. I always used to play against them and now I am playing with them. It will be fun this weekend."
I would say winning the MVP Award made the weekend even sweeter for him. Kentucky looks to have a bright future with Randle and the rest of the Kentucky bound players. I am guessing John Calipari, head coach for Kentucky, was watching the game last night with a big smile on his face.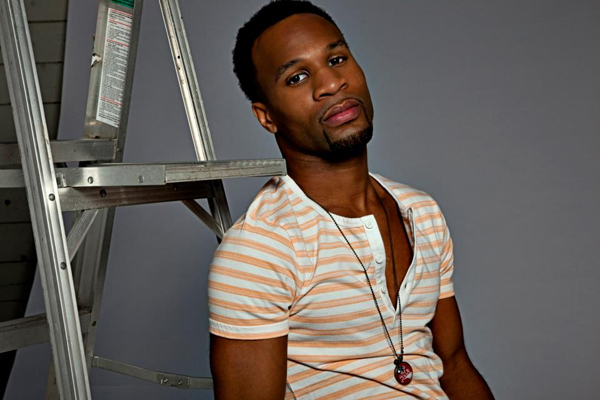 Johnny Ray Gill can be seen in the new series "Rectify" that will be on the Sundance Channel starting up on Monday, April 22nd. Gill plays Kerwin Whitman who is friends with the main character Daniel played by Aden Young. "Rectify"  is a legal drama that tells the story of Daniel, who was falsely imprisoned for 19 years and is released due to new DNA evidence. The series at times follows Daniel thinking back about his time in jail and the viewers are introduced to one of his friends and fellow inmate, Kerwin Whitman.
Gill also has been seen in great shows like "True Blood", "Bones", and "Harry's Law". Gill also has produced a short film called "Pas de Restes". Gill wrote, starred in, directed and executive produced the film.
Johnny Ray Gill was able to sit down and chat with me about "Rectify", his short film, and what he has learned from his experience in the film industry.
Art Eddy: Tell me about the plot of the show "Rectify" and your role as the character Kerwin Whitman.
Johnny Ray Gill: "Rectify" is on Sundance and it is a totally original show. It reminds me of a play in the theater but on camera because of the nuance of the way the story is told and shot. It follows the main character Daniel, who is played by Aden Young. Daniel has been in prison for about 17 years on death row and now because of DNA evidence he is released.
The story is about his first few days out of prison and how he acclimates himself to the town and society. Kerwin Whitman is who I play and I would say that he is Daniel's spiritual best friend. Kerwin was in a cell that was right next to him on death row.
AE: The show sounds very original and to me I feel like there is nothing on television like it right now. You must be excited to be part of show like this am I right?
JRG: Oh definitely. This show takes a hard and real look about what it is like to be on death row. We take a look at what it does to people's families, the victim's family, and what happens when a person is released.
It is also a relevant topic. Right now if you watch CNN or MSNBC you see that with things like DNA evidence people are getting released from prison. There have been a few stories just recently that people who were incarcerated and now were just released based on new evidence that showed that they are innocent. I am very proud to be on a show that is brave enough to dive deep into something of that nature.
AE: I love to see the passion you have for this role and wanting viewers to see a true representation of a person on death row. What type of research did you do for this role?
JRG:  Well in terms of research I have never been on death row and never been in prison. When I auditioned for the part I had a sense memory because one of my cousins is actually in jail for 25 years. It happened when I was in high school. He was part of killing someone through gang violence.
I feel that I was able to explore his spirit for the audition. African Americans and Latinos are hugely incarcerated inside a penitentiary complex. There is so much information to tap into. I wanted Kerwin to be almost an example of what not to do. To show how tragic it is to find yourself in these circumstances rightly or wrongly.
We film with real prison guards and they put real handcuffs and real chains on me. When I hear the clanging of the chains as I was walking into a cell that is the size of a bathroom I felt like I was representing my ancestors. I thought about the middle passage and slavery.
The beautiful thing about Kerwin for me is that even though he committed something very tragic on the outside in the real world, he is trying to find his manhood and atone for the things he did wrong. Reading Shakespeare, Malcom X, Dr. Martin Luther King Jr. I was able to go into my well so to speak and pull out the emotions of a tragic person trying to be a better man. I did as much research as I can to give the character the most authenticity for the show. To me these characters are not given the weight that they deserve and just become stereotypes and I didn't want to do that with Kerwin.
AE: Just hearing that alone wants me to check out the show. You have been very busy aside from shooting "Rectify." You also have another project called "Pas de Restes" in which you wrote, starred in, directed, and executive produced. Tell me about this short film.
JRG: It is a short film that is on the festival circuit right now that I shot last January. It has already been accepted to the Black Hills Film Festival and the Cape Fear Independent Festival. This film was a labor of love. Obviously there is a film industry here in Los Angeles, but there is not a film community. So there is a lot of beg, borrowing, stealing, and cheating to get the movie made.
"Pas de Restes" is about a family that goes out to eat at a popular restaurant. After ordering a bunch of food, like we all do, they are kindly prodded to finish their meal to ensure that no food is wasted. It is a dark comedy and it is doing pretty well so far. I hope that the festival circuit will continue to be kind to it.
AE: Sound like an interesting plot. I hope the film does well for you. Out of acting, writing, and directing do you prefer one over the others?
JRG: I will say I don't like producing. Producing sucks. (Both laugh) I don't mean like hey here is $10 million go out and make a film. I mean the day to day having to be your own secretary. Having to schedule everything here and there. That sucks.
Seriously though for acting, directing, and producing I always like to classify them as different suits. One is a pinstripe, one is a slim fit, and one is baggy and you have to put them on at different times. For me I definitely love acting, but the writing and directing aspect for me just comes from wanting to see new and fresh stories being told.
I want to show new perspectives that are not seen in films today. I would to follow the footsteps of Tom Hanks or Will Smith where you can pick the projects that you want to do, but also look at a story and say this needs to be told and go out and be able to tell that story. To me that is how you get great projects out there like "Game of Thrones" and "Boardwalk Empire". I want to be one of those individuals who stars and produces a show like "Boardwalk Empire".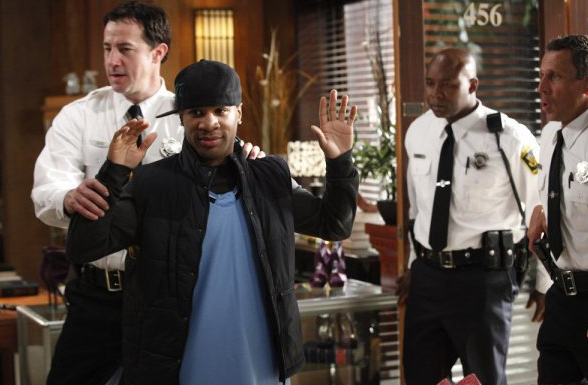 AE: You have also appeared in the shows "True Blood", "Bones", and "Harry's Law".  What did you learn as an actor from being on these notable shows?
JRG: I have been blessed to be on great shows like "True Blood." With all those shows including "Rectify" you get to see how a great show is really done. People are moving at a frenetic pace and they have to do an episode in eight days usually. These shows are telling fantastic stories and you have to be totally prepared and ready to match these actors when we are filming the show.
The times that I was not acting I would be watching others or the cinematography to learn more about the industry. I would see what they thought was important to put into that scene and I can take what I learned from those shows and put them into my projects.
As an actor when you work with someone like Kathy Bates, you study her. She is an Oscar winner. She knows her craft and there are so many things that you can learn from someone like her. I have been very blessed to have been in those shows and I take that experience and use that for the future.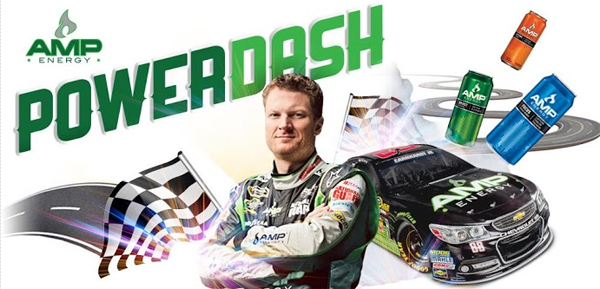 "AMP Energy PowerDash", is a brand new free mobile racing game from Dale Earnhardt Jr. and AMP Energy. The rules of PowerDash are simple: the longer you keep your No. 88 Chevy SS race car on the track without crashing, the faster you drive and more points you earn, which in turn unlocks upgrades for your car, as well as AMP Energy coupons.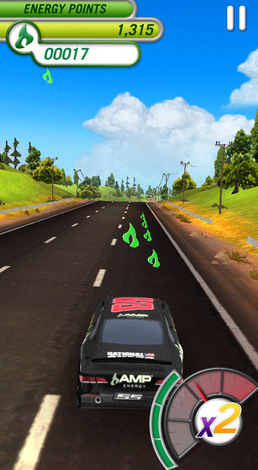 Playing PowerDash not only gives fans a chance to earn a spot on the virtual leaderboards, but is key to potentially winning a variety of unique real-world prizes and experiences. Weekly prizes include a variety of Dale Jr./AMP Energy memorabilia, including autographed hats, firesuits, scale-model die cast cars, and much more. The top-performing player with the highest score wins an all-expenses-paid VIP racing experience with Dale Jr., and everyone who downloads PowerDash and plays the game has a chance to win a 2013 Chevy Camaro SS Convertible.
PowerDash also leverages image recognition and geo-location technology. Consumers can visit 7-Eleven stores around the country to scan cans of AMP Energy to unlock exclusive offers and tips for maintaining the right level of energy with AMP Energy products.
The game is fun to play and you can get it for your iPhone or Android device. For more info check out there Facebook page.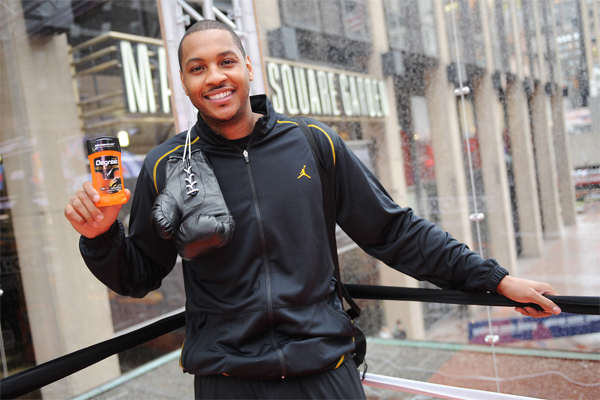 Carmelo Anthony has always been a dual threat on the basketball court, a leading scorer and a fierce defensive threat, but now he's showing the world how he can DO:MORE off the court with his love for boxing. Last night Anthony helped Degree Men launch its new DO:MORE campaign with an afternoon workout event with some of New York's top amateur boxers in a pop-up boxing ring atop the Madison Square Garden marquee. From above the Madison Square Garden marquee, Carmelo helped inspire guys everywhere to DO:MORE in their own lives by hopping in the ring for a brief workout with his boxing trainer.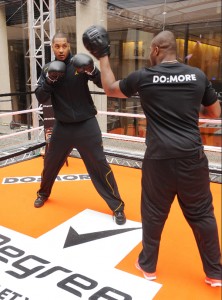 Complacency is not an option – especially for America's elite athletes. As you may have already seen or heard, basketball superstars Carmelo Anthony & Kevin Durant are teaming up with Degree Men deodorant to help launch a new campaign encouraging men to go beyond their comfort zone and test their limits – they're challenging guys to DO:MORE. With national TV advertising featuring Anthony & Durant airing this month during the NCAA tournament, the guys – who are known and recognized around the world for basketball – are showcasing their individual passions off the court with the support from Degree Men, in hopes to inspire guys everywhere to DO:MORE in their own lives.
With the support of Degree Men with MOTIONSENSE, Anthony has the confidence and protection needed to take his game to the next level and DO:MORE whether he's running 94-feet up and down the basketball court or going 12-rounds in the boxing ring.

Logan Miller started out as a child actor on a few shows like "I'm in the Band" and he voiced the character Nova from the animated series "Ultimate Spider-Man." Now Miller can be seen portraying a sex crazed maniac in an independent film called "Plus One" that premiered at SXSW this year. Before the party of the century for a group of college freshman, a small meteor hits earth and instead of any physical damage, the meteor causes molecular damage and every person develops a duplicate of themselves. It's up to 'Teddy' to band everyone together and save his friends from the potential threat of the duplicates.
Miller was also on NBC's "Grimm," Adult Swim's "Children's Hospital" opposite Rob Corddry, Michael Cera and Megan Mullaly, and more. I was able to talk with Logan about his current projects, SXSW, and his career.
Art Eddy: You were at South by Southwest promoting the film you are in "Plus One." Tell me a bit about the film and your role.
Logan Miller: The film concept is one that you have not heard before. It is a very crazy sci-fi thriller mixed with a teenage party movie. This small, small meteor comes to Earth and is very insignificant and it doesn't affect anyone physically. It has this electric current that creates a tremor in the time space continuum. This causes everyone to have duplicates of themselves, but it is not just duplicates. It is you but you in an hour from that past. So everything you duplicate does you already have done. Add that with a sex crazed party movie and you have a great time at the movie theater.
AE: How did you get involved into this film?
LM: I auditioned my ass of for it. I started with some tapes and then I flew all the way to New York. I then flew to London to test for it and then went back to L.A. to test for it. I was definitely committed to do this project. It had been something that I had never done before and it was a branch out of my previous work. I think this is as fresh as you can get. I really wanted to grab a hold of this role immediately and it worked out to my benefit. I think we have something here in the film that we can be proud of.
AE: Wow that audition process you did alone should be made into a movie.
LM: (Laughs) Right. Once I flew to London I told myself if I didn't get this role I would be very upset.
AE: So you were showcasing the film at this year's South by Southwest festival? Did you get a chance to meet some cool actors or musicians?
LM: Well I was very busy promoting the film so I didn't have a chance to meet some of the people I wanted to that were there at the fest. It was great and I had a blast. I am actually from Texas so I knew a lot of the cool places to take people when I had down time. The vibe of the fest is great. I love the collection of Indie film makers and great music melded together. It is really a fun, fun town to lose yourself in and I really enjoyed my time there.
AE: Do you have any other projects that you are currently working on?
LM: I have another movie called "Deep Powder" that just got accepted to the Tribeca Film Festival. I also have this movie called "Night Moves" that Kelly Reichardt directed that also stars Peter Sarsgaard, Dakota Fanning, and Jesse Eisenberg. That movie is actually coming out in the summer. I am trying to finance my own short film. It is called "Risen." You can check it out on my indiegogo website.
AE: You also voice the character Nova in the "Ultimate Spider-Man" animated series. For you what are some differences between live acting and voice acting?
LM: Voice acting I wouldn't say is ten times easier, but I will because it is. It is so much fun. We do the show like an old radio show where we all get together and voice the show. We have such a blast doing the show. You just show up and read your lines and you can be as comfortable as can be and you don't have to get any makeup on for voice over work. It is great.
AE: Are you a fan of comic books? Did you know a lot about the character of Nova before the series?
LM: Of course. Well I didn't know too much about Nova, but I read up on him. I know he is part of the Guardians of the Galaxy. I am glad that film is coming along and maybe I can play him in the film. It would be an awesome role to play.