Art Eddy III
This user hasn't shared any biographical information
Jabber/GTalk: Art Eddy III
Posts by Art Eddy III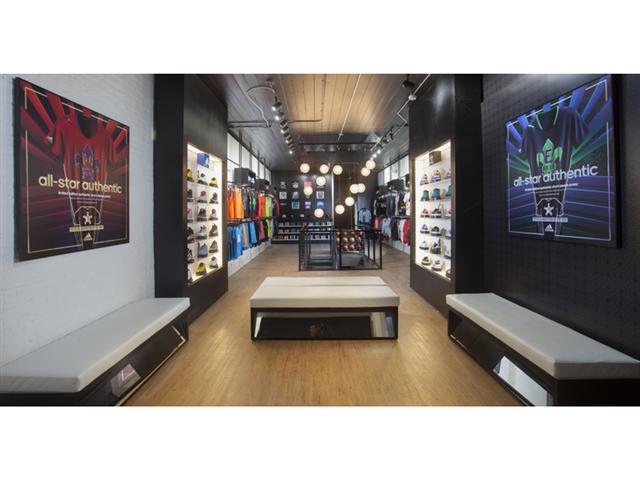 adidas, the official on-court apparel provider for the National Basketball Association (NBA), today announces the launch of adidas in the Quarter, an exclusive retail store and experience for fans to celebrate NBA All-Star in New Orleans.
Featuring the full assortment of official adidas NBA All-Star merchandise, the 2,400-square-foot adidas in the Quarter store will offer jerseys, men's and women's tee shirts, jackets, headwear and other apparel and accessory offerings. It will also offer exclusive, limited edition footwear from adidas Originals and adidas Basketball. The store opens today and will remain open to fans through Feb. 23 with extended hours during NBA All-Star weekend.
Beginning Thursday, Feb. 13, the destination in the historic French Quarter will give fans a once-in-a-lifetime opportunity to meet adidas athletes and entertainers through a multitude of events, product launches, concerts, in-store appearances and more. The line-up includes NBA legends Kareem Abdul-Jabbar and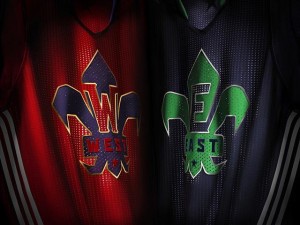 Dikembe Mutombo, NBA All-Stars Dwight Howard, Damian Lillard, John Wall, and Joakim Noah, as well as Harrison Barnes, Steven Adams, Tim Hardaway Jr. and hip-hop artist 2 Chainz.
adidas in the Quarter is located at 321 Chartres St., New Orleans, La., 70130.
Fans across the globe can follow the events online and participate in exclusive opportunities through Twitter, Facebook and Instagram with #adidasintheQuarter, or text "adidas" to 43902 to subscribe to notifications.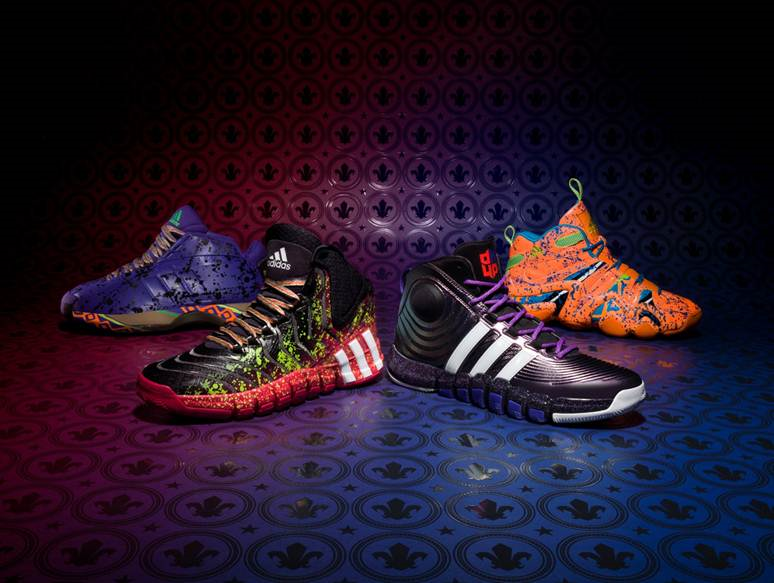 Dwight Howard, John Wall, Damian Lillard and others will debut special NBA All-Star versions of the Howard 4, Crazy 8, Crazy 1 and the all-new Crazyquick 2 at the 63rd NBA All-Star Game in New Orleans. Inspired by New Orleans' rich culture and the atmosphere of NBA All-Star weekend, the footwear collection features bright Mardi Gras colors and exciting prints which will be rolled out Feb. 14 and 15.
The Crazy 8
The classic model, originally launched in 1997, features an aggressive design that follows the form and function of the foot. The NBA All-Star Crazy 8 will be worn by players during the Rookie game and NBA All-Star Saturday Night contests. Bright orange and blue colors and splatter paint print are inspired by The Crazy 8 ($110) will be available Feb. 14 at Foot Locker, Eastbay, Finish Line, Champs, Shoe Palace, DTLR, and adidas.com.
The Crazy 1
The classic model, originally launched in 2000 features a curved, aerodynamic upper inspired by luxury automobiles. The NBA All-Star Crazy 1 will be worn by players during the Rookie game and NBA All-Star Saturday Night contests. Double foam collar provides added ankle support while the torsion system improves stability and traction. Bright orange and blue colors and splatter paint print are inspired by the architectural and art of New Orleans and celebratory spirit of Mardi Gras and NBA All-Star weekend. The Crazy 1 ($125) will be available Feb. 14 at Foot Locker, Eastbay, Finish Line, Champs, Shoe Palace, DTLR and adidas.com.
DWIGHT HOWARD 4
The NBA All-Star version of the Howard 4 features a metallic "Blast Purple" colorway for one of the most elite centers in the league. A unique take on the traditional purple of Mardi Gras, the metallic "Blast Purple" stands out on the court and gives the superstar center a unique look for the big stage of the NBA All-Star Game. The SPRINTWEB and TECHFIT upper provides lightweight support and lockdown with maximum breathability. Crazyquick technology elements include an articulated forefoot with two-way flex zones for increased traction and court feel. The Howard 4 ($125) will be available Feb. 15 at Eastbay, Finish Line, and adidas.com.
CRAZYQUICK 2
The NBA All-Star version of the all-new Crazyquick 2 features a "Vivid Berry" and black upper with "Solar Slime" splatter paint print that pays homage to the celebratory spirit of Mardi Gras and NBA All-Star weekend. The NBA All-Star Crazyquick 2 will be worn on-court by Damian Lillard of the Portland Trail Blazers (West) and John Wall of the Washington Wizards (East).
QUICKWEB upper provides increased flexibility and superior fit in the all-new style. Signature Crazyquick outsole technology is once again featured in the Crazyquick 2 for increased traction and court feel. The Crazyquick 2 ($125) will be available in limited quantities at NBA All-Star Jam Session in New Orleans on Feb. 13.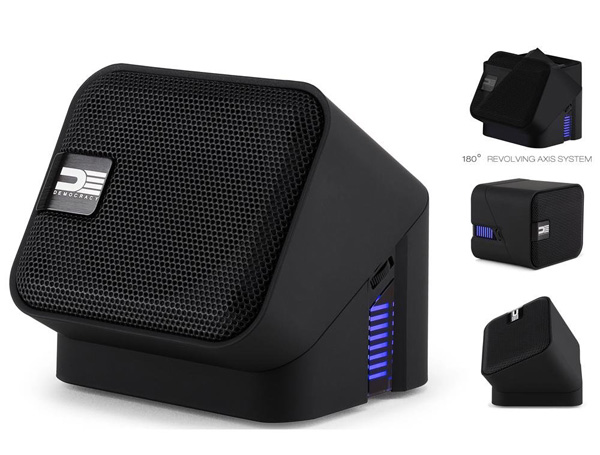 It seems that there are many wireless Bluetooth speakers out there. Some are way too expensive and some don't even pull enough power for one room. Recently I was able to check out the Democracy. Starting with the Bluetooth technology that allows you to have seamless streaming on select iPhone, iPad, Smartphone, Tablet, MacBook, laptop or any other Bluetooth-enabled device.
Set up was a snap and the Democracy speaker was ready to go. You can move the speaker in any direction by using its revolving axis system. This feature allows for optimum music enjoyment. The Democracy's exclusive three-position axis system intelligently enables an ergonomic solution to enhance the music experience just by a single twist of the wrist. It is like the Rubik's cube of speakers.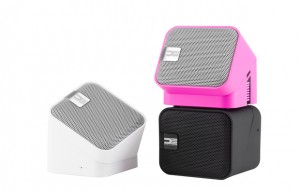 You can also use the Democracy to take conference calls anywhere in the office, car, at home, alone or with a group. There is an integrated sharp, powerful, built-in microphone. I was very pleased with the mic when I was using Skype.
You also get 8 hours of music play with its built-in battery time to eliminate the need to carry bulky power supplies while looking for outlets to plug in. The rechargeable battery is efficient and frees your speaker of wires for maximum versatility whether indoor or outdoor. When you do recharge the battery there is a smart LED power indicator. When the LED is in full color, or be notified with a dull color when recharging is suggested.
Even if you wanted to pair up a source that is not Bluetooth ready, no problem. You can use the built-in 3.5 mm audio cable. The cleverly imperceptible audio cable will always allow you to use an audio device without Bluetooth capability.
I was a big fan of the Democracy wireless Bluetooth portable speaker. If you are looking for a speaker that has great sound and a small price tag then check out the Democracy. For more information check out their website!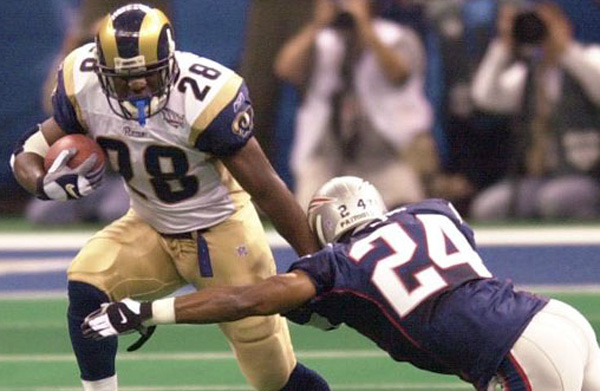 Even before Marshall Faulk played in the NFL many knew that he was going to be a superstar in the league. In college at San Diego State University Marshall was a three-time All-American. The Indianapolis Colts drafted him as the second overall pick in the 1994 NFL Draft. After his time with the Colts, he played for the St. Louis Rams.
Faulk is one of only three NFL players with at least 10,000 rushing yards and 5,000 receiving yards. Marshall has been named the league MVP, helped the Rams win Super Bowl XXXIV, and was selected seven times for the Pro Bowl. He was elected to the Pro Football Hall of Fame in 2011.
Faulk can be seen on TV shows such as "NFL Total Access," "Thursday Night Football," and "NFL GameDay Morning" on the NFL Network.
Before Super Bowl weekend I caught up with Marshall. He was working with Verizon to promote the "Who's Gonna Win?" campaign in connection with the Empire State Building. Besides talking about that promotion we did chat about this year's match up between the Seahawks and Broncos, his time in the NFL, and his induction into the Hall of Fame.
Art Eddy: You are part of Verizon's "Who's Gonna Win?" program, the first-ever social media-driven light show on the world's most iconic building, the Empire State Building. Tell me a little about that promotion?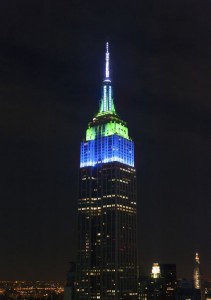 Marshall Faulk: This whole "Who's Gonna Win?" campaign is an initiative by Verizon. They are powering up the Empire State Building. Fans can help decide if their team's colors will go up on the Empire State Building. It is a pretty cool program. Each day is going to be a different program leading up to Saturday.
Obviously everyone wants to know who is going to win. That is the interesting thing to see. Which team's fans will get more involved and how many hashtags will be for Seattle or Denver is going to come into play. We will find out when the Empire State Building will be lit up.
AE: It sounds like a very cool program. Who do you think will win the Super Bowl? Broncos or Seahawks?
MF: I think it can go either way. I don't have a favorite. Usually you can look at the numbers or watch how they play common opponents. It is so tough to tell. I keep telling people that only because Peyton (Manning) is a friend of mine that I just want to see him win another Super Bowl. Outside of that I really don't know. I am not going to lie.
AE: Speaking of the Super Bowl you had the great fortune of playing in two of them. What was the week leading up to the game like?
MF: You want to say that it is all business. You are trying to have a normal week. Last night I saw that a bunch of players from the Seahawks have a team event. They showed some support for the (Brooklyn) Nets by going to the game. Those are the kind of things you want to do. Dinners, going to a basketball game, just things like that with your teammates.
Keep it in a team atmosphere. If you have family here, have dinner with your family. You don't want to be that guy who is drawing negative attention to your team. That is what we are waiting for. We are in the media. We are trying to see who is going to be the idiot to try and do something stupid.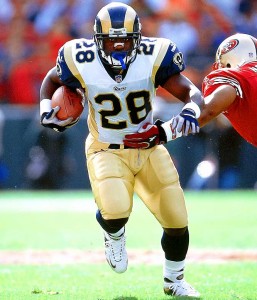 AE: When did the nerves go away when you played in your first Super Bowl?
MF: Let's see here. First you come out of the tunnel. You are excited about the game. You realize the magnitude of the game. You look around and see all the press. You look at the field and say 'God this looks small.'
You hyperventilate. You catch your breath. Probably the second series after you get a hit a couple times and had a few times touching the ball.
AE: With everything that you have accomplished in your phenomenal career from MVP awards to a Super Bowl win what is the number one thing you take away from your time in the league?
MF: Winning the Super Bowl. I am telling you that it is the hardest championship to win. It requires all hands on deck. When you are on the field 11 guys must be pulling towards the same goal. It is the greatest team sport ever. It is the greatest sport ever. I just love how fun it is to win a championship.
The one thing that you know about our game and I love this as well, the best team doesn't always win. It is the best team on that day. In other sports you get seven games to get it right. In our game you get one game to get it right.
AE: Can you imagine playing the best of seven for a Super Bowl? It would be crazy right?
MF: Exactly.
AE: After your time in the NFL you got the call that you would be inducted into the Pro Football Hall of Fame. What was the first thing that entered your mind when you got the news?
MF: I will take you through the whole process. When you first hear that you are on the ballot you are kind of nonchalant about it. It gets down to 35 and you are like alright. When it gets down to 15 you are pretty good. The week of the Super Bowl and pretty much that Saturday was when I started having the pregame jitters feeling.
They are calling names. I am standing up there. My hands are sweaty. My heart is beating. I am saying to myself you can't go in the game. You are not playing, but that natural feeling of anticipation or excitement that you have when things are out of your control when you can't do anything about it. That was what it was. I was quite relieved that my last name ends in F and it was called early out on the list. It was a good day to hear my name called. I will say that.
AE: You and your teammates on the St. Louis Rams had a sick nickname, "The Greatest Show on Turf." What was it like to play with guys like Kurt Warner, Isaac Bruce, Torry Holt, and the rest of that high powered offense?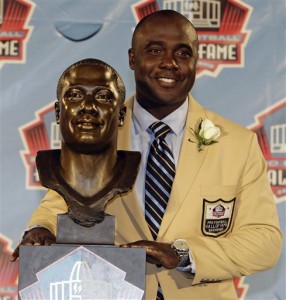 MF: It was fun. I enjoyed playing with those guys. As much fun as it was the one thing that we talk about when we see each other like we did at the Pro Bowl recently. Ricky Proehl, who is now the Carolina Panthers receivers coach, was at the Pro Bowl because the Panthers coaching staff was there for the Pro Bowl.
We just started talking once again. Ernie Conwell, he works for the NFLPA. Me, him, and Ricky were having the same conversation. We always talk about it. The one thing that continues to come up about it is how unselfish we were. When I look at the Denver Broncos that is what you get from them. They really don't care who is catching the touchdowns, who is catching the passes, who is getting the yards, or who is getting the accolades. It is all about a team goal.
It is hard to get that especially from receivers. We had it. It was special. I definitely enjoyed playing with those guys. We talk about it. I always point to Ricky Proehl. The year before Ricky led the team in receptions, receiving yards, and receiving touchdowns. The year we won the Super Bowl he catches one touchdown. It was touchdown that sent us to the Super Bowl against Tampa in the NFC Championship. He doesn't say a word about it the whole season. That is the unselfishness you need in order to win games like that.
Here's an early look at the new Diet Mountain Dew ad spot set to premiere during Super Bowl XLVIII, featuring race car driver Dale Earnhardt Jr. It features the NASCAR star taking it up a notch after hearing his signature "Dale Call".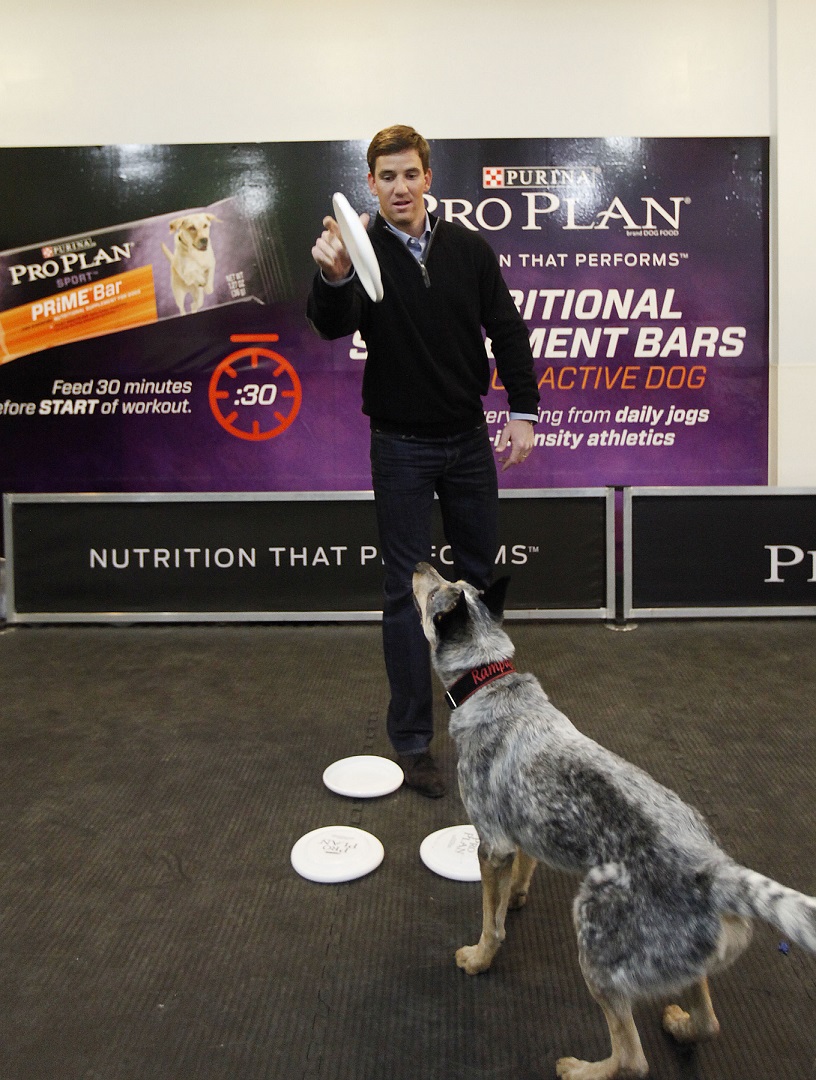 Two-time professional football champion Eli Manning and several athletic dogs demonstrated that our four legged friends are naturally incredible athletes at the "Purina® Pro Plan® MANning vs. DOG Challenge" leading up to the Big Game. This made-for-media competition featured Manning and other human athletes pitted against highly athletic dogs in a variety of physical challenges, including flying disc, weave pole races and high-speed man vs. dog races.
Manning was joined by Dr. Brian Zanghi, Nestle Purina® Canine Sports Nutrition Researcher, and one of the key developers of the Purina® Pro Plan® SPORT PRiME and ReFUEL nutritional supplement bars. Dr. Zanghi discussed the science behind proper canine nutrition, and how the PRiME and ReFUEL nutritional supplement bars can be used to help active canines fuel, perform, and recover safely.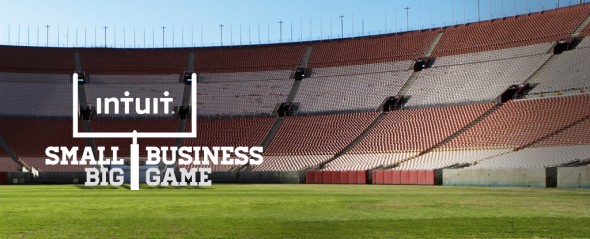 Intuit Inc. is now in Phase III of their Small Business Big Game program, sponsored by Intuit QuickBooks. These four small businesses are all who remain in the competition to receive their very own 30-second television advertisement that will air during football's biggest game on Feb. 2. The ultimate winner will be determined by a worldwide online vote between:
"What a wide-ranging and deserving group!" said Brad Smith, Intuit president and chief executive officer. "Tens of thousands of small businesses entered this contest, and these finalists demonstrate the breadth of entrepreneurship across the United States. Although the field is down to just four, this effort shined a light on the contributions and importance of all small business to our economy."
Check out Barely Lab's ad!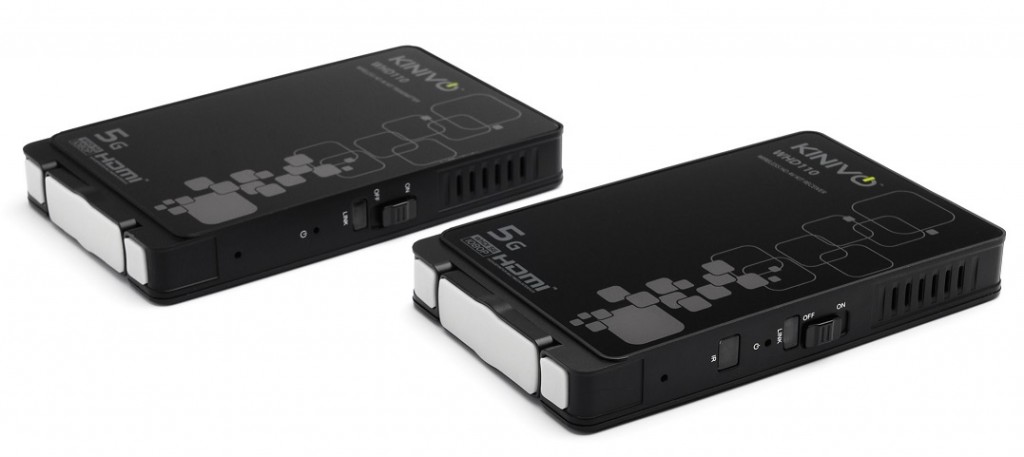 I think it is safe to say that we are all looking to try and save a few bucks here and there. We are looking to cut costs, but not strip ourselves of certain things. One thing that I was looking to do in 2014 was to see if I could cut my cable TV subscription. I hear more and more that a lot of people are doing it. Not that I am conforming into peer pressure, but when it comes to saving money I will take a look at all the options.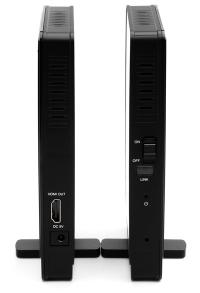 There are some devices out there that just work for their programs that are just for their operating system. Then there are those trying to be a knockoff version and the quality is very poor. What I wanted was quality TV, but not paying an arm and a leg for it.
I found out about the Kinivo HDMI kit and wanted to see what they could offer. Kinivo is a producer of quality mobile device accessories. Recently they introduced the new WHD110 wireless HDMI extender kit, created for home audio and video to wirelessly stream content to your television in high definition. Kinivo's WHD110 extends the wireless HDMI signal with a simple and convenient set-up process, eliminating cable clutter and streamlining your home's entertainment system with this all-in-one solution.
The HDMI extender kit streams video and audio content up to 65 feet in open space or up to 40 feet indoors, depending on wall density, for a wireless connection between televisions, audio systems, laptops, gaming consoles, cable boxes, monitors and more. Kinivo's WHD110 brings content from the small screen to the big screen and provides a simple way to wirelessly connect the Internet to your television.
Requiring no complicated set-up, users simply connect Kinivo's compact transmitter to the output device and attach the receiver to the TV's HDMI input to wirelessly stream audio and video over your home's entertainment system. Kinivo's WHD110 also brings the power of the internet to your living room with the ability to stream online content to your television screen.
It is perfect for cutting the monthly cable bill. You can wirelessly connect their television screen to a laptop or desktop and directly stream video instantly.
"The WHD110 updates your home's entertainment system by providing advanced features with hardly any set-up required," says Kinivo VP of Operations Neeraj Srivastava. "Completely customize your home's entertainment system with wireless streaming and connect with your favorite devices in an entirely new way."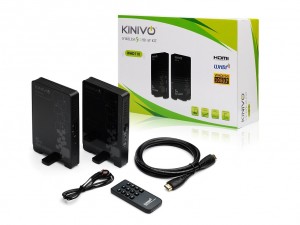 And that I did. I was very happy with Kinivo's kit. It has a wireless frequency of 5 GhZ. It streams media in 1080p resolution and supports 3D. It has a 40 feet indoor range as well as 65 feet in open spaces. It comes with removable stands for transmitter and a receiver. It supports the following video formats for TV: 1080p, 1080i, 720p, 576p, 480p; PC: up to 1920×1080. For audio you can use either PCM, DTS and DOLBY DIGITAL.
There are a ton of devices that it is compatiable with such as HDTVs, HD projectors, monitors, Blu-ray, DVD players, HD satellite and cable set top box, DVR systems, AV Receivers, Computers (Windows/Mac), HD output capable tablets and smartphones, Playstation 4, Xbox One, Wii U, Playstation 3, and Xbox 360.
So if you are looking to ditch the high cost of cable and stream TV and much more from your devices make you check out the Kinivo HDMI kit. For more info check Kinivo's website.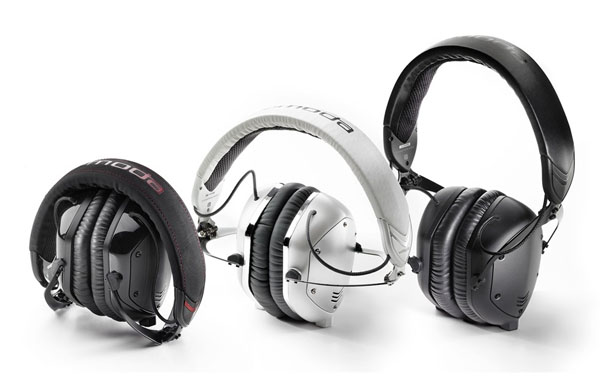 The V-Moda Crossfade M-100 delivers a bass-heavy sound with a design that is pleasing to the eye. Just like the M-100's predecessors it has the diamond shaped metal ear cup plates that can be customized to your liking. The M-100's are tough too! The Kevlar cable is tangle-free and when you travel you can put your headphones in its exoskeleton carrying case.
Going with the traveling theme the M-100s can transform into an almost ball like state. The ear cups collapse and don't take up too much space. There is also a 1 button microphone cable, a shareplay cable, and V-Corks. What is a V-Cork you might ask? Well the V-Corks can plug up one of the inputs when you are not trying to share music or if you were linking up two sources at the same time.
V-Moda headphones have a crystal clear sound to them. These babies produce a very powerful bass output. The design of the M-100s with the 50mm dual diaphragm driver and with a frequency response of 5 – 30 kHz, place the emphasis on the bass sound.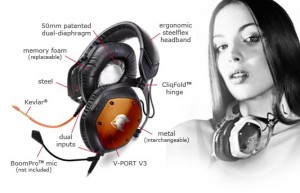 Besides the M-100's having a powerful bass system the sound is very detailed and crisp. There are some headphones the require batteries for enhanced sound. V-Moda says no to batteries or artificial processing. The M-100 is powerful and has a clear sound without the two extra digital-to-analog conversions that are needed to be battery-powered. Those other headphones can sometimes pollute the purity of your music. Also the Crossfade have minimal sound leakage so you can immerse yourself in your music without others being able to hear your playlist.
Another thing I look at for headphones is how comfortable are they. Well the M-100 has plush memory foam cups which makes for an enjoyable wear around the ears. No matter if I am at the gym, editing a podcast, or working around the house I could wear these for hours.
The Boom Pro microphone instantly transforms the M-100 into the ideal headset for gamers, podcasters and broadcast professionals. You can even get laser engraving customization service with logos, artwork, text, numbers and multiple plate colors.
For more info on the V-Moda M-100 check out their website!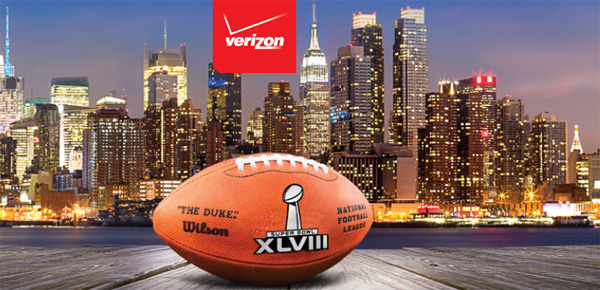 This week Verizon is getting you involved in Super Bowl Week with #WhosGonnaWin.  Fans have enjoyed watching NFL teams light up scoreboards all season long, but during Super Bowl week, fans will be the ones lighting up the Empire State Building as part of Verizon's WhosGonnaWin program, the first-ever social media-driven light show on the world's most iconic building, in partnership with Empire State Realty Trust.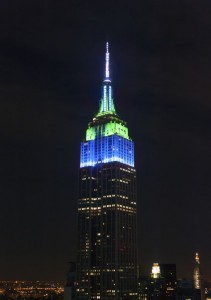 The five-night series, curated by the Empire State Building's world-renowned lighting designer Marc Brickman, will showcase the colors of the two Super Bowl XLVIII teams, the Denver Broncos and the Seattle Seahawks, based on fans' tweets to the question #WhosGonnaWin.  Flipping the switch nightly will be current NFL stars Drew Brees and Matt Forte, along with NFL Hall of Famers Barry Sanders, Curtis Martin and Marshall Faulk, who will be flipping the switch on Tuesday to start the show.
Each day leading up to the Super Bowl, Verizon will pose a game-related question on Twitter to fans using the custom hashtag #WhosGonnaWin.  The Twitter conversations surrounding the questions will be tracked throughout the day, and Verizon will turn the fans' predictions into a spectacular nightly light show.  The show will begin at 6 p.m. each evening, and open with a ceremony of lights celebrating the colors of all 32 NFL teams. The opening ceremony will end in Verizon's iconic red.
At 6:55 p.m., the results show, an orchestrated visual concert set to music provided by NFL Films will begin.  The show will be comprised of real-time data from the day's conversation which will be translated into a stunning sequence, with the colors of the winning team ebbing and flowing depending on the votes throughout the day. The colors of the team which was the most prominent in the conversation during the day will dominate the skyline for the rest of the evening.  The entire results show will be live-streamed at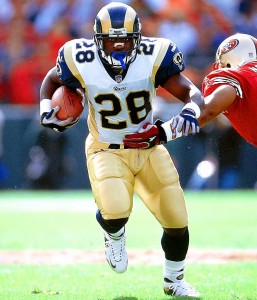 WhosGonnaWin.com and on NFL Mobile.
Today I spoke with Pro Football Hall of Fame running back Marshall Faulk on which team will dominate defensively. On paper everyone is thinking that the Seahawks have the defensive edge.
When I asked Marshall who he thought would win the Super Bowl he gave told me it is anyone's game.
"I think it can go either way. I don't have a favorite. Usually you can look at the numbers or watch how they play common opponents. It is so tough to tell. I keep telling people that only because Peyton (Manning) is a friend of mine that I just want to see him win another Super Bowl.
Outside of that I really don't know. I am not going to lie." – Marshall Faulk
Follow Marshall Faulk at @marshallfaulk and go to WhosGonnaWin.com to make your voice heard!
Look out next week for my entire interview with Marshall. We discuss his playing days, Super Bowl and MVP titles and more.