Art Eddy III
This user hasn't shared any biographical information
Jabber/GTalk: Art Eddy III
Posts by Art Eddy III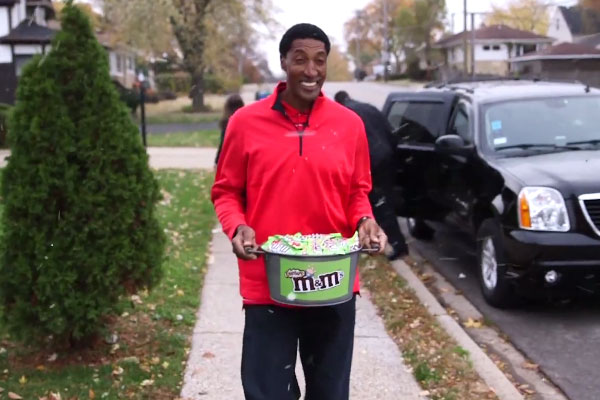 The new M&M'S® Crispy Milk Chocolate Candies was available for trick-or-treaters this Halloween – but only at one house in the entire country, after being hand-delivered by Scottie Pippen.
M&M'S Crispy has been gone for 10 years, and fans have lobbied so hard for its return we're bringing it back. M&M's Crispy officially hits stores in January, but a Chicago fan named Olivia asked through the M&M'S® Brand Facebook page: "Why not make M&M'S® Crispy available at Halloween?"
The brand responded by teaming up with Chicago basketball legend Scottie Pippen to surprise Olivia with a batch of her favorite candy that she could pass out to trick-or-treaters, making hers the only house in the country with M&M'S® Crispy this Halloween.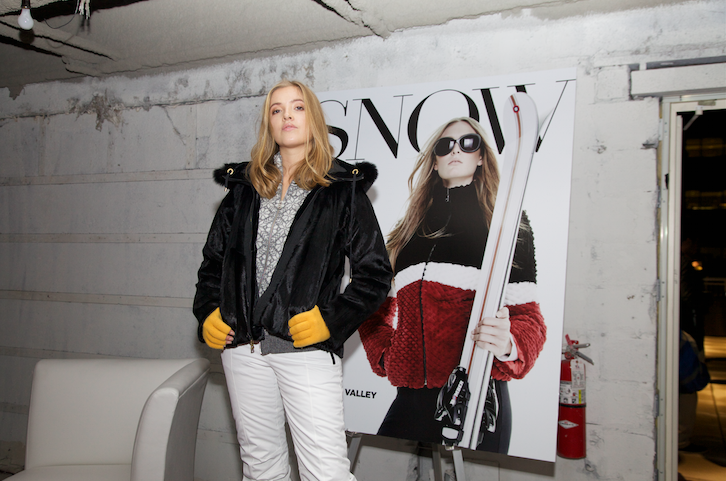 Patron and Macallan was flowing freely on Wednesday night to celebrate the start of the ski season in style presented by Snow.  Guests enjoyed everything from a fun Patron XO Café Snow Angel photo booth, distinctive eats and paella served by celeb chef Peter Callahan, live graffiti art by Ellis Gallagher and Luke Kendall, along with an on-site live auction to benefit the US Ski Team.
Luxury ski brand Bomber Ski announced their new brand ambassador, ski legend and Olympian Marc Girardelli, and also unveiled many of their new styles, including its new "Stars & Stripes" skis where a portion of sales benefit the US Ski Team, along with their newest line of Art Skis featuring designs by Michel Basquiat and Keith Haring.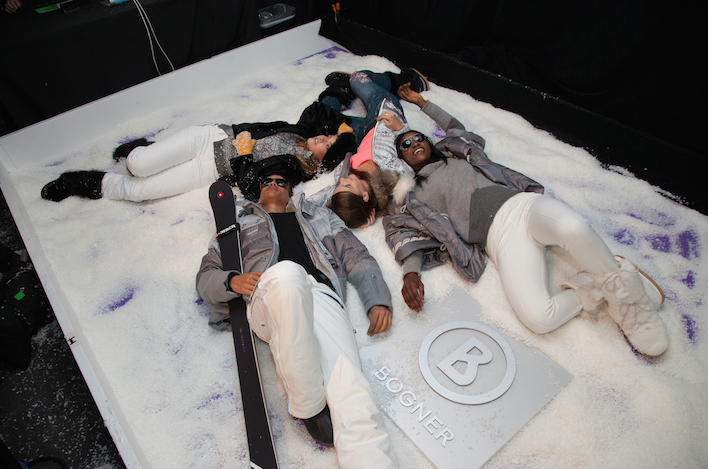 Bogner showed their newest Men's and Women's skiwear styles on model while Leisure Society showcased their newest line of lifestyle and performance eyewear.
From a ski travel perspective, the St Regis Deer Valley announced their new Ski Ambassador program at the property, featuring 5 different Olympians and US Ski Team members, and had Olympic skiers KC Oakley and Mac Bohonnon on-site to meet with guests.  Majestic Heli Ski talked to guests about their luxury heli ski packages that they will be promoting throughout the season in the Alaskan wilderness, while Sentient Jet talked about their partnership as the official private jet partner of Aspen Snowmass resorts.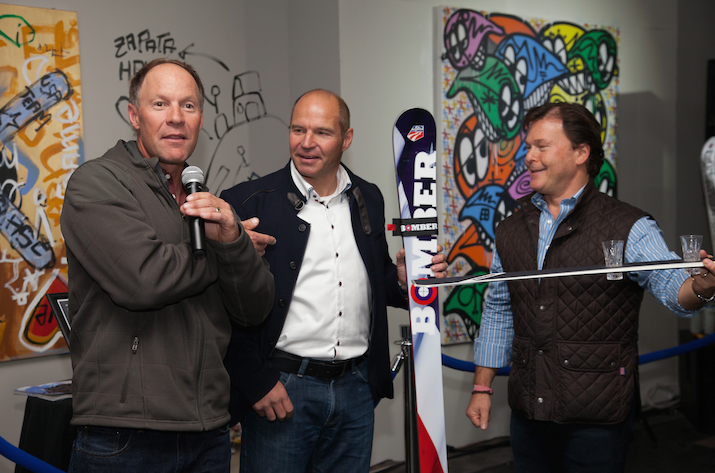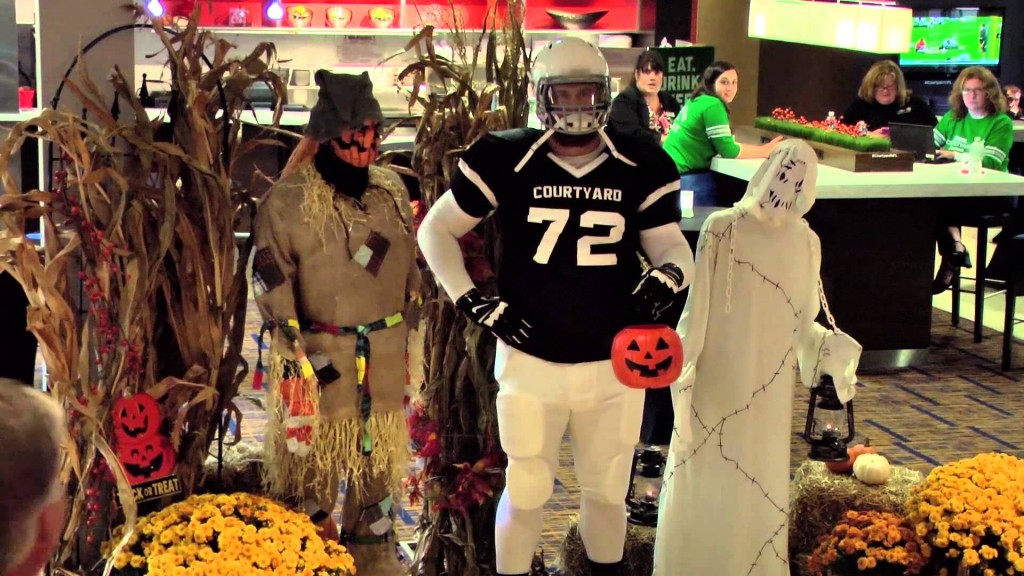 In the spirit of Halloween, former New England offensive lineman, Matt Light, dons a unique Halloween disguise- a mannequin – giving Courtyard by Marriott guests both a trick and a treat in this Halloween edition of 'Courtyard Camera'.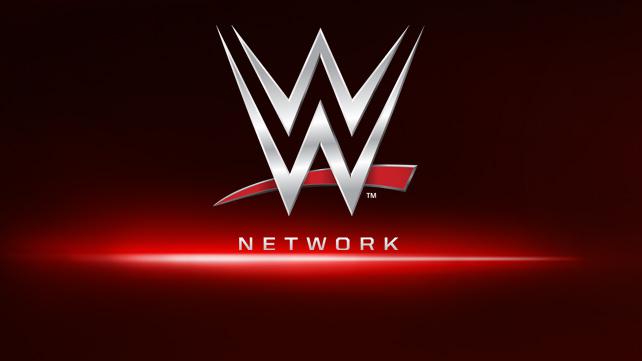 Much like other subscription businesses including Netflix and Hulu Plus, WWE will be offering:         November For Free: New subscribers will receive WWE Network free of charge for the entire month of November – including Survivor Series on Sunday, November 23. WWE Network will be available for $9.99 per month with no commitment and the ability to cancel at any time.
WWE Network features 24/7 scheduled programming, all 12 pay-per-view events LIVE and the most comprehensive video-on-demand library with more than 2,600 hours of content, including every WWE, WCW and ECW pay-per-view, all for $9.99 per month with no commitment and the ability to cancel any time. WWE Network programming includes groundbreaking original programming, reality shows, documentaries, classic matches, exclusive coverage of special events and more. The U.S. English language version of WWE Network is available on an over-the-top basis in more than 170 countries and territories.
Like other digital subscription services, such as Netflix and Hulu Plus, fans are able to subscribe online by going to WWE.com and clicking on the WWE Network button on the top right corner of the navigation bar.
For a complete listing of WWE Network availability by country and device, please click here.


Attend the Most Interesting Man's interactive Masquerade Party and help him find one of his most valuable possessions – his little black book. Choosing the right path through his manor could reward you with a ticket to a real Masquerade Party in New Orleans.
Dos Equis has created two interactive digital experiences that bring fans 21+ into The Most Interesting Man's Manor this Masquerade season.
The breakthrough virtual reality experience, accessible via the Oculus Rift Dev Kit II or Samsung Gear VR (available this December), takes fans 21+ into a Masquerade as The Most Interesting Man's guest of honor where they'll encounter the unexpected and extraordinary.
Dos Equis will be bringing the virtual reality experience to select bars and festivals across the U.S. this Halloween season. Dos Equis created a parallel experience for fans everywhere with a complimentary interactive digital video that lets fans help The Most Interesting Man find his "little black book" featuring several choices that give them control over the narrative.
Dos Equis is giving six fans 21+ a chance to win an all-expense paid trip for two to New Orleans to meet The Most Interesting Man and celebrate with legendary artist Q-Tip on November 22, 2014.
Through October 31, fans can enter the contest by posting Masquerade and Halloween photos to Instagram using #XXMasquerade or by uploading them to XXMasquerade.com.
Fans can also enter by purchasing Dos Equis and texting/emailing a photo of their receipt to XX@DESWEEP.com. Every photo posted, uploaded or texted/emailed represents another chance to win.
Visit DosEquis.com/Masquerade for more details and to view the interactive video experience. The Dos Equis virtual reality experience is coming soon to the Oculus Rift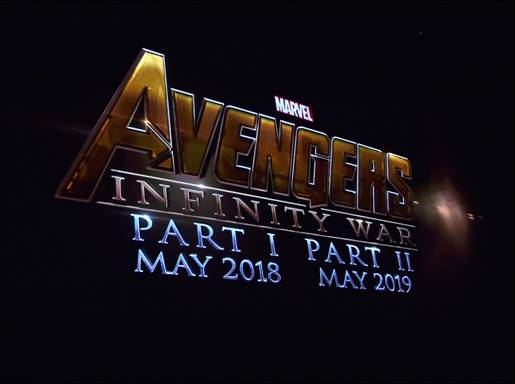 This morning, during a special event at the El Capitan Theatre in Hollywood, Marvel Studios President Kevin Feige revealed the films that will make up Phase 3 of the Marvel Cinematic Universe, featuring a mix of fan-favorite characters and several heroes who will be making their big-screen debuts.
The next two films to be released by Marvel are AVENGERS: AGE OF ULTRON on May 1, 2015, and ANT-MAN on July 17, 2015. Marvel revealed the dates and titles of nine additional films through 2019, including upcoming Captain America, Thor, Avengers and Guardians of the Galaxy installments, along with films featuring Black Panther – who, Feige announced, will be played by Chadwick Boseman – Captain Marvel, Doctor Strange, and the Inhumans.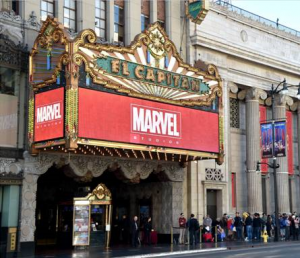 The announced films are as follows:
·       5/1/15 –  AVENGERS: AGE OF ULTRON
·       7/17/15 – ANT-MAN
·       5/6/16 – CAPTAIN AMERICA: CIVIL WAR
·       11/4/16 – DOCTOR STRANGE
·       5/5/17 – GUARDIANS OF THE GALAXY 2 (previously dated 7/28/17)
·       7/28/17 – THOR: RAGNAROK
·       11/3/17 – BLACK PANTHER
·       5/4/18 – AVENGERS: INFINITY WAR PART I
·       7/6/18 – CAPTAIN MARVEL
·       11/2/18 – INHUMANS
·       5/3/19 – AVENGERS: INFINITY WAR PART II
Ten films have already been released in the Marvel Cinematic Universe, beginning with 2008's IRON MAN. All 10 films opened at #1 domestically and have collectively grossed over $7.1 billion globally.
Two of these films, MARVEL'S THE AVENGERS and IRON MAN 3, set records as the #1 and #2 domestic openings of all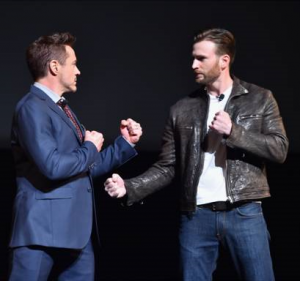 time with $207.4 million and $174.1 million respectively. MARVEL'S THE AVENGERS went on to become the third biggest film of all time worldwide, while Marvel's IRON MAN 3 ranks as the sixth biggest film ever. They are the two highest grossing Super Hero films of all time.
Earlier this year, Marvel's CAPTAIN AMERICA: THE WINTER SOLDIER, which broke the April opening domestic record with $95 million, earned $714 million worldwide and is the #5 film of 2014. Most recently, Marvel's GUARDIANS OF THE GALAXY crossed $757 million globally after opening with a domestic August record of $94.3 million and setting an October debut record in China, where it has now grossed nearly $90 million. It's the #1 film of the year domestically and the #3 film worldwide.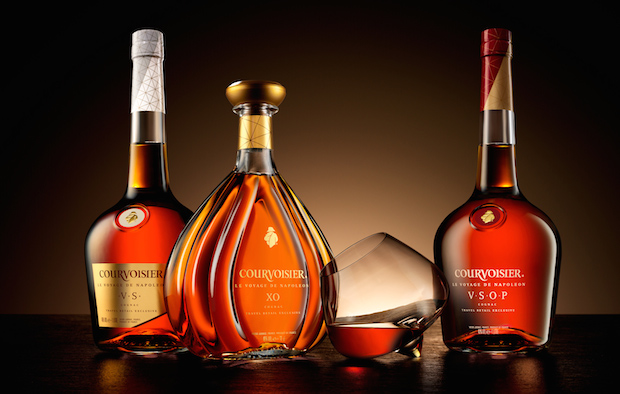 Halloween is this Friday. There are so many things to worry about as we near one of the best party days of the year. What costume should I wear? Where am I going to celebrate? Should I join in that group costume idea with my friends? Store bought costume or homemade?
With those questions and more at least there is one thing you don't need to worry about this Halloween. It is what you are going to drink. Here at MANjr we are hooking you up with some tasty cocktail recipes courtesy of Courvoisier.
THE APRICOT HAUNT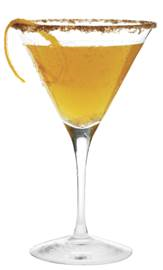 Ingredients:
1 part Courvoisier VS
1 part Fresh Lemon Sour
.5 part DeKuyper® Apricot Brandy
4 parts Apple Cider
Directions:
Shake all ingredients with ice and strain into a cocktail glass. Garnish with a lemon spiral twist and a dash of fresh ground cinnamon.
WITCHES BREW
Ingredients:
1.25 parts Courvoisier VSOP
.75 parts DeKuper Sour Apple Pucker
Splash of orange juice
Splash of grenadine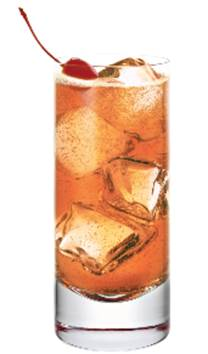 Directions:
Build cocktail in order in an ice filled highball glass. Garnish with a cherry.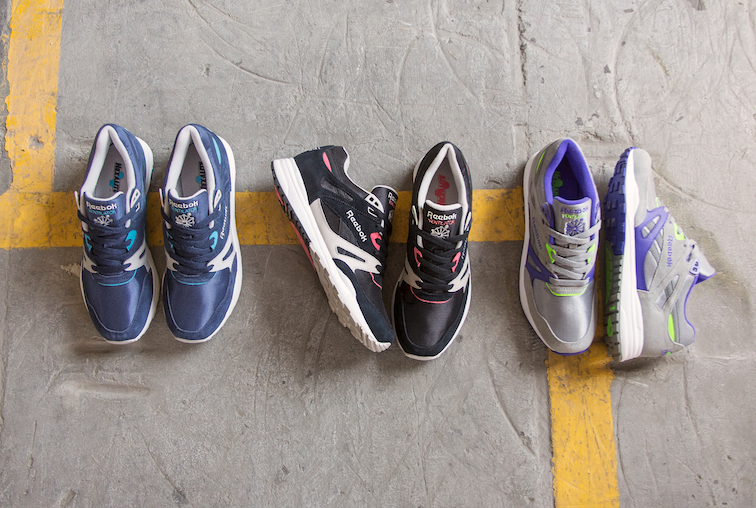 Born during the golden era of Reebok design and technology innovation, the Ventilator was a game-changing runner when it was first introduced in 1990.  The first Reebok lightweight runner with a focus on breathability, the Ventilator was a bold, expressive silhouette that was years ahead of its time.  Today the Reebok Ventilator remains an extremely versatile, one-of-a-kind lifestyle sneaker, with the chameleon-like ability to take both clean and bold executions.
The Ventilators are currently on sale now for $90 at Reebok and additional retailers.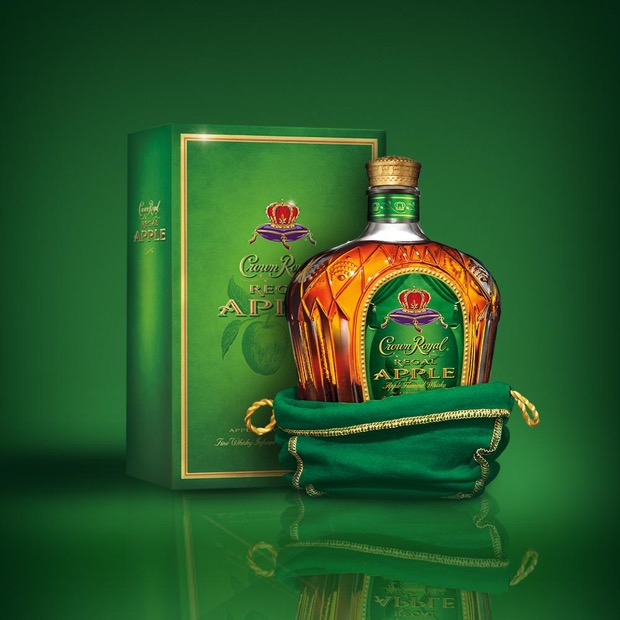 Crown Royal is launching a new offering to the brand's portfolio called Crown Royal Regal Apple. The second flavored variant to be released, Crown Royal Regal Apple is a combination of the renowned taste of Crown Royal whisky infused with natural apple flavors. The unique blend of hand-selected Crown Royal whiskies and natural apple flavors is the perfect balance of robust whiskey notes and crisp apple flavor.
Perfect for toasting occasions and best served as a chilled shot, Crown Royal Regal Apple is a great way to celebrate an occasion. One reason to celebrate is that we are now into a new NBA season. What team will you toast to? Will it be the "reigning" champion Spurs or the LeBron's Cavs? No matter what team you will be rooting for make sure you enjoy Crown Royal responsibly.
Here are some tasty drink recipes that are perfect to try out Crown Royal's new whisky, the Regal Apple.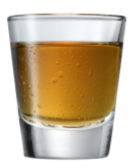 Candy Apple
1oz Crown Royal Regal Apple
0.5oz Crown Royal Maple Finished
Shake over ice and serve as a shot
Crownberry Apple
1.5oz Crown Royal Regal Apple
4oz Cranberry Juice
Serve in a rocks glass over ice and garnish with apple wedge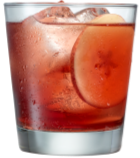 Big Apple
1.5oz Crown Royal Regal Apple
1oz sweet Vermouth

1 dash angostura bitters
Shake over ice and serve straight up with cherry garnish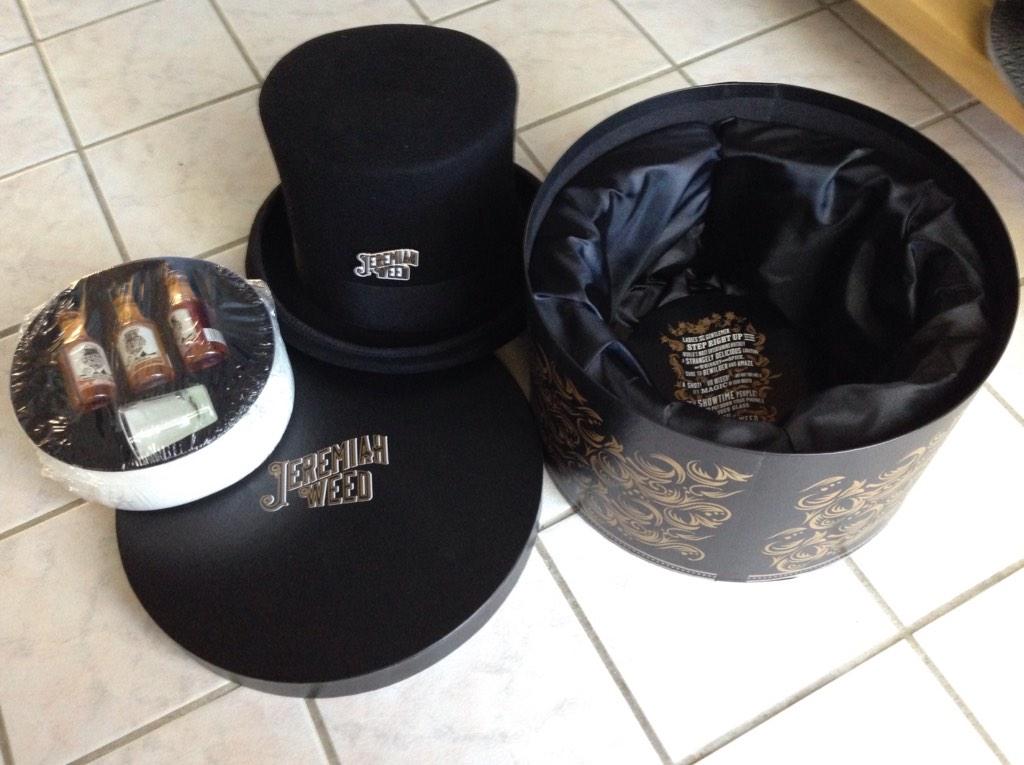 Recently the kind folks at Jeremiah Weed sent me a care package with their new flavored whiskies along with a sweet hat. I was getting a little nervous that I didn't have a Halloween costume yet. Now since I got the hat it has inspired me for a very cool costume. Thanks Jeremiah Weed for the assist! The whiskies that they sent me are very tasty as well. Each new variant is unique. These three new flavors can be enjoyed straight or mixed to create a very flavorsome cocktail.
Plus Jeremiah Weed unveils a new line of flavored whiskies blended with hand-selected secret spices.  Each variant is sure to bewilder and amaze as they take the stage as either a shot or mixed with cola.  With these releases, consumers craving more curiosity and excitement from their whiskey will be provided an additional line of flavored whiskies to be enjoyed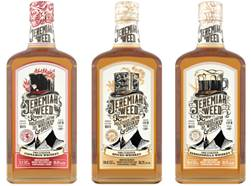 responsibly.
Jeremiah Weed Spiced Whiskey is a smooth aged whiskey with added spices to showcase the rich vanilla bean and toasted oak barrel sweetness. At 70.6 proof (35.3% ABV), Jeremiah Weed Spiced Whiskey is best consumed mixed with cola.
Jeremiah Weed Cinnamon Whiskey has a distinctive punch of spicy ground cinnamon that dials up the warm, woody whiskey character. At 71.2 proof (35.6% ABV), Jeremiah Weed Cinnamon Whiskey is best consumed as a shot.
Jeremiah Weed Sarsaparilla Whiskey features old-fashioned sarsaparilla root (similar to root beer) that blends naturally with the dried fruit and oak barrel notes, resulting in a satiny smooth whiskey. At 70.4 proof (35.2% ABV), Jeremiah Weed Sarsaparilla Whiskey is best consumed as a shot.
Jeremiah Weed Flavored Whiskies have cool labels that display a faceless man with intricate designs specific to each variant spiraling from his top hat. The whiskies are a strangely delicious addition to the brand's portfolio, which includes Jeremiah Weed Southern Style Sweet Tea and Jeremiah Weed Blended Bourbon Whiskey.
Jeremiah Weed reminds you to always enjoy responsibly.  Each new offering will be sold at a suggested retail price of $18.99 for a 750 mL bottle.