Lifestyle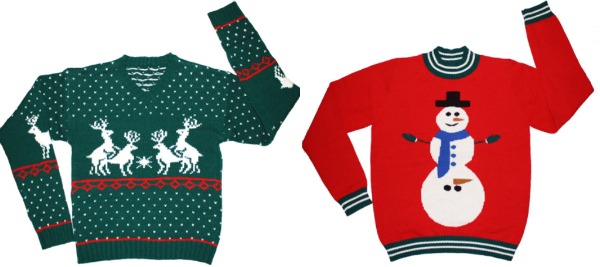 Dude, it's December! That means Christmas fever is in full effect. Get ready for a few solid weeks of jingle bells, pine needles and Egg Nog. Secret Santa gifts will be purchased. Stockings will be stuffed. Christmas parties will be attended. But what will you wear to your special holiday shindig?
How bout a naughty Christmas sweater from Skedouche?
Nothing puts you into the holiday spirit like a tacky Christmas sweater. But why go for an ordinary tacky sweater when you can sport something subversively naughty? Skedouche's adult-theme sweaters are just the right amount of clever. You don't want to be sporting something pornographic at your company get-together or your grandma's house. You just want the right amount of sublte humor to spice up your tackiness.
Skedouche's naughty sweaters are made with 100% Acrylic yarn. I received one from SKedouche, and they're pretty sturdy without being itchy, which is a big plus. They're also 100% guaranteed conversation-starters at holiday parties.
If you want to go for a holiday look that's more nice than naughty, Skedouche also offers more traditional tacky sweaters, scarves, accessories and even LED sweaters that light you up like a Christmas tree.
Don't go for a boring cardigan or a dreary raincoat this holiday season. Show up to your holiday party with some gaudy-naughty Christmas flair and share some laughs with the ones you love.