Start Your Holiday Travel Planning with Hipmunk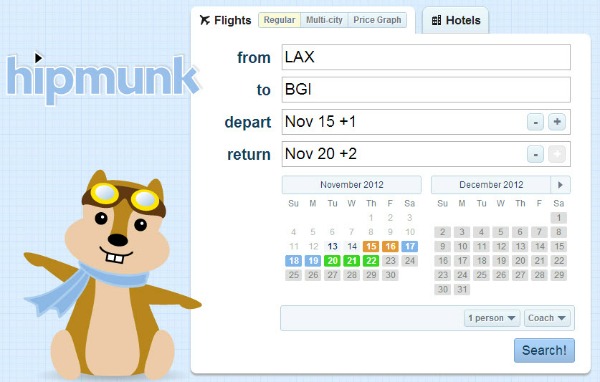 If you've got vacation days stored away, we're about to enter the annual sweet spot for taking time off work. It's about time you cashed in those vacay days, man. It doesn't have to be an epic trip that breaks the bank. Just figure out a game plan and move on it. Whether you're meeting family or friends or just trying to experience something solo, spending on travel is never a bad investment. You deserve the joy that comes with experiencing something new and different.
The new and improved Hipmunk site can help you plan your trip without wasting valuable time and energy. Hipmunk has a simple philosophy and travel planning. Everyone wants to find good value when booking a flight or a hotel, but cost isn't the only consideration. Is it really worth 150 bucks for you to book a flight with two additional stops and a 10 hour layover? Probably not. You want to save money when you travel, but you have to balance cost with pain, travel convenience and a host of other factors.
This is what makes Hipmunk so cool. The site pitches itself as a better flight search and hotel booking engine, and really, it is. If you visit a big aggregator site like Expedia, Travelocity or even Kayak, you are bombarded with information about every single flight available to you. Sure, you can sort by price, duration of travel, non-stop vs. multi-stops, etc. But more often than not, there's just way too much information to sift through. Hipmunk has some unique features that help you get past the information overload, so you can find a flight plan sweet spot that's specific to your needs.
A couple weeks back, I started planning a trip to Barbados using Hipmunk. You begin the process by entering in your destinations and desired days of travel. It's easy to add a plus or minus range to your dates. Next, you take a look at the results. They're presented kind of like Gantt chart, with price on the right, duration of flights in the middle and expandable results to the left. Take a look: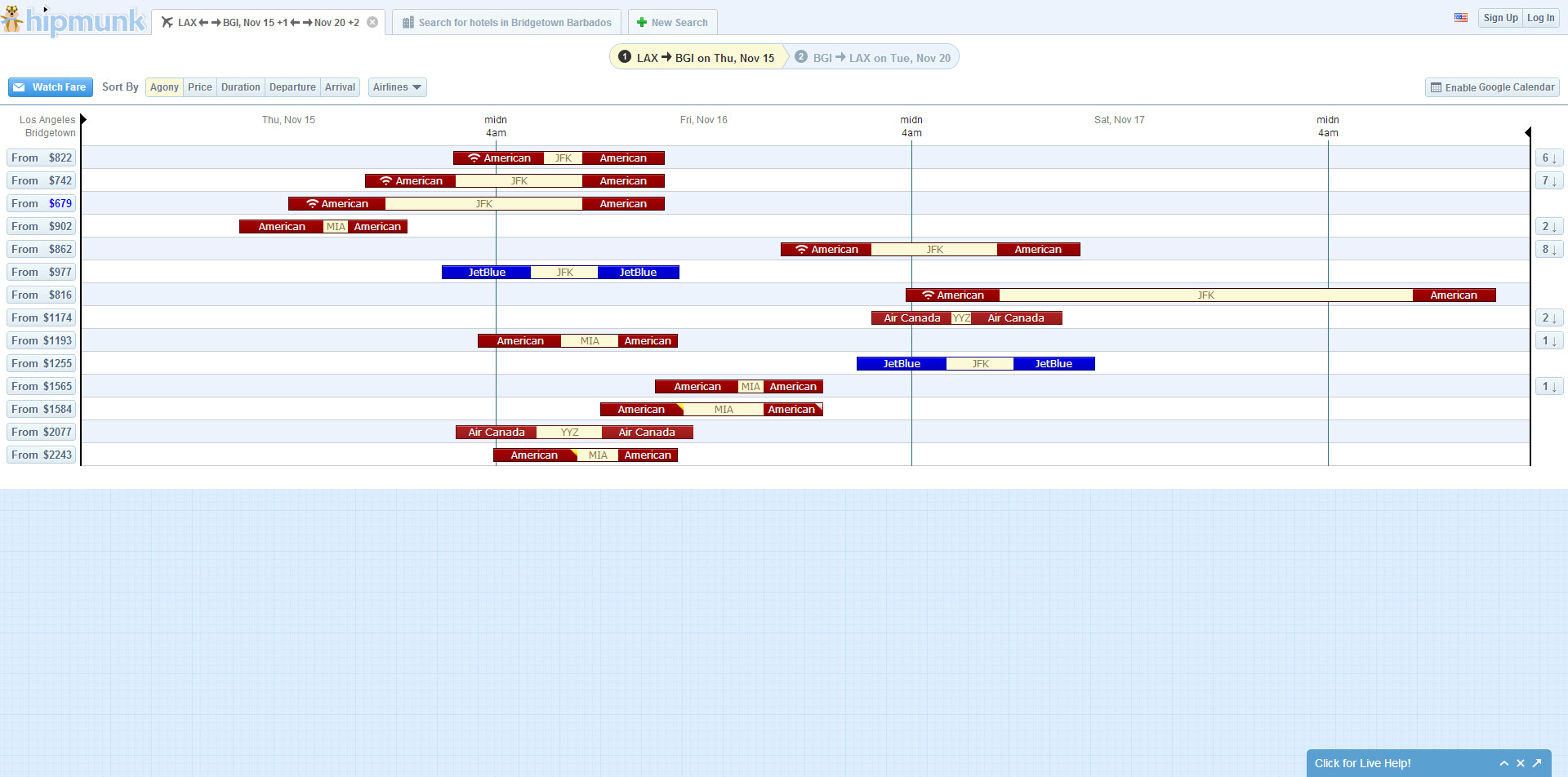 So instead of looking flights up by price or duration, you get a quick, highly focused view of your options sorted by overall pain (price/duration). If you want to view more results that are similar to a particular flight, click on the left to reveal more options. You can hover over specific flights to get more details and you can easily select the right combo of price and time costs.
I found a flight from LAX to Barbados via New York that was affordable, included minimal layover time (just over two hours each leg) and featured the all-important flight option: Wi-Fi. I clicked on the link and booked directly through the airline site.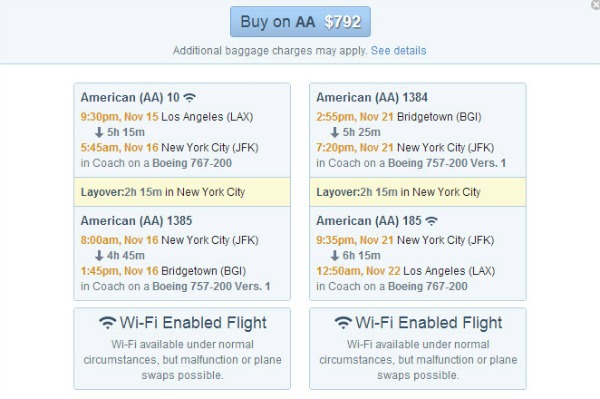 Once you've selected a flight, it's time to start checking out hotels. Hipmunk just revamped their hotel search this week. You can view local hotel options that cater to your specific travel interests. Variables include property type, chains, amenities and neighborhood features like family, LGBT, romance, business and adventure. The results are provided by Trip Advisor, so you can dive into user reviews of each hotel pretty quickly. You can also sort the results by price, reviews or "ecstasy."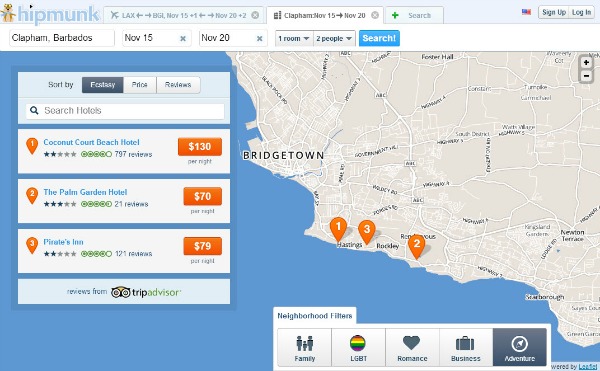 It's a really efficient way to cut through all the nonsense. You get a sense of a locale before you visit, and you can find accommodations that'll fit your specific agenda.
So I used Hipmunk to book my Barbados trip, and I even checked with a travel agent buddy to see if he could get a better price. The Himpmunk price turned out to be cheaper. This whole process seriously cut down on the shopping around time, and you can sign up for email alerts that will let you know when any price changes to your flight take effect. If you're still planning a trip by pouring through endless flight search results or hundreds of hotel reviews, try this site out. It'll save you some time and money during the coming travel-heavy holiday season.
Related Posts
| | | |
| --- | --- | --- |
| | Print article | This entry was posted by Chris Stout on November 13, 2012 at 3:56 pm, and is filed under Lifestyle. Follow any responses to this post through RSS 2.0. Both comments and pings are currently closed. |
Comments are closed.