Give The Gift Of Movies This Holiday Season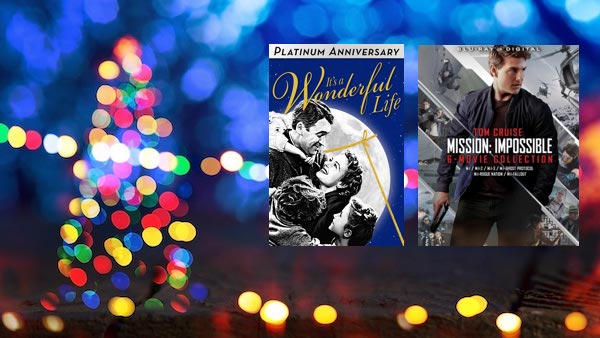 Have you started shopping for the holidays yet? Don't freak out if you haven't even thought about it. We got a great idea for you that will make all of the people on your list happy! Give the gift of movies! No matter who is on your list you can find a movie that will be a hit for each one on your list.
Here are a few ideas from Paramount that are classics or new hits that you should look to pick up.
Mission: Impossible 6 Movie Collection (available on Blu-ray and Blu-ray + 4K UHD versions)
A "mission" two decades in the making. Tom Cruise is IMF Agent Ethan Hunt, one of the greatest action heroes of all time, in the adrenaline-pumping, suspense-filled blockbuster franchise MISSION: IMPOSSIBLE. Filmed in the most exotic locations around the world by the biggest directors in Hollywood, this must-have 6-film set will thrill any action fan. Your mission, should you choose to accept it – experience the most action-packed collection ever!
Indiana Jones: The Complete Adventures (Blu-ray)
Own all four Indiana Jones adventures in this Blu-ray collection.  This collection includes: Indiana Jones and the Raiders of the Lost Ark, Indiana Jones and the Temple of Doom, Indiana Jones and the Last Crusade, and Indiana Jones and the Kingdom of the Crystal Skull. 7 Hours of Special Features. On set with Raiders of the Lost Ark: Witness the making of Raiders as it happened with newly revealed footage that puts you on the set during production, alongside filmmakers, cast and crew. Film Foursome: The "Making of" all 4 Indiana Jones Adventures: Join filmmakers Steven Spielberg and George Lucas for an up-close look at each production, and the evolution of the original action hero, Indiana Jones. Cast and Creator Interviews. Behind-the-Scenes Peeks: Stunts, Sounds, Special Effects and more!
Mission: Impossible- Fallout (Blu-ray)
On a dangerous assignment to recover stolen plutonium, Ethan Hunt (Tom Cruise) chooses to save his team over completing the mission, allowing nuclear weapons to fall into the hands of a deadly network of highly-skilled operatives intent on destroying civilization. Now, with the world at risk, Ethan and his IMF team (Simon Pegg, Ving Rhames, Rebecca Ferguson) are forced to become reluctant partners with a hard-hitting CIA agent (Henry Cavill) as they race against time to stop the nuclear fallout. There's never been a threat more destructive, stunts so jaw-dropping in the film's series.
A Quiet Place (Blu-ray)
If they hear you, they hunt you. In this terrifyingly suspenseful thriller, a family must navigate their lives in silence to avoid mysterious creatures that hunt by sound. Knowing that even the slightest whisper or footstep can bring death, Evelyn (Emily Blunt) and Lee (John Krasinski) Abbott are determined to find a way to protect their children at all costs while they desperately search for a way to fight back. Hailed by critics and audiences around the world, experience the must-see movie of the year. VUDU Instawatch Included
Saving Private Ryan 20th Anniversary
Steven Spielberg directed this powerful, realistic re-creation of WWII's D-day invasion and the immediate aftermath. The story opens with a prologue in which a veteran brings his family to the American cemetery at Normandy, and a flashback then joins Capt. John Miller (Tom Hanks) and GIs in a landing craft making the June 6, 1944, approach to Omaha Beach to face devastating German artillery fire. This mass slaughter of American soldiers is depicted in a compelling, unforgettable 24-minute sequence. Miller's men slowly move forward to finally take a concrete pillbox. On the beach littered with bodies is one with the name "Ryan" stenciled on his backpack. Army Chief of Staff Gen. George C. Marshall (Harve Presnell), learning that three Ryan brothers from the same family have all been killed in a single week, requests that the surviving brother, Pvt. James Ryan (Matt Damon), be located and brought back to the United States. Capt. Miller gets the assignment, and he chooses a translator, Cpl. Upham (Jeremy Davis), skilled in language but not in combat, to join his squad of right-hand man Sgt. Horvath (Tom Sizemore), plus privates Mellish (Adam Goldberg), Medic Wade (Giovanni Ribisi), cynical Reiben (Edward Burns) from Brooklyn, Italian-American Caparzo (Vin Diesel), and religious Southerner Jackson (Barry Pepper), an ace sharpshooter who calls on the Lord while taking aim. Having previously experienced action in Italy and North Africa, the close-knit squad sets out through areas still thick with Nazis. After they lose one man in a skirmish at a bombed village, some in the group begin to question the logic of losing more lives to save a single soldier. The film's historical consultant is Stephen E. Ambrose, and the incident is based on a true occurance in Ambrose's 1994 bestseller D-Day: June 6, 1944
Forrest Gump
Stupid is as stupid does, says Forrest Gump (played by Tom Hanks in an Oscar-winning performance) as he discusses his relative level of intelligence with a stranger while waiting for a bus. Despite his sub-normal IQ, Gump leads a truly charmed life, with a ringside seat for many of the most memorable events of the second half of the 20th century. Entirely without trying, Forrest teaches Elvis Presley to dance, becomes a football star, meets John F. Kennedy, serves with honor in Vietnam, meets Lyndon Johnson, speaks at an anti-war rally at the Washington Monument, hangs out with the Yippies, defeats the Chinese national team in table tennis, meets Richard Nixon, discovers the break-in at the Watergate, opens a profitable shrimping business, becomes an original investor in Apple Computers, and decides to run back and forth across the country for several years. Meanwhile, as the remarkable parade of his life goes by, Forrest never forgets Jenny (Robin Wright Penn), the girl he loved as a boy, who makes her own journey through the turbulence of the 1960s and 1970s that is far more troubled than the path Forrest happens upon. Featured alongside Tom Hanks are Sally Field as Forrest's mother; Gary Sinise as his commanding officer in Vietnam; Mykelti Williamson as his ill-fated Army buddy who is familiar with every recipe that involves shrimp; and the special effects artists whose digital magic place Forrest amidst a remarkable array of historical events and people. alcohol pill for sale
Scrooged 30th Anniversary  (Blu-ray)
A darkly comic and surreal contemporization of Charles Dickens's A Christmas Carol, this effects-heavy Bill Murray holiday vehicle from 1988 sees the former SNL funnyman assuming the role of television executive Frank Cross, the meanest and most depraved man on earth. Cross will stoop to unheard of levels to increase his network's ratings — even if it means mounting outrageous programs to retain an audience, such as "Robert Goulet's Cajun Christmas" and Lee Majors in "The Night the Reindeer Died," with an AK-47-toting Santa. Cross plots his foulest move, however, for the Christmas holiday, when he will force his office staff to mount a live production of A Christmas Carol on national television — and thus work through Christmas Eve. Cross's life is turned upside down with visits from three ghosts: a craggy-faced cabbie known as The Ghost of Christmas Past (David Johansen); the sugar-plum fairy Ghost of Christmas Present (Carol Kane) (who gets her jollies by bonking Frank across the face with a toaster oven); and, eventually, the caped, headless Ghost of Christmas Future, who will send Frank sliding into a crematory oven — just before he gives the sleazoid one last chance to redeem himself. Along the way, the spirits carry Frank to scenes from his past, present, and future (per Scrooge) and impart a glimpse of how he became so thoroughly rotten. The radiant Karen Allen co-stars as Frank's girlfriend, Claire Phillips, and the film packs in cameos from countless celebrities — among them, Mary Lou Retton, John Houseman, Jamie Farr, and, in a truly grisly and tasteless bit, John Forsythe. Richard Donner directs, from a script credited to the late Michael O'Donoghue and Mitch Glazer.
White Christmas 60th Anniversary  (Blu-ray)
White Christmas, Paramount's first VistaVision production. A veritable warehouse full of oldie-but-goodie Irving Berlin tunes are woven into the film's simplistic plotline, along with a handful of new songs, of which "What Can You Do With a General?" is the least memorable. Bing Crosby and Danny Kaye (replacing an ailing Donald O'Connor) play nightclub entertainers Bob Wallace and Phil Davis, while Rosemary Clooney and Vera-Ellen are cast as singing-sister act Betty and Judy. The foursome travel to Vermont to visit Bob and Phil's WII commanding officer, General Waverly (Dean Jagger, who looks and sounds like Dwight D. Eisenhower!), who now runs a rustic old inn. Discovering that the general is in dire financial straits, the four entertainers secretly make plans to bail the old guy out with a big musical show, enlisting the aid of Bob and Phil's army buddies.
It's a Wonderful Life 75th (Blu-ray)
George Bailey has so many problems he is thinking about ending it all – and it's Christmas! As the angels discuss George, we see his life in flashback. As George is about to jump from a bridge, he ends up rescuing his guardian angel, Clarence. Clarence then shows George what his town would have looked like if it hadn't been for all of his good deeds over the years. Will Clarence be able to convince George to return to his family and forget suicide?
Related Posts
Comments are closed.