Smirnoff Helps You Celebrate Summer In Style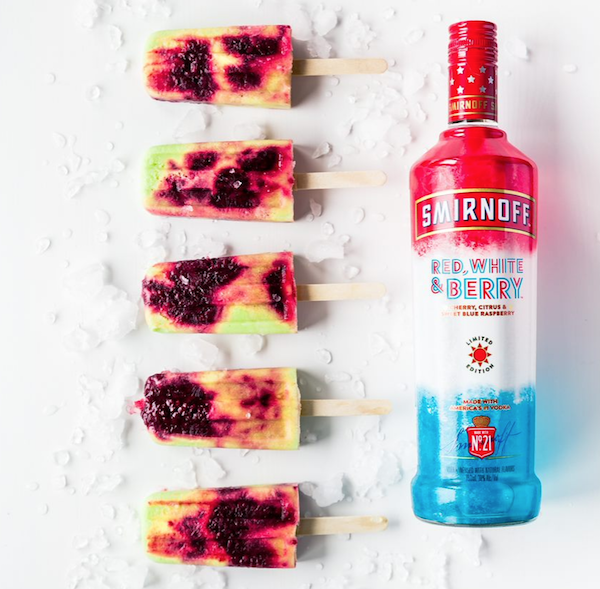 May is officially here, it's time to set our sights on summer! And what better way to kick-off Summer than by celebrating with a delicious Americana-inspired cocktail in-hand?
This year, back and better than ever, is Smirnoff's seasonal limited time offering, Smirnoff Red, White & Berry. This vodka specialty is the ideal drink for summer from its perfectly patriotic packaging to its delicious combination of citrus, cherry & blue raspberry. Here are some tasty recipes you can make this summer.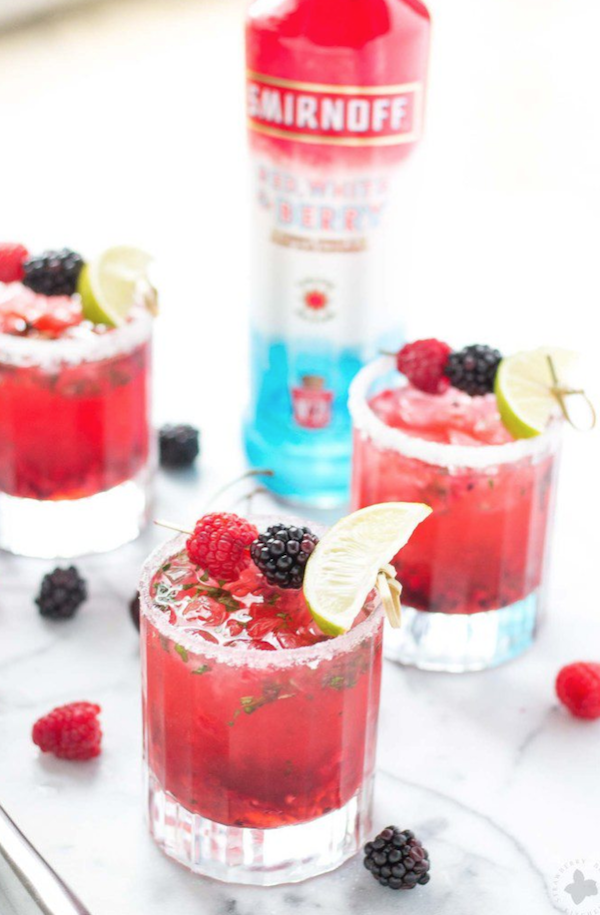 Triple Berry Mojitini (Serves 4)
·         3/4 cup Smirnoff Red, White & Berry
·         1 cup limeade
·         Club soda
·         Handful of mint leaves
·         6 oz raspberries
·         6 ounces blackberries
·         4 ounces cherries, pitted and cut in half
·         Sugar and lime wedge for rimming
·         4 teaspoons sugar, (I used stevia)
In the bottom of 4 – 11.5 oz glasses, place 1 teaspoon of sugar and a few torn mint leaves. Muddle. To each glass add 2 raspberries, 2 blackberries and 2 cherries. Muddle with the sugar and mint until liquefied. Pour 1.5 oz Smirnoff Red, White & Berry into each glass. Top with 1/4 cup limeade, crushed ice and a splash of club soda. Garnish with a cocktail pick of a raspberry, blackberry and lime wedge.
Summer Berry Mule
1.5 ounces Smirnoff Red, White & Berry
4 ounces Ginger Beer or Ginger Ale
1/4 cup fresh berries- blueberries, raspberries or blackberries
Squeeze of lemon (optional)
In a shaker, muddle half the berries with the vodka, add ice and shake. Pour into an ice filled mason jar. Top with Ginger Beer and a squeeze of lemon. Garnish with fresh berries on a skewer
Red, White & Berry Limeade (Serves 8-10)
1 cup Smirnoff Red, White, & Berry or Smirnoff No. 21
1 cup black raspberry liqueur
3 cups limeade
In a large pitcher, combine the Smirnoff, black raspberry liqueur, and limeade. Chill until cold, then serve over ice with blueberries, raspberries, and apple stars for a patriotic twist.
Boozy Blackberry, Pineapple & Cilantro Ice Pops (Serves 20)
For the Blackberries:
3½ cups blackberries
2 tablespoons sugar
2 tablespoons water
2 ounces Smirnoff Red, White, & Berry Vodka
For the Ice Pop Purée:
4 cups fresh pineapple chunks
½ cup cilantro leaves
⅓ cup heavy whipping cream
2 ½ ounces Smirnoff Red, White & Berry
1 tablespoon fresh lime juice
Pinch kosher salt
Prepare the blackberries:
In a medium saucepan over medium heat, bring the blackberries, sugar and water to a boil. Reduce heat to a simmer and continue cooking, stirring occasionally and gently mashing half of the berries using a wooden spoon, until the berries are soft and the liquid has reduced to a syrup, 12 to 15 minutes. Stir in the vodka and immediately remove from the heat. Allow to cool completely. Lailonni Ballixxx getting pounded hard Mouth Fuck and Black Cock Inserted Deep Hot Naked Teen Chatting On Webcam Tattooed skinny teen gets screwed hard Veronica Rodriguez fucked after deep throat Hunk is stimulating babes needs with his rubbing Sporty MILF Gets Gangbanged Busty Jasmine Black tertures tattooed Paige Delight https://www.pornjk.com/tags/xxnx/ Natural titted blonde gets fucked and creamed Sexy chick having a meaty cock for her twat Natalie gets pussy pounded by huge cock Horniness groundbreaking study Cute teen Alex Mae punished and smashed Two Horny Girls Making Out Beautiful Kharlie Stone bangs in her tiny pussy
Prepare the ice pop purée:
In a high-powered blender, purée all the ingredients on high until smooth, around 3 minutes. For an extra smooth purée, strain through a sieve to remove any small bits of pineapple and cilantro that didn't blend completely.
Assemble the ice pops:
Spoon 2 tablespoons of ice pop purée into the bottom of each ice pop mold. Layer with 2 tablespoons of the blackberries. Repeat with 1 more layer of each. Insert a popsicle stick and freeze until solid, at least 4 hours, preferably overnight.
To serve:
One at a time, dip a frozen ice pop mold into a bowl of warm water for 10 to 15 seconds. Gently pull the ice pop to release from the mold and serve.
Spiked Triple Berry Basil Lemonade (Serves

·         1.5 cups Smirnoff Red, White & Berry
·         8 cups lemonade
·         1 cup basil syrup
·         4 berry lemonade ice cup
In a pitcher combine lemonade, vodka and basil syrup. Stir to combine. To serve, place 4 ice cubes into a high ball glass and top with lemonade cocktail.
Red, White & Blue Boozy Slush (Serves 4)
Blue Slush Layer:
·         2 cups ice
·         2 oz. Blue Curacao
·         1 cup homemade lemonade
White Slush Layer:
·         2 cups ice
·         2 oz. Smirnoff Red, White & Berry
·         1 cup homemade lemonade
Red Slush Layer:
·         1 ¼ cups strawberries, quartered
·         2 oz. Smirnoff Red, White & Berry vodka
·         ¼ cup of homemade lemonade
Blend each layer separately until smooth. Store in freezer until ready to build your cocktail. Pour each layer into a highball glass and serve immediately.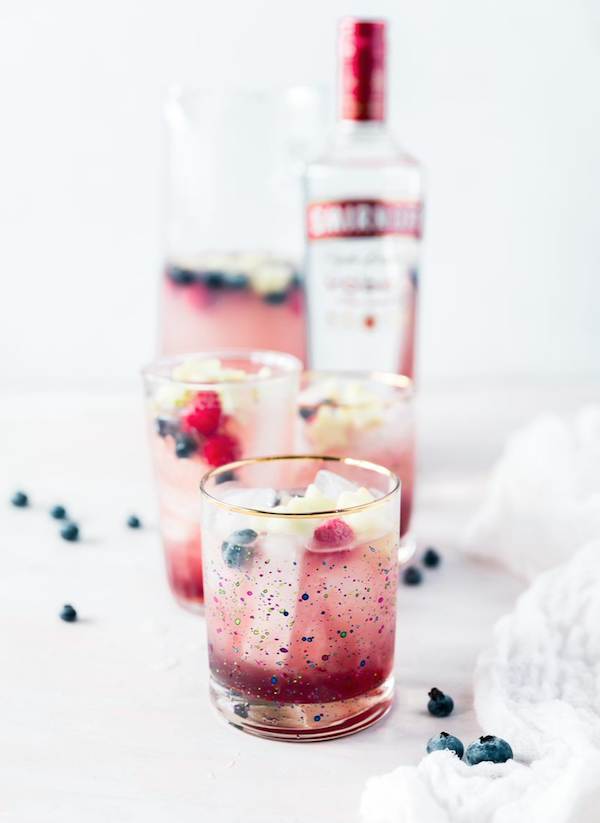 Related Posts
| | | |
| --- | --- | --- |
| | Print article | This entry was posted by Art Eddy III on May 3, 2018 at 7:25 am, and is filed under Lifestyle. Follow any responses to this post through RSS 2.0. Both comments and pings are currently closed. |
Comments are closed.