Art Eddy III
This user hasn't shared any biographical information
Jabber/GTalk: Art Eddy III
Posts by Art Eddy III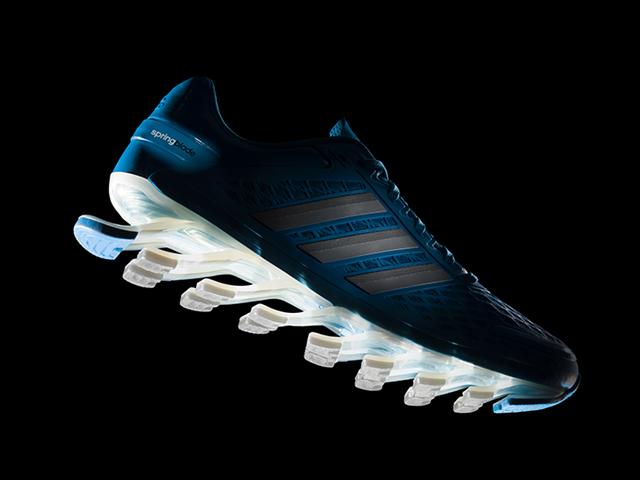 adidas launches Springblade Razor, the next generation of explosive energy under your feet.  The new running shoe is available for pre-order on adidas.com this weekend starting Sunday, January 12.
Springblade, introduced last year, is the first running shoe with blade technology designed to help propel you forward. The Razor features a unique web design over sock-like Techfit technology that helps lock your feet in place and enhances breathability. The shoe's 16 individually tuned blades instantaneously react to any environment, compressing and releasing energy.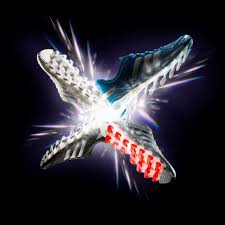 Springblade Razor goes on sale on adidas.com, at adidas Sport Performance stores and retailers nationwide including Finish Line on January 16.
The Razor launches in four colorways for men, including Solar Blue/Tech Grey Metallic/Black, Black/Tech Grey Metallic/ Light Scarlet, Metallic Silver/Black/Light Scarlet and Light Scarlett/Black/Metallic Silver, and three colorways for women including Solar Blue/Tech Grey Metallic/Black, Black/Black/Vivid Berry and Bahia Pink/Metallic Silver/Black.
Join the conversation on Twitter at #Springblade and @adidasUS and check out facebook.com/adidasrunning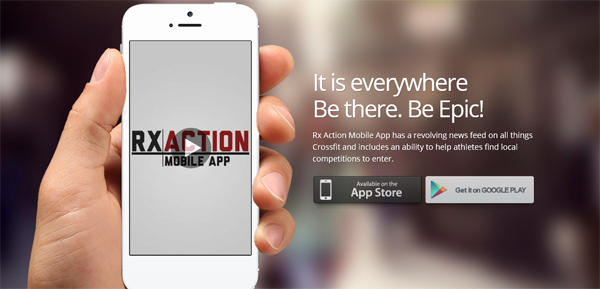 RX Action Mobile App is an app for everyone. Whether you are someone that recently signed up and "joined a gym" or you are a part of the movement that is shaping and redefining fitness. This app will allow you to be in tuned and up to date with the sport that is crossing boundaries and bringing people together. Rx Action Mobile App brings the most current news, videos, and information about competition at your fingertips.
Download it for your Apple or Android device.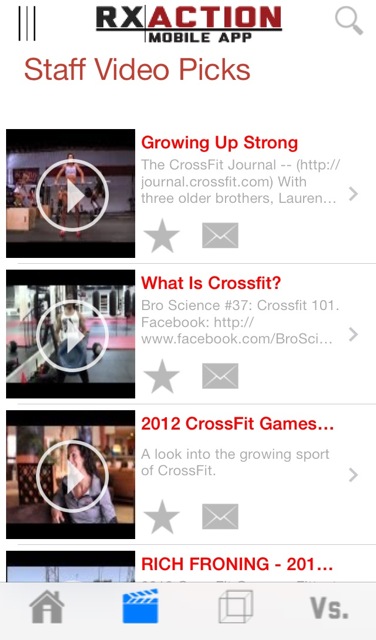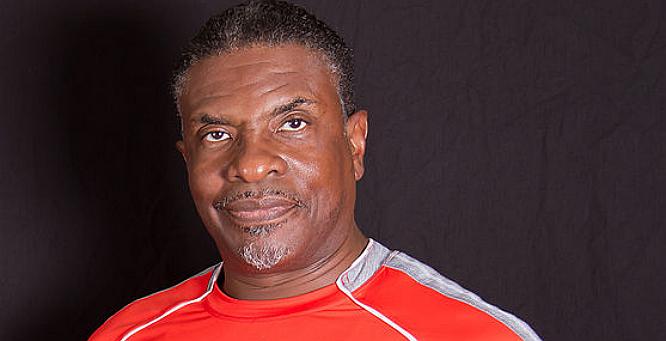 Keith David has had many memorable roles in film and on TV. From "Platoon" to "There's Something About Mary" to "Men at Work," Keith's resume is always growing. He is now on the new show called "Enlisted" on FOX.
It is a comedy about three brothers on a small Florida Army post and their experience with a bunch of oddballs who work with them. David plays Command Sergeant Major Donald Cody, who served with the brothers' late father. The Sergeant made a promise to look after his friend's sons. The show airs on FOX on Fridays at 9:30/8:30 central.
I was able to chat with Keith about his role on "Enlisted," acting, voice over work, and which roles he gets most remembered for from his fans.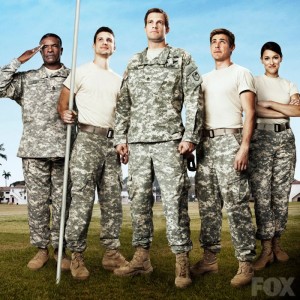 Art Eddy: You star in the new hit comedy on FOX called "Enlisted." You play Command Sergeant Major Donald Cody. Tell me a bit about your role and the show.
Keith David: I am the highest enlisted man on the base. I'm not an officer so don't call me sir. I work for a living. We have a lot of fun. It is a workplace comedy. One of the things about a rear detachment unit is that the general perception is that it is for losers.
The truth of the matter is that the Army is a business. Somebody has got to run it. Not everybody can fight. We are the guys who run the business of the Army. We take care of cleaning the tanks. We take care of the families. We do the paperwork. We do all that kind of stuff.
That is another thing that separates us from other military shows. Most of the time when you see a military show it is either in the field fighting or getting ready to fight. We don't do any fighting over there. All our stuff takes place at home. We fight for the rights of the families.
AE: What attracted you to this role and the show?
KD: One of the things that comes apparent in the course of the series is that I am sort of a surrogate father to these boys. I served with their father for more than half of my life. When their father died I made a promise that I would look after these boys.
Part of the job for the Command Sergeant Major is that he does look after the soldiers. In some ways they become like his children. You look after them and you care about them each individually. Everyone has different needs. We all have soldiering to do, but everyone is not to be soldiered in the same way. Yes, we have common responsibilities, but everyone needs to be handled differently.  Just as the way a father would handle his children.
AE: Which other characters from the show did you enjoy watching as you were taping episodes?
KD: There is a little something there for everybody. All the members of the platoon get their moment to shine and let you know who they are. They all have their own special personality traits and quirks that you will come to enjoy. I certainly have enjoyed watching them as they unfold over the course of the series.
It was fun watching Geoff develop into a leader. Seeing the scenes as the brothers come together as a family and as a platoon. Again it is part of the journey of the series. It really has been a wonderful ride.
AE: How many shows have you guys taped already?
KD: We have 13 in the can. Hopefully you will get to see all 13 and you will ask to see 13 or 22 more.
AE: To say that you are a very accomplished actor would be an understatement. Not only are you known for you roles in "Platoon," "Crash," and "There's Something About Mary," but you do a lot of voice acting as well. How did you get involved into voice acting?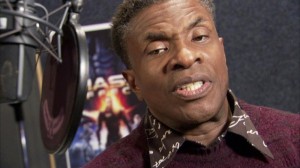 KD: Wow. I have been doing voice over work for a very long time. When I first graduated from school I really wanted to do voice overs. I always wanted to do cartoons, animation, and especially documentaries.
It was a very exclusive club. There were very few brothers in it. It was the white boys club and very few brothers were invited. There were a few. I had a wonderful agent who was persistent. After a while I got to be invited to the party. I have been very happy. I have been attending the party ever since.
AE: Keeping with voice acting. I am a big fan of yours in Disney's "Princess and The Frog." Loved your work as Doctor Facilier. How fun was it to play that role?
KD: Oh! Well I am a singer. It wasn't the first time that I sang in the movies. I sang on the soundtrack of "Platoon" actually. I sang on the soundtrack of a movie I did called "Johns." I also sang on the soundtrack of another movie I did called "Flipping."
This was the absolute biggest moment that I got to sing and act. It was wonderful. It was a Disney cartoon. One of my favorites growing up was "Snow White." I loved "Mister Magoo's Christmas." You probably won't remember Mr. Magoo, but it was a spin on "A Christmas Carol." Mr. Magoo was Scrooge. It was one of the most wonderful films. I still love it today. Trying to get my kids to love it as much as I do, but they don't. They just tolerate it. (Laughs).
AE: To this day one of my favorite parts in any film was your scene in the diner with Charlie Sheen and Emilio Estevez in "Men at Work." Just want to let you know I never mess with another man's fries.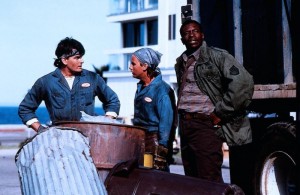 KD: (Laughs). That's a good thing because it is a dangerous thing to do.
AE: For you what role do you get recognized most for from fans?
KD: Funny enough "Men at Work" is one of them. "Something About Mary" is another. I absolutely love "Men at Work." It was the first time in a movie that I got to play a little bit of comedy. I think I am a funny guy.
AE: (Laughs). Yep. I do too.
KD: My wife thinks that she is funnier, but she is wrong. (Both laugh).


Justin Timberlake and Ben Affleck star in this high-stakes crime thriller where the lure of easy money is the riskiest bet of all. When Princeton grad student Richie Furst (Timberlake) believes he's been swindled by an online poker site, he heads to Costa Rica to confront gambling tycoon Ivan Block (Affleck), the man he thinks is responsible. But Richie will soon face the ultimate power play as he finds himself caught between Block's promises of unlimited wealth and the zealous FBI agent (Anthony Mackie) trying to bring him down.
The Blu-ray Combo Pack includes a bonus feature that reveals the true story behind the world of online poker, as well as never before seen bonus content.
The Runner Runner Blu-ray Combo Pack also includes a Digital HD copy of the film.
To win a copy follow MANjr on Twitter for your chance to win!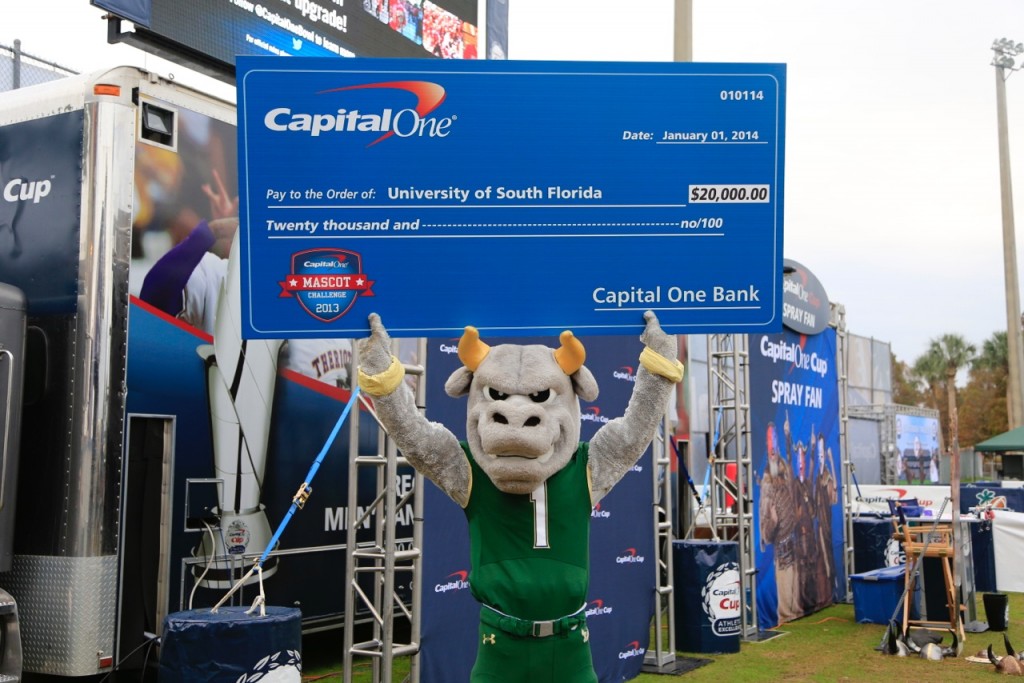 The stampede of support from Rocky the Bull's rabid fans trampled Raider Red's "Wreck 'em" crew in the championship finale of the Capital One National Mascot of the Year competition. The newcomer claimed an improbable title in the 12th year of the storied program.
Rocky was projected to finish last in the competition in college football and mascot prognosticator Phil Steele's Mascot Meter rankings, but the famed University of South Florida mascot lowered his head and plowed through the 15 other Mascot Challenge competitors to finish with a perfect record and forever claim his place in mascot lore. "The entire University of South Florida community is thrilled for Rocky," President Genshaft said. "All of the mascots competing in this year's challenge were a wonderful reflection of the pride and passion of their respective universities. Rocky has always been first in our hearts, and now the rest of the nation can see how wonderfully he represents our exuberant and unstoppable USF students and alumni."  With the win, Rocky received $20,000 from Capital One for his collegiate mascot program, and was honored at the Capital One Bowl game on January 1, 2014 in Orlando, Fla.
"The enthusiasm and dedication USF fans have sustained during this 16-week competition has been inspiring," said Doug Woolard, University of South Florida Director of Athletics.   "Rocky the Bull is truly loved, and we are thrilled with the fan support he received during this challenge that helped him be crowned the champion."
This year, Capital One introduced a new element of voting in the competition that took fans to a whole new level of mascot fandom.  The addition of 25 and 100-point social media challenges allowed fans to show their creative side and go all-out for their mascots.  Fans were asked to upload unique content to their social media channels using a special hashtag for their mascot to earn additional points.  The unique weekly challenges – from creating a cheerleader-style cheer to snapping a picture while eating their mascot's favorite tailgate dish – showcased how far fans would go for their mascot.
"The outpouring support for Rocky the Bull in the Mascot Challenge was astonishing," said Marc Mentry, Senior Vice President at Capital One. "Rocky's fans bulled over the entire competition giving this rookie competitor an undefeated record in the challenge!  We're excited to add his name to the famed Capital One Mascot Challenge Winners list."
The complete 2013 All-America Capital One Mascot Team included:
Rocky the Bull of The University of South Florida – 2013 Winner
Raider Red of Texas Tech University – 2012 Winner
Baldwin the Eagle of Boston College
Big Jay of The University of Kansas
Big Red of Western Kentucky University – Hall of Fame Inductee
Pee Dee the Pirate of East Carolina University
Rocky the Rocket of The University of Toledo – 2012 Write-In Winner
Bucky Badger of The University of Wisconsin–Madison
Cam the Ram of Colorado State University
HokieBird of Virginia Tech
Mike the Tiger of Louisiana State University
Monte of The University of Montana – 2002 & 2004 Winner
Smokey of The University of Tennessee
Sparty of Michigan State University
The Duck of The University of Oregon
Wilbur T. Wildcat of The University of Arizona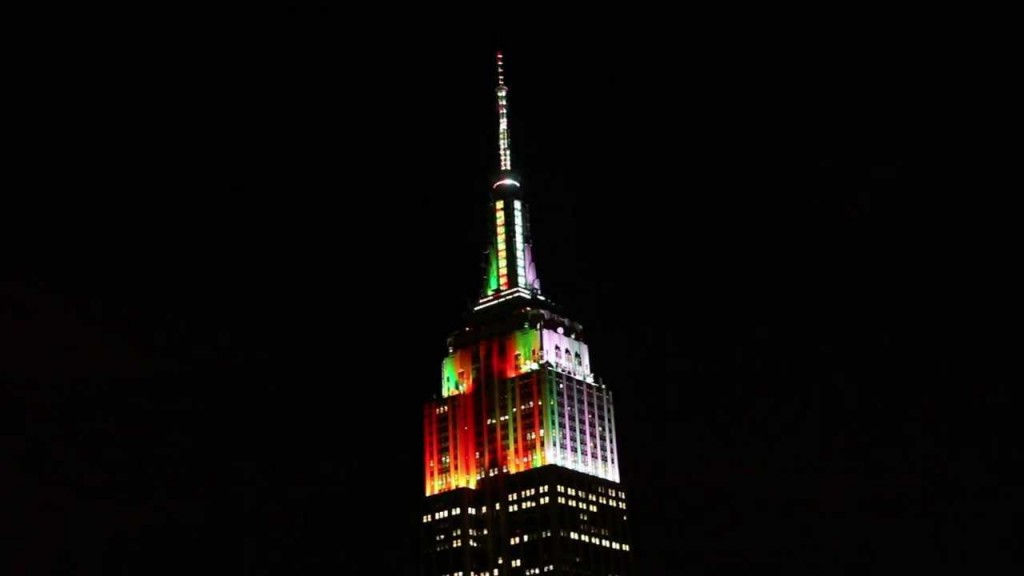 For the past few nights the Empire State Building has been celebrating the holiday season with the its first-ever holiday light-and-music show series choreographed to a mix of classic and modern holiday songs.
The shows will continue until tomorrow night where viewers will have the rare opportunity to help select ESB's lights for the fifth and final show. The ESB Holiday Light Show Team will review YouTube views, Facebook comments, Tweets, and other social media comments to select the Christmas Eve performance.
Fans in New York and around the Tri-State area can tune into radio station 106.7 Lite FM to enjoy the synchronized soundtrack of holiday favorites in real-time during the light shows.
Here was the Light-and-Music Shows Recap:
Friday, December 20:  "Holly Jolly Christmas" (Burl Ives) and "Christmas Wrapping" (The Waitresses)
Saturday, December 21:  "Let It Snow" (Dean Martin) and "All Alone on Christmas" (Darlene Love)
Sunday, December 22:  "Rockin' Around the Christmas Tree" (Brenda Lee) and "Sleigh Ride" (Karmin)
Monday, December 23:  "Jingle Bell Rock" (Bobby Helms) and "Run Rudolph Run" (Keith Richards)
Tuesday, December 24:  Encore light show performance decided by social media sentiment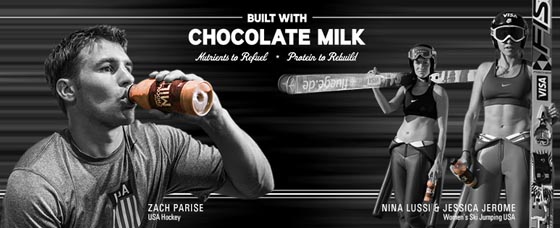 Got Chocolate Milk's new documentary series REFUEL USA follows USA Men's Hockey's Zach Parise and the Women's Ski Jumping Team on their way to compete in Russia at the 2014 Winter Olympics.
In this trailer Parise and the Ski Jumpers talk about what it means to be able to compete internationally and what drives them to perform at their best. The debut episode of the REFUEL USA series introduces the women, their personalities, while giving us an inside glimpse into the world of Ski Jumping athletes.
Ski jumping has always been one of the most thrilling extreme sports, but this is the first year women have been allowed to participate alongside their male counterparts at the highest level. Plus recent studies have shown drinking 16 oz. of fat-free chocolate milk led to greater replenishment of glycogen, a principal storage carbohydrate, in muscles post-workout.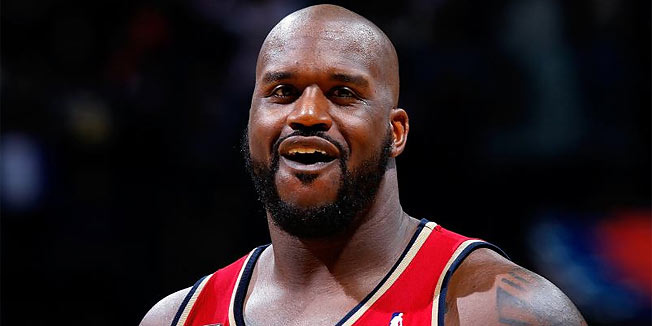 NBA Legend Shaquille O'Neal has been doing great charitable work for a few years now with Toys R Us for the Marine Toys for Tots Foundation. The 2013 Toys for Tots campaign is currently underway and O'Neal, who is better known as "Shaq-A-Claus" this time of year started up a new tradition this year. It is called the "No Wish Too Big" campaign. Kids in need can wish for whatever they want as Toys R Us and Shaq try to fulfill those wishes.
If you want to help click here to go to the Toys for Tots website at Toys R Us.
Shaq and I were able to talk about his charitable work, his career in the NBA, and dancing.
Art Eddy: First off let's talk about the great work you do with Toys R Us for the Toys for Tots program. You have done this for some time now. What inspired you to help out with this program?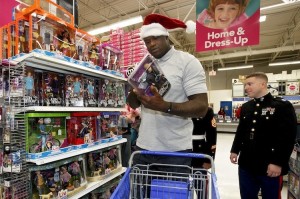 Shaquille O'Neal: Well it is a great program that has been going on for a numerous amount of years. In 1992 my mother called me. She wanted to buy some kid toys. She was at a center that had about 500 children. I asked her what she was doing. She told me that these kids won't be getting anything for Christmas because of their family situations.
I told her to have the kids write down about 10 items of what they want. She faxed me the list a couple hours later. Me and a couple of friends of mine went to Toys R Us and racked up a bunch of toys. That is how "Shaq-A-Claus" started.
I was contacted by Toys R Us about five years ago because they wanted to do that on a bigger scale. "Shaq-A-Claus" goes on in five states. It goes on in New Jersey and New York. We did it in Atlanta. We did it in Orlando. We are going to finish it off in L.A.
Toys R Us has always been my favorite store. My favorite song has always been (starts to sing) I don't want to grow up. I am a Toys R Us kid. I love Geoffrey the Giraffe. Toys R Us is a great organization. They do great things. They showed me some alarming stats. I think 10 to 20 million kids will wake up on Christmas and not receive anything. With the help of Toys for Tots, people giving monetary donations and giving toy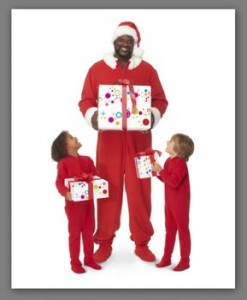 donations I think we can cut down that number.
AE: How can people help you guys out with this great cause?
SO: You can go to Toys R Us dot com slash Toys for Tots. You can donate at your local Toys R Us or Babies R Us. You will see a big ol' box there. You can donate money, gift cards, and toys and we will get them out.
AE: Talk about the "No Wish Is Too Big" campaign for this year.
SO: Whatever you want just holler at Shaq and Toys R Us and we will try and make it happen. This year a lot of kids want XBOX's and all those things. I am putting out a call to all my friends and family. Bikes, iPods, iPads, Monster headphones, Shaq shoes and other stuff to try and do our best to make these kids happy.
I was one of those kids that didn't get a lot for Christmas. There was one toy that changed my life. It created the Shaquille O'Neal brand. It was a Dr. J. autographed basketball.
AE: I remember you saying that before in an interview. It is great to have that story about a toy that stands the test of time for you. To me that is exactly what you are doing with Toys R Us for this program. These toys will create a memory for them just like the Dr. J. basketball did for you. You guys are doing such a wonderful campaign.
SO: Thank you. Imagine seeing a kid wake up on Christmas and opening up gifts and saying thank you to their mom and their dad. Christmas should be joyous time for everyone.
AE: Moving to basketball do you have one moment or season in your great career that stands out the most? Or do all of the seasons in your outstanding career mesh together for you?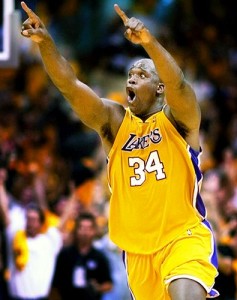 SO: Everything is kind of pushed together. I am happy for the four titles. The only thing that is disappointing is that I missed over 200 games due to injury. I averaged about 25 points a game. That is about another 5,000 points that could have been added to my career. Then that would have put me at number two in scoring. Then of course I missed 10,000 free throws. If I made half those that would have brought up closer to Kareem.
There is always the talk about who is the best big man. Who is the most dominant? I think accolades and stats will never lie. I really wanted to pass Wilt Chamberlain in points so I could woefully and modestly brag to say I was the most dominant big man ever. I think I am 1,800 behind Wilt.
AE: One thing that I loved about watching you play was that you looked like you were having fun. You still were focused and I know that the NBA is a player's livelihood, but do you feel that some players might take the game too seriously?
SO: I don't want to speak for other players, but economically you have to understand that dads and moms pay a lot of money for these seats. I was like okay if you are going to pay this much money to watch me play I am going to put on a Broadway type of performance for you. That is why I did what I did. I wanted to play hard. I wanted to smile at little kids and throw them wristbands.
If you can just make one person happy or change their life or make the whole arena happy than I think that you are doing your job. We make a lot of money and they charge a lot of money. My job was to always put on a good show. If a dad is going to pay $200 to have him and son watch Shaq, Kobe, and the Lakers play up against the Miami Heat, I have to give them a good show.
You never want to have someone say 'Oh my God. Why did I pay for these tickets? This game was awful.' So my job was to put on a great show for them.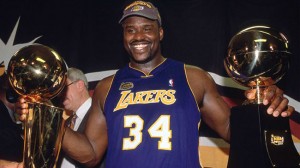 AE: Was your first NBA title the sweetest?
SO: Yes. The first one was the sweetest. I had accomplished a lot before I got there. There were critics out there that would say he is not concentrating. He is doing this. He is doing that. He will never win a championship. Then to have the rite of passage to being considered one of the greatest is nice to have on your resume.
AE: I would love to finish our chat with a quick round of about four questions. Is that cool with you?
SO: Yeah!
AE: What is your favorite shoe from your line?
SO: The Shaq Ones.
AE: What is your favorite nickname that you had during your playing days?
SO: My favorite nickname is "Diesel." I am like an 18 wheeler with no brakes coming down the hill onto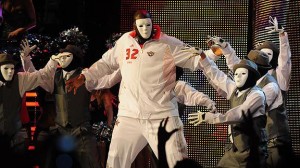 oncoming traffic.
AE: Where was your favorite place to play in the NBA?
SO: Favorite place to play was Miami. It was always sunny and my joints were feeling nice.
AE: I loved your dance routine with Jabbawockeez during the NBA All-Star Game. How long did you prep for that?
SO: I didn't prep for that. It took me two minutes because when I was young I was already a break dancer.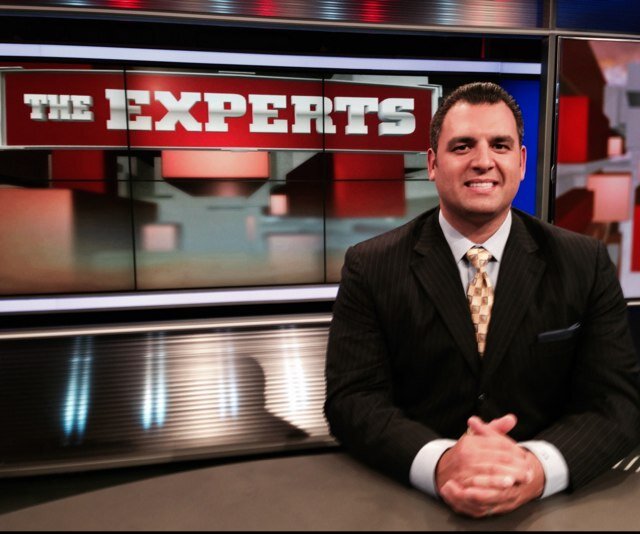 Anthony Becht played 12 years in the NFL at the tight end position. In his career he has played for the New York Jets, Tampa Bay Buccaneers, St. Louis Rams, Arizona Cardinals, and Kansas City Chiefs. Since retiring Becht is still involved with football. He works for ESPN and is the Buccaneers Pre and Post Game Host for 620 WDAE.
Recently he has teamed up with Mohan's Custom Tailors and the Doe Fund to help those in need this holiday season. Mohan's is looking for people to donate suits or overcoats that they don't use anymore. This charity event kicks-off a holiday season of giving at Mohan's. When people come in and donate their suits they will receive a $100 credit toward a new custom tailored overcoat. Then those donations will be cleaned and donated to charity.
I was able to chat with Anthony about his playing days in the NFL, fatherhood, the work he is doing with Mohan's and the Doe Fund, and this current season in the NFL.
Art Eddy: Let's talk about the great work that you are doing with Mohan's Custom Tailors and the Doe Fund to help those in need this holiday season.
Anthony Becht: I really think it is outstanding. I have teamed up with Mohan's Custom Tailors after my career. Just for the fact that they have some great suits. They wanted to team up and work together to work with a charity each and every month of 2014. To kick off the year they are going to work with the Doe Fund.
Basically Mohan's are going to donate suit jackets and suits that customers bring in. They will clean them up and give them to the Doe Fund. We see a lot of charities that supply the homeless with shelter and food. I think the Doe Fund really does a great job. What they do is actually get those in need in the workforce. They find them jobs, get them educated, and get them back on their feet so their long term success is greater than the short term.
Those people can't afford suits or jackets. For Mohan's to provide jackets and reach out to this charity and work with them is bar none an outstanding idea in the long term for these people in need.
AE: How can people help you guys out?
AB: They can go to Mohan Tailors dot com. They can reach out to Mohan's if they have a suit or anything they have that they are no longer using. They can go to Mohan's and receive a $100 discount towards the purchase of a new suit, custom suit, or overcoat. Basically the goal is to get these coats and overcoats to those people in need.
Hopefully we will be able to get over a thousand of these jackets back to the people in need. I just think it is a great idea. Just reach out to Mohan's. Go to their website. You can call them at 212-697-0050 to get more information.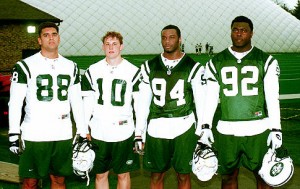 AE: Moving to sports, you played for 12 years in the NFL as a tight end for the Jets, Bucs, Rams, Cardinals, and Chiefs. Looking back at your career what do you take away the most from your days in the league?
AB: One thing Art is that it goes fast. You don't realize how the years pile up. All of a sudden bam it kind of hits you and your career is over. I have been very fortunate. The average in the NFL is three and a half years. I definitely surpassed that playing 12 seasons.
I got to play in New York, one of the greatest cities in the world. I came down to Tampa, where I live now, and I got to go to a few places at the end of my career. I really got to see the country and see the fans, and play with different coaches and teammates.
The fact that I got to play such a long time and the longevity to stay somewhat healthy throughout my career and not miss many games was great. Being that blue collar type of tight end playing in the NFL opened up many opportunities when I was playing and now with my post football career in the media world.
AE: You played for a few different quarterbacks in your career. How long did it take you to build a chemistry with a quarterback when you started playing for a new team?
AB: As a tight end that was the first thing I did. When I came to New York I had Chad Pennington and Vinnie Testaverde sitting right next to me at my locker. Immediately you try to build those bonds. That is important. I think any wide receiver, tight end, running back in this league the first person you are trying to make friends with is the quarterback.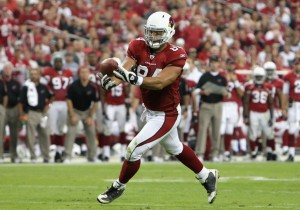 Anything you can do to build that extra work or continuity and getting on the same page is huge. As I grew into my career and went to different teams I was kind of a guy that got gravitated to as a leader. I would be with those quarterbacks from just an experience standpoint.
For any young guy coming into the league build a relationship with the quarterback, the coordinators, and just everybody to get on the same page and put that extra work in. It can really help you develop yourself as a better player and extend your career.
AE: Did you have a few guys on opposing teams that you enjoyed matching up against?
AB: Yeah, there had been some opponents obviously playing against different teams especially in the AFC East. You look at the Miami Dolphins. They were always a big rival. You are playing against Jason Taylor twice a year. He was one of the more phenomenal defensive players to play during my time.
You look at the Patriots. Guys like Willie McGinest and Tedy Bruschi, these guys were just hard-nosed defensive players that accentuated what the NFL was really all about. There were challenges for me. When I was a young guy with the Jets going against these high caliber players was tough early, but made me a better player as I went on in my career. It helped me extend my career and play a long time in the NFL.
AE: Switching to this year, who is your pick to win the Super Bowl?
AB: When I look at the NFC I really see teams that are in the bottom tier of the playoff situation are really trying to fight for their position. Originally I thought the Saints were going to be a team that could really make some noise moving forward. They had an outstanding season. We see them have their struggles with the Rams recently.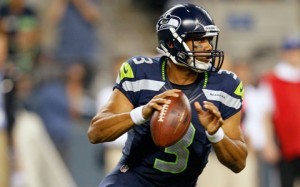 I think the big thing for me is the consistency. The Seattle Seahawks have been the most consistent team. When you look at the quarterback play in Russell Wilson everyone is picking them, but that is really the main factor. Every single week they have had the ability to go out and play hard, play good, and win each and every game. They could easily be undefeated.
On the AFC side you think that it will be the Denver Broncos, but you are starting to see some flaws with this team. They struggle on defense. I feel that no matter how many stats Peyton Manning puts up they need every single yard and every touchdown. That could be a problem moving forward.
Look at the Patriots and the Ravens. I think it is going to be one of those cold weather teams that if they can just get into the playoffs, they can make some noise. Look at the Ravens. They are a team that understands the situation. They can play hard-nosed defense. They have an experienced quarterback that can make some noise. Overall though if the Broncos get hot and they can do anything with their defense then they would be the favorite going in to the playoffs.
AE: Any team surprise you this year either in a positive or negative way?
AB: I think in a positive way the Carolina Panthers have done an outstanding job this year. You talk about the head coach, Ron Rivera. Everyone wanted to fire him last season, but all of a sudden they stuck with him. Cam Newton became a better player. They get a few defensive players like Luke Kuechly and other defensive linemen that come in and really help build that team.
Now they are really a complete football team. They can run the football. They can play defense. To me they have been the surprise. I thought that they would be better, but I didn't think that they would be in the mix to potentially with the division.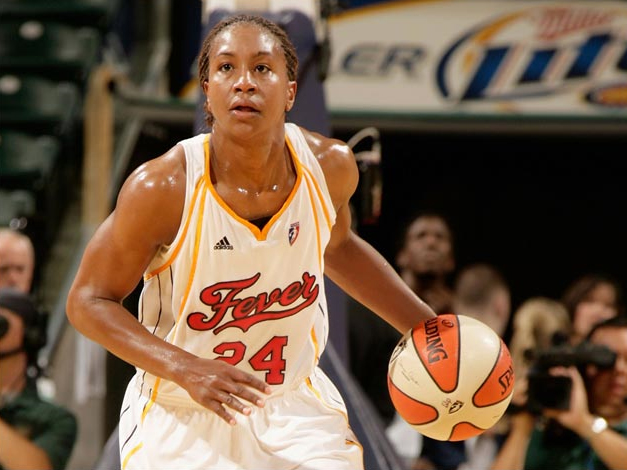 Tamika Catchings is a household name for many basketball fans. The former NCAA champion and WNBA legend has even won gold in the Olympics. Catchings doesn't just excel on the court. She is a leader in her community and has her own charity called Catch the Stars.
She also assists with the Allstate WBCA Good Works Team program. This campaign nominates 10 college basketball players from all divisions of the sport who participates in community service activities is a well-rounded student-athlete. There were 84 nominations submitted by athletic departments from colleges and universities.  Catchings, along with other select voters, will name the final award recipients in February.
Tamika was kind enough to take time from her busy schedule and chat with me about basketball, the Good Works Team, and what she looks to do after the WNBA.
Art Eddy: Recently, you partnered with Allstate and the Women's Basketball Coaches Association to be part of the WBCA Good Works Team. What has this experience been like for you?
Tameka Catchings: This has been a great partnership. It's a combination of the things that I believe in with young ladies playing basketball, but most importantly realizing the impact they have off the court in their respective communities and abroad.
AE: The WBCA Good Works Team recognizes student-athletes for their commitment to serving others. What is the process like for these finalists and when will a winner be announced?
TC: These young ladies are selected by their Athletic Directors who send a form talking about the players and a list of all of their charity work. From there, there's a selection group that goes through each of the nominations.
We eventually have to get the Allstate WBCA Good Works Team down to a total of 10 female student-athletes. Five of the ladies come from a D1 school, and the other five come from D2, D3 and NAIA schools.
AE: Speaking of community service you have your own charity called "Catch the Stars." Tell me a bit about that program and what inspired you to start that up.
TC: My Catch the Stars Foundation empowers youth to achieve their dreams by providing goal setting programs that promote literacy, fitness and mentoring. We serve boys and girls ages 7 to 16 and offer about 12 different programs throughout the year that tie to our three buckets: literacy, fitness and mentoring.
I was inspired to start it up because of all of the people that came into my life throughout my journey of being a professional basketball player. Everyone played a little or big role in my life, and my goal is to turn around and help these kids realize their dreams and passions as well.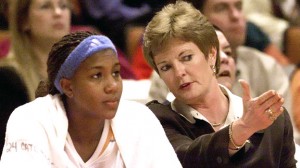 AE: Moving onto the court. You played at the University of Tennessee and won a NCAA National Title there. You played for legendary head coach Pat Summitt. What did you take away the most from Coach Summitt?
TC: One of the main things I took away from being under Coach Summitt was just about being great women overall. She didn't just focus on one aspect, she focused on what we did on the court, what we did off the court, and what we did in our community to help others. That's another reason why I'm so passionate in helping our youth.
AE: You also won an Olympic Gold medal. What was it like to play for your country and come out on top?
TC: It's a true blessing and honor to be able to represent the USA. Every time I have an opportunity to play for my country, I think about playing on the highest level and with the best players in the world.
AE: Your success didn't just end there. In the WNBA you made a name for yourself as a WNBA Champion as well as a WNBA MVP. With all these accolades what keeps the fire burning for you to compete at the pro level?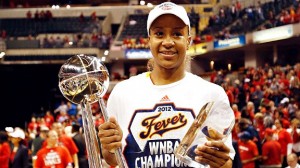 TC: The thing that keeps me burning is that I can be better. When I'm done playing I want to know that I gave everything that I had every time I stepped on the court. As long as I'm playing, I will continue to strive to be better today than I was yesterday.
AE: Reading up on everything you do it seems that you are always on the go. When you do have free time what are you doing to relax?
TC: Free time? What is that?  (Laughs) Just kidding. I love being with my family so every day that I'm here in Indianapolis I try to end my day spending time with my little nephews before coming home and hanging with my oldest nephew, he lives with me.
AE: After your pro career is done have you thought about your next goal you want to accomplish? Would you get into coaching?
TC: When I'm finished playing I ultimately want to be a General Manager for a WNBA or NBA Team. I don't want to coach because I don't know if I have the patience to do that, but I love the thought of being a GM. I also would love to get married to the man of my dreams and have kids and a family.