Art Eddy III
This user hasn't shared any biographical information
Jabber/GTalk: Art Eddy III
Posts by Art Eddy III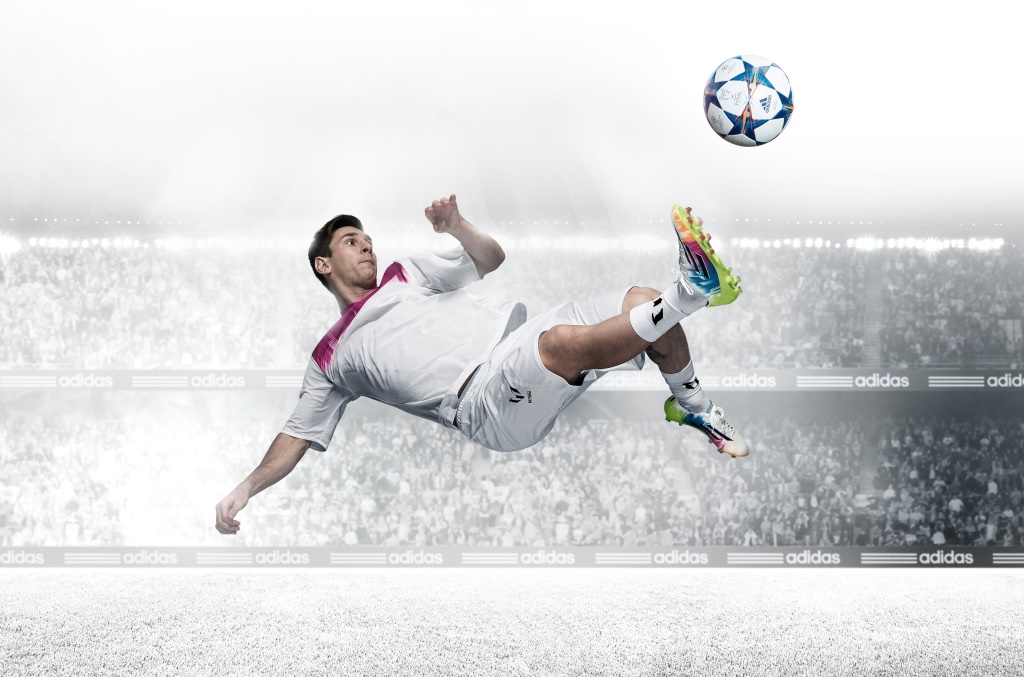 adidas today unveils Lionel Messi's collection of footwear and apparel highlighted by the four-time reigning FIFA World Player of the Year's first signature cleat. The world record holder for goals in a calendar year will debut his signature adizero F50 this spring.
Messi's new signature cleat is available on March 1 but fans can preorder it now HERE. You can follow the conversation on Twitter via @adidasSoccer.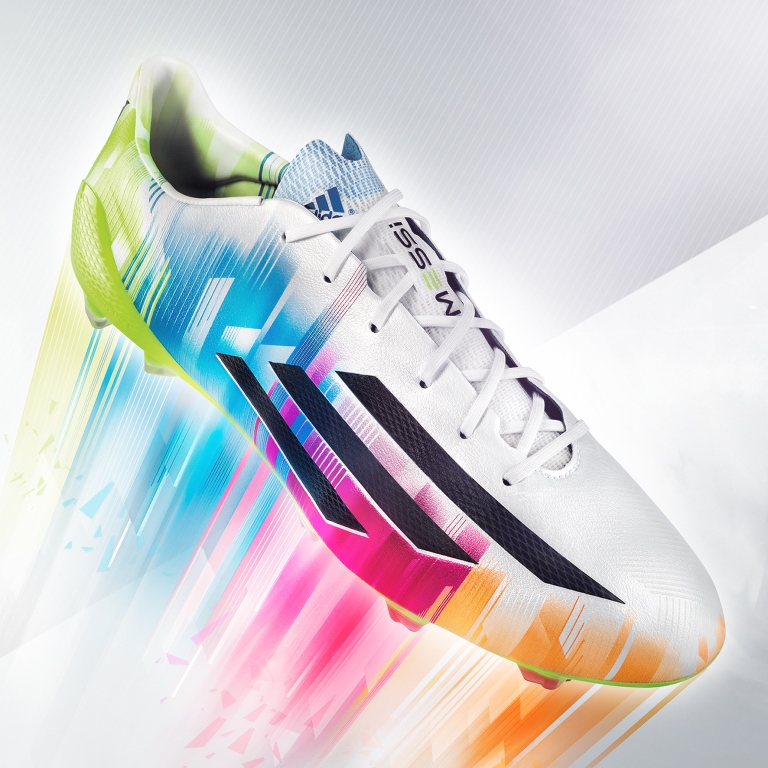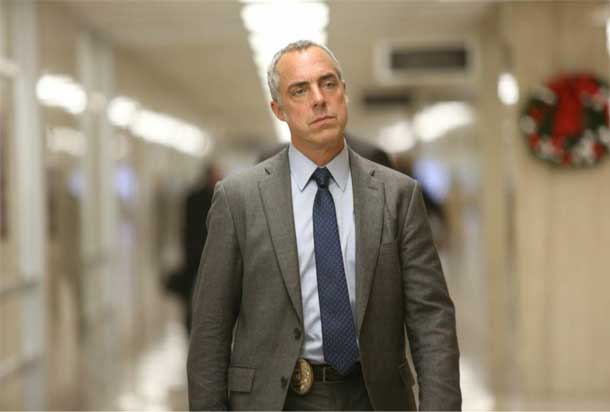 Titus Welliver is starring in one of the first Amazon Studio's series pilot called "Bosch." He plays the lead role of a Los Angeles Police Department homicide detective named Harry Bosch. The series is based on Michael Connelly's best-selling Harry Bosch book series.
Welliver is no stranger to being in critically acclaimed films and TV series. He was known as the "Man in Black" in the TV series "Lost." He also played the role of Glenn Childs in the TV show "The Good Wife".
Last year, Welliver was in both films "ARGO" and "Promised Land."  Titus didn't stop working hard this year either. He finished wrapping up filming of "Transformers 4: Age of Existence" which is set to be out in theaters this summer.
Titus was kind enough to take time out of his busy schedule to talk to me about "Bosch," "Transformers 4: Age of Existence," fatherhood, "Lost," and more.
Art Eddy: First off let's talk about the new Amazon series called "Bosch" that you star in. Tell me about the series and your role.
Titus Welliver: "Bosch" is based on the Hieronymus Bosch novels written by Michael Connelly. In the pilot episode we combined two of the novels, "The Concrete Blonde" and "City of Bones" into the storyline. Harry is an LAPD robbery homicide detective. In the pilot he is on trial in a civil lawsuit.
He is being sued as well as the city of Los Angeles for a wrongful death shooting of a suspect. In the interim, because he is taken off the duty roster and since Bosch is such a driven character downtime is not something he does well with. He switches rotation with two other detectives. In that process a dog discovers a bone in the Hollywood Hills and brings it back to the owner.
They discover that it is a shallow grave with the remains of a child. Bosch then catches this case. It is his pursuit of this cold case since it is over 20 years old. It is some compelling storytelling that we got here.
AE: Like you said "Bosch" is based on the Michael Connelly's book series. Did you read his books even before you started preparing for this role?
TW: I read one of his books a few years back. In preparation to shoot this above and beyond the script I read the two source books, "The Concrete Blonde" and "City of Bones" to get into the mind of Harry. Michael's characterization since it is the source material is invaluable. Obviously you can't tell and show everything. You got about 50 minutes per episode to do that.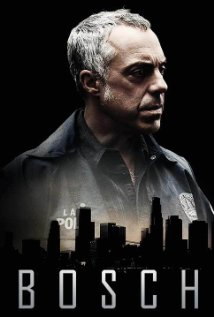 The script is super tight. A large percentage of the dialogue has been lifted directly from the books. It is very true to the books because Michael is an executive producer and a writer with Eric Overmyer. The integrity of the books are there, which I think is really important. Often in the translation of these things the industry for whatever reason feels the need to cook it up or change it. That really alienates people. You are never going to please everybody. I am sure that there is a percentage of people saying Titus Welliver is Harry Bosch?
I understand that as a person who loves to read. Even with historical characters we have this preconceived idea in our heads about the physicality of the character, what they should sound like, and what they should look like. It is hard because you do want to please everybody, but that is a fool's errand. There is no possible way.
AE: You are working with a great cast. How did you guys all come together to get the chemistry right for the series?
TW: I have been shooting "Transformers" for months and months. Every time I tried to meet with these guys something came up and I wasn't able to meet up with these guys. I was really getting frustrated because I really knew that I wanted to do it. I just couldn't get with them.
So when I finally did it was pretty fast. I had to go to Hong Kong to finish shooting "Transformers" and I was back for like 48 hours and started shooting. We were able to get Jamie Hector and I together. I am a longtime fan of his work. I wasn't a stranger to his work, but I never met him before. Jamie and I were able to spend some time together with Jim McKay, the director, and talk about the dynamic of those characters and their relationship. They are partners and we sort of have to jump in there.
When we got to the table read, which I think is always interesting, I have to say looking around to see who was there I was just kind of knocked out. These are all people whose work I really, really respect. So I got really excited at the table read and just couldn't wait to get started.
It was kind of fast, but I always feel that when you assemble a group or people, which directors and producers have a way of putting people who will complement each other, it will work. That is also the difficulty. You want to assemble a group of talent, but you also need to bring people together who can complement each other and work well together. That is tricky. There is always that social aspect of it. Will personalities clash? It is an interesting recipe.
AE: This series airs online at Amazon Prime. Are you happy with the way media is now being housed not just on cable anymore?
TW: It is a whole new ball game. I also think that realistically it is the future. The structure has always been when you do a network pilot is that you shoot the pilot and then they test it. Then we re-edit, we sometimes re-shoot, and even re-cast. Then it is left up to the decision of the executives and not even so much the producers. You are at the mercy of that.
Whereas with this you are still at the mercy with people who will ultimately have the decision to see if this project will move forward, but I think it is also very smart. People are paying for it. If you walk into a butcher shop you don't ask for the cheapest cut. People want quality. If you are paying for something you want it to be good, quality programming. It is just a different time. There is so much more access now with the internet. People are able to express their opinions. It is kind of interesting.
AE: I can't wait for "Transformers: Age of Extinction." It comes out this summer. I saw the trailer. It looks awesome. What can you tell us fans about the film and what we can prepare for?
TW: It looks pretty cool, right?
AE: Yea.
TW: It is a reboot. There are some of the original Autobots. There are all new characters. Mark Wahlberg, Nicola Peltz, and Jack Reynor are the central characters. I think also it has been expanded to more of an adult audience. It still has its roots with the regular audience.
It is a little bit darker. It is a little bit rougher then what we have seen in the other films. For me the thrill of participating in a franchise that I have enjoyed, not only with my children, but also on my own. Michael Bay is someone I always wanted to work with. I always wanted to work with Wahlberg. Stan Tucci is in it. Kelsey Grammer is in it. It is a fantastic cast. Nicola Peltz and Jack Reynor are great.
There is a lot of new stuff. It is very different from the other films on a lot of levels. I will say to you that no one will be disappointed. You get yoked and it doesn't let you go.
AE: You have been on so many great TV shows and films. Do you have an all-time favorite role and what character do fans bring up most to you?
TW: Well I certainly will say "Lost." The irony is that I only did four episodes of that show. Because of the whole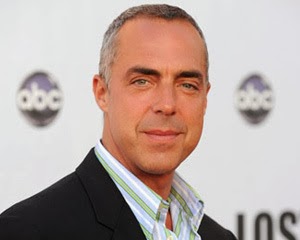 mythology of the show, the history of the character, and because of the smoke monster and all of that I get a lot of shout outs from people. They will call me Smokey. People also really love "Sons of Anarchy."
The films that I have done that standout are the ones I have done with Ben Affleck. As far as a favorite character it is difficult to say. They all have different merits. They each brought me a level of joy and challenge in different ways.
I will say that Harry Bosch is a character that is very nuance, really compelling, and a complex character. It feels like this is something I have been working towards. There is some age and some maturity to have a character at this stage like Bosch at this juncture is really exciting. I love this character and I feel that we have barely scratched the surface. It is my hope that we will be able to continue because there are a lot of books. I get to work with unbelievable actors. There is nothing more exciting to be in the middle of a scene with another actor who is great at what they do.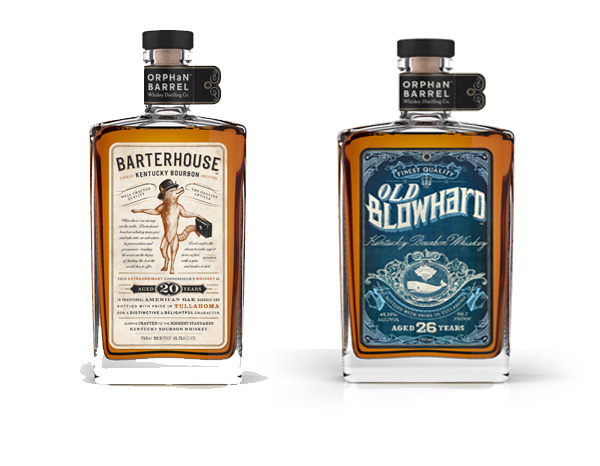 From Tennessee to Kentucky to Ireland, stories of old whiskies forgotten in the back of rickhouses and warehouses drift among distillers the world over.  From lunch breaks to happy hours, their debates over which whiskey would taste best has become the stuff of legend.  To offer resolution and introduce a new line of rare spirits to a growing base of whiskey aficionados, DIAGEO today announced the official start of the Orphan Barrel Whiskey Distilling Company.
The goal of The Orphan Barrel Whiskey Distilling Company is to locate lost and forgotten barrels of whiskey from around the world and share them with discerning adult fans.  The first two variants to be released from the company will include the 20-year-old Barterhouse Whiskey and the 26-year-aged Old Blowhard Whiskey.  Both brands are expected to begin appearing on select shelves throughout the U.S. in March 2014 under strict allocation due to limited supply.
Barterhouse Whiskey stocks were discovered in old warehouses at the Stitzel-Weller facility in Louisville, Ky.  Rumor has it warehouse workers have already begun lining up for the first taste of this beautiful whiskey with a soft nose reminiscent of warm spice, biscuit and buttercream.  The whiskey's mellow taste includes notes of roasted grain, charred oak and a brown sugar finish.  Barterhouse Whiskey is bottled in Tullahoma, Tenn. and will be expected to sell for a suggested retail price of $75.
Old Blowhard Whiskey was also found at Stitzel-Weller and is hand bottled in Tullahoma.  At 26-years-old, the whiskey contains exuberant, rich flavors with undertones of smoke and honey followed by a gentle finish – dry and spicy with a hint of orange peel.  Carrying a suggested retail price of $150, Old Blowhard Whiskey is meant to be sipped slowly and best enjoyed among gregarious friends and unyielding debates.
"The whiskey warehouses and rickhouses these spirits come from are special places filled with the incredible smells of seasoned oak, rough textures of weathered wood and amazing tastes of precious liquid," said Ewan Morgan, Master of Whiskey for DIAGEO.  "It's every worker's dream of finding that forgotten barrel of delicious whiskey and sharing it with their friends.  That's exactly what we're doing."
Like the rickhouse and warehouse workers who uncover them and the consumers who drink them, Orphan Barrel Whiskies have distinctive personalities in taste and packaging.  Barterhouse Whiskey packaging nods to the inspiration behind the whiskey's name.  A vintage khaki and brown label features a sly fox front and center after he's made a smooth deal at the local trading post.  Because when there's no money on the table, Barterhouse Whiskey turns give and take into an adventure in provocation and persuasion.
Based in a beautiful nautical blue, the Old Blowhard Whiskey label features a powerful whale exhaling through its blowhole before launching into another opinionated debate.  Powerful fonts rooted in swagger proclaim the spirit's impressive age statement and status as a Kentucky Bourbon.
The Orphan Barrel Whiskey Distilling Company is headquartered in Tullahoma, Tenn. where the whiskies are bottled and owned and operated by DIAGEO, the world's leading premium drinks company.  DIAGEO continues to invest in the growing whiskey and bourbon categories via the Orphan Barrel Whiskey Distilling company and its existing line of whiskies including Johnnie Walker, Crown Royal Canadian Whisky, Bulleit Bourbon, George Dickel Tennessee Whiskey, Bushmills and more.
Orphan Barrel whiskies have been waiting years to be uncovered so DIAGEO and the rickhouse workers who guard these rare spirits remind consumers lucky enough to get their hands on a bottle to sip slowly and responsibly.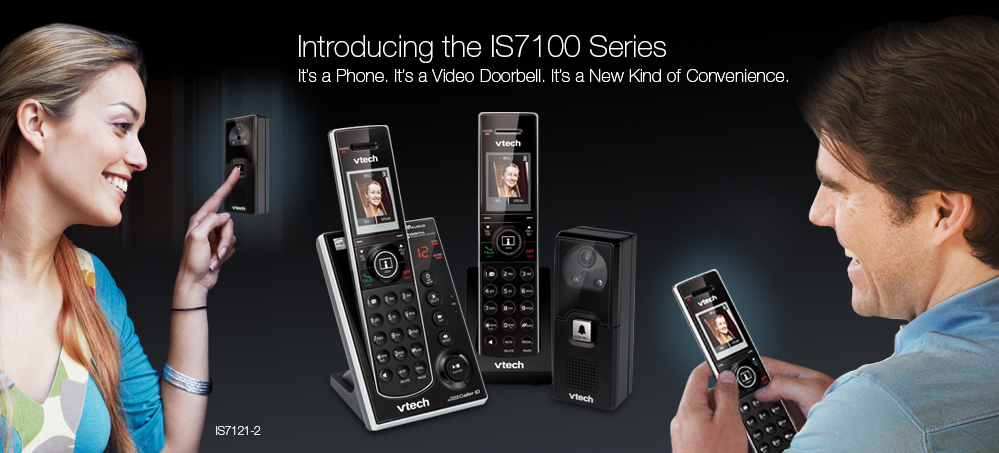 VTech Doorbell Answering System is a 2-in-1 technology designed for maximum convenience. The video doorbell of the audio/video VTech cordless answering system is combined with a phone system and a digital camera. This duo technology also gives you added security in your home. The digital answering system comes with caller ID, a call waiting function and the ability to expand to up to 10 handsets and two cameras.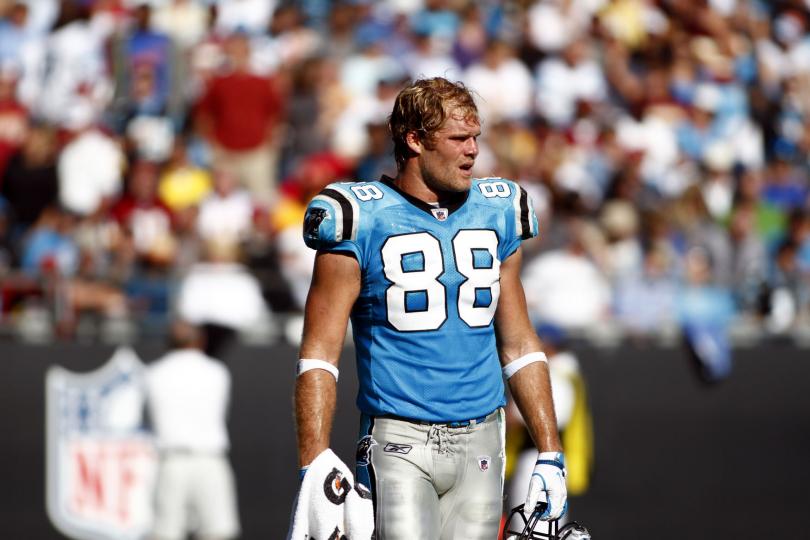 Greg Olsen plays in the National Football League as a tight end for the Carolina Panthers. He started his career with the Chicago Bears in 2007. He has been through a lot in the league, but he had his toughest challenge off the field. During the offseason in 2012 Greg and his wife, Kara were ecstatic when they received the great news of Kara being pregnant with twins. They already had one son and now their family was about to get bigger.
Sadly they got news that one of their babies would be born with a severe congenital heart defect (CHD), called Hypoplastic Left Heart Syndrome. Thankfully Greg and Kara went to Levine Children's Hospital where both babies were born. Their son TJ has CHD and he needed a few operations on his heart. Now almost a year and a half has passed and TJ is doing well.
The Olsen's wanted to help out other families who would deal with CHD. They set up "T.J.'s 'HEARTest' Yard" program under their Receptions for Research foundation. This program provides families of babies affected by CHD with many programs that include in-home, private nursing care, physical therapy and speech therapy as well as more outstanding services.
Greg was kind enough to chat with me about his family's journey with TJ and CHD, his foundation, and a bit of football.
Art Eddy: The second week of February is CHD Awareness Week. I am very grateful for you to take the time and talk about how CHD impacted your family. Two years ago when you found out that TJ had CHD what was going through your mind at that point?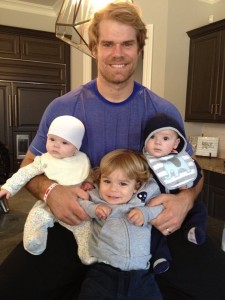 Greg Olsen: It was scary. Up to that point we really didn't know anyone who had a congenital heart defect. We got the news that he was going to be born with a serious heart defect called Hypoplastic Left Heart Syndrome. It came to us as a great shock. We were obviously scared. There was a lot of uncertainty. It was something as a family that we had to work through.
We have had unbelievable doctors and the care that our son was able to have here. We were very fortunate that he is almost a year and a half. He really has come a long way.
AE: Reading up and watching videos on your family's journey it looks like TJ's battle with CHD made you guys a stronger family. You don't sweat the minor things. It is incredible to watch the strength that these kids have as they battle with CHD. As a father how did you try and keep it together for the rest of the family while TJ was going through his procedures?
GO: It was hard. We had our weak moments. We definitely had our moments where we could have handled it better. You just try and do the best you can. We took it one day at a time. We would try not to get ahead of ourselves trying to predict the future.
That worked for us. Worrying about the moment now. What is the best thing that we can do for the long term health of our child, but what could we do today? It wasn't what can we do in six or eight months. We got the diagnosis early before the babies were born. It gave us a lot of time to help prep ourselves. It also gave us a lot time to sit back and worry. It was a tough time there before the babies were delivered.
Once they were delivered I think it was nice to just move forward to the surgery. At that point it became real as opposed to just sitting around waiting.
AE: I really appreciate all the work you and your staff do for your foundation Receptions for Research. Tell me a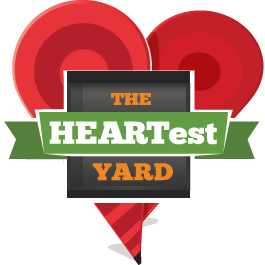 bit about the foundation and T.J.'s 'HEARTest' Yard.
GO: Receptions for Research is our family's foundation. In the past year or so we started the "HEARTest Yard" program with Levine Children's Hospital here in Charlotte. This is where TJ has had all his surgeries. That is where we have gotten all our medical care.
We approached them about starting a cutting edge, never been done before privatized health care program. Administered by the hospital, but completely funded by us through our foundation. It is done either by us personally or by our fundraising efforts. It brings that world class care from the hospital and bridges it into the home.
That is the biggest thing that we felt we could have used. More help to bring in specialists. Bringing in nursing care. Bringing in physical therapists. All of those things. That is really the inspiration of what the program is. There is a handful of families that have already started in the program. We continue to get unbelievable feedback about the efforts to help the family's peace of mind and more importantly the health and future of the baby. It really has been positively received and we are very excited about it.
AE: How can people help your foundation out?
GO: They can visit our website, Receptions for Research dot org. One of our main pages there will be the "HEARTest Yard" link. It will bring up all of our future events. It will give ways that people can sponsor. It will give a little more information about the actual program. It will give more information on what Hypoplastic Left Heart is. They can pretty much get everything about the foundation, the hospital, what actually HLHS is all on the website.
AE: How has becoming a dad changed you?
GO: You learn a lot as a person. You learn a lot as a family. It is the most scary, the most nerve racking, but also the best thing that has ever happened to me. Being able to come home and see these kids every day. All three of them run to the door now. They say hi and their eyes light up. It is just something special. Until someone is a father it is really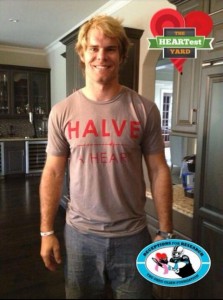 hard to explain it to them. I could go on for what it means to me. Especially what has gone on in our family over the past year has made it even that more special.
AE: What advice do you have for new dads out there?
GO: It is not going to be easy. There is no manual. It is not just come home and play catch all day. There is a lot of work. You need to put the time in to teach your kids on how they are supposed to act. Everything they learn is from you as their parent and as their dad. Especially the different relationships depending if you have a boy or a girl and the different dynamics that are in those relationships.
You kind of just learn on the fly. That's at least what I did. You are not perfect, but you try to be the best you can for your children.
AE: Switching to the NFL. You and your team the Carolina Panthers started off rocky, but finished strong to get the number two seed in the NFC. What did you learn about your team this season?
GO: We really came along way. We were able to accomplish a few of our goals. We won the division. We were able to make it to the second round of the playoffs. We were able to accomplish some of our goals. Obviously we fell a little short of the ultimate goal of making it to the Super Bowl. It is something to at least build off of. We are eager to get started again and make another run.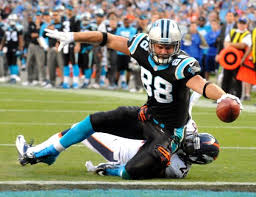 AE: When do you start to worry about the next season?
GO: Probably sometime in the next couple of weeks. I will start back up my training. Start getting everything lined up to get prepared physically and put all of that inline. I have taken the past few weeks just hanging with the family. Each day we take a few trips with the kids. Just trying to be around here and taking them to school, picking them up from school, and being there for dinner. That is something this time of the year that you have to take advantage of. I will get back to my training in a few weeks.
AE: Growing up did you have a NFL team that you would root for and did you have a favorite player?
GO: No I didn't. I grew up in Northern New Jersey right outside of New York. So the New York teams were very prevalent up there. We would follow them there. They were the local games. So I guess them, but we were more into college football games. College football was something that was more on our horizon when we were growing up and getting into high school. I don't think any of us could have imagined playing this long in the league. It is something that is incredible, but I don't know if it was something I thought I could do all along. So I would say college sports was more of a bigger deal growing up.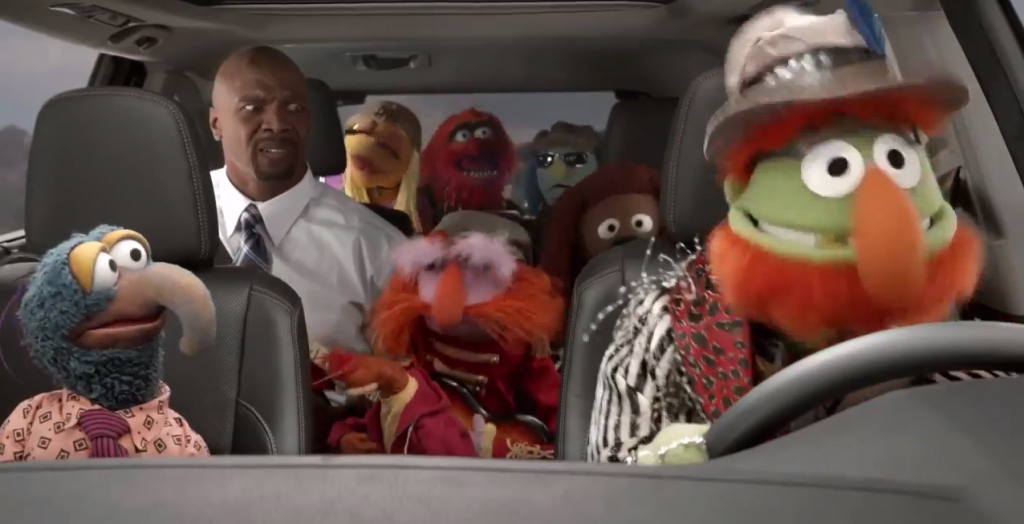 Room for a whole flock of chickens, Terry Crews, a grand piano and the Muppets, but no room for boring. Sing along and see the all-new Toyota Highlander in the roomiest Big Game Ad of all time!
In 1957, when Toyota first came to America, Elvis was king of rock n' roll, big cars with tailfins were "in" and postage stamps were just 3 cents. After a poor start with a car called the "Toyopet," Toyota came back strong in 1965 with the popular 90-horsepower Corona sedan.
Then there was the Corolla, Camry, Toyota trucks, the Lexus luxury brand, Scion, and the world's first gas/electric hybrid Prius…a car we built for the 21st century. Along the way, we've learned a lot and enjoyed the support of American consumers who have embraced the quality, dependability and reliability of our vehicles.
Today, Toyota is one of the top-selling brands in America and we are committed to continuous improvement in everything we do, along with breakthrough products for the future. We're proud to share some highlights of our 50 years of progress and history here.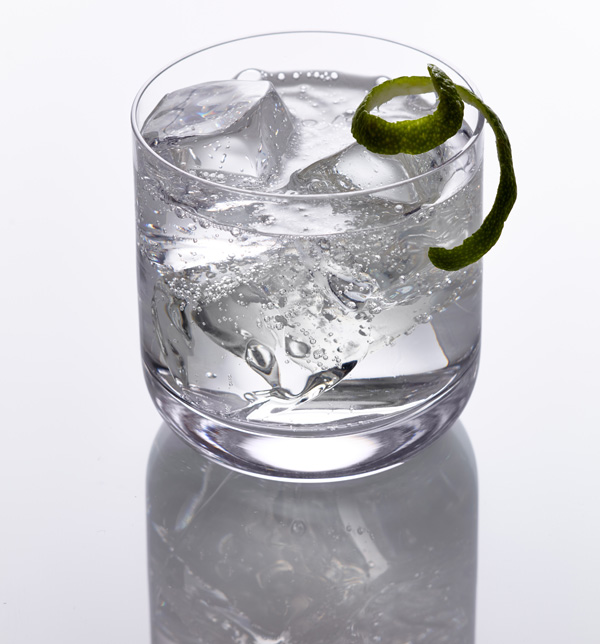 Mojitos, daiquiris and piña coladas are about to be overtaken as there's a 'New Captain' taking over beaches and cocktails everywhere! Inspired by the real-life adventures and exploits of one of history's most renowned privateers, CAPTAIN MORGAN® White Rum, the newest addition to the rum brand's portfolio, will take cues from its namesake with a nationwide release this month.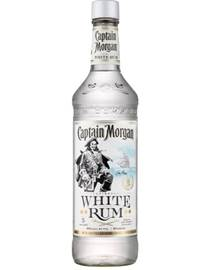 Inspired by the pristine waters of the Caribbean, CAPTAIN MORGAN® White Rum is five times distilled to ensure delicious taste, clean, slightly sweet and creamy with hints of lush fruit and green apple. It's remarkably crisp, carries a smooth finish and is great for adult fans to enjoy responsibly year round.
"Captain Henry Morgan was a world-renowned privateer who paved the way for countless adventurers," said Tom Herbst, Vice President of Marketing, Rums for Diageo North America. "It's with that same spirit that we developed CAPTAIN MORGAN® White Rum, the first-ever white rum from a brand that people know and love. It's a superior, quality rum that possesses a much smoother taste, and we aim to stake our claim in this category in an explosive way."
The launch of CAPTAIN MORGAN® White Rum will be supported through a robust marketing mix, including television, print and online advertising as well as public relations, strong digital extensions and point of sale materials.
Set to renowned recording artist and songwriter M.I.A.'s  Double Bubble Trouble, the brand's television creative features typical rum cocktails "exploding" as CAPTAIN MORGAN® White Rum takes over. In addition, the first supporting print ad, which features American model Chrissy Teigen, will appear in Sports Illustrated's 50th Anniversary Swimsuit Edition slated to hit U.S. shelves in February.
CAPTAIN MORGAN® White Rum also brought a splash of the Caribbean to the Big Apple as football fans, notable celebrities and athletes were among the first to enjoy signature cocktails with the new rum during celebrations leading up to last Sunday's big game.
At 80 proof (40% ABV), CAPTAIN MORGAN® White Rum will be available nationally beginning in early February for a suggested retail price of $15.99 for a 750mL bottle. The new offering is best enjoyed on the rocks, paired with cola or lemon-lime soda, or as the key ingredient in a number of Caribbean-inspired cocktail recipes.
The Captain Morgan Rum Co. reminds adults to stake their claim and raise a glass to sailing uncharted waters – always in moderation!
WHITE & COLA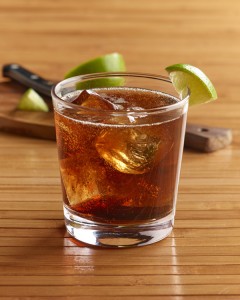 1.5 oz. CAPTAIN MORGAN WHITE® RUM
5 oz. cola
Instructions: Fill a rocks glass with ice. Pour in the CAPTAIN MORGAN WHITE® RUM. Top with the cola.  Garnish with a lime wedge.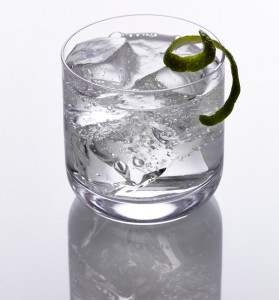 WHITE & LEMON-LIME SODA
1.5 oz. CAPTAIN MORGAN WHITE® RUM
5 oz. lemon-lime soda
Instructions: Fill a rocks glass with ice. Pour in the CAPTAIN MORGAN WHITE® RUM. Top with the lemon lime soda. Garnish with a lime wedge.
WHITE MADRAS
1.5 oz. CAPTAIN MORGAN WHITE® RUM
2 oz. cranberry juice
2 oz. orange juice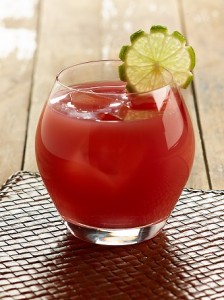 Instructions: In a shaker half filled with ice, add CAPTAIN MORGAN WHITE® RUM, cranberry juice, and orange juice. Shake well and strain into highball glass filled with ice. Garnish with lime.
WHITE MOJITO
1.5 oz. CAPTAIN MORGAN WHITE® RUM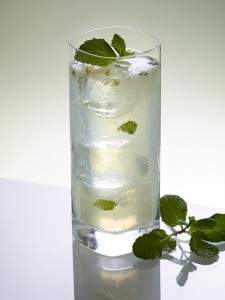 0.5 oz. fresh lime juice
0.5 oz. simple syrup
Fresh mint, muddled
Fresh limes, cut into small pieces
1 oz. club soda
1 mint sprig
Instructions: Put all ingredients except club soda and mint sprig into a mixing glass. Add ice and shake vigorously. Add club soda, shake once, and pour into a highball glass. Garnish with a mint sprig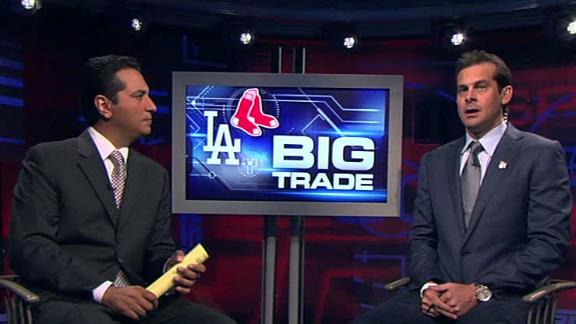 In February we celebrate Heart Awareness month. One of those weeks in that month we recognize and raise awareness for the disease known as Congenital Heart Defect (CHD). I didn't know too much about the disease until my friend told me his daughter had CHD. Now I am trying to help by spreading information about it to others.
To help with that cause I had the great fortune to speak with former Major League Baseball player, Aaron Boone about CHD. He found out back in his college days that he had a heart defect. Even with that news he didn't let that didn't slow him down. He made it all the way to the big leagues and is in inspiration to those with CHD.
You might recognize him because he appears regularly on ESPN's "Baseball Tonight", which is celebrating its 25th season. You can also see Aaron as the color commentator of baseball games on ESPN as well as his "SportsCenter" coverage.
Art Eddy: Before we get into baseball and fatherhood I want to talk about CHD Awareness Week. You knew that you had CHD back in college, but you had to have heart surgery in 2009. When you heard the news that you needed an operation what was racing through your mind at that moment?
Aaron Boone: I knew that that day was out there someday. When they tell you that the time has come it hits you pretty hard. The reality of something major that you got to tackle and take on. It happened right in Spring Training when I was getting ready for the season so I didn't expect it.
It definitely is a wakeup call. At the same time I was very eager to get it done. I had different injuries throughout my career obviously not related to the heart. I knew that this was a big one. I had a ton of confidence in my doctor, my surgeons, and all the people up in Stamford that did my procedure. I was very much at peace going in knowing I was in good hands and ultimately God's hands.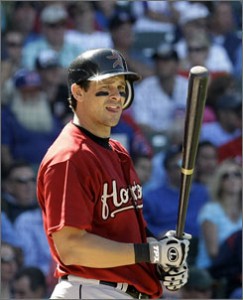 AE: After the surgery you came back to play in the league. You played a bit for the Astros. How good did it feel to be back in the game you love?
AB: Certainly heading in I was at peace if this was the end of my career I was going to be fine with that. That being said once I knew that I had the surgery and that things went well and the rehab process was going well they green lighted me to try and get back.
It was very gratifying. To see your body go through open heart surgery and all of that it entails. To see the weight loss. To really see your body return over a few months period and working hard at the gym to get back and play in the month of September was great. It was my going out party if you will. It was my only year in Houston, but I ended up playing with a lot of people that I am still close with that were so supportive.
It is times like that where you really appreciate friendships and people that are trying to enable you, help you, and support you in realizing your dream in getting back. The fact that I was able to do that was a little bit of closure for me in my career.
AE: What do you think people should know about CHD?
AB: With medicine and technology now, like many diseases in our society you can find out what is going on with your body at early stages of things. It can really help you fulfill your life and get the most out of your life just from early detection.
The fact that I knew about my situation starting in college and I knew about it for 20 years. I did my due diligence of getting my checkups. So doctors were on top of the growth of my heart for when I actually needed to have the surgeries. Maybe 20 to 40 years before that they wouldn't be able to detect and it would have turned into a heart attack or a stroke. All the advancements and the great technology you can really prevent catastrophic situations by being aware, by getting checked out, by monitoring not only what is going on with your heart, but with your body.
AE: You played for a handful of teams in your career. How was the transition for you when you would start up with another team?
AB: It was a fun part of the game. For me I played my whole minor league career and then my first six, seven years in the big leagues with Cincinnati. When I started bouncing around to different teams I was already a veteran player so I knew a lot of people. I had a lot of relationships throughout the game.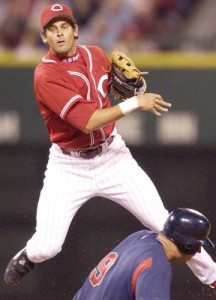 Anytime you would go to another team there was typically several guys that you were familiar with or had friendships with. For me it was always a new challenge, a new chapter of building something with a new team. It was something that I enjoyed to get the opportunity to get to play with several teams at the end of my career.
AE: What is your favorite memory from your playing days? Please don't say the home run against the Boston Red Sox in 2003. I am a Sox fan and that still hurts. (Both laugh)
AB: Well it was pretty good, but you know 1999 we won 96 games with the Reds. We were a nice mix of young and up and coming players, me, Sean Casey, Pokey Reese, and Mike Cameron early on in our careers with veteran players. There was Barry Larkin, Pete Harnisch, and Greg Vaughan. It was such a really good blend of veteran players, younger players, and it all kind of came together. There were so many special moments that came together that year. Looking back my best year was playing in 1999 with the Reds.
AE: When I watch you on TV I love to hear the passion you have for the game. You do a great job of breaking the game down for the audience. How much fun do you have at ESPN being an analyst?
AB: Well thank you for that. It has been such an awesome way to really be continuing my career. Not being able to play at the highest of levels your body tells you that it is time for that. This is a way to stay involved like you said in a game that I love. It is a sport that I have a lot of passion for. It is a sport where I have a lot of ideas.
The fact that I get to go out there and have a platform to try and bring the game to the viewer from a player's perspective is what I take a lot of pride in. I enjoy trying to convey the sport that I love in hopefully a simple manner.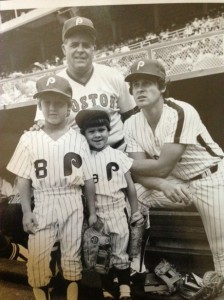 AE: You come from a long line of baseball players. Your grandfather played. Your dad and brother played. First off I think that is amazing for a family to have that type of baseball heritage. What advice did you get from your family as you entered the big leagues?
AB: My dad played for 19 years in the Major Leagues. He had such a tremendous work ethic that I think hopefully a little bit of that rubbed off on me. He always told me all the time, no matter what I did, do it because you love it and do it to the best of your ability. I always thought that if I could take those two thoughts in whatever path I choose in what I do each and every day that you are going to get a lot out of it. You are probably going to get the most out of your ability.
I always tried to have that simple perspective in even the most trying of times. When you are scuffling at your job or it is not going as smooth as you want, I always tried to get back to that foundation.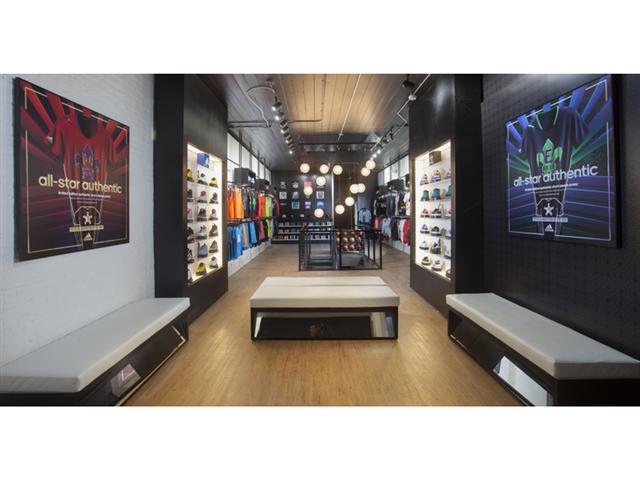 adidas, the official on-court apparel provider for the National Basketball Association (NBA), today announces the launch of adidas in the Quarter, an exclusive retail store and experience for fans to celebrate NBA All-Star in New Orleans.
Featuring the full assortment of official adidas NBA All-Star merchandise, the 2,400-square-foot adidas in the Quarter store will offer jerseys, men's and women's tee shirts, jackets, headwear and other apparel and accessory offerings. It will also offer exclusive, limited edition footwear from adidas Originals and adidas Basketball. The store opens today and will remain open to fans through Feb. 23 with extended hours during NBA All-Star weekend.
Beginning Thursday, Feb. 13, the destination in the historic French Quarter will give fans a once-in-a-lifetime opportunity to meet adidas athletes and entertainers through a multitude of events, product launches, concerts, in-store appearances and more. The line-up includes NBA legends Kareem Abdul-Jabbar and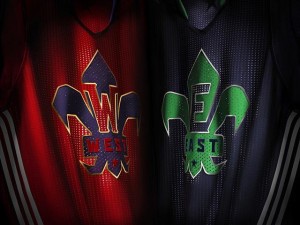 Dikembe Mutombo, NBA All-Stars Dwight Howard, Damian Lillard, John Wall, and Joakim Noah, as well as Harrison Barnes, Steven Adams, Tim Hardaway Jr. and hip-hop artist 2 Chainz.
adidas in the Quarter is located at 321 Chartres St., New Orleans, La., 70130.
Fans across the globe can follow the events online and participate in exclusive opportunities through Twitter, Facebook and Instagram with #adidasintheQuarter, or text "adidas" to 43902 to subscribe to notifications.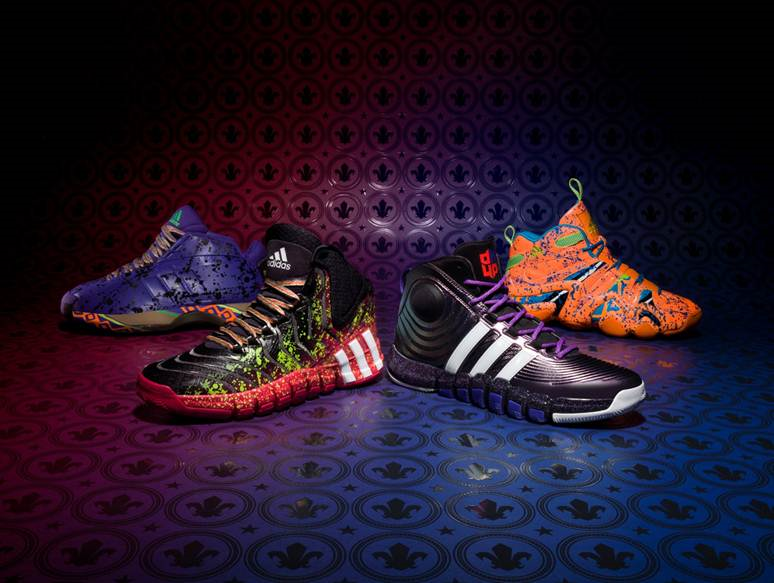 Dwight Howard, John Wall, Damian Lillard and others will debut special NBA All-Star versions of the Howard 4, Crazy 8, Crazy 1 and the all-new Crazyquick 2 at the 63rd NBA All-Star Game in New Orleans. Inspired by New Orleans' rich culture and the atmosphere of NBA All-Star weekend, the footwear collection features bright Mardi Gras colors and exciting prints which will be rolled out Feb. 14 and 15.
The Crazy 8
The classic model, originally launched in 1997, features an aggressive design that follows the form and function of the foot. The NBA All-Star Crazy 8 will be worn by players during the Rookie game and NBA All-Star Saturday Night contests. Bright orange and blue colors and splatter paint print are inspired by The Crazy 8 ($110) will be available Feb. 14 at Foot Locker, Eastbay, Finish Line, Champs, Shoe Palace, DTLR, and adidas.com.
The Crazy 1
The classic model, originally launched in 2000 features a curved, aerodynamic upper inspired by luxury automobiles. The NBA All-Star Crazy 1 will be worn by players during the Rookie game and NBA All-Star Saturday Night contests. Double foam collar provides added ankle support while the torsion system improves stability and traction. Bright orange and blue colors and splatter paint print are inspired by the architectural and art of New Orleans and celebratory spirit of Mardi Gras and NBA All-Star weekend. The Crazy 1 ($125) will be available Feb. 14 at Foot Locker, Eastbay, Finish Line, Champs, Shoe Palace, DTLR and adidas.com.
DWIGHT HOWARD 4
The NBA All-Star version of the Howard 4 features a metallic "Blast Purple" colorway for one of the most elite centers in the league. A unique take on the traditional purple of Mardi Gras, the metallic "Blast Purple" stands out on the court and gives the superstar center a unique look for the big stage of the NBA All-Star Game. The SPRINTWEB and TECHFIT upper provides lightweight support and lockdown with maximum breathability. Crazyquick technology elements include an articulated forefoot with two-way flex zones for increased traction and court feel. The Howard 4 ($125) will be available Feb. 15 at Eastbay, Finish Line, and adidas.com.
CRAZYQUICK 2
The NBA All-Star version of the all-new Crazyquick 2 features a "Vivid Berry" and black upper with "Solar Slime" splatter paint print that pays homage to the celebratory spirit of Mardi Gras and NBA All-Star weekend. The NBA All-Star Crazyquick 2 will be worn on-court by Damian Lillard of the Portland Trail Blazers (West) and John Wall of the Washington Wizards (East).
QUICKWEB upper provides increased flexibility and superior fit in the all-new style. Signature Crazyquick outsole technology is once again featured in the Crazyquick 2 for increased traction and court feel. The Crazyquick 2 ($125) will be available in limited quantities at NBA All-Star Jam Session in New Orleans on Feb. 13.