Art Eddy III
This user hasn't shared any biographical information
Jabber/GTalk: Art Eddy III
Posts by Art Eddy III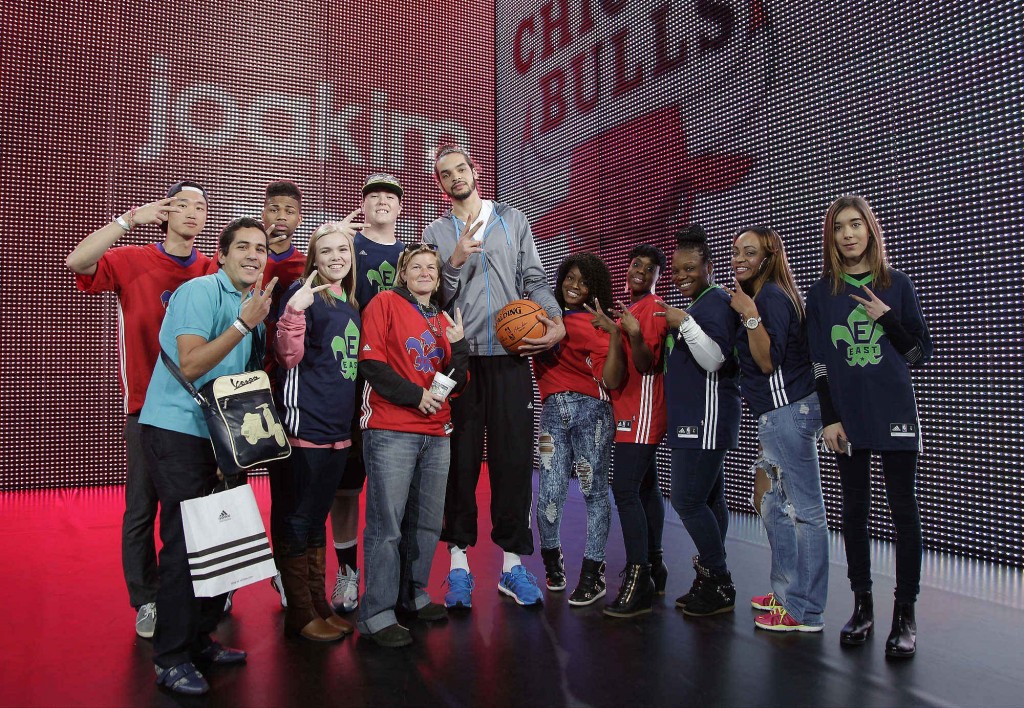 adidas unveils Energy Boost 2 – the running shoe with cushioning returning more energy than any other foam in the running industry. Innovation is the engine of adidas running and Energy Boost 2 is a testament to that as it continues to be an industry first. Energy Boost 2 features a one-piece translucent heel to mid-foot fit cage that locks you on top of the full-length BOOST midsole to create an enhanced, more stable fit. Visually, the new design allows for more a more refined aesthetic.
Energy Boost, originally launched in 2013, changed the industry with BOOST technology. For 2014, adidas refined Energy Boost 2 so it continues to deliver unprecedented energy return. By 2015, the majority of adidas running shoes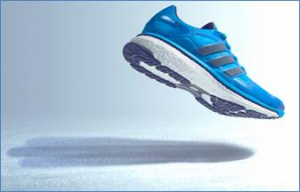 will feature BOOST and, this year, sports like basketball and baseball will benefit from BOOST technology. That news has already excited adidas athletes.
"I've never worn anything like BOOST," said Joakim Noah, All-Star Center for the Chicago Bulls. "They're soft and comfortable, but also responsive – the energy you feel is a difference-maker."
Follow adidas on Twitter at @adidasUS and check out facebook.com/adidasrunning.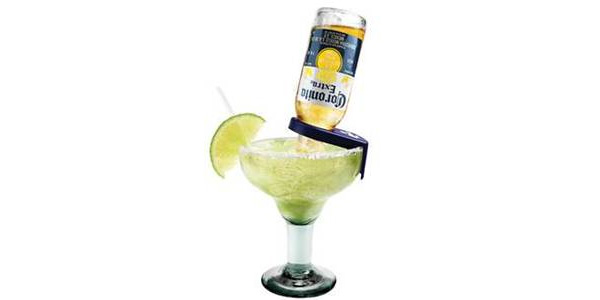 National Margarita Day is coming up on Feb. 22, and folks around the country will be celebrating with the CoronaRita – a deliciously fun twist on the margarita.  The CoronaRita is a traditional or frozen margarita that is accompanied by an upside down Corona, which slowly seeps into the margarita while the cocktail is being consumed, infusing it with subtle yet distinct Corona flavor.
With the margarita as the #1 ordered cocktail and Corona Extra as the #1 ordered import beer, the CoronaRita is perfect for entertaining guests during National Margarita Day celebrations, Cinco de Mayo and throughout the Summer.
The CoronaRita below is made with Coronita, a 7oz. bottle of Corona Extra.  Corona Extra is the #1 imported beer in the U.S. and the #5 beer overall.  Corona offers the perfect balance between heavier European imports and lighter domestic beer, pairing well with spicy cuisine, casual dining, and of course, limes.
CoronaRita
Ingredients:
1 ¼ oz. Tequila
½ oz. Triple Sec
3 oz. Margarita Mix
1 Coronita 7 oz. beer
1 lime wedge
Margarita Rocks
½ Salt rim
Combine ingredients 1-3 in shaker with ice
Shake vigorously
Strain into glass with 2/3 ice
Invert Coronita in clip on glass, garnish with lime wedge and serve
Margarita Frozen
½ Salt rim
Combine ingredients 1-3 in blender with 1 Cup Ice
Blend until smooth
Pour into glass
Invert Coronita in clip on glass, garnish with lime wedge and serve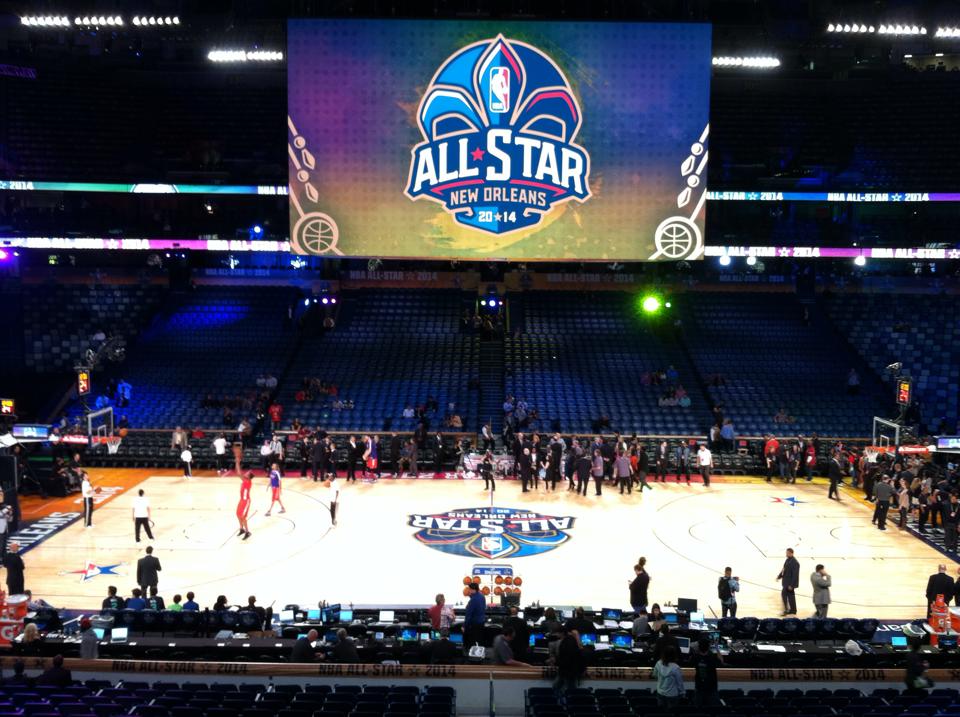 If someone asked you to create the perfect sports weekend, what would some of the key ingredients be to make that experience special?
For me, I would say watching the top athletes of that sport compete against each other. You would enjoy great food and even better cocktails. I would add some of my good friends into the mix to enjoy those moments. There would be invites to incredible parties and events that you couldn't go to on a regular basis. Maybe the chance of meeting legends of that sport in an intimate setting and be able to pick their brain about the game they love. Okay, I think you catch my drift.
I am very fortunate to say that I was able to have experienced just that. I was invited to be part of the Crown Royal #ReignOn campaign for the 2014 NBA All-Star weekend in New Orleans. Let me just say that this has to be one of the best weekends I have experienced in my life.
So with that being said, where do I begin? I guess the old adage is to start from the beginning.
I arrived in New Orleans Friday night with a lot of anticipation. I got to the hotel and made sure I got a good night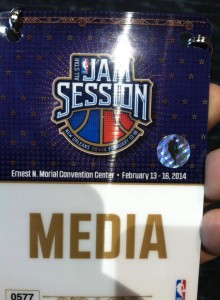 sleep. I wanted to be ready for everything that was going to happen that weekend. I was going to the NBA All-Star game on Sunday to see the cream of the crop play against each other. Crown Royal had created an out of this world itinerary that included hanging out with NBA legend Julius Erving. That's right Dr. J. Crown Royal set up a meet and greet with Dr. J and a whisky tasting with the living legend.
Crown Royal also scored me and my fellow bloggers NBA "Jam Session" media passes. This let us into some cool places during the NBA All-Star weekend. They took us to some premiere restaurants to get a real taste of the New Orleans cuisine. We even had a whiskey tasting with Master of Whisky, Robert Sickler. He gave us an in-depth education on the new Crown Royal XO, which was outstanding by the way. For those who enjoy a great whisky I suggest picking up the XO.
So as you can see this weekend looked to be one of those perfect sports weekend that I mentioned earlier.
So as I woke up Saturday morning I had an extra spring in my step. I was getting ready to seize the day. I headed off to the New Orleans Ernest N. Morial Convention Center to pick up my media credentials for the weekend. Once I picked that up I ventured into center in what the NBA called "Jam Session." Picture Disney World, but catered for those who love basketball. There were meet and greets with former and current players. You could test out your basketball skills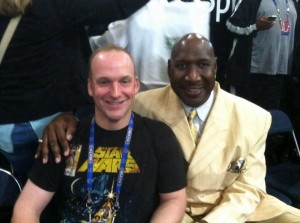 with certain games and challenges at the convention center. You could even check out the Eastern and Western Conference All-Stars practice on Saturday morning.
I did watch the All-Stars from the West take to the court to go over some plays for Sunday's game. That is where I ran into NBA great Darryl Dawkins AKA "Chocolate Thunder." He is such a down to earth guy and answered all my questions. Thanks Darryl.
After watching the West practice I used my credentials to go to the media section for the Q&A sessions with both conferences.  I was able to interview LeBron James, Dwyane Wade, and Kyrie Irving. That was one of the sickest moments from that weekend. After coming off that high, I went back to engage in some of the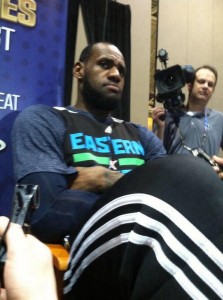 other activities at the convention center.
I then met up with the Crown Royal team and other bloggers to go meet up with Dr. J that night. (That sentence alone still gets me!) Erving gave some of his thoughts on his work with Crown Royal. He followed that up by talking about his time in the NBA, players he admired growing up, and what he thought of today's players.
Next he opened the floor for our questions. Just like the kid in school who wants to answer all of the teacher's questions I raised my hand to ask the good doctor the first question. I wanted to get his take on the evolution of the league.
He answered my question with great insight. He feels that teams need to start looking to be stronger on the defensive side of things. From his answer I could tell he is still a student of the game. He then answered a few other questions. Dr. J is a classy guy to say the least. Our time with Dr. J ended by him giving us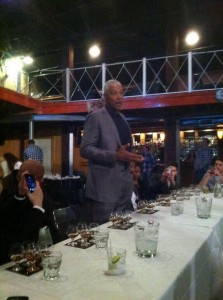 a gift! Yeah, you read that correctly. He gave us each some Dr. J flex fit hats. Just like my time with James, Wade, and Kyrie, this will be one of my favorite memories from that weekend.
After that I would be very content with calling it night, but that is not how the fine folks at Crown Royal work. They made sure our experience was a true "Reign On" weekend from start to finish. We met for dinner at St. Marie Brasserie. There we had a very scrumptious dinner. At St. Marie Brasserie the master bartender created cocktails with Crown Royal that was influenced by the city of New Orleans. We finished dinner with a tasty dessert and went to the Metropolitan for the Kevin Hart party.
At the Metropolitan we all gathered at the Crown Royal section of the club. We had a great time talking about our time in New Orleans. During the night the guest DJ came up to the booth. It was none other than Biz Markie. This was another amazing part of the weekend. I am a big fan of Biz and he was cool to chat for a bit and even take a picture with me.
On Sunday I checked out the French Quarter for a bit and picked up some things for my wife and my daughters. I even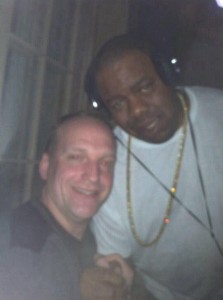 tried the world famous beignets from Café du Monde. For those at home wondering, yes they did live up to the hype.
Later that night it was finally here! GAME TIME. The Crown Royal crew and I went to the NBA All-Star game. Who knew a concert would break out right before the game? Pharrell opened up the night by bringing some of his closest friends like Nelly, Diddy, and Busta Rhymes on stage with him. As he was performing the Eastern and Western Conference players came out onto the court.
Once Pharrell was done performing it was time for tip off. The West took an early lead and looked to steal the show as high flyer Blake Griffin from the Los Angeles Clippers kept on attacking the rim with some ridiculous alley-oops. In the end though the Eastern Conference got the victory. Kyrie Irving was named the MVP.
The whirlwind that was the NBA All-Star weekend had come to an end. It was an amazing experience and one that I will never forget. From talking with NBA legends to learning about whisky, Crown Royal produced the ultimate sports fan experience. So to the fantastic people at Diageo, Taylor, and Crown Royal I want to thank you for an unbelievable time.
Crown Royal raised the bar on this promotion. Since they do that for their whisky I guess it is only natural for them to excel in anything they touch! I can truly say that I was able to Reign On for the 2014 NBA All-Star weekend!
For Crown Royal, to Reign On is to win. With that said please enjoy Crown Royal responsibly this NBA season.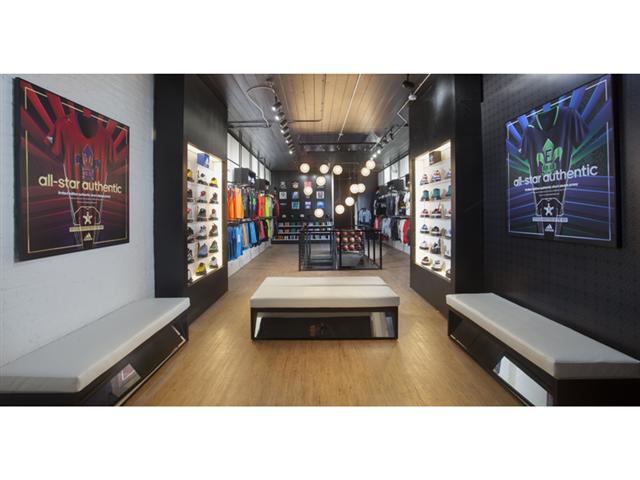 This week while I was in New Orleans for the NBA All-Star game I made it a point to check out the adidas store located in the French Quarter. When I entered the store you could see the New Orleans influence interwoven with the fresh adidas NBA gear. From official NBA apparel to the jazz themed decorations the store got folks ready for All-Star weekend in New Orleans.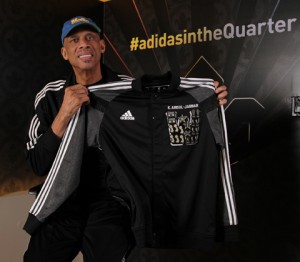 Besides having a state of the art facility during All-Star weekend, adidas had made sure to bring the A-Game with the appearances of current and former athletes and a sick lineup of entertainers. adidas rolled out the red carpet for Kareem Abdul-Jabbar, Dikembe Mutombo,  Dwight Howard, Damian Lillard, John Wall, and Joakim Noah, as well as Harrison Barnes, Steven Adams, Tim Hardaway Jr. and hip-hop artist 2 Chainz.
The store was full of official adidas NBA All-Star merchandise. I saw sick jerseys, men's and women's tee shirts, jackets, (The East and West jackets that were in black with an "E" or "W" were money.) headwear and other great apparel and accessories. If you missed out on checking out the store this weekend, well you are in luck. The store will remain open to fans through Feb. 23.
Not only did I go to the store in the French Quarter I was able to go right next door and check out the adidas suite. There I was able to go home with the adidas Top Ten. Talk about going old school, man these shows are sick. The Top Ten harks back to the '70s and '80s. This one-to-one reissue of the men's shoe stays true to the details, in a full grain leather upper with a suede toe guard, contrast 3-Stripes and perforated details, on top of a grippy rubber outsole. Sneakerheads out there know this is a must for their collection. I was able to score the red colorway and some All-Star gear.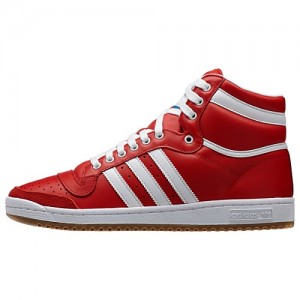 adidas did mix business with pleasure when they were putting on spectacular shows in New Orleans. There was an adidas in the Quarter party at House of Blues in Saturday night with a packed house featuring 2 Chainz, Snoop Dogg, Pusha T, YG, DJ Mustard and a special appearance by NBA All-Star and Sprite Slam Dunk champion John Wall of the Washington Wizards.
2 Chainz celebrated the release of his adidas Originals Top Ten Hi "2 Good to be T.R.U." this weekend and fans were invited to attend the Blues party through a special adidas Originals giveaway at the adidas in the Quarter store.
In my opinion adidas did the NBA proud. They had innovative gear and kicks for those who crave the new school look. For those who love taking it back to the old school adidas didn't disappoint either. Shoes like the Top Ten and Kareem's shoe "The Blueprint" paid homage to the past. For a company that looks to remember the legends from the NBA's past and give love and support to the current and future stars they gave an MVP style performance for All-Star weekend.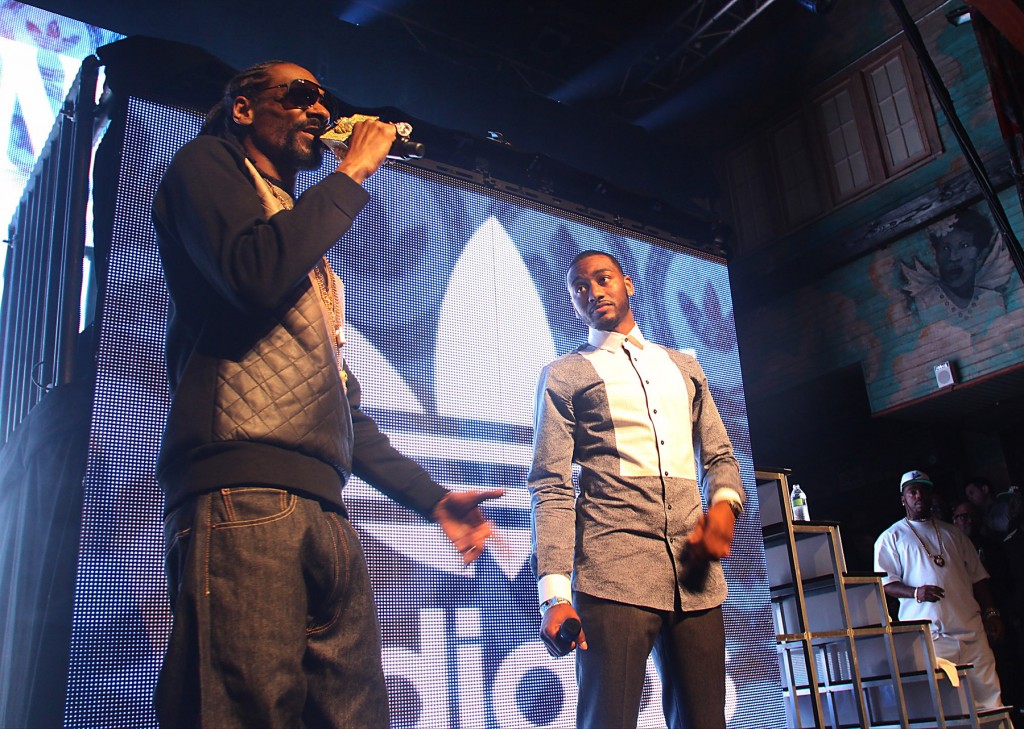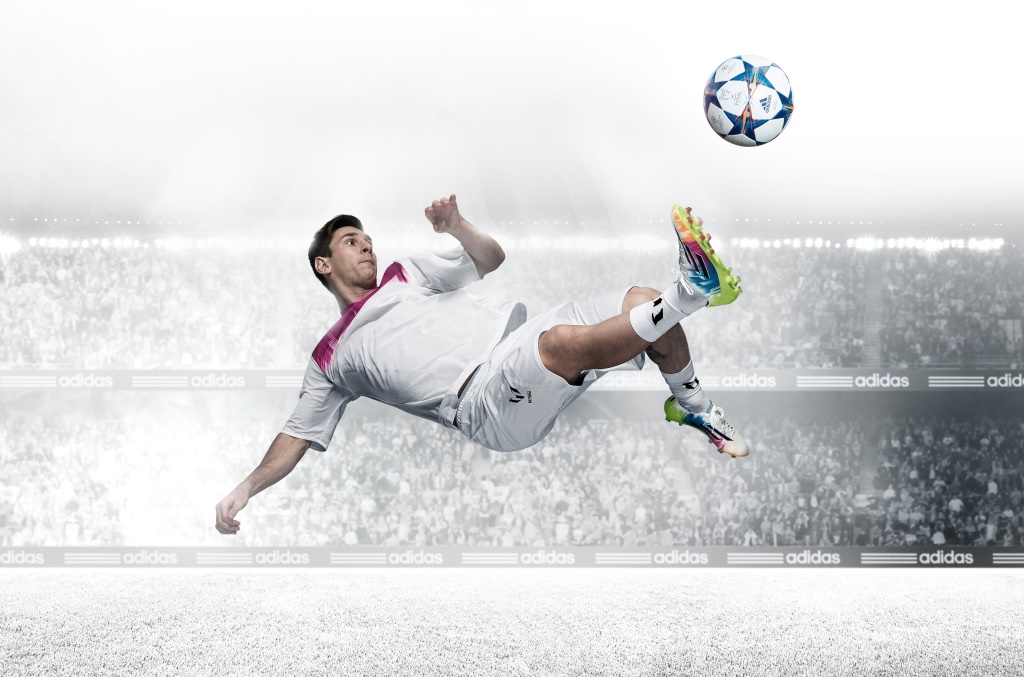 adidas today unveils Lionel Messi's collection of footwear and apparel highlighted by the four-time reigning FIFA World Player of the Year's first signature cleat. The world record holder for goals in a calendar year will debut his signature adizero F50 this spring.
Messi's new signature cleat is available on March 1 but fans can preorder it now HERE. You can follow the conversation on Twitter via @adidasSoccer.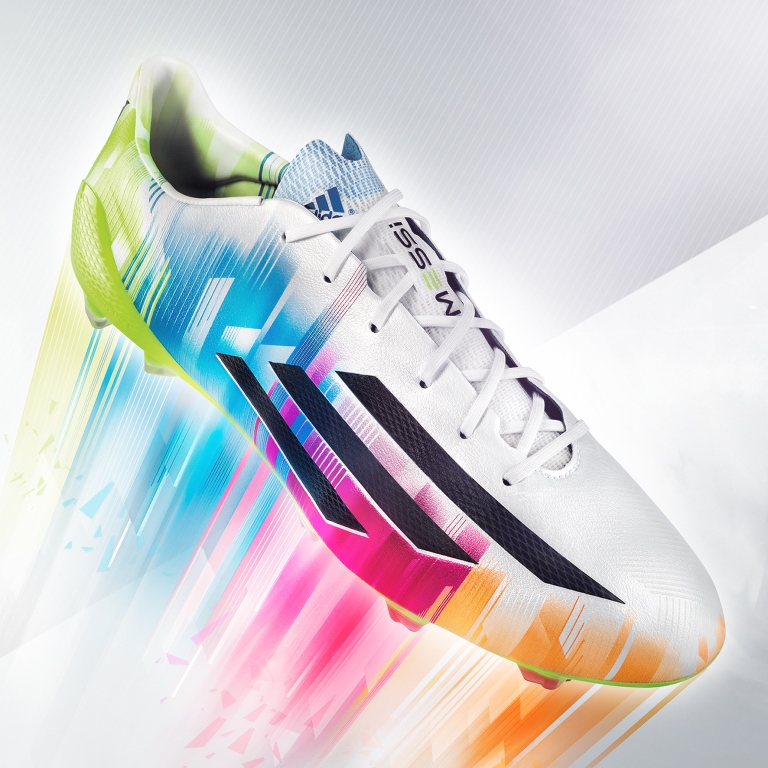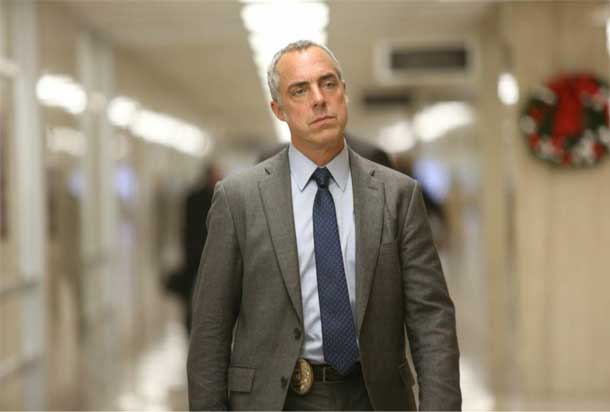 Titus Welliver is starring in one of the first Amazon Studio's series pilot called "Bosch." He plays the lead role of a Los Angeles Police Department homicide detective named Harry Bosch. The series is based on Michael Connelly's best-selling Harry Bosch book series.
Welliver is no stranger to being in critically acclaimed films and TV series. He was known as the "Man in Black" in the TV series "Lost." He also played the role of Glenn Childs in the TV show "The Good Wife".
Last year, Welliver was in both films "ARGO" and "Promised Land."  Titus didn't stop working hard this year either. He finished wrapping up filming of "Transformers 4: Age of Existence" which is set to be out in theaters this summer.
Titus was kind enough to take time out of his busy schedule to talk to me about "Bosch," "Transformers 4: Age of Existence," fatherhood, "Lost," and more.
Art Eddy: First off let's talk about the new Amazon series called "Bosch" that you star in. Tell me about the series and your role.
Titus Welliver: "Bosch" is based on the Hieronymus Bosch novels written by Michael Connelly. In the pilot episode we combined two of the novels, "The Concrete Blonde" and "City of Bones" into the storyline. Harry is an LAPD robbery homicide detective. In the pilot he is on trial in a civil lawsuit.
He is being sued as well as the city of Los Angeles for a wrongful death shooting of a suspect. In the interim, because he is taken off the duty roster and since Bosch is such a driven character downtime is not something he does well with. He switches rotation with two other detectives. In that process a dog discovers a bone in the Hollywood Hills and brings it back to the owner.
They discover that it is a shallow grave with the remains of a child. Bosch then catches this case. It is his pursuit of this cold case since it is over 20 years old. It is some compelling storytelling that we got here.
AE: Like you said "Bosch" is based on the Michael Connelly's book series. Did you read his books even before you started preparing for this role?
TW: I read one of his books a few years back. In preparation to shoot this above and beyond the script I read the two source books, "The Concrete Blonde" and "City of Bones" to get into the mind of Harry. Michael's characterization since it is the source material is invaluable. Obviously you can't tell and show everything. You got about 50 minutes per episode to do that.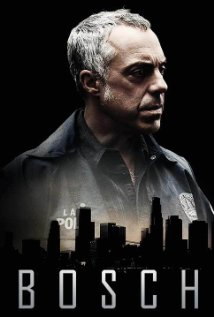 The script is super tight. A large percentage of the dialogue has been lifted directly from the books. It is very true to the books because Michael is an executive producer and a writer with Eric Overmyer. The integrity of the books are there, which I think is really important. Often in the translation of these things the industry for whatever reason feels the need to cook it up or change it. That really alienates people. You are never going to please everybody. I am sure that there is a percentage of people saying Titus Welliver is Harry Bosch?
I understand that as a person who loves to read. Even with historical characters we have this preconceived idea in our heads about the physicality of the character, what they should sound like, and what they should look like. It is hard because you do want to please everybody, but that is a fool's errand. There is no possible way.
AE: You are working with a great cast. How did you guys all come together to get the chemistry right for the series?
TW: I have been shooting "Transformers" for months and months. Every time I tried to meet with these guys something came up and I wasn't able to meet up with these guys. I was really getting frustrated because I really knew that I wanted to do it. I just couldn't get with them.
So when I finally did it was pretty fast. I had to go to Hong Kong to finish shooting "Transformers" and I was back for like 48 hours and started shooting. We were able to get Jamie Hector and I together. I am a longtime fan of his work. I wasn't a stranger to his work, but I never met him before. Jamie and I were able to spend some time together with Jim McKay, the director, and talk about the dynamic of those characters and their relationship. They are partners and we sort of have to jump in there.
When we got to the table read, which I think is always interesting, I have to say looking around to see who was there I was just kind of knocked out. These are all people whose work I really, really respect. So I got really excited at the table read and just couldn't wait to get started.
It was kind of fast, but I always feel that when you assemble a group or people, which directors and producers have a way of putting people who will complement each other, it will work. That is also the difficulty. You want to assemble a group of talent, but you also need to bring people together who can complement each other and work well together. That is tricky. There is always that social aspect of it. Will personalities clash? It is an interesting recipe.
AE: This series airs online at Amazon Prime. Are you happy with the way media is now being housed not just on cable anymore?
TW: It is a whole new ball game. I also think that realistically it is the future. The structure has always been when you do a network pilot is that you shoot the pilot and then they test it. Then we re-edit, we sometimes re-shoot, and even re-cast. Then it is left up to the decision of the executives and not even so much the producers. You are at the mercy of that.
Whereas with this you are still at the mercy with people who will ultimately have the decision to see if this project will move forward, but I think it is also very smart. People are paying for it. If you walk into a butcher shop you don't ask for the cheapest cut. People want quality. If you are paying for something you want it to be good, quality programming. It is just a different time. There is so much more access now with the internet. People are able to express their opinions. It is kind of interesting.
AE: I can't wait for "Transformers: Age of Extinction." It comes out this summer. I saw the trailer. It looks awesome. What can you tell us fans about the film and what we can prepare for?
TW: It looks pretty cool, right?
AE: Yea.
TW: It is a reboot. There are some of the original Autobots. There are all new characters. Mark Wahlberg, Nicola Peltz, and Jack Reynor are the central characters. I think also it has been expanded to more of an adult audience. It still has its roots with the regular audience.
It is a little bit darker. It is a little bit rougher then what we have seen in the other films. For me the thrill of participating in a franchise that I have enjoyed, not only with my children, but also on my own. Michael Bay is someone I always wanted to work with. I always wanted to work with Wahlberg. Stan Tucci is in it. Kelsey Grammer is in it. It is a fantastic cast. Nicola Peltz and Jack Reynor are great.
There is a lot of new stuff. It is very different from the other films on a lot of levels. I will say to you that no one will be disappointed. You get yoked and it doesn't let you go.
AE: You have been on so many great TV shows and films. Do you have an all-time favorite role and what character do fans bring up most to you?
TW: Well I certainly will say "Lost." The irony is that I only did four episodes of that show. Because of the whole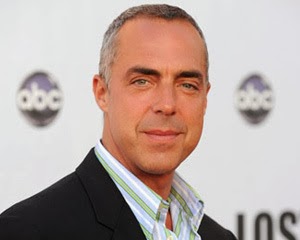 mythology of the show, the history of the character, and because of the smoke monster and all of that I get a lot of shout outs from people. They will call me Smokey. People also really love "Sons of Anarchy."
The films that I have done that standout are the ones I have done with Ben Affleck. As far as a favorite character it is difficult to say. They all have different merits. They each brought me a level of joy and challenge in different ways.
I will say that Harry Bosch is a character that is very nuance, really compelling, and a complex character. It feels like this is something I have been working towards. There is some age and some maturity to have a character at this stage like Bosch at this juncture is really exciting. I love this character and I feel that we have barely scratched the surface. It is my hope that we will be able to continue because there are a lot of books. I get to work with unbelievable actors. There is nothing more exciting to be in the middle of a scene with another actor who is great at what they do.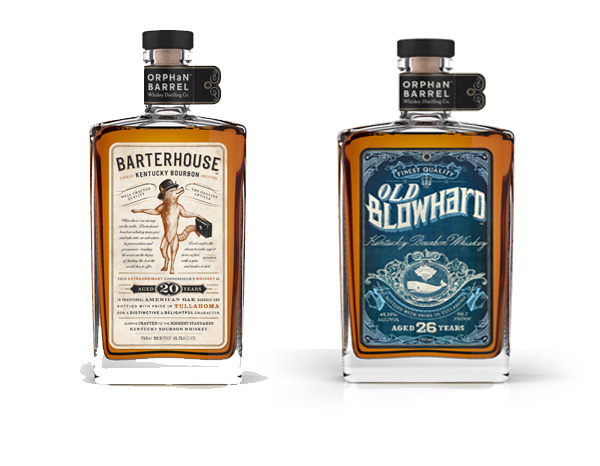 From Tennessee to Kentucky to Ireland, stories of old whiskies forgotten in the back of rickhouses and warehouses drift among distillers the world over.  From lunch breaks to happy hours, their debates over which whiskey would taste best has become the stuff of legend.  To offer resolution and introduce a new line of rare spirits to a growing base of whiskey aficionados, DIAGEO today announced the official start of the Orphan Barrel Whiskey Distilling Company.
The goal of The Orphan Barrel Whiskey Distilling Company is to locate lost and forgotten barrels of whiskey from around the world and share them with discerning adult fans.  The first two variants to be released from the company will include the 20-year-old Barterhouse Whiskey and the 26-year-aged Old Blowhard Whiskey.  Both brands are expected to begin appearing on select shelves throughout the U.S. in March 2014 under strict allocation due to limited supply.
Barterhouse Whiskey stocks were discovered in old warehouses at the Stitzel-Weller facility in Louisville, Ky.  Rumor has it warehouse workers have already begun lining up for the first taste of this beautiful whiskey with a soft nose reminiscent of warm spice, biscuit and buttercream.  The whiskey's mellow taste includes notes of roasted grain, charred oak and a brown sugar finish.  Barterhouse Whiskey is bottled in Tullahoma, Tenn. and will be expected to sell for a suggested retail price of $75.
Old Blowhard Whiskey was also found at Stitzel-Weller and is hand bottled in Tullahoma.  At 26-years-old, the whiskey contains exuberant, rich flavors with undertones of smoke and honey followed by a gentle finish – dry and spicy with a hint of orange peel.  Carrying a suggested retail price of $150, Old Blowhard Whiskey is meant to be sipped slowly and best enjoyed among gregarious friends and unyielding debates.
"The whiskey warehouses and rickhouses these spirits come from are special places filled with the incredible smells of seasoned oak, rough textures of weathered wood and amazing tastes of precious liquid," said Ewan Morgan, Master of Whiskey for DIAGEO.  "It's every worker's dream of finding that forgotten barrel of delicious whiskey and sharing it with their friends.  That's exactly what we're doing."
Like the rickhouse and warehouse workers who uncover them and the consumers who drink them, Orphan Barrel Whiskies have distinctive personalities in taste and packaging.  Barterhouse Whiskey packaging nods to the inspiration behind the whiskey's name.  A vintage khaki and brown label features a sly fox front and center after he's made a smooth deal at the local trading post.  Because when there's no money on the table, Barterhouse Whiskey turns give and take into an adventure in provocation and persuasion.
Based in a beautiful nautical blue, the Old Blowhard Whiskey label features a powerful whale exhaling through its blowhole before launching into another opinionated debate.  Powerful fonts rooted in swagger proclaim the spirit's impressive age statement and status as a Kentucky Bourbon.
The Orphan Barrel Whiskey Distilling Company is headquartered in Tullahoma, Tenn. where the whiskies are bottled and owned and operated by DIAGEO, the world's leading premium drinks company.  DIAGEO continues to invest in the growing whiskey and bourbon categories via the Orphan Barrel Whiskey Distilling company and its existing line of whiskies including Johnnie Walker, Crown Royal Canadian Whisky, Bulleit Bourbon, George Dickel Tennessee Whiskey, Bushmills and more.
Orphan Barrel whiskies have been waiting years to be uncovered so DIAGEO and the rickhouse workers who guard these rare spirits remind consumers lucky enough to get their hands on a bottle to sip slowly and responsibly.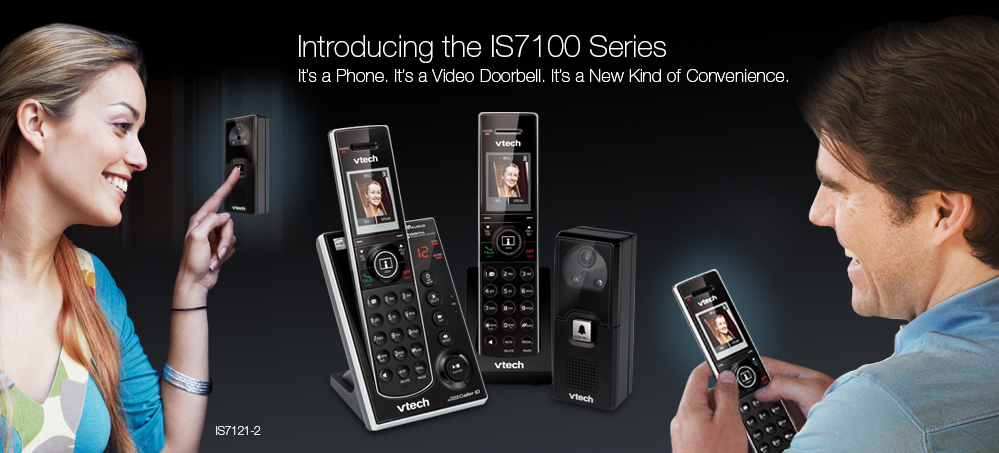 VTech Doorbell Answering System is a 2-in-1 technology designed for maximum convenience. The video doorbell of the audio/video VTech cordless answering system is combined with a phone system and a digital camera. This duo technology also gives you added security in your home. The digital answering system comes with caller ID, a call waiting function and the ability to expand to up to 10 handsets and two cameras.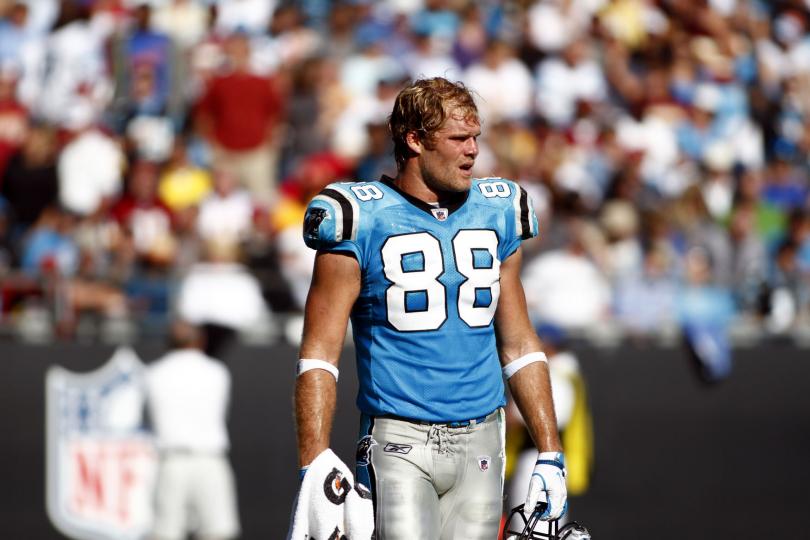 Greg Olsen plays in the National Football League as a tight end for the Carolina Panthers. He started his career with the Chicago Bears in 2007. He has been through a lot in the league, but he had his toughest challenge off the field. During the offseason in 2012 Greg and his wife, Kara were ecstatic when they received the great news of Kara being pregnant with twins. They already had one son and now their family was about to get bigger.
Sadly they got news that one of their babies would be born with a severe congenital heart defect (CHD), called Hypoplastic Left Heart Syndrome. Thankfully Greg and Kara went to Levine Children's Hospital where both babies were born. Their son TJ has CHD and he needed a few operations on his heart. Now almost a year and a half has passed and TJ is doing well.
The Olsen's wanted to help out other families who would deal with CHD. They set up "T.J.'s 'HEARTest' Yard" program under their Receptions for Research foundation. This program provides families of babies affected by CHD with many programs that include in-home, private nursing care, physical therapy and speech therapy as well as more outstanding services.
Greg was kind enough to chat with me about his family's journey with TJ and CHD, his foundation, and a bit of football.
Art Eddy: The second week of February is CHD Awareness Week. I am very grateful for you to take the time and talk about how CHD impacted your family. Two years ago when you found out that TJ had CHD what was going through your mind at that point?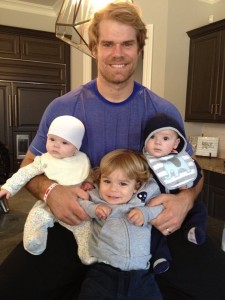 Greg Olsen: It was scary. Up to that point we really didn't know anyone who had a congenital heart defect. We got the news that he was going to be born with a serious heart defect called Hypoplastic Left Heart Syndrome. It came to us as a great shock. We were obviously scared. There was a lot of uncertainty. It was something as a family that we had to work through.
We have had unbelievable doctors and the care that our son was able to have here. We were very fortunate that he is almost a year and a half. He really has come a long way.
AE: Reading up and watching videos on your family's journey it looks like TJ's battle with CHD made you guys a stronger family. You don't sweat the minor things. It is incredible to watch the strength that these kids have as they battle with CHD. As a father how did you try and keep it together for the rest of the family while TJ was going through his procedures?
GO: It was hard. We had our weak moments. We definitely had our moments where we could have handled it better. You just try and do the best you can. We took it one day at a time. We would try not to get ahead of ourselves trying to predict the future.
That worked for us. Worrying about the moment now. What is the best thing that we can do for the long term health of our child, but what could we do today? It wasn't what can we do in six or eight months. We got the diagnosis early before the babies were born. It gave us a lot of time to help prep ourselves. It also gave us a lot time to sit back and worry. It was a tough time there before the babies were delivered.
Once they were delivered I think it was nice to just move forward to the surgery. At that point it became real as opposed to just sitting around waiting.
AE: I really appreciate all the work you and your staff do for your foundation Receptions for Research. Tell me a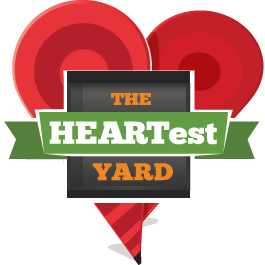 bit about the foundation and T.J.'s 'HEARTest' Yard.
GO: Receptions for Research is our family's foundation. In the past year or so we started the "HEARTest Yard" program with Levine Children's Hospital here in Charlotte. This is where TJ has had all his surgeries. That is where we have gotten all our medical care.
We approached them about starting a cutting edge, never been done before privatized health care program. Administered by the hospital, but completely funded by us through our foundation. It is done either by us personally or by our fundraising efforts. It brings that world class care from the hospital and bridges it into the home.
That is the biggest thing that we felt we could have used. More help to bring in specialists. Bringing in nursing care. Bringing in physical therapists. All of those things. That is really the inspiration of what the program is. There is a handful of families that have already started in the program. We continue to get unbelievable feedback about the efforts to help the family's peace of mind and more importantly the health and future of the baby. It really has been positively received and we are very excited about it.
AE: How can people help your foundation out?
GO: They can visit our website, Receptions for Research dot org. One of our main pages there will be the "HEARTest Yard" link. It will bring up all of our future events. It will give ways that people can sponsor. It will give a little more information about the actual program. It will give more information on what Hypoplastic Left Heart is. They can pretty much get everything about the foundation, the hospital, what actually HLHS is all on the website.
AE: How has becoming a dad changed you?
GO: You learn a lot as a person. You learn a lot as a family. It is the most scary, the most nerve racking, but also the best thing that has ever happened to me. Being able to come home and see these kids every day. All three of them run to the door now. They say hi and their eyes light up. It is just something special. Until someone is a father it is really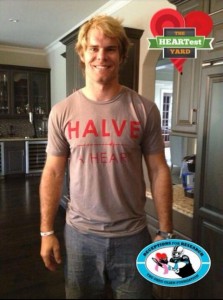 hard to explain it to them. I could go on for what it means to me. Especially what has gone on in our family over the past year has made it even that more special.
AE: What advice do you have for new dads out there?
GO: It is not going to be easy. There is no manual. It is not just come home and play catch all day. There is a lot of work. You need to put the time in to teach your kids on how they are supposed to act. Everything they learn is from you as their parent and as their dad. Especially the different relationships depending if you have a boy or a girl and the different dynamics that are in those relationships.
You kind of just learn on the fly. That's at least what I did. You are not perfect, but you try to be the best you can for your children.
AE: Switching to the NFL. You and your team the Carolina Panthers started off rocky, but finished strong to get the number two seed in the NFC. What did you learn about your team this season?
GO: We really came along way. We were able to accomplish a few of our goals. We won the division. We were able to make it to the second round of the playoffs. We were able to accomplish some of our goals. Obviously we fell a little short of the ultimate goal of making it to the Super Bowl. It is something to at least build off of. We are eager to get started again and make another run.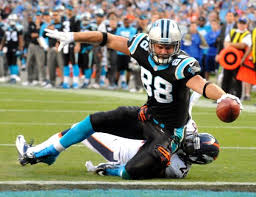 AE: When do you start to worry about the next season?
GO: Probably sometime in the next couple of weeks. I will start back up my training. Start getting everything lined up to get prepared physically and put all of that inline. I have taken the past few weeks just hanging with the family. Each day we take a few trips with the kids. Just trying to be around here and taking them to school, picking them up from school, and being there for dinner. That is something this time of the year that you have to take advantage of. I will get back to my training in a few weeks.
AE: Growing up did you have a NFL team that you would root for and did you have a favorite player?
GO: No I didn't. I grew up in Northern New Jersey right outside of New York. So the New York teams were very prevalent up there. We would follow them there. They were the local games. So I guess them, but we were more into college football games. College football was something that was more on our horizon when we were growing up and getting into high school. I don't think any of us could have imagined playing this long in the league. It is something that is incredible, but I don't know if it was something I thought I could do all along. So I would say college sports was more of a bigger deal growing up.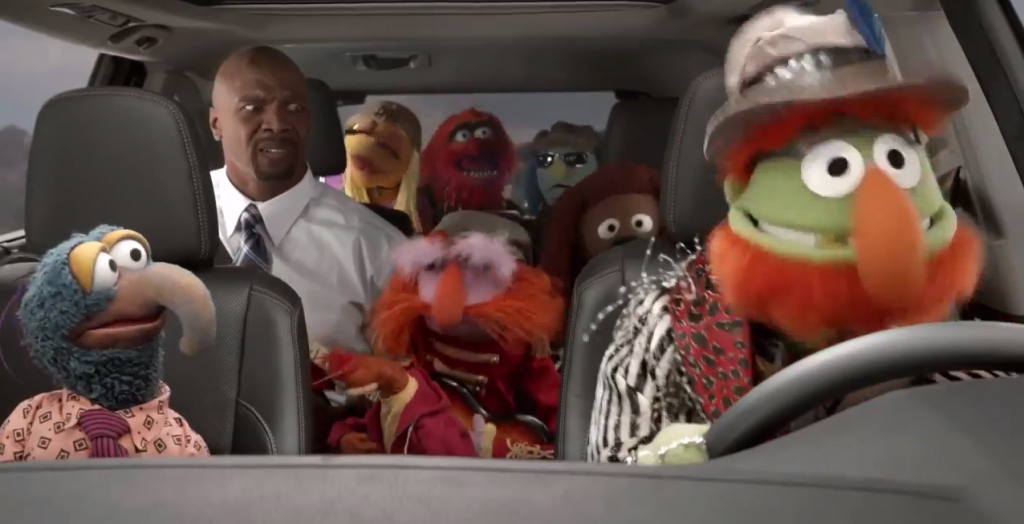 Room for a whole flock of chickens, Terry Crews, a grand piano and the Muppets, but no room for boring. Sing along and see the all-new Toyota Highlander in the roomiest Big Game Ad of all time!
In 1957, when Toyota first came to America, Elvis was king of rock n' roll, big cars with tailfins were "in" and postage stamps were just 3 cents. After a poor start with a car called the "Toyopet," Toyota came back strong in 1965 with the popular 90-horsepower Corona sedan.
Then there was the Corolla, Camry, Toyota trucks, the Lexus luxury brand, Scion, and the world's first gas/electric hybrid Prius…a car we built for the 21st century. Along the way, we've learned a lot and enjoyed the support of American consumers who have embraced the quality, dependability and reliability of our vehicles.
Today, Toyota is one of the top-selling brands in America and we are committed to continuous improvement in everything we do, along with breakthrough products for the future. We're proud to share some highlights of our 50 years of progress and history here.