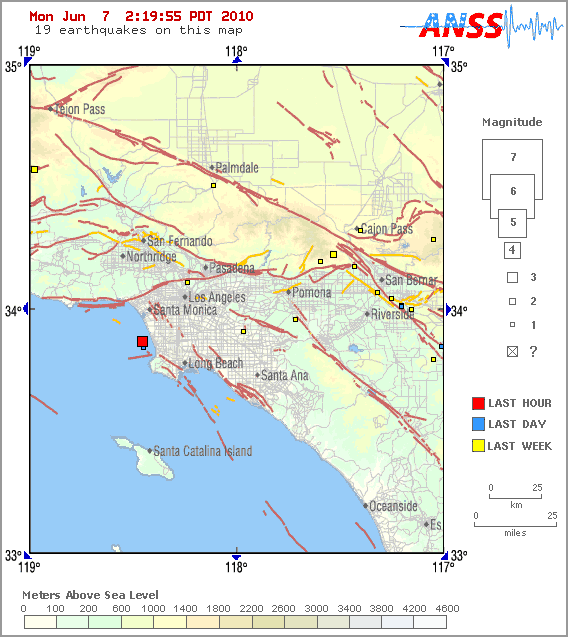 Yep, that was an earthquake. If you live on the westside in LA, and you're burning the midnight oil, that jolt at 2:17AM was a 3.6 magnitude quake with an epicenter in the Santa Monica Bay. Check out the earthquakes.usgs.gov site for more info.
This one wasn't all that crazy, but there was a quick burst that must've woken a lot of people up. Anyway, no cause for alarm. Go back to bed.
Looks like the Sandra Bullock comeback tour is in full swing this weekend. First, she hit up the 2010 SpikeTV Guys Choice Awards last night. Bullock made jokes about her personal life while accepting an award for Entertainer of the Year. She followed that up with an appearence at the MTV Movie Awards, where she planted a big smooch on a more-than-willing Scarlett Johansson! The kiss wasn't all that steamy, but it did add something extra to Bullock's acceptance of the Generation Award. During her speech, Sandra took the opportunity to set the record straight about her personal life (again), and then decided to give everyone something more interesting to talk about.
What's hotter than a lil' Sandra on Scarlett action? Maybe the moment would have been sweeter if Scarlett didn't get so damn fit for Iron Man 2 and lose some of her topside assets. Still, you got to like these two beauties bridging the generation gap with a little bit of lip lockin'. Here's the clip: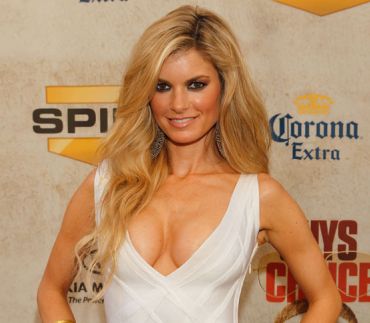 The MANjr team hit up SpikeTV's 2010 Guys Choice Awards on Saturday June 5th. Okay, so we didn't get to go inside and get wined and dined next to the A-list celebs, but we did get to hang out at the red carpet sidelines with all the other press folk. Man, those red carpet events really test the concept of personal space. Anyway, I digress.
The Guys Choice Awards is a spoof awards show where instead of awards for high-brow categories like best actor/best actress/best director, they have categories such as Biggest Ass Kicker, Holy Grail of Hot, Jean Claude Gahd Dam, and any words they could put 'man' in front of (Most Manticipated Movie).
The awards show was like the wet dream of all awards shows. Take hot models, actresses, action heroes, skimpy cocktail waitresses, booze 'em all up and let them loose with a pair of mantlers and an 80s hair band soundtrack. Some of the winners included Jack Bauer, Sly Stallone, Scarlett Johansson, Brooklyn Decker, Charlize Theron, Chris Rock (whose acceptance speech was friggin' hilarious), Sandra Bullock, George Clooney, and more but I can't remember. Marisa Miller was also in attendance in a skin tight white thing.
The show doesn't air until June 20th, but here are a few pics to get you warmed up.

Wicked Pictures star Stormy Daniels is an adult film legend. A five-time AVN Award winner, Stormy's been steaming up the industry for over a decade. Not just a super-starlet, Stormy has written and directed a few adult films as well. She's enjoyed quite a bit of crossover success, and in 2010, she even considered running for a seat in the U.S. Senate. Articulate and approachable, this beauty from Baton Rouge, Louisiana can do it all.
Stormy's latest project is the new film Finding Bliss, a romantic comedy that examines the adult film industry through the eyes of an eager film school grad (played by Leelee Sobieski), who gets to Hollywood with high hopes and ends up editing porn to get by.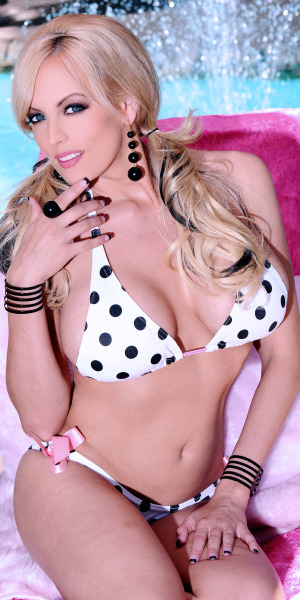 CS: So you've done a lot of crossover work. You were in the 40-Year-Old Virgin, Knocked Up, Party Down, the FX series Dirt and now this upcoming film Finding Bliss. Do you see yourself doing more mainstream Hollywood work in the future?
SD: I would love to, but it is not something that I plan to seek out. Those opportunities were amazing and I am so thankful for them since I learned a lot and met great people, but I am not under the misconception that it is possible for an adult actress to completely crossover.
CS: Do you have any plans to retire from the adult film industry or focus more on writing and directing?
SD: Of course! Gravity is gonna take effect any day now and I don't want my naked ass on HD when it happens.
CS: How did you first come in contact with Julie Davis, the writer and director of Finding Bliss?
SD: I actually had never met Julie before my first day on Finding Bliss. She or one of her producers contacted Wicked Pictures and requested me.
CS: How did the set atmosphere of Finding Bliss compare to the set of a film like Space Nuts?
SD: They were pretty much the same. Wicked Pictures produces the highest quality adult movies and we use all the same resources and crew that a mainstream set implements…. we just do it with a little less clothing. More >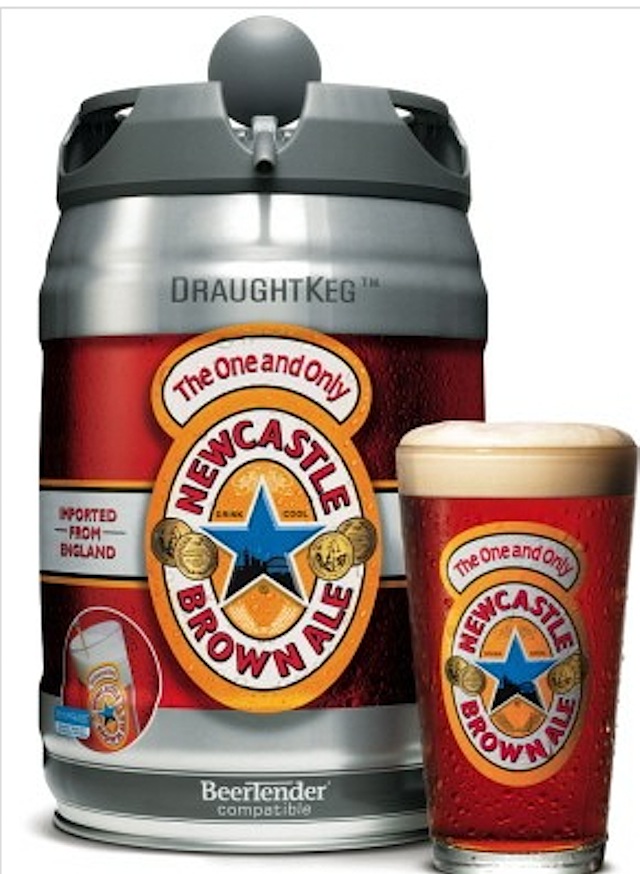 Summer's here guys, and that means you need to be more efficient with your beer drinking habits. Buying a bunch of bottles and cans to bring to a BBQ or pool party is all well and good, but this is peak beer season, and when it's hot outside, nobody wants clean-up crew duties. You got to find ways to maximize your ability to transport and consume good beer. This is where the Newcastle DraughtKeg comes in.
The Newcastle DraughtKeg is a compact, BeerTender compatible unit that's packed with 5 liters of delicious Newkie Brown Ale. You just pop the thing in the fridge for a solid 10 hours, grab one of the three handles when you're ready to mobilize and plop the DraughtKeg into the beer-corner of your Summer get-together spot.
The DraughtKeg sets up quickly, and there's a fancy thing called Sympress technology that makes sure your beer pour is solid every time you hit the keg. If stored correctly, the Newscastle DraughtKeg can last up to 30 days, but if you let it sit that long, you're a fool for snoozing on your Newcastle, and you don't deserve tasty, suitably pressurized Draght Keg beer.

John Wooden was a real inspirational figure. The guy made his way to the Basketball Hall of Fame twice, once as a player and once as a coach. He won a National Championship as a player and then during his 12-year tenure as Head Coach of the UCLA Bruins, Wooden won an astounding 10 titles. His record as a coach was  664–162. After he moving on from basketball, Wooden became an accomplished author and motivational speaker. Wooden passed away yesterday and since his passing, people have been going crazy trying to track down quotes from this cerebral legend.
Compiled by the MANjr team, here are the Top 10 John Wooden quotes that best commemorate the man's legacy: More >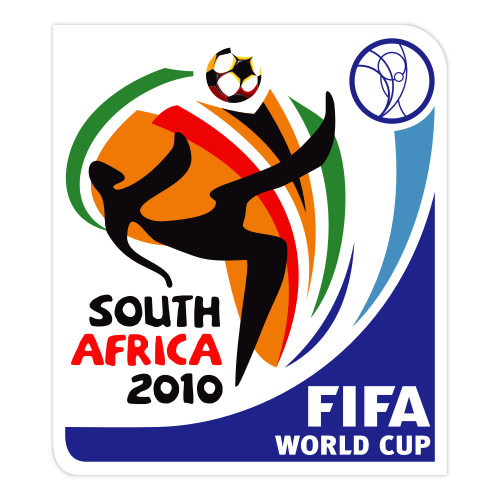 Grab your cleats and beers, the 2010 World Cup is about to get underway. It's time to coordinate your early morning drinking program with your soon-to-be messed up sleeping schedule. You need to plan out when you need to set the alarm and figure out how drunk you can get before going to work.
Don't leave this up to chance or you could miss a good match or worse, lose your job because of couch-induced jet lag-like symptoms. More >

Don't use that pillow, Eric! More >
As if we needed more evidence that Japan is way cooler than us. Here's a video of a Japanese Bear in Kung Fu training (okay maybe he was just at the zoo, but it's still pretty sick). Forget about that Jack Black cartoon shit, In Japan, Kung Fu Panda's are for real….