Just when you thought everyone forgot about Austria, they go and do something like this. This tame, 20-second commercial features a female office worker who busts a Zidane-style headbutt on a co-worker. The Austrians don't like it because they say it promotes violence. Whatever. Take a look for yourself. Doesn't seem that bad, right?
Thanks Deadspin!

Freakin' little kids out at birthday parties since 1998.
This is so hilarious. Super slow motion bitch slap. Sounds like it wouldn't be that funny, but I was cracking up through the entire thing.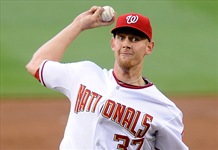 So the kid lived up to the hype.
Earlier on Twitter today, @marklavine summed up the expectations for Strasburg's debut like this:
If Stephen Strasburg doesn't cure cancer or walk on water tonight, I'll be disappointed. Just sayin'
So yea man, no pressure. The Washington Nationals drafted Strasbourg number one overall last June, and the sorry-ass ball club needed a big-time lift from the highly touted (and highly paid) prospect.
Strassy didn't disappoint. The kid tossed 99 mph pitches and finished the game with a ridiculous 14Ks. Yea okay, he gave up a two-run homer, but so what? He allowed just four hits and the two runs over seven innings. He didn't walk anyone either.
Way to manage expectations, big guy!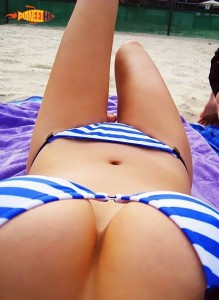 The 55 sexiest South African women (BroBible)
Bill Simmons NBA Finals Game 3 live chat (NBA.com)
Marion Barber played with torn quad in 2009 (PFT)
Holy bikini cleavage fest! (Planeeths via Dave&Thomas)
Chris Brown banned from Britan (AdventureWorthy)
9 dumb girlfriend conversations (EgoTV)
5 Rules of strip club etiquette (HolyTaco)
Mike Fabiano thinks you should draft QB Aaron Rodgers with your first round fantasy pick (NFL.com)
The best bars in America – 2010 (Esquire)
7 dishes that every guy should know how to cook (Guyism)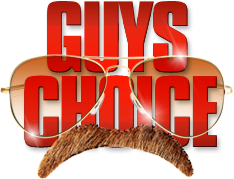 I caught up with Jay Glazer on the red carpet of the 2010 Spike TV Guys Choice Awards, and I couldn't wait to talk about football! I asked Glazer who he likes as early favorites to win the Super Bowl, what he thinks about the Pittsburgh Steelers chances this season and what his thoughts are on Mike Florio, the guy behind ProFootballTalk.com. Happy birthday, Mike!
(For those of you who don't know what's up, PFT is the world's best source for up-to-the-minute info on NFL news, rumors and opinion. It's an insanely addicting site that's been wearing out the F5 button on my keyboard for years. When Glazer calls Mike Florio "the Gospel right now in the NFL," that's not an understatement. If you love football, you need to bookmark PFT right now).
Here are the highlights from my interview with Jay Glazer:
Jay Glazer Talks About Mike Florio from ProFootballTalk – MANjr.com from Chris Stout on Vimeo.
Jay Glazer Calls the New York Jets Early Favorites to Win the Super Bowl – MANjr.com from Chris Stout on Vimeo.
Jay Glazer Talks About the Pittsburgh Steelers – MANjr.com from Chris Stout on Vimeo.
This kid is sick. I mean, I'd pay to see this Japanese dude do his thing. It's silly how he fills the next two and a half minutes of your life. Worth watching and sharing…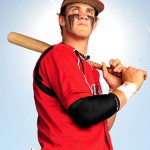 Dude, the baseball teams did a draft today! Here's a big list of a bunch of players who might be relevant in 2013!
Major League Baseball Draft 2010 Completes First Round
1. Washington Nationals — Bryce Harper — C/OF — College of Southern Nevada
2. Pittsburgh Pirates — Jameson Taillon — P — The Woodlands High School
3. Baltimore Orioles — Manny Machado — SS — Brito Private High School (Miami)
4. Kansas City Royals — Christian Colon — SS — Cal. State Fullerton
5. Cleveland Indians — Drew Pomeranz — P — Mississippi
6. Arizona Diamondbacks — Barret Loux — P — Texas A&M
7. New York Mets — Matt Harvey — P — North Carolina
8. Houston Astros — Delino DeShields Jr. — 2B — Woodward Academy
9. San Diego Padres — Karsten Whitson — P — Chipley High School
10. Oakland Athletics — Michael Choice — OF — University of Texas Arlington
11. Toronto Blue Jays — Deck McGuire — P — Georgia Tech
12. Cincinnati Reds — Yasmani Grandal — C — University of Miami
13. Chicago White Sox — Chris Sale — P — Florida Gulf Coast University
14. Milwaukee Brewers — Dylan Covey — P — Maranatha High School
15. Texas Rangers — Jake Skole — OF — Georgia Tech
16. Chicago Cubs — Hayden Simpson — P — Southern Arkansas
17. Tampa Bay Rays — Josh Sale — OF — Bishop Blanchet High School
18. Anaheim Angels — Kaleb Cowart — 3B — Cook High School of Georgia
19. Houston Astros — Mike Foltynewicz — P — University of Texas
20. Boston Red Sox — Kolbrin Vitek — 2B — Ball State University
21. Minnesota Twins — Alex Wimmers — P — Ohio State University
22. Texas Rangers — Kellin DeGlan — C — R.E. Mountain High School
23. Florida Marlins — Christian Yelich — OF — Westlake High School (California)
24. San Francisco Giants — Gary Brown — OF — Cal. State Fullerton
25. St. Louis Cardinals — Zach Cox — 3B — University of Arkansas
26. Colorado Rockies — Kyle Parker — OF — Clemson University
27. Philadelphia Phillies — Jesse Biddle — P — Germantown Friendship High School (Pennsylvania)
28. Los Angeles Dodgers — Zach Lee — P — McKinney High School
29. Anaheim Angels — Cam Bedrosian — P — East Coweta High School (Georgia)
30. Anaheim Angels — Chevy Clarke — OF — Marietta High School (Georgia)
31. Tampa Bay Rays — Justin O'Conner — C– Cowan High School (Indiana)
32. New York Yankees — Cito Culver — SS — Irondequoit High School (New York)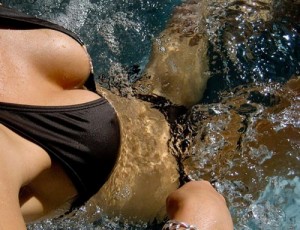 The 101 Sweetest Things About Summer (COED Magazine)
Cause some of you probably have jobs, here's 3 ways to watch the World Cup (Mashable)
Top 10 Ways to Attract Hot Women (AskMen)
Ze Germans have zer own FHM list of the 100 Sexiest Women in der Welt (TheDailyFix)
Vida Guerra + Bodypaint = Worth Clicking (Yeeeah)
Caite Upton was Miss South Carolina Teen USA in 2007 and she's still good looking (Maxim)
Uh-o! Watch out AFC West, here come the Chiefs! (FOXSports)
Time to adjust your approach LA stoners – here's a map of all the medical marijuana dispenseries that are closing today (LAist)
Did Tom Cruise just get cool again? At last night's 2010 MTV Movie Awards, Cruise donned the hairy suit and reprised his role as producer Les Grossman from Tropic Thunder. He put on a hilarious bump and grind show with Jennifer Lopez. See for yourself.
Ken Jeong's dong was back (in a tiger bodysuit) in the intro scene with Ed Helms.