Sports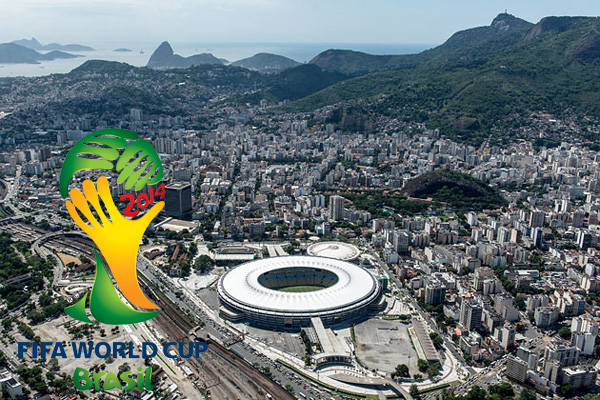 If ABC and ESPN can do anything to improve their World Cup coverage, it would be less comments about "goal line technology" and show us far more hot girl fans from around the world.
World Cup Group H
Belgium
Russia
Algeria
Korean Republic
Belgium arrive in Brazil looking to make some moves. Many people's favorite dark horse pick among the European sides, Belgium is enjoying the emergence of a golden generation of talent. This group is also more favorable to Belgium than some of the others they could have been drawn into. But belgium cannot write their ticket to the knockout stage just yet. Historically Russia has been up and down at the World Cup. They always possess some quality talent but it doesn't always come together. The Korean Republic has been slowly building their reputation since co-hosting the 2002 World Cup where they reached the semi-finals. With goals and comebacks being the story of the 2014 World Cup so far, this group could go in a different direction than the pundits predicted.
Belgium
Fifa Rank: 11
Odds: 21-1
Manager: Marc Wilmots
Key Players: Eden Hazard, Romelu Lukaku, Thibaut Coutois, Vincent Kompany
Best World Cup Finish: Semifinals (1986)
Fun Fact: 24 million tablets of MDMA are consumed in Belgium per year, a country with population 11 million.
Much has been talked about in Europe over Belgium's young golden generation. For at least the past year they have been brought up as having an outside chance of winning the World Cup for the first time. The oddsmakers had them the fifth favorites to win before the heavy betting started. This Belgium team should be exciting to watch with a lot of dynamic attackers. Coached by Belgium legend Marc Wilmots, they have at times struggled to play as a cohesive unit.
Belgium has star talent for sure. Eden Hazard was one of the best players in the English Premier League and young striker Romelu Lukaku has enjoyed two success years and is on the verge of reaching the next level. They could be primed for a historical World Cup run. Their goalkeeper Thibaut Courtois enjoyed an outstanding year winning the Spain's La Liga. Vincent Kompany offers power and experience in the heart of defense.
The only odd thing about Belgium is that they seem to have produced a wonderful generation of talent at every position but at fullback. Belgium'd four best defenders are all center defenders although a few have played as full back in emergencies at their clubs. Wilmots' challenge is going to be making this system of four center defenders work well on the flanks. If the defense can adapt and the attackers can connect as a cohesive unit, Belgium should play some exciting football. In this group playing with four center defenders shouldn't matter but Belgium might be in for a rude awakening when they reach the knockout round.
Russia
Fifa Rank: 19
Odds: 100-1
Manager: Fabio Capello
Key Players: Alexander Kokorin, Alan Dzagoev, Alexander Kerzakov
Best World Cup Finish: Group Stage (1994,2006)
Fun Fact: In 1994 Oleg Salenko scored a record 5 goals in a single World Cup group stage match.
Russia enters the World Cup after a disastrous few tournaments. Former England manager Fabio Capello took over in 2012 and guided Russia to the 2014 World Cup. They could challenge in this group but with Russia hosting the 2018 World Cup, Capello could be using this World Cup as a test run for the next generation of Russian talent. Veterans were left at home and this team is clearly focused on the young exciting Russian stars.
Dzagoev and Kokorin are the attacking leaders of Russia's next generation. With Capello heavily focusing on Russian youth these players will have a chance to shine. Alexander Kerzakov offers movement up front that is crucial to the style Capello has Russia playing. Dzagoev and Kokorin are likely to be Russia's most dynamic attackers who create the goals.
If Capello can set up to effectively counter the weaknesses in his Group H opponents, Russia could be a surprise winner. One danger might be in setting up too defensively and even leaving the dynamic Dzagoev on the bench. With this World Cup already offering such exciting displays, Russia would benefit greatly from some thrilling performances to help build some goodwill towards them hosting in 2018.
Algeria
Fifa Rank: 22
Odds: 1000-1
Manager: Vahid Hililhodzic
Key Players: Sofiane Feghouli, Yacine Brahimi, Habil Bentaleb, Saphir Taider
Best World Cup Finish: Group Stage (1982, 1986, 2010)
Fun Fact: Only 7 of Algeria's 23-man squad were born in Algeria, the rest were born in France.
Neutrals will hope Algeria improves upon their ugly 2010 matches. They offered little for the fans with droll, unexciting football. Possibly the most boring side in 2010 Algeria has small shoes to fill this time around. But Algeria should be much improved in the entertainment value this time around.
Manager Halilhodzic has focused on bringing through exciting young talent and building a more attacking system than the dull 3 center defenders Algeria used in 2010. The main weakness to Algeria will be teamwork. None of Algeria's team are club teammates and many are young players who only recently broke into the national team. While this team's football is much more exciting, the players will not be nearly as used to playing together as any of their Group H opponents.
Sofiane Feghouli has emerged as their creative outlet. He displays great energy for Valencia in Spain and his passing skills will see him as Algeria's likely playmaker. Beyond that any number of Algeria's young promising talent could play their way into history on the world's stage.
Korean Republic
Fifa Rank: 57
Odds: 400-1
Manager: Hong Myung-Bo
Key Players: Son Heung Min, Park Chu-Young
Best World Cup Finish: Semifinals (2002)
Fun Fact: Son Heung Min is the only Korean that played in the Champions League last year.
While stories are likely told of South Korea's remarkable run to 4th place in 2002, that achievement happened when they were co-hosts. Close to the lowest ranked team in the tournament with players that have the least experience in the top leagues around the world, South Korea will need some magic in Brasil to advance even in one of the weakest groups.
There is some hope for Korea. Manager Hong Myung-Bo was the captain of Korea's 2002 4th place side. In the year he has been in charge, he has instilled a better system for Korea. Focusing on defensive organization as a platform to launch the young attacking talent, Hong Myung-Bo might be the perfect manager for this new look Korean team. Son Heung Min had an excellent year in Germany for Bayer Leverkusen. He put in some amazing performances that have him on a lot of manager's shortlists. Korea needs him to step up to the World Stage.