World Cup 2014 Preview – Group C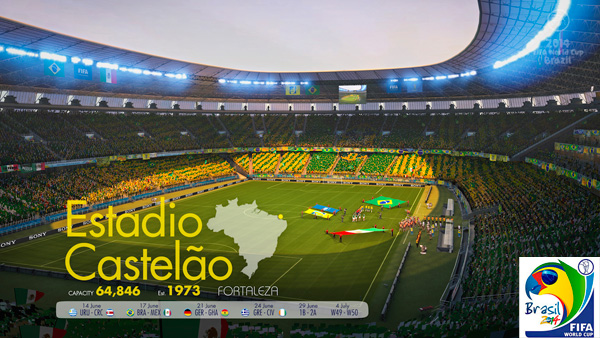 World Cup sponsors Adidas, Coca-Cola, Sony and Visa have called upon FIFA to deal with reports of bribery and corruption. Britain's Sunday Times has released what appears to be information documenting brides from Qatar in securing the 2022 World Cup.
World Cup Group C
Greece
Ivory Coast
Japan
Colombia
This is probably the most open and unpredictable group of the tournament. All of these teams are relatively even matched. A dramatic difference in playing styles could make these matches very interesting. From Greece's defensive tactics to Japan's technical passing game to the pace of Colombia's dynamic attackers to Ivory Coast's dynamic midfield play these teams all offer contrasting styles. If you want to see goals though you might want to avoid Greece's matches. Greece is not known for producing entertaining football. Colombia, Ivory Coast and Japan all have the potential to provide thrilling matches with excellent technique on display.
Colombia
Fifa Rank: 8
Odds: 40-1
Manager: José Pékerman
Key Players: James Rodriguez, Freddy Guarin, Jackson Martinez
Best World Cup Finish: Round of 16 (1990)
Fun Fact: In 1994 Colombian defender Andres Escobar was shot and killed after his own  goal cost Colombia in the World Cup.
Colombia sits on the verge of a new renaissance. Long recovering from the days when the drug cartels funded their national soccer team, Colombia is now emerging as a new South American powerhouse. Finishing 2nd behind Argentina in qualifying this edition can boast a lot of exciting young talent. Unfortunately for them will be without the services of star striker Radamel Falcao who was injured in January.
Even without Falcao, has a number of electrifying players. James Rodriguez had an excellent year for Monaco in France and will surely be their star with Falcao out. Freddy Guarin provides experience and stability in midfield. Leading the line in Brazil for will be Jackson Martinez who had a pretty good year with Porto. With Falcao and also the talented Luis Muriel out though, the pressure will be on Martinez to perform.
Colombia has been exciting in qualifying but relied on Falcao's superb goals. With Falcao, they were a dark horse pick to win the tournament but without him who knows. They still possesses the class to win this group but the possibility of finishing fourth and going home disappointed is very real.
Greece
Fifa Rank: 12
Odds: 200-1
Manager: Fernando Santos
Key Players: Konstaninos Mitroglu, Sokratis Papastathopoulos, Giorgios Karagounis
Best World Cup Finish: Group Stage (1994, 2010)
Fun Fact: 10 years ago Greece shocked the world by winning the 2004 Euros tournament despite being heavy underdogs.
Greece is nobody's favorite team. Their 2004 Euros championship is infamous for being the opposite of the kind of exciting football most fans are seeking. Playing a droll defensive style, the Greeks don't win so much as wear out their opposition and lull them into submission. Its possible with Ivory Coast, Japan and Colombia, Greece will take part in some exciting games. Not many expect Greece to be the cause of the excitement though.
All critique of their boring defensive style aside, the Greeks have caused some major upsets in the past. Yet they have never advanced past the group stage in a World Cup. Their challenge is all four of these teams have a chance of winning this group and no neutral fan will be cheering for Greece. The Brazilians, looking for entertainment, might boo Greece quickly if their style reverts to boring defense only.
Konstaninos Mitroglu was their star in qualifying. Greece will hope he can now emerge on the world stage. Greece also benefits from a great team spirit and their team always plays greater as a unit than the sum of the parts. They face an interesting challenge in this group and perhaps they can break their stereotype of being the most boring team in the world.
Ivory Coast
Fifa Rank: 23
Odds: 150-1
Manager: Sabri Lamouchi
Key Players: Yaya Toure, Didier Drogba, Gervinho
Best World Cup Finish: Group Stage (2006, 2010)
Fun Fact: Star player Didier Drogba was a key figure promoting peace during Ivory Coast's bloody civil war.
The Ivory Coast has had one of Africa's more talented squads in recent years but they have failed to fulfill their potential at the World Cup. Les Elephants are looking to advance out of the group stage for the first time ever. With this draw they have to like their chances. However the Ivory Coast will have to come together and play as a team instead of a collection of individuals for that to happen. Both Japan and Greece are renowned for playing superbly as teams rather than as individuals. The Ivory Coast will need some of that if they are to advance.
Didier Drogba is a legend in world soccer but he enters this tournament in the twilight of his career. Midfielder Yaya Toure had perhaps his finest season ever this year and will be critical to Ivory Coast's success or failure. Their attackers are all dangerous but its the defense that might let the Ivorians down. Ivory Coast's powerful midfielders like Toure and Check Tiote will be called upon to protect a defensive backline that has some weak links.
French manager Sabri Lamouche's selection decisions could make the difference. The bold Frenchmen left Drogba and defender Kolo Toure on the bench in the African Cup of Nations and the Ivory Coast won 3-0 against Tunisia. Lamouche confidently spoke of his team's ability to advance so the pressure will be on him to get the most out of this talented squad.
Japan
Fifa Rank: 46
Odds: 150-1
Manager: Alberto Zaccheroni
Key Players: Keisuke Honda, Shinji Kagawa
Best World Cup Finish: Round of 16 (2002, 2010)
Fun Fact: The Japanese women's team won the last Women's World Cup.
Japan perhaps serves as an example of national teams reflecting their nation's culture. Japan's teams play a highly technical, possession based game that emphasizes their strength of playing a team. While they advanced out of the group stage in the last World Cup, they struggled last year in Brazil's climate losing to Brazil, Italy and Mexico in the Confederations Cup. Japan could win this group or finish last and neither result would be too surprising.
Japan's star players are attacking midfielders Shinji Kagawa and Keisuke Honda. Both have years of experience playing at the highest level in Europe. Japan will need them to put in great performances. They struggled last year in Brazil but the World Cup seems to motivate the Japanese in recent years. This could be their chance to shine.
The Samurai Blue's manager is a coaching legend in Italy. Having managed in the Italian leagues for over 25 years, Alberto Zaccheroni's experience could be crucial for Japan to advance.
Related Posts
| | | |
| --- | --- | --- |
| | Print article | This entry was posted by Jimmy Bagels on June 10, 2014 at 8:33 am, and is filed under Sports. Follow any responses to this post through RSS 2.0. Both comments and pings are currently closed. |
Comments are closed.