World Cup 2014 Preview – Group G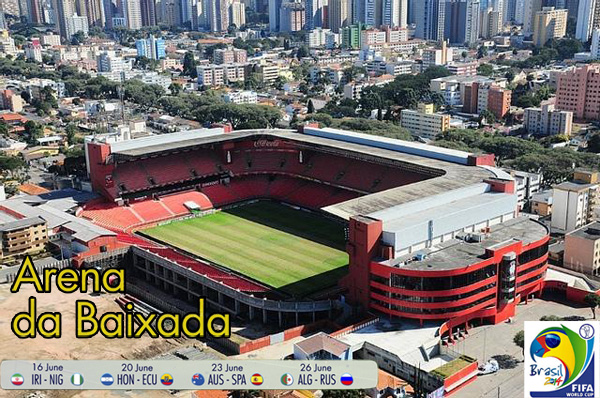 The 2014 World Cup has so far proven to be one of the most exciting ever. More goals so far than any since the 1958 World Cup. Five come from behind victories already. No lead is safe. Group G has a lot to live up for entertainment value and with Germany-Portugal and USA-Ghana on Monday it should live up to expectations.
World Cup Group G
Germany
Portugal
Ghana
United States
This is a nightmare draw for the United States. Germany, coached by USA manager Jurgen Klinsmann's former assistant Joachim Low, boasts a squad of players among the best in the world at their position. Portugal comes to Brazil with an experienced squad led by one of the best two players in the world. If that wasn't enough for poor Uncle Sam's Army they also draw Ghana. Ghana has been the United States's bane directly knocking them out of the last two World Cups. The match between Germany and Portugal on Monday, June 16th is set to be one of the best of the group stages. Ronald is the best left winger in the world but Germany counters with Phillip Lahm, the best right fullback in the world. However things shake down, the "Group of Death" will certainly provide entertaining matches.
Germany
Fifa Rank: 2
Odds: 6-1
Manager: Joachim Low
Key Players: Phillip Lahm, Mesut Ozil, Manuel Neur, Thomas Muller
Best World Cup Finish: Champions (1954, 1974, 1990)
Fun Fact: Germany's game with Portugal marks their 100th World Cup game as nation;  this is more than any other nation.
Germany have been many observer's favorite to win the 2014 World Cup for the past year. Having reached at least the semi-finals in the last four major international tournaments, the Germans have been great but not quite enough to win, Germany appears ready to make a run at the championship. Historically they seem to win one World Cup roughly every 20 years so this might be their year.
Unfortunately they are missing a number of players due to injury. Marco Reus was tipped to be a star in this tournament but injuries have kept him out of the team. Even missing first teamers like Reus, Ilkay Gundogan and the Bender twins Germany still has one of the most talented and deepest teams at the tournament. Manuel Neur is a wall in front of goal, currently considered the best goalie in the world. Phillip Lahm showed he can play as a midfielder if needed this year but he is still arguably the best fullback in the world.
One area Germany seems to lack is upfront. Only 36 year old striker Miroslav Klose was selected. This shouldn't be too much of a problem as Germany still can count on 2010 World Cup Golden Boot winner Thomas Muller. Mesut Ozil has the vision and passing skills to unlock any defense. Manager Joachim Low's main challenge lies in finding the right balance on the field. Expect to see different lineups in the group stage as Low tweaks and tunes the team in order to find a World Cup winning mix.
Portugal
Fifa Rank: 4
Odds: 22-1
Manager: Paulo Bento
Key Players: Cristiano Ronaldo, Joao Moutinho, Pepe
Best World Cup Finish: 3rd (1966)
Fun Fact: Portugal have won only one World Cup game in their last seven.
Portugal almost didn't make it to Brazil. With some bumps in qualifying, they had to beat Sweden in a playoff to make it in. Unsurprisingly it was Cristiano Ronaldo's spectacular hat-trick that single handedly beat Sweden's 2 goals from Zlatan Ibrahimovic. While it's a bit unfair to call Portugal a one-man team as they have many talented players, the reality is Portugal will most likely rise or sink based on how well Cristiano Ronaldo performs.
Portugal calls upon quality all over the pitch. Joao Moutinho controls the tempo of the game from midfield, releasing Ronaldo down the flank to attack with pinpoint passing. Pepe is a fast, aggressive defender who sometimes loses his temper. If he can remain in control of his emotions he anchors a very solid defensive line. The emergence of young, talented defensive midfielder William Carvalho solidifies the Portuguese from a defensive perspective.
Portugal will likely play a more exciting brand of counter attacking football than they did in 2010. Built around the freedom afforded Ronaldo to produce moments of individual brilliance, Ronaldo is the key for success or failure. If Ronaldo's hat-trick against Sweden to bring Portugal to Brazil is any indication, we'll be in for some thrilling games. Teams will know exactly how Portugal will attack. Stopping them though is another issue.
USA
Fifa Rank: 13
Odds: 250-1
Manager: Jurgen Klinsmann
Key Players: Clint Dempsey, Jozy Altidore, Michael Bradley
Best World Cup Finish: Quarterfinals (2002)
Fun Fact: All-time leading USA goal scorer Landon Donovan was left out by Klinsmann prompting former USMNT Coach Bruce Arenas to say if the USA has 23 better players than Donovan they should win the World Cup.
Perhaps due to a recent poll where Americans stated the USA had a chance to win the World Cup, Klinsmann recently said in an interview that winning the World Cup was beyond this team. Considering most observers will think the USA should be extremely happy to even win a single match, it is probably good for Klinsmann to manage expectations.
One surprise was Klinsmann leaving the USA's all-time leading scorer at home. Landon Donovan was the face of US Soccer the last few years but he will only be watching the games from a widescreen. It seems an odd decision to exclude Donovan who is still playing near the top of his game and he always steps up for international tournaments.
Klinsmann built this edition of the USMNT around Michael Bradley's playmaking skills. With the experienced Clint Dempsey and the promising but slumping Jozy Altidore upfront as forwards, Klinsmann's USA will play a compact diamond midfield. This is a change to tactics USA used in 2010 and leaves little room for Donovan to start. If Klinsmann is right and Michael Bradley is ready to shine on the world stage then this move will appear genius. If the USA goes home without a point, Klinsmann might be looking for a new job.
The USA also have the toughest travel schedule, traveling more than any other nation with all three games requiring a 3,000 mile journey from their homebase in Sao Paulo. With so many obstacles stacked against them, the USA should feel free to play without any pressure.
Ghana
Fifa Rank: 37
Odds: 200-1
Manager: Akwasi Appiah
Key Players: Kwadwo Asamoah, Andrew Ayew, Kevin Prince-Boateng
Best World Cup Finish: Quarterfinals (2010)
Fun Fact: Kevin Prince-Boateng only declared for Ghana right before the 2010 World Cup. His brother plays for Germany.
Ghana was a cinderella story in South Africa in 2010. A penalty shootout away from being the first African nation to reach the World Cup semi-finals had Ghana the favorite of the neutral fans. Well, except maybe the USA whom Ghana knocked out for the second straight World Cup.
Ghana boasts some interesting characters. Attacking midfielder Kevin Prince-Boateng returns to Ghana after "retiring" from international football to avoid playing in the qualifying matches. The Ayew brothers provide defensive discipline on one flank and trickery and goal scoring on the other. Sulley Muntari and Michael Essien still offer solid protection Ghana's defensive line.
The key player could be Kwadwo Asamoah. Once believed to be a dominating midfielder before his club managers converted him into a full back, Asamoah is still a dynamic leader for Ghana. Drawn into an easier group, Ghana would have liked their chances to advance. They have good players all over the pitch. But they were drawn into the toughest group of the tournament. To advance, they will have to make no mistakes and play excellent counter-attacking football against Portugal and Germany and hope that the USA's new midfield diamond does not work out.
Related Posts
| | | |
| --- | --- | --- |
| | Print article | This entry was posted by Jimmy Bagels on June 16, 2014 at 12:34 am, and is filed under Sports. Follow any responses to this post through RSS 2.0. Both comments and pings are currently closed. |
Comments are closed.