World Cup 2014 Preview – Group E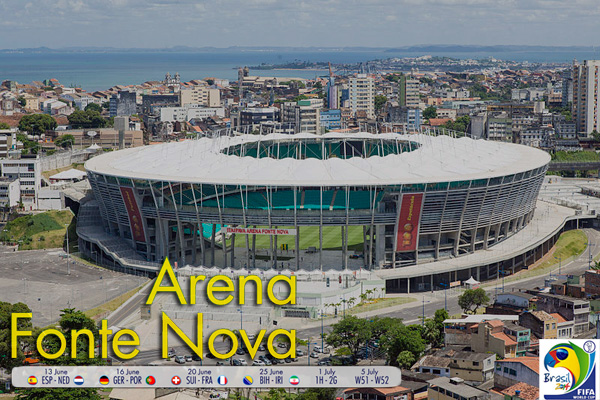 Brazil narrowly avoided a potentially disastrous subway strike on the eve of the first World Cup 2014 match. The Sao Paulo union president decided it would be best to wait until after the month long event. This comes as a relief to anyone traveling in Brazil this month.
World Cup Group E
France
Switzerland
Ecuador
Honduras
The draw has been kind to France. On paper, the 1998 World Cup champions should breeze through this group. But things never come easy for France. Winless at the 2010 World Cup, France needs to come together as a team to redeem themselves to their fans. With France as favorites in this group, Switzerland and Ecuador will be favored to battle it out for second but another French meltdown opens the door for both to advance. Tiny Honduras still seeks their first win at a World Cup in their 4th appearance.
France
Fifa Rank: 17
Odds: 22-1
Manager: Didier Deschamps
Key Players: Karim Benzema, Laurent Koscielny, Yohan Cabaye, Antoine Griezeman
Best World Cup Finish: Champions (1998)
Fun Fact: France is the most visited country in the world.
The mercurial French never fail to deliver drama. Whether it's dramatically winning the World Cup over a favored Brazil (1998), losing the World Cup final after their legend Zidane headbutted an Italian (2006) or having a mutiny against the coach amid a disastrous exit with zero wins (2010), you can always count on Les Bleus to provide drama whether its on or off the field.
Manager Didier Deschamps was brought in to stabilize the dressing room after a further string of incidents in 2012. He has been mostly successful barring a few recent insults on Twitter aimed his way by the girlfriend of Samir Nasri, a quality player he failed to select to much criticism. To Deschamps' credit, his change of France's tactics to a different formation without Nasri was critical in France qualifying.
The injury to Frank Ribery though comes as a huge blow. Ribery was their most experienced, consistent and dynamic player so no doubt he will be missed. This puts more pressure on both striker Benzema and the strong, industrious midfield of Cabaye, Paul Pogba and Blaise Matuidi. Even more than great individual performances what France really needs to overcome their recent demons is harmony among the team. If Deschamps got the chemistry right with this team, they should advance. What Deschamps must avoid at all costs is a disaster like 2010 where France was the joke of the tournament.
Switzerland
Fifa Rank: 6
Odds: 100-1
Manager: Ottmar Hitzfield
Key Players: Xherdan Shaqiri, Josip Drmic, Gokhan Inler, Stephane Lichtensteiner
Best World Cup Finish: Quarterfinals (1934, 1938, 1954)
Fun Fact: Switzerland was Spain's only loss in the 2010 World Cup on their way to winning.
After winning the easiest qualifying group, Switzerland might be underappreciated by the casual fan. This is a young team filled with emerging stars, but no established world class players. Solid midfield performers like Gokhan Inler provide stability. Switzerland also benefits from a pair of excellent full backs attacking with technique on the left and defending with boundless energy on the right.
Josip Drmic is the one to watch. He had an outstanding 2014 with an amazing goal scoring rate in the German Bundesliga. If he can transfer that goal scoring ability to Brazil Switzerland could win this group. Bayern Munich's Xherdan Shaqiri is an electrifying winger who could also step up his game in the biggest tournament.
Switzerland's biggest asset is manager Ottmar Hitzfeld. Hitzfeld is a world class manager who has won 19 club trophies including two Champions League wins. With this World Cup as his swan song, the tactical mastery of Hitzfeld could guide this young team to a group win. The biggest obstacle to overcome will be the weather. Switzerland faces Ecuador in Brasilia and Honduras in Manaus. Both of their opponents will be far more used to the hot, humid conditions than the Swiss.
Ecuador
Fifa Rank: 26
Odds: 125-1
Manager: Reinaldo Rueda
Key Players: Jefferson Montero, Antonio Valencia
Best World Cup Finish: Round of 16 (2006)
Tragic Fact: Ecuador has a sad history of starting strikers dying the year before World Cups: "Spiderman" Tenorio in 2005 and "Chucho" Benitez in 2013.
Ecuador's qualifying campaign was a bit inconsistent. Much like the Colorado Rockies of MLB, Ecuador benefits from a home in very high altitude that most players are not used to playing at. Their record at home was phenomenal yet away from home Ecuador has looked shaky.
In many ways Ecuador's draw was very fortunate. Honduras is not expected to threaten, France's potential to implode always exists and Switzerland is young and unproven. They performed well in earning a draw against England in a World Cup warm-up match. They play a frenetic, intense style that could unbalance the European sides unused to South American heat and humidity.
Their attacking wingers Jefferson Montero and Antonio Valencia will be key to their success. Their current strategy is based on getting the ball to their two wingers and letting Valencia's powerful, quick runs and Montero's trickery with the ball create chances on goal. Ecuador could make this a very fun group to watch. By playing an energetic attacking game they will force both France and Switzerland to respond accordingly.
Honduras
Fifa Rank: 33
Odds: 1500-1
Manager: Luis Fernando Suarez
Key Players: Wilson Palacios, Maynor Figueroa, Emilio Izaguirre
Best World Cup Finish: Group Stage (1982, 2010)
Fun Fact: The term "Banana Republic" was first attached to Honduras in the 1890s.
Honduras finished a surprising 3rd in qualifying behind the United States and Costa Rica. This gives them some hope to achieve what they never have at a World Cup: to win a game. With 3 draws and 3 losses, Honduras has never felt the thrill victory on the world stage. This might be the easiest group for Honduras to achieve a headline making upset but it will likely depend more on mistakes from their three unsure opponents than a brilliant display by Los Catrachos.
Honduras' best players all play defensive roles. If they are to achieve their first victory it will likely be due to sturdy, dependable defensive displays. Unfortunately for them, the strengths of the other three teams can exploit their weaknesses. Honduras lacks from having no consistent attacking threat. Its hard to see Honduras achieving their first World Cup win, even in this relatively weak group. They will play a physical, defensive game though with the potential to frustrate.
Related Posts
| | | |
| --- | --- | --- |
| | Print article | This entry was posted by Jimmy Bagels on June 15, 2014 at 12:44 am, and is filed under Sports. Follow any responses to this post through RSS 2.0. Both comments and pings are currently closed. |
Comments are closed.