World Cup 2014 Preview – Group D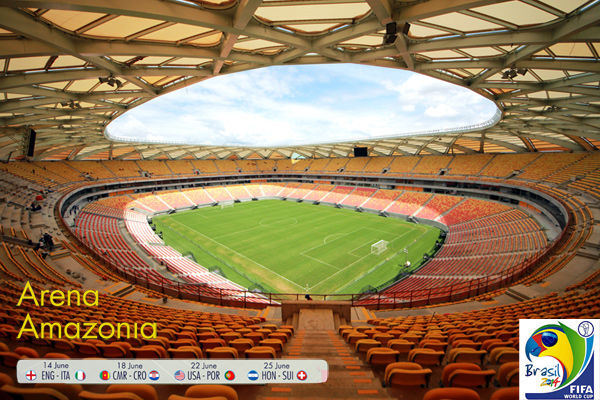 My parents once flew on a flight from Argentina to Brazil with the Argentine national team. Upon landing in Brazil, the plane was taxi'd to a secure isolated hanger with security to ensure their safety. The Brazilian Intelligence Agency (Abin) announced seven teams will have the highest level security possible during the tournament. They did not reveal which teams are among those seven.
World Cup Group D
England
Italy
Uruguay
Costa Rica
The war of words began early between Italy and England. Italy manager Cesare Prandelli declared that none of England's players would make it into his Italian squad. Former Italian professional Paulo Di Canio insists England will not make it out of this group. The talk might make it seem like a two horse race but Uruguay finished better than both European sides at the 2010 World Cup. With Luis Suarez and Edinson Cavani, they have an attack that could easily topple traditionally vaunted Italian and English defenses. Poor Costa Rica will be seen as easy prey in a group that includes three former World Cup winners.
Italy
Fifa Rank: 9
Odds: 25-1
Manager: Cesare Prandelli
Key Players: Andrea Pirlo, Gianlugi Buffon, Giorgio Chillieni, Mario Balotelli
Best World Cup Finish: Champions (1934, 1938, 1982, 2006)
Fun Fact: Mario Balotelli burned down his bathroom when he misfired a home fireworks display.
Italy enters the tournament as a respected perennial contender but not one of the favorites. But Italy were not pre-tournament favorites when they won in 2006 either. Nor were they favorites when they beat Brazil's legendary Joga Bonita team in 1982 to knock them out. The Italians seem to always find a way to win when you least expect it.
Historically the Azzurri have been built around a rock solid defense and this year's edition is no exception. Gianlugi Buffon starts his 5th World Cup and is still considered one of the best goalkeepers in the world. Giorgio Chillieni anchors the defense line. Andrea Pirlo is the creator deep in midfield known as a maestro of long perfect passes. The X-factor is the mercurial Mario Balotelli whom Italians will hope focuses more on scoring goals than his antics.
Prandelli has tried to make Italy more exciting during his tenure. A solid tactical coach though, he still knows how to coach his team to defend like last summer when they were even with World Champions Spain after 120 minutes in the sweltering sun. Even if they aren't favorites, Italy is not a team you usually want to bet against.
England
Fifa Rank: 10
Odds: 25-1
Manager: Roy Hodgson
Key Players: Wayne Rooney, Daniel Sturridge, Adam Lallana, Steven Gerrard
Best World Cup Finish: Champions (1966)
Fun Fact: Steven Gerrard scored more goals from penalty kicks than any other player in the top European leagues this year.
The Three Lions arrive in Brazil without the British media hyping them as potential cup winners. Drawn into a very difficult group, England also enters the tournament in a period of transition. Some old veterans were left at home in favor of young talent. Roy Hodgson is trying to develop a younger England team not reliant on the veterans of the last 10 years.
While both players are legends in the English league, the Gerrard-Lampard midfield partnership never fulfilled expectations at the international level. Hodgson will have to extract the most from the next generation of talented English midfielders for them to have a chance of advancing. Adam Lallana had a spectacular year while Jack Wilshere and Ross Barkley have tremendous potential. Daniel Sturridge's amazing year at Liverpool has the English hoping he can bring that form to Brazil.
While the emergence of new stars will be essential for England's campaign, Wayne Rooney is still the key figure. An up and down 10 years at the international level probably leaves Rooney feeling like he is due for the dominant performance in an international tournament that has evaded him thus far. If Rooney can put it all together in Brazil, England could be surprising a few pundits who don't think they will get out of this group
Uruguay
Fifa Rank: 7
Odds: 28-1
Manager: Oscar Tabarez
Key Players: Luis Suarez, Edinson Cavani, Diego Forlan
Best World Cup Finish: Champions (1930, 1950)
Fun Fact: Uruguay star Luis Suarez has twice bitten players during matches.
Led by the thrilling play of Diego Forlan, Uruguay were exciting to watch and became fan favorites during the 2010 World Cup. Now, Uruguay expects Luis Suarez and Edinson Cavani to supply the electricity. Suarez enters the tournament after his best year as a professional, his name now being brought up with Cristiano Ronaldo and Lionel Messi as best three players in the world.
Getting the most out of Forlan, Suarez and Cavani shapes Tabarez' tactics. Both Suarez (occasionally) and Cavani (frequently) were played on the wings this year although both prefer the central striker role. It will be interesting to see how Tabarez switches around his front line to get the most from this team. While not as fast as he used to be, Diego Forlan is still an inspirational leader known for coming through in the biggest games.
Uruguay has a quite a football pedigree yet at the 2014 World Cup they will be the smallest nation participating with a population just over 3 million. While Italy and England might have bigger reputations, La Celeste is a hip dark horse pick to win the tournament. With Uruguay's 1950 World Cup win coming on Brazilian soil, they will take that as inspiration.
Costa Rica
Fifa Rank: 28
Odds: 2500-1
Manager: Jorge Luis Pinto
Key Players: Joel Campbell, Bryan Ruiz
Best World Cup Finish: Round of 16 (1990)
Fun Fact: More than 5% of the world's biodiversity comes from tiny Costa Rica.
Three former World Cup winners. Three nations in FIFA's Top 10 rankings. Costa Rica is the minnow that no one will expect anything from. Freed from any pressure this could allow them to play exciting, entertaining matches. When its generally expected that all three games will be lost, any points from the group stage will feel good for Costa Rica.
Costa Rica was impressive in qualifying finishing second behind the United States and forcing traditional power Mexico into a play-off to make it to Brazil. Arsenal's Joel Campbell shows a lot of talent and could have a breakout tournament. Costa Rica will also need to get the most from the inconsistent Bryan Ruiz. Ruiz is capable of moments of brilliance also disappearing from big games. The Ticos hopes Ruiz comes to Brazil motivated.
Jorge Pinto should have no trouble with motivation. Having a brief tenure as Costa Rica manager in the mid 2000s, he returns at the helm with something to prove. While Costa Rica are the overwhelming underdogs, there will doubtless be some surprise results. Maybe the Central Americans can provide the upset of the tournament.
Related Posts
| | | |
| --- | --- | --- |
| | Print article | This entry was posted by Jimmy Bagels on June 10, 2014 at 10:04 pm, and is filed under Sports. Follow any responses to this post through RSS 2.0. Both comments and pings are currently closed. |
Comments are closed.