Chris Stout
Posts by Chris Stout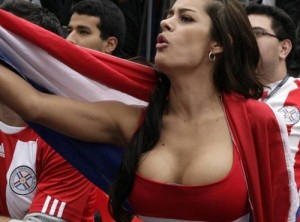 Hey, maybe we should all start rooting for Paraguay to win it all (Deadspin)
Girls of World Cup countries (Maxim)
The 25 funniest sports photobombs of all time (Manofest)
A gallery full of muy caliente Mexican soccer porristas (COED Magazine)
The 7 most thinly veiled songs about sex (Guyism)
Gnarly video showing a crazy trampoline ankle break (A Blog 4 Guys)
The many reasons we love to hate WAGs (Gunaxin)
LeBron, Bosh and Wade have a meeting to discuss the future of the world (ESPN)
ESPN stands by its Dwayne Bowe story, says he offered even more lurid details on players importing women (ProFootballTalk)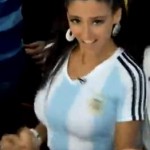 Whoa whoa whoa.
MANjr will be pulling for ze Germans on Saturday, but this video featuring an unbelievably delicious Argentina fan is making us question everything. I mean, look how she shakes it. Makes you wanna get Messi with the closest Argentinian chick you can find.
And what's up with the dude next to her pointing the camera skyward? The action's to your right, buddy. You're missing it bro!
Well, at least we know that Jesse Eisenberg's in it.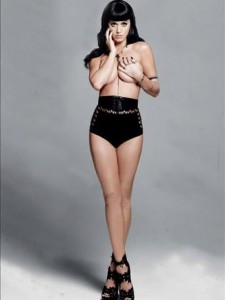 Yea, okay. I guess Katy Perry is pretty hot (CelebJihad)
10 memorable quotes from Sean Payton's Super Bowl memoir Home Team (Nola.com)
Hipster shareholders rejoice –Pabst Brewing Company officially sold! (Beer-Universe)
A gallery of fat cops that you could probably outrun (EgoTV)
Malillany Marin is bangin (Guyism)
The 5 worst coaches in the NFL (The Pigskin Doctors)
Bianca Holland has green eyes, is gorgeous (MANKINDunplugged)
10 things LeBron should do instead of playing basketball next season (COED Magazine)
10 signs your girl is a keeper (BroBible)
6 videogame sequels that are nothing like the original (Dorkly)
Top 40 potential NBA free agents (Sports Illustrated)

From medicalinsurance.org:

I love soccer, but this shit's kinda funny. The flops, pretty boys and special spray are the goofiest parts of the game for sure.

I recently had the chance to test drive the 2011 Infiniti QX in Louisville, Kentucky, and oh man, was it a sweet ride. This QX has all the features that you'd expect from a luxury Infiniti SUV (which we'll get to in a bit), but the first thing that strikes you is the car's good looks. It's an attractive ride by any standards. The QX has clean lines, a big-but-not-bulky frame and an executive jet-like interior that makes you want to grab a pipe and a smoking jacket and just lounge inside for a while.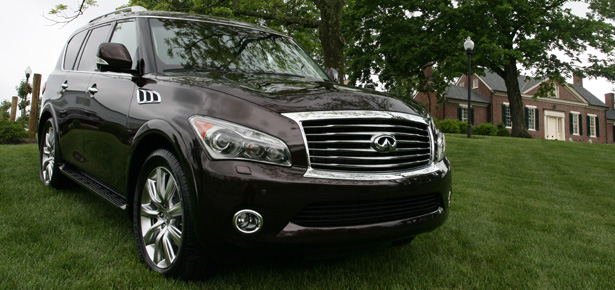 The 2011 Infiniti QX drives as smooth as it looks. Newly designed to reduce noise and vibration, the QX is roomy, comfy and quiet. I was riding with The Bachelor Guy, and he said that the car was like a living room on wheels. This is true. In fact, the ride is so comfortable that it's easy to take turns a little quicker and speed a bit more. Maybe that's why The Bachelor Guy and I got pulled over twice. I thought the sharp turn that he made was worse than my 71 MPH on a Kentucky highway, but the state troopers that pulled us over thought otherwise. The Bachelor Guy got off with a warning and I earned myself a "speeding" ticket.
Aside from the exterior looks and interior comforts, the QX has a host of other welcomed features:
The look-up-and-stop-texting warning system – it's actually the Intelligent Brake Assist (IBA) with Forward Collision Warning FCW) – applies the brakes at 25% when you approach an object in front of you. For people who constantly look at their phone while driving, this is a great feature to have. You can turn this feature on and off, so it's only available if you want it.
Schwerve-control – or the Lane Departure Warning (LDW) and Lane Departure Prevention (LDP) systems – lets you know when you're getting too far off course. If you start drifting over to the wrong lane or off the side of the road a bit, you'll hear a beeping sound that'll prompt you to straighten your approach. This is another feature than can be turned on or off, but I could definitely see it coming handy on long road trips. Blind Spot Warning (BSW) is another feature that can help keep you safe when you've been on the road too long.
The 8-inch WVGA touch-screen display in the center console controls the Inifinit Hard Drive Navigation system with XM NavTraffic®, XM NavWeather and a Zagat Survey® Restaurant Guide. The touch-screen display also controls the ridiculous, 13-speaker Bose sound system that features an in-dash CD/DVD player with MP3 playback two sub woofers, a 9.3BGB music box hard drive, a simple USB connection port for your iPod, streaming audio via Bluetooth and speed-sensitive volume control
The dudes at Bose were serious about creating the highest quality sound experience inside this Infiniti. When I asked if the different features of the car impact the reverberation of sound coming out of all the speakers, I was told that every minute detail inside the car – including whether the car has UV-coating on the windows or not – is factored in during sound tests. If you can appreciate the ultra-subtle nuances of a sophisticated sound system, the new QX does not disappoint.
In the back, the Theater package features dual 7-inch monitors with two sets of wireless headphones, a 120V power outlet and two auxiliary audio/video input jacks that allow passengers to split the monitors out into two separate entertainment areas. If one passenger wants to watch a movie and the other wants to play Wii, that won't be a problem. The middle console in the back was also specifically designed to hold a Wii gaming system.
The 2011 Infiniti QX looks and feels like a luxury SUV should. It may not be the most fuel efficient ride on the block, but the QX seats seven people comfortably and offers 400 horsepower, 413 lbs-ft of torque and a 8,500-pound towing capacity when fully equipped. The hitch in the back is hidden when not in use, and easy to deploy when you need it. If you can afford the luxury and you need the towing capacity, the 2011 Infiniti is a complete package that demands a closer look.
2011 Infiniti QX56 2WD base price – $56,700.
2011 Infiniti QX56 4WD base price – $59,800.