Art Eddy III
This user hasn't shared any biographical information
Jabber/GTalk: Art Eddy III
Posts by Art Eddy III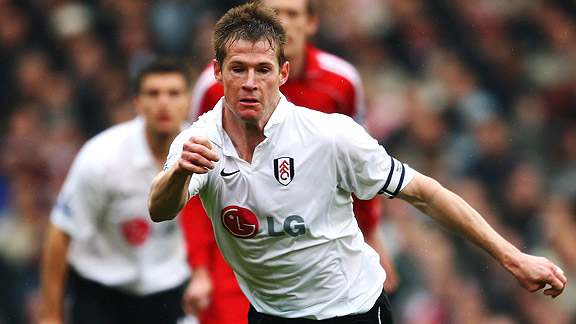 With the World Cup almost here fans all over the globe are getting excited for soccer. Brazil, Germany, Spain, and Argentina are the four countries who seem to be poised to make it far into the tournament. Still as former U.S. Men's National Team and MLS legend, Brian McBride says there is always a surprise team in the World Cup that shocks everyone.
McBride knows this because he played in the World Cup in 1998, 2002, and 2006. From playing for Fulham in Europe to the MLS league in the United State McBride has had an outstanding career. Just this year he got inducted to the U.S. Soccer Hall of Fame.
Now McBride has teamed up with Allstate for the "Good Hands F.C." soccer clinic. They will surprise local soccer teams in a few areas across the country with soccer gear and a coaching clinic run by McBride.
I was able to catch up with Brian to talk about his work with Allstate, the World Cup, and more.
Art Eddy: You are working with Allstate before some of the friendly games that take place before the World Cup. Can you tell me what you are doing with Allstate?
Brian McBride: Yeah. It is two things. I think the first part and the most important and most enjoyable part is that Allstate formed this Good Hands F.C. It is basically this opportunity where I get to go into the community with Allstate and provide a coaching clinic and we hand out some really nice gear. The club that we go to will have new uniforms and new balls. For the most part it is really a great opportunity because these clubs don't usually have the opportunity to have these things.
It is a really special time. During that time I will put on a special clinic and do some teaching, but it is mostly about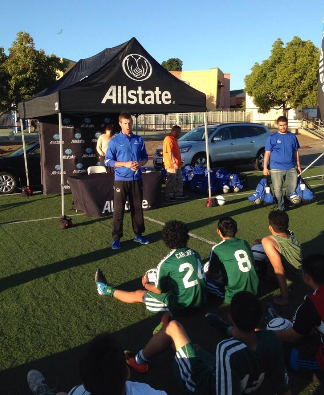 having fun. It is a great few hours.
AE: Sounds pretty cool. What is the best part about surprising these kids at their practices?
BM: There is no end to the joy of seeing their faces light up and them grasping the fact that they are getting new uniforms. They are getting new backpacks and training suits. It is fun watching them take in the training part of it. That is the coaching side of me, but I think the most enjoyable part is seeing their reaction to when they realize what they are getting.
AE: Switching to the World Cup the buzz from Team USA is that Landon Donovan didn't make the cut. What is your take on that? Is the media making too much of the fact that Donovan is not on the team?
BM: No, I don't think you can make too much of it. The nice thing now is that the soccer community is so large and there is so much interest into it now. It was a huge news story. It definitely is something that came as a surprise. It is a big step for Jürgen (Klinsmann). He has shown that he is a bold coach.
For me it wouldn't be a decision that I would take, but you have to look at the past and he has always had the support of the players. Last year people had their questions, but the players showed their commitment to the team and each other and the coach. I hope it doesn't become an issue on the field. It is a big statement to leave off a player that I quite frankly wouldn't have left off.
AE: Who do you feel has the best opportunity to win the World Cup?
BM: For me there are four teams that stand out. There are of course some teams that could pull some surprises, but for me Brazil, Argentina, Germany, and Spain look the strongest. The great thing about a World Cup is usually there is one surprise team. Who will it be? I hope that it is the U.S. That would be awesome, but those four teams I mentioned would be the strongest teams going into this.
AE: What was your favorite World Cup moment as player?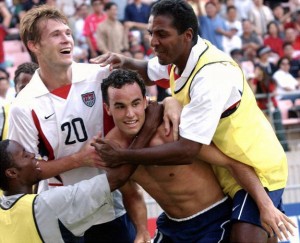 BM: The 2002 World Cup was by far the most memorable and enjoyable period of soccer. We had great results on the field. The team off the field was such a solid group. I was just married. My family was there. My wife and my daughter was there. We were able to spend time together. It was such a perfect situation and scenario.
AE: You were the CONCACAF Gold Cup MVP, Chicago Fire team MVP, and you just got elected into the U.S. Soccer Hall of Fame. Congratulations on that achievement. What stands out the most to you from your great career?
BM: For me I was just so blessed to play the game for so long and to have some great memories. My time in England was just amazing. The chance to get into the fabric of a club like Fulham, be accepted by the fans, and getting a chance to see what soccer is like at the top level were really exciting things. To see a culture that is all about soccer day in and day out and to see fans get excited was great. It is starting to happen here in the states too, but we still have a long way to go.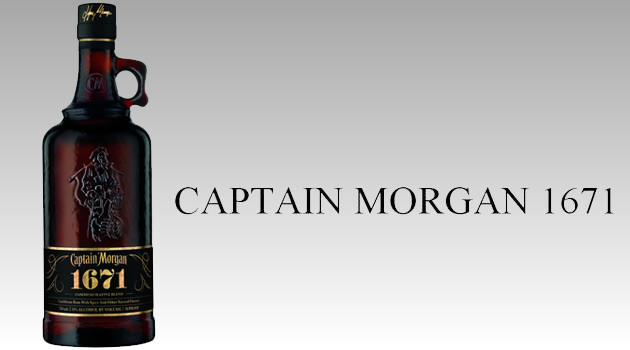 In 1671, Captain Henry Morgan set his sights on Panama City, the richest city in the western hemisphere. Amidst his raid and ultimate capture of Fort San Lorenzo, Morgan lost five ships, including his famed flagship The Satisfaction. What will forever stand as a historic battle in Panamanian history now serves as inspiration for the Captain Morgan Rum Co.'s newest offering – the limited edition Captain Morgan 1671 Commemorative Blend Spiced Rum.
The Captain Morgan 1671 is instilled with a unique blend of spices that provide a luxurious, full-bodied flavor. The distinct spices create a taste of chocolate and dark fruits with hints of vanilla. Finished in Spanish Oak, the commemorative blend contains palatable elements derived from the type of barrels that were believed to have been on board The Satisfaction.
Available only for a limited time, Captain Morgan 1671 Spiced Rum not only celebrates the brand's legacy, but also provides adult consumers with a rare opportunity to enjoy a bold take on the Captain Morgan Rum Co. original blend. The recipient of a gold medal at the 2014 San Francisco World Spirits Competition, Captain Morgan 1671 is packaged in a unique jug designed in a nod to the 17th century.
At 70 proof (35% ABV), Captain Morgan 1671 is available now for a suggested retail price of $19.99 (750 mL bottle). The limited time offering is best enjoyed on the rocks or mixed with cola for a new take on the Captain Morgan brand's signature drink.
This commemorative rum is very smooth. Whether you enjoy it on its own with some ice or in a cocktail you will love the taste. It is perfect for the summer. It is not heavy and there are endless options to mix the Captain Morgan 1671 rum with. If you are using it for a classic rum and coke or a Captain's Colada you can't go wrong. This past weekend I was enjoying the rum with each BBQ I would be at, but I made sure I enjoyed it responsibly.
If you are a fan of Captain Morgan you will be very satisfied with the Captain Morgan 1671 commemorative blend. Like I said earlier though it will be available for only a limited time so don't let the Captain's ship pass you by!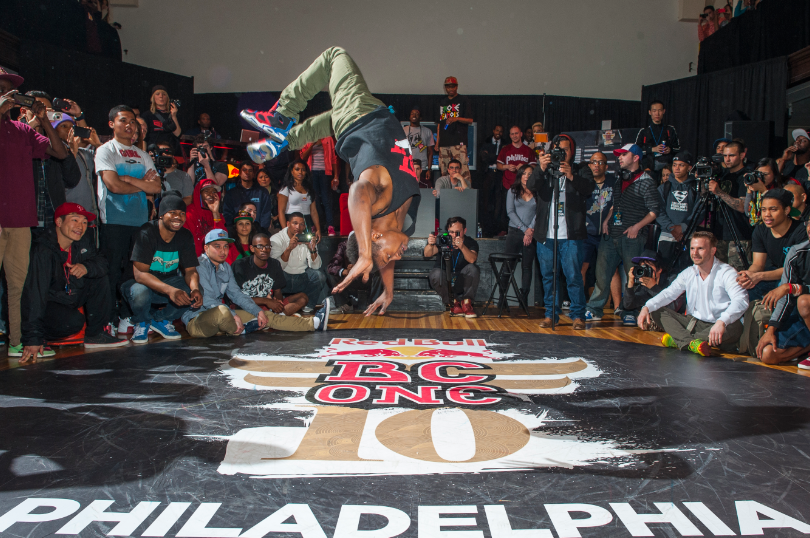 The one and only Tyree Dillihay and Red Bull are presenting the Red Bull BC One cypher in Philadelphia, PA at Skybox this Saturday, May 31st at 3pm.
The Red Bull BC One is one of the longest running B-Boy/breaking competitions in the world.  For the East Coast, U.S. stop of this global competition, the Philadelphia cypher will feature 16 hand-picked B-Boys, representing the best of the best from all over the Northeast, who will compete in intense one-on-one battles to win a spot at the North American Final (August 15, 2014).
To commemorate the host city of Philadelphia, Red Bull worked with Tyree Dillihay to illustrate four of the Philly breakers who will be taking part in the competition on Saturday – Box Won, Mighty Mouse, Napalm and Ookie.
Tyree Dillihay, aka R E E, is a director on the FOX animated sitcom, "Bob's Burgers" by day, and the creator of the popular web comic about sneakerheads called "SN'EADS" by night.  In between time, R E E is a style agnostic "curator of cool" who strives to blend his love of fashion, hip hop, and art collectively in all his creative endeavors.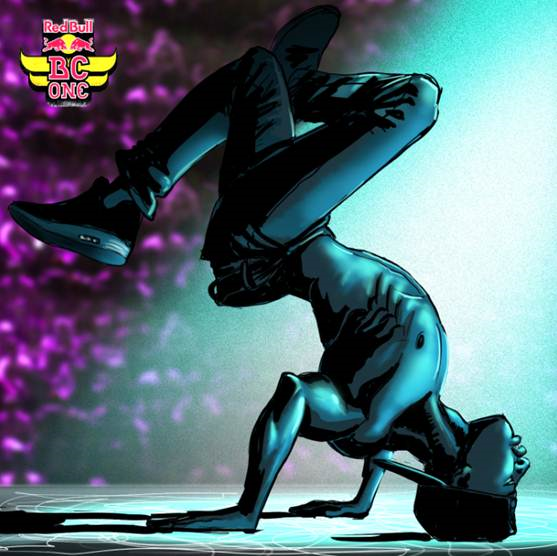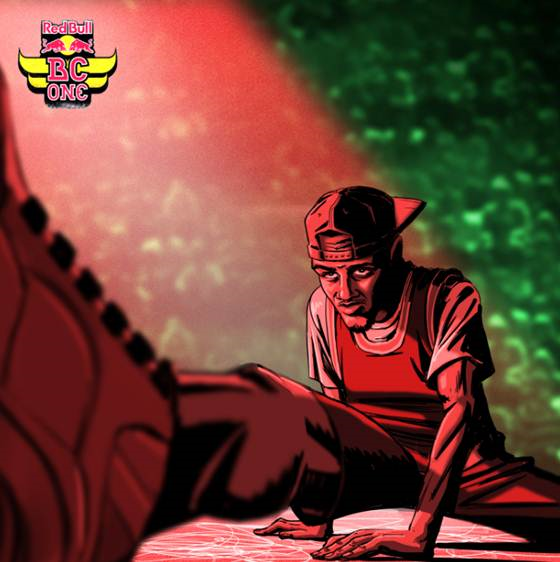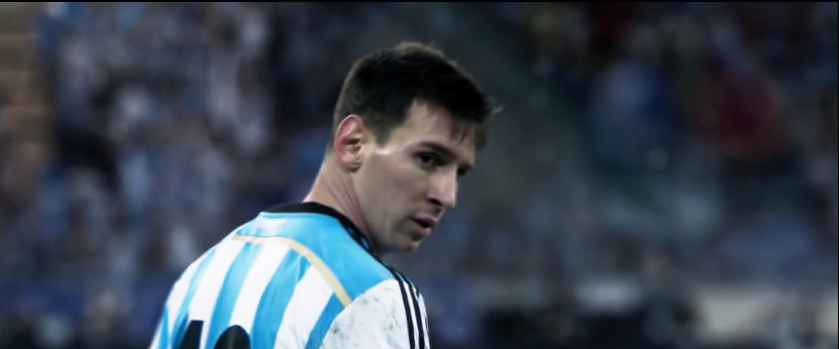 adidas has launched it's All Or Nothing campaign and their latest ad previews a new Kanye West track titled, "God Level."
With the 2014 FIFA World Cup only a month away, the excitement and anticipation for the world's best soccer players to represent their countries is at an all time high. In the commercial titled "The Dream," West raps over visuals of some of the best in soccer giving fans a spirited and competitive show unlike any other.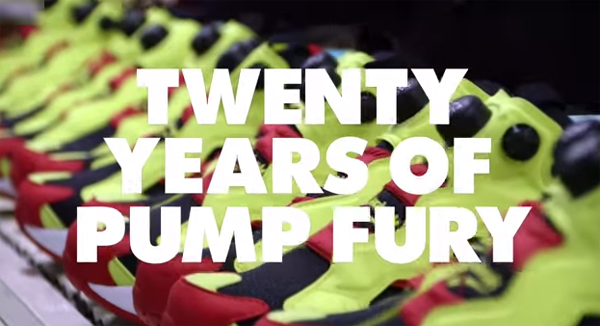 To celebrate the 20th anniversary of the Instapump Fury, Reebok has partnered with Sneaker Freaker magazine to produce a short film that shines a light on one of the most intriguing and polarizing footwear designs of all time.
Our story starts in Fuzhou, China, where the Instapump Fury is currently being produced. As the striking citron yellow, red and black componentry passes through the production process, it seems incongruous that this sci-fi masterpiece is now two decades old.
The film reunites two veterans of the sneaker industry who revel some of the frustrations and challenges they faced turning the complex Instapump Fury design into a legitimate performance runner.
Steven Smith penned the first sketch of the Pump Fury in his notebook. A renowned free-thinker, Smith is still highly passionate about his time working on the Instapump Fury. As he recalls of the era, "It was a no-holds barred street fight between the companies on who could come up with the most radical product!"
Shot by Alister Robbie from The Post Project, the film was directed by Sneaker Freaker magazine founder and editor, Simon 'Woody' Wood. With more than a decade covering the sneaker industry from his base in Melbourne, Australia, Wood relished the chance to soak up the factory experience.
A feature article in Issue 30 of Sneaker Freaker was accompanied by Wood's report from Fuzhou. "In more than a decade of covering the sneaker industry, this was my first 'official' factory visit with a big-time brand. To their immense credit, Reebok were very, very cool. There was no ulterior motive or red carpet roll-out – this was purely business as usual – real sneakers being made by real people in a real factory. Who could say no to an offer like that?"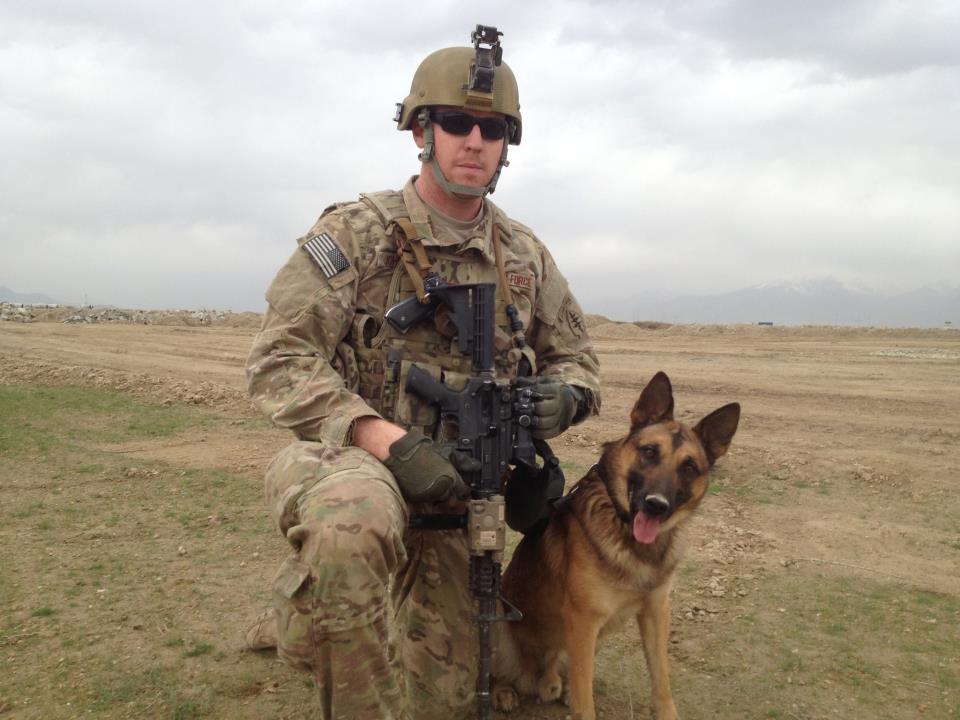 This Memorial Day Duke Cannon Supply Co., the brand that brought you the "Big Ass Brick of Soap," will donate a 1:1 product match for every product sold to U.S. Military service men as well as one premium dog treat for their working dogs through the support of the MWDTSA (Military Working Dog Team Support Association, Inc.).
Duke Cannon knows these dogs, along with their handlers from every military service, are deployed worldwide to defend the U.S. at home and abroad, helping to safeguard military bases and activities and to detect bombs and other explosives before they inflict harm. What better way to pay homage to fallen soldiers than by helping those sill serving? The Duke abides.
For more info follow @dukecannon on Twitter and on Facebook.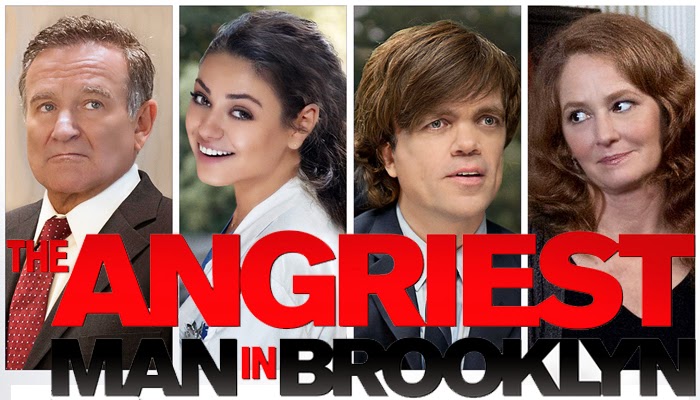 This weekend "The Angriest Man in Brooklyn," starring Robin Williams, Mila Kunis, Melissa Leo and Peter Dinklage, will be released by Lionsgate in select theaters. The film centers on Henry Altmann, who is played by Robin Williams. He seems to always be having a bad day. In the film we find Henry waiting impatiently at the doctor's office. When he is finally seen by Dr. Sharon Gill. Sharon, played by Mila Kunis, who is enduring her own bad day, she gives him some bad news.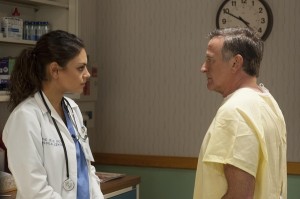 She tells Henry that he has a brain aneurysm. This news makes Henry even angrier and he starts yelling at Sharon as he demands to know how much time he has left. Faced with Henry's anger and insults, Sharon abruptly tells him he has only 90 minutes. Shocked and reeling by this news, Henry storms out of the office leaving Sharon stunned by what she has just done in a lapse of judgment. As Sharon goes on a city-wide search, Henry struggles with his diagnosis, determined to make amends with everyone he has hurt in his life.
One of the producers from this film is Tyler Mitchell. He is a film and television producer, writer and executive whose credits include "The Incredible Burt Wonderstone" and "Lucky Number Slevin."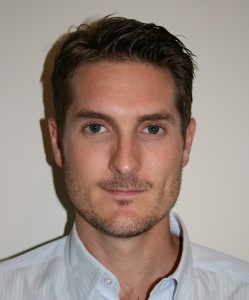 Mitchell began his career in film at age 19, doing summer internships with producers Arnold Kopelson, Jim Jacks and Sean Daniel, as well as working for New Line Cinema.  After graduating college, he gained hands-on production knowledge as a director's assistant on such films as "The Whole Nine Yards," before joining the Agent Training Program at International Creative Management, where he worked for Ken Kamins, Executive Vice President and Head of International Operations.
In 2001, Mitchell departed ICM for upstart production/finance company FilmEngine, where he served as Vice President of Production and Head of Development.  Mitchell oversaw the development, production and financing of six films in the company's first four years, including "The Butterfly Effect," starring Ashton Kutcher and Amy Smart, and "The Rum Diary", starring Johnny Depp.  During his tenure, FilmEngine landed a four year, first-look production and financing deal at New Line Cinema.
Mitchell is currently a partner at Landscape Entertainment.  Landscape has a First-Look deal with Entertainment One for television and a First-Look deal with Fox Studios for Event Series, with projects in active development at: HBO, USA, TNT, FOX, WGN, and Amazon.
I was able to catch up with Tyler to ask him about "The Angriest Man in Brooklyn," the difference between directing and producing, and much more. Click here to listen to the interview.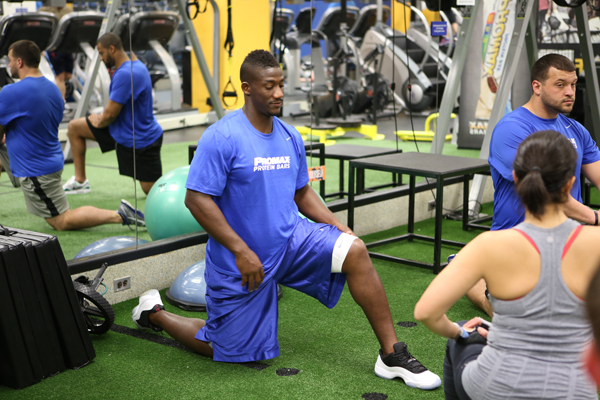 New York Giants safety Antrel Rolle teamed up with Promax Nutrition protein bars to host a workout with Henry Hynsoki and Spencer Paysinger at NYSC in Mid-town earlier this month. Some members of the media had a chance to work out with Antrel and the rest of the crew.
I was able to ask Antrel a few questions on the workout with Promax Nutrition and his time in the NFL.
Art Eddy: You worked with Promax Nutrition bars for an extreme workout. Tell me a bit about the event?
Antrel Rolle: The event was to show some of the workouts that we do on a day to day basis. We did some speed, agility, and strength drills. Just a little preview but we definitely got them to break a sweat. Doing these workouts you are burning off energy, so Promax Nutrition protein bars are perfect to keep your energy levels up throughout our long days of practice.
AE: Were the exercises that you guys did similar to your own workouts to get ready for the NFL season?
AR: Definitely. These are some of the warm-ups and drills we do at the facility and even now in the offseason.
AE: Speaking of the NFL you and the rest of the New York Giants reached the top of the NFL mountain when you guys won Super Bowl XLVI. How long did it take for that win to sink in?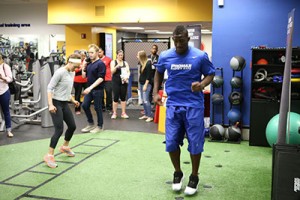 AR: In the moment everything was happening so fast that it took me a few days to realize what had just happened.  One of the best memories I will have.
AE: Your position is defensive back. In a league that has a major focus on passing the ball what are some of the major things that you look to focus on as you prepare week in and week out?
AR: I study my tapes and learn the ways of the receivers. I like to know how my opponents think so I can prepare for them. I constantly work on my speed and receiving as well.
AE: Is there a player that challenges you the most on the field?
AR: The guy who challenges me most on the field is LeSean McCoy. He is the hardest guy to tackle in the open field of play.
AE: Last season you had a great season with six interceptions and two sacks. What type of goals do you set for yourself before each season starts?
AR: I like to take things one game at a time. The ultimate goal is to get to and win the Super Bowl of course, but I have daily goals and weekly goals that I set for myself throughout the season. Gotta push through and be better than the day before.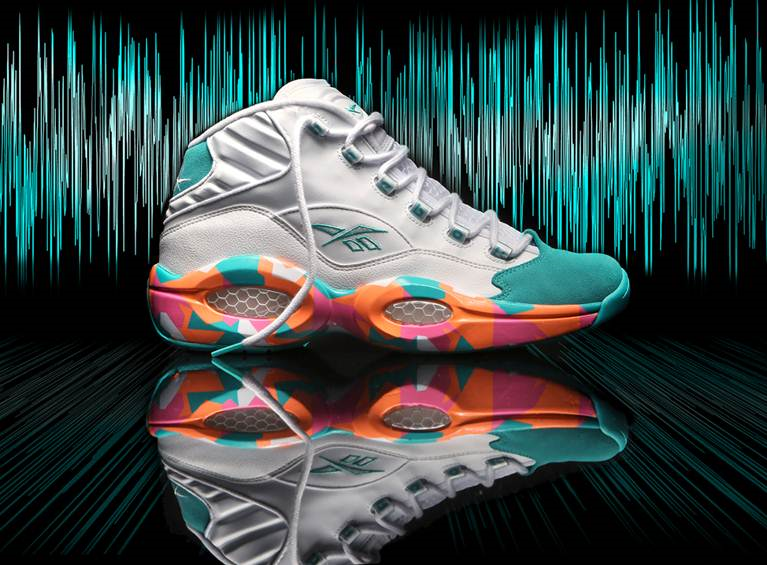 Allen Iverson always turned the voices of haters into white noise, and now Reebok is flipping that into a white shoe that's sure to make noise of its own.
The Question Mid "White Noise" will hit stores on Friday, May 23rd at key retailers Champs, Finish Line, Jimmy Jazz, Eastbay, DTLR, Villa and reebok.com for $140.
The grade school version will be available at Champs and Eastbay for $95.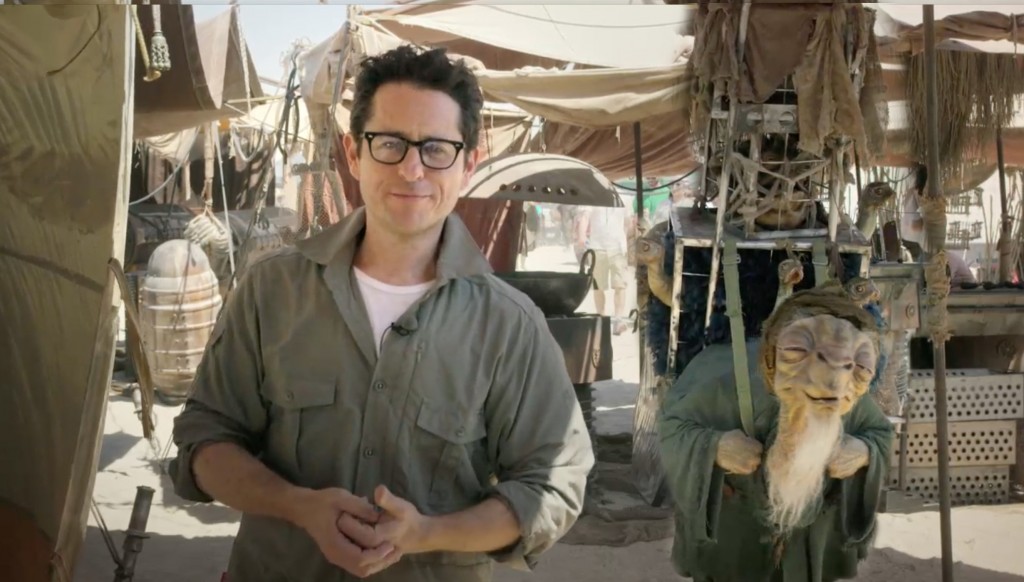 Today in a special video message from the set of Star Wars: Episode VII, director J.J. Abrams announced the creation of Star Wars: Force for Change, a brand new Star Wars initiative from Disney and Lucasfilm in collaboration with Bad Robot dedicated to finding creative solutions to some of the world's biggest problems. The first Star Wars: Force for Change campaign will raise funds and awareness for the United Nations Children's Fund's (UNICEF) Innovation Labs and its innovative programs that are benefitting the world's most vulnerable children.
Disney has committed US $1 million to support the launch of Star Wars: Force for Change. Fans can now contribute directly at Omaze.com/StarWars for a chance to appear in Star Wars: Episode VII. For each $10 contribution made through the Omaze fundraising platform, eligible participants will be automatically entered for a chance to win this once-in-a-lifetime experience. The campaign runs from 12:01am PST on May 21stth until 11:59pm PST July 18th.
The Star Wars: Force for Change Grand Prize includes:
Airfare and accommodations to London for one winner and a guest
Behind-the-scenes access on the closed set of Star Wars: Episode VII as VIP guests of J.J. Abrams
Winner will have the opportunity to meet members of the cast
By pledging support for Star Wars: Force for Change, fans are helping UNICEF create a brighter tomorrow for kids and families around the world. Through its global network of Innovation Labs, UNICEF helps create sustainable solutions to major issues facing children in the areas of nutrition, water, health, and education. The Star Wars: Force for Change campaign will help fund innovative, life-changing projects in communities around the globe.
Visit StarWars.com/ForceForChange to learn more about this new charitable initiative and the work of UNICEF's Innovation Labs and programs, and be sure to enter through contribution or free entry for your chance to win at Omaze.com/StarWars.
May the Force be with you!