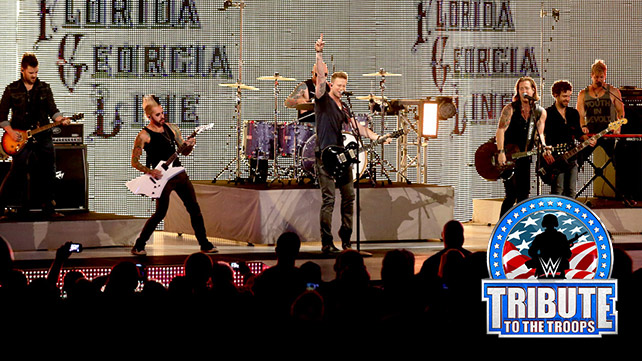 Multi-platinum recording artists and two-time CMA Vocal Duo of the Year winners, Florida Georgia Line will join WWE Superstars and Divas to honor the United States Armed Forces with the 12th annual WWE holiday special Tribute to the Troops, which will air on USA Network as a part of "WWE WEEK" on Wednesday, Dec. 17, 8/7 p.m. CT, and will re-air as a one-hour special on NBC on Saturday, Dec. 27, at 8/7 p.m. CT.
In the tradition of Bob Hope, WWE brings together the best of entertainment and pop culture with celebrity appearances and performances for our servicemen and women to celebrate their dedication and commitment to our country. The holiday program is considered one of television's most patriotic and heartwarming shows. NBCUniversal joins WWE in saluting our troops with special messages from some of the networks' biggest names such as Seth Meyers, The Kardashians, Andy Cohen, Giuliana Rancic, Katherine Heigl, Lester Holt, Padma Lakshmi, Mark Feuerstein, Tom Brokaw, Rachel Maddow and Carson Daly, as well as the coaches of "The Voice," Pharrell Williams, Gwen Stefani, Adam Levine and Blake Shelton.
"For 12 consecutive years, WWE has been entertaining American military personnel both overseas and domestically as a way to thank them for their commitment to our country," said WWE Chairman and CEO Vince McMahon. "Our servicemen and women work tirelessly for our freedom and we are proud to continue our Tribute to the Troops tradition."
WWE Tribute to the Troops will chronicle WWE's visit to United States Army post Fort Benning, where WWE Superstars and Divas will spend two days giving back to those who serve and their families with hospital visits, career workshops and Be a STAR anti-bullying rallies. Fort Benning supports more than 120,000 active-duty military, family members, reserve soldiers, retirees, and civilian employees and has been the home of the Infantry division since 1918.
The television special will also highlight WWE's annual goodwill visit to our troops who are fighting for our freedom overseas. WWE Chairman and CEO Vince McMahon, WWE Superstars Big Show and R-Truth and WWE Divas Summer Rae and Alicia Fox will travel abroad to spread some holiday cheer to the men and women serving our country far from home during the holiday season.
WWE's dedication to the military is a long-standing tradition that continues year-round, through programs that boost morale for soldiers, offer free tickets for active servicemen and women, and provide workforce assistance for veterans through a partnership with Hire Heroes USA.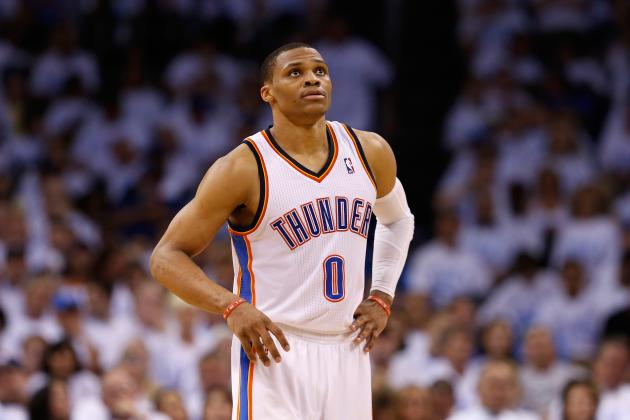 Being Ready to Fly doesn't just mean looking good. If you're Ready to Fly it means you're ready to put in all the hard work to become great.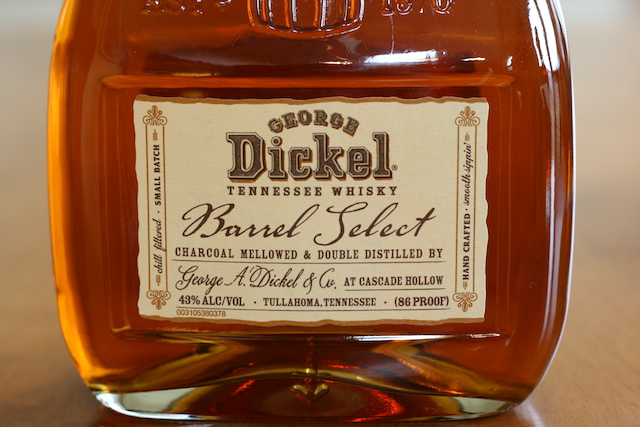 There are certain people you meet along the way that leave a positive impact in your life. For me I had the great fortune of meeting Steve Costello earlier this year. I was looking to interview him about his powerful and personal story he told in his book, "My Father Never Took Me to a Baseball Game."
Since my interview with him, Steve has helped me out in so many ways. The more I got to know him I found out that he is the type of guy that would give you the shirt off his back. For those who don't know Steve is the Executive Vice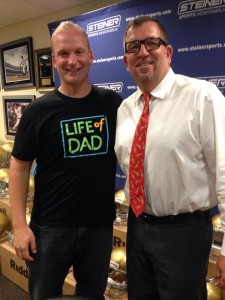 President at Steiner Sports. He has a job that any die hard sports fan would love to have. He works with premiere athletes and pro sports teams. Steiner Sports is one of the leading producers of authentic hand-signed collectibles.
Steve has aided me in setting up interviews, securing some sweet prizes for my fantasy football league for my company, and giving me a tour of Steiner Sports. He even gave me some business advice and guidance that will look to help my business. Steve takes the time to help each person that comes into his life. As he has said, "It's nice to be important but more important to be nice." He is authentic. He is a good friend.
You might say that Steve is "Handmade the Hard Way." That phrase is the cornerstone of the fine folks at the George Dickel Distillery. As we approach the holiday season George Dickel brings you their very finest whisky with their Barrel Select. This is for the truly discerning whisky drinker. Only 10 barrels are hand-selected by Master Distiller John Lunn for this small-batch handcrafted whisky. Aged between 10 and 12 years. Charcoal mellowing and their unique ageing process form a smooth, premium whisky that stands in a class all by itself. A perfectly balanced, rich and silky taste with hints of vanilla, spice and charcoal.
So when George Dickel asked me to find a friend that deserves a bottle of the George Barrel Select I immediately thought of Steve. This is my way to say thanks to Steve for everything he has helped me with this year. If you have someone like Steve in your life I would suggest giving them a whisky that is second to none.
Barrel Select has a caramel taste with accents of corn right behind the caramel flavor. You also have hits of fennel and mint. Its finish has caramel, vanilla and cinnamon which fade to corn and oak. It is 86 proof (43% ABV) and the mash is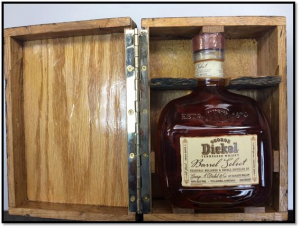 broken down as 84% corn, 8% rye, and 8% malted barley. For more info go to George Dickel's website.
Forget the gifts that you can get in the seasonal aisle at a store. You should "select" something that will leave an impression on someone who has impressed you this year! You can't go wrong with George Dickel Barrel Select.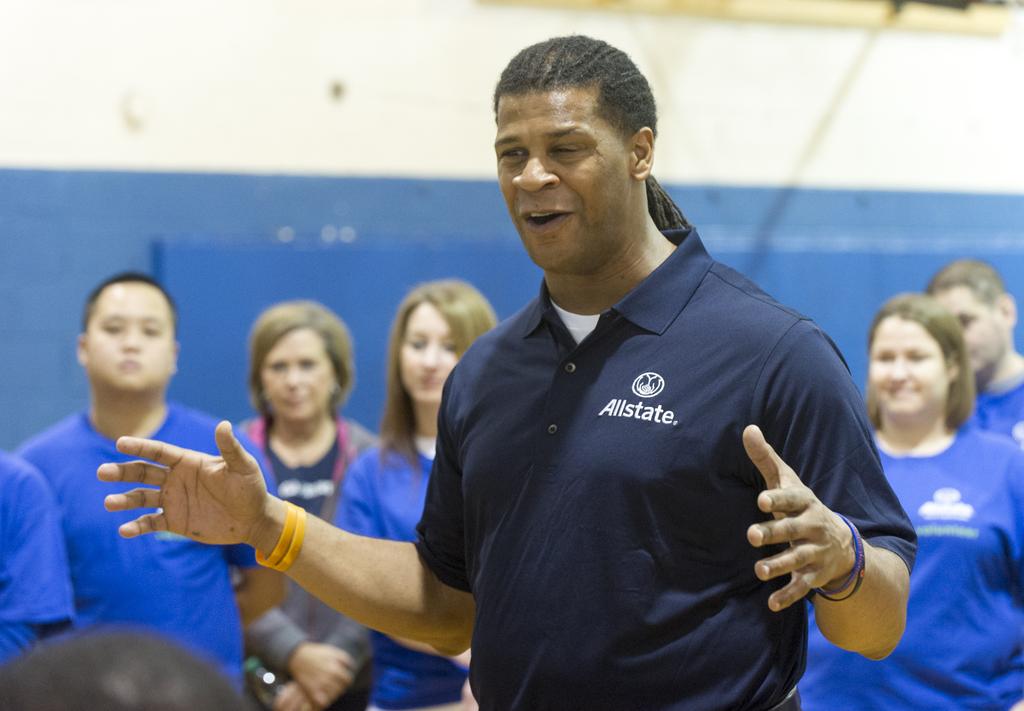 Cecil Martin, a former fullback from the University of Wisconsin and played some time in the NFL. He now works for Sky Sports as an analyst. Martin is a two-time member of the Allstate American Football Coaches Association (AFCA) Good Works Team, one of college football's most prestigious off-the-field honors, for his commitment to volunteerism and serving others.
He is working with Allstate and the Indy Parks and Recreation for the Allstate Big Ten Good Works Day. It is the third annual community service initiative featuring volunteers from Allstate and Martin supporting the Indianapolis community ahead of the Big Ten Football Championship Game.
Martin, alongside a team of Allstate volunteers will help refurbish Indianapolis' historic Douglass Park, a popular site for community gatherings and athletic events. In addition to the refurbishments, a local youth football team who uses the facilities will be surprised with new uniforms and the chance to participate in an exciting football activity led by the former football legend.
As a former Allstate AFCA Good Works Team member, Martin will also speak to the players about the importance of building character through teamwork and community service.
When I spoke with Cecil this morning I knew he was a great guy. He has enthusiasm as well as a big heart. His passion for helping others is just as big as his love for football. Here is my interview with Cecil. For more on the good work Cecil and others do with Allstate click here.
Art Eddy: Let's talk about the good work you are doing with Allstate. It looks like you, Allstate and some volunteers are looking to refurbish a park. How did you connect with Allstate to work on this project?
Cecil Martin: You know Art it started back in college when I earned the Allstate Good Works Team award for community service. Basically every year they choose a handful of players from all over the country to be considered. I won this award two years in a row. They continue to do these programs even with the Big Ten Championship.
Now they have the Allstate Big Ten Good Works Day in conjunction with the Big Ten Championship. Every year we think about how we can give back to the community here in Indianapolis. This year we are refurbishing a park where some of these kids play. It is Douglass Park. We are going to do a bunch of football drills with one of the teams here. Then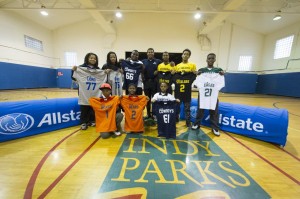 in the end we are going to unveil the refurbished park and hand all the kids in the inner city youth league new jerseys and new uniforms. Let me tell you Art it is going to be a great day.
AE: That is fantastic. Well done! What advice can you give to people on ways that they can help out their community?
CM: I think that the biggest thing that I would say is that there are always organizations out there that need help. Anytime an organization or a group of people need help is when you should look to help out your community. Companies like Allstate or places like the Indy Parks and Recreation were they provide a place for kids to be safe are areas where helping out goes a long way.
Anytime you are able to be positive and productive I would say do it. Look into the most basic things that kids need and see if those areas need improvement. Once you see what needs work go and help those places out.
AE: What are some of the things that you have learned from football and used it to help those in the community?
CM: Wow. Wow, Art that is great question. Giving back became something that was very important to me. I earned a National Community Service Award from the President of the United States because I started up a new public service group when I was in high school.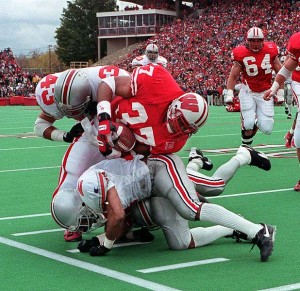 AE: Wow! That is great. Congrats.
CM: Thanks. For me there were people that looked to help me so I wanted to return the favor in many ways. When I look at football and what it has done for I would first say that it is like any other organization. You are talking about the ability of working with a team. You have people in any organization understanding what their role is. You also let the passion of that group's goal motivate and fuel them up to get the job done.
In this case I have a role. Allstate has a role. The Indy Parks and Recreation has a role. Today we are all one big team. That is what is happening at the Big Ten Championship. You have two teams looking to each work as a team and accomplish the goal of winning the game.
AE: Speaking of that game what do you think of Wisconsin's chances of beating Ohio State this Saturday?
CM: There is a great chance. Even though others might not think so, I feel Wisconsin has a great chance. I know that Urban Meyer has been there three years and he is making a difference coaching there. The team has won about 22 games straight. They never lost to the Big Ten. They are a powerhouse type of a team.
Now when you look at Wisconsin Badgers and see what Melvin Gordon is able to do. He is over 2,000 yards this year. He makes the offense a threat. Then I look at their defense. They are in the top ten in defense. So if you look at the defense of Wisconsin and the offense of Ohio State you are looking at a great matchup. They matchup very well if Wisconsin is playing their best ball. Plus with Ohio State playing their third string quarterback we need to make sure that he doesn't have his coming out party. (Both laugh.)
AE: No doubt. You have played in the some big games in your college career. I think you are going to say The Rose Bowl, but do you have a game that stands out more than the others?
CM: Well we snapped Penn State's winning streak which was impressive, but I will have to say the Rose Bowl. I was the captain of that team. People didn't think we had a chance to win that game. We did and we proved the doubters wrong. We won 38 to 31.
AE: Do you like the new College Football Championship system that the NCAA has created for this year?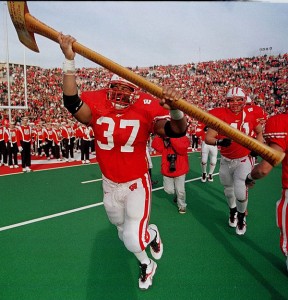 CM: I do. I think that with changing times you need to keep up with them. There is still that feeling of a bowl system, which I like. I like what the NCAA, the coaches, and the committee is looking to accomplish.
AE: You played in the NFL for a few teams. What did you take away from your time in the league?
CM: I would say that impact and the influence that you can have with young people or the community. I got to play football for living. I hope that I was able to motivate or inspire a young person. I think even then I got learn more about what it means to be humble while I was playing in the NFL. Plus to use that influence in any positive way you can.
AE: Finally who do you got playing in the Super Bowl this year?
CM: Who is going to the Super Bowl? That is a tough one. You dropped a bomb on me with that one. (Both laugh.) It is interesting because in the beginning I was thinking Seattle. Now it looks like the Green Bay Packers are the front runners in the NFC. In the AFC even though they lost to the Packers I would still say it has to be the Patriots. It looks like there might be a round two this year if those two teams meet up in the Super Bowl.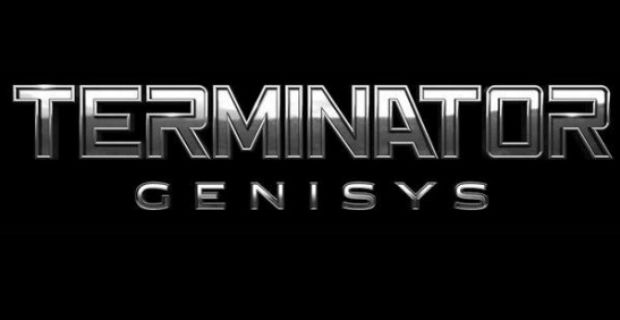 The year is 2029. John Connor, leader of the resistance continues the war against the machines. At the Los Angeles offensive, John's fears of the unknown future begin to emerge when TECOM spies reveal a new plot by SkyNet that will attack him from both fronts; past and future, and will ultimately change warfare forever.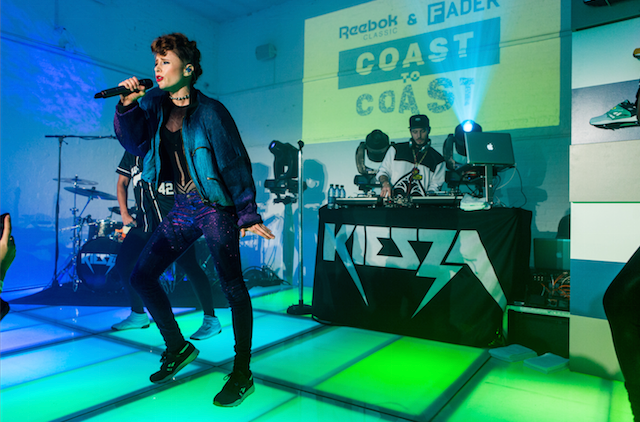 Reebok Classic x The FADER's two-part concert series, Coast to Coast, concluded with a big finale last night in New York City with performances from Kiesza and Brenmar, hosted by Hot 97's Miss Info at Openhouse.
Concert goers were treated to a DJ set by the talented Brenmar before Kiesza took the stage in her Reebok Classic "Ventilator" sneakers.  Accompanied by her dancers, Kiesza performed and danced her way through the songs from her recently released full length album "Sound of a Woman" and closed the show with her breakout hit "Hideaway" to the cheering crowd.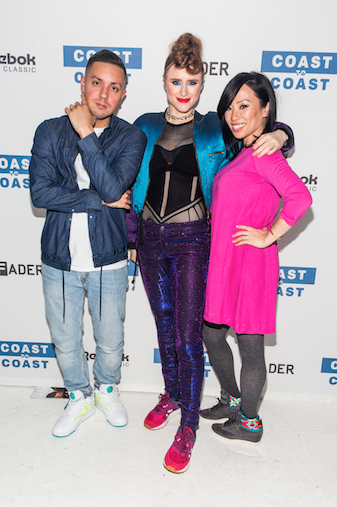 Coast to Coast was developed as a platform to integrate music with style, and celebrate the Reebok Classic Ventilator in New York and Los Angeles, which is on the verge of celebrating its 25th anniversary.  To help celebrate these artists, the concert series hit both coasts with exclusive performances, in addition to pieces of content that document each artist in their home base, which will be live on TheFADER.com later this year.
Born during the golden era of Reebok design and technology innovation, the Ventilator was a game-changing runner when it was first introduced in 1990 and remains a wardrobe staple for many of today's hottest up and coming artists.
The Reebok Classic "Ventilator" sneakers retail between $80 -$90 and are available at key retailers such as Jimmy Jazz, Urban Outfitters, Bait, Shoe City and Reebok.com.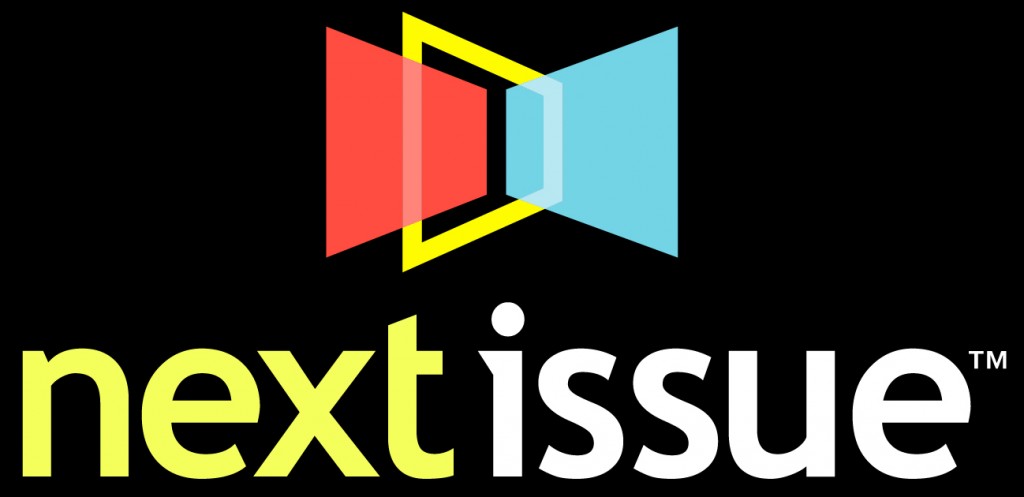 Next Issue Media, the first and only app to offer unlimited access to premium magazines, including their entire back catalogs, scoured over 2,000 products and 35 top lifestyle and fashion magazines featured in their app to pinpoint the top trends and what gift givers should really look for this holiday season. Some of these top magazines range from InStyle, Vogue and O, The Oprah Magazine, to GQ, Men's Journal, Outside magazine and more.
What did they find?
Most Recommended Brand: Marc Jacobs
Most Expensive Gift: McLaren P1 $1,350,000
Most Interactive Gift Guide: Consumer Reports
Largest Gift Guide: InStyle with 253 products
Most Unusual Gifts: Everything Beards (oil, conditioner, organic balm), Beer Foamer, Unicorn Horn, Whiskey Wedge, Kayak in a Box, Water Bike, 8-in-1 Kitchen Tool, cider and beer making kits, and a bucket of sunglasses
In addition to these unusual items, classic trends and annual favorites hold strong this year with leading trends including unique spirits and craft beers, and actual hard copy books.
Leather & Cashmere – These lux fabrics boast over 70 gift suggestions between them with anything from slippers and travel set to manicure sets and luggage, making them a sure hit.
Cosmetics & Kitchenware – Fitting any budget, cosmetics take the stocking stuffer role all the way to the most recommended gift for women, YSL's 'Wildly Gold' Palette. Kitchen and cocktail products provide equally popular gifting options.
• The Season for Subscriptions – The old school beer of the month club gets an update with ideas like Blue Apron, Blue Bottle Coffee, Farmbox Direct, Coolhaus and Next Issue subscription gifts.
In addition to these gifts and trends, holiday shoppers can explore the full Next Issue Best Gift Ideas at www.nextissue.com/best-gifts-2014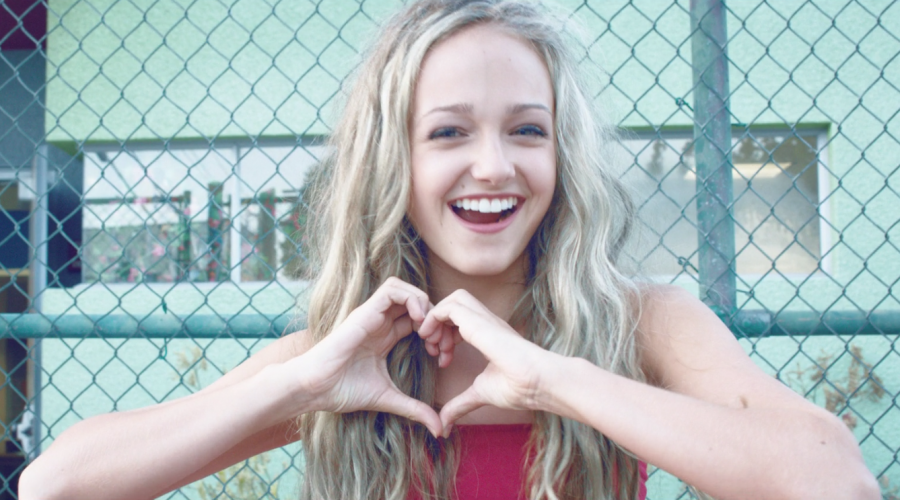 Back in October, Ben & Jerry's launched a new, Marley-inspired ice cream flavor called Satisfy My Bowl. Consisting of Banana ice cream with caramel, cookie swirls, graham cracker crumbles and chocolate peace signs, Satisfy My Bowl is currently a limited-edition release available in the UK as well as selection countries in the EU. Additionally, proceeds from the sales of Satisfy My Bowl will go to support the 1Love Foundation and PYE's joint, collaborative youth empowerment camp for underserved children in Jamaica.
To celebrate the partnership – along with this past Summer's 30th anniversary re-release of Legend – Ben & Jerry's, Universal and the Marley family teamed up with a video contesting platform called Tongal to create a new, official "One Love" music video! Fans and filmmakers alike were encouraged to submit 140-character theses of their video ideas, from which a subsequent treatment-submission round took shape, leading to a final video-submissions stage wherein multiple music videos from different fans from around the world took part. Here is the winning video.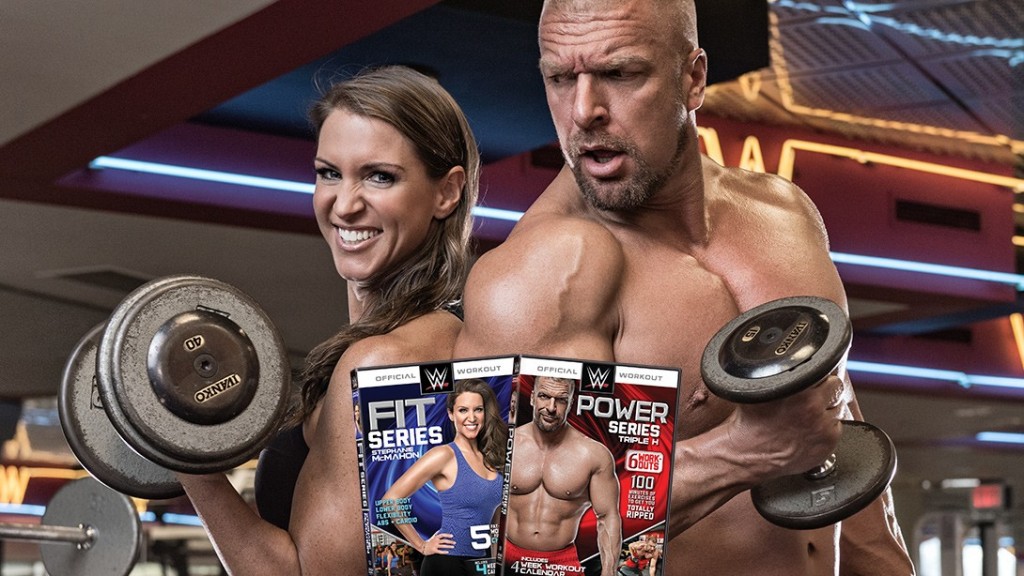 For the first time, fans will have the opportunity to work out with their favorite WWE Superstars and Divas with the Lionsgate Home Entertainment and WWE debut WWE Power Series: Triple H and WWE Fit Series: Stephanie McMahon workout DVDs.
WWE icons Triple H and Stephanie McMahon lead two top-of-the-line workout programs created by world-renowned fitness coach, Joe DeFranco to provide official WWE fitness programs for total body transformation. Filmed at the elite WWE Performance Center, both systems allow fans to complete a full body workout, focusing on upper and lower body, cardio and flexibility from the comfort of their own homes.
Featuring 8-time WWE Champion and 5-time World Heavyweight Champion Triple H, WWE Power Series: Triple H includes a total body workout with exercises designed for the upper and lower body along with cardio and mobility moves to build a strong, ripped and fit body. The DVD will feature a four-week workout calendar that helps users stay on track and achieve results. The WWE Power Series: Triple H features the following regimens:
Warm-Up (6 minutes): Power up and prepare to sweat with moves like seal jacks and Cossack stretches to prevent injury and improve performance.
Upper Body 1 (16 minutes): Pound out power circuits of serious strength moves like dumbbell rows and Zot curls that use progressive reps to shed inches and lay down Superstar muscle.
Upper Body 2 (18 minutes): Develop muscle endurance with functional body weight and dumbbell exercises like high-tension planks and shoulder shockers to build both stamina and mega muscle.
Lower Body (30 minutes): Experience muscle-mass mania with killer moves like single-leg Romanian dead lifts to improve balance, function and strength with this intense three-set system.
Muscle-Building Cardio (12 minutes): Give those extra pounds a serious smack-down with four high-octane rounds of this cardio-strength circuit designed to pump the heart, shed fat and carve lean muscle.
Mobility (14 minutes): Improve flexibility, reduce soreness and recover from workouts faster with DeFranco's signature Agile 8 series of stretches and mobility drills.

*Requires a set of light to heavy dumbbells
In WWE Fit Series: Stephanie McMahon, the WWE mogul and mother of three helps viewers achieve the sculpted, sexy physique of the extraordinary WWE Divas. Complete with a four-week workout calendar the system transforms and strengthens your entire body while shedding fat. The WWE Fit Series: Stephanie McMahon features the following workout routines:
Upper Body (14 minutes): Strut your stuff with this powerful strength circuit that uses bodyweight, dumbbells and progressive reps to sculpt sexy arms, defined shoulders and a gorgeous back.
Lower Body (15 minutes): Tone, tighten and turn heads with butt-blasting rounds of a super circuit that tackles your trouble zones while increasing muscular strength and endurance.
Abs/Core (12 minutes): Get tough and get ripped with Tabata-style circuits (4 moves/4 minutes) that challenge core strength and function to trim inches and shred strong, sexy abs.
Cardio (17 minutes): Incinerate fat and calories with two heart-pumping circuits of fierce calisthenics like mountain climbers and T-plank rotations to improve endurance and drop pounds.
Flexibility (7 minutes): Improve flexibility, reduce soreness and recover faster with an essential series of yoga poses and mobility moves that help create long, lean and limber muscle.
*Requires a set of light to heavy dumbbells
The WWE Power Series: Triple H and WWE Fit Series: Stephanie McMahon workouts are loaded with routines guaranteed to get any fan into top form. The all-new DVDs include custom workout capabilities and music only options and will be available for the suggested retail price of $14.98 each.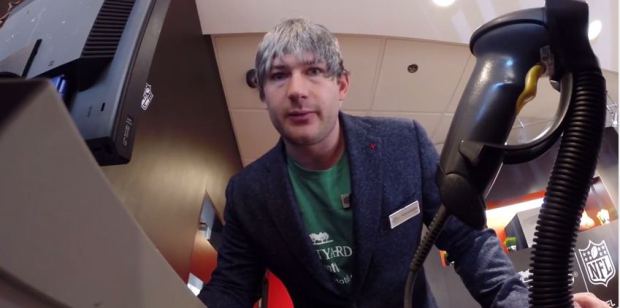 Checking in to a hotel often is not the most exciting part of a trip— except for when former Pro Bowl tight end Chris Cooley welcomed guests as an assistant general manager at Courtyard by Marriott in Landover, MD on an NFL game day.
Cooley lived up to his "Captain Chaos" nickname by putting these football fans through fun, unexpected situations while it was captured on hidden cameras for "Courtyard Camera."