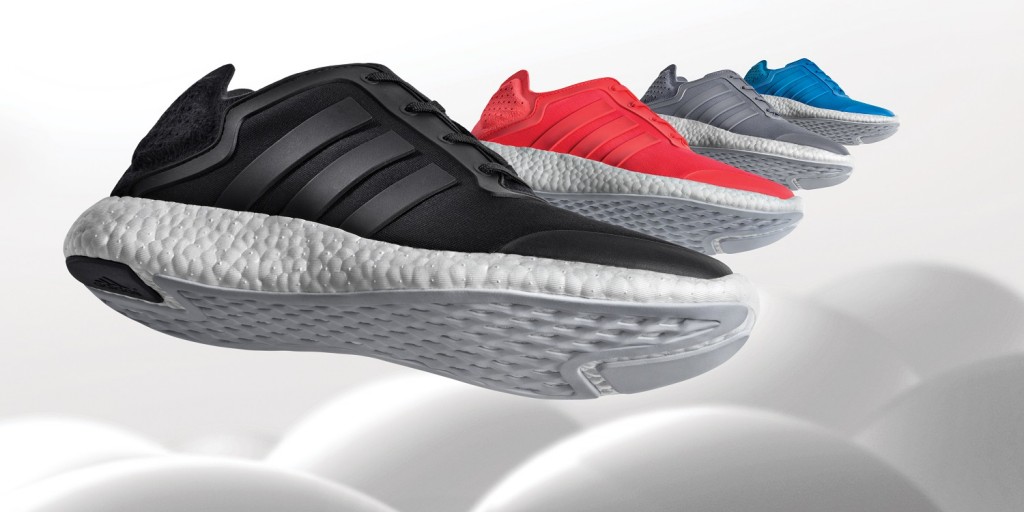 Combining the ultimate in style and performance, adidas today unveils Pure Boost. Pure is the first shoe with an entire Boost cushioning midsole, providing maximum energy return and comfort in a simple, pure design.
Top designers from adidas Sport Performance, Y-3 and Originals combined their expertise to create a stylish, lightweight, comfortable shoe that can be worn with anything in the closet.
"This visually stunning shoe is the purest iteration of Boost," said James Carnes, global creative director of performance at adidas.  "With Pure Boost, we designed the shoe to be stripped down to its rawest form and to highlight the innovative technology in a totally clean and modern look."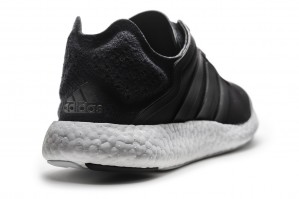 Carnes continued, "The fresh silhouette and simple upper make Pure Boost a blank canvas for you to combine with any outfit."
At only 8.3 ounces for men and 6.3 ounces for women, Pure Boost features a breathable four-way stretch seamless upper and no sockliner to enhance the feeling of standing directly on Boost cushioning. The TIRRENINA suede heel, a sustainable luxury fiber that is made without any solvents during the manufacturing process, adds a fashion element and keeps your foot in place without restricting movement.
Pure Boost is available for $120 on May 14 at adidas.com, adidas Sport Performance stores and exclusively at footlocker.com, Foot Locker, Lady Foot Locker and SIX:02 stores.
Launch colorways include four for men (Black/ White/Clear Grey, Solar Blue/Solar Blue/Clear Grey, Tech Grey/Metallic Silver/Clear Grey, and Infrared/Infrared/Clear Grey) and four for women (Black/ White/Clear Grey, Clear Grey/White/Clear Grey, Bold Pink/Bold Pink/Clear Grey and Solar Pink/Core Pink/Clear Grey). Additional colorways and prints will be available this summer.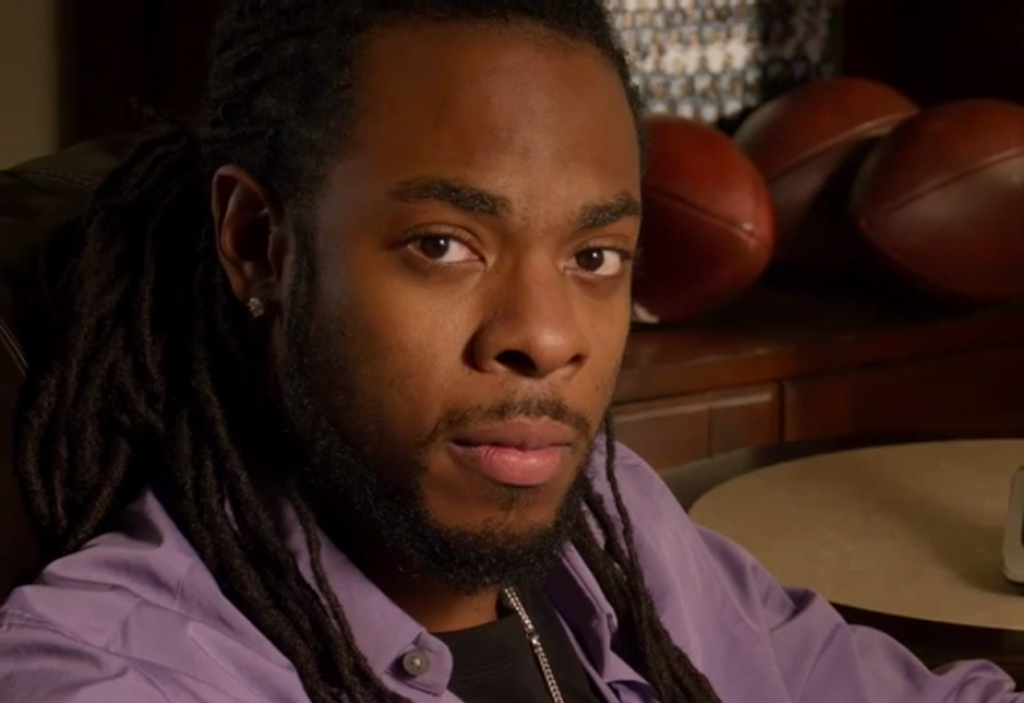 Every pro football player remembers what it's like to receive "The Call." That suspenseful moment when you wait to hear your destiny as a lover of the game. It's the moment on which everything hinges. Pro football champion Richard Sherman has an inspirational congratulatory message for the young men who will make the cut this year. At Oberto, they believe what you put in your body and your life directly affects what you get out of it. That's why their tasty all natural beef jerky has no preservatives or artificial ingredients.
As Richard Sherman says, "Big day for the guys in the draft. It doesn't matter if you are the 1st or the 254th."
#YouGetOutWhatYouPutIn.


Saturday, May 17th is a very special day. It is a day to celebrate the spirit of whisky. That Saturday is known as World Whisky Day. Now more than ever with the growing popularity of whisky, this day becomes more relevant each year. Whether it's enjoying the liquid on the rocks or mixing it in a classic or modern cocktail, fans are continually finding ways to incorporate whisky into their drinks. Plus here is a little fun fact for you! Whisky consumption has risen 5% in the last year.
With that said, we wanted to share some of the best whiskies and cocktails for you to enjoy on the day of whisky appreciation. From Bulleit Rye Manhattans to the Manitoba you will find a great cocktail recipe below.  Looking for a great cocktail for the summer, try the No. 1 Cooler.
So to those who will celebrate with us on World Whisky Day we say, "Cheers!" And as always please enjoy responsibly.
Manitoba
1.5 oz. Crown Royal Maple Whisky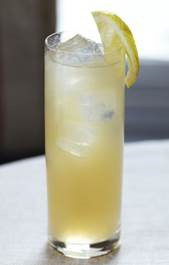 .75 oz. Lemon Juice
.5 oz. Simple Syrup
Top with Ginger Beer
Directions: Shake & strain into a highball glass. Garnish with a lemon wedge.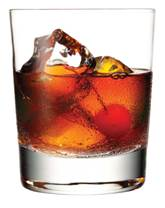 Bulleit Rye Manhattan
1 oz. Bulleit Rye
.5 oz. Sweet Vermouth
3 dashes of Aromatic Bitters
Directions: Strain into a rocks glass. Garnish with a cherry.
No. 1 Cooler
1.5 oz. George Dickel No. 1
.75 oz. Lime Juice
.75 oz. Simple Syrup
3 Slices of Cucumbers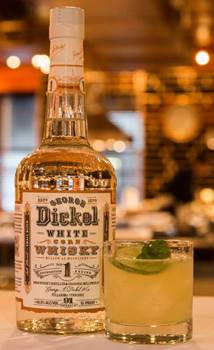 6 Mint leaves
Pinch of Salt
Directions: Stir all ingredients and strain into old fashioned glass over ice. Finish with mint leaves and pinch of salt.
George Dickel Rye
George Dickel Rye is a straight rye small-batch whisky, offering a 95% rye mash whiskey. Perfect for cocktails like the Old Fashioned and Manhattan. 90 proof, Suggested Retail Price $24.99.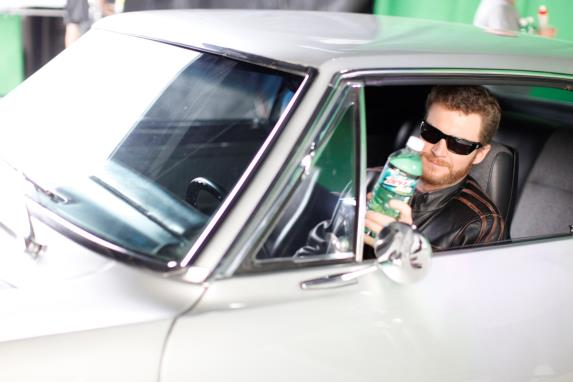 In April Mountain Dew announced that, for the first time, Mtn Dew Baja Blast – which was introduced 10 years ago as a "Taco Bell Original" – will also be available for a limited time in bottles and cans.  The tropical lime flavored beverage hit shelves starting on May 5.  While Mtn Dew Baja Blast is always available at Taco Bell, consumers will have to move fast to buy it at retail, as the fan-favorite will head back to Taco Bell exclusively at the end of the summer…or when supplies run out.
Mtn Dew Baja Blast is the second largest and fastest growing fountain beverage sold at Taco Bell.  It is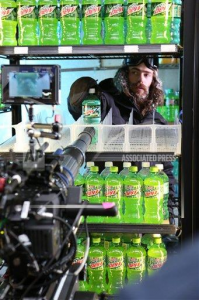 the most requested flavor among the DEW Nation, and has generated more than 30,000 mentions on Twitter in the past three years.
Mtn Dew Baja Blast will be available in single serve 20 oz. bottles and 24 oz. cans, as well as 12-packs of 12 oz. cans.
On May 5, fans will also be able to download and play the "Baja or Bust" mobile gaming app.  Based upon the widely-played Motocross Elite app, "Baja or Bust" will be available for iOS and Android platforms and will enable players to enter for a chance to win exciting prizes, including adventure and beach vacations; and be able to enter codes, available under every cap of Mtn Dew Baja Blast, to unlock in-game upgrades and advantages.
Visit www.MountainDew.com/BajaBlast or Facebook.com/MountainDew for more information, and join the conversation at @mtn_dew #SummerOfBaja and @TacoBell #SummerOfBaja.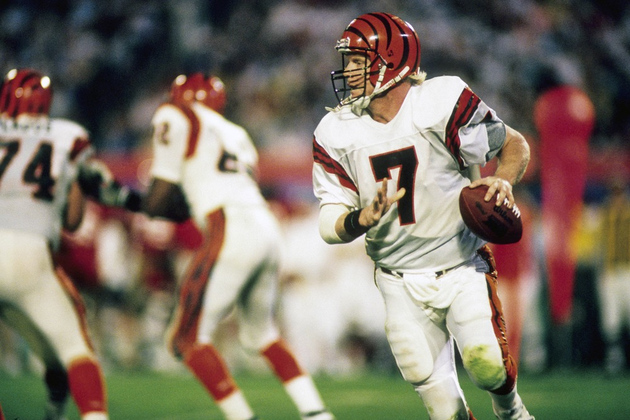 Boomer Esiason played 14 great years in the NFL. He played for a total of three teams, the Cincinnati Bengals, the New York Jets, and the Arizona Cardinals. In 1988 the four time Pro Bowler won the NFL MVP award. Even after retiring from the game, Esiason is still making an impact on the NFL.
Boomer can be seen during the football season on CBS breaking down the game. He also is on the radio as a color commentator for Monday Night Football. He even has a morning show on a New York sports radio station called "The Boomer and Carton show."
Yet if you ask Boomer what he is most proud of, he would probably say all the work he does through his organization, The Boomer Esiason Foundation. The foundation looks to support and improve the lives of those who have Cystic Fibrosis. His son, Gunnar was diagnosed with Cystic Fibrosis in 1993. Boomer used his popularity to raise awareness for the disease to not only help his son, but other children who have CF.
I had the great pleasure of talking with Boomer about his foundation, his time in the NFL, and more.
Art Eddy: You played 14 years in the NFL. What sticks out the most to you from your great career in the league?
Boomer Esiason: Well for me and I think most of the players will tell you the same thing. It is really the relationships that you develop when you play for different teams. Now for me I played in three different cities, in Arizona, New York, and Cincinnati. You develop these close relationships with coaches, players, and front office people. Those are the memories that you hold on to for a lifetime. Even when you are going through tough times Art. Whether it be a bad season with the Jets or Bengals or going to the playoffs and Super Bowl, or throwing for over 500 yards in a game with the Cardinals I always say the positive memories always outweigh the negative ones.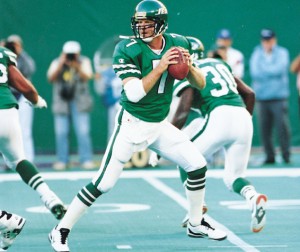 When you play 14 years there will be all sorts of emotions that you are dealing with. For me I always think back to all the great relationships that I was fortunate enough to make. It wasn't just for what the NFL did for me as a player, but as a person too. In my world now with broadcasting I don't think I would be doing what I am doing if it wasn't for the 14 years I spent in the NFL.
AE: From watching you on the field and now hearing you breakdown the game on TV and the radio I know that you have a team mindset, but winning the MVP in 1988 had to be up there as one of the all-time greatest moments for you right?
BE: It was, but it was also a little bit embarrassing. I used to say back then and I say it today. An MVP award in an ultimate team sport like football really doesn't make any sense.
I am a voter for the MVP award now that the AP gives out. I take that vote pretty seriously. This year it happened to be Peyton Manning. He would be the first to tell you that he wasn't able to accomplish the things in his five MVP seasons without the teammates and coaches he goes to work with every day. That is how I felt when I won my MVP. While it is certainly displayed proudly in my home I will tell you that I owe a lot to the players and coaches in 1988 when I did win that award.
AE: Not that many people get a chance to play quarterback in the NFL. I think the role of the quarterback is one of the hardest positions in all of sports. As a fan of the league can you walk me through what you experienced as a quarterback?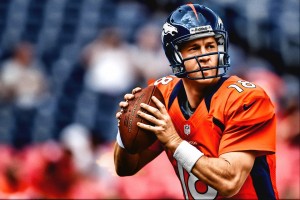 BE: It is an amazing responsibility. I take the upper echelon of the quarterbacks today like (Tom) Brady, Manning, (Drew) Brees, (Aaron) Rodgers, and (Ben) Roethlisberger. They are on a different plane than the bottom half of the league.
The reason that they are on that plane is that they not only understand how the game is played on the field, but how to carry themselves in the locker rooms and in the meeting rooms. Not only do the put accountability on their shoulders, but they hold their teammates accountable. They do that by more with their actions than words.
When the team wasn't doing well the last thing that my team wanted to hear from was me. So I would go out and practice harder. I would try and challenge players on the practice field. Hopefully that would turn up on Sunday or Monday night when we were playing into a winning football game.
I always say that about quarterbacks. It is certainly about how you can communicate verbally, but it is really your ability to communicate through your actions. That is when you don't need words to describe what you are doing or what you are trying to get done. Other players will react to that. That to me is the genius of one Peyton Manning.
AE: During your career when the game was on the line did you have a go to guy that you knew would deliver?
BE: Well yeah you do. It is somebody that you really, really feel comfortable with. For me I had a couple of those guys. It was Cris Collinsworth and Rodney Holman back in my days in Cincinnati. When I was with the Jets it was with Rob Moore. Fortunately for me I had Rob Moore as a receiver in Arizona too.
When I went back to Cincinnati there were younger players that I really didn't know that much about. I knew that I could have a profound impact on their careers by doing what I just said. I would show them how to prepare and how to use that preparation on the field and turn it into a success.
When I think back about my last year in the NFL I had a running back who was a rookie that year. He had a phenomenal rookie year. That rookie was Corey Dillon. I think about how Corey Dillon became a great running back in the NFL. I hope in some small way that I helped him become a success in the NFL. After I retired Corey continued to have a great career and even won a Super Bowl with the New England Patriots.
That is what I think quarterbacks are known for by helping players become great. Hopefully when people think of me that they will say that I had an impact on their career to make them successful in the league.
AE: During football season people can see and hear you pretty much everywhere. You are on TV, the radio for Monday night football, and you have a morning talk show on the radio as well. You do a great job breaking down the game. With that you are very busy during the NFL season. I do have to say though you must have great time management skills.
BE: (Both laugh) I guess so, but I love the fact that people feel good about me to employ me in such high profile jobs. I will never ever take for granted the opportunity to speak about something that I love so much. The NFL has been great to me.
Covering the NFL is the ultimate for a football junkie like myself. I don't have to coach. I don't have to be a general manager. I don't have to make those fourth and one decisions that a (Bill) Belichick or a Tom Coughlin have to make.  Then on Sunday or Monday I can sit in judgment about those decisions and be able to sleep at night and not worry about it with any repercussions.  (Both laugh.)
AE: Your son Gunnar was diagnosed with Cystic Fibrosis in 1993. You and the many great people at your foundation have done so much for the CF community. For those who don't know too much about your foundation can you give an overview?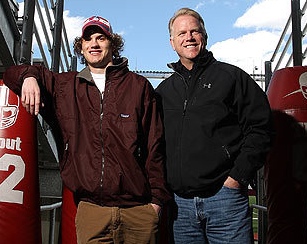 BE: I was actually exposed to Cystic Fibrosis in 1989 by Frank Deford. Frank was speaking at a banquet that I was at. He had lost his daughter Alex to Cystic Fibrosis. Cystic Fibrosis is a genetically transmitted disease. My wife and I didn't know that we carried the recessive gene trait.
The disease itself involves the lungs and the digestive system. The lungs are marked with bacterial infection. Saying all of that when Gunnar was diagnosed in 1993 at the age of two when I became the quarterback of the Jets the second phone call I made was to Frank Deford. He was just as shocked as I was that destiny and irony had found our family when Gunnar was diagnosed with the disease that ultimately killed his daughter.
He said that this was God's way of saying that we have an opportunity here. To use your celebrity in New York to raise funds and awareness for Cystic Fibrosis. I have never ever not taken that piece of advice as seriously as it deserved to be taken. I feel really strong after 20 years of watching Gunnar grow up and graduate from Boston College that we have taken Frank's ideas and trying to create a world for Cystic Fibrosis patients to live a healthy, normal, and productive life as any child in the world.
I can say that watching Gunnar fight this disease every day that I am most proud as a dad of what he has already accomplished in his young life. I want him to become a father himself. As any father can attest to that there is nothing more fulfilling and greater than becoming a father. So for me we are trying to make a difference in the lives of Cystic Fibrosis patients. Gunnar is a prime example of that. I think we have accomplished our mission, but the ultimate goal is to cure this disease but we are still a ways from that.
AE: How has research and medicine evolved since the early 1990s?
BE: Well a number of things have come to fruition. First and foremost if people want to find out more about Cystic Fibrosis they can go to our website at Esiason.org or they can go to the National Cystic Fibrosis Foundation website, which is CFF.org.
In the past 20 years we have raised the median age. The average lifespan with Cystic Fibrosis was from 19 to now 37. Which in a greater understanding of the disease there are better ways to handle the symptoms of the disease. Lung transplants are more commonplace than ever before. We ask people and beg people to become organ donors because you never know when you can have the positive impact on somebody else's life. You can give them a second chance at life, which I have seen and lived through many times over in the world of Cystic Fibrosis.
The drug from the patient to the test tube has been fast and furious over the last 20 years. There have been at least six or seven new therapies that Gunnar and all Cystic Fibrosis patients have been benefitting from. There is a better understanding of the disease, the symptoms of the disease, and the drug delivery in terms of the types of infections these kids are dealing with.
Even though it is not easy living with Cystic Fibrosis as Gunnar has proven and many young adults like him have proven it is an attitude that you have to have. You got to be positive. You got to be realistic. You got to be aggressive in dealing with the disease. That is one of the reasons that we are seeing kids live a lot longer. We are seeing female CF patients being able to deliver their own babies and becoming moms themselves. It is really becoming quite the story.
We have a number of CF patients that run in marathons. The story of triumph in the world of Cystic Fibrosis has really been nothing short of a miracle thus far. We continue to see miracles each and every day. We are going to continue to fund the research, college scholarships, lung transplant grants, and every other aspect of Cystic Fibrosis that we can improve we will continue to do.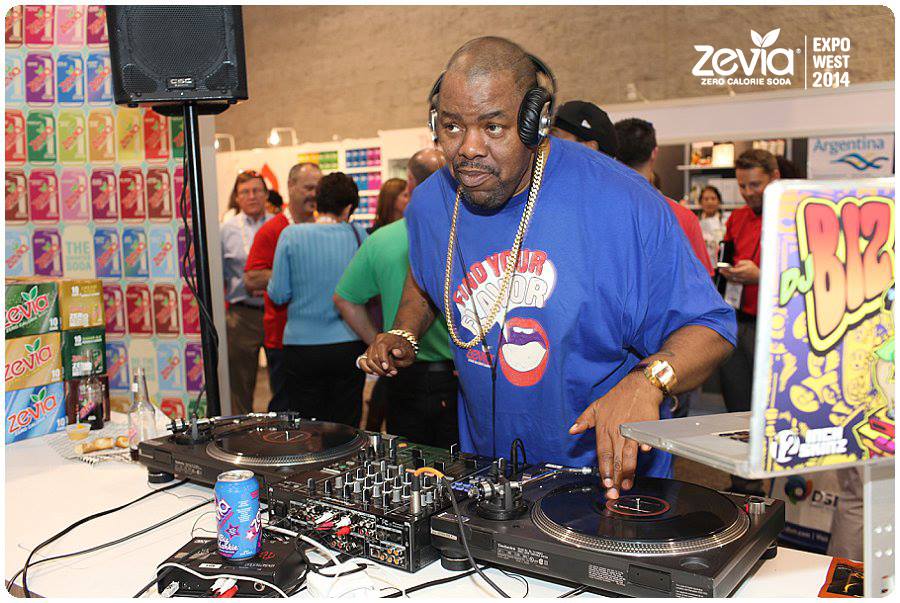 Growing up I was a big fan of Biz Markie. I think one of my first cassette singles was "Just a Friend." As I got older I checked out his entire catalogue and loved all his music. Known for making music with his mouth, Biz mastered the art of beatboxing.
Biz is still in the entertainment business today. Whether performing his old school hits or spinning records at clubs, Biz Markie is doing what he loves. He can also be seen on the hit Nickelodeon show, "Yo Gabba Gabba!"
While on tour with the crew from "Yo Gabba Gabba!" a friend introduced him to a sugar free soda by the name of Zevia. Now Biz and Zevia teamed up to get the word out on this soda. He lost 140 pounds last year. He gave two reasons for that weight loss. One was that he started cooking healthy at home and two was him switching to Zevia.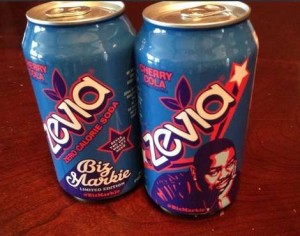 Art Eddy: Let's first talk about the new gig you got with Zevia, a Los Angeles maker of sugar-free soda. Tell us how you became the spokesperson for them.
Biz Markie: I was doing my show "Yo Gabba Gabba!" and we were on the road. DJ Lance Rock gave me a can of it. I really didn't want a Pepsi or Coke. I wanted something different so when he gave me that I tried it. It was good. I have been hooked ever since. I have been trying all the flavors and five years later I was hooked.
AE: I see that you are on the cherry cola can. Are you on all of the cans? What flavors do they have?
BM: I am on just cherry cola. My favorite flavor is cherry cola and black cherry. Cherry cola is my favorite soda so I said I wanted to be on that one. There are like 15 different flavors. There is cream, orange, ginger ale, root beer, lime, and Dr. Zevia.
AE: I want to talk about your Rap career. When you were coming up as a rapper who influenced you?
BM: There not that many that influenced me. The first rappers like Busy Bee Starski, The L Brothers, and The Furious Four influenced me to make rap.
AE: I am guessing when you go out and perform "Just a Friend" is the song that everyone sings with you when you are on stage.
BM: "Just a Friend" is my biggest. They like all the other stuff. They like when I beat box, dance, and sing different records. It depends on the crown, but "Just a Friend" is usually the big one.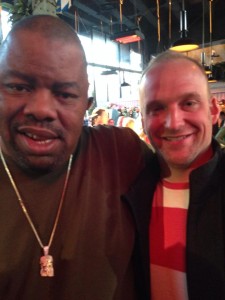 AE: Out of your many songs do you have a favorite one or favorite album? My favorite is "Nobody Beats the Biz." That track was hot.
BM: That was one of my favorites too.
AE: How long did it take you to perfect the art of beatboxing?
BM: I have been doing that since 1977. I think I am one of the founding fathers just like Doug E. Fresh or The Fat Boys.
AE: How do feel Rap has evolved over time? Are you happy with it?
BM: Well we are older now. I am 50 years old. I understand the evolution. I just think that they should just put more elements in Hip-Hop. It shouldn't just be Rap. It should have deejays, graffiti, and beat boxing. It should be everything. It shouldn't just be about making records. There should be a lot more clubs out there. There should be more activities in Hip-Hop where we are teaching kids about Hip-Hop.
I think there is too much negativity. When I talk about negativity I mean that there is too much glamorizing strip clubs, smoking, and drinking. It should be more of a skill than just glamorizing fornication. It should just be different. We didn't do that. Little kids are looking at this. Children are our future.
AE: Now people can put up a video of them rapping or dancing for the whole world to see on YouTube. What would your career have been like if you had YouTube when you were coming up in the Rap game?
BM: If I had YouTube, Facebook, and all of that social media I might be like Bill Gates right now. It would be crazy. You got to think of the stuff I did. Imagine me making a video of "Picking Boogers." Imagine me making a video of "Nobody Beats the Biz" or the Biz Dance. The Biz Dance was hot without a video.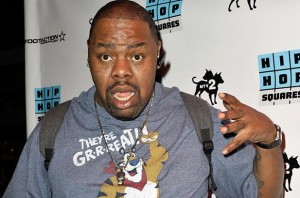 AE: You also DJ events and clubs. What type of equipment do you use? Is it all digital or do you stick to the old school method of vinyl?
BM: I use vinyl. Even if I use Serato I use vinyl. I DJ on anything. It don't matter. I will use CD's. It is not what you use, but what comes out of your mind when you throw a record on. Serato and CDJ's are the best things that ever came out. You can carry your whole library from your house in a laptop or a hard drive. With that said I do like to have records. I like to be hands on because it feels like I am really scratching and everything.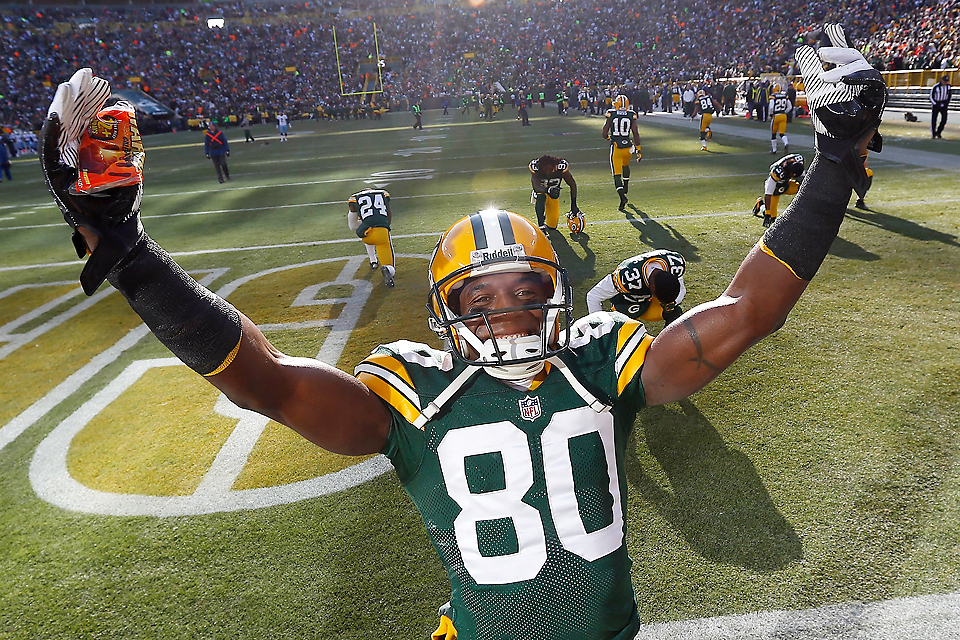 Donald Driver didn't just make an impact in the NFL, but he did off the field as well. Growing up as a kid Donald and his family faced tough times. Driver took that adversity and used it as motivation to create a better life for himself. Football fans know the mark he left not only in Green Bay, but throughout the league. The four time Pro Bowler helped the Packers win Super Bowl XLV in 2011 as Green Bay beat the Pittsburgh Steelers 31-25.
The Green Bay Packers Receiving Yards All-Time Leader also won the Ed Block Courage Award. This award is given to players, who are voted by their teammates as role models of inspiration, sportsmanship, and courage. Driver continued to inspire people when he created the Donald Driver Foundation in 2001. The foundation helps families find homes, assists in educating kids, and helps recognize those people who do wonderful things in their community.
Driver is an accomplished author as well. His book "Driven" was on the New York Times Best Sellers list. He has also written three children's books. Each book focuses on a challenge a kid or an adult may experience in life. He will have another children's book out later this year called "Quickie Handles a Bully."
Art Eddy: Many players who get drafted in the late rounds have chip on their shoulder. How much of a factor was that for you to prove that to the teams that passed on you that they made the wrong choice picking someone else?
Donald Driver: In 1999 when I got drafted that was the first thing I did. Teams told me that they were thinking about drafting me the first day. Then they would say we would draft you the second day and you shouldn't go no later than the fourth round.
So when all these teams are calling you to tell you that they are going to draft you, but you sit there during the draft at home with your family and the first day goes by and you don't get picked up. The next day comes and you don't get picked up again and you basically think your career is over.
Now you have to go and find a normal job. I had that chip on my shoulder. When the Green Bay Packers called me in the seventh round after 32 receivers got taken before me I just wanted to prove to the league and to the other teams that they made the wrong choice. They should have drafted me earlier. The Green Bay Packers took a chance on me and that is why I was able to retire with them and give them a legacy instead of another team.
AE: Can you describe your emotions and memories from your first NFL game?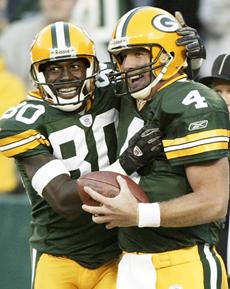 DD: Oh wow. My first memory that I actually made it in the NFL was our first family night scrimmage in Green Bay, Wisconsin. I remember Brett (Favre) sitting down with me and telling me that this wasn't Alcorn State University where you only have 20,000 people. It is going to be about 60,000 people in those stands.
I remember walking out that tunnel just for that family night scrimmage, offense versus defense and there were 57,000 fans in the stands. They were yelling and screaming. From there I was just going nuts. I remember Brett and I walking out of the tunnel and he said to me, 'Hey Drive, welcome to the NFL.'
I had an amazing practice that week. I was catching everything. I think from there it solidified my opportunity to make it on the Green Bay roster.
AE: As fans of the game we all know that Lambeau Field is one of the most iconic stadiums in all of sports. For you who played there, what does Lambeau Field mean to you?
DD: It means everything. If you never had the chance to experience Lambeau you should go to a game. I don't care if it is a cold game or a hot game. You want to be there. You want to experience the atmosphere. The fans have been great throughout my entire career.
They have proved to me that they have shown their loyalty to me. For me it was to show my loyalty back to them. They have been supportive through my charity, through my family, and to be the person that I am today. I have always said this. My fans have put me on a pedestal. It wasn't me playing that put myself on that pedestal. When they put you on a pedestal you always have to remember that you are no better than they are.
AE: Who does the best Lambeau Leap?
DD: You know I think a lot of people have given me that title. They say I do the best Lambeau Leap because one time I remember playing the Detroit Loins at home. I scored a 60 or 70 yard touchdown. I ran and I looked up and I saw the Detroit fans. When I jumped up they were trying to catch me. So I jumped down and then took two steps over and then jumped back up. (Both laugh.) I went back into the Packers' fans hands and I stuck my tongue out at the Detroit Lions fans. It was a great, great time. It was an amazing experience.
When I scored my first touchdown I had no clue that everybody should do the Lambeau Leap. I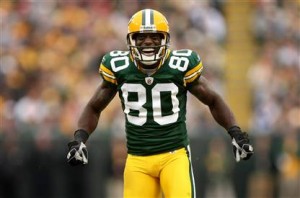 thought it was just LeRoy Butler's thing. I didn't want to step on his toes. So I didn't do it when I scored my first touchdown at Lambeau. I remember getting to the sideline and so many guys gave me grief. They told me that the next time I score I better do the Lambeau Leap. Since then every time I scored I would do the Lambeau Leap.
AE: What was the toughest part about playing in the NFL?
DD: For me it was just the speed of the game. Coming from Alcorn State, college is just a different atmosphere. The speed of the game is just so much faster. So I wanted to make sure when I got there I just learned and learned. I would sit back and learn from all the veteran guys and took what they said.
They told me that I needed to stay focused and make sure to make every play count. The opportunities are slim. In college you could always make it up. In the NFL it is hard to do. They taught me that. I was able to use that year after year.
AE: Which safety or cornerback challenged you the most? Who did you love to play against?
DD: I will say this. I played against a lot of great corners. Antoine Winfield, Champ Bailey, Deion Sanders, Kevin Smith. I mean the list goes on and on. DeAngelo Hall, Charles Woodson, Al Harris, Mike McKenzie. That list continues to grow.
Every week I knew when I stepped on the field I had to play my best game. The good thing is that I was able to play with some great corners. Mike McKenzie was there before he went to New Orleans. Charles Woodson played in Oakland before he played in Green Bay. Al Harris was in Philly before playing here. I played against those guys, but I knew them as well and they knew me.
Every day at practice I knew that if I could beat them then I knew that I was going to have a great game. There was no one else out there that was tough enough to stop me. That's the way I played the game. I knew if I could beat my guys one on one in practice that I could do that in the game. That is what I did. I was able to step up my game a bit more.
AE: I am guessing that your answer will be winning a Super Bowl title, but is there one moment that sticks out the most in your great NFL career?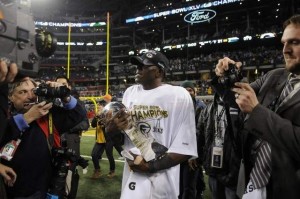 DD: I have so many moments that I will always cherish. The Super Bowl is a moment that I think every NFL player would want to reach. That is the greatest milestone for us. To win that Super Bowl title and to have that Super Bowl ring on our finger will let us always cherish that forever.
When I became the all-time Packers receiving leader in franchise history it solidified my legacy in Green Bay. There were so many great players like James Lofton, Don Hutson, Sterling Sharpe, Antonio Freeman, and Robert Brooks. All those great players played before me. For me to be on top of that list now, that stat stands the test of time.
I know that someday a player might come in and break my record. I hope it never gets broken. I hope it stays there forever. That is the same thing that Sterling and James Lofton thought. Those guys hoped that their record would never be broken. That stood for almost 30 years, but look what happens now. I guy steps in and breaks those records.
You just never know. The way the game is played now those records will be broken. Those are the things that I know I will cherish, the record breaking, the Super Bowl, and the fans.
AE: Two things I want to touch upon from what you just said. One, I appreciate your honesty about your record not wanting to be broken, and two….
DD: Yeah, right. I don't want anyone to break that record. I can be honest about that. (Both laugh.)
AE: Also two, you probably get this a lot with all the catches you had in your career. I want to thank you for your work on the field. You helped me win a few fantasy football championships when I drafted you.
DD: (Both laugh.) You are more than welcome on that.
AE: Tell me about the great work you and the great folks at the Donald Driver Foundation do especially with the "Driven to Achieve Awards".
DD: We started the foundation back in 2001. We wanted to give families the opportunity to have a better life. We created the Donald Driver Foundation to help families in homeless shelters transition from homeless shelters to houses, where we pay subsidized rent for them from six months to a year.
We also came out with a computer scholarship as well as an academic scholarship. We give kids that are either going to a two year or a four year college either a $1000 scholarship or a computer scholarship. They must maintain a 3.0 GPA and they must do community service.
We also started supporting a program called Blessings in a Backpack. We give kids the opportunity to have food on the weekends. We have seven schools that we help supply with that. There is a three year commitment. It only takes $80 to feed a child for the entire school year. So we have been blessed to help over 1,000 kids.
We just launched the "Driven to Achieve Awards." It is something that I came up with to give so many people an opportunity. So many people are doing great things in this world that don't get recognized for what they do. I wanted to take the shine off myself for a while and put a shine on those great people.
We have honored eight great recipients to receive that award this year. We had six local winners from Wisconsin and two national winners. Our two national winners were Gladys Knight and Anthony Robles, the Arizona State wrestler.
It shows you that when you continue to go great things in the community people support you. I have had so much love and so much support throughout this all that I could not have this without all my fans and all my sponsors.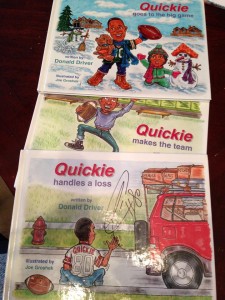 AE: You have written three children's books and another one is scheduled to come out this year. What inspired you to write these books?
DD: What inspired me to write these books was when I was telling these stories to my son when he was two years old. He was lying in bed and kept asking questions. He would ask if I played sports and if I played football. I told him that I play football for a living. At two years old they might not understand that you are playing in the National Football League. I kept on telling him the stories of how everyone kept telling me I was too small to play football. I was too small. Choose another sport. You are going to get hurt.
One of my good friends said that I needed to start writing a children's book. Every kid in the world is going through that. Either their mom is telling them, or their teacher, or a friend is telling, or an older sibling is telling them that. You need to put that in a book so a kid can understand that you can make the team. That is why I created "Quickie Makes the Team." Quickie was a kid that nobody believed in that could play football, but he believed. He tried out for the team and made it. At the end of the book he wins the game for the team.
The second book was "Quickie Handles a Loss." Regardless of what you may face in life, whether it is losing a job, failing a test, losing a loved one in your life, do not let that dictate how you live your life. Continue to strive and move forward. It only gets better. It doesn't get worse.
Then I came out with "Quickie Goes to the Big Game." As an NFL player the greatest milestone for a player is to make it to the Super Bowl. Quickie gets to go with his dad to a place where his dad has been dreaming for a long, long time to go to. That is the Super Bowl. That story is whatever you dream of, continue to dream. Your dream will come true. Dreams come true if you put the effort into it.
The book later this year is "Quickie Handles a Bully." Everyone out there faces a challenge. Whether it is a kid getting bullied at school or an employee getting bullied at work by his boss, every single person is having that issue. I want my kids to know that it is not okay to be bullied. So I put that message in this book. You hurt bullies with kindness. You don't have to fight back unless he or she puts their hands on you. That's why I wanted to create this book. It can be a conversation.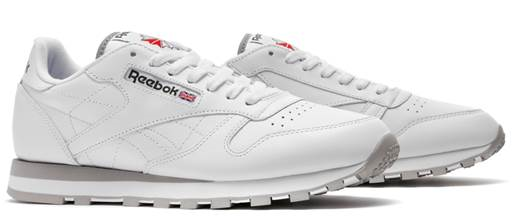 Introduced in 1983 for "style-conscious men and women," the Classic Leather was a shoe that played the casual card over peak performance. A functional yet fashionable classic, the Classic Leather quickly became a wardrobe staple. Released a decade before runners became complicated and overly technical, it's the utter simplicity of the Classic Leather that defines its timeless appeal.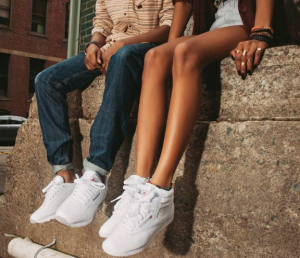 One of the best-known Reebok shoes in history and in the athletic footwear industry, the Freestyle Hi was introduced in 1982 as the first aerobic hi-top to combine support, stability and high-fashion. Sporty yet street enough to take girls right from the gym floor to the nightclub door, the Freestyle became a quintessential component of the '80's uniform and it was the first athletic shoe targeted for women. In the history of modern sportswear, few sneakers can lay claim to having changed the fundamentals of an entire industry but with the Freestyle, Reebok instantly captured the spirit of an entire generation.
With timeless style that is always on trend, white/white iterations of Reebok Classic's most iconic models – the Classic Leather and Freestyle Hi – will resurface on May 16th. The Classic Leather will be available at key retailers Urban Outfitters, Shiekh Shoes, Shoe City, Expressions, Kicks USA, Karmaloop.com for $65, while the Freestyle Hi will be available at key retailers David Z, Shoe Palace, City Sports, Moe's Sneaker Spot, Reebok.com for $65.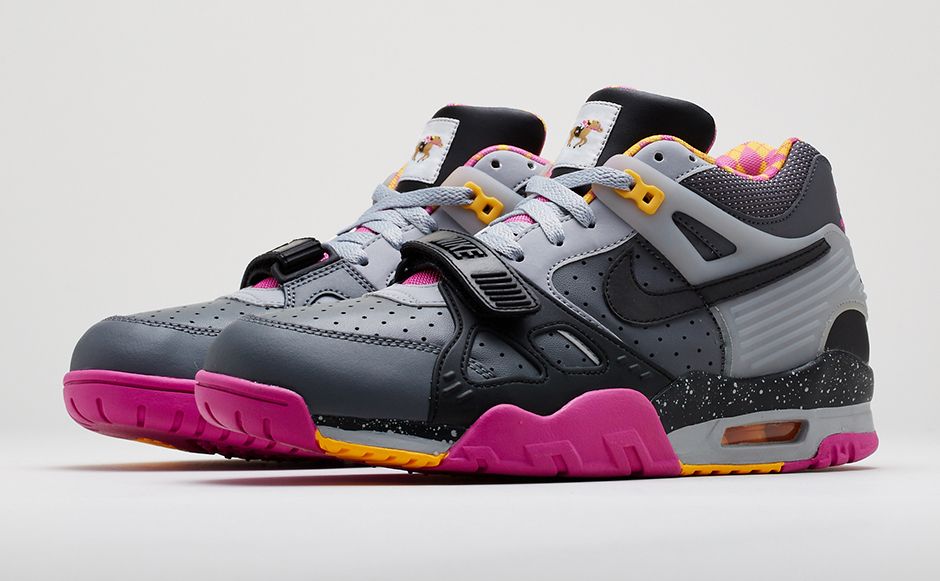 This weekend as horse racing fans are getting ready for the Kentucky Derby, sneakerheads were all set for Nike to drop this limited edition of the Nike Air Trainer III Premium today. Some athletes allow their sport to define them, but others define their sport. Bo Jackson, the two-sport marvel, and arguably, the greatest pure athlete of all time, fits the latter. His ability couldn't be contained to one arena. Rather, he performed on both, the gridiron and the diamond, popularizing cross-training in the process by sporting the legendary Air Trainer SC and follow-up models.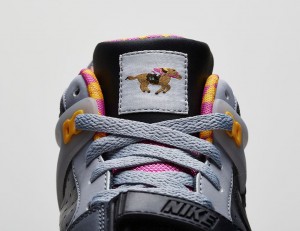 Now, one of Jackson's iconic cross-training silhouettes breathes new life with the forthcoming Air Trainer 3 PRM. When he was balancing sports, it was often said that his athletic prowess knew no bounds. Classic Bo Knows spots depicted him surfing, playing cricket, and, yes, competitive horse racing. The Air Trainer 3 PRM sources design inspiration from these same ads, repurposing the colors of Jackson's jockey outfit. The theme is kept up with two pixelated logos on the tongue and heel; one picturing a horse and jockey duo and the other depicting his now-retired collegiate number.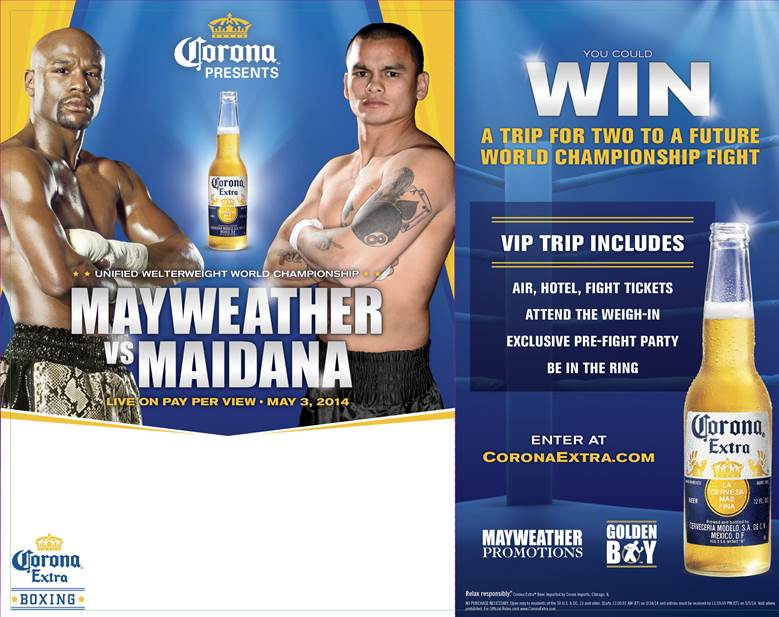 Cinco de Mayo is swiftly approaching. The day of celebrating Mexican culture and heritage is the busiest holiday of the year for Corona Extra. Once again, the iconic brand, that has become synonymous with the holiday, is primed to make Cinco the official fiesta to kick off to summer by tapping your passion for boxing through the Corona Extra Boxing program and partnership with Golden Boy Promotions.
In 2014, Corona Extra will engage boxing fans leading up to the Unified Welterweight World Championship fight between Floyd "Money" Mayweather and Marcos "El Chino" Maidana on Saturday, May 3 at the MGM Grand Garden Arena in Las Vegas. In addition, the brand has launched the "Corona Extra Boxing Sweepstakes" –providing fans the opportunity, through May 5, to win a trip for two to a future world championship fight.
Go to CoronaExtraUSA.com for exclusive content for boxing fans including fight information, rankings, photos, videos, and the opportunity to enter the "Corona Extra Boxing Sweepstakes.