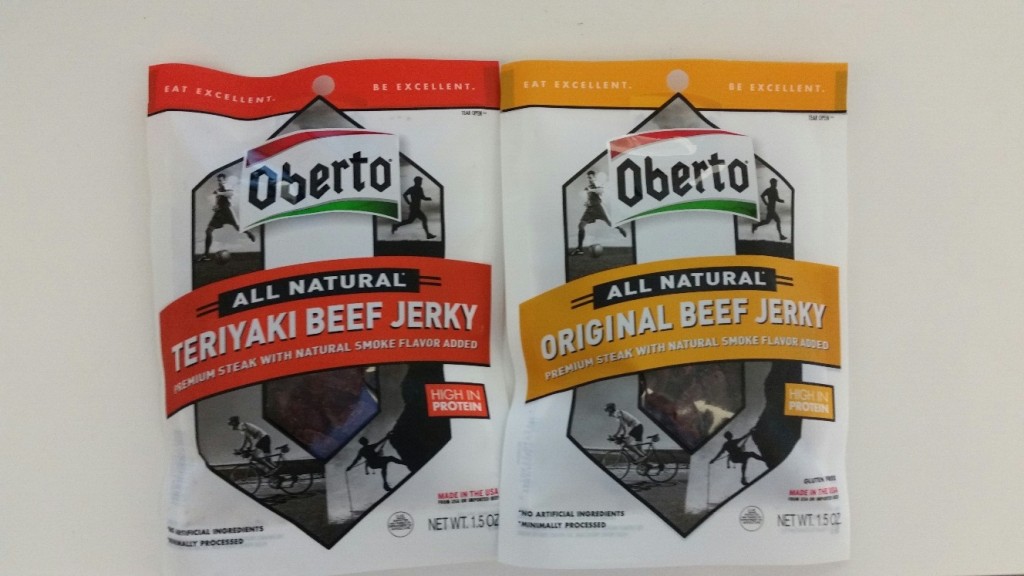 Do you ever hear that little voice in your stomach? It yells at you when you feel hungry. You may have seen this voice that lives inside the bellies of soccer star, Clint Dempsey, all-star cornerback, Richard Sherman, and professional snowboarder, Louie Vito.
It's all part of the Oberto's campaign "You get out what you put in," which implores active Americans to get the most out of their workout, their sport and their lives by eating All Natural Oberto Beef Jerky, with no artificial ingredients or preservatives. Which probably explains why they're the official beef jerky of Tough Mudder. In fact, as part of the Tough Mudder sponsorship, if you purchase a package of Oberto Beef Jerky, you'll get $10 off registration for an event.

We've all heard the phrase "don't be that guy…" It's tossed out to prevent an undesirable action in a number of situations and most cases we support the rule of thumb. For example, we support not being the guy who double dips at party.  We also support not being the guy who posts every single meal to Instagram because you're a self-proclaimed "foodie." That said, we believe in certain cases that rule doesn't always apply. Particularly when it comes to awesome car features. Our friends at Cars.com put together a list of the greatest "show-off" features in new cars and if you're looking to be that car guy, take a look and head over to Cars.com to learn more. We salute you!
1. 2014 Mercedes-Benz SL-Class Magic Sky Control Roof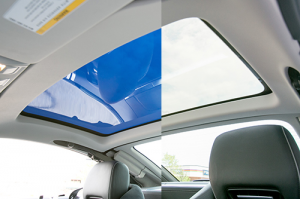 Mercedes doesn't include the word "magic" in its features frivolously. We can't say the same for Honda's Magic Seat, which just folds differently. What happens inside of the SL- and SLK-Class roadsters is indeed some form of sorcery. An electrically charged film on the sunroof transforms the glass from transparent to opaque with the push of a button and is guaranteed to get a "Whoa" from passengers.
2. 2014 Audi A8 Retractable Bang & Olufsen Tweeters
Fire up the audio system in a Bang & Olufsen-equipped Audi A8 and you're in for a surprise as two tweeter towers automatically extend out of the dashboard. Is it awesome? Yes. Will it break? Probably. But when it does work, all eyes in the car will be on those precisely aligned speakers as they rise from the dashboard.
3. Self-Parking Systems
The art of showing off often starts from the very first time you ride a bicycle hands free, shouting "Look, Ma, no hands." When equipped with a self-parking system like on the 2015 Lincoln MKC, drivers can utter the same phrase. The car identifies a parking space and automatically steers into place while the driver modulates the brake and accelerator pedal. Even your mom would be impressed.
4. Multimode Exhaust Systems
Nothing makes your presence known like a gloriously loud exhaust system on a bright red sports car. Automakers like Chevrolet and Porsche have embraced the experience with tame exhaust systems that transform into head-turning loud on demand. The 2015 Chevrolet Corvette's electronically controlled valve in the optional Performance Exhaust System opens a lower-resistance path in the mufflers, meaning loud. The Porsche 911's optional sports exhaust is one of the most boisterous out there and can set off car alarms in parking garages with a rev of the engine.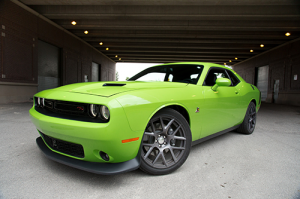 5. 2015 Dodge Challenger Sublime Green Paint
It's not a feature, but the Sublime Pearl Coat green paint on the 2015 Dodge Challenger is one of the most eye-grabbing colors laid onto any new car shell. The retina-burning green is like a bug zapper for gearheads. Be prepared to cite horsepower, torque and quarter-mile times to multiple onlookers, daily, while sitting at a stoplight, loading groceries or refueling.
6. 2015 Chevrolet Corvette Performance Data Recorder
Chances are an exhaust system or other feature on this list will only garner the attention of a few people at a time. With Chevrolet's Performance Data Recorder, you can show off your shiny new Corvette's track day or coastal cruise to the entire internet with an onboard high-definition video camera and telemetry-recording capabilities. Telemetry like vehicle speed, engine speed, gear speed, braking force and more can be overlaid on the video, recorded and then transferred to a computer for editing and sharing.
7. 2014 Mercedes-Benz S-Class Hot-Stone Massaging Seats
No one will be able to see it but you're bound to turn a few heads when talking about the spa inside the Mercedes-Benz S-Class. The available "hot stone" massaging seats use up to 14 individual heated air cushions in the seatback of the front and rear seats, mimicking a hot stone massage at the spa. Complete the spalike experience with a selectable cabin fragrance.
8. Launch Control (Various Models)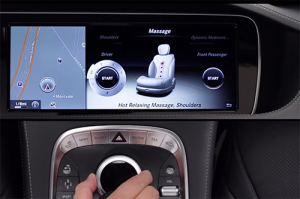 Launch control goes by many names, but it really should be called "Hold on to your butt" mode, because that's what you say to warn passengers. Launch control is an exhilarating experience for both the driver and passenger in a supercar like the all-wheel-drive 545-horsepower 2015 Nissan GT-R with its neck-snapping start from 4,000 rpm that pins you to the back of your seat.
9. Chrysler SRT Performance Pages
Chrysler's high-performance SRT models include a suite of digital acceleration timers to promote shenanigan show-off behavior — at the track, of course. Called Uconnect Performance Pages, these electronic displays have timers for zero-to-60 mph, elapsed timers for eighth- and-quarter-mile times and cornering g-force loads. In addition to simply displaying the times, the best time is saved as a reminder of the number you have to beat.
10. 2015 Jeep Wrangler Removable Doors, Roof
Not all show-off features have to break new ground. You can show the town you're a fun person and like to have a good time by driving a new Jeep Wrangler with doors and roof removed just like in the classics. It's a guaranteed way to have a good day and attract a few eyeballs.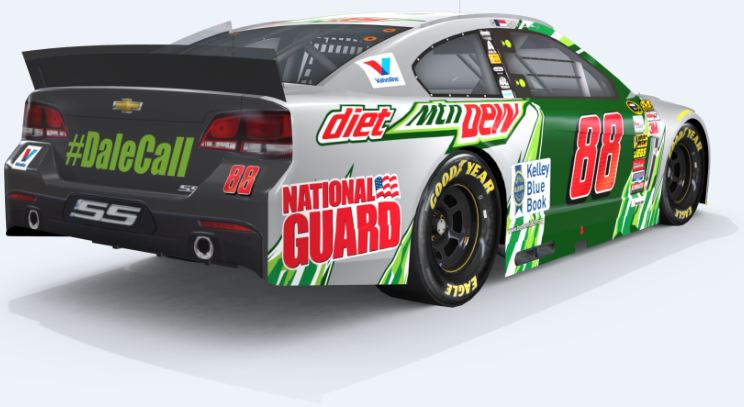 Earlier this year, during the Super Bowl pre-game, Diet Mountain Dew premiered its "Dale Call" TV commercial featuring Dale Earnhardt Jr. Since that commercial aired many Dale fans want the unique duck call that summoned Dale Jr. available for sale.
As Dew has done for years – even most recently when it answered DEW Nation's request to bottle Baja Blast – the brand heard fans and decided to give them what they wanted.  There has been some buzz about this but, starting Tuesday, October 14, DEW and Dale Earnhardt Jr. fans can purchase a "Dale Call" at  NASCAR.com, on-track and via select online retailers.
In addition, at this weekend's race in Talladega, Dale Earnhardt Jr. will celebrate the "Dale Call" release by debuting #DaleCall on the rear bumper of his No. 88 Chevy SS.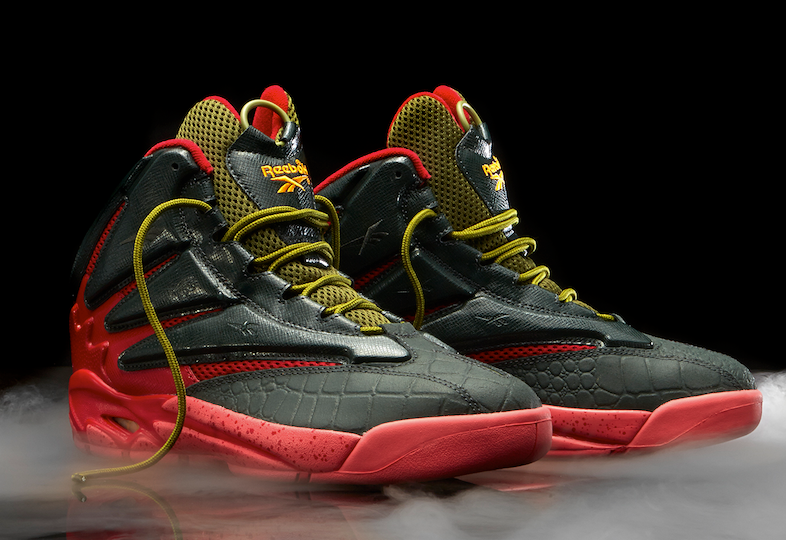 Reebok Classic brings back the 90's this Halloween with a limited edition color way of The Blast, releasing on Halloween Day, Friday, October 31st.
Featuring a unique mix of dark sage and red, "Freaks of the Night" is the perfect shoe to complete your fall look.
Stand out on Halloween night by heading to Jimmy Jazz, Shoe City or Reebok.com and grab your pair for $120.
Plus although they showed their skills on court with a 97-89 win against the Nuggets, both Isaiah and Gerald showed their true colors and support while laced up in the Kamikaze II "Breast Cancer Awareness" sneakers, where a portion of proceeds for every pair sold will be donated to the Avon Breast Cancer Crusade.
Limited pairs of the pink/grey Kamikaze II is available now at Finish Line, Jimmy Jazz, Champs, Eastbay, DTLR, Shoe City, Reebok.com for $110 for Men's Adult sizing.  Grade school sizes will retail at $85 and Pre-school sizing will retail for $50.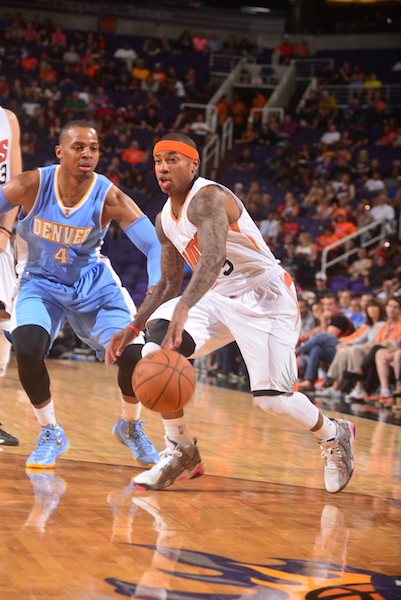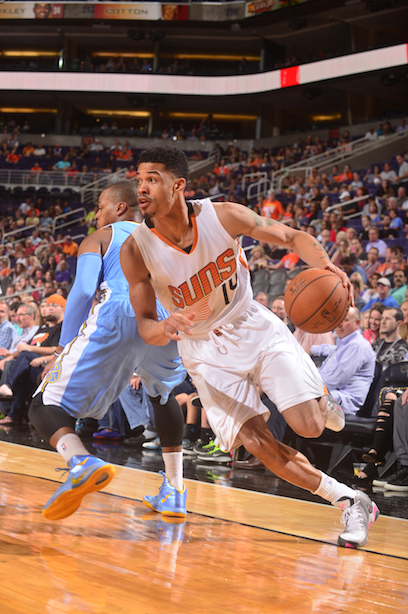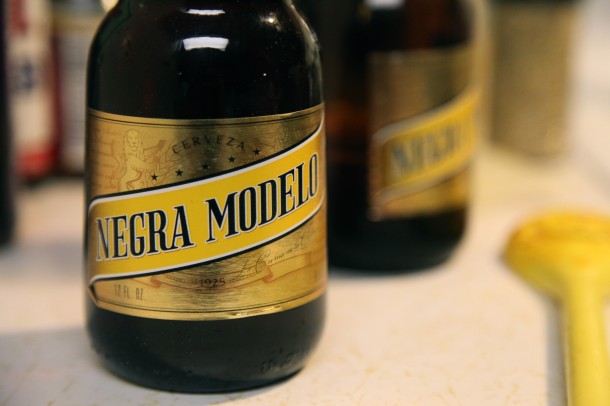 I hate to say it but your beer and food go out on more dates than you do. Every time that you go out to eat with your friends your food is being paired up with a beer to complement it. It might sound odd, but the good folks at Negra Modelo feel the same way as I do. Well maybe not the fact that food and beer go out on dates, but at least the pair part. Negra Modelo hooked me up with a kit to make a meal that would pair up nicely with their beer.
Here is what Negra Modelo gave me in their spice kit to use as I saw fit. Not only did I receive these great smelling herbs and spices, but I got cutting board and Negra Modelo glasses for that meal and future meals down the road.
BACK OF THE YARDS GARLIC PEPPER.  This blend is a very easy, but very versatile blend made of a nice mixture of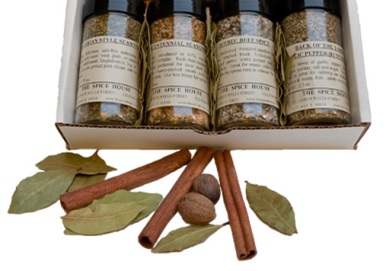 colorful, flavorful, coarse cut spices. It is named in honor of the hard working immigrants who made their living by working very hard for very little pay in the meat packing industry. This area was called back of the yards in Chicago. Garlic pepper goes well on any type of meat. Try on steak, hamburgers, pork chop or ribs, pike or perch any type of poultry. Great for robust vegetables, eggs or to pepper up a bland salad dressing. Hand mixed from: Tellicherry pepper, garlic, Kosher flake salt, sugar, red bell peppers, shallots, parsley.
QUEBEC BEEF SPICE This is our best blend for steaks. Marinade steaks in red wine, season heavily with Quebec for at least 20 minutes. When you throw the steaks on the grill, take remaining liquid heat with a little butter, shallots and a teaspoon of Beeftea (or 1 bullion cube) and you will have the best au jus to compliment your steak. Also goes well on pork or hamburgers. Hand mixed from: coarse salt, cracked Tellicherry pepper, sugar, minced garlic, white pepper, cracked coriander.
BICENTENNIAL SEASONING Our best blend for poultry. Great also on Cornish hen, duck, baked chicken, pork of any sort, eggs. The turmeric in this blend giv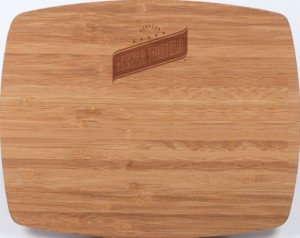 es the poultry skin the most beautiful golden color, your dinner guests will think you are a professional chef. Hand mixed from: flake salt, cracked Tellicherry pepper, sugar, minced orange peel, coriander, turmeric.
BAVARIAN STYLE SEASONING This blend is just oaded with flavors favored in Bavarian style cooking, mainly mustard, sage and rosemary. This salt free blend is wonderful on roast turkey or pork, Cornish hen. It makes a traditional English rack or leg of lamb. Great for slow roasting ribs. Hand mixed from: Bavarian style crushed brown mustard, French rosemary, garlic, Dalmation sage, French thyme and bay leaves.
As I looked over the spices I immediately knew what I was going to do. First, I was going to invite some friends over to watch some football on Sunday. Next I went to the store to get some meat to make burgers. I used the back of the yards garlic pepper and put that blend into the beef patties I formed from the ground beef.
Next I picked up some Negra Modelo for me and by friends. Then I just had to wait for game day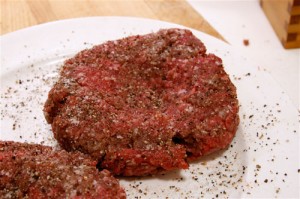 . I went to the kitchen before the 1 o'clock game and got to work. I cooked the burgers and had my friends select their toppings. The only thing left we had to do was enjoy the food while we all yelled at the TV for our fantasy players to do something so we could win our respective games that week. At least no one was yelling at me since they all enjoyed lunch!
So what would you make with those spices? Let us know here at MANjr and on social media by using the hashtag #theperfectcomplement. Salud!
Please Note: The good folks at Negra Modelo gave me this kit, yet my thoughts are my own!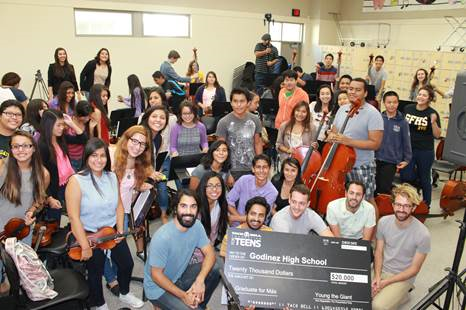 On Monday, October 6, Godinez High School music class in Santa Ana got the surprise of a lifetime when Irvine-based band, Young the Giant (toured with Kings of Leon) came by to make an appearance and join in on a special jam session with the students. And it's all for a good cause – Taco Bell Foundation for Teens (partner of Young the Giant) will be making a $20,000 donation to the school in the band's name!
Once class commenced, the students started practicing the song, as usual. About five minutes into class, the band made their secret entrance and joined right in, harmonizing with the students without skipping a beat. The students got the experience of a lifetime, but the band felt even more rewarded by seeing their reactions. The day was packed with music, inspiration and happy faces!
Young the Giant was so touched and inspired by the students (many who have overcome serious struggles and remain upbeat and on track every single day), they chocked up on several occasions.
Taco Bell Foundation for Teens and celebrity ambassadors Young the Giant are bringing inspiration to high school students to empower them to achieve más. The Foundation is committed to inspiring and enabling America's teens to graduate and accomplish great things through its programs, partnerships, and direct financial assistance. As part of its commitment, we have partnered with celebrity ambassadors like Young the Giant to help reach students and inspire them in new ways.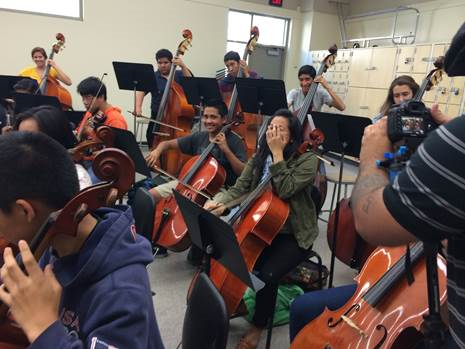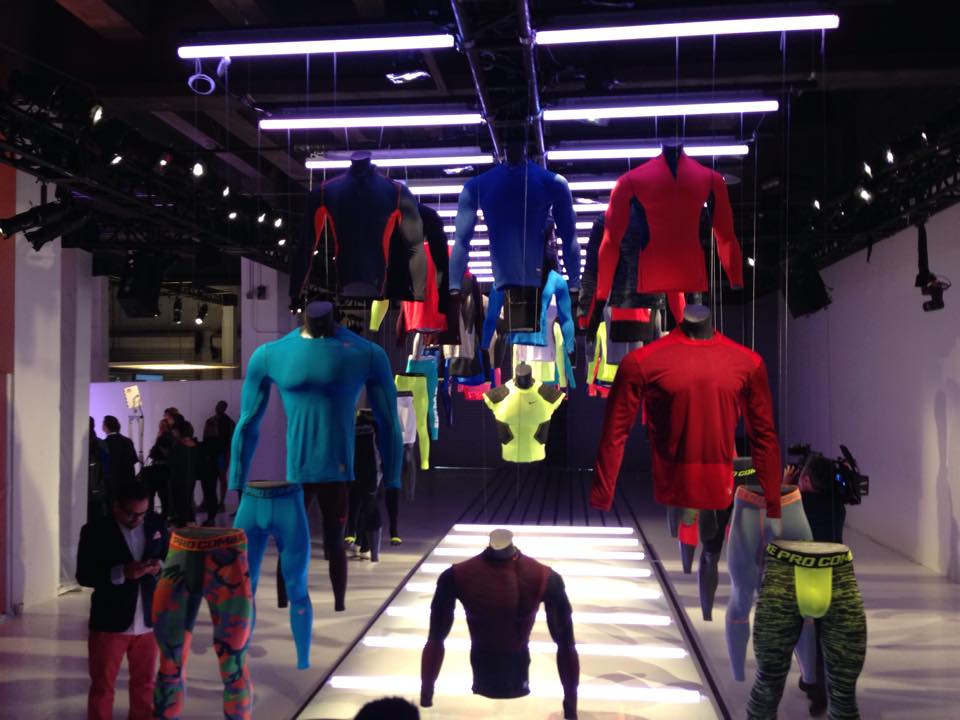 This week I was invited to go back to school. Now some might cringe to think about going back to school, but this was a very cool campus. It was Nike's Hyperschool. The curriculum was taught by Nike's finest tech guys and gals. There was even a surprise guest, who shared his thoughts on why he loves playing in Nike gear. It was Atlanta Falcons running back, Steven Jackson. Here is a fun fact. Did you know that Steven was an intern at Nike? Well believe it or not he was.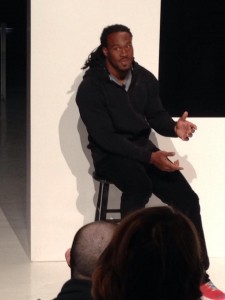 And like Steven Jackson many athletes not only wear Nike sneakers, but the clothing from Nike. The technology and research that goes into Nike's sneakers and clothing is tremendous. Parker Mangum is the Product Lead for Nike Pro Combat. I spoke with him about the development of the clothing and how they talk with athletes to improve their gear. Usually it is about a two to three year process from the initial talks to the finished product.
The Hyperschool went over a few items from their Nike Pro Hyperstrong, Nike Pro Combat Baselayer, and Hyperwarm Flex lines.
Over the past two years, Nike partnered with Stats, Inc. for an unprecedented analysis and look inside football's significant uptick in pace and contact across all levels of the game. Using a proprietary database, historical play frequencies and balance charts were created to help analyze how the game is changing. In addition, countless hours of game film were used to quantify and specify contact – both in frequency and location.
Stats, Inc looked at a cross section of NCAA teams over the course of the 2012 and 2013 seasons, as well as six areas of an athlete's body: shoulder, chest, hip, knee, thigh and back.
Over the years athletes have said that they want lightweight padding that isn't distracting – without sacrificing speed or performance. Pads have gone from "big and bulky" to "fast and flexible," just like the athletes. Originally launched in 2009, Nike Pro Combat Hyperstrong is ergonomically designed to provide sport-specific protection to athletes without restricting flexibility or speed. Today, Nike has re-engineered its Nike Pro Combat HyperStrong collection to be stronger, more breathable, and 30 percent lighter than before. Hyperstrong is designed to integrate seamlessly into the football uniform as a lightweight extension of the body.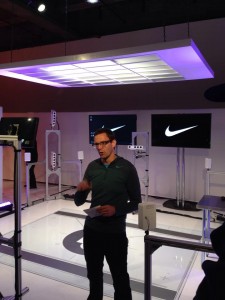 Here is a breakdown of some their products.
•The Nike Pro Combat Hyperwarm Flex Tight is engineered for warmth and moisture-wicking. Dri-FIT pods are strategically placed for zoned warmth where you need it most. Breathability-variant mesh areas provide strategic ventilation for optimal thermoregulation. Seamless knit construction adds mobility and flexibility while also eliminating distraction in cold-weather conditions.
•The Nike Pro Combat Hyperwarm Dri-Fit Max Shield Fitted Mock keeps out rain and wind through a stretch-woven overlay in the chest and sleeves.  Dri-Fit Max fabric wicks sweat for comfort in the cold.  Mesh back pods increase airflow to keep you cool.
•The Nike Pro Combat Hyperwarm Dri-Fit Max Mock implements a Dri-FIT Max twill interior to accelerate the pull of moisture away from the skin's surface, keeping the body dry and eliminating the chilling effect. Side mesh gussets allow for extra breathability and full range of motion, while lightweight jersey panels help reduce bulk and lock in warmth.
•The Nike Pro Combat Hyperstrong 3.0 Compression 4-Pad Top and ¾ Pant is part of Nike's sport-specific range that includes strategically placed padding for impact protection. With newly-designed, ultra-flexible 7mm DeTech foam padding at the shoulders and ribs, it provides maximum protection and less bulk than its predecessor.  Dri-FIT fabric wicks away sweat as four-way stretch material provides enhanced range of motion and optimal breathability when the action heats up.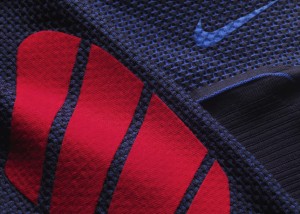 •The Nike Pro Combat Hypercool Fitted Sleeveless 3.0 Top features open-mesh zones for ventilation and Dri-Fit fabric to help keep athletes dry and comfortable.  Warp-knit material in the back creates tear-resistant durability.
•The Nike Pro Combat Recovery Hypertight is designed to be worn during active recovery, in between competition. The graduated compressive design strategically targets different zones of the leg at different pressures to reduce muscle swelling — firmest at the ankle where swelling can be the most severe. Foot stirrups are integrated for a secure fit. Dri-FIT material assists in keeping athletes warm and dry.
Nike designers, researchers and developers start with athlete insights in order to determine their needs. From there, they unlock these athlete insights in the Nike Explore Team Sport Research Lab by looking at athlete performance data. These insights help inform next steps in apparel innovation such as materials testing, fit and flexibility analysis, and more, in order to help designers create the best apparel to protect and prepare athletes for any condition.
To that end, Nike Pro Combat baselayer apparel keeps the body regulated for inclement weather through thermoregulation, breathability and a body-contoured streamlined fit. Nike Pro Combat Hyperwarm and Hypercool apparel provide an optimal fit with added mesh in high-heat zones for ventilation and comfort.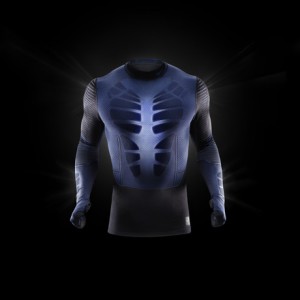 To dive a little deeper and better understand extreme weather conditions, Nike took a look at the traditional NFL "strength of schedule" from a very different perspective – the weather.
Although every team will face their share of formidable contenders this season, athletes will also compete with their external environment – extreme cold and heat, snow, rain and wind. As such, if extreme weather is considered, it requires a different level of protection and preparation – both in training and when it comes to baselayer. To that end, Nike explored the previous 10 years of Farmer's Almanac weather data as well as the 2014 temperature predictions for every NFL game and team this season.
Leading into the 2014-2015 NFL season, it was predicted that the Oakland Raiders would have the toughest strength of schedule, while the Indianapolis Colts were perceived to have the easiest. But when looking at the schedule only through the lens of "predicted weather and temperature" it's a very different story. The Green Bay Packers have the most extreme cold weather predictions, Seattle Seahawks have the mildest schedule, and the Miami Dolphins have the hottest.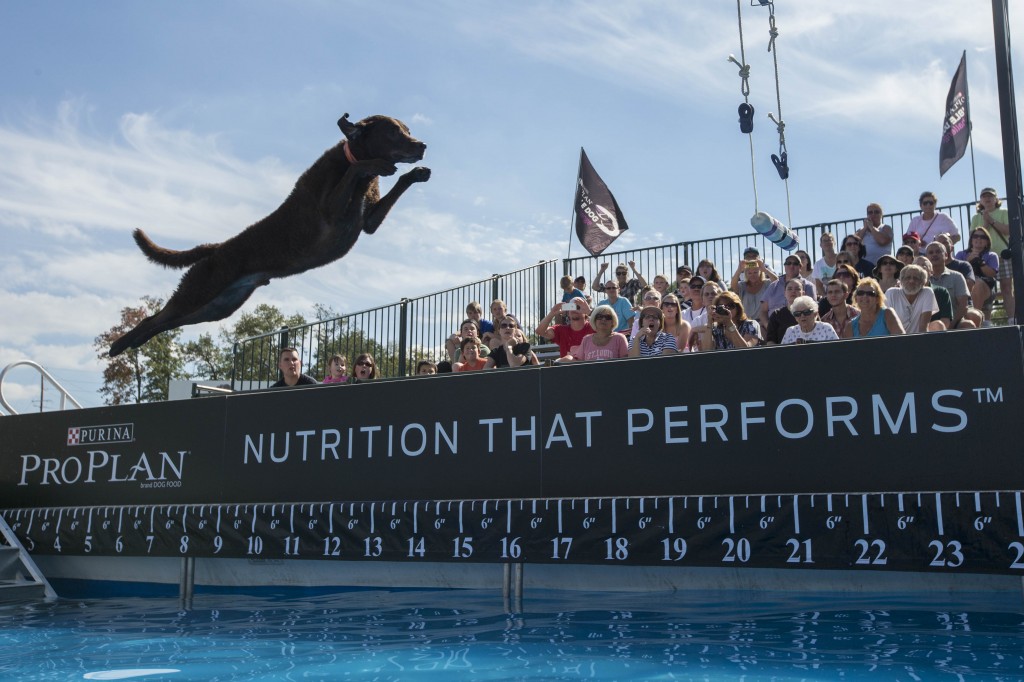 Ever wanted to feel what it be like to be man's best friend? Well with the help of a GoPro camera, Purina did just that. The top dogs in the world of canine sports descended on Purina Farms this weekend for the 17th Annual Purina Pro Plan Incredible Dog Challenge National Finals.
This one-of-a-kind competition features a lineup of six canine athletic events testing strength, speed and physical endurance, including Large and Small Dog Agility, Diving Dog, Freestyle Flying Disc, head-to-head Weave-Pole Races, Jack Russell Hurdle Racing and Fetch It, a variation of a long jump. Top competitors from the 2014 Eastern and Western regional events and the 2013 National Champions come together in the National Finals to see who will be named Top Dog.
The Purina Pro Plan Incredible Dog Challenge highlights Purina Pro Plan's mission to support active dog owners and their pets by providing them with high-quality nutrition and expert resources to help them perform at their absolute best.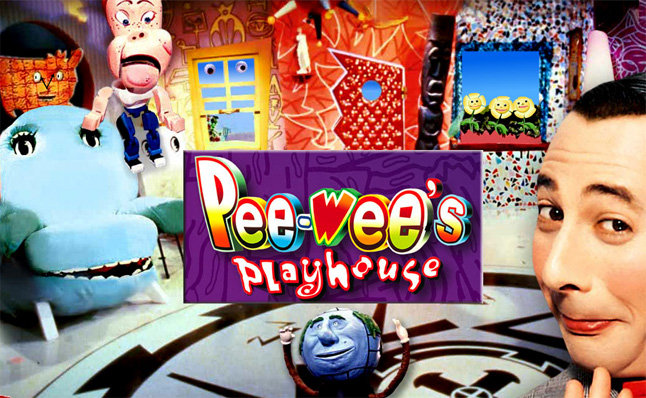 Experience Pee-wee's Playhouse like never before! All 45 wacky episodes, plus the Pee-wee's Playhouse Christmas Special, have been meticulously remastered from the original film elements — and now you can see this ground-breaking series for the first time in beautiful high-definition!
Scream along to the secret word with Pee-wee Herman and his pals: Jambi the Genie, Miss Yvonne, Cowboy Curtis, Reba the mail lady, Captain Carl, Magic Screen, Conky, Globey, Chairry, Pterri, Randy and all the rest. Pee-wee's Playhouse: The Complete Series Blu-ray box set, with special bonus content, debuts on home entertainment shelves October 21, 2014 from Shout! Factory.   Also available to own on the same day is Pee-wee's Playhouse: Seasons One and Two in a high-definition 4-DVD set. Mecka-lecka hi, Mecka-hiney ho!
Winner of an amazing 22 Emmy Awards, Pee-wee's Playhouse is a cultural touchstone for a generation, and its visually dynamic design and offbeat sense of humor were a genuine phenomenon.  Whether reliving childhood memories or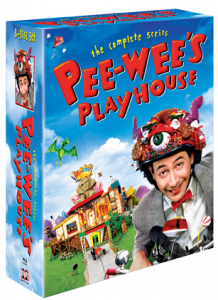 introducing this beloved series to a new generation, the newly re-mastered Pee-wee's Playhouse will take you back to being a kid.  This is an essential Blu-ray collection for loyal fans and collectors.
TV Guide named Pee-wee's Playhouse #10 on their list of THE TOP 25 CULT TELEVISION SHOWS EVER!  For over 25 years, the enormously popular Pee-wee Herman and innovative television series Pee-wee's Playhouse, created by, and starring Paul Reubens, has captured a special place in the hearts of millions of viewers, young and old.  Since its initial premiere on CBS in 1986, this highly acclaimed children's program became Saturday morning appointment viewing for kids in the '80s and '90s and has been a staple in the pop culture zeitgeist ever since.
With its innovative production design and Reubens' rich original characters and humor, Pee-wee's Playhouse is a magical place that sparks creativity and imagination—and brings joy to children and adults alike. Parents and grown-ups have always enjoyed the show's many double entendres. The series features beloved regulars Cowboy Curtis (Laurence Fishburne), Reba the Mail Lady (S. Epatha Merkerson), Miss Yvonne (Lynne Marie Stewart), Captain Carl (Phil Hartman), The King of Cartoons (William Marshall), Jambi the Genie (John Paragon), Ricardo (Vic Trevino) and Mrs. Rene (Suzanne Kent). And of course, Chairry, Pterri, Conky, Magic Screen, Clocky, Cool Cat, Dirty Dog, Chicky Baby, Penny, the Dinosaur family, and the rest of the gang!
Pee-wee's Playhouse: The Complete Series Blu-ray box set contains OVER 4 HOURS of brand-new interviews with the cast and crew, plus never-seen, behind-the-scenes footage—all part of TEN FEATURETTES, including:
Building the Playhouse
Opening the Playhouse
Writing for the Playhouse
The Look of the Playhouse
Music of the Playhouse
The Cast of the Playhouse
Puppets of the Playhouse
Animating the Playhouse
A Very Merry Christmas Special
Fans and Memorabilia of the Playhouse
You can pre-order Pee-wee's Playhouse: The Complete Series HERE!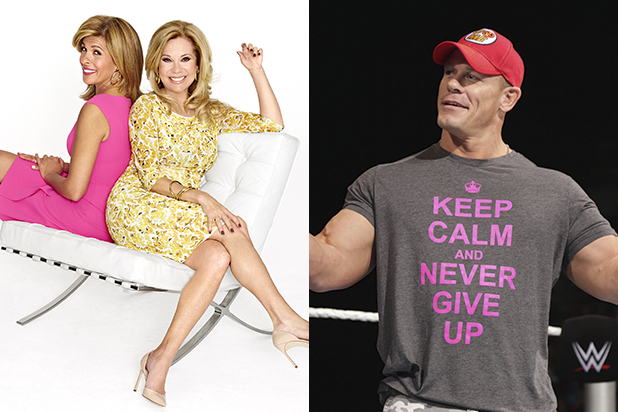 The lively, funny and entertaining co-stars of NBC TODAY's fourth hour are putting down their wine glasses and joining WWE® as guest stars on Monday Night Raw® on October 6 at 8PM ET/7PM CT on USA Network.
Kotb, who is a seven-year breast cancer survivor, and Gifford will join WWE for its third consecutive year supporting Susan G. Komen and National Breast Cancer Awareness Month. Before Kotb and Gifford rule the ring, WWE Superstar John Cena® will make a guest appearance on the TODAY show in the iconic fourth hour segment to give them a pep talk to prepare for the show.
Additionally, journalist, Joan Lunden, who was recently diagnosed with breast cancer, will sit ringside as a special guest along with other breast cancer survivors. As TODAY's special #PinkPower correspondent for Breast Cancer Awareness Month, Lunden is celebrating survivors, supporting those currently battling cancer and remembering those we have lost. Lunden was also featured on the cover of last week's People Magazine talking about her personal fight against breast cancer.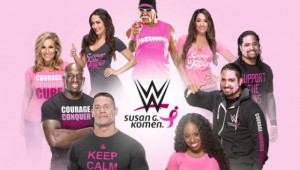 "We've been wrestling every day at 10AM in our own ring for the past seven years, and it gets down and dirty.  So bring it on!" said Kotb and Gifford.
"WWE is thrilled to have Kathie Lee Gifford, Hoda Kotb and Joan Lunden join Monday Night Raw to help shine a light on the battle against breast cancer," said Stephanie McMahon, Chief Brand Officer, WWE. "These women continue to be a voice for the millions that are affected by this devastating disease. We are honored to have their support in raising awareness and funds to continue the fight."
For the month of October, the WWE Superstars and Divas will wear co-branded Komen and WWE apparel and all WWE platforms will "go pink." The "Courage Conquer Cure" campaign will continue throughout National Breast Cancer Awareness month, and WWE will donate to Komen 20 percent of the retail sales price of all co-branded merchandise sold on WWEShop.com and at WWE live events, as well as 5 percent of all other WWE merchandise sold on WWEShop.com. For the first time, fans will have the option of donating $1, $5 or $10 upon checkout from WWEShop.com with all proceeds benefiting Komen.
Monday Night Raw is the most-watched, regularly scheduled, year-round program on cable, airing live every Monday night, 52 weeks a year on USA Network.