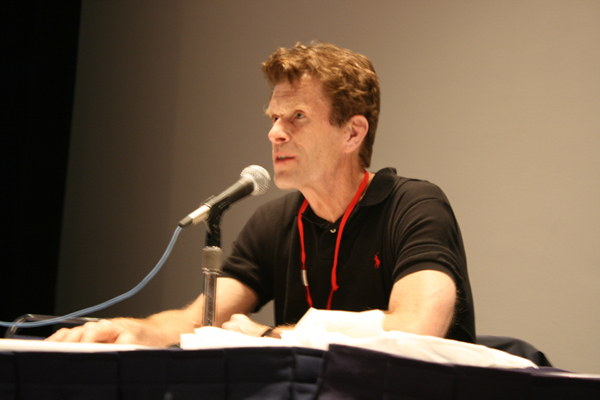 Kevin Conroy has a distinct voice. For fans of "Batman: The Animated Series," Conroy's voice will forever be the one associated with the Dark Knight. From films to video games Kevin has been working on Batman projects since 1992. Conroy, a student of the famous Juilliard School, was in the same class as Robin Williams and learned from the best teachers imaginable. Conroy has a love for theater and appreciated the lessons he learned on the stage and uses those lessons in his voice acting roles.
I had the great pleasure to chat with Kevin about how he found the voice of Batman, Comic-Cons, video games and working with Mark Hamill. I even learned a thing or two about Batman from Kevin.
Art Eddy: I have to say ever since I watched "Batman: The Animated Series" you will forever be the voice of Batman. Take me back to when you got the role on that show back in 1992 and how you found the voice for not only Batman, but Bruce Wayne as well?
Kevin Conroy: It was one of those very, very lucky moments that just happened. I started working in New York since I was 17 and went to Juilliard and did a lot of theater and did a lot of television after that. I have been supporting myself working as an actor for a long time. I found myself in L.A. doing a TV series.
I had a voice over agent. I had been doing commercial voice overs. He said that they were doing a new show over at Warner Brothers. They were looking for animation voices. I had no background in animation. I didn't even know that much about the Batman legend. I met Bruce Timm, Andrea Romano, and Paul Dini.
I told them that the only thing that I knew about Batman is from the '70s TV show with Adam West. They said no, no, no. That is not what we are doing. (Laughs) They were very heavy in the whole Dark Knight ethos. They told me the story of the Bob Kane legend.
It became to have this dark, noir feel to it. They said think of that and I said let me just use my imagination and let me get that into that kind of head. I went in a totally different direction than what I was going in there with. I was almost expecting a Dudley Do-Right voice like very cartoony. I ended up getting into this mysterious, kind of husky, and what I considered a dark sound. I saw them get really excited in the booth. They said that they loved the instinct and the direction that I was going in.
They reacted strongly so I knew it was really right on or I was way off. That was just a lucky hand and glove kind of thing. All my theater training and the background I had made me right for interpreting that character at that moment.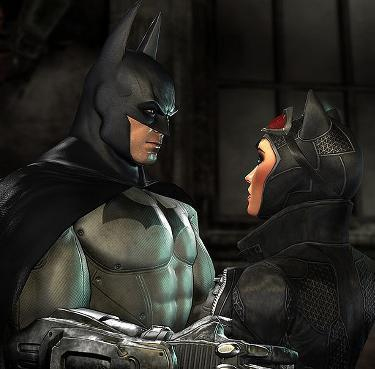 AE: To me I think you and Mark Hamill, who is the voice of The Joker, have the best chemistry with the banter you guys have as Batman and The Joker not only during that series, but in the "Arkham Asylum" and "Arkham City" video games. How is it to work with him?
KC: We work so well together. There again that was just the luck of casting. He is basically a theater actor and so am I. Theater actors a bit different. They like to play the game. Acting is like throwing a ball back and forth. You have to be generous. You have to throw the scene to the other guy and wait for him to throw it back to you. It is all reaction and reaction and like a child being really able to go with the flow. To be silly sometimes and to not necessarily do what you were planning on doing and let yourself be surprised.
Mark has all of that in spades. He has great imagination. He has great vocal range and he has the imagination of a child. So when you throw him the ball he just runs with it. We both that that instinct in us. So we get into the booth together and we go crazy. We have a lot of fun.
AE: Another video game that is due out soon is "Injustice: Gods Among Us" where you do the voice for Batman. Can you tell me a little bit about the game and what is the difference between voice acting for a video game as opposed to an animated series?
KC: You have no idea what you just asked. It is so different. It is like another planet. Acting in the episodes is like doing a play. There are six or eight of you in a booth together and you are interacting and feeding each other energy. Like I said before it is like playing ball. There is a give and take. There is just a lot of energy.
When you do a game you are alone in a booth for four hours at a time. You get an hour for lunch and then another four hour session and that's a day. That happens the next day and the next day and the day after that. A month later you go back and do another couple of sessions. I have done where it can go on for eight months where every month you are going in for a few days.
The experience is completely different than doing a show because you are alone. You got to be your own source of energy. You have to keep your character alive. Keep him real. Keep to Batman, but I don't have anyone to reference it to. They want four different readings for each line. Then they will want four or five takes of each reading. It is a different kind of talent. When you see the results like with "Arkham Asylum" it is just incredible. You think wow, it was really worth it.
AE: I heard there were rumors of DC using the "Flashpoint" storyline to make an animated film. Would you be playing the role of Batman?
KC: I can't talk about upcoming stuff. I'm sorry. They are giving me a really hard time because about a year ago I let it slip about something I was doing. I thought it was the reason that they sent me to Comic-Cons was to promote the product. I said why did you send me if you didn't want me to talk about the product.
They said don't say anything until we tell you to say it. We weren't ready for that release. I said I am giving you free publicity is that why am I there? They say you are there to be Batman to get the audience happy. So all I can tell you is that there are two big things that I am working on that are coming out.
AE: I can't wait for those. Earlier you said you did not know that much about Batman before you took up the role on the animated series, do you read any Batman comics now?
KC: Oh yea! I have been doing it for 22 years. I have immersed myself in it. Did you know that Bob Kane lived in the Bronx when he wrote Batman? He came up with the idea in Poe Park. He and the other creator of the Batman series were tossing ideas and that is where they came up with the idea.
AE: You went to Juilliard. What were some of the major things you will always remember learning in the years you were there? Did they have any courses on voice acting when you attended school there?
KC: No. I shouldn't say that now because I was there a long time ago so I don't know what they do now. Back then it was a really traditional European style acting program. There was dance classes, voice classes, acting classes, fencing and a French mask class. Robin Williams was in my class with me. Robin was a genius at doing mask work. He would create these characters that were just unbelievable. Everyone was very competitive. Then you see Robin and you would think I just give up. It was just an amazing place to be.
AE: You make many appearances at different Comic-Cons around the country. How much fun do you have at the conventions and do have a favorite all time story you would care to share?
KC: I have a blast at those panels. I really do. The amazing thing is some of the stuff that you are asked to sign. Like body parts if you know what I mean. The great thing about Comic-Con is that it a real cross section of the whole culture. It's the wackos and then it's the hard core super fans and the serious, serious egghead fans. You get everyone in there. You get intellectuals and you get whack jobs. It is so interesting, especially the big ones like San Diego and New York. It is fascinating. You get a real cross section of the culture. It is really interesting.
To listen to the entire interview and hear Kevin indulge me with saying a few lines as Batman click here.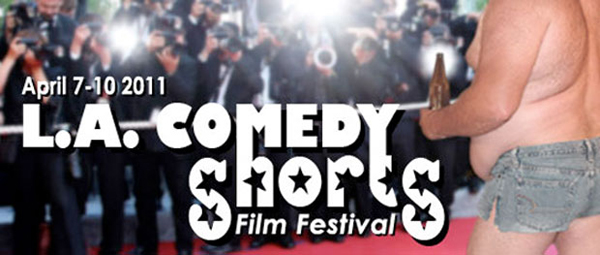 On April 4th, the L.A. Comedy Shorts Film Festival opens up to showcase and celebrate comedic short films. This festival now it its fifth year looks to have screenings, industry panels, red carpet events, and cash prizes awarded to directors of the winning comedic films. There is even the coveted "Commie Award" that is given out by the panel who they believe deserves recognition. Past winners of the "Commie Award" are Bobcat Goldthwait and Missi Pyle. This year, the award recipients will be Keegan-Michael Key and Jordan Peele of Comedy Central's "Key & Peele" show.
I was able to talk with Jeannie Roshar, who is the festival director, and actor Gary Anthony Williams, who is the artistic director. As soon as the conversation began I knew that these two were perfect to host and produce a festival that is centered on comedy. Williams and Roshar have a great chemistry and I would love to see them acting together in a comedic film.
They started this festival to bring all lovers of comedy to one spot and look out for the next artist or actor who should get a chance to be discovered. Winners of certain categories will be able to meet up with some of the biggest names in Hollywood such as managers and studio executives. With prizes like these I asked them about the number of entries they received for this year's fest. Gary said that there were a lot of funny short films. For those who might not know to be called a film short the length of the movie cannot exceed 30 minutes.
Some of the aspiring directors or actors might not have the high price camera equipment to shoot a great looking short film. When I asked Jeannie if they cared about the footage she said, "We care if it is funny. We have had films play that may have been shot on an iPhone. We have had films play that had probably had $70,000 to $80,000 budget. We are looking for comedy voices. Certain things have to be in place. People can forgive a bad picture better than they can forgive bad sound."
In regards to those aspiring actors and directors I asked Gary if he saw any one film or talent that stood out from the rest. Gary told me, "I can honestly say there are so many of them. Like we just watched the film where there is this little girl in it, who is as dynamite as anything you will ever see."
Jeannie followed up Gary by telling me, "We see some great stuff too from groups. They put out a ton of great content."
Talking with the two of them, it seems that not only will the L.A. Comedy Shorts Film Festival be funny as ever, but there is some excellent talent out there for directors to discover. For more information on the festival you can go to their website. If you want get a small taste of what you will experience at the festival, make sure you click here to listen to my interview with Jeannie Roshar and Gary Anthony Williams.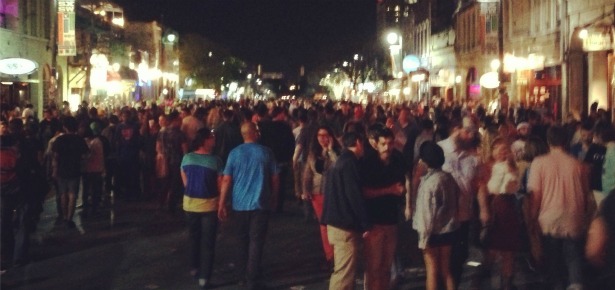 AUSTIN- At this point, if you haven't been to Austin, Texas for South By Southwest you're probably in either two camps. In camp A you have the people who want to get down here so freaking bad they can taste it. Every year that goes by without their presence at this festival fills them with the longing of a child watching recess from detention. If you're in camp A you're likely a music enthusiast with some sort of plan to get your ass down here, one day, soon.
If you're in camp B, you get it. You're tired of hearing about how great Austin is. You're tired of seeing #sxsw a thousand times a day. You assume it's all hype at this point. SXSW is now 26 years old. It's got to be blown out. Everything great in music dies at 27 anyways. Corporate America has discovered a gold mine for "trend setting young adults with disposable income" and it can't possibly live up the hype. Right?
It does. Oh it does.
SXSW is a music festival like none I've ever seen. There are literally thousands of acts playing nearly 24 hours a day. Trying to sift through where to go, who to see, how to get in, and what to do is enough to turn anyone with a penchant for organization crazy. It's simply impossible. Just let it go.
Everywhere you look there is a band playing music. Real bands, hometown heroes, up and coming acts, LA, NYC, Nashville, Chicago bands. People you've never heard of who might become your new favorite band are playing right next door. Find them.
How do you deal with it all? Here's a few tips for the man on the move in Austin.
Research
Don't get too hung up on details but before you arrive I would strongly suggest scanning sxsw.com for the list of announced bands. (Music acts, comedy, etc are listed under "showcase") Cherry pick some acts you want to see. Follow them on Twitter, like their Facebook page, etc. Don't try to plan your whole trip. Too many things change, too many things are TBA. You'll have to change your plan a hundred times and it'll end up being wasted time. Good immersion therapy for OCD and type A planners. Go with the flow.
RSVP
Pay a couple of bucks to a site like RSVPster.com. They will RSVP you to the dozens of sponsored parties that get a lot of the big name acts. Their site is a gold mine of information for attendees. Use it. If you have the money, buy a badge ahead of time. You'll skip every line, you'll get into every official event. You don't need one to enjoy the festival but if you have the coin it opens doors and keeps you in the clubs and out of line.
Invest Your Time Early
On your first day go wait in line for your wrist bands. You'll thank yourself later. Just do it. You need them even if you have a badge and you can only pick them up at certain times. I know, you're finally at South by, I need BBQ and a drink and some tunes, right now. Hurry up and wait, it'll pay off later.
Start Your SXSW Experience on Twitter
Not on Twitter? Join it, if not just for this. Search for #sxswtips #sxsw #sxsecrets. Save those searches, check them regularly. Nothing on the web can keep up with Twitter. No web site, no schedule, no app. Twitter was made for days like these. Passion Pit goes on in 30 minutes, next door? Find out on Twitter. Rumors of Justin Timberlake and Daft Punk being deposited in a field by an alien spaceship? Find out on Twitter. Nearly every venue has an associated hashtag. Half the time I'm just using it to find out the name of the band on stage, who's up next, who plays here tomorrow. Find it all on Twitter. It's the internet's whisper chamber, embrace it.
Continue It on Instagram
Best for use while on the ground in Austin, searching Instagram's hashtags and nearby photos will give you approximately 860 words more per look than twitter. Searching nearby might tell you that John Wayne Bro is absolutely killing the club two doors down while you can't get a drink for some act you're not even into. There is a party happening everywhere. Find the one you want.
Download The Official SXSW App
The sheer volume of acts in town take away from this app's usefulness. It's not their fault, it's just nearly impossible to sift through and organize everything they have happening. You set a few search parameters, a search area, a time frame and get moving. You scroll for 3 minutes and realize you're still searching 10pm in a .2 mile radius. It has purpose and value but don't rely on it exclusively.
Go Straight to 6th Street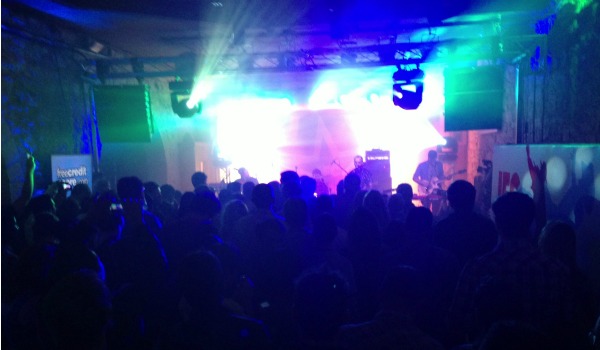 There are other pockets of activity but 6th street is the beaten path for a reason. Get in a taxi and say, "6th and Congress please." That'll drop you right where you need to start. Google maps is your friend. Get your bearings. That big lit building that looks like an angry owl is at 4th and Congress. If you're looking at it the numbered streets decrease. (3rd, 2nd…) If it's at your back the numbers go up (6th, 7th, 8th). Know where you are, it'll help later. Walk down 6th, take it all in.
Don't Get Bogged Down With Information
When in doubt, walk into your closest bar and order a drink. Regroup, watch a band, have a drink. Plan your next assault. Most shows seem to start on the hour so if it's quarter past go catch one in progress and start checking your area.
Drink Water
I know. Boring. But do it anyway. You need to hydrate, it's hot, you're walking everywhere, you're probably having too much to drink. Know your limits. Don't be that guy.
Pick a Liquor, Drink It on The Rocks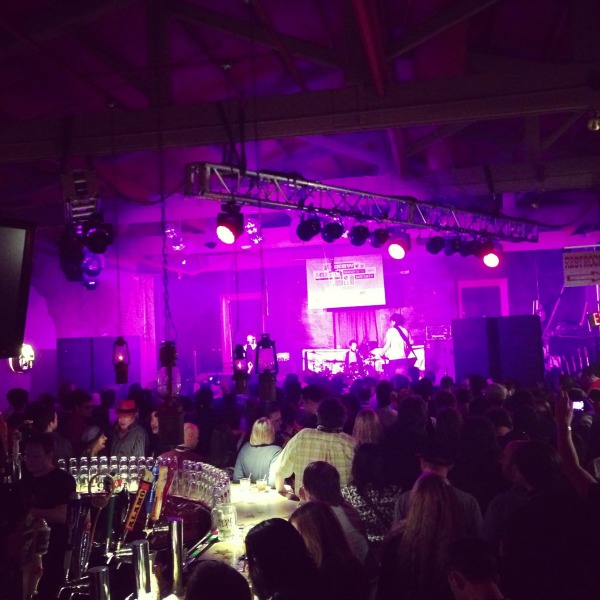 Beer will slow you down and make you wait in line for bathrooms. I prefer whiskey. Get a drink, sip it. Maintain the buzz without getting sloppy.
Charge Your Phone
Seriously consider buying one of those backup battery packs that hold an extra charge. Turn your screen brightness down, charge your phone whenever and where ever you can. Bring your charger out with you.
Document
Mayhem rules. You will see so many bands your head will spin. Taking notes is boring, take a picture of the band, post it online with their name. When you get home check 'em out and buy some of their music. That's right, I said buy music. It's fun, try it.
"Stay out late, sleep in… Do not take a night off" -Robin, Los Angeles, CA
You're only here for a few days. Get your rest but don't bone out of the nights, that's where it's at. Don't push so hard during the day that you miss the best part.
Talk to Strangers
Don't just stare at your phone all night making video recordings you'll never watch. Talk to the people around you, make a friend for the night or life. Find out who The Airborne Toxic Event is and that they are about to rock Buffalo Billiards, connect with your fellow humans. It feels good.
Go Back Next Year, Do It Better
Have any tips? Find me at @jeremyspeaks and @jeremybjohnson on Instagram. I'll collect your tips and post them here. See you on the street!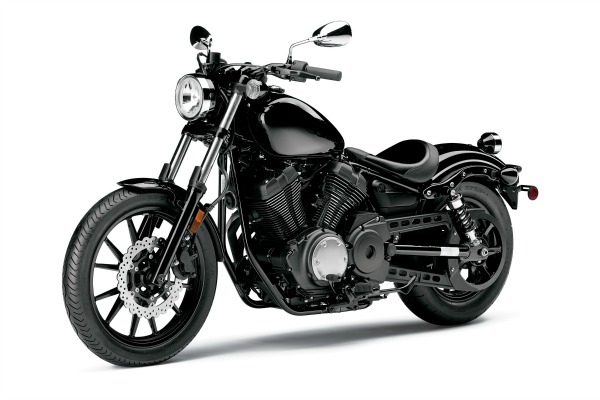 This past week, Star Motorcycles, a subsidiary of Yamaha, announced the release of a new model, the Bolt. The Bolt comes in two specs, the standard spec, starting at $7,990 and the R-Spec at $8,290. The Bolt is a "bobber" style cruiser with classic looks and modern performance at an affordable price.
Gone are the days of outrageous custom choppers with flamboyant styling. With the Bolt and Bolt R-Spec, Star Motorcycles is going back to the basics, focusing on performance and value with a no-nonsense approach to the design of this bike. The Bolt offers style, comfort and performance while providing lightweight and unmatched maneuverability.
The Bolt would be a great entry level motorcycle for someone new to riding or someone looking to get their first cruiser. The price point and the minimalist design make it accessible while not sacrificing performance. There are also plenty of accessories such as saddlebags and ape bars designed for use with the Bolt, which will give it a level of uniqueness for those looking for a custom cruiser.
Look for the Bolt at retailers in April and the Bolt-R Spec in June. Detailed Specifications can be found at the
Star Motorcycles site
.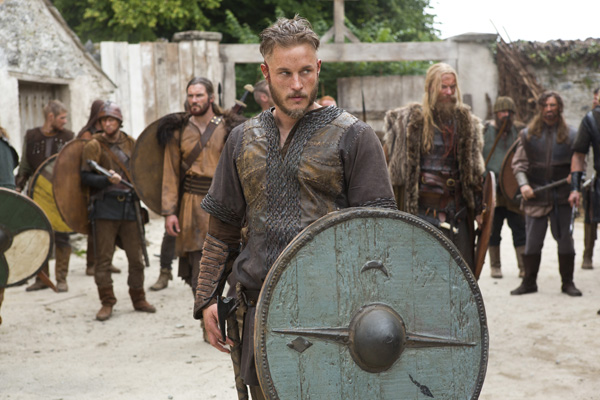 If you have not checked out the all new series on the History Channel, "Vikings" make sure you make it a point to do so. The series is set at the beginning of the Viking Age, marked by the Viking raid on Lindisfarne. This weeks episode, which is the Episode 3, is called "Dispossessed".
A monastery in Lindesfarne is about to get a firsthand look at how the Vikings operate. In and out in a flurry of violence and terror, Ragnar and his crew raid the monastery for everything it contains from treasure to monks who can be sold as slaves. Unable to ignore the riches this unsanctioned journey has returned, Earl Haraldson has no choice but to agree to let these warriors undertake a second trip out. The west has now been opened for the taking by Ragnar Lothbrok and the world of the Vikings will never be the same.
The show will air on this Sunday, March 17 at 10 p.m. on HISTORY. The show is directed by Johan Renck and written by Michael Hirst.
Here is a sneak peek of Sunday's episode.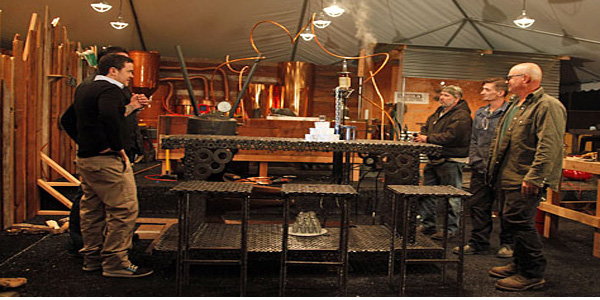 On March 4th Hulu started airing the "Raising the Bar" series which took place during last year's American Royal World Series of BBQ. There was a contest that had six teams that had to construct a bar within an eight hour time limit. Each bar was judged on its uniqueness and ability to pour George Dickel Tennessee Whisky. The producers of shows like the "Deadliest Catch" and "Storage Wars" were the ones that created this series.
The first episode followed three guys who are metal workers that dubbed themselves "Team Big Steel". They used over 4000 washers that were welded onto metal slabs to construct their bar. Their design also called for a steam powered arm that would actual pour the whisky. They had eight hours to build the bar and make sure it was in working order. I don't want to tell you if they were able to complete the bar in time, but if you want to find out what happened click here for the video.
One of the reasons that this contest took place was to celebrate the fine art of American craftsmanship and ingenuity. George Dickel Whisky was looking to see which team would rise above the rest of the other challengers and create the perfect bar.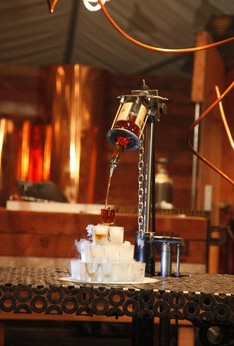 One of the cool concepts coming from the "Raising the Bar" series is that viewers get to voice their ideas of what they would add to the bar to make it stand out even more. The series runs for five weeks and in each episode a new bar is created from a different team. Each idea that is sent in will be given to that specific team. For instance after watching the video of "Team Big Steel" and if you feel you can add something to make it better send in your ideas on Twitter using the hashtag "RaisingtheBar."
If your idea is selected by the winning team and Master of Whisky Gerry Graham you have a shot of winning some cool things from that team that won the contest. Use your imagination, but the items that teams do not want is anything dealing with electronics or the latest tech gear. If you are a fan of good old fashioned hard work and independent thinking watch the "Raising the Bar" series each week and send in your ideas to make the designs of the bar you love even more impressive.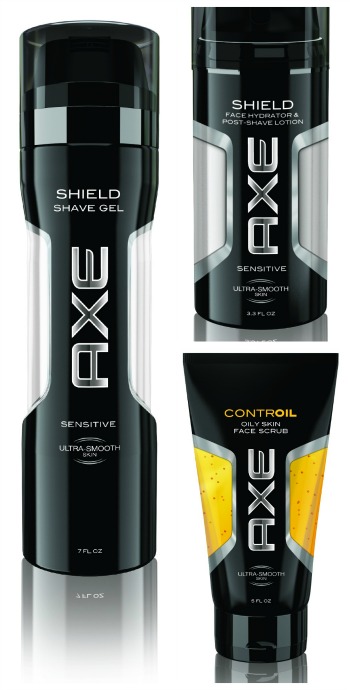 AXE has been making dudes smell better for years now, but the Unilever brand is now branching out into other men's care products that'll help you fix your face, man. A few weeks back, AXE sent the MANjr team a huge bag of AXE Face Care goodies, and after testing the stuff out, we're ready to report our findings.
I should start by saying that I'm a sensitive guy. I like heartwarming films, I have a soft spot for Enya and razor burn is a problem for me and my sweet manchild babyface. Okay, glad I got that out of the way.
So needless to say, I gravitated towards the sensitive skin line of the AXE Men Face Care products. And this stuff is awesome. The AXE Shield Shave Gel for sensitive, ultra-smooth skin is fantastic. It's a gel, but it's not some fluorescent neon color that comes out smelling like a tropical lady drink that you'd order in the Caribbean. It's a gel that foams up like there's no tomorrow and actually feels and smells like men's shaving cream. What a novel idea!
AXE has partnered with Schick and Norelco for a co-branded line of razors and electric shavers. I've used both shaving tools before and I have no complaints there. I probably lean more toward the Schick Hydro, but that's just me.
So after the Schick and sensitive shave gel routine, I moved on to the sensitive AXE Shield Face Hydrator & Post-Shave Lotion. Stuff worked like a dream. Seriously, I usually have some level of post-shave irritation on my baby-soft face skin. It either happens right away or shows up in the evening or the following morning. But not with this stuff. The lotion left me non-irritable and good-smelling. That's what it's supposed to do, right?
Before you can get your shave on though, you need to clean up that face of yours, dude. Being a sensitive fella, I'm not opposed to a little exfoliation every now and then. I usually reach for some St. Ives apricot scrub (or a generic equivalent), but I still like face wash that foams up and leaves your skin oil-free without being too dry and harsh. This is what AXE Controil Oily Skin Face Scrub can do for you. Foamy, a little bit of exfoliation action and a nice, smooth, non-dry skin finish. Go get some.
There's a bunch of other AXE Face flavors available. Check out AXEFacescore.com to learn more about the product line and vote on user uploaded photos using Facescore.
You gotta love these high production value Heineken spots. This one was directed by Rubert Sanders. It showcases the brand's newly designed Star Bottle, a sleeker, taller take on the traditional green glass Heineken house that we're all used to. Here's the video: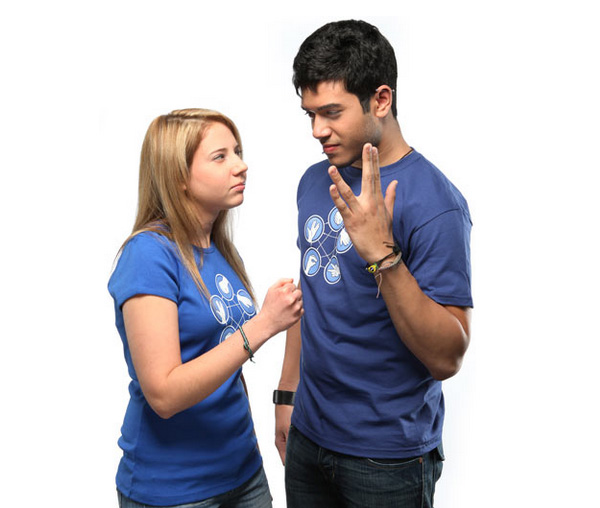 As guys we tend to rock many different T-Shirts. There are the ones that support your favorite sports team, have a famous line from a film, or pays respect to iconic figure like Pac-Man.  Then there are the shirts make people squint as they try to read or comprehend what your shirt means. For me I love these types of shirts. I have a stack of sweet T-Shirts that take a bit of thought to unscramble the message. Here is a list of shirts you can rock that will turn some heads.
One of these tees that I own gained popularity from the hit comedy show, "The Big Bang Theory." It is the Rock Paper Scissors Lizard Spock shirt. Even though the show made the shirt famous the game was not invented by Sheldon Cooper and company, but two guys named Sam Kass with Karen Bryla. To me a shirt with only three hand signals is so 2000's, but a shirt with five of them well now you are talking. Another good reason to own this shirt is that if you are bored well now you and a friend can play Rock Paper Scissors Lizard Spock and have the rules of the game guide on your shirt. It's a win, win unless you lose to rock, or lizard, or…..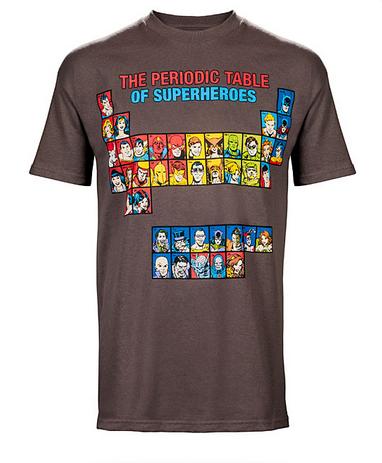 Going along with the geek theme is the Superhero Periodic Table T-Shirt. If you are into chemistry and comics well you might have to pick up this shirt at ThinkGeek.com. Just be prepared for people to have their eyes fixed at your chest trying to figure out if Batman is really the symbol for helium.
Another shirt you should have in your wardrobe is the Lannister/Lannister 2012 shirt. You can show your love for "Game of Thrones" by donning this political campaign style shirt.  What is cool about this one is that people will wonder if the Lannisters were really on the 2102 ticket and if you are democrat, republican, or independent. I bet you the political junkies will check online to see who these political candidates are are affiliated with once they catch a glimpse of your shirt.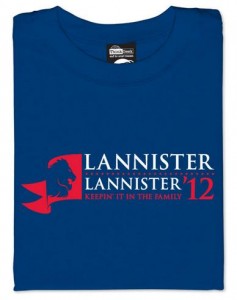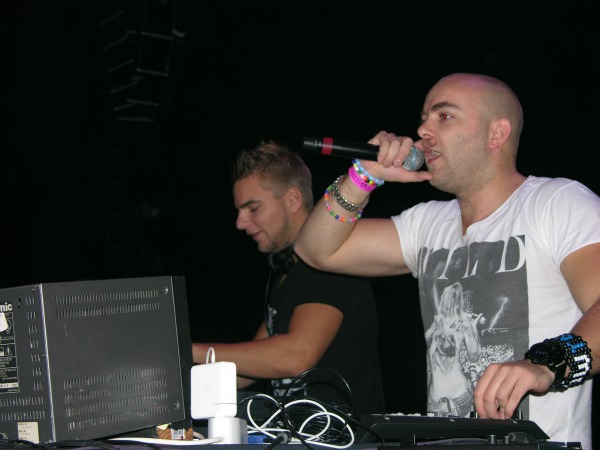 Dutch brothers Wouter and Sjoerd Jannsen, better known as Showtek, return to Orange County March 13 at the Yost Theater in Santa Ana. The brothers will make a few more stops before arriving in Miami for Winter Music Conference 2013 where they are scheduled for a boatload of performances.
Last summer, Showtek tore it up down under with a sold-out Australia tour.
MANjr had the privilege of meeting up with hardstyle masters Showtek for an exclusive interview before their sold-out performance in Orange County awhile back.
Showtek rocked the house at the Grove of Anaheim in front of raucous legion of fans that came early for a meet and greet with the Dutch hardstyle masters. The pride of Eindhoven, Wouter and Sjoerd hail from a musically gifted family, and have exploded on the electronic dance music scene with their relentless energy and bangin beats.
After a mind-blowing morning set at the inaugural EDC Las Vegas, Showtek embarked on a European tour followed by a U.S. tour that culminated with their epic show in Anaheim. MANjr was granted exclusive access and got to hang with the brothers before, during and after the show.
As we entered the duos hotel suite, we were greeted with Jack & Cokes and smiles, which was pretty impressive considering the jetlag they were feeling from their long Glasgow flight.
The interview covered a gamut of topics including their EDC Las Vegas set, their musical influences and their aspirations to be professional basketball players like their homie the Dunkin' Dutchman Rik Smits.
After we wrapped up the interview, the party moved to the Grove of Anaheim where thousands of loyal fans were ready to greet their favorite DJ's. The boys took the time to chat up, take pictures and mingle with everybody.
Once the pleasantries were complete, the brothers Jannsen were ready to take the stage and throw it down. Showtek pumped up the crowd from start to finish, playing a wide range of their hardstyle hits like Here We Fucking Go! and World is Mine. Wielding an ice gun and striking willing fans with blasts of cold air, Sjoerd is the MC and crowd handler while his bro Wouter controls the pace from the ones and twos.
When the lights came on, Showtek stuck around to thank their fans and sign all sorts of stuff ranging from posters, pictures, phones and even a Mohawk. Since then, Showtek has continued to tour the globe and spread their sound.
Showtek's combination of upbeat energetic beats mixed with a genuine love for their fans should serve them well moving forward.