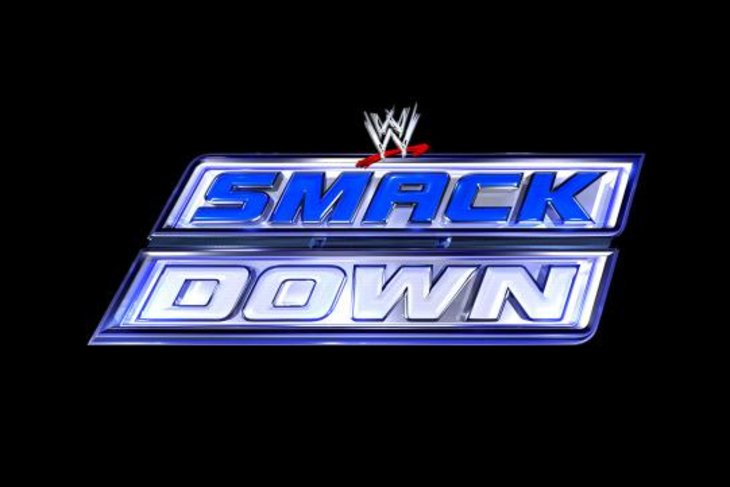 The show that averages 3.1 million viewers on Friday nights and beats all Friday primetime viewing on any cable network is moving to Thursday nights on Syfy beginning January 15th at 8pm ET.  With nearly 800 original episodes, SmackDown is the second longest-running weekly episodic program in U.S. television history, only behind WWE's other flagship program, Monday Night Raw®.
"Quite simply, more young men watch television on Thursday night than on Fridays," said Michael Engleman, Executive Vice President, Marketing, Digital and Global Brand Strategy, Syfy. "Among Men 18-49, PUTS are 15 percent higher compared to Fridays, expanding the potential audience for SmackDown. Since the majority of broadcast programming skews female, we're also using Thursday nights to counter program."
"WWE's sizable and passionate fan base make SmackDown the #1 entertainment show on Syfy and the most-watched, regularly-scheduled program among key demographics on the network," said Michelle Wilson, Chief Revenue and Marketing Officer, WWE.  "We look forward to bringing the WWE audience to Thursday nights on Syfy."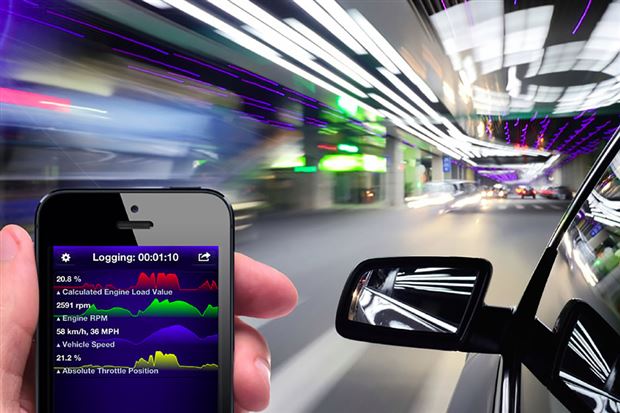 For those of us who have a mechanic that they can trust it gives you one less thing to worry about. For others who don't have one that they can trust, it can make going to the car shop a living nightmare. If you are looking for some peace of mind the next time you hear something off about your car you should get BlueDriver from Lemur Monitors.
BlueDriver allows users to wirelessly read and clear diagnostic trouble codes without having to spend money at the mechanic. (AWESOME!) You just need to download the free BlueDriver app and plug in the BlueDriver. It is that simple. It generates vehicle specific information such as code definition, possible causes and repair recommendations. Know you are going to a repair shop with some knowledge. That will definitely give you some peace of mind.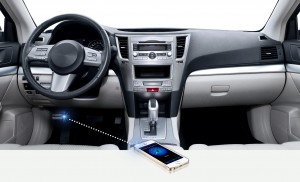 You can check for whether or not your vehicle is ready for local emissions test and BlueDriver is the first line of defense for today's mechanic and is an affordable diagnostic tool for that fits in your pocket. It works with all makes and models (sold in U.S. and Canada) that are 1996 or newer. It pairs via Bluetooth with Apple devices (running iOS 7.0+) and Android devices (running Android 4.0+).
Sound like something you would want? Well go to the Lemur Monitors website for more info and to purchase the BlueDriver. Your wallet and brain will thank you!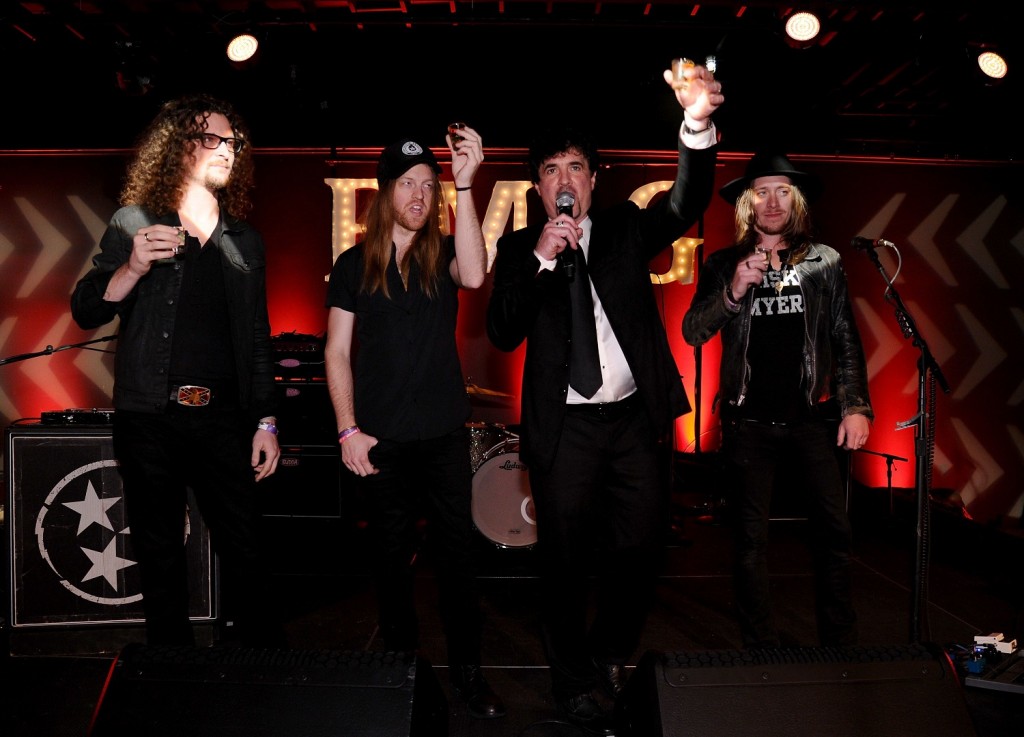 On one of country music's biggest nights, country music talent, including Eli Young Band, Florida Georgia Line, and The Band Perry, took a moment to honor troops at Big Machine Label Group's CMA Awards after-party sponsored by Crown Royal Regal Apple.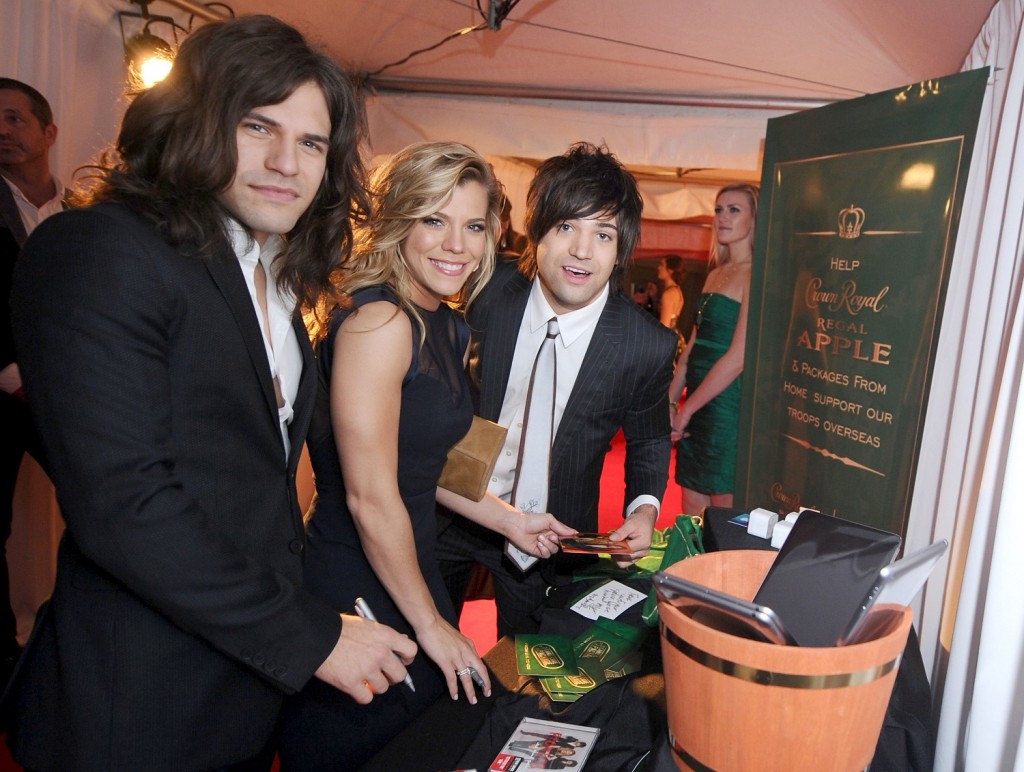 Country music artists had the opportunity to give back to U.S. soldiers last night by packing bags with items rarely available overseas such as tablets, earbuds, armbands, music players, etc. The packed bags will be shipped to active duty service men and women overseas with the help from Packages From Home, Crown Royal's national charity partner.
In addition, guests at the after-party were one of the first in America to taste the new Crown Royal Regal Apple and experience just how "smooth to the core" the whisky really is. Regal Apple is a combination of the renowned taste of Crown Royal whisky infused with natural apple flavors. The unique blend of hand-selected Crown Royal whiskies and natural apple flavors is the perfect balance of robust whiskey notes and crisp apple flavor.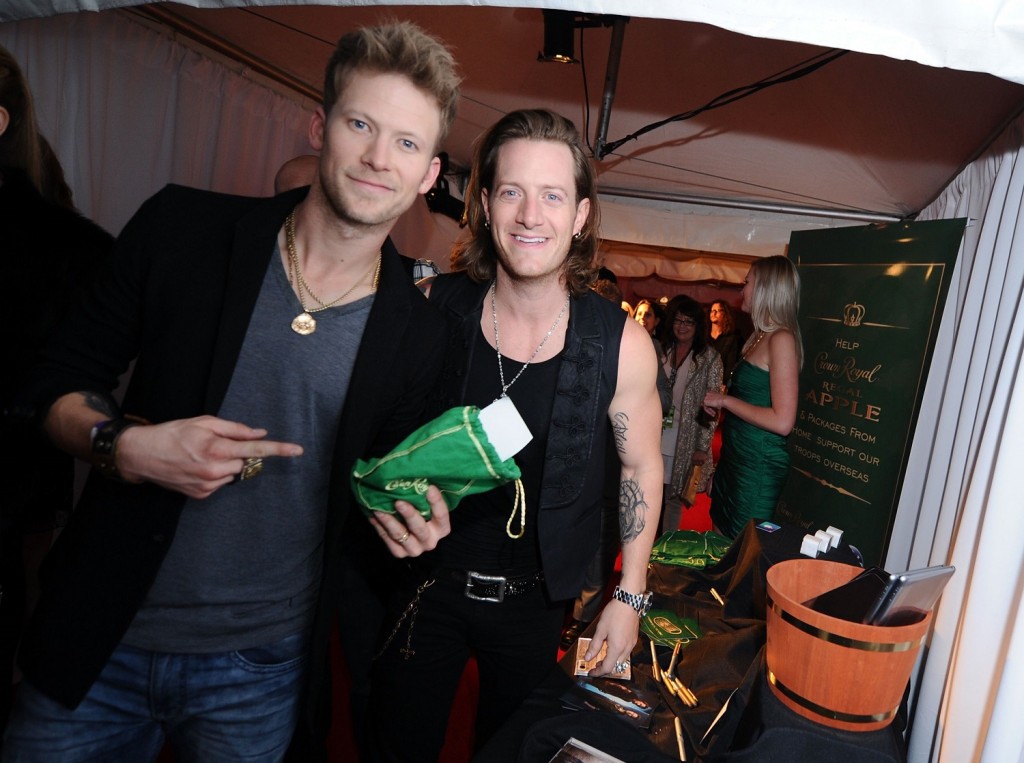 Award show host and country music star, Brad Paisley, also participated in the always entertaining Jimmy Kimmel "3 Ridiculous Questions" segment answering "ridiculous" questions from Kimmel himself while the two toasted with a shot of Crown Royal Regal Apple.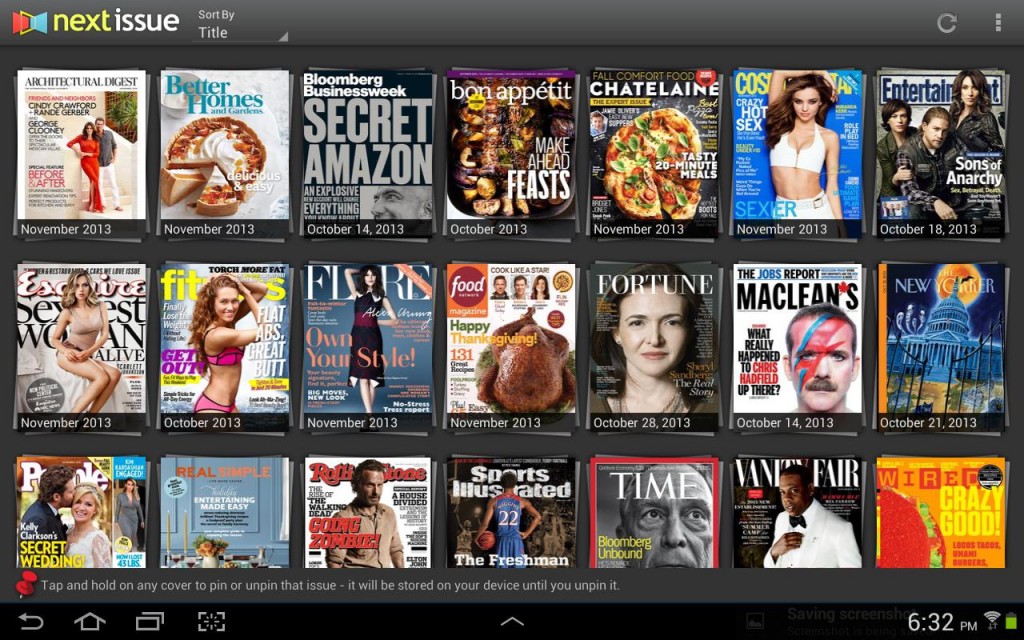 Next Issue gives you unlimited access to more than 140 magazines in one easy-to-use app for iPad and iPhone. Whatever you're interested in – Entertainment, Technology, Fashion, Sports, Cooking, News, etc. – you'll find the top magazines from the top publishers all in Next Issue.
For the full experience, go create a Next Issue account to start your free 30-day trial. Then, open the app to read all your favorite magazines.
Or just download the app and log in using your Facebook account to get free sample magazines.
Read as many magazines as you want (including back issues) anytime you want. Immerse yourself in great stories, breathtaking photography, and digital extras – from all of the most well-known magazines. All without the hassles of magazines piling up at home, lugging them on trips or recycling.
It's an entire newsstand at your fingertips. Next issue is available on iOS, Android and Windows 8 devices.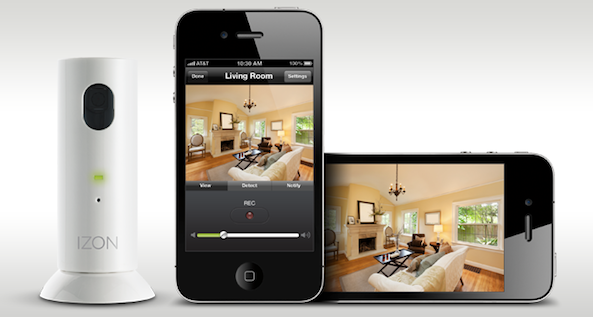 Ever wanted to see what was going on in your home while away? If you travel a lot and want to make sure that everything in your house is copasetic then the izon home monitors might be what you want to pick up. Stem Innovation, the creators of the izon home video monitors have a line of Wi-Fi video cameras is to connect your physical world to your phone. The izon view and izon 2.0 are Wi-Fi enabled video cameras that can be easily setup anywhere in your home or office. Using the companion app, you can stream video and audio to your iOS device, giving you the ability to be there, even when you're not.
The izon view, which features night-vision, is available for $99.95 and the izon 2.0 sells for $79.95. Both cameras can be purchased from www.izoncam.com and offer the same compelling and leading-edge technologies as the more-expensive, category competition.
The izon view has a night vision feature that uses it LED's on the front of the camera offer enhanced night vision for monitoring in the dark. You download the app on your iOS device. It is fully customizable user interface that includes push notifications for motion or sound.
You can use it anywhere in your home. For use on any flat surface and can be mounted to a ceiling. It tilts and swivels easily on its unique magnetic base. I liked how easy it was to setup. I didn't need a computer and it was setup in minutes. It connects through your local wireless network. It sells in white or black.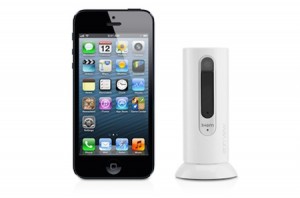 I like the view a lot. I had it for a week so far. Once the view was set up in a matter of minutes I walked around my house testing it out. No matter where I went I was able to see what was going on in the room where I set up that camera.
The next step was to see how the view would stand up when I was away from home. No matter how far I was away the view gave me a picture perfect look into my home. Whether I was a town away or in another state I was able to check in. Talk about getting some peace of mind. It is nice to add some extra security if you are away or at home.
I like the fact that you can even record from your iPhone or iPad when you have the app up and running on our device. If you are looking to pick up a security camera for your home make sure you check out the view from izon. For more info click here!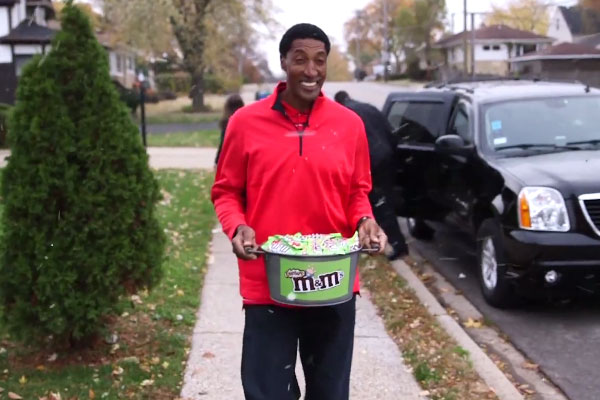 The new M&M'S® Crispy Milk Chocolate Candies was available for trick-or-treaters this Halloween – but only at one house in the entire country, after being hand-delivered by Scottie Pippen.
M&M'S Crispy has been gone for 10 years, and fans have lobbied so hard for its return we're bringing it back. M&M's Crispy officially hits stores in January, but a Chicago fan named Olivia asked through the M&M'S® Brand Facebook page: "Why not make M&M'S® Crispy available at Halloween?"
The brand responded by teaming up with Chicago basketball legend Scottie Pippen to surprise Olivia with a batch of her favorite candy that she could pass out to trick-or-treaters, making hers the only house in the country with M&M'S® Crispy this Halloween.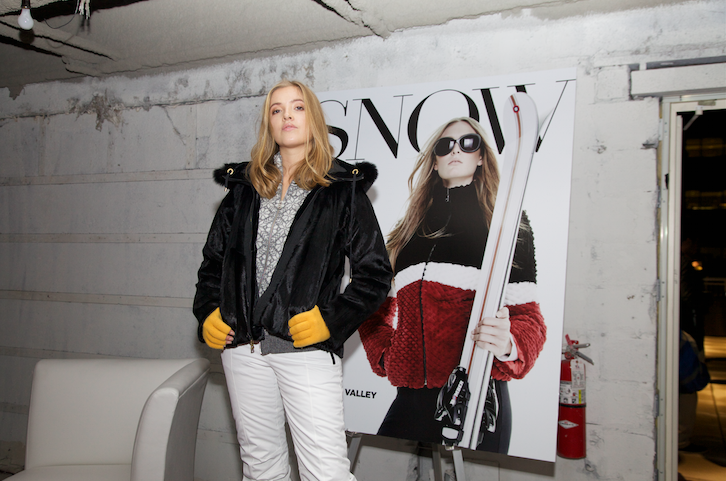 Patron and Macallan was flowing freely on Wednesday night to celebrate the start of the ski season in style presented by Snow.  Guests enjoyed everything from a fun Patron XO Café Snow Angel photo booth, distinctive eats and paella served by celeb chef Peter Callahan, live graffiti art by Ellis Gallagher and Luke Kendall, along with an on-site live auction to benefit the US Ski Team.
Luxury ski brand Bomber Ski announced their new brand ambassador, ski legend and Olympian Marc Girardelli, and also unveiled many of their new styles, including its new "Stars & Stripes" skis where a portion of sales benefit the US Ski Team, along with their newest line of Art Skis featuring designs by Michel Basquiat and Keith Haring.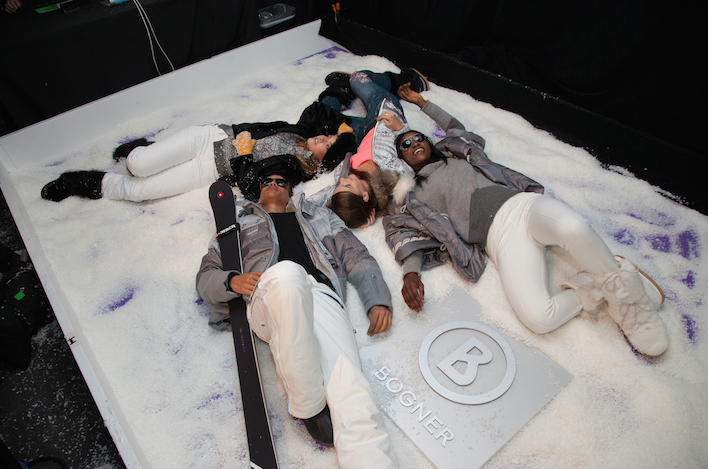 Bogner showed their newest Men's and Women's skiwear styles on model while Leisure Society showcased their newest line of lifestyle and performance eyewear.
From a ski travel perspective, the St Regis Deer Valley announced their new Ski Ambassador program at the property, featuring 5 different Olympians and US Ski Team members, and had Olympic skiers KC Oakley and Mac Bohonnon on-site to meet with guests.  Majestic Heli Ski talked to guests about their luxury heli ski packages that they will be promoting throughout the season in the Alaskan wilderness, while Sentient Jet talked about their partnership as the official private jet partner of Aspen Snowmass resorts.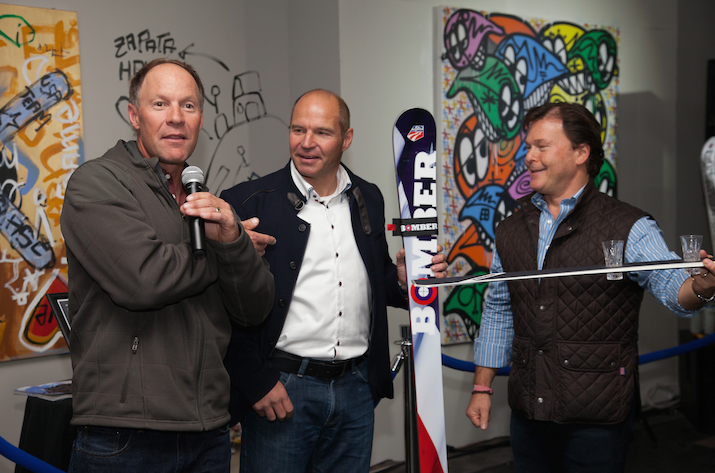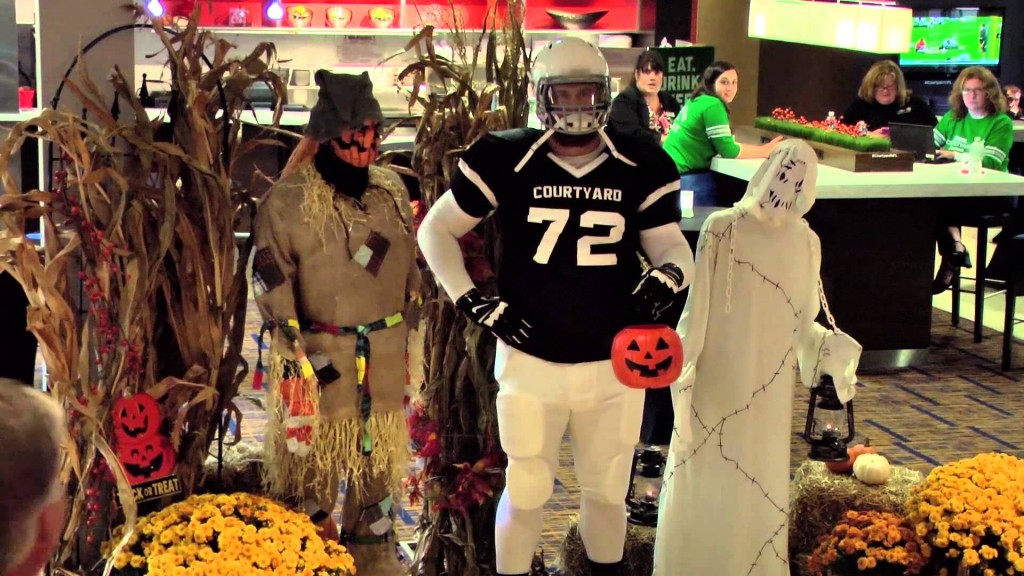 In the spirit of Halloween, former New England offensive lineman, Matt Light, dons a unique Halloween disguise- a mannequin – giving Courtyard by Marriott guests both a trick and a treat in this Halloween edition of 'Courtyard Camera'.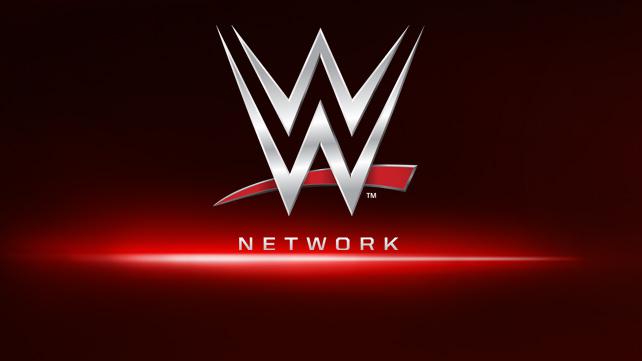 Much like other subscription businesses including Netflix and Hulu Plus, WWE will be offering:         November For Free: New subscribers will receive WWE Network free of charge for the entire month of November – including Survivor Series on Sunday, November 23. WWE Network will be available for $9.99 per month with no commitment and the ability to cancel at any time.
WWE Network features 24/7 scheduled programming, all 12 pay-per-view events LIVE and the most comprehensive video-on-demand library with more than 2,600 hours of content, including every WWE, WCW and ECW pay-per-view, all for $9.99 per month with no commitment and the ability to cancel any time. WWE Network programming includes groundbreaking original programming, reality shows, documentaries, classic matches, exclusive coverage of special events and more. The U.S. English language version of WWE Network is available on an over-the-top basis in more than 170 countries and territories.
Like other digital subscription services, such as Netflix and Hulu Plus, fans are able to subscribe online by going to WWE.com and clicking on the WWE Network button on the top right corner of the navigation bar.
For a complete listing of WWE Network availability by country and device, please click here.


Attend the Most Interesting Man's interactive Masquerade Party and help him find one of his most valuable possessions – his little black book. Choosing the right path through his manor could reward you with a ticket to a real Masquerade Party in New Orleans.
Dos Equis has created two interactive digital experiences that bring fans 21+ into The Most Interesting Man's Manor this Masquerade season.
The breakthrough virtual reality experience, accessible via the Oculus Rift Dev Kit II or Samsung Gear VR (available this December), takes fans 21+ into a Masquerade as The Most Interesting Man's guest of honor where they'll encounter the unexpected and extraordinary.
Dos Equis will be bringing the virtual reality experience to select bars and festivals across the U.S. this Halloween season. Dos Equis created a parallel experience for fans everywhere with a complimentary interactive digital video that lets fans help The Most Interesting Man find his "little black book" featuring several choices that give them control over the narrative.
Dos Equis is giving six fans 21+ a chance to win an all-expense paid trip for two to New Orleans to meet The Most Interesting Man and celebrate with legendary artist Q-Tip on November 22, 2014.
Through October 31, fans can enter the contest by posting Masquerade and Halloween photos to Instagram using #XXMasquerade or by uploading them to XXMasquerade.com.
Fans can also enter by purchasing Dos Equis and texting/emailing a photo of their receipt to XX@DESWEEP.com. Every photo posted, uploaded or texted/emailed represents another chance to win.
Visit DosEquis.com/Masquerade for more details and to view the interactive video experience. The Dos Equis virtual reality experience is coming soon to the Oculus Rift