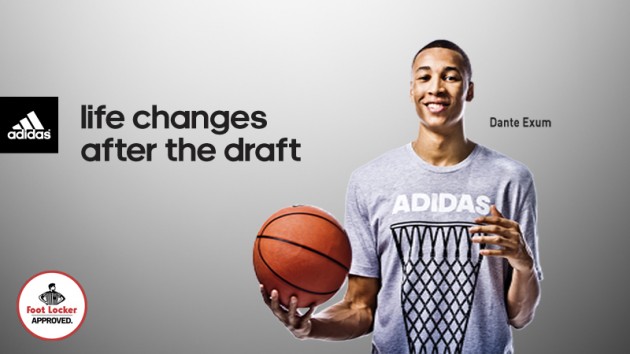 Today Foot Locker has launched on YouTube a series of five new commercials with adidas featuring NBA Draft prospect Dante Exum of Australia.  The latest ads are part of Foot Locker's successful "Approved" marketing platform and poke fun at Exum's current "celebrity status," or lack thereof, while centering on the idea that "Life Changes After the Draft."
In one of the spots, entitled "Paparazzi," Exum expresses concern about going to a Foot Locker store due to the possibility of paparazzi being there, to which his friends respond by laughing uproariously, knowing he's a relatively unknown commodity in the United States.
Each of the five spots will debut digitally on Foot Locker's YouTube channel. The spots will also takeover NBA.com on Wednesday, June 25 and make their television debut on ESPN during the NBA Draft on Thursday, June 26th.
Here is Dante looking to work on his autograph skills.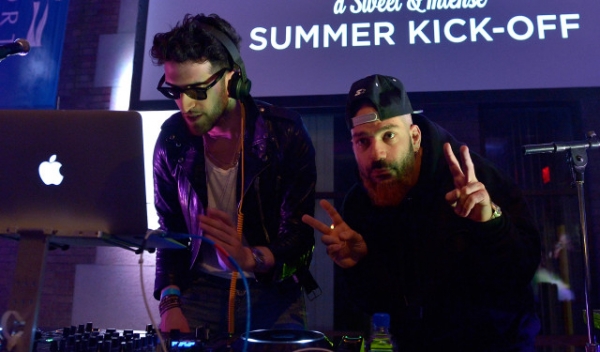 On Thursday, June 19, thousands of partygoers flocked to Boston's Seaport District for a chance to see – and drink from – the World's Largest Ice Luge by Johnny Appleseed Hard Apple Cider. Ice Pro of Central Florida began hauling pieces of the giant ice sculpture into the Seaport World Trade Center as early as 6 a.m. on Thursday, completing a massive build-out of the World's Largest Ice Luge by 5 p.m. for the evening event.
The event, which coincided with Saturday's official start of summer, included a performance by electrofunk duo Chromeo, whose hit song "Jealous" is featured in Johnny Appleseed's national television spot and was recently named to Time magazine's "Best Songs of 2014" list. Boston's hometown-turned-national sports reporter Jenny Dell was a natural in the role of sideline serving as host and emcee for the evening.
At 25 feet tall, the World's Largest Ice Luge surpassed the current record holder by two feet and weighed in at an impressive 25,000 lbs. And while the luge itself required 600 man hours to build from start-to-finish, the party heated up quickly, resulting in nearly 1,200 gallons of melted ice that was donated to the Johnny Appleseed Trail Association to water the trees and flowers along the trail.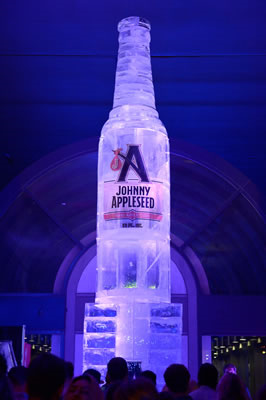 I was able to chat with Chromeo and ask the guys how they started working with Johnny Appleseed, touring,  and which artists influenced them and their sound.
Art Eddy: How did you guys start up working with Johnny Appleseed?
Chromeo: They used our song "Jealous" in their commercial. We wanted to make it an even more organic partnership, hence the idea of doing an event that the fans can enjoy and participate in.
AE: You guys are in Boston to be part of the biggest ice luge in history. What will you guy be doing there?
Chromeo: DJing and performing Jealous. And hopefully interacting with fans, taking pics. And marveling at a 25 foot ice sculpture in the middle of June.
AE: How did you guys meet and was it around music?
Chromeo: Absolutely. We met in high school and discovered funk and soul music together. That's how we bonded: jamming and record shopping.
AE: Who has influenced you guys as musicians?
Chromeo: Prince, Zapp, Hall & Oates, Rick James, Robert Palmer. But also Daft Punk, Justice and Stuart Price. And hip hop producers like Pete Rock and J Dilla whom we used to worship growing up.
AE: Who would be the number one artist you would love to work with on a future project?
Chromeo: Haim! They're our gals.
AE: Are you guys touring this summer?
Chromeo: Yep, all summer and beyond. Every major American festival, we're hitting.
AE: What is the funniest moment that has happened to you guys while on tour?
Chromeo: Bribing Serbian border agents with cigarette cartons in the middle of the night just so we could get our equipment in the country — after the legit protocol had been followed to a tee of course.
AE: What you most like about the music scene today and what is the worst thing?
Chromeo: Can't think of a worst thing. I love everything about it: especially the fact that music is more democratic and shareable than ever. You can be a kid on a laptop and have a hit record. Music discovery is facilitated and accelerated by platforms like SoundCloud and Bandcamp. It's limitless. Dizzying sometimes, but limitless.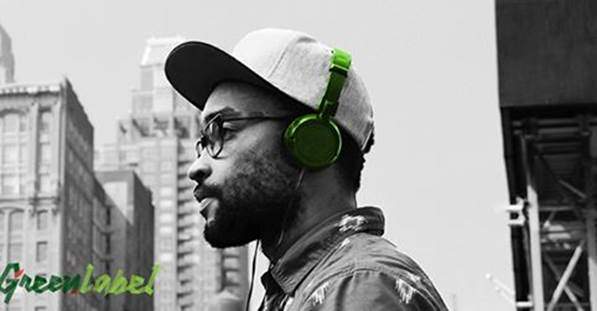 Last year, PepsiCo was among the first to sign an official partnership deal with iTunes Radio. Now Mountain Dew launched their own iTunes Radio station under the name Green Label.
This station features indie, electronic, hip hop and underground music. Listeen to the Green Label iTunes Radio station here.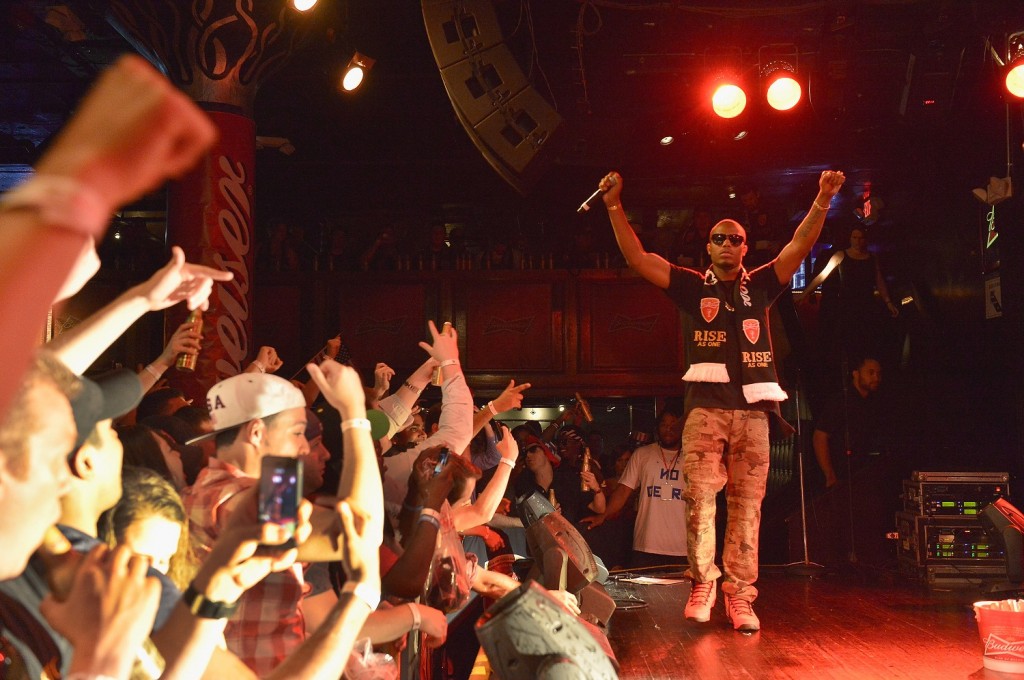 On Monday evening, Budweiser – the Official Beer Sponsor of the FIFA World Cup™ – kicked-off the first of 3,000 World Cup viewing parties across the world in style!
Actor and sports fanatic Steve Rannazzisi from FX's "The League" teamed up with Budweiser to host 'Monday Night Futbol', a viewing party for the USMNT vs. Ghana match at Paradise Rock Club in Boson.
Post-game, rapper B.o.B. took the stage for a free performance, with New England Revolution players Kelyn Rowe and Lee Nguyen in attendance to cheer on Team USA.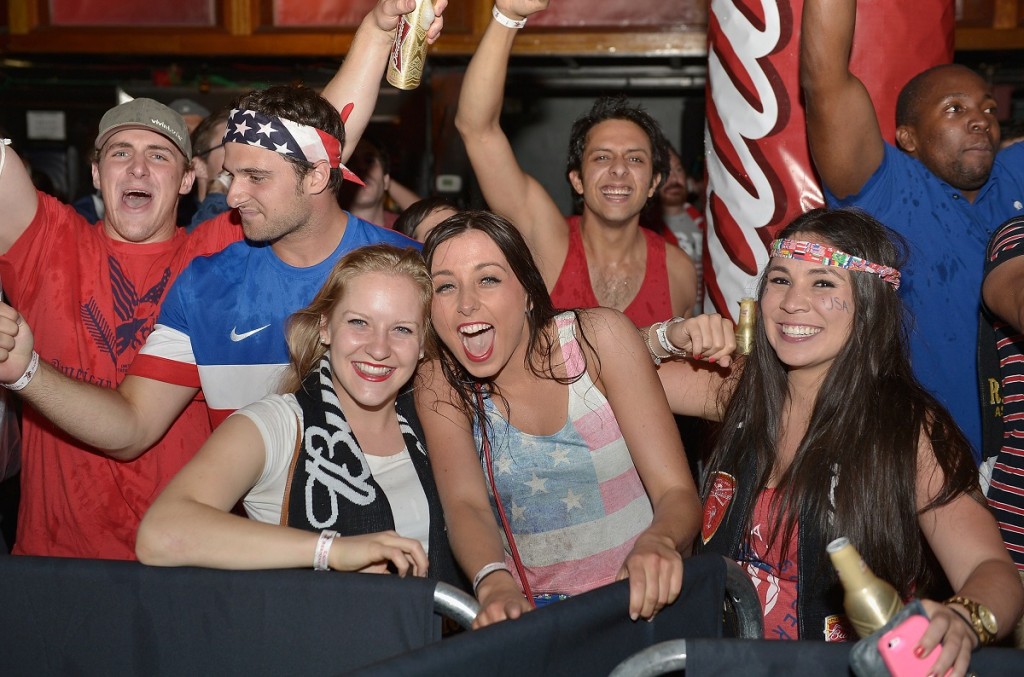 Wish the heat stuck around when the sun goes down like us? Jack in the Box keeps it hella-hot at night with a new Jack's Munchie Meal™ featuring the Hella-peño Burger. A burger heaped with both stuffed and slice jalapenos, gooey cheese and taco sauce. Hope you're #HellaHungry. We cannot wait to eat the heat and want to know: what do you do when the nights get late and the summer gets hot?
Available on Jack's Late Night Menu exclusively from 9 p.m. to 5 a.m., the Hella-peño Burger will be there when you're #HellaHungry and it's hella-late. Enjoy the Hella-peño Burger Munchie Meal combo, complete with 2 tacos, halfsie fries (half regular, half seasoned curly) and a 20 oz. drink.
Follow us on Twitter for your chance to get some Jack Ca$h!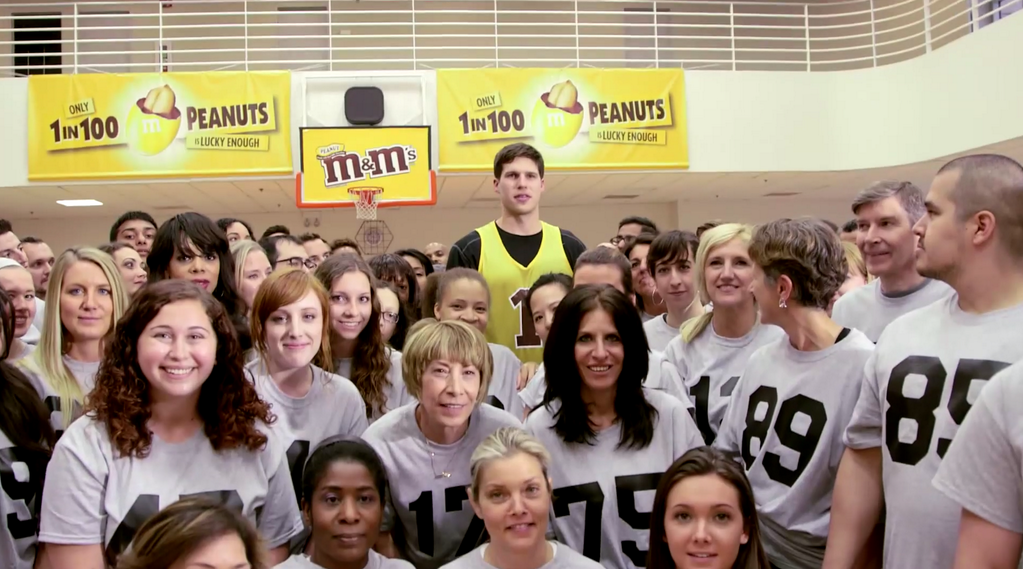 With NBA Draft coming up, NCAA Player of the Year and noted sharpshooter Doug McDermott partnered with M&M'S Peanut to play an epic game of H-O-R-S-E … against 99 other people.
It's Doug just dominating the field by doing epic trick shots – half court, no look, blindfolded at one point. Very cool moments – might make for a fun piece heading into Draft Week, especially as there's tons of speculation where in the First Round Doug will go.
M&M'S Peanut cares about quality peanuts, and only 1 in 100 peanuts will become an M&M'S Peanut. So to help illustrate how quality matters when picking ingredients, M&M's pitted 1 future pro basketball sharpshooter (Doug McDermott) against 99 regular folks in games of H-O-R-S-E. Naturally, Doug dominated the field with some wild trick shots – proving how important it is to choose the very best 1 in 100, like M&M'S does with its peanuts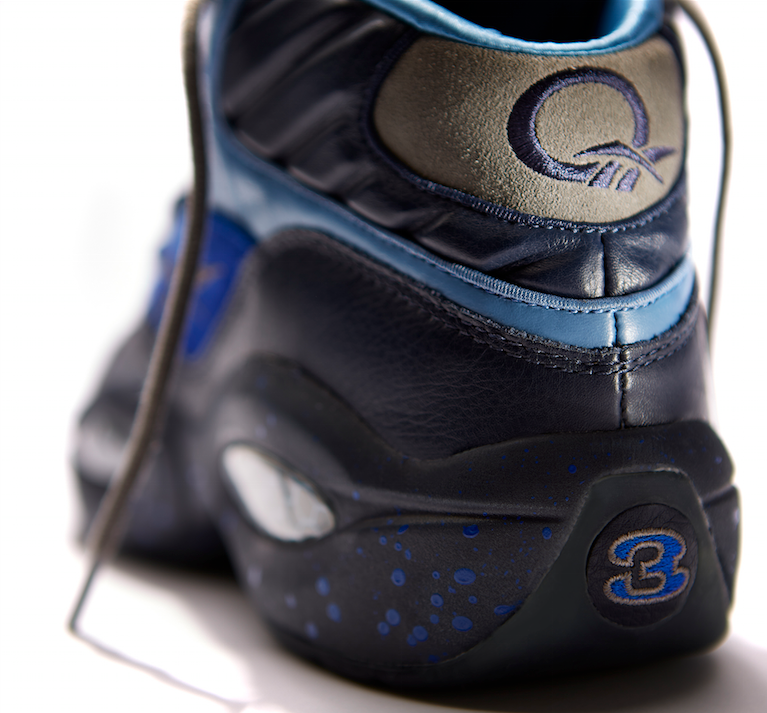 Fashion and art have always been inextricably linked in a kaleidoscope of self-expression.  Perhaps the greatest intersection of the two is when they work in concert with each other, tearing down boundaries and building new possibilities.  Sometimes history is created in the process, as is the case with the Stash x Reebok Question Mid.
Combine the genius of famed graffiti artist Stash with the iconic canvas of the Question Mid and you are left with something truly Classic. The Stash x Reebok Question Mid is set to release on Friday, June 27th for $140.
Stay tuned and follow @reebokclassics for more information on where to buy the Stash x Reebok Question Mid. Click
here
to see the teaser trailer!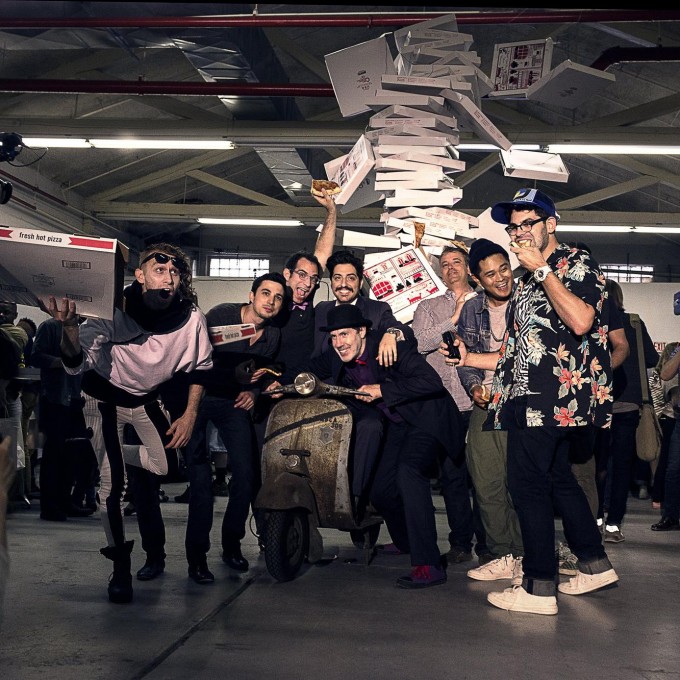 $tandard ©reative threw Pizza a 125th Birthday Party and ordered delivery from every pizzeria in NY. It was a great idea from Matt Capucilli! All made possible by Shock Top Brewing Co., who sponsored the project.
Pizza was created on June 11, 1889 by hero genius Raffaele Esposito. We celebrated Pizza's 125th birthday at our studio by ordering delivery from every pizzeria in New York.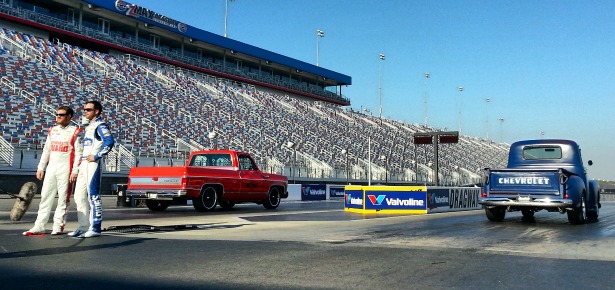 Back in the spring, our friends from Valvoline hooked us up with an amazing trip as part of their Reinvention Project campaign. The Reinvention Project celebrated Vavloline's 140th anniversary and the official partnership of the company that invented motor oil and Hendrick Motorsports, the Rick Hendrick-led four-car auto racing team responsible for winning the last five Sprint Cup races. It was a unique competition that pitted Jimmie Johnson and Dale Earnhardt Jr. in a head-to-head battle to restore two classic trucks (with the help and resources of the full Hedrick Motorsports team) and clash these modified monsters in a series of exciting challenges.
Fans were encouraged to follow all the restoration action, vote on their favorite ride and even build their own custom truck at ReinventionProject.com. Footage of the restoration and subsequent competition can also be viewed at the official site.
Jimmie started off with a '55 Chevy truck and Junior rolled with a C10 from his birth year, 1974. Each truck was modified with an LS3 Corvette V-8 engine and a 4L60 transmission with a limited-slip rear differential. The suspension of each ride was also modified to improve overall handling.
I got an inside look at the Valvoline Reinvention Project when I visited Charlotte in the spring. Before the media trip, Valvoline sent out a survey asking what my level of expertise was when it came to overall car handiness. I answered honestly. On a scale of 1 to 10, I'm about a zero when it comes to overall auto mechanic know-how.
I mean, I know how to change a tire and check my oil. I'm not an animal. But I'm by no means an all-star mechanic either. I've never changed my own oil. Never really repaired my own car. I know enough to know I don't know nearly enough to fix things myself. So yea, in short, when it comes to cars, I basically have no idea what I'm doing.
But that was the old me. That was before I represented #TeamJimmie in an engine building competition that was held at the Hendrick Motorsports Headquarters in Charlotte, North Carolina. Not only did I get to rebuild a NASCAR engine, I also got to see these two sweetly restored rides up close and personal (complete with a #TeamJimmie ride along) and watch as Jimmie and Dale battled through a series of burnouts, drag races and autocross runs. Check out the video:
These two trucks were absolutely gorgeous, and they weren't just build for show. I was partial to Jimmie's '55 Chevy, but then again, I had to represent #TeamJimmie, so maybe I was a bit biased. There was just something to the voluptuous, curvilinear lines on that truck. Just timeless appeal all around. Check the photos of these shiny, well-restored, suped-up beasts below. They're pretty.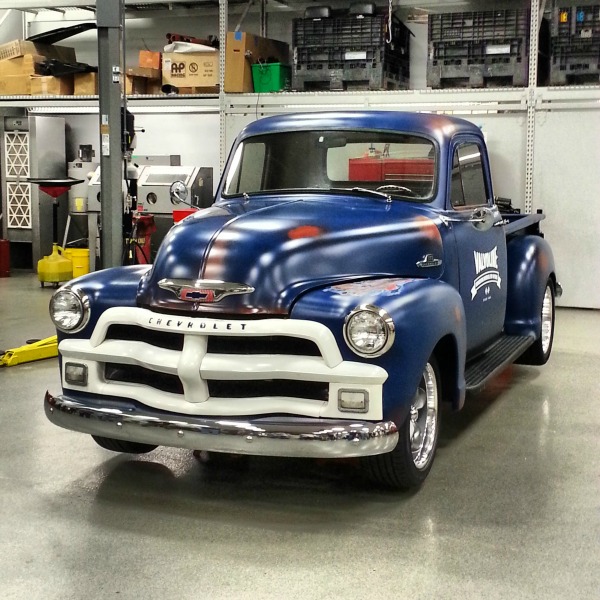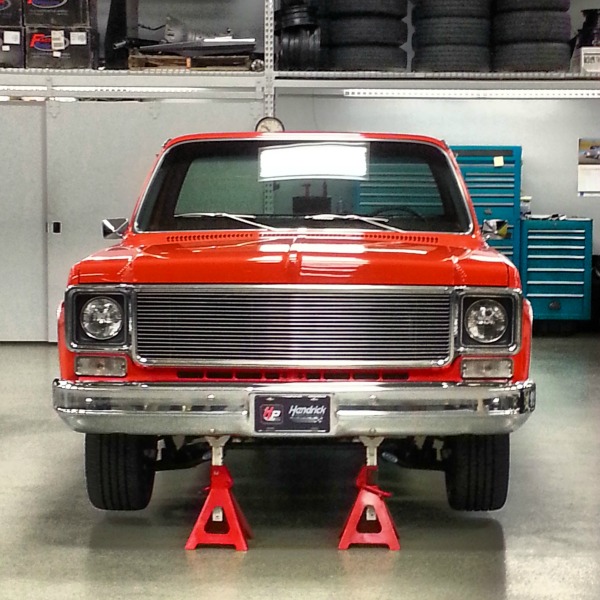 One of the major highlights of the trip was a tour of Rick Hendrick's private car collection. I've never seen so many gorgeous cars in my life. Wall to wall Corvettes. Muscle cars from every conceivable era. It was borderline obscene. I don't know how the man could possibly keep track of all the cars in the collection. Every one of them restored to flawless condition, too. They need to include a box of Kleenex on the tour, because the site of that many amazing cars in one spot is enough to make any grown man cry.
So yea, I'm pretty much qualified to be an official NASCAR pit crew member at this stage. Haven't gotten any calls so far, but I'm ready if need be. Who knows, I may even change my own oil soon. I'll be putting in some Valvoline NextGen in my ride either way!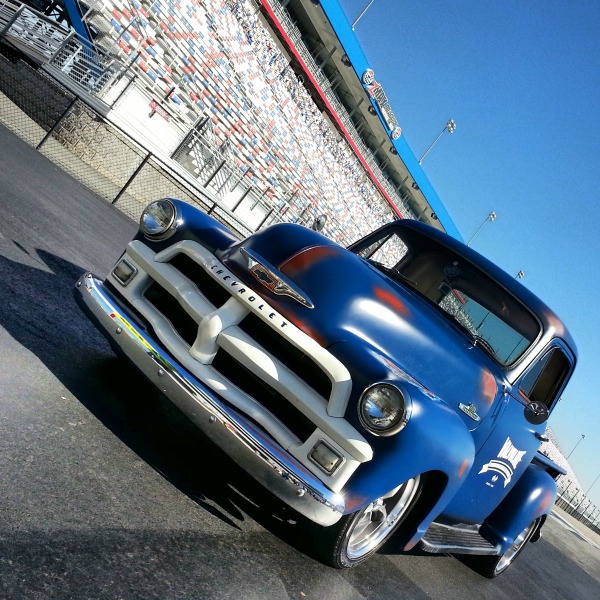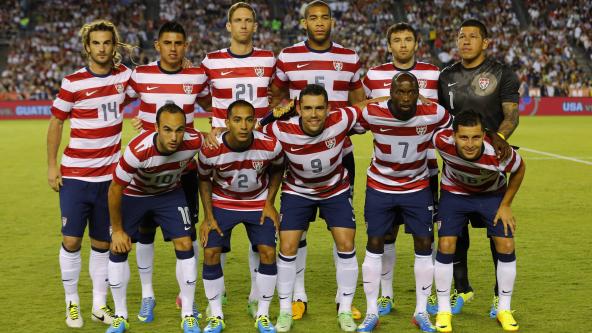 Before the United States Men's National Team departed for Brazil they received a surprise in Jacksonville following their 2-1 win against Nigeria.
With help from fans across the country and soccer legend/ former USMNT player Brian McBride, Allstate Insurance, sponsor of the USMNT, surprised the US team with a send-off video that was unveiled at EverBank Field.
Their reaction to the send-off is being brought to life in the "Surprise send off for the U.S. Men's National Team" video (see below), which truly highlights the passion that fans have for the USMNT and soccer.