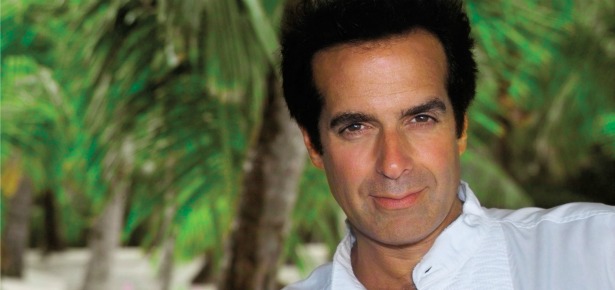 David Copperfield is the most celebrated magician/illusionist/entertainer guy of our generation. He's had a career that's spanned nearly four decades. Copperfield started doing magic at the age of 10. At age 12, he was the youngest person ever to be admitted in the Society of American Magicians. From 1977 to 2001, Copperfield hosted 20 different TV specials. These specials earned 21 Emmy Awards out of 38 nominations. Copperfield has disappeared everything from a Ferrari, to a Learjet and even the Statue of Liberty. One thing that hasn't disappeared, though, is Copperfield's ability to make bank.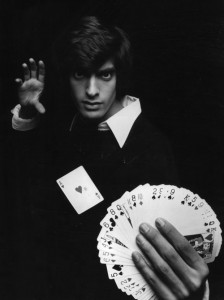 Forbes has dubbed Copperfield the most commercially successful magician of all time. His shows have grossed more than $3 billion, which, by the way, is the highest gross of any solo entertainer in history. Yeah, no big deal. Throughout the 2000s, Copperfield appeared frequently on the Forbes Celebrity 100 List. Dude was paid $60 million is 2001, $55 million in 2003, $57 million in both 2004 and 2005 and he took in $30 million in 2009. Oh, and he still performs more than 600 shows per year at the MGM Grand.
So what does a guy do with that kind of scratch? Well, attracting French and German supermodels isn't a bad start. But how about investing in a nice vacation home? Some place where you can get away from it all when you're not performing non-stop throughout the year.
Well a simple vacation home wouldn't be David Copperfield's style. Instead, Copperfield purchased an entire chain of 11 islands in the Bahamas. Mucha Cay is Copperfield's home away from Vegas. Dubbed the islands of Copperfield Bay, this is the type of place where the co-founder of Google wants to get married (Sergey Brin in 2007). Mucha Cay is a 700-acre stretch of sugar sand, lush green paradise. The 11 private islands are located about 85 miles from Nassau, Bahamas. There's a private airstrip that shuttles posh visitors in where there are accommodations available in five extra-luxurious guest houses. The rates aren't cheap though, my friend. We're talking $37,500 a day for up to 12 persons with a four-night minimum.
But hey, you don't have to be on the Forbes Celebrity 100 List to visit the Bahamas. It's actually a pretty easy spot to get to. The Ministry of Tourism needed an ambassador to promote travel to the Bahamas, and David Copperfield was a solid choice. In the interview below, I chat with Copperfield about his career, keeping his act fresh and the rejuvenating properties of traveling to the Caribbean in general and Bahamas in particular.

Recycling and caring about the environment isn't just for hippies you know. You can still be a badass and care about the planet, too. We've told you about Valvoline NextGen oil in the past. It's some high-tech, high-sustainability-conscious stuff. It's a motor oil made that's made using 50% recycled motor oil, and the reusability factor doesn't take away from your car's performance. In fact, this stuff fuels cars that win races.
To get the word out about NextGen, Valvoline produced a 30-second spot that gives new definition to the concept of tree hugging. Here's the video:
And here's a behind the scenes look at the Tree Hugger spot:
Next time you get your oil change, think about the choices you have. If you want to reduce our reliance on foreign oil and help save the planet in the process, ask the dudes at the oil change spot to fill up your wheels with some of this good recycled stuff in the green bottle.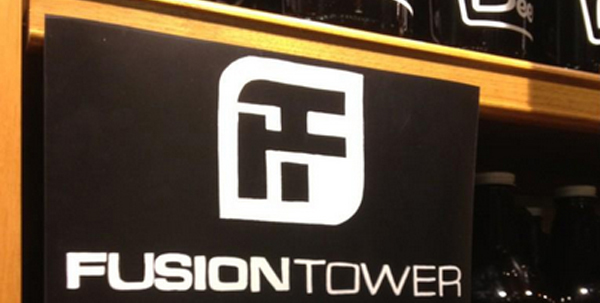 Now more than ever beer has been having many spices, fruits, and more ingredients added to it to find a new and great tasting beer. It is almost like people are using the idea of mixed drinks to see what type of new brew they can make. One way to invent a new beer is the Fusion Tower.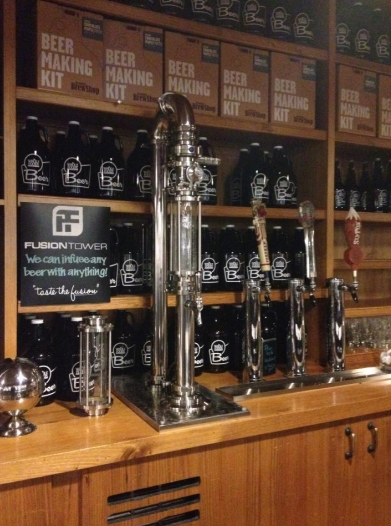 Never heard of the Fusion Tower before? Well it is an easy-to-use beer infusing system that allows you dry-hop your beer seconds before you drink it. The Fusion Tower can also be used to infuse other ingredients such as malts, spices, fruits and oak chips.
Matt Kyle who is the founder of Fusion Tower said, "We love the way it smells, the way it tastes and the way we can literally add anything into the Fusion Tower to create something new and unique."
He goes on to say, "It is a truly creative process for the operator and an utterly magical experience for those lucky enough to drink it. Our mission is to bring infused beer to everyone, encourage experimentation and provide a life-changing beer experience for those daring enough to stand at the forefront of the new frontier in beer."
Their site breaks down how their invention works. They say that hops are constituted of two main parts: Alpha and Beta acids. The Beta acids are responsible for most of the aromatic qualities of the beer. They are very delicate and do not survive the brewing process.
With the help from the Fusion Tower, you can put components back into the beer and dramatically. In turn that will upgrade the taste of your beer. They also stat that dry-hopped beer will also give your beer a slightly smoother texture and fuller tasting body.
There are many other fusion techniques out there, but the gang over at Fusion Tower state that other infusers subject the beer to trauma during the infusing process. This type of trauma in the infusing process yields beer that is flat, warm and usually very slow to pour.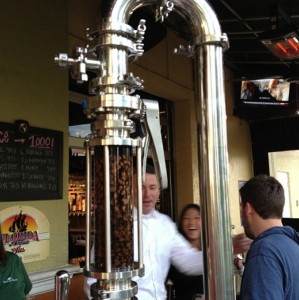 The Fusion Tower looks to take those issues away to help you enjoy the perfect beer. So where can you check out the Fusion Tower? There are two of them in two of the World of Beer restaurants. Both are in Florida. The two stores are in Sarasota and Westchase. For more information check out the Fusion Tower website.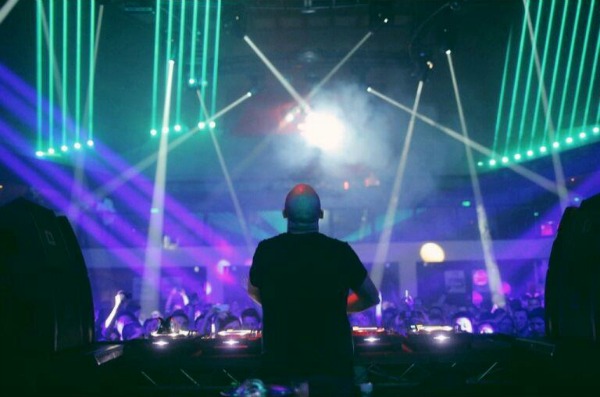 It was a wild night at Insomniac's Awakening at the Exchange LA featuring the Egyptian super duo Aly & Fila. A packed house danced the night away to the uplifting trance music that has made Aly & Fila international stars in recent years. Aly & Fila ranked #19 on the DJ Mags Top 100 in 2012.
The performance at Exchange provided Southern Californians with a second chance to experience some fun times. Aly & Fila rocked the house at Sutra in Orange County a few weeks back. In between, they squeezed in amazing shows in Nicaragua and Colombia.
We had the good fortune to catch up with Fadi Wassef Naguib (aka Fila) for a quick interview in the lobby bar at The Hotel Standard in Downtown LA before the event at Exchange Friday night. From the get go, it was clear that Fadi is a cool dude.
The interview covered a variety of topics from the impending release of their new album Quiet Storm to the current state of the EDM scene in his native Egypt. Fadi was gracious and forthright, sharing his insight on every question we had.
After the interview concluded, it was time to head to the Exchange. Spanning 25,000 square feet with four floors and located about a mile from Staples Center, the historic building is stocked with six full-service bars, excellent sound system and friendly staff.
If you haven't been there yet, the crowd is usually upbeat and looking to party. The dance floor was packed and the capacity crowd was clearly enjoying what Aly & Fila brought to the table. We had an amazing view of the dance floor from the balcony area up top and the place was rocking all night.
Aly & Fila's new album will be available soon. The first single released on Quiet Storm is "Running Out of Time" with Chris Jones. Aly & Fila have done several successful collaborations in the past and will continue to do so in the future.
Footage from the Sutra show and the complete interview with Fila coming soon…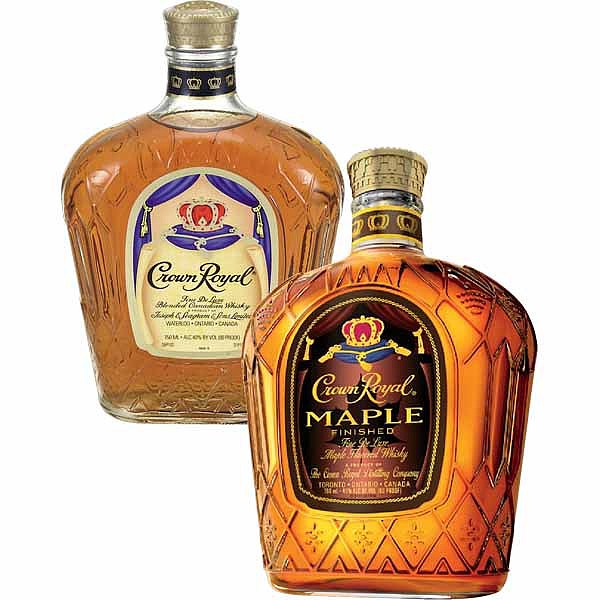 People say that the drink of choice for the Kentucky Derby is the Mint Julep. It's a tradition that's gone back over a century. Churchill Downs stocks more than 1,000 pounds of fresh mint and 60,000 pounds of ice to accommodate all the Julep drinkers over the two-day period for the Kentucky Oaks and Kentucky Derby this weekend.
But who says you have to drink Juleps? You may not even like minty stuff. Why not explore some other whisky cocktail options?
Well our friends at Crown Royal sent us a nice little care package for the weekend and they included everything we need to make some tasty libations for tomorrow's big race. We received a box with a bottle of Crown Royal Maple, a bottle of Angostura bitters, an orange, a lemon and some pineapple juice.
Maple Collins Recipe
1.5 oz Crown Royal Maple
.5 oz Lemon Juice
1.5 Pineapple Juice
2 dashes of Angostura Bitters
.5 oz Simple Syrup
Mix ingredients in a shaker, top with club soda and strain into Collins glass. Garnish with half an orange slice and a cherry.
In addition to the cocktail care package, we also got the names of two horses. If one of these horses wins the race, we get a trip to either The Preakness or The Belmont Stakes. Here are the two horses we have running and their odds to win the Derby:
Vyjack 14/1
Giant Finish 50/1
Orb and Verrazano are the favorites, with each horse coming in at 4/1 odds. Goldencents, Rick Pitino's horse, has the next best odds at 11/2. Forecasts in Louisville predict a 70 percent chance of rain, which could make for very wet and muddy conditions at Churchill Downs.
Crown Royal has partnered up with legendary jockey Laffit Pincay Jr for Derby weekend. If he can successfully predict the top three finishers in order for each leg of the Triple Crown, Crown Royal will donate $1 million to Thoroughbred Charities of America. Here's a clip of Pincay on Jimmy Kimmel so you know just how legit this guy is:
Here's the finish that Pincay predicted for the Derby:
Goldencents
Normandy Invasion
Orb
Notice how he gave our horses zero love? That might be good news for charity, but we wanna see an upset, damnit! We're in a competition here with a bunch of other bloggers. You can follow all the action by checking out @CrownRoyal and the hashtags #Derby and #ReignOn this weekend on Twitter.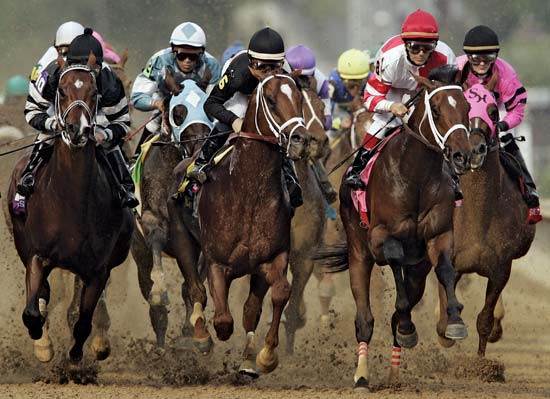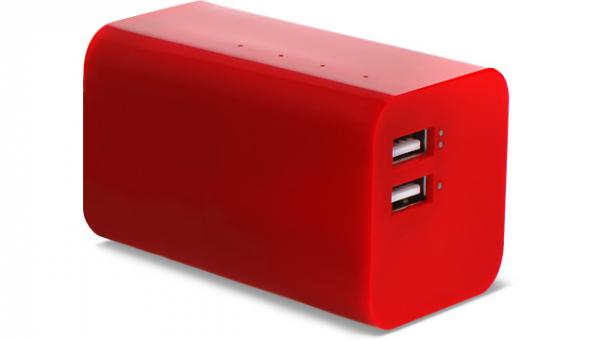 Sometimes you come across a product that makes you wonder what life was like before you possessed said product. Can you remember how you functioned before an Internet-ready smartphone? Can you imagine not having an AUX cable input in your car stereo? Or living without a Bluetooth-enabled portable speaker? It's hard to think back. Your world was way different before these things.
Every single one of us carries around some sort of device that's capable of providing hours of enjoyment, information and productivity. Whether it's a smartphone or tablet (or both), we all walk around with these compact entertainment machines that. We're lost without 'em. These devices have become extensions of ourselves.
But these wonderful bodily tech extensions have a downside. They need a power source or they stop working. If you're not tethered to a desk or a power outlet at home, your device is going to drain until the battery life is all gone. Then all of these wonderful/functional entertainment options will no longer be available to you.
We've all been there. A long day or night out. A long flight or car ride. These things drain your juice, man. There's nothing worse than trying to scramble for an outlet at a bar or an airport just hoping to juice up to send one email or listen to some tunes while you travel. And who hasn't had a point and shoot camera die and an inopportune time. No matter how far you plan ahead, your devices still have power limitations.
Well luckily for you, Eton makes this amazing rechargeable dual USB battery pack called the BoostBloc 6600. It charges phones, tablets, cameras, any USB enabled device, and two at a time no less.
I've been traveling quite a bit lately, and after using this thing for a couple months, I can't remember how I ever travelled without it. It's from the future, dude. Seriously. I've been parked at airport bars with my Boost Bloc sitting on the counter charging up my iPhone and iPad and I've gotten some looks, man. People trip out when they see this. What the hell you got over there, fella? That sort of thing. In almost any situation, most strangers can immediately walk up and see the utility at work. Then they ask what it is cause they want one.
I've taken my little BoostBloc on long road trips, brought it to sporting events, used it in airplanes, my jacket pocket, you name it. This little rechargeable battery pack is already well-traveled. And it's easy to understand why. It weighs 6.5 ounces. It fits in the palm of your hand and can easily be placed in a jacket pocket.
The BoostBloc features a 6600mAh lithium battery that takes some time to get fully charged, but the LED indicators will let you know how much juice you got in the pack at any given time. I usually let it charge overnight before I travel anywhere. When the pack is charged at full capacity, you can recharge an iPhone up to three times. And it charges your phone up pretty quickly, too.
One complaint that I have is that the unit, which retails for $99, doesn't come with its own Micro-USB DC charger. You get the mico USB cord, but you need to pull the DC charger off an existing device. It'd be nice if it came with one.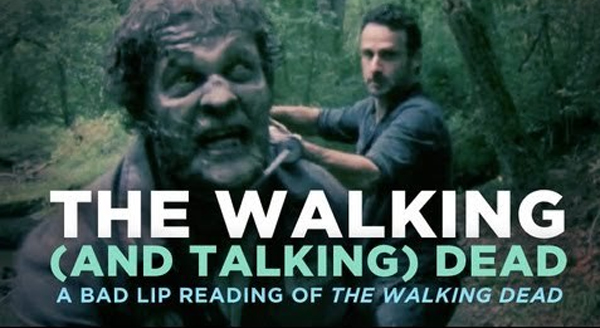 Another great video from the folks at Bad Lip Reading just got released. This time these guys poke fun at the AMC hit show "The Walking Dead." It even got the approval from Norman Reedus who plays Daryl Dixon on the show.

So if you are needing some new Walking Dead in your life since the last season ended here you go!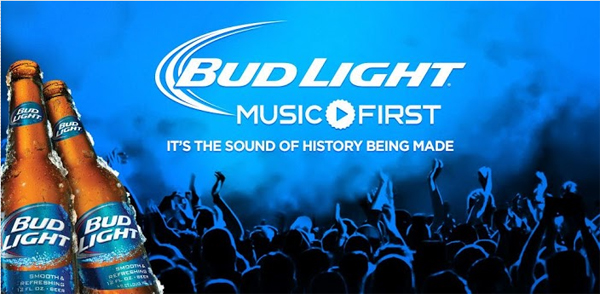 For live music fans, summer is about to kick into high gear with the launch of Bud Light Music First. Bud Light is teaming up with the best music and interactive partners, including Live Nation, Myspace and Universal Music Group to host the ultimate live music experience.
It all culminates with the "50/50/1" event on August 1, with concerts in all 50 states on a single day and featuring artists such as Kendrick Lamar, Sublime with Rome, Alex Clare, The Airborne Toxic Event, The Flaming Lips and Guster. Additional artists will be announced in the coming m

onths.
Tickets to the 50/50/1 events  as well as more than 500,000 music-centric prizes including Monster DNA Headphones, Live Nation Concert Cash and UMG music downloads are up for grabs through the Bud Light Music First app, available through the Apple and Android app stores.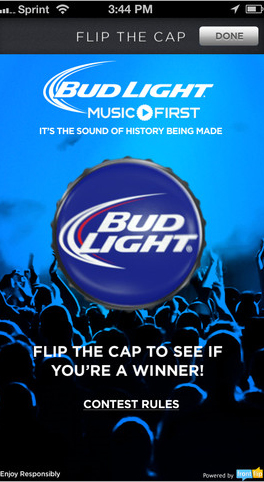 Fans can also track updated show announcements, discover never-before-seen artist content and live-stream select 50/50/1 concerts through the Bud Light Music First Hub at https://new.myspace.com/budlightmusicfirst.
"Music is such a unique platform because it brings people together, yet everyone interacts with it on a personal level," said Rob McCarthy, vice president, Bud Light. "With Bud Light Music First, we have an amazing collection of artists and partners that will make sure every adult fan can experience music in a fun, interesting way this summer."
"We're excited to partner with Bud Light as the Music First initiative gives fans the opportunity to connect to music on a massive scale, tapping into Myspace's platform as a destination for 50/50/1," said Christian Parkes, global vice president of marketing, Myspace. "Like Myspace, Bud Light shares the desire to create unique experiences in music and provide fans greater access to their favorite artists."
The other music acts confirmed to perform in 50/50/1 include: Emeli Sandé, Drive-By Truckers, The Gaslight Anthem, The Airborne Toxic Event, The Dirty Heads, Capital Cities, Citizen Cope, Coheed & Cambria, Gogol Bordello, Mastodon and Machine Head, Halestorm, Under the Sun Tour, Guster, The Mowgli's, Minus the Bear, Clap Your Hands Say Yeah, Best Coast, Frank Turner, Wavves, The Hold Steady, Corey Smith and Portugal. The Man. Additional acts will be announced in the coming weeks. The 50/50/1 lineup is being curated by Live Nation.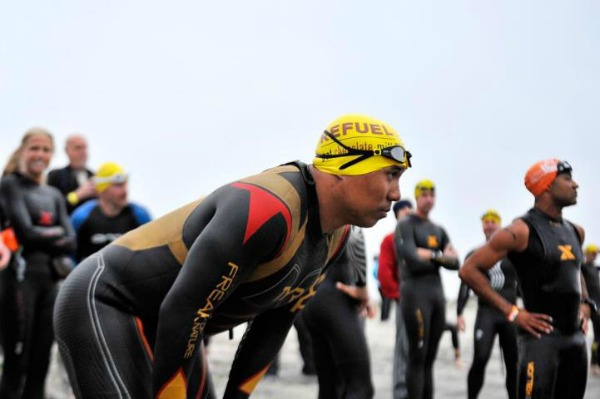 Hines Ward's REFUEL web series, BECOME ONE, highlights the former football star's training efforts as he prepares to compete in the 2013 IRONMAN® World Championship triathlon in Hawaii this October. in our Hines Ward interview that we posted a few weeks back, Ward talked about BECOME ONE and the training that goes into triathlon prep. The first episode of the BECOME ONE documentary web series can be seen at gotchocolatemilk.com.
Being a Steelers fan and a big supporter of anything involving chocolate milk, I definitely wanted to follow along as Hines makes the transformation from retired football menace to endurance athlete extraordinaire. Here's a look at the second episode of the 10-part BECOME ONE series:
This past weekend , Hines competed in the St. Anthony's Triathlon in Florida. Ward must've been happy that the swim portion was cut short due to choppy waters. He completed the triathlon in 2 hours, 26 minutes and 37 seconds. His splits were 15:53 for the swim, 1:33:27 for the 40-kilometer (24.9 mile) bike ride, and 51:27 for the 10-kilometer (6.3 mile) run
To help promote Ward's journey and the BECOME ONE series, we've partnered up with REFUEL | got chocolate milk? to provide a sweet giveaway for one lucky reader. The winner of this giveaway will receive three pieces of REFUEL branded Nike gear: two pro-combat dri-fit black t-shirts and one white mesh cap. We'll even throw in an autographed football from Hines himself.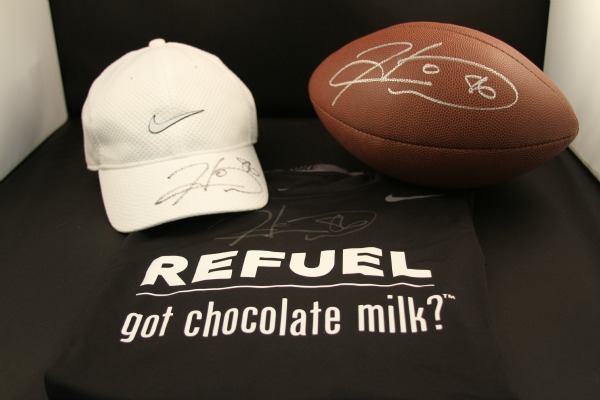 To enter, just follow us on Twitter (@MANjr) and drop us an email below. Good luck!