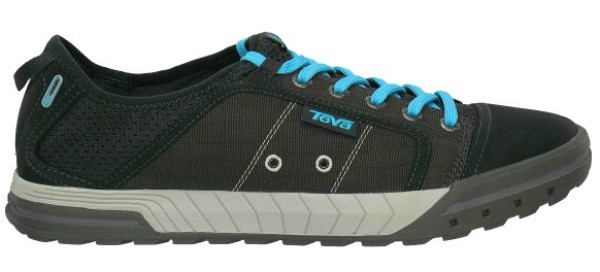 Teva has always been known as brand that caters to outdoor enthusiasts. From water shoes to sandals that can take a beating, if you've ever tried to expose a pair of Teva shoes to the elements, you know these kicks are comfortable in the wild.
Lately though, the whole outdoor performance thing isn't enough. Teva's trying to focus on the dual-use factor. We received a pair of Teva Fuse-Ion shoes to review, and it's clear that the company wants to offer the type of outdoor, elements-be-damned performance that you'd expect from the brand, while also providing a bit of everyday style to go along with the package. As the Teva website puts it, "We designed a shoe that you can wear to the bar, then made it the highest performing water shoe ever built. No big deal."
So did they succeed in this effort? I think so.
From a performance/wetness-battling standpoint, the Teva Fuse-Ion uses Ion Mask material to keep the shoe extra dry. What's Ion-Mask, you ask? It's a nano-coating material that's a thousand times thinner than human hair and molecularly bonds to a surface to provide extreme liquid repellency while still allowing for maximum breathability. Oh, and it's also solvent-free and only uses tiny bits of protective monomer so it won't have a negative impact on the environme Basically, shoe stays dry.
Other outdoorsy features of the shoe include the use of spider rubber technology for crazy grip (even in wet conditions) and a quick heel pop down feature that allows for instant slip on action. The pop down thing is pretty cool. Even if you're not asking for extreme liquid repellency, and you just want to slip some shoes on real quick to take out the trash or something, you can slide your feet in there, totally stomp on the heel, and the heel part of the shoe will pop back into place, no problem.
As far as the "I can totally where this to the bar" factor, you can see that the shoe is pretty stylish. It doesn't look like something developed by NASA in a lab or anything like that. They're kind of form-fitting with a bit of a thin sole. If you have extra wide feet, you might find Fuse-Ion a bit restrictive, but not more restrictive than, say,  your average pair of Adidas. Also, neon blue laces aren't my thing, but the shoe pictured above also came with some light gray laces. I think those are the more subtle, bar-friendly play.
The Teva Fuse-Ion kicks retail for $90 and are available in black (pictured above), bungee cord (nice two-tone throwback action) or duck green (which, to me, has a bit of ninja turtle vibe going on). If you want a breathable shoe that can stay all kinds of dry and not look like some kind of futuristic aqua sock, you'll find a nice middle ground with the Fuse-Ions.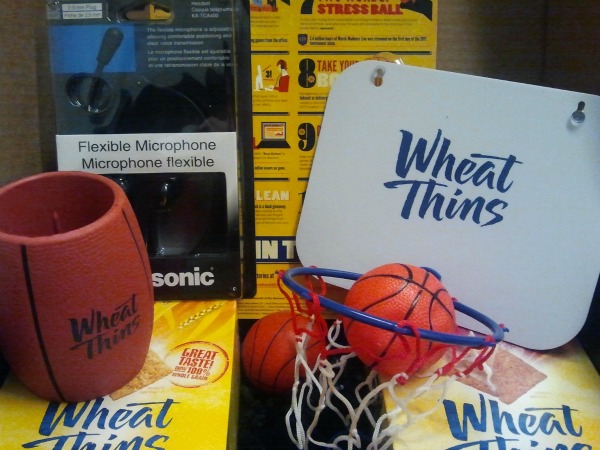 The NCAA Men's Basketball Tournament kicks off tomorrow. If you're like most people, you can't just sit and enjoy all the games on your couch for the next three weeks. You still got a job. You still got stuff to do. But you're not going to let a little thing like work stop you from enjoying March Madness, right? Of course not. You're going to find a way to get work stuff done while multi-tasking all covert-like.
Luckily, we're teaming up with Wheat Thins to hook up two lucky readers with Wheat Thins March Madness Covert Fans Survival Kits. What's in these kits? Here's what you'll get:
Mini basketball Wheat Thins backboard and basketball set
Headset (for listening to the game and pretending to be on a conference call)
Wheat Thins branded koozie
1 box of Original Wheat Thins Whole Grain
1 box of Smoky BBQ flavored Wheat Thins
1 Wheat Thins branded stressball
To enter the giveaway, just follow us on Twitter (@MANjrcom) and send us an email below. We'll pick two winners at random by the end of the week.
And to get a jump start on your covert office-basketball watching skills, check out this important infographic: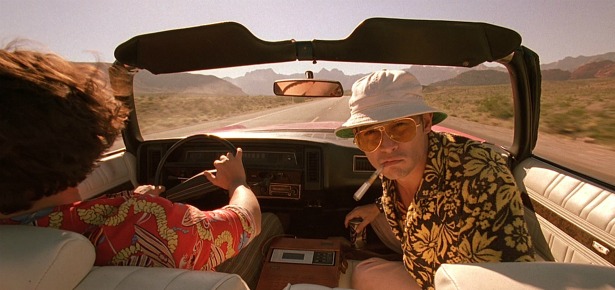 Things were different in 1998. Back then, no one worried about stuff like subprime mortgages, record unemployment or Facebook status updates. In 1998 we were just wired differently. Boy bands and ska music filled the airwaves. Politicians were worried about blue dresses and naughty White House behavior. Dawson's Creek was a hit show. People liked saying the word "globalization." In 1998 it seemed like we were on the brink of some sort of altruistic interconnected global culture. And the US was leading the way. We were kings of the world.
Sure in '98 the Euros made the Euro, but we blasted a 77-year old man into outer space just to say we could. We were riding high on a dot-com bubble that wouldn't burst for another couple years. Michael Jordan was still playing basketball. Everything was coming together. We were comfortable.
It was just a different time, man. And there were different movies back then, too. Good ones. Lots of 'em.
For reasons that aren't entirely clear to me, 1998 is packed with quality movies. Just an all around good mix of films you can watch over and over. Anyone can pick out a decent list of 10-15 films from just about any year. But there's just something about these 1998 selections that, as a whole, give this year in film an extra level of distinction.
So here's the list. It's totally subjective and by no means comprehensive. It's just 10 movies from 1998 that deliver nostalgic entertainment value, repeat viewability, quotable quotes and a high level of goodness.
10. Saving Private Ryan
This film has to make the cut. It's less cerebral than The Thin Red Line and it has just the right amount of schmaltz. If I needed to dial up a gritty, big-budget WWII drama, I'd probably reach for Band of Brothers or even The Pacific, but those projects would've never been made without the success of this film. Quality acting and decent directing by Steven Spielberg (back when he still had the touch). Smash at the box office, 11 Academy Award nominations, you get the idea. This isn't a film you can watch weekly, but if you haven't seen it in awhile, it's worth a revisit.
9. There's Something About Mary
Might not hold up as well anymore, but if you saw this in the theaters you remember what a gut-buster it was. It was just a different type of comedy for the time. In the world of 2012, Ben Stiller's been relegated to making movies called Heist Tower with Eddie Murphy, but in the world of 1998, Ben Stiller was about to blow up. His performance in There's Something About Mary was classic. Plus, Cameron Diaz was attractive back then.
8. Can't Hardly Wait
I know, this one's all cheese. Trip McNeally. 92% The beer has gone bad. Did anyone order a loveburger? Well done.
7. Rushmore
I used to love anything that Wes Anderson did. I kind of scaled back my Wes Anderson appreciation over the years, but it's hard not love this movie.
6. Run Lola Run
Don't worry, it's okay to scream in the casino.
5. Fear Loathing in Las Vegas
Some movies trip you out for a scene or two, but this entire film is one big head change. I was trippin' balls after I saw this in theater during my first date with my now-fiancée. It's the kinda film that makes you want ice water with extra ice.
4. The Big Lebowski
At first I didn't get what all the fuss was about, but this is definitely a movie that gets better with repeat viewings.
3. Rounders
Pay heem hees money!
2. The Negotiator
This movie made the top three? I wonder why that is. You got two actors in their prime: Kevin Spacey and Samuel L. Jackson. This is Spacey, after The Usual Suspects and before the American Beauty overhype and Sam L, before he became a Jedi. And David Morse, you just know he isn't a good person any time he walks on screen in any film.
1. The Siege
Pre-9/11 New York is under attack by terrorists. Denzel Washington doesn't support torture. He's better than that. He won't let the fight against terrorism threaten our civil liberties. But Hawkish, internment-lover general Bruce Willis stands in his way. With the help of Annette Benning (a shorthaired spy-floozy) and Tony Shalhoub (an Arab federal agent named "Frank"), Denzel must stand up for Tariq Husseini and find the last cell before the terrorists strike again…
"Samirrrrrr!"
Man, is this movie fantastic.
Honorable Mention
Lock Stock and Two Smoking Barrels
Wild Things
Ronin
Croupier
Safe Men
Armageddon
A Simple Plan
What'd I miss?

Keeping with the spirit of St. Patrick's Day, we're going to make sure that your March includes some total body freshness, Irish styl Remember those sweet Irish Spring commercials from back in the day? Everyone looked so happy, there so much whistling and who could forget the obligatory knifing of the green bar of soap?
Well now it's a whole lot easier to get that fresh and clean as whistle Irish Spring experience. Starting this month, Irish Spring body wash will be available everywhere. Irish Spring® Clear & Fresh Skin™ Body Wash is made just for dudes. It contains 2% Salicylic Acid to help guys prevent break outs and that strong, distinctive Irish Spring scent is all part of the package. You could be smelling fresh and clean as a whistle for up to 8 hours, man! And you don't have to bring a knife into the shower, either!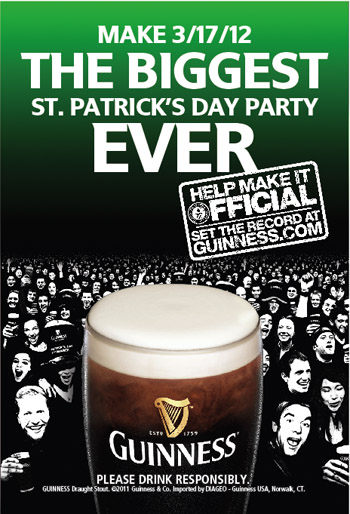 St. Patrick's Day is coming up quick everyone, so remember to take a minute to get in on the biggest shamrock themed party of all time. We've told you all about Guinness and there efforts to break a world record this St. Patty's Day. Well we need you to join the party, pal! The World Record for the Biggest St. Patrick's Day Party EVER isn't going to set itself, you know.
What can you do to support Guinness and MANjr? It's super easy:
1. Visit Guinness.com.
2. Click "Count Me In"
3. Enter your first name, zip code and date of birth
4. Enter the promo code "MANJ"
That's it! It takes less than 60 seconds to be part of something awesome and you could also win a trip to Dublin in the process.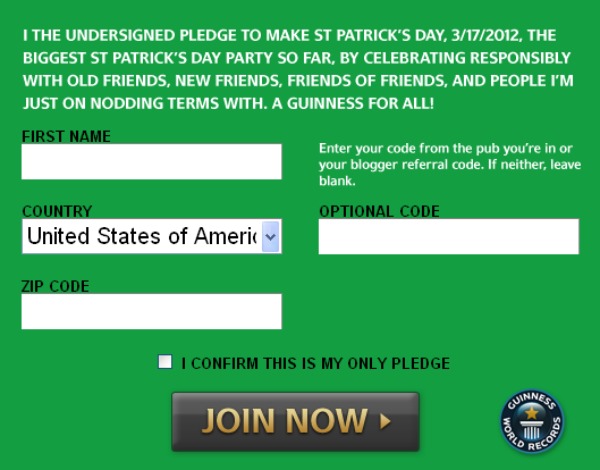 Thanks again for your support and have a safe and happy St. Patrick's Day!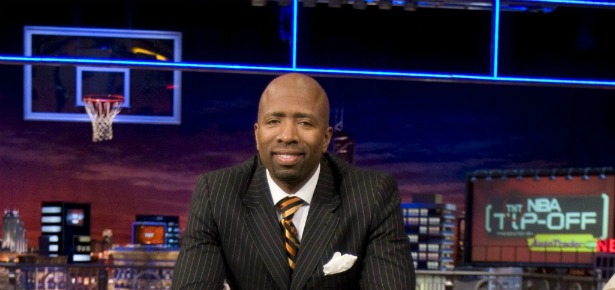 Kenny "The Jet" Smith is no stranger to people who follow the game of basketball. An All-American point guard from North Carolina, Kenny still holds the record for career assists by a Tar Heel (769 – including 86 in NCAA Tournament play). He was the sixth overall pick in the 1987 NBA Draft and a two-time NBA Champion with the Houston Rockets. He could distribute, drop outside jumpers, glide inside and as soon as his playing days were done, Kenny Smith went straight into broadcasting. He's been a fixture on TNT since the 1997-1998 regular season.
Leading up to the 2012 NCAA Tournament, Smith is working with Coke Zero to promote the Coke Zero School Shout Out and Enjoy More Madness campaigns. We sat down with Kenny before the All-Star break to chat about the NBA, the NCAA Tournament, the Coke Zero tournament tie-ins and his TNT broadcasting crew. Here's the interview:
CS: Hey Kenny, who gets further in the NBA playoffs this season, the Clippers or the Lakers?
KS: Wow. As it stands, before possible trades or anything could happen?
CS: Yeah, as the teams stand currently.
KS: As the teams are constructed as they are now, I would say that the Los Angeles Lakers still have an advantage over the Clippers.
CS: I know you know all about trade rumors. You were traded by the Kings to the Hawks and from Atlanta to the Rockets. With the all of the Pau trade rumors making the rounds lately let me ask you, did trade rumors impact your performance when you played the game?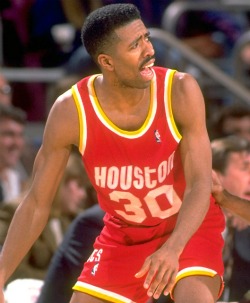 KS: You think about them, but when the game starts you don't. You only think about it when you get asked in the media before and after games. There's been great players—I've stood next to two of the greatest players that ever played the game, Charles Barkley and Shaquille O'Neal. They've been traded. So there's no reason why Pau Gasol would think that he couldn't be traded, or any other player, because the greatest players in the world are wanted by other teams. So that's what it is. It's not so much someone doesn't want you, it's other teams want you.
CS: Right, I gotcha. After all the compliments and sunshine do you think Kobe Bryant has given management the okay to get rid of Pau?
KS: No, I just think that as a player on the team, you know, Kobe knows his window of winning championships is short and he's like "can we figure out what's going on right now?" I don't think he would have made the same statement if it was his second year in the NBA.
CS: Yeah, fair.
KS: But being as, you know, he's got two to three really good years left he's like "no I gotta make a statement, cause I gotta figure out not only for me—for the team, but for me as well." So I think that's when you see that frustration. But Kobe Bryant 4, 5 years ago was asking to be traded to Dallas.
CS: Right.
KS: So he's been part of this. Every player has been part of this type of situation before.
CS: You played for six different NBA franchises, which team do you think had the best combo of ownership and front office people?
KS: Well I would have to—I played with the Rockets the longest, you know. I played with the Rockets for 7 ½ years so I would say that that combination of understanding players and understanding management, the relationship, I would say, with the Rockets was easily—far easily the best.
CS: Who was the most difficult player you ever had to defend?
KS: Anyone on a hot streak in the NBA. You know because someone says, "hey I gotta play against Chris Paul tonight." Chris Paul might not play well. And then you get a Jeremy Lin who comes in. A guy who hadn't been playing and then he gives you 25 points and 11 assists. So the NBA is really about timing, about when you meet guys up, you know. So I don't think that you can just say "the toughest guy is" on that level. There's guys who are far ahead. In my era—the Jordan era, he was far above a lot of even the superstar players. But when you get to the superstars, the great players, they're all difficult to defend and to play against.
CS: Would the Rockets have won those titles if Jordan never retired? Be honest Kenny!
KS: Well, he actually—he played one year. I just can't help it he was wearing number 45 but…
CS: (Laughs)
KS: He lost to the Orlando Magic. You know they had the opportunity when he came back so I think that we would have won and we already did. We've proven that we won when he played. He just didn't play the first year.
CS: Where do you think Hakeem ranks all time?
KS: In terms of centers or players?
CS: In terms of centers.
KS: Well, he's definitely in the top five. But when you say the top five centers of all time it's like picking a banana over an orange, you know what I mean? It's just a personal choice. And what team are you building around. But Hakeem Olajuwon is one of the top 5 centers of all time.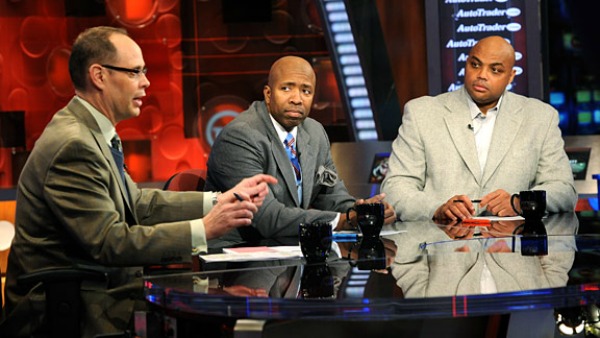 CS: Speaking of top 5 centers, what's it like having Big Diesel on the TNT set?
KS: Lots of fun. I think Shaq is finding his niche every day, we're enjoying having him. He doesn't have to be the best player on the team, or the most dominant (laughs). He can just come in and be part of the show and have a great deal of fun and that's what he's doing.
CS: Tell me something about Charles Barkley that the public might not already know.
KS: About Charles?
CS: Yeah.
KS: Wow. He's a gym rat.
CS: Really?
KS: A habitual gym rat. Meaning he watches a bunch of basketball on off days. And he's a movie buff. He can tell you not only the movie, but he can tell you the actors in it. And not the main actors, but the supporting actors.
CS: (Laughs)
KS: He knows those supporting actors names that I would never know.
CS: Do you think that E.J. gets enough respect and recognition for being a total badass?
KS: I think—I think he does. I think people recognize it now. They know what he does and how good he is to our show and how much he has to facilitate things and make them happen.
CS: So you've been on TV now longer than you were actually a player in the NBA. Did you always know that you wanted to go the TV route?
KS: No. This is something new—I mean it was new when I first started it. I knew I would be in basketball, I didn't know that this would be the route. But I'm enjoying the fact that I am and it's a lot of fun. I really did not know that I would be in television, but I knew I would be in basketball in some type of way.
CS: Now what are your thoughts on that crazy Jumbotron thing that I see on the set? Where you have to go and like stand around life-sized players and stuff. Do you like that? Is it kind of gimmicky or weird? What's that like in person?
KS: I mean it gives a better perspective because sometimes I can actually show you the position that the defender or the offensive player should have been in. So I can actually be in that spot and say "he should have been here and not over here because the space is not good enough." So sometimes it's great, other times I just have fun with it because it's a really big TV. (Laughs).
CS: (Laughs).
KS: So it's a little bit of both.
CS: So are you going to be working as an analyst for March Madness again this year?
KS: Yeah I'll be doing the March Madness. I'll be doing it with Turner and CBS and that's why I'm basically on the talking with you now because we're doing a big promotion with Coke Zero where college basketball fans get a chance to enjoy more Madness and show their school spirit by texting [in the Coke Zero School Shout Out program]. It basically gives kids an opportunity and fans an opportunity by texting "zero" plus their team name to "2653" and they can win free access to March Madness live, which now you have to pay for but you can get it on your Android phone and you can get it on your iPhone phone and you can watch March Madness live for free. And put yourself in for a chance to win tickets to the final four, so I'm all over it.
CS: So do you expect your Tar Heels to cut the Nets down this year? Or if not, who you got?
KS: There's never a year I don't expect.
CS: (Laughs)
KS: This year I'll just expect more (laughs). I just expect more in other years and this year I expect more. I think we have everything that you have. Do we have good guard play? Yes we do. Do we have good inside play? Yes we do. Do we have a great coach? Oh, yes we do. So we have all of the makings of what it would be. Do we have experience? Yeah. We have all the basics to be an NCAA champion.
CS: Do you think this is the year of the mid major?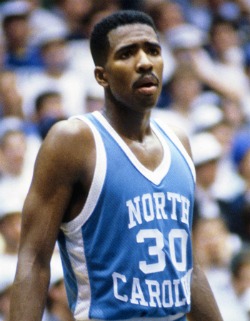 KS: I don't think they're the mid major anymore. I think mid major—that phrase should be eliminated in sports, in NCAA. Because of the fact that so many schools, you know, the top players don't stay for 4 years or 3 years anymore. Every school has a legitimate chance to win the NCAA championship this year. So I don't call them mid's anymore, I just call them season teams now. They're guys like Butler last year, they had juniors and seniors on their team you know, and that's the difference from years past.
CS: Who do you like in terms of tournament sleepers this year?
KS: I think once they get out of the league play and we see who actually wins at tournaments, then we get an opportunity to see. Even like let's say last year we—speaking of Jeremy Lin—but Harvard last year, they were coming out of the Ivy League last year and I was like "Wow, Tommy Amaker's got these guys playing. They could actually play around and upset a team; they're not your traditional Ivy League school." And then they lost and didn't make the tournament you know? (Laughs)
CS: Yeah. (Laughs)
KS: So we gotta see like how it plays out a little bit over these next weeks or so.
CS: What do you think about Gonzaga's chances?
KS: I think Gonzaga's a really good team. You know, they had some inconsistencies at times, but I think they're a really good team. You know, Murray State's come out of nowhere. But I mean a school sometimes—say like Florida State who has beaten Duke and North Carolina. They could play around and lose in the first round of the playoffs in the ACC tournament and then be one of those bubble teams you know?
CS: I gotcha.
KS: They're the team that could beat Duke or North Carolina and may be on the bubble. But that's what I'm saying, you have to kind of wait and play everything out over these next couple of weeks.
CS: If I had to press you right now for your final four picks what would you say?
KS: I think—I think it's impossible to pick that right now. Only because I can tell you Duke vs. North Carolina and then all of a sudden they're in the same region. You know what I mean?
CS: (Laughs) right.
KS: So it kind of—it gets more dictated by who you're seeded against and where's your region? Are you a 1 or a 2 in your region and who else is in your region? So that's what I'm saying, we've still got to kind of play out the ACC tournament, the Pac-10 tournament and so forth.
CS: Do you think we'll ever see a point where college basketball players get paid to stay all four years? Like some kind of reward for sticking around?
KS: I think that guys should get paid if they stay four years and graduate.
CS: Okay, that's fair.
KS: Key word being graduate. I think they should get a stipend of what's been made during their—like a percentage. You know, 3% of what's been made at your university to basketball while you were there. Or 2%, whatever it is. But I think that the amount of money that is generated—and if you stay and you graduate, you should be able to participate in financially after you graduate of what you've done.
CS: Right right.
KS: Because a college education doesn't really add up a lot of times to what they bring in. It's not an equal agreement.
CS: Yeah, I gotcha. Switching back to the NBA, do you think Lin's the real deal?
KS: Yeah, Lin's the real deal. You can't go this long and not be the real deal.
CS: Do you think "feel good" stories like Linsanity or Tebow-Mania can reach a point of oversaturation where other players start getting sick of the headlines? Like Deron Williams said the other day?
KS: Well, Deron was sick because he was the one who it started on.
CS: Oh right, true.
KS: Yeah. He was the guy that it started on so he had a personal agenda to let everyone know "you know what, I'm still a top three guard in the league. Like if you could name three guards, I don't know if you can name 3 guards better than me." And that's what great players do. They do that every night. They don't show that just against Lin. But they circle a lot of games. I think what's great about Lin is we've all at one time in our life had been misevaluated in terms of our talent. And he just kicked in the door and shows that you don't have to be a great Xs and Os guy or a personable coach, you've got to be able to evaluate talent. And you know— he's every underdog story if you think about it. His ethnicity, that's been a question. The fact that he's been in the D league, that's been a question. The fact that he didn't go to a perennial powerhouse school for basketball, that's been—like we all understand some part of what he is. That's what makes his story so great.
CS: Do you think Seattle deserves another chance at an NBA team?
KS: Oh yeah. I mean that was one of the most fun cities to play in when they were the Supersonics. I mean that was—they had so much support. I was surprised that—I mean, I felt that they'd never not had a basketball franchise because of the enthusiasm that was there.
–
Time was short, so I had a bunch of questions that didn't get asked, but just wanted to say thanks again to Kenny Smith for taking the time to chat with us. Make sure you guys check out all the Coke Zero prize-winning action leading up to and throughout the NCAA tournament this year. Check out our post or visit EnjoyMoreMadness.com to learn more.

The madness is about to get started, but before the tourney kicks off, Coke Zero is giving college hoops fans a chance to get in on the action a little bit early. The Coke Zero School Shout Out gives fans a chance to support their teams and win some cool prizes in the process. Leading up to March 10, fans can text "0" and their favorite NCAA Division I basketball team to "2653" for a chance to win thousands of free NCAA March Madness Live access packages.
NCAA March Madness Live provides live, high-quality video streams and highlights for every game in the tournament straight to your iPhone or Android phone. You can also get live game alerts and live radio broadcasts for all 67 games. The package costs $3.99 and is available across all videos screens and over Wi-fi and 3G. If you want to pay four bucks and not miss a damn thing, visit NCAA.com.
Coke Zero will be ramping up the prizes as the tourney kicks off. On Selection Sunday, Coke Zero will be launching a "Watch & Score" program that will provide a new level of fan engagement throughout the tournament. Basically, when you tune in to watch March Madness on CBS, TNT, TBS and truTV, you'll see calls to action and keywords during the broadcast and on March Madness Live. Fans can text in for a chance to win a bunch of prizes like a home entertainment system makeover, trips to the 2012 and 2013 Final Four or a spot on an Ultimate Fantasy Basketball Camp hosted by legendary college coaches.
My Coke Rewards members can also get in on the Coke Zero Bracket Game. Starting March 12, make sure to look for unique codes on Coke Zero products and enter them in through your my Coke Rewards account on the EnjoyMoreMadness.com site. Select the right team to advance in a given round, and you'll earn a chance to win gift cards, Final Four trips, music downloads and all kinds of good stuff.
You know you're going to watch all these games anyway, so might as well take a look at this stuff and get in on the action. Who knows, you may even end up in New Orleans for the Final Four this year.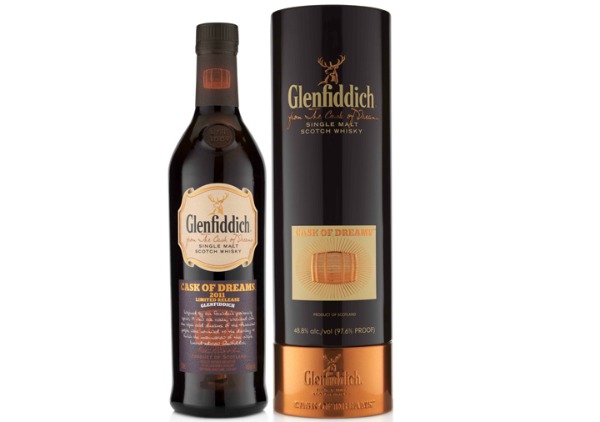 A couple weeks ago, I attended a tasting of Glenfiddich's rare Cask of Dreams whisky at Seven Grand in Downtown LA. The tasting was hosted by Mitch Bechard, the Glenfiddich Brand Ambassador for the western US. Bechard did a great job of explaining the story behind the Cask of Dreams release, and he scored extra points with me after he hooked me up with a limited edition Cask of Dreams bottle to take home.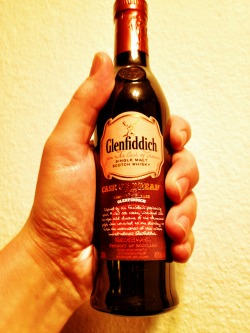 So here's the story behind the Cask of Dreams whisky. The limited bottling of the Cask of Dreams is part of Glenfiddich's 125th Anniversary celebration here in the states. In 2011, Glennfiddich brought 11 brand new American oak barrels from the Ozarks to different iconic cities throughout the US. They encouraged people from all over the country to sign these barrels and include a note about their dreams and what inspires them.
So people around the US arrived at these cask signing events, enjoyed some great whisky and put their mark on the oak barrels.  The barrels were then shipped back to Glenfiddich where they wree filled with a variety of matured whiskies, the youngest being 14 years old. The whisky was decanted in the new oak barrels and monitored to ensure that the right combination of vanilla, spice and aromas were achieved. The whisky was sampled every three to four weeks by Glenfiddich Malt Master Brian Kinsman. After three months of finishing and achieving a 48.8% ABV, the limited edition whisky was ready to be bottled. Only 3,500 bottles were produced (for the US only) with a recommended retail price of $99.
So sampling this stuff was pure joy. I love single malt whisky and the Cask of Dreams flavor was just fantastic. Super smooth, well-blended flavor. No single flavor dominated the taste. It was strong without a big bite. It's the kind of spirit that you don't even want to swallow. You just let it sit on your tongue as long as possible so you can soak in the complexities. It has a sweet and fruity nose, a friendly entry and a mellow-spicy finish. If you have a chance to get your hands on this limited release, I highly recommend it.
And if you're interested in regular whisky tastings at Seven Grand, contact Pedro Shanahan – pedro@213downtown.la. Pedro invites master distillers and brand ambassadors to visit the local Whiskey Society. He runs weekly and monthly events where you can learn about and sample whisky from all over the place. If you live close to Downtown LA, it's definitely worth checking out.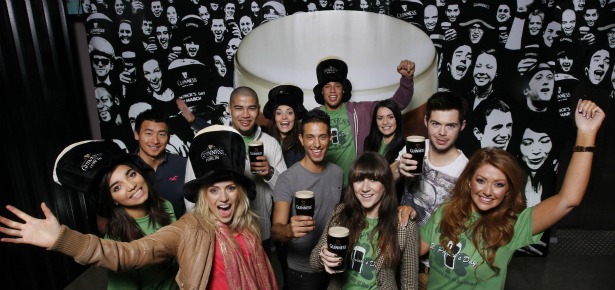 It's never too early to start thinking about your St. Patty's Day plans. Those four leaf clovers, green outfits, parades, pints and pubs aren't going to enjoy themselves. You need to start mapping out what your March 17 festivities are going to look like now.
This year, instead of sipping on some god-awful American light beer loaded with green food coloring, why not take part in a time-honored St. Patrick's Day tradition and responsibly celebrate with some tasty Guinness?
According to National Geographic, Guinness sales go through the roof on March 17:
On any given day 5.5 million pints of Guinness, the famous Irish stout brand, are consumed around the world. But on St. Patrick's Day, that number more than doubles to 13 million pints, said Beth Davies Ryan, global corporate-relations director of Guinness.
The folks at Guinness are well aware that St. Patty's Day and Guinness are the perfect party combination. That's why this year Guinness is recruiting people from all over the world to sign a pledge to responsibly enjoy their tasty brew on March 17. Their goal is to set a Guinness World Records title for "The Largest St. Patrick's Day Celebration" ever.
MANjr is partnering up with Guinness to get the word out on this pledge. Our blog is the representative for the state of California, so we're asking you, dear reader, to help support the cause and sign the pledge for on Guinness.com.
When you visit the site, click "Join the Party" and you'll be directed to a form that asks for your first name, country, zip code and an optional code. Just fill out the form and enter "MANJ" into the optional code field so they can track all the MANjr pledges that come in. You don't have to be form California to sign the pledge, but help us represent our fine state in this noble cause! You could also win a trip to Dublin!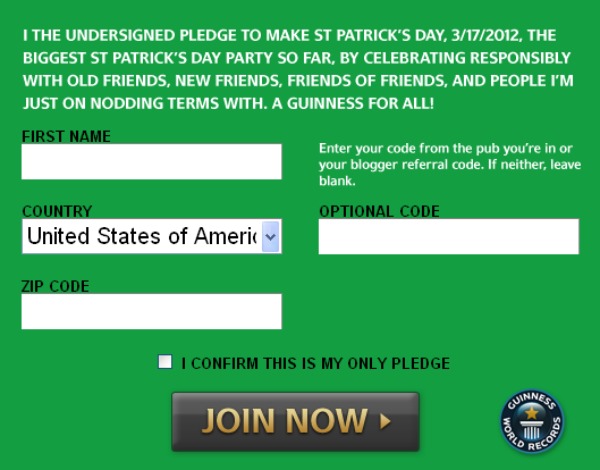 We get $1 for every pledge we bring in (up to $1,000), and if we dominate this pledge stuff, we can earn a trip to Dublin to attend a party at St. James Gate in September.
So help us out people! The competition is fierce, the cause is just and we need your support. Don't forget to include "MANJ" in the optional code.
Thanks for your support and have a safe and happy St. Patrick's Day!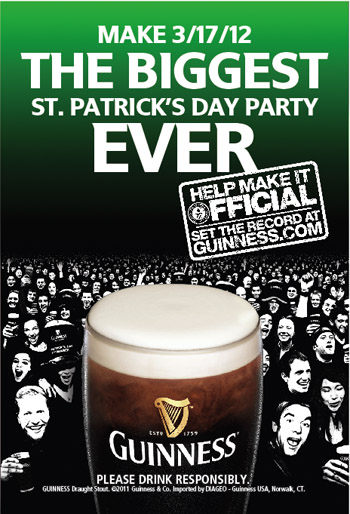 So last night was a great night for our friends at Valvoline and Roush Fenway Racing. We had a rooting interest in cheering on Jeff Burton (due to our participation in the Daytona 500 Blogger Challenge and the fact that he's a really cool guy), but we have a history with the guys from Roush Fenway Racing and Valvoline as well, so it was awesome to see them enjoy success at Daytona.
The Roush team includes Carl Edwards, Greg Biffle, Matt Kenseth, Trevor Bayne and Ricky Stenhouse, Jr. Kenseth beat out teammate Greg Biffle to win the Daytona 500, much like he did during the Gatorade Duel Daytona 500 qualifying race in Thursday's second duel session at Daytona International Speedway. This put Kenseth in the #4 starting position for the Daytona 500, just behind Carl Edwards (who earned the pole) and Greg Biffle who earned the #2 starting spot.
Matt Kenseth finished fourth in the 2011 NASCAR Sprint Cup Series, and his teammate Carl Edwards lost to Tony Stewart in a tie-breaker. Ricky Stenhouse Jr, was the 2011 Nationwide Series Champion. Roush Fenway Racing had three drivers finish in the top 10 in the Daytona 500 yesterday. Not bad at all.
Here are some images from this weekend's festivities at the Valvoline NextGen Pit Stop at the Daytona 500: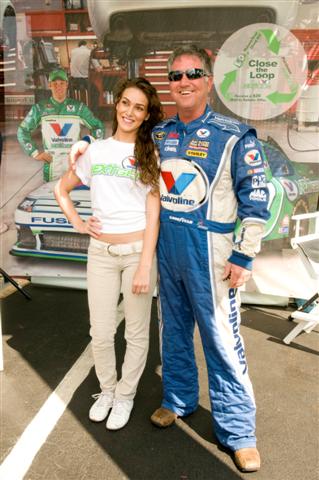 Fans get a chance to dress like the pros at the Valvoline NextGen Pit Stop during the Daytona 500.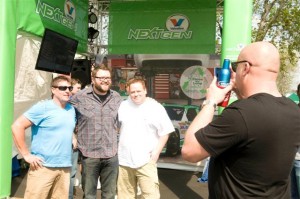 Rutledge Wood from Top Gear (USA) shows fans how they can Close the Loop and get a $20 gift card from Valvoline by returning their used oil to be recycled into NextGen motor oil.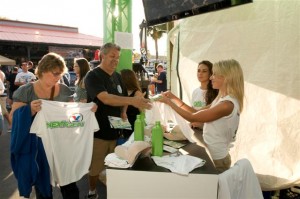 Fans enjoy complimentary gear and learn how they can Close the Loop at the Valvoline "NextGen Pit Stop" during the Daytona 500.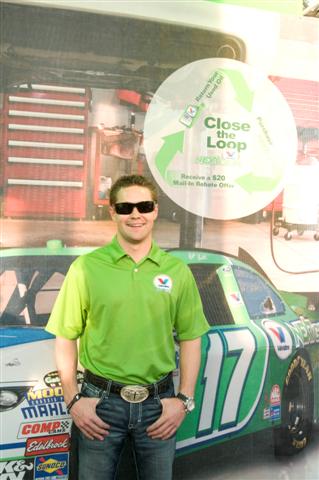 Ricky Stenhouse Jr., visits the Valvoline NextGen Pit Stop to share his excitement about his team's decision to run Valvoline NextGen technology in all of their Sprint Cup and Nationwide cars this season.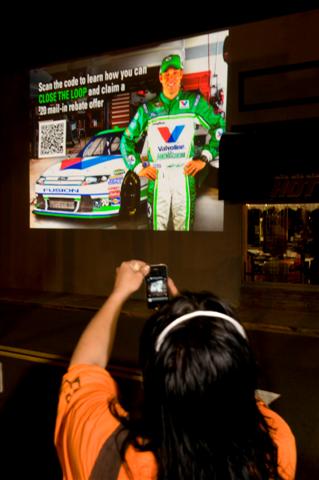 Race fans take in the pop-up Valvoline NextGen projection billboards all around town during the Daytona 500.
Congrats again to our friends at Valvoline and kudos  to Roush Fenway Racing for earning their 300th NASCAR victory!