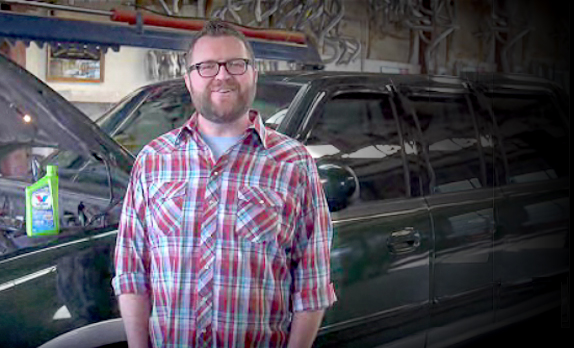 (Editor's Note: The following guest post is from Rutledge Wood, the host of Top Gear U.S. on the History Channel, a NASCAR correspondent on SpeedTV and Valvoline spokesperson.)
Everyone knows car maintenance is important, but if you're not a gear head – someone who loves working on vehicles – the idea of doing routine car maintenance can be very intimidating.
Whether on the set of Top Gear, at NASCAR races or just in my garage at home, I'm fortunate enough to be around cars a lot. I love driving them, repairing them and tinkering with them. However, for a lot of people, cars can be a confusing and even intimidating piece of machinery to work on.
To help people feel more comfortable in maintaining their vehicles, here are some simple tips that can make anyone feel like a gear head.
Change your oil
While many don't find the prospect of being under a car messing with greasy filters their idea of a fun Sunday afternoon, changing a car's oil isn't as daunting a task as it seems.   Here are a few easy tips:
1. Make sure your engine is cool before you start, then safely jack up your car and support it with jack stands. Lay a piece of cardboard under the engine, just in case you spill any oil.
2. Position a recycling container under the oil pan that's on the bottom of your engine, then undo the drain plug and let the old oil pour into it. When the old oil's out, put the drain plug back on and tighten it to your car's torque specification.
3. Next, remove your old oil filter using an oil filter wrench; turn the filter counterclockwise until it's free, but watch out you don't spill the old oil that's still in it. Make sure the rubber gasket comes out with the old filter.
4. Then, taking your new oil filter, lubricate the rubber gasket with some new oil and fill the new oil filter with oil to about two-thirds full.
5. Carefully screw the new oil filter clockwise into place (holding it upright); tighten only as much as you can with one hand, don't overdo it or else it can cause a leak.
6. Now it's time to fill the engine with oil, so unscrew the oil fill cap on the topside of the engine and insert your funnel. It's smart to check your owner's manual to find out how much oil your engine holds if you're unsure, then pour a little more than three-fourths that amount into the engine.
7. Finally, start your vehicle and let it run for about a minute. During that minute, take a peek underneath to make sure you don't have any leaks. After a minute, turn off you vehicle and check the oil level on the dipstick, adding more if necessary.
I use and recommend Valvoline NextGen Oil. It works great and since it's made with 50 percent recycled oil, it's good for the environment as well. To sweeten the deal, they've even come out with a 'Close the Loop' program where they'll give you a $20 mail-in offer  if you return your used oil at participating auto parts stores and buy five quarts of NextGen for your next oil change.
Clean up cloudy headlights
It may seem obvious that your headlights are one of the most critical safety features on your car, but what's not always top of mind is how quickly they can become yellowed, hazed or dull from rough road conditions and exposure to the sun. This can lead to severely diminished visibility for yourself and other drivers, especially when driving at night or in poor weather.
Replacing or professionally restoring headlight lenses can cost hundreds of dollars. Options like the 3M Headlight Restoration Kit – No Tools Required allow you to use basic DIY skills and a little elbow grease to sand, smooth, and polish your way to clearer lenses from the comfort of your own garage.  This easy-to-use kit includes a series of hand-held abrasives and rubbing compound that's used to remove yellowing and surface blemishes, and then refine and polish the lenses to reduce and remove scratches.
Check your tires
Worn treads are a major safety issue while on the road, leading to hydroplaning, poor traction as well as reduced fuel efficiency. Luckily, checking your tread wear is simple. Look at the tread pattern. You'll probably see something called "tread wear bars." These are small bridges between your treads. Look at the tread pattern and you'll see the beginnings of these bars start to form between the treads, or running across the tires. As the tires wear, these bars will become flush with the tire's tread. If they are, then it's time to change your tires.
Another simple trick is to head for the change jar. Just grab a penny and place it upside down with Lincoln facing you in the center of the tread (at the thickest part of the tire). If you can see the top of his head it's time to get new tires.
By following these tips, you might not quite be ready to join a NASCAR pit crew just yet, but you'll be well on your way to becoming a true gear-head.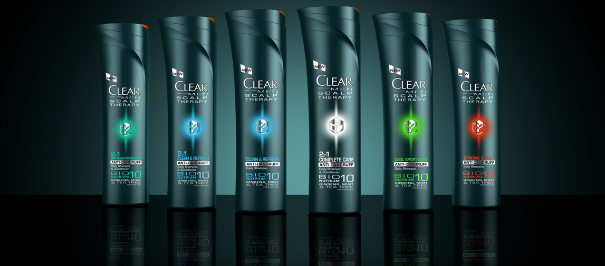 I've been a loyal Head & Shoulders guy for years. I wouldn't say I have a serious dandruff problem, but I do get an itchy scalp from time to time. And like all guys, when I find a grooming product that I like, I stick with it for a long time. I'm just loyal like that.
So it was with some hesitation that I tried out the new Clear Men Scalp Therapy shampoo. Could this stuff really replace my go-to Head & Shoulders bottle?
Well for starters, it's a 2-in-1 shampoo and conditioner product. That's helpful because I can't remember the last time I ever purchased a bottle of conditioner. I mean who really buys a separate bottle of conditioner these days. If you're a guy, it's just not necessary.
I tried the Clear Men Scalp Therapy Complete Care 2-in-1 product and I liked it. It smelled good. Kind of hard to describe, but imagine a type Head & Shoulders consistency with a subtle Herbal Essence kick. The formula includes a blend of 10 nutrients and botanical actives called Bio-Nutrium 10. This cocktail of goodness includes ginseng, soybean, sunflower, tea tree, natural mint, vitamin E, vitamin B, almond and coconut oils. So yea, the stuff smells good.
And it feels pretty invigorating, too. The thing I like the most about this shampoo-conditioner combo is that it suds itself up like there's no tomorrow. You put a little bit of this stuff in and start working it a bit, and the next thing you know, you got lather for days.
It's got a little tingle to it as well. Maybe it's the Pyrithione Zinc working its dandruff-eliminating magic. I'm no scientist, so I'm not sure. I just like the tingle.
So I've been using this stuff for the past few weeks and I haven't had many problems in the itchy flaky scalp department. It's got the 2-in-1 action, it smells good, lathers up big time, brings the tingle and seems to be working. All-in-all, it's enough to make me reconsider my long term relationship with Head & Shoulders (it's not you, H&S, it's me). Clear Men Scalp Therapy Complete also comes in these flavors: Cool Sport Mint, Clean & Fresh, Dry Scalp Hydration and Strong + Full.
Do you want to try this stuff out for yourself? Well you're in luck, cause we're giving away 10 bottles of Clear Men Scalp Therapy. The winner of this giveaway will pretty much be set on shampoo purchases until next summer. To enter, like us on Facebook and send us an email below and tell us why you want a year's supply of free Clear Men Scalp Therapy. We'll pick a winner at random next Tuesday, July 10.
Good luck!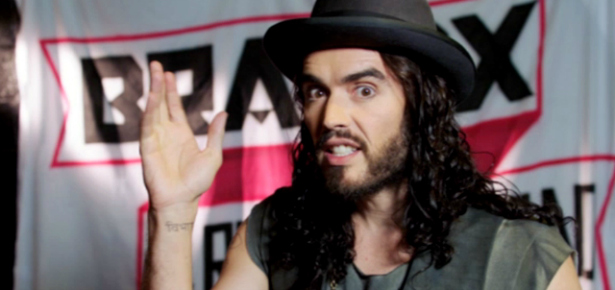 MANjr attended a live taping of the first BrandX show this past Monday, and we got to see comedian Russell Brand in his element. The show premieres tonight at 11 p.m. on FX, so be sure to check it out. If you want to witness Brand in person, and experience a behind-the-scenes look at his new TV format, you are in luck my friend. MANjr is teaming up with FX for a sweet giveaway that can send you and a friend to Los Angeles to attend a live taping of FX's first late night comedy show.
The live taping will take place on July 23 or July 30, and your trip will include roundtrip airfare, hotel accommodations, meal vouchers, ground transportation and entry for two to see the live taping of BrandX. The approximate retail value of this prize package is $2,340. Not a bad haul, folks!
We're running this awesome giveaway until July 2, so get in on it quick. You must be a US resident over the age of 21 to enter. Limit one entry per person.
To enter, just use the form below and tell us why you want to see a live taping of Russell Brand's new show in person! This guy has a rabid fan base, so get in on this while you can!
If you want to read the fine print, check out the official rules for this sweet sweepstakes.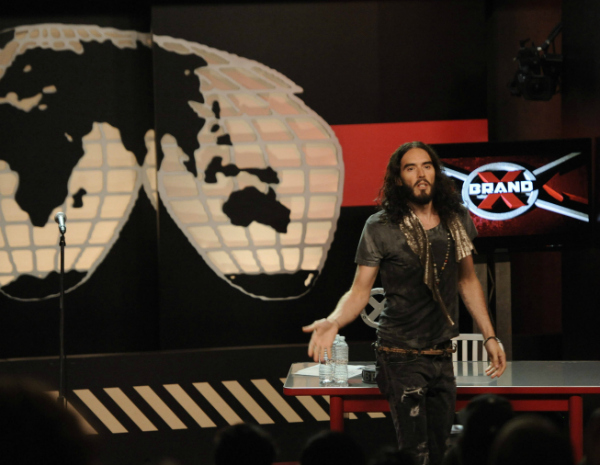 Comedian and movie star Russell Brand is making a surprise move by launching FX's first late-night series. BrandX with Russell Brand showcases Brand's unfiltered comedic point of view on news, politics and pop culture. The recently transplanted Englishman and ex-pop-star husband also interacts with the audience on the topics in an intimate setting.
MANjr was lucky enough to attend the premiere taping of BrandX on Monday. If one thing is for certain, the years of drug abuse as a former addict hasn't slowed down Brand. The well-spoken provocateur was quick on his feet about any given subject. Though we know Brand best for his unconventional sense of humor, there is a serious element to the show. According to Brand, he is calling for a change in consciousness because the people he's speaking to – the younger generation, the disillusioned, the disenfranchised – don't feel like their concerns are being addressed.
Joining BrandX as a political, economic and historical consultant is former Congressional policy advisor and Harvard University graduate Matt Stoller. Brand met Stoller in Zucotti Park in Lower Manhattan during the Occupy Wall Street protests in New York City. According to Stoller, they both started talking about politics as they watched. Brand, who calls Stoller a perfect blend of Willy Wonka and Charlie Bucket from the original Charlie and the Chocolate Factory based on his appearance, thought they could sync politically so he approached him about the show.
Despite touching on some serious subject matter, BrandX is still a TV comic commentary. It will be interesting to see how the British newspaper The Sun's three-time "Shagger of the Year" will do in a market dominated by the likes of Jon Stewart, Stephen Colbert and Bill Maher. Or if Brand will continue to go in a new direction entirely.
FX picked up six episodes of BrandX to round out its new Thursday-night comedy lineup which includes the return of Wilfred and Louie for new seasons, and Anger Management, a new sitcom starring Charlie Sheen. Tune in to BrandX at 11 p.m. tonight on FX!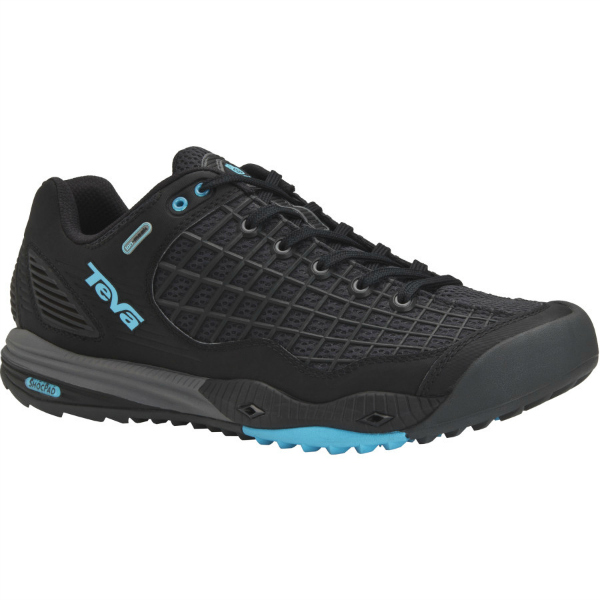 It's summertime, and the living is easy. We're officially hitting the seasonal sweet spot of 2012. That means blue skies, high temperatures and conditions that make you feel bad for not getting out and enjoying the great outdoors. It's time to hit the beach. Go camping. Water ski. Fish. If you ride bikes, get out there and peddle. If you like to run, go jog it out with the nice scenery. And if you enjoy hiking, go out and conquer some tough terrain. Just make sure you have the proper shoes with you.
A pair of Teva Reforge Ion-Mask shoes should do the trick. The ion-mask technology used to coat the shoe actually repels water on a molecular level. Every fiber is protected from moisture on a nano scale. So if you're about to jump a creek and you're worried about getting a case of the wet-socks, fear not. These shoes will keep you dry.
They'll also make sure you don't slip and break your neck, which is especially good for clumsy fellas like me. The Spider365 sole has got the special grip action you need to conquer any terrain and the extra ridges on the side of the sole and heel stabilizer will help you stay connected to whatever surface area you're trying to conquer.
If you're hike is a long one, it's a good thing that these kicks are comfortable, too. The Reforge Ion-Mask shoes use the same Mush-infused top sole that comes standard on the Teva flip flops and the Mush Frio Slip-ons.
So all around, not a bad bit of shoe. It is a bit on the pricey side, but that's what you pay if you want high-tech footwear. They retail for $130, but you can find 'em priced a lot less if you look around online.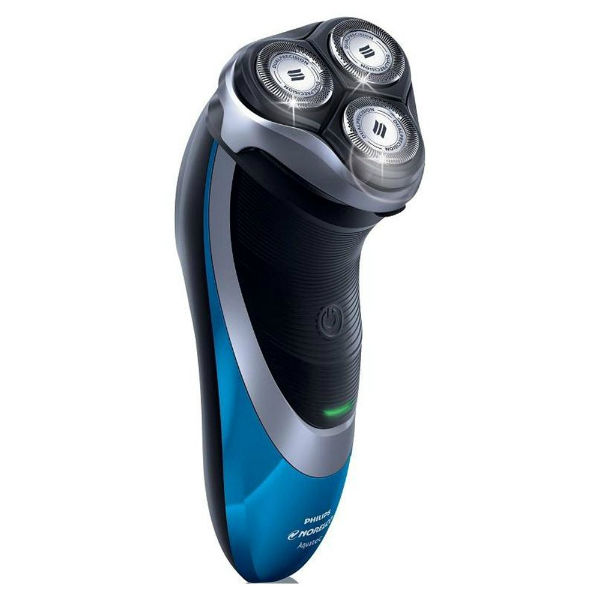 So a few weeks back we accepted the Philips Norelco Go With a Real Pro Challenge. We made MANjr's resident hairy guy Danny Dabiri grow out a hockey playoff beard, and according to team sources, this may have directly contributed to the Los Angeles Kings winning their first Stanley Cup. We followed Danny's beard progress and even gave him a trim using the Philips Norelco Vacuum Stubble and Beard Trimmer Pro so his scraggily hockey playoff beard wouldn't get too out of control.
After the hockey playoffs ended, it was time for Danny to say goodbye to his Persian face rug. He enjoyed his time among the bearded ranks, but the playoff beard had run its course and achieved its desired effect. It was just time to move on. So Danny shaved the thing off using the Philips Norelco PowerTouch with Aquatec AT830. Here was the result: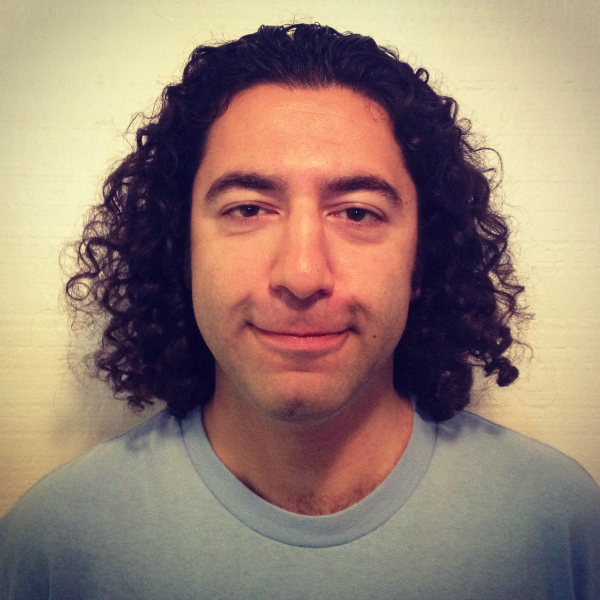 The PowerTouch with Aquatec is a dual purpose shaver that can be used wet or dry. So for dudes with the sensitive skin, you can use foam or shave gel in combo with the shaver. For more rugged faces, or just to maximize speed and convenience, you can just go with a dry shave. The heads of the shaver pivot and flex to follow the contours of your face. The DualPrecision heads also target short stubble and longer facial hairs simultaneously and they use the patented "lift and cut" system to lift up your face whiskers and cut them as close as possible to the surface. You've seen the commercials, so you know what I'm talking about here.
So Danny used this thing to tackle his playoff beard, and that was no small task. Even with the trim, Danny had still developed a pretty thick coat of chin fur. But the PowerTouch performed well under pressure. It really helps to use shaving gel with the thing. Otherwise, with a beard like Danny had, you're just asking for too much.
Danny ditched the blade and went with the shaver for the last couple of weeks. Once the full beard was hacked through, the dry setting was way better for quick maintenance. Now the guy doesn't have to spend a girl amount of time in the bathroom while getting ready every day. Just a couple quick minutes with the PowerTouch and he's good to go. If you let your beard go a few days without any maintenance, then it's probably best to go back to the wet shaver approach.
There may be a time when Danny reaches for a razor again, but probably not in the short term. It's just too easy to maintain his scruff with the thing. As long as you keep your facial hair situation in check, you can reach for the PowerTouch for quick maintenance and a pretty close shave.
Here's a quick, inappropriate AXE promo for Ted, which comes out this Friday. If you're watching this in the office, make sure you have your headphones on!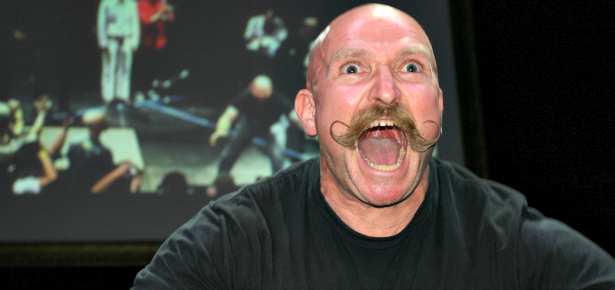 The fine bewhiskered gentleman of the Los Angeles Beard and Mustache Club hosted the second annual LA Beard and Mustache Competition on June 24 at the Belasco Theater in Downtown LA. I attended the inaugural competition in 2011, and I have to say, this year's event was bigger and better by any measure. There were more competitors, more spectators, more vendors, more food trucks – you name it. I think the secret is officially out. Bearding, as a legit and extra-enjoyable sport, has arrived in LA. The way these competitions are expanding, next year might be invite only. Let's hope not though, cause man I love me some cutthroat facial hair battles.
You just feel manlier being there. Maybe it's the crowd, with babes and beards (and babes-with-beards) as far as the eye can see. Maybe it's the layers of one-upmanship and camaraderie between the competitors. Whatever it is, I like it. You got good people, a friendly vibe, cute chicks and some friggin' amazing displays of whisker wizardry. What's there not to like?
If you didn't get to attend the 2012 LA Beard and Mustache Competition, fear not. I put together some video highlights for you, set to some up-tempo beats for your viewing pleasure. I didn't capture all the greatness, but I hope I did this sweet event some justice. Enjoy:
Some photos from Sunday: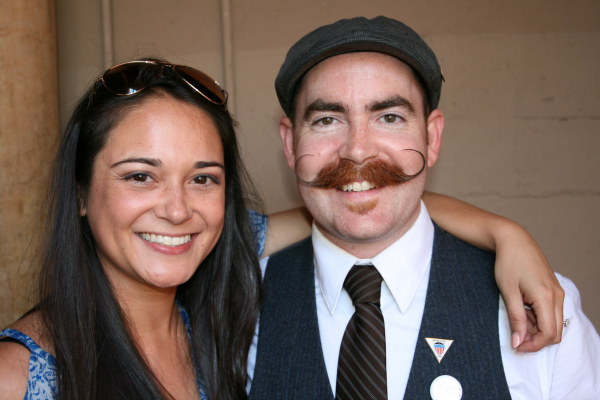 If you're curious who won, here are the complete results of the competition:
Natural Mustache
1. Alfred Nash
2. Javier Quintanilla
3. Brenden Kenney
Business Beard
1. Mark Hurlston
2. Patrick Daniel
3. Karl Dunn
Goatee
1. Kevin Riordan
2. Chris Noel
3. Stephen Scarpa
Sideburns / Muttonchops
1. Nate Johnson
2. Aaron Abravaya
3. Jan-Michael Losada
Groomed Beard
1. Jeffrey Moustache
2. Joshua Davis
3. Shawn Hasson
Whiskerina
1. Killo Kitty
2. Emily Abravaya
3. Lindsay Stinner
Styled Mustache
1. Sean Raiger
2. Robert "Cowboy Bob" Richardson
3. Richard Schipper
Full Beard Natural
1. Ryan Dreyer
2. Scott Lehr
3. Riqo Sanders
Freestyle
1. Aarne Bielefeldt
2. Justin Vorhauer
3. Jack Tannatt
Photo Credits: Ranil Wiratunga, Cathy Zandueta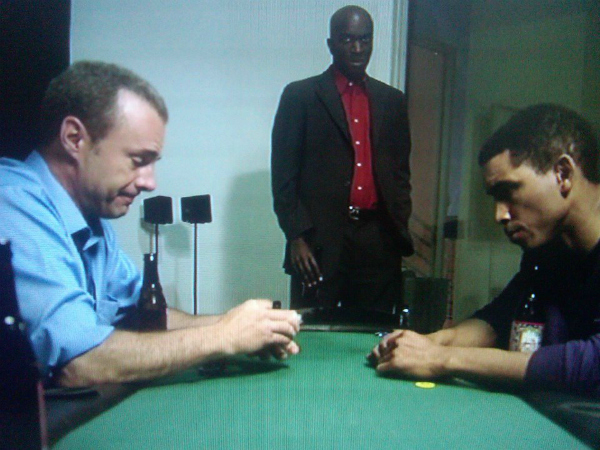 Getting a film made isn't easy, especially when you look at what gets produced these days. Inferior remakes, plot-thin action flicks, this is the kind of stuff that production companies focus on. And it sucks. Tired stories get repackaged and retold. Interesting, legitimate projects get shelved on the regular. The result is that moviegoers are left with few choices, and independent filmmakers – people who actually care about putting out fresh ideas and original stories – face insurmountable obstacles when trying to get their film out to a wider audience.
The main issue is funding. You can't distribute a film if you don't have the proper resources. But independent filmmakers are finding ways to get their projects funded. One such filmmaker is Pat Melikian, who wrote a poker suspense-thriller called The Turn with Tom Novak and Scott F. Evans. Novak and Melikian serve as producers for the film as well. You can view a trailer of The Turn on www.indiegogo.com/theturnfilm.
I had a chance to interview Pat Melikian to discuss The Turn and the challenges that independent filmmakers face when trying to secure funding for a quality project.
DD: What kind of movie would you say The Turn is?
PM: It's definitely a suspense thriller. Think of it like Reservoir Dogs on a poker table.
DD: Talk a little about the cast you've assembled.
PM: We believe the talented cast will be enough in itself to warrant distribution of the film. They were amazing, and too easy to work with.
DD: Would I recognize any of these actors? What kind of other projects have they done?
PM: I'm positive you would recognize most of them. An all around superb group of guys. We have Joshua Fredric Smith who will be starring in the upcoming Mickey Rourke and Kim Basinger film Black November. There's long time soap star Matt Borlenghi, from Days of Our Lives and many other TV shows and movies. The very talented Jason Gedrick from the hit film Backdraft and the short-lived Dustin Hoffman HBO horse drama Luck. David Barry Gray just starred as Todd Palin in the HBO political film Game Change. There's also my long-time friend Dale Wade Davis, who has a recurring role in one of my favorite shows of all time, the Showtime hit Shameless.
DD: What was the inspiration for the film? How did the concept originate?
PM: Tom and I are avid poker fans. We've have played local tournaments, charity events and frequent home games. When we ran the idea past Scott, we all came to the conclusion that none of us have ever seen a good poker movie with the exception of Rounders. The three of us are certain that poker will be around for a long time, and it can only get more popular.
DD: How long is the film?
PM: It's a feature length film with a running time of over 90 minutes. We are very excited about it.
DD: Who directed The Turn?
PM: Fellow writer Scott F. Evans, who also directed Big Bag of $, is the director.
DD: So all that's holding you guys back is funding. What kind of things are you doing to get the word out?
PM: We posted the trailer for The Turn at www.indiegogo.com/theturnfilm. We also set up a Facebook page for the film. We're proud of the work that we've done on the project and we hope that more people can check it out. It's not easy being an independent filmmaker, but when you have a great story, an amazing cast and partners who believe in what they do, it makes the whole process more enjoyable. If you'd like to support us, check out the trailer and help us spread the word.
–
Say no to stale filmmaking, folks. Check out the trailer and the Facebook page and assist these promising filmmakers in bringing The Turn to a theater near you.
It's that time of the year, folks. That's right, the 2nd Annual Los Angeles Beard and Mustache Competition is taking place this Sunday. There's still time to score tickets, too.
It all goes down this Sunday from 2-9pm at The Belasco Theater. Tickets are $15 for spectators or $25 for a competitors spot. Visit LABeardComp.com for tickets and registration. If you want to know what to expect, check out this video from last year's competition: