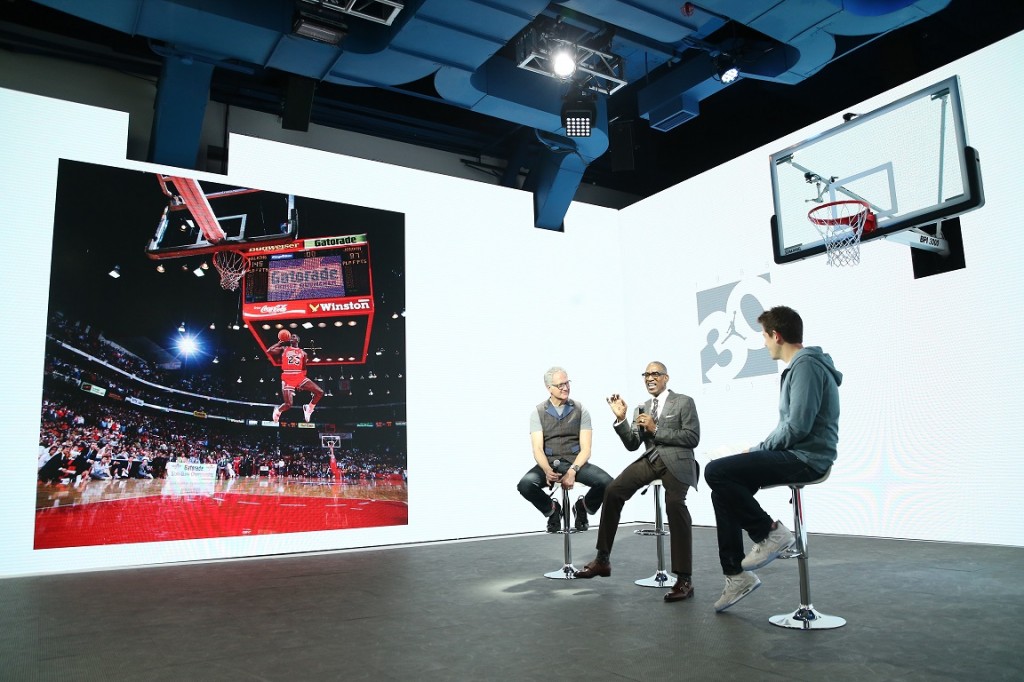 Today, the Jordan Brand celebrated its 30th anniversary, opening its NBA All-Star Weekend experience at Pearl Pavilion across the street from Madison Square Garden. Two of Michael's oldest friends and colleagues in the business, famed footwear designer Tinker Hatfield and Jordan Brand's Howard "H" White took part in a Q&A session, telling never-heard-before stories of the three decades since the launch of the Air Jordan I.
In addition, Jordan brand athlete – New York Knicks All-Star Carmelo Anthony – attended the event, checking out the venue's Hallway of Greatness , a collection of Walter Iooss Jordan photos, and an interactive experience where fans can emulate several of Jordan's greatest shots ever.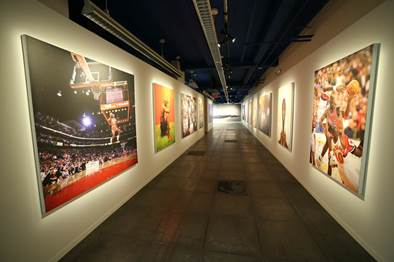 Sports photographer Walter Iooss' iconic imagery of Michael Jordan on display at Pearl Pavilion, New York City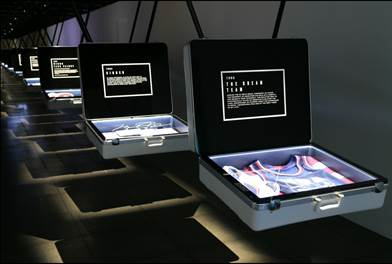 Fans have an opportunity to relive 30 years of the Jordan Brand's history at the Hallway of Greatness in Pearl Pavilion, New York City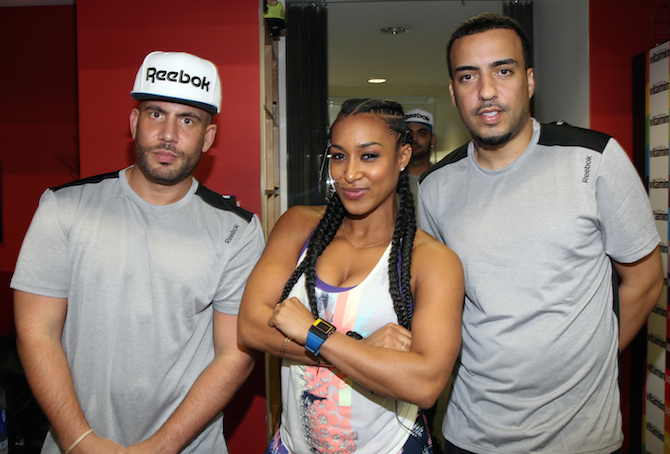 Last night, Reebok staged a high profile workout event at the Reebok Lounge in West Hollywood, California. Renowned rapper French Montana hosted the event along with fitness trainer Lita Lewis and DJ Drama on the decks.  Celebrities, influencers, and fitness and music industry executives were invited to partake in the boot camp style workout at the CrossFit box attached to the Lounge space.  Fusing fitness with music, the evening highlighted the Reebok Lounge and its combined lifestyle and fitness capabilities.
Post workout, guests mingled and received gift bags including Reebok fitness and Classic products.  Invitees were encouraged to post #breakyourselfie photos to their Instagram accounts, supporting Reebok's current social media campaign which inspires people to share images of themselves post-workout and showcase their achievements.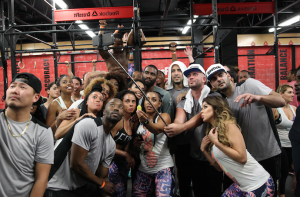 To bring friends of Reebok together and treat them to an experience fusing two sides of the brand; fitness and music. French Montana is a friend of the Reebok brand and a fitness enthusiast thanks to his discovery of CrossFit. He regularly trains at the Reebok Lounge location and wanted to host an event bringing some of his industry friends and contacts together to experience his favorite workout.
Guests wore apparel and footwear from Reebok's men's and women's collections, including Studio, Yoga and CrossFit apparel and ZCut TR sneakers for women and CrossFit apparel for men paired with Nano 4.0 sneakers.
The Reebok Lounge is a seeding space welcoming celebrities, influencers, media and tastemakers to experience Reebok's unique point of view on both fashion and fitness. It is located on LA's Melrose Avenue. The Reebok Lounge has an adjoining CrossFit box which features a program of fitness classes throughout the week.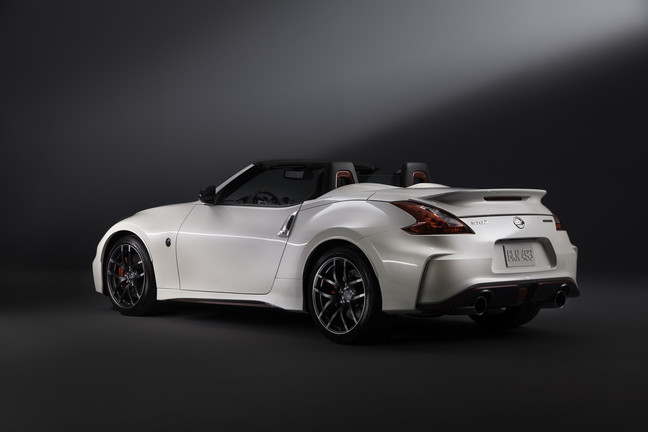 Nissan today unveiled two exciting new executions of its "Innovation that Excites" philosophy at a press conference at the 2015 Chicago Auto Show – the Nissan 370Z NISMO Roadster Concept and the GT-R LM NISMO race car.
The Nissan 370Z NISMO Roadster Concept is designed to provide the best of two worlds – the open-air driving exhilaration of a standard 370Z Roadster and the racing-inspired style and performance of a 370Z NISMO Coupe. It offers unique engine, suspension, exterior and interior features versus standard Nissan 370Z Roadster models – including a 350-horsepower 3.7-liter V6 and NISMO-tuned suspension.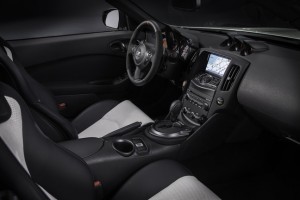 "While the 370Z NISMO Roadster Concept is just a performance study at this point, you can see its potential as a production model," said Fred Diaz, senior vice president, Nissan Sales & Marketing and Operations U.S., Nissan North America. "First, we've injected all the performance equipment from a 370Z NISMO Coupe. Inside, since the interior is on display whenever the top is down, it features the full NISMO treatment, as well as a few special custom touches."
The Nissan 370Z NISMO Roadster Concept's striking visual presence starts with the addition of GT-R-inspired functional and fully integrated aerodynamic body pieces, including a custom carbon-fiber rear spoiler created exclusively for use on the 370Z NISMO Roadster Concept. Inside, the NISMO-styled interior is just as stunning, anchored by black Recaro® seats with custom off-white Ultrasuede® inserts."
The 370Z NISMO Roadster Concept would join the current Nissan 370Z NISMO coupe model, expanding the NISMO lineup to five models, if approved for production.
The GT-R LM NISMO, which will take on the best in the world in the race to glory at the Le Mans 24 Hours later this summer, was created by a team of carefully selected experts in Japan, the United States and Europe. Unlike other LM P1 cars, the GT-R's 3.0-liter twin-turbo V6 gasoline engine sits in the front of the front-wheel-drive car, while the hybrid power is harvested from the front driveline to augment acceleration.
"This is the first time in 16 years that Nissan will be competing at the top class at Le Mans, though it has been a tour-de-force as an engine supplier in the LM P2 class with three wins over the past four years," added Diaz. "This is GT-R taken to the extreme, representing the pinnacle of current racing technology."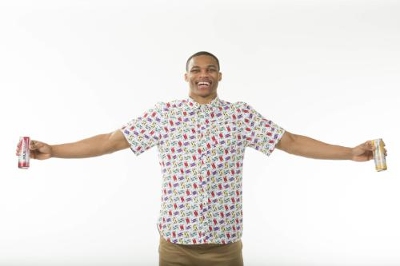 Today, Mountain Dew took a vertical leap and announced a multi-year partnership with basketball all-star and cultural icon, Russell Westbrook.  The partnership with Westbrook, who is known for his creative personality on and off the basketball court, marks the original flavor's first national partnership with a pro basketball player and will tip off an entirely new extension of the Mtn Dew® Kickstart™ "It All Starts with a Kick" campaign.
As the newest member of DEW Nation, Westbrook will be the face of Mtn Dew Kickstart, including the two new bold flavors – Pineapple Orange Mango and Strawberry Kiwi – that fuse an energizing blast of DEW with real fruit juice, coconut water and just the right amount of kick which hit shelves in January 2015. The partnership officially kicks off in New York City as we lead into the hottest weekend in professional basketball and fans will get a first look on February 14 when a new TV commercial airs, starring Westbrook and his buddies.
"Becoming part of DEW Nation just felt really organic and authentic for me," said Westbrook. "The brand is an instigator – it's about creativity and looking at life through your own lens and living it the way you want to live it.  Those are all attributes that are core to who I am."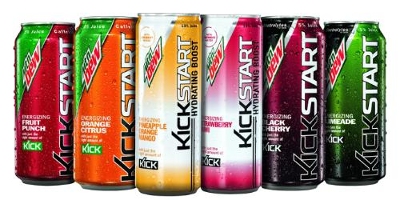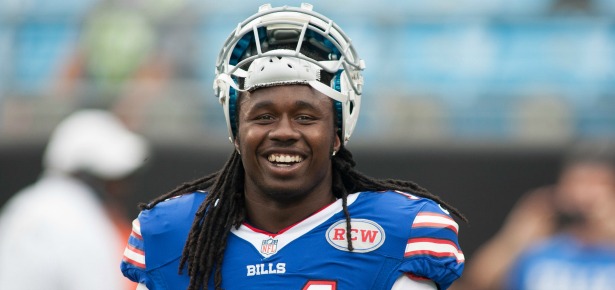 Sammy Watkins just finished up a phenomenal rookie season and along with a stellar defense, is bringing hope back to a weary fan base in Buffalo that is long overdue for a team to be hopeful about. Watkins completed a successful rookie campaign, setting franchise marks for both receptions and yards despite having his starting quarterback benched early in the season and finishing out the year with a solid but unremarkable Kyle Orton.
The Bills gave up quite a bit for the opportunity to move up and select Watkins in the form of two first rounders and a fourth round pick. This along with the successful rookie campaigns of other receivers in what will likely go down as one of the deepest and most talented receiver classes of all time had Watkins coming into the league with even more pressure than usual for first round picks.
Watkins responded by persevering through injuries, quarterback changes, drawing the defenses number one coverage man, and in some cases, entire games of double teams, by repeatedly coming up big for his team when they needed him. His most noteworthy moment according to himself and others was a game winning catch against the Vikings in week seven with the season already on the line with a tough schedule ahead of them.
Last month, Sammy Watkins teamed up with Pepsi to throw an exclusive Pepsi Halftime Show in Rochester, New York. Musical guests Nico & Vinz were on hand to celebrate Rochester, which was named the most hyped town in America after winning Pepsi's "
Hype Your Hometown
" contest.
Sammy sat down with Man Jr. to discuss his transition into the league, the coaching changes and volatility in Buffalo, adjusting to life in his new home, and his work on Pepsi's Hype Your Hometown contest. Check out the audio below:
Audio clip: Adobe Flash Player (version 9 or above) is required to play this audio clip. Download the latest version here. You also need to have JavaScript enabled in your browser.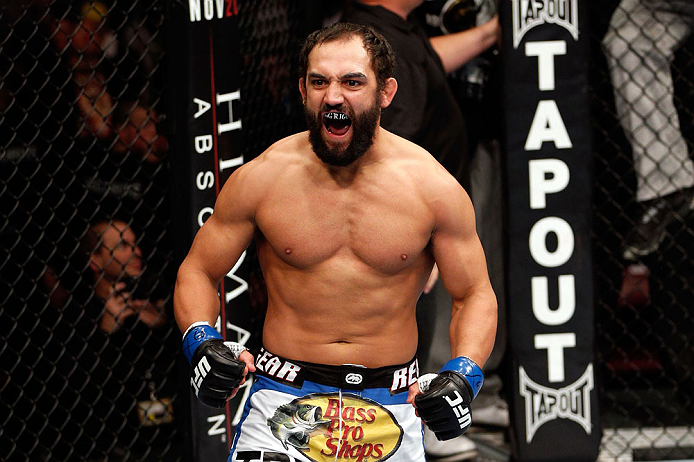 Johny Hendricks has definitely made a name for himself in the octagon fighting in the UFC. He is a mixed martial artist and an accomplished former collegiate wrestler. Next month he will be taking on Matt Brown at the UFC 185 on March 14th. Thanks to Reebok I was able to chat with Johny about training for the fight in March, what he is doing differently for this match, and how the Reebok "Be More Human" campaign has helped him train.
Click here to listen to the interview.
For the "Be More Human" campaign well to all the athletes out there who spend their days bloody, muddy, and sore, not for bright lights or money, but to simply be the best version of themselves: This is for you.
Sometimes a little bit of crazy is a good thing. It's that extra push that keeps you at the gym after everyone else has thrown in the towel, that urge to go for one more lap, or that mental alarm clock that drags you out of bed in the morning to get out there and train. That little bit of crazy is what sets the tire flippers, rope climbers, and 5 A.M. runners apart from the crowd.
And it's not just about being able to lift more, run further, and jump higher. It's about pushing your own personal limits, expanding your mental and social strength, not just your physical strength. It's about being a harder worker, a more mindful person, a better human. Reebok designs gear that's forged from these ideals and stands up to non-stop punishment.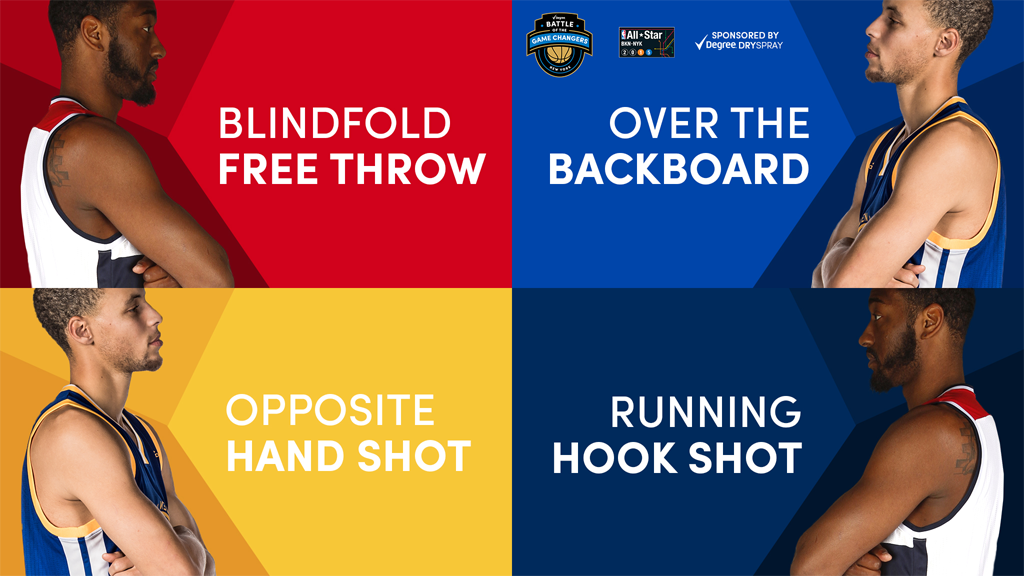 The rivalry between "East vs. West" is synonymous with NBA All-Star, and now the new game changing Degree® Dry Spray Antiperspirant has sparked a fresh competition, pitting two game changing point guards from each coast against each other. On Saturday, February 14, during NBA All-Star Practice presented by Sean John at Macy's, All-Star starters Stephen Curry and John Wall will go shot-for-shot in the 'Degree® Battle of the Game Changers.' One of these All-Stars will be named the 'Ultimate Game Changer' in front of a live audience at Madison Square Garden and on NBA TV.
Curry and Wall will face off in a shot-for-shot competition and fans will help play a role in determining who is crowned the 'Ultimate Game Changer,' by voting on one of the shots the two All-Stars will attempt in the battle. Starting Monday, February 9 fans can vote at Twitter.com/DegreeMen and tune in to NBA TV on February 14 to see which fan shot was selected. To take the crown, Curry and Wall also will have to make a variety of shots which will be unveiled at the start of the competition.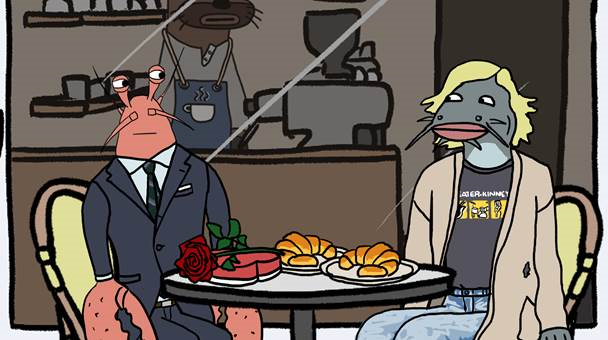 Your favorite lobster bros are back. It's Valentine's Day and Garrett has a big Tinder date lined up. Quinn tags along to eavesdrop—and live-tweet the "ish" out of it in case things go wrong. But when a chick named Nachel shows up instead of Rachel, Garrett starts to wonder if he's being catfished.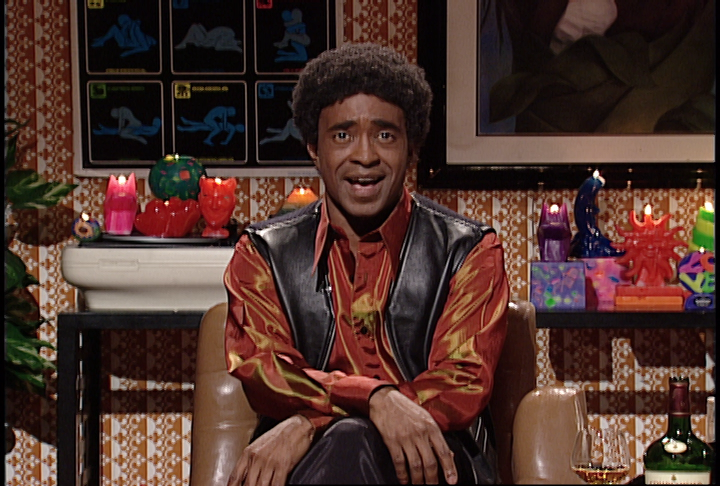 This weekend marks Saturday Night Live's 40th Anniversary, and Courvoisier has the perfect way to celebrate! The classic late night live sketch comedy show will fete its milestone with appearances from A-List celebrities and past cast members while bringing back some of the most notable and loved characters from bygone sketches including "The Ladies Man," featuring Tim Meadows as the one & only, Leon Phelps. What better way to celebrate this Saturday than by channeling Mr. Phelps with your own signature Courvoisier cocktail?
The Ladies Man
·         1 part Courvoisier VSOP
·         1 part Fresh Lemon Sour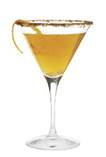 ·          .5 part DeKuyper Apricot Brandy
·         4 parts Apple Cider
·         Shake all ingredients with ice and strain into a cocktail glass.
·         Garnish with a lemon spiral twist and a dash of fresh ground cinnamon.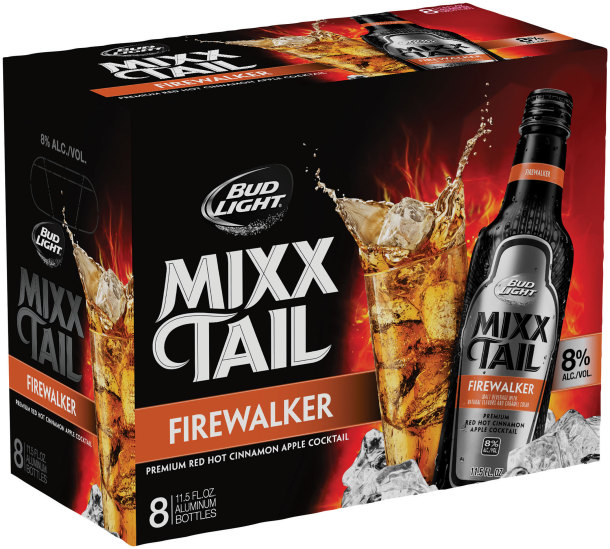 Bud Light, the brand behind the wildly successful Bud Light Lime Ritas, is introducing a new cocktail-inspired product to the growing Bud Light portfolio: Bud Light MIXXTAIL. Bud Light MIXXTAIL is an 8%* ABV cocktail-inspired beverage available in three flavors – Long Island, Firewalker and Hurricane – that combines the great taste of America's favorite cocktail flavors with the uniquely smooth and refreshing finish expected from a Bud Light.
"With Bud Light MIXXTAIL, consumers spoke and we listened. We created a cocktail-inspired beverage to quench consumers' demand for more variety, mixology and easy, convenient cocktail solutions. MIXXTAIL'S bold cocktail taste makes it the perfect pregame in a bottle," said Alexander Lambrecht, vice president, Bud Light. "We believe Bud Light MIXXTAIL will be the perfect companion brand to our popular Bud Light Lime Ritas. Together, these brands will help us continue to lead the FMB category."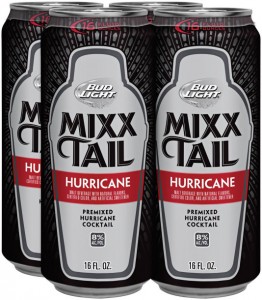 Like the cocktails that inspired it, Bud Light MIXXTAIL is best served over ice. The new drink will be available in 8-packs of 11.5 oz. recloseable aluminum bottles and single-serve 16 oz. and 25 oz. cans beginning Feb. 16.
Bud Light has a history of success with new product innovations. In 2012, Bud Light introduced Bud Light Platinum, which quickly became the best-selling new beer of that year according to IRI Symphony data. Bud Light Lime Ritas, named a Nielsen Breakthrough Innovation Winner in 2014, make up more than one-third of the FMB (flavored malt beverage) category. Since the launch of Lime-A-Rita in 2012, the Ritas brand has grown to include four core flavors – Lime-A-Rita, Straw-Ber-Rita, Mang-O-Rita and Raz-Ber-Rita – that claim the top four spots in the FMB category. Bud Light expects similar results for the new Bud Light MIXXTAIL line. For more information on Bud Light MIXXTAIL, visit www.BudLight.com.