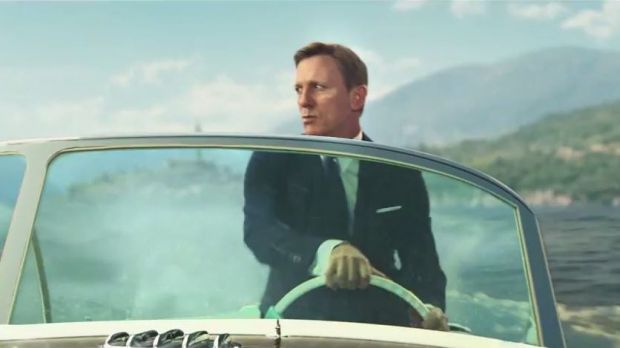 Believe it or not the most famous spy, James Bond has been in a 17 year relationship. Bond has been with Heineken since 1997's "Tomorrow Never Dies." Now with "Spectre" being the seventh consecutive film in the partnership. To celebrate Heineken created a commercial with James Bond enjoying his go-to beer.
Besides the limited edition bottles you can enter a Fandango contest. 1 in 007 wins free movie tickets and much more. The new Bond-themed Heineken bottles also feature a scannable logo on each, unlocking free movie tickets with Fandango. Using your mobile device, visit www.Heineken.com and scan the front of any Heineken Bond Limited Edition Packaging to see if you've won.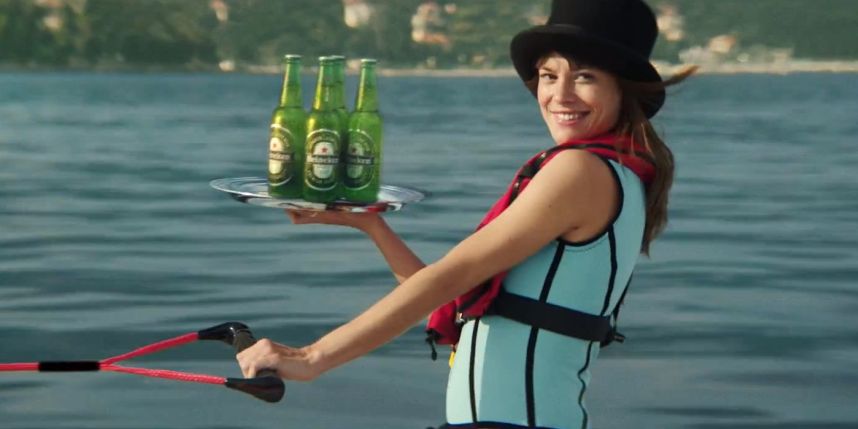 Also in November, the world's first selfie from space, nicknamed the "Spyfie," will also be commissioned. Heineken will once again push the boundaries of modern technology for its digital SPECTRE campaign, taking the world's first ever selfie from space. Nicknamed the 'Spyfie', Heineken has partnered with Urthecast to take ultra HD imagery using its camera on the Deimos satellite, currently in orbit 600km above the Earth's surface.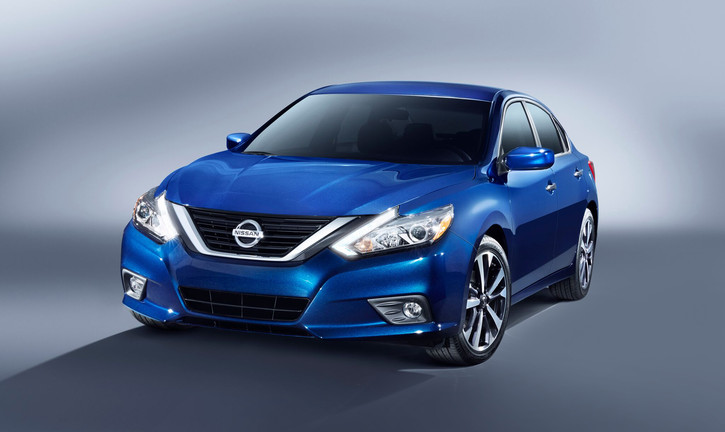 Every time at this year car companies look to showcase their new model. There might be some minor changes here and there, but the 2016 Nissan Altima is changing in every way. The 2016 Altima stands ready to build on its segment-leading growth over the past five years with a new design, new driving feel, and an improved fuel economy. The new sport Altima SR grade looks to have a wide array of enhanced technology, connectivity and safety features.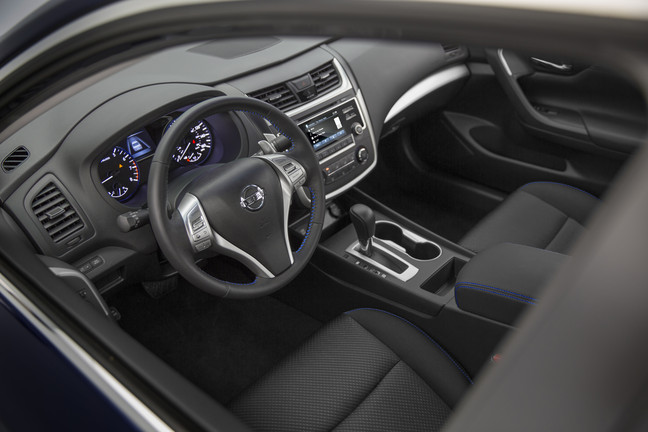 What makes the 2016 Altima new and improved? Well there is the new Nissan "Energetic Flow" design language that was launched with the new Murano and Maxima "4-Door Sports Car." There is also a refined personal space interior which includes a new C-stack and center console offering easier use which is great for those long car trips.
The engine is a 2.5-liter engine that features an expected 1-mpg increase for highway fuel economy rating, bringing it to 39 mpg and giving Altima the best-in-class standard highway fuel economy of any vehicle in the mid-size segment. The SR is there to give you an affordable sports model with enhanced handling, unique exterior and interior accents.
Safety is always important to Nissan. So their Safety Shield Technologies looks to includes segment-exclusive Predictive Forward Collision Warning along with Forward Emergency Braking and Intelligent Cruise Control and Rear Cross Traffic Alert.
As you can see Nissan has put a lot of thought and innovation into the 2016 Altima. The only question now is what color do you want it in?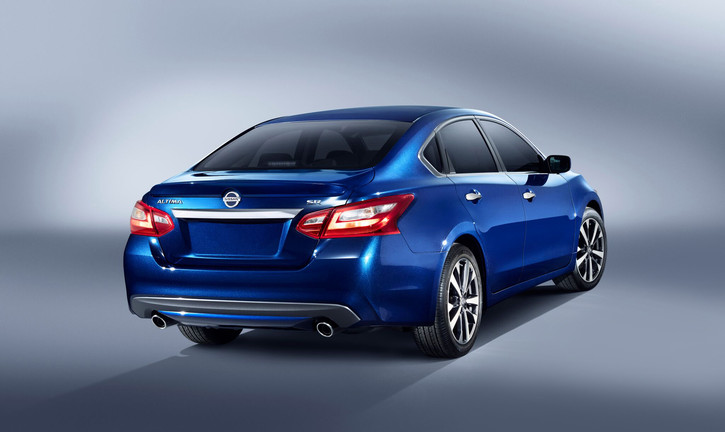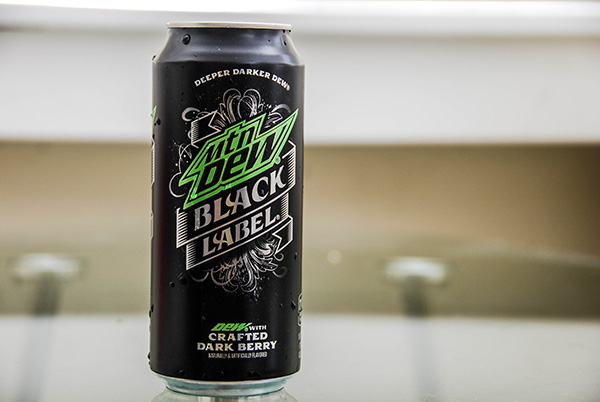 Not only are the leaves changing this fall, but a favorite drink is getting a new color as well. There is a whole new look to MTN DEW. MTN DEW has their new Black Label flavor. They are calling it a deeper and darker DEW. It is a carbonated soft drink made with real sugar and crafted with dark berry flavor and herbal bitters. They say that MTN DEW Black Label is made those for those times when DEW Nation wants to unwind, but with a "touch of class."
Beginning this Fall MTN DEW Black Label will be available at on-campus retailers at approximately 600 colleges and universities. It will be available nationwide in 2016.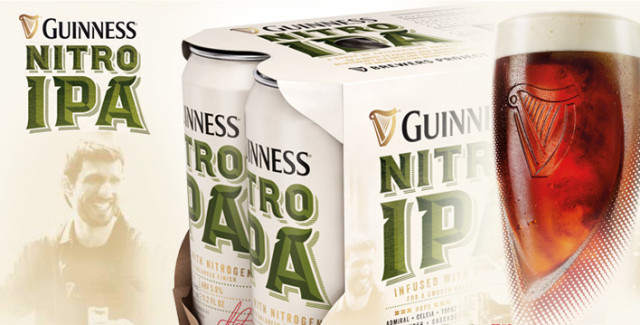 Guinness is known for their traditional stout. That is one of the best and well known beers out there. Yet the people at Guinness are not going to stop with just making one thing. They have been branching out and making a few other beer varieties. One that is coming to the market is the Guinness Nitro IPA.
By bringing Guinness-style nitrogenation to an IPA, the Irish brewer has created a hop-forward India Pale Ale with the qualities of a classic Guinness pint — namely balanced flavor and aroma, creamy mouthfeel and a perfectly formed and long-lasting head of dense bubbles.
Made in Dublin, Ireland at St. James's Gate, Guinness Nitro IPA is brewed with Irish barley malt, a touch of roasted barley and five hop varieties — Admiral, Celeia, Topaz, Challenger and Cascade. The Challenger, Cascade and Topaz hops are dry-hopped to accentuate a sharp citrus aroma. The beer's blend of CO2 and Nitrogen helps to balance out the profusion of hop flavors, while also creating the signature surge and settle made famous by Guinness Draught. The IPA is brewed with the same unique Guinness yeast strain used to ferment all stouts at St. James's Gate.
"IPAs are complex and hoppy, but for some beer drinkers the bitterness can be too much," explained Luis Ortega, the brewer who created this beer's recipe. "We aimed to make a balanced, smooth beer.  Guinness perfected nitrogenated beer more than 60 years ago, so we believed we could really add something new to the style. There's plenty of hoppy flavor, with citrus aroma to the fore, but the nitrogen rounds it all out. The mouthfeel is fantastic, and the use of Guinness yeast gives it an echo of the character of our famous stouts."

Reebok fused music and fitness to inspire New York's fashion and fitness crowds through some of the coolest new workout trends, accompanied by a live soundtrack from rapper YG and DJ Virgil Abloh. Guests were also treated to an exclusive showcase of brand new Reebok Women's product which will be available this fall exclusively at luxury fitness boutique, BANDIER.
To celebrate the power of women, Reebok hosted a women's focused party last night to fuse the worlds of fitness and fashion together.  Constantly challenging women to showcase their fierce, tough beauty, Reebok is passionate about connecting females from all walks of life. The evening celebrates Reebok's heritage as a lifestyle fitness brand by bringing music, fashion, and fitness to life under one roof.
Tapping into BANDIER's engaged audience of fashion-forward brand adopters and fitness enthusiasts, Reebok strategically partnered with BANDIER to launch the upcoming SS16 CrossFit capsule collection. BANDIER will be first to market for 3-6 months on a Japanese-inspired Puritsu CrossFit capsule collection, including 11 items exclusive to BANDIER stores.
A true celebration of female empowerment, BANDIER founder and influential entrepreneur, Jennifer Bandier, and iconic beauty and swimwear model, Hilary Rhoda, were on hand to share their approaches to fashion and fitness alongside the inspirational Catherine Marshall, Director of Reebok business development.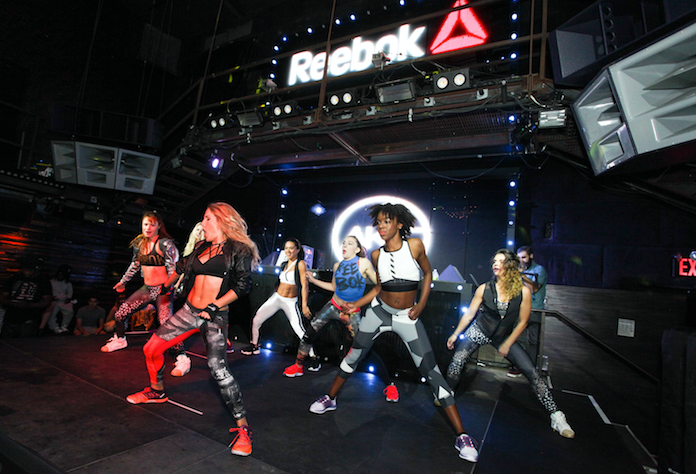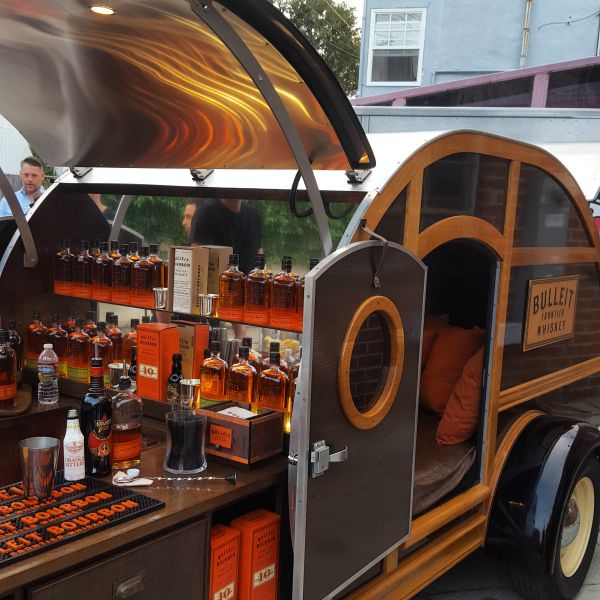 I remember a time, just a few years ago, when I would try to order Bulleit at a bar or restaurant and the bartender or server would look back at me with total confusion. "I'm sorry, Bulleit what now?" was was a common response to my order. People just didn't know. It just wasn't readily available.
That's simply not the case anymore. Bulleit Bourbon is no longer some up-and-coming craft whiskey brand that few people know about. It's everywhere. Nowadays, if you can't spot the trademark Bulleit bottles with their slightly askew labels sitting on the shelf of your favorite bar, it's the exception, not the rule. But what's really interesting is how the brand achieved this, how it went from this modest word-of-mouth spirit to the whiskey sitting at the cool kids table.
I first fell in love with Bulleit three years ago, and I've had a front row seat for this Bulleit boom ever since. After my first Bulleit Bourbon review, I was hooked. I cut single malt Scotch completely out of my rotation. Bulleit Rye became my go-to drink of choice, and it didn't stop with me. Friends and family followed suit. I championed the brand in part because I love the taste, but also because MANjr and Bulleit have had some pretty fun times together.
There was that time we hung out with Isaiah Washington and his wife after the Pan African Film Festival and just talked around a table and sipped Bulleit Bourbon 10 Year in the back of a restaurant. Washington was like me, a Macallan man, but he made the switch to Bulleit and didn't look back.
There was the trip to Austin for SXSW back in 2013, when my love for Bulleit Rye & Coke was first established. From Chef Ben Ford's cookbook launch party in a Beverly Hills backyard to the Bulleit Woody event last night at the Coolhaus in Culver City, my experiences with the brand have always been positive. That's why I push Bulleit like I'm some heavy duty shareholder or something. For me, it's a quality product that's been paired with quality experience, and I genuinely want to share this vibe with other people.
That's why the brand has grown so much in the past few years. Just a couple weeks ago, The Wall Street Journal ran a story about it:
Sales of Diageo's craft-style Bulleit bourbon—inherited in 2001 when it bought Seagram Co.'s wine-and-spirits portfolio—rose 35%, stripping out currency fluctuations, in the year ended June 30, making it the company's fastest-growing unflavored North American whiskey. Mr. Menezes has said Diageo aimed to build Bulleit through word-of-mouth, creating "a lot of experiential stuff" and working with bartenders rather than doing large-scale TV advertising.

"I want to make sure Bulleit stays with the hipsters in Williamsburg and does not become a mass brand," Mr. Menezes said on a January conference call.
And you know what? It worked. It totally worked. You know about the brand because someone who liked it told you about it. You don't see big billboards or huge print ads or any TV coverage whatsoever. Bulleit has built up brand loyalty by creating brand champions who associate a good product with a good time. It's a really smart way to market to a generation that craves authenticity over hype, craft quality over mass production.
Last night's event is just another example of this clever marketing strategy at work. The mission was simple: cultivate an atmosphere where friendly people can enjoy craft culture at work, expose them to quality products and create brand champion converts who spread the good word.
The Bulleit Woody at the Coolhaus in Culver
It starts with the location. Coolhaus in Culver City is an ice cream shop that started as an art project. Co-Founder Natasha Case toyed with the idea of Farchitecture or "Food + Architecture" as a way of "bringing architecture to the people." She partnered with Freya Estreller and started creating uniquely flavored ice cream sandwiches inspired by architecture and architecture movements. They capitalized on the food truck craze, bought a busted postal van on Craigslist and used it to serve ice cream sandwiches at Coachella. Quality product paired with a good time experience led to media attention that was amplified to new levels through Twitter and other social outlets. Now they're blowing up. Multiple store fronts. Fleets of trucks in multiple states. Prepackaged in-store products. Catered events for celebrities. You get the idea.
Coolhaus served up seriously tasty sammies last night. The menu was full of tough choices. I mean you really couldn't go wrong with cookie options like choco chip, double chocolate, snickerdoodle and gluten-free coconut almond supporting ice cream options like fried chicken and waffles, salted chocolate, dirty mint chip, vanilla bean, seasonal sorbet or whiskey lucky charms. I went for the chicken and waffles ice cream on peanut butter cookie. It tasted as amazing as it sounds.
But all this craft culture goodness didn't stop with desert. The main event was the showcasing of the Bulleit Woody, a trailer designed by Brad Ford that features a fully stocked Bulleit bar and 150 year old wood that's been repurposed from Bulleit barrels. The trailer was originally created as a Neiman Marcus Fantasy Gift Guide item. It came with a year's supply of Bulleit and a price tag of $150,000. This thing became so popular at events that Bulleit had three more trailers produced to cater to demand.
And what would a Bulleit event be without tasty Bulleit cocktails? Here's what was on the menu:
BLT (Bulleit, Lemon & Tonic)
1.3 oz. Bulleit® Bourbon
2 lemon wedges
3 oz. tonic
Preparation: Build in a rocks glass, serve over ice.
Bulleit Revolver
1.33 oz Bulleit Bourbon
0.33 oz Coffee liqueur
2 dashes Orange bitters
Orange peel
Preparation: Add all the ingredients to a mixing glass and fill with ice. Stir until well chilled and strain into a chilled cocktail glass. Garnish with a wide strip of orange peel.
It doesn't get much hipper than a well-designed trailer serving whiskey cocktails to bloggers and media folk in the back parking lot of an architectually inspired ice cream sandwich spot. The craft culture was on display all around. Good times were had. Brand champions were made. Stories will be shared.
It's a brilliant strategy that has worked wonders. It has worked and will continue to work on me, my friends and family, bars and restaurants in LA and the entire whiskey marketplace in America. It's cool to be hip, but you can't manufacture hipness with mass production and overexposure. The hipness needs to drip slowly and gather up over time before it spills over and covers everything like it's always been there. That's a difficult, calculated and balance-dependent marketing play, but there's no denying that Bulleit has executed it to perfection.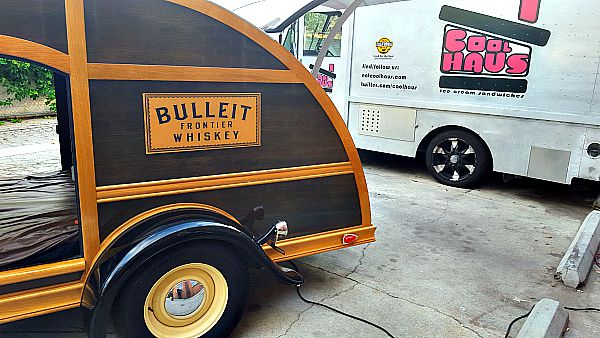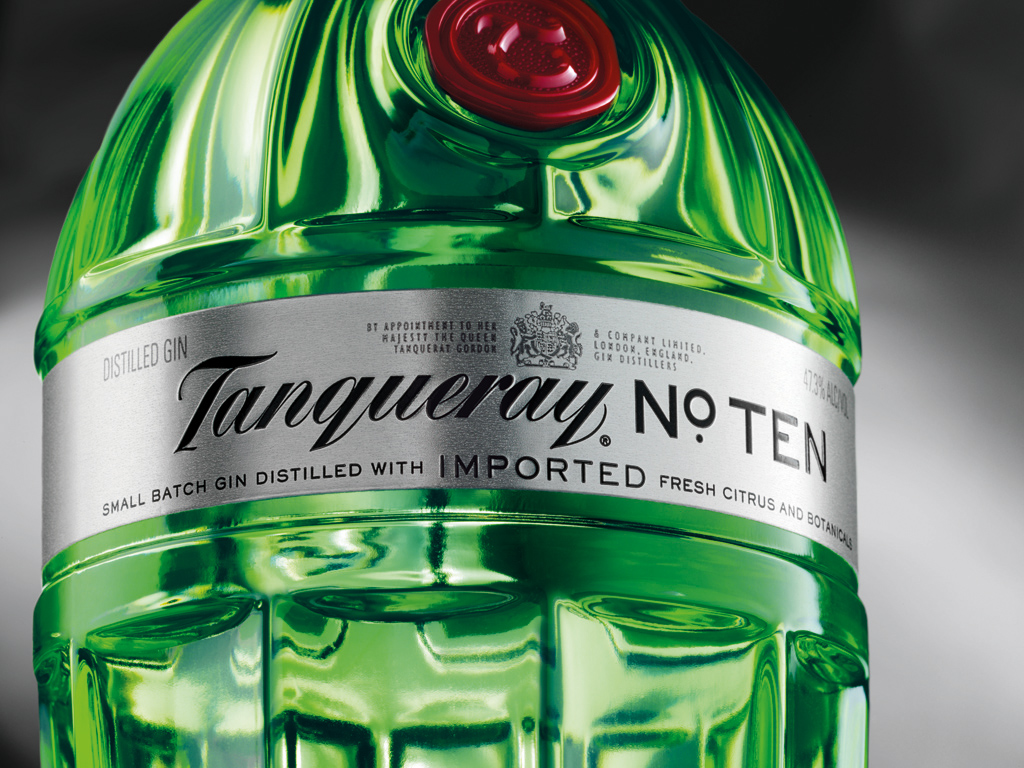 I know that many people, myself included, enjoy when the fall comes around. Yet deep down you have to admit it is hard to say good-bye to the summer. Yes, football is back and there is pumpkin scented everything, but some of the summer activities will surely be missed.
Labor Day is considered as the unofficial end of summer, but that is not cool. There are still plenty of days of the summer to enjoy. So don't pack up the grill just yet. Before all the leaves fall off the trees there is still time to enjoy the summer.
Thankfully the good folks at Tanqueray challenged me to make a summer cocktail to celebrate the end of summer. I came up with the Summer Sunset using Tanqueray No. Ten Gin.  I wanted to use some yellow and orange colors in the drink to showcase the colors of the sun and summer. So heat up the grill and cook some burgers while you are watching the games on TV with friends. Pass around the Summer Sunset to your friends so you all can say good-bye to summer in a proper way.
For more fantastic cocktail recipes go to thebar.com!
Ingredients:
1.5 oz Tanqueray No. Ten Gin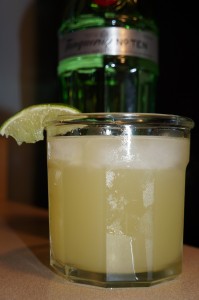 1.0 oz Cranberry Lime seltzer
.75 oz Orange juice
1 lime wedge
Ice
Directions:
Mix all the ingredients together in an old fashioned glass. Add ice and stir ingredients until the cocktail is properly mixed. Add a lime wedge on the edge of the glass.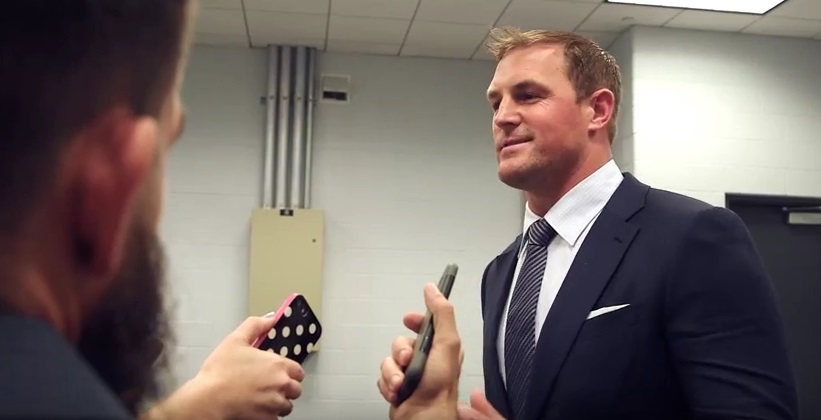 Jason Witten is a guy that mostly speaks with his play on the field. Rarely do you see him give it to reporters. Well the All-Pro tight end changed things up a bit on one of his most recent post-game press conference. Alongside Snickers and their "You're Not You When You're Hungry" campaign, Witten recently took a few minutes to call out reporters' "hunger symptoms."
Snickers is changing their packaging this month to feature a variety of outrageous hunger symptoms – the "Hunger Bars" provide fans with humorous, personalized ways to show how they take on entirely different personality traits when they're hungry.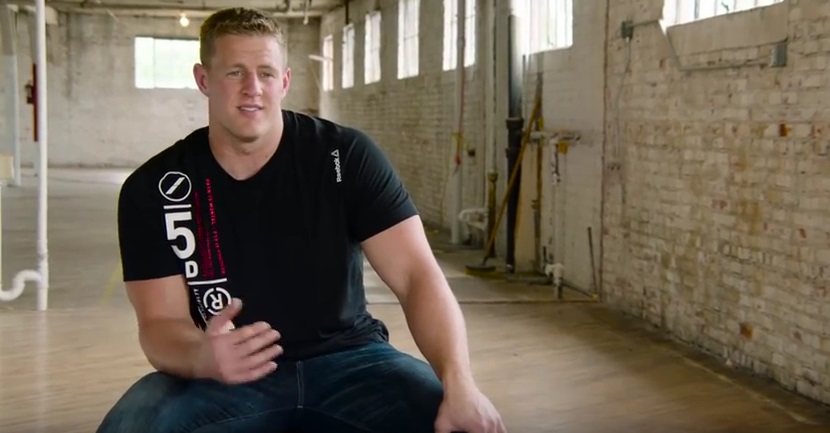 JJ Watt is the epitome of hard work, dedication and sacrifice. Every day he works to outperform his competition through his tough fitness regime outside of the bright lights on the field. With the kick-off of football season here, JJ Watt will put his talents on display and lock in to perform at the highest level of his potential.
Watt knew that his dream was to play professional football and that he'd have to push himself as hard as he could to achieve that goal. First comes belief and then comes the sacrifice. If enough time, sweat, and effort are put towards that goal, that lock in moment is achieved and you're good to go. "I wanted to be here, I thought I could be here, and I worked to be here, so I'm here," says JJ Watt.
Whether he's going for speed or working on his agility, JJ Watt's workout starts with locking into a pair of Reebok's ZPump Fusion. Click here to get the limited edition ZPump Fusion customized by JJ Watt.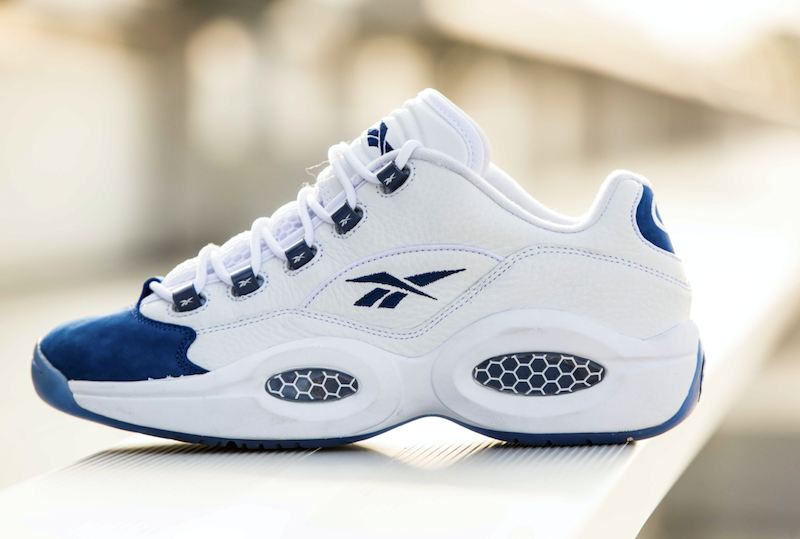 The Question Low signature silhouette was originally launched in 1996 as a nod to the renowned Philadelphia 76ers guard, Allen Iverson, and comes in a sharp blue/white colorway that will make a statement with any outfit.
The Question Low incorporates unique features like a premium nubuck toe cap, leather upper and an ice outsole and bottom. Whether you idolized Allen Iverson or wore this style as a kid, we can all agree that the Question Low's are the perfect kicks to round out the summer.
The Reebok Classic Question Low blue/white is now available exclusively at Finish Line for $110.