The Capital One Mascot Challenge continues to celebrate the unsung heroes of college football—the mascots! Each mascot to make the Capital One All-America Mascot team receives $5,000 for its school's mascot program, and the Capital One National Mascot of the year receives an additional $15,000. The rules are simple; the mascot with the most fan votes wins!
To help sort this all out and talk about college football I had the pleasure of talking with Phil Steele. Phil is a fantastic and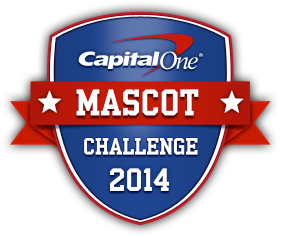 detailed sportswriter and analyst who focuses exclusively on college and professional football.  Steele is also been called a highly respected prognosticator within the sports media.
His company, Phil Steele Publications, produces the annual preseason magazine Phil Steele's College Football Preview, which he personally writes in almost its entirety. The first edition was published in 1995.
CLICK HERE to listen to my interview with Phil. You will find not only does he take college football seriously, but also the Capital One Mascot Challenge.
To vote for your favorite mascot CLICK HERE for the Capital One Mascot Challenge website.
Also follow Phil Steele on Twitter and check out his website HERE.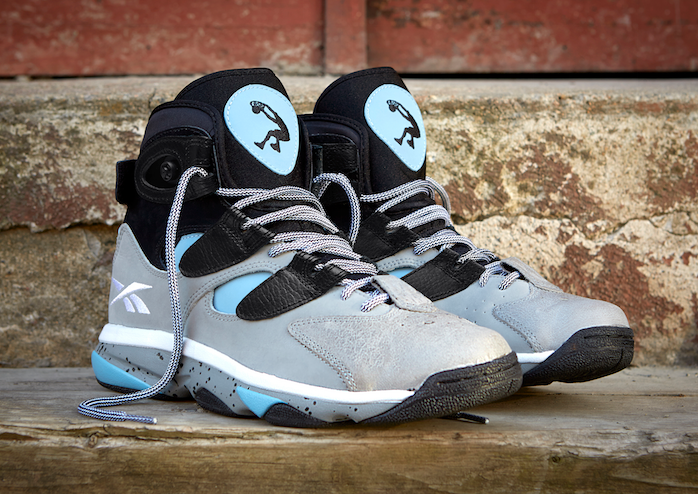 Long before Shaquille O'Neal was a member of the NBA championship winning Lakers, or even the Orlando Magic, he was a part  of an even greater team – the Newark Boys and Girls Club.
Paying homage to the big man's roots in "Brick City", Reebok Classic will release limited pairs of the grey/black/california blue Shaq Attaq IV on Friday, November 7th for $140 at select retailers Eblens, Shoe City and Reebok.com.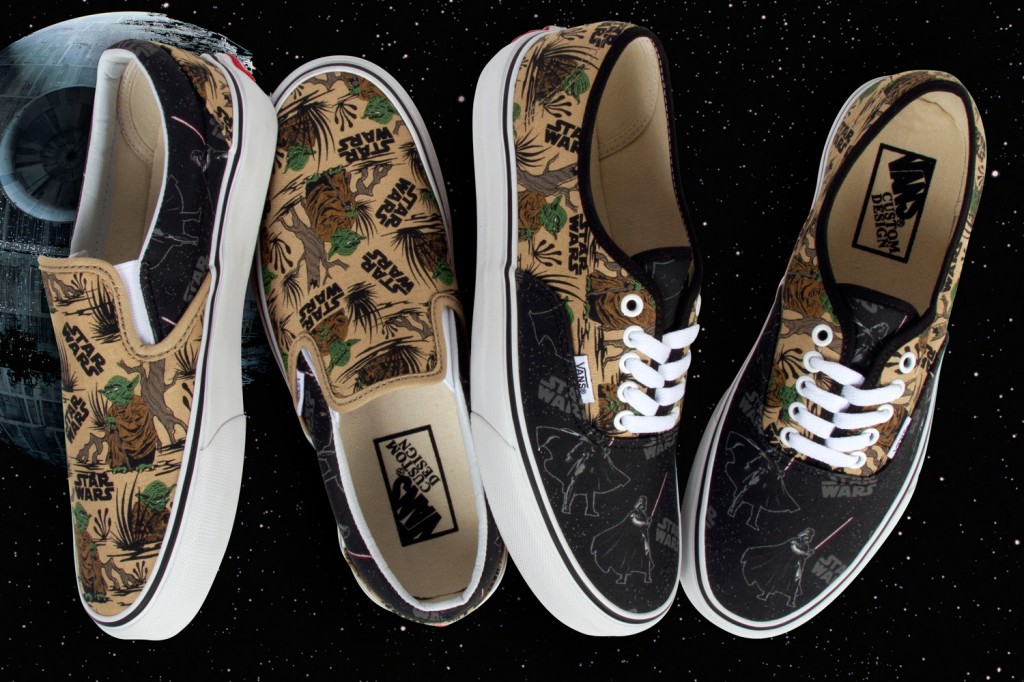 Following up two successful capsules, Vans and Star Wars team up once again to release limited edition Vans x Star Wars prints exclusively for the Vans Customs program. Starting October 15, Vans and Star Wars fans alike can customize select Vans silhouettes with Yoda and Darth Vader collage patterns on www.vans.com/customs until November 15. With 27 color options and 24 print swatches to choose from, one can design a shoe that this universe has never seen before.
Embracing the Force, Yoda appears on the first Vans x Star Wars print hued in soft tones. Dedicated to the dark side, Darth Vader surfaces on the second pattern with lightsaber drawn, ready to battle across the galaxy. The limited edition Vans x Star Wars patterns can be arranged across the Authentic, Classic Slip-On and Sk8-Hi silhouettes in men's, women's and boys' sizes.
The custom Vans x Star Wars prints are available exclusively through Vans Customs from October 15 to November 15. Create your own pair now at www.vans.com/customs. May the Force be with you.
See the entire Vans x Star Wars footwear and apparel collection at: www.vans.com/starwars.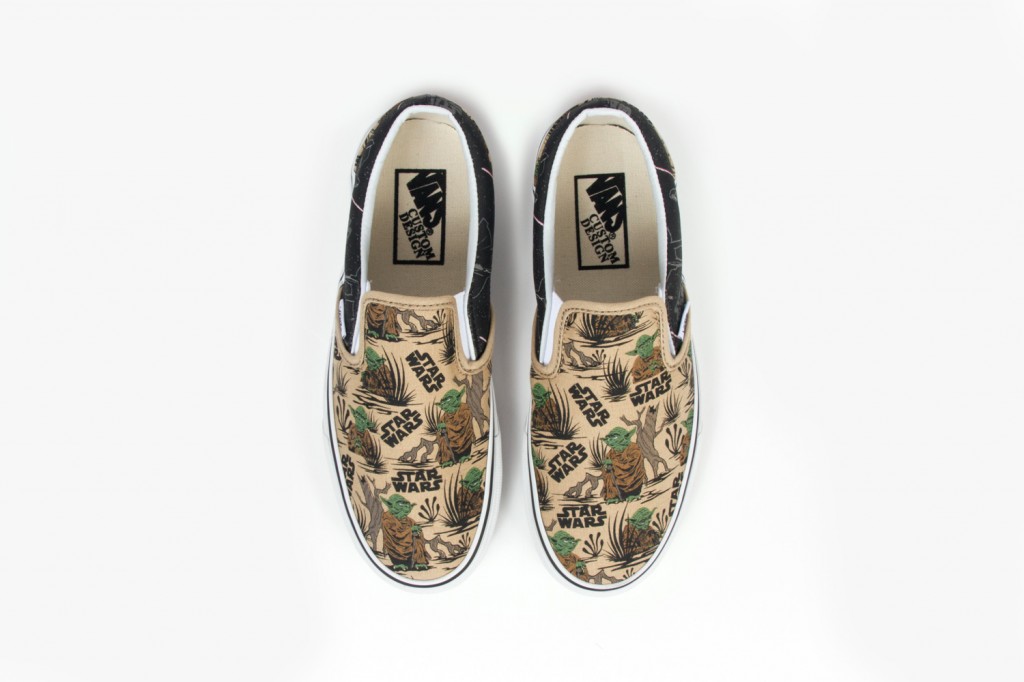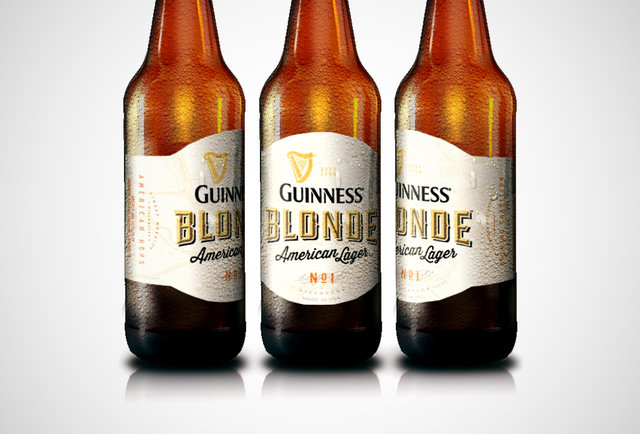 This past week the first official batch of Guinness' new beer came off the line that will hit shelves in the coming weeks. Their Blonde American Lager was created by Joe Gruss, an American brewmaster who is a member of the Guinness Blonde brewing team.
Guinness Blonde American Lager marks the first time the brand has brought its signature Guinness yeast from Ireland to the U.S. Keeping true the brand's brewing heritage known for quality and taste, Guinness Blonde American Lager is a crisp refreshing tasting amber lager with a floral, hoppy aroma. The American lager is twice as smooth, half as bitter and 80% lighter in color than Guinness Draught.
The beer comes from the brand's new brewing concept – the Guinness Discovery Series which combines over 255 years of European brewing expertise with different brewing styles and techniques. This series of beers offers more style, taste, and flavor to beer drinkers in the U.S.
Now I know some of you might be thinking, "WHAT?" Why would Guinness even try their hand in a lager when they have dominated their own niche in the beer market? Some beer fans even went as far as saying it was blasphemous for Guinness to even make a blonde beer. To those I say calm down. Just try it. I know it might seem awkward to drink a Guinness that is light in color, but trust me it is definitely worth it.
The taste had hints of what we love about Guinness as well as tastes from American style lagers that I enjoy. I had a few friends try it out and they liked it too. It has a hoppy and citrus smell that helps deliver a long malt, biscuity finish once you taste it. The lager is very crisp and refreshing. Look for it in stores in a 6 pack selling at a retail price of $8.99.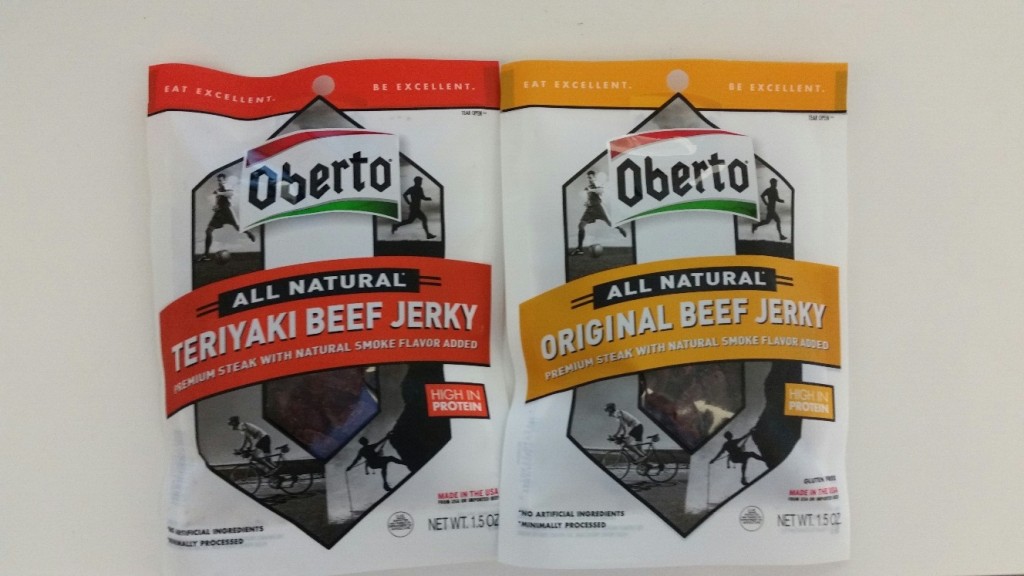 Do you ever hear that little voice in your stomach? It yells at you when you feel hungry. You may have seen this voice that lives inside the bellies of soccer star, Clint Dempsey, all-star cornerback, Richard Sherman, and professional snowboarder, Louie Vito.
It's all part of the Oberto's campaign "You get out what you put in," which implores active Americans to get the most out of their workout, their sport and their lives by eating All Natural Oberto Beef Jerky, with no artificial ingredients or preservatives. Which probably explains why they're the official beef jerky of Tough Mudder. In fact, as part of the Tough Mudder sponsorship, if you purchase a package of Oberto Beef Jerky, you'll get $10 off registration for an event.

We've all heard the phrase "don't be that guy…" It's tossed out to prevent an undesirable action in a number of situations and most cases we support the rule of thumb. For example, we support not being the guy who double dips at party.  We also support not being the guy who posts every single meal to Instagram because you're a self-proclaimed "foodie." That said, we believe in certain cases that rule doesn't always apply. Particularly when it comes to awesome car features. Our friends at Cars.com put together a list of the greatest "show-off" features in new cars and if you're looking to be that car guy, take a look and head over to Cars.com to learn more. We salute you!
1. 2014 Mercedes-Benz SL-Class Magic Sky Control Roof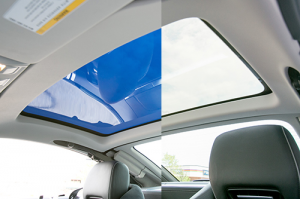 Mercedes doesn't include the word "magic" in its features frivolously. We can't say the same for Honda's Magic Seat, which just folds differently. What happens inside of the SL- and SLK-Class roadsters is indeed some form of sorcery. An electrically charged film on the sunroof transforms the glass from transparent to opaque with the push of a button and is guaranteed to get a "Whoa" from passengers.
2. 2014 Audi A8 Retractable Bang & Olufsen Tweeters
Fire up the audio system in a Bang & Olufsen-equipped Audi A8 and you're in for a surprise as two tweeter towers automatically extend out of the dashboard. Is it awesome? Yes. Will it break? Probably. But when it does work, all eyes in the car will be on those precisely aligned speakers as they rise from the dashboard.
3. Self-Parking Systems
The art of showing off often starts from the very first time you ride a bicycle hands free, shouting "Look, Ma, no hands." When equipped with a self-parking system like on the 2015 Lincoln MKC, drivers can utter the same phrase. The car identifies a parking space and automatically steers into place while the driver modulates the brake and accelerator pedal. Even your mom would be impressed.
4. Multimode Exhaust Systems
Nothing makes your presence known like a gloriously loud exhaust system on a bright red sports car. Automakers like Chevrolet and Porsche have embraced the experience with tame exhaust systems that transform into head-turning loud on demand. The 2015 Chevrolet Corvette's electronically controlled valve in the optional Performance Exhaust System opens a lower-resistance path in the mufflers, meaning loud. The Porsche 911's optional sports exhaust is one of the most boisterous out there and can set off car alarms in parking garages with a rev of the engine.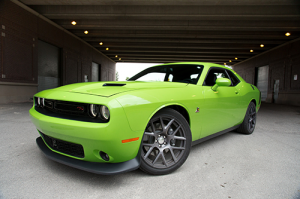 5. 2015 Dodge Challenger Sublime Green Paint
It's not a feature, but the Sublime Pearl Coat green paint on the 2015 Dodge Challenger is one of the most eye-grabbing colors laid onto any new car shell. The retina-burning green is like a bug zapper for gearheads. Be prepared to cite horsepower, torque and quarter-mile times to multiple onlookers, daily, while sitting at a stoplight, loading groceries or refueling.
6. 2015 Chevrolet Corvette Performance Data Recorder
Chances are an exhaust system or other feature on this list will only garner the attention of a few people at a time. With Chevrolet's Performance Data Recorder, you can show off your shiny new Corvette's track day or coastal cruise to the entire internet with an onboard high-definition video camera and telemetry-recording capabilities. Telemetry like vehicle speed, engine speed, gear speed, braking force and more can be overlaid on the video, recorded and then transferred to a computer for editing and sharing.
7. 2014 Mercedes-Benz S-Class Hot-Stone Massaging Seats
No one will be able to see it but you're bound to turn a few heads when talking about the spa inside the Mercedes-Benz S-Class. The available "hot stone" massaging seats use up to 14 individual heated air cushions in the seatback of the front and rear seats, mimicking a hot stone massage at the spa. Complete the spalike experience with a selectable cabin fragrance.
8. Launch Control (Various Models)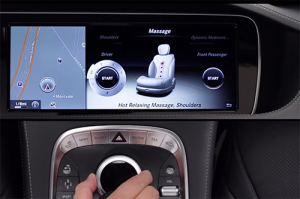 Launch control goes by many names, but it really should be called "Hold on to your butt" mode, because that's what you say to warn passengers. Launch control is an exhilarating experience for both the driver and passenger in a supercar like the all-wheel-drive 545-horsepower 2015 Nissan GT-R with its neck-snapping start from 4,000 rpm that pins you to the back of your seat.
9. Chrysler SRT Performance Pages
Chrysler's high-performance SRT models include a suite of digital acceleration timers to promote shenanigan show-off behavior — at the track, of course. Called Uconnect Performance Pages, these electronic displays have timers for zero-to-60 mph, elapsed timers for eighth- and-quarter-mile times and cornering g-force loads. In addition to simply displaying the times, the best time is saved as a reminder of the number you have to beat.
10. 2015 Jeep Wrangler Removable Doors, Roof
Not all show-off features have to break new ground. You can show the town you're a fun person and like to have a good time by driving a new Jeep Wrangler with doors and roof removed just like in the classics. It's a guaranteed way to have a good day and attract a few eyeballs.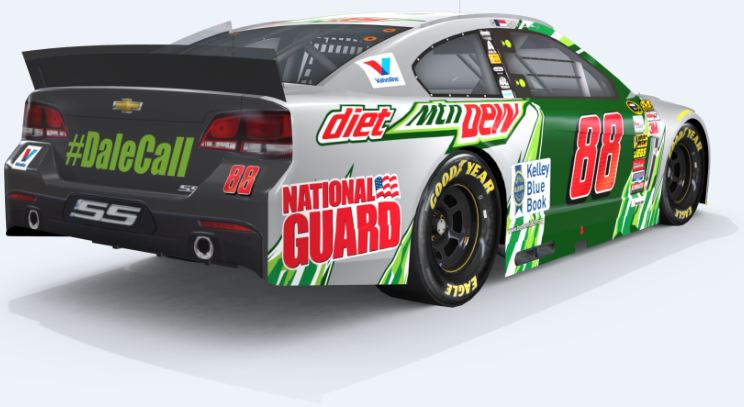 Earlier this year, during the Super Bowl pre-game, Diet Mountain Dew premiered its "Dale Call" TV commercial featuring Dale Earnhardt Jr. Since that commercial aired many Dale fans want the unique duck call that summoned Dale Jr. available for sale.
As Dew has done for years – even most recently when it answered DEW Nation's request to bottle Baja Blast – the brand heard fans and decided to give them what they wanted.  There has been some buzz about this but, starting Tuesday, October 14, DEW and Dale Earnhardt Jr. fans can purchase a "Dale Call" at  NASCAR.com, on-track and via select online retailers.
In addition, at this weekend's race in Talladega, Dale Earnhardt Jr. will celebrate the "Dale Call" release by debuting #DaleCall on the rear bumper of his No. 88 Chevy SS.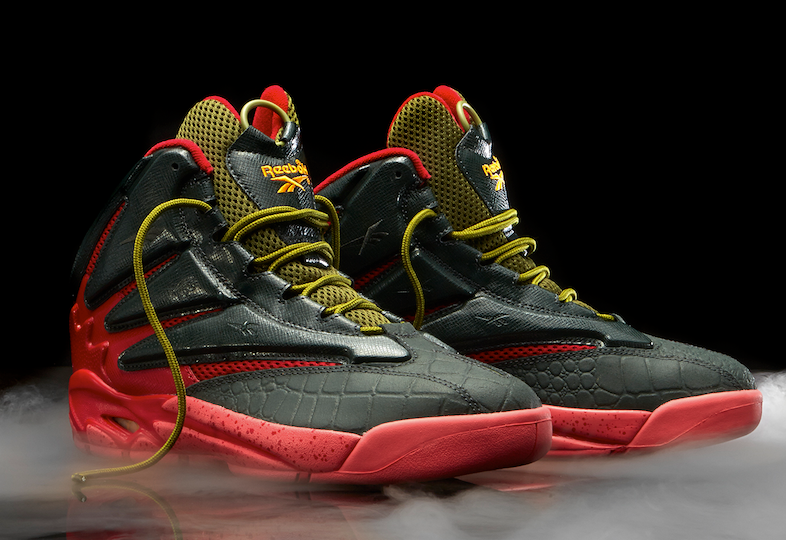 Reebok Classic brings back the 90's this Halloween with a limited edition color way of The Blast, releasing on Halloween Day, Friday, October 31st.
Featuring a unique mix of dark sage and red, "Freaks of the Night" is the perfect shoe to complete your fall look.
Stand out on Halloween night by heading to Jimmy Jazz, Shoe City or Reebok.com and grab your pair for $120.
Plus although they showed their skills on court with a 97-89 win against the Nuggets, both Isaiah and Gerald showed their true colors and support while laced up in the Kamikaze II "Breast Cancer Awareness" sneakers, where a portion of proceeds for every pair sold will be donated to the Avon Breast Cancer Crusade.
Limited pairs of the pink/grey Kamikaze II is available now at Finish Line, Jimmy Jazz, Champs, Eastbay, DTLR, Shoe City, Reebok.com for $110 for Men's Adult sizing.  Grade school sizes will retail at $85 and Pre-school sizing will retail for $50.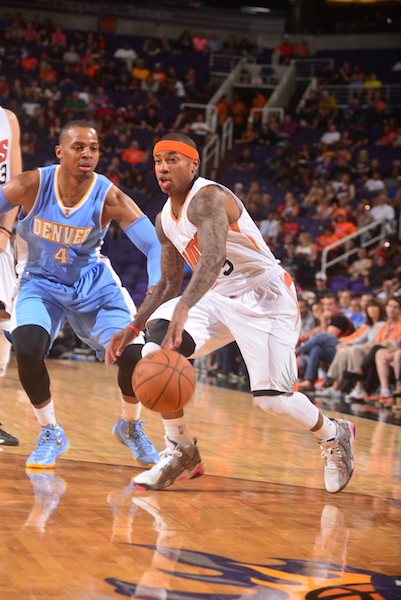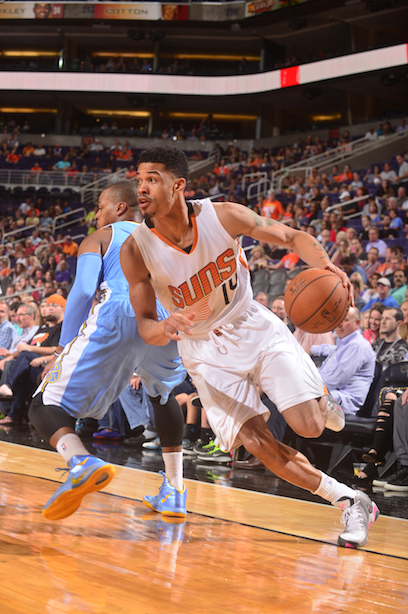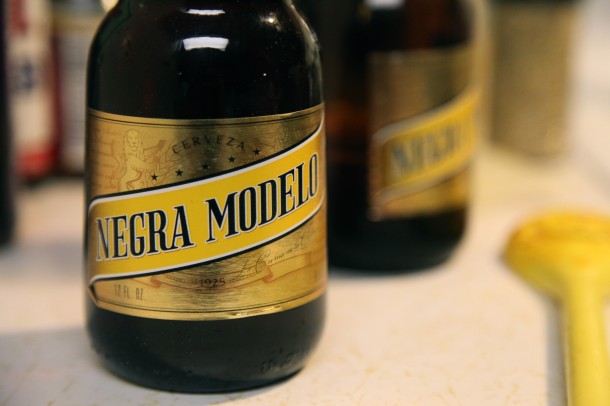 I hate to say it but your beer and food go out on more dates than you do. Every time that you go out to eat with your friends your food is being paired up with a beer to complement it. It might sound odd, but the good folks at Negra Modelo feel the same way as I do. Well maybe not the fact that food and beer go out on dates, but at least the pair part. Negra Modelo hooked me up with a kit to make a meal that would pair up nicely with their beer.
Here is what Negra Modelo gave me in their spice kit to use as I saw fit. Not only did I receive these great smelling herbs and spices, but I got cutting board and Negra Modelo glasses for that meal and future meals down the road.
BACK OF THE YARDS GARLIC PEPPER.  This blend is a very easy, but very versatile blend made of a nice mixture of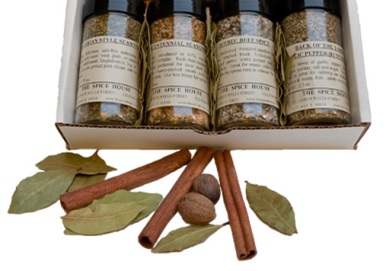 colorful, flavorful, coarse cut spices. It is named in honor of the hard working immigrants who made their living by working very hard for very little pay in the meat packing industry. This area was called back of the yards in Chicago. Garlic pepper goes well on any type of meat. Try on steak, hamburgers, pork chop or ribs, pike or perch any type of poultry. Great for robust vegetables, eggs or to pepper up a bland salad dressing. Hand mixed from: Tellicherry pepper, garlic, Kosher flake salt, sugar, red bell peppers, shallots, parsley.
QUEBEC BEEF SPICE This is our best blend for steaks. Marinade steaks in red wine, season heavily with Quebec for at least 20 minutes. When you throw the steaks on the grill, take remaining liquid heat with a little butter, shallots and a teaspoon of Beeftea (or 1 bullion cube) and you will have the best au jus to compliment your steak. Also goes well on pork or hamburgers. Hand mixed from: coarse salt, cracked Tellicherry pepper, sugar, minced garlic, white pepper, cracked coriander.
BICENTENNIAL SEASONING Our best blend for poultry. Great also on Cornish hen, duck, baked chicken, pork of any sort, eggs. The turmeric in this blend giv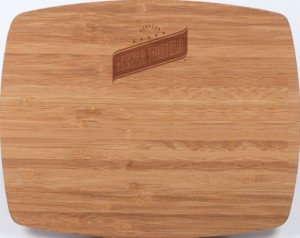 es the poultry skin the most beautiful golden color, your dinner guests will think you are a professional chef. Hand mixed from: flake salt, cracked Tellicherry pepper, sugar, minced orange peel, coriander, turmeric.
BAVARIAN STYLE SEASONING This blend is just oaded with flavors favored in Bavarian style cooking, mainly mustard, sage and rosemary. This salt free blend is wonderful on roast turkey or pork, Cornish hen. It makes a traditional English rack or leg of lamb. Great for slow roasting ribs. Hand mixed from: Bavarian style crushed brown mustard, French rosemary, garlic, Dalmation sage, French thyme and bay leaves.
As I looked over the spices I immediately knew what I was going to do. First, I was going to invite some friends over to watch some football on Sunday. Next I went to the store to get some meat to make burgers. I used the back of the yards garlic pepper and put that blend into the beef patties I formed from the ground beef.
Next I picked up some Negra Modelo for me and by friends. Then I just had to wait for game day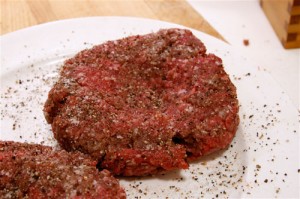 . I went to the kitchen before the 1 o'clock game and got to work. I cooked the burgers and had my friends select their toppings. The only thing left we had to do was enjoy the food while we all yelled at the TV for our fantasy players to do something so we could win our respective games that week. At least no one was yelling at me since they all enjoyed lunch!
So what would you make with those spices? Let us know here at MANjr and on social media by using the hashtag #theperfectcomplement. Salud!
Please Note: The good folks at Negra Modelo gave me this kit, yet my thoughts are my own!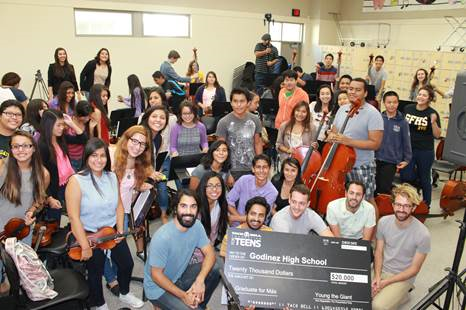 On Monday, October 6, Godinez High School music class in Santa Ana got the surprise of a lifetime when Irvine-based band, Young the Giant (toured with Kings of Leon) came by to make an appearance and join in on a special jam session with the students. And it's all for a good cause – Taco Bell Foundation for Teens (partner of Young the Giant) will be making a $20,000 donation to the school in the band's name!
Once class commenced, the students started practicing the song, as usual. About five minutes into class, the band made their secret entrance and joined right in, harmonizing with the students without skipping a beat. The students got the experience of a lifetime, but the band felt even more rewarded by seeing their reactions. The day was packed with music, inspiration and happy faces!
Young the Giant was so touched and inspired by the students (many who have overcome serious struggles and remain upbeat and on track every single day), they chocked up on several occasions.
Taco Bell Foundation for Teens and celebrity ambassadors Young the Giant are bringing inspiration to high school students to empower them to achieve más. The Foundation is committed to inspiring and enabling America's teens to graduate and accomplish great things through its programs, partnerships, and direct financial assistance. As part of its commitment, we have partnered with celebrity ambassadors like Young the Giant to help reach students and inspire them in new ways.