So yea, I guess Tupac is still alive: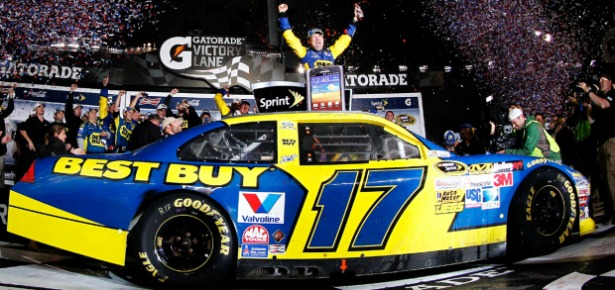 Matt Kenseth won a wild Daytona 500 a few weeks back. Due to the rain delay and the extra-late conclusion of the race, Kenseth wasn't able to attend his Champion's Breakfast until this week. We talked to Kenseth on Wednesday about his Daytona experience, social media, the new tandem racing rule changes and the upcoming race in Texas this weekend on FOX.
CS: So how does it feel to finally get Daytona 500 Champion's Breakfast out of the way?
MK: Well there's there problem, I showed up and there's no food.
CS: Oh what? (Laughs).
MK: I guess it's not breakfast. That was the bad part. We got jipped out of the food (laughs). But it's cool to come out here and see the car sitting there in the Daytona 500 Experience with all the confetti on it just like it was sitting in Victory Lane. It was really neat. I mean it's different coming now a couple months later and celebrating it, but it's always neat to come back and see the car, see the fans, and kind of relive the experience of the Daytona 500.
CS: That was such a wild race, man. I was following along on TV along with a bunch of other people. How did you stay in the right mindset with that extra long delay?
MK: Yeah it was different. Waiting till Monday night was one thing, but that delay in the middle of the race was really … it was really kind of a tough one. So it was after our last pit stop and I was worried about the track not getting fixed. And, you know, if we went back to green we were going to be the leader, the first off pit row, and the guys in front of us were going to have to pit. So it was just a lot of anxiety and you know, anticipating getting the race started and wondering what's going to happen.
CS: And what did you think about Brad Keselowski's Twitter antics during the red flag?
MK: Well he just seemed to be popular with the fans and the media and the TV and all that. It was very popular with the fans and the broadcasters and the TV and doing all that stuff. For me, it didn't really matter to me. I was more thinking about the race than I was about Tweeting.
CS: Do you use social media at all to connect with fans? I mean, when you're not racing?
MK: I do. I got on Twitter last August or something like that, so I was one of the later ones. But I do get on there at least a couple times a week, usually. You know, send some notes or pictures about what I'm doing or whatever and try to get on there and communicate with the fans on Fridays or Saturdays when I get a little down time at the track. I'm not on there every day and checking it every day, several times a day – I think like a lot of people do. I enjoy finding another way to connect with the fans.
CS: Gotcha. And what do you think about the new tandem racing rule changes?
MK: Oh I like the new rules that broke up the pack a little bit. You get back to kind of pack racing and kind of racing, you know, one against 42 and trying to make moves and not so much worrying about another car.
CS: You think most drivers have adjusted to the rule changes already?
MK: Yeah. Yeah I do. I think that's kind of the way it was forever and I think everybody's adjusting pretty well. That's a little different. You can still try to get locked up for a couple laps, but it certainly has changed the race ethic for the better.
CS: Now I'm sure you get asked this all the time but what was your initial reaction a few years back to the Matt Kenseth rule – the whole point change that was made after your first championship?
MK: Oh, I think the change to the Chase was great. I think, if you look at last year for instance, I don't think the battle or race could have been any more exciting. I mean at the ended up being the same amount of points and it went to the guy with the most wins, which I think is what they want. You had some people qualify for the chase, you know, with wins during the season but couldn't make the top ten for whatever reasons – they had a bad start, but won some races made the Chase and were contenders down the stretch. I think it's really added a new exciting element to the sport.
CS: Excellent. So last question, what's the race you're most looking forward to the rest of the way?
MK: Well, there's a lot of races left, but right now I'm really looking forward to going to Texas. That's always been one of my favorite tracks and we've had some pretty good success there in the past so I'm looking forward to getting out there and getting on the track tomorrow.
Matt is currently in fourth place in the Sprint Cup Series. Tune in to FOX this Saturday at 7pm EST to see Matt try for his third victory at the Texas Motor Speedway.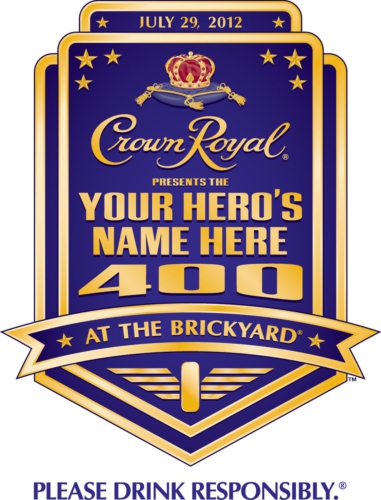 Every year, Crown Royal runs a program that provides naming rights to a NASCAR Sprint Cup Series race to a deserving hero. The winning servicemen and servicewomen are selected by fans. You can submit stories on the "Crown Your Hero" tab on the Crown Royal Facebook Page. If you want to nominate a firefighter, police officer, first responder, volunteer, soldier or other service person, make sure to submit an essay (100 words or less) by April 30, 2012. The essay must answer the following question: "Describe a personal achievement, unselfish act, or honorable act that is worthy of a toast with Crown Royal?" Finalists will be selected in May and fans will get to vote on the grand prize winner.
This year's grand prize winner will receive an ultimate race experience at the 2012 Brickyard 400 at the Indianapolis Motor Speedway where they'll drop the green flag to start the race, tour pit row, get infield access and access to the Crown Royal suite and RV during the race. The grand prize also includes access to Victory Lane at the end of the race, room accommodations for two, roundtrip airfarem ground transportation to the race and a per diem. Five finalists will also receive tickets to the race, roundtrip airfare and accommodations in Indianapolis.
To learn more about the program, check out this video that showcases the experience of past winners: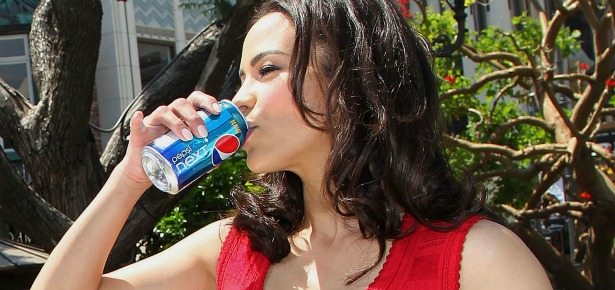 Paula Patton is a stone-cold fox. But I'm not telling you something you don't already know. You've seen Paula in films like Déjà Vu, Mirrors and Mission Impossible: Ghost Protocol. She's like a younger, longer-haired, happier version of Halle Berry. All comparisons aside though, Paula Patton is talented and gorgeous enough to merit all the attention she's getting.
In addition to promoting the latest Mission Impossible (now available on DVD) and her upcoming role in the film Disconnect, Paula just signed on to play Denzel Washington's love interest in 2 Guns. She's also been working with Pepsi to get the word out on their new product, Pepsi Next.
Pepsi Next combines four different types of sweeteners to deliver a cola product with 60 percent less sugar. The combination of high fructose corn syrup, aspartame, sucralose and acesulfame potassium results in a Pepsi that doesn't quite taste like a diet soda and is a bit mellow on the syrup factor than an original Pepsi. A regular Pepsi contains 150 calories and 41 grams of sugar. Pepsi Next has 60 calories and 15 grams of sugar.
To be honest, if I was walking around Los Angeles and Paula Patton asked me to taste-test a beverage as part of a "Drink It to Believe It" campaign, I'd probably drink just about anything. Believe that.
I did a quick interview with Paula this week and we talked about her involvement with Pepsi Next, the filming of Mission Impossible 4, Swedish actor Michael Nyqvist, Paula posing nude for her hubby's album cover and whether or not the original script for the film Mirrors called for Paula's character to sport a wet t-shirt through the entire third act of the film. Here's the interview:
Now go support Paula and try out this Pepsi Next business for yourself.

Source: Imgur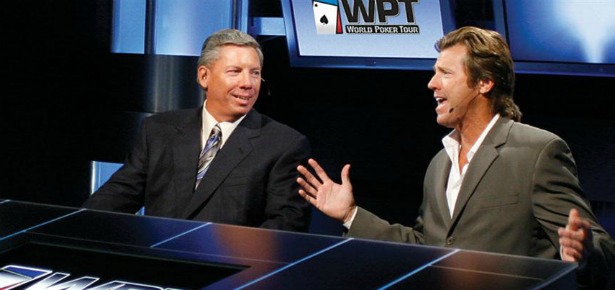 Vince Van Patten is an interesting dude. The guy can trace his lineage back to King Roland of the Planet Druidia (Princess Vespa's father in Spaceballs), but he's true royalty in his own right. The "King of the Hollywood Home Game" started acting when he was 9 years old, appearing in stuff like Bonanza, Adam 12, The Bionic Boy, Dirty Dozen III and Rock 'n' Roll High School. In 1979 he was the ATP Rookie of the Year and in 1981, Van Patten defeated John McEnroe to win the Seiko World Super Tennis tournament in Tokyo, Japan.
He's equal parts Hollywood and approachable. He's been a top flight athlete and a stud poker player. He's a fierce competitor and yet totally chill to chat with. The guy has tried his hand at acting, pro tennis, writing, directing, producing and professional poker. Van Patten cashed at the Main Event in 2010 and for 10 seasons, he's shared hosting duties (and tons of witty banter) with Mike Sexton on the Word Poker Tour.
The WPT airs on Fox Sports Net and is broadcast globally in over 150 countries. The 10th season of the WPT is sponsored by ClubWPT.com, a membership site that features a sweepstakes-based poker club and is available in 35 states in the US.
I had a chance to chat with Vince about tennis, high profile poker tournaments, his favorite players on the tour, common mistakes amateurs make, Mike Sexton's gymnastic skills and quality celebrity poker players. Here's the interview:
CS: What's your favorite stop on the world poker tour?
VVP: I'm going to have to go with Paris.
CS: Paris? Yeah.
VVP: Yeah. We spent 12 days there this year because we get a lot of publicity for the European markets and all. I love to run and jog and everything so I ran all through Paris, played poker at the casino, just had a great time. It's always so much fun. How do you beat that? But I have to tell you, right after that we went to Venice, Italy – just got back a few weeks ago – and it has the oldest casino in the world. It was built in the 1600s and that's my favorite place – the most beautiful casino and I just had an amazing time there, too. That is the charm of the World Poker Tour. We truly do travel the world and we see the best casinos in the world.
CS: You guys also broadcast globally, for years now. Do you find that people recognize you when you go to these different venues across the world?
VVP: Yeah. You know I guess we got pretty popular over in Europe with the show because it's showing throughout the world. So yeah, they all know Mike and I and it's like family time even when we're in Europe. It's just like family.
CS: So I read today that Mike went to Ohio State on a full scholarship for gymnastics?
VVP: Yeah.
CS: Has he ever given you any gymnastics pointers?
VVP: He's pretty humble about that.
CS: (laughs)
VVP: He obviously was as great athlete and then he retired from that and he has become a great poker player. But he doesn't ever mention his gymnastics. I don't know what happened. He always says his brother was even a better. Over the years we've played a little tennis, he tries that. He's a good athlete so when he tries, even though he never played tennis, he wasn't bad at that. He's a good ping-pong player, too. He's actually a decent athlete.
CS: So speaking of decent athletes, I know you beat John McEnroe back in 1981. How did that feel and was he pissed off?
VVP: Oh man I tell you, yeah. I beat him in '81 at the Seiko tournament. And it's great to beat the number one player, you know. I was top 25 in the world and to beat him was especially – because you know, he basically stole 5 points a match by intimidating the linesman.
CS: (laughs)
VVP: So when you can beat him and tries everything, everything to win—it doesn't matter how he gets there, he wants to finish first. And I had to stay really strong and it was the win of my life and I'm very proud of it. If I was distracted for 10 seconds I would have lost, that's how good I had to play, so it was a great accomplishment for me. I'm proud of it.
CS: Do you agree with McEnroe's opinion that US tennis has hit an all-time low in terms of the talent that we put forward versus the rest of the world?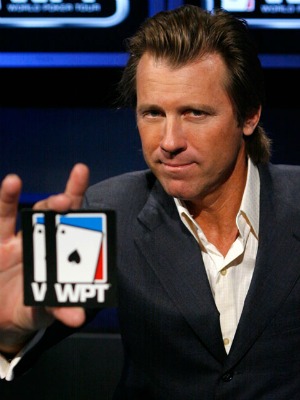 VVP: Well I think it was just a matter of time. The hungriest athletes are going to wind up being the best all things considered. So you figure, America are we hungry enough? Are we doing all the right things to breed the best tennis players? Now I do think that we do have, for some strange reason, our tennis players do have more heart than anyone in the world. So when an American player plays they have no quit in them. They don't really have excuses. And I really respect the American athletes for that. But saying that, I think these other third world countries and over in Russia and these other countries all they have is to train their kids to be the best, that's it. They know that to get out of the squalor they have to get out of, to live the good life, they have to give a little bit more. And that is showing and perhaps that's why guys from, you know, Spain and Russia are becoming the best in the world.
CS: So you think that preparation is what provides that edge?
VVP: I do. I think it's preparation. I think it's desperation. And are we desperate enough to breed more champions in America? I think that is the question.
CS: Gotcha. So when you're announcing tournaments do you think that plays to your advantage when you play against some of these same guys?
VVP: Absolutely. It's a big advantage. Now just a couple of years ago they allowed us in the World Poker Tour – Mike and I – to start playing tournaments if we wanted to. And because of my family commitments with three children, I have chosen to play like one or two. But Mike has chosen to play and did quite well. He made the final table and I know that's because of the history we have of seeing every move. You know it's like we're doing our homework week after week, week in and week out. We know the players so when we're at the table and you're up against these guys, yes, it's going to help. It's like studying the films in the NFL.
CS: Do some of the players get a little bit bitter about that?
VVP: Not at all. Nowadays everything is open. Everyone has the opportunity to look at every WPT tape and every great player and see their tendencies, you know?
CS: Right, it's not just you guys.
VVP: Mike and I are forced to because we do the show and then we do the studio work, so we're forced to. And we make our notes. So I play a lot of cash games still and when I meet them at the cash games, you know, I've taken the notes and I kind of know how these guys play. It does help.
CS: What do you think is more stressful? A high stakes cash game or some of these high profile tournaments?
VVP: I think usually you're a tournament player or you're a cash game player.
CS: Right.
VVP: I played the Main Event at the World Series and I cashed last year. Five days going. It's fun, it's a time commitment, and it's a whole different groove you have to get into. Where cash, I love the feeling that you can play fast, you can bust out, you can take some money and walk away in two hours.
CS: Yeah leave whenever, right.
VVP: Yeah. Eat when you want.
CS: (Laughs)
VVP: And come back an hour later after a dinner break that you decide on. I like the freedom you have in a cash game. That saying, tournaments are usually profitable and feature guys with a different mentality. They love that and they won't play a cash game. So it's just completely different, both stressful in their own way. You've got to figure out what kind of animal you are and what you want to play.
CS: How do you keep yourself sharp at the table when you're sitting down for a long day of poker playing?
VVP: If you want to be a winner you'd better know how to do that. You've got to know how to stay sharp. If you really don't care, if you're just there to have some fun and see how it goes, you know, you've given away a huge edge. You're probably going to lose. I want to be worked out before, like exercise and everything. I want to feel good. I want to feel fresh. And I like getting in the game early because I want to know how these guys are playing. Who's losing after three hours? It's a big advantage.
CS: Right.
VVP: Who's winning? How have they played? Really studying the table. So it's just a matter of being attentive, wanting it bad, wanting a win result bad. It's not even about the win result necessarily; it's about how well are you playing. Are you winning on your own level of playing, you know? If you lost $5,000 that day, but any other ordinary player would lose $8,500, that's a win in the long run. So that's what you've got to really figure in to it all. I just like to feel good and confident and eager to be there. Otherwise I won't be there.
CS: What are some of the biggest mistakes that amateur players make?
VVP: I see a lot of amateur players at a final table doing really well and they really do have a lot of tells still at the table, especially a lot of guys that came from online. And they're projecting just too much. They're giving away too many hints at the table, body language and shaking of their heads and all that. The really great ones don't give you anything. They're a wall. And that's what you really have to attain, I believe, to be a great player. You can't give away tells like that. And these guys sometimes don't even know it.
CS: You mentioned internet poker. How do you think the US ban on internet poker has impacted the WPT over the years?
VVP: Oh I think a lot more online guys are now playing in casinos and playing in tournaments. I think it's not much of a difference. I mean a lot of guys, you know they were doing well online, they had a lot of loose cash and now there's not quite as many players with that kind of cash running around.
CS: Right.
VVP: Tightened things up a bit.
CS: Who is a player you think we should watch for this season in the World Poker Tour?
VVP: Well it's always shocking because you get all these big names—you've got 500 big names in poker now, and then the final tables are all unknowns.
CS: Right.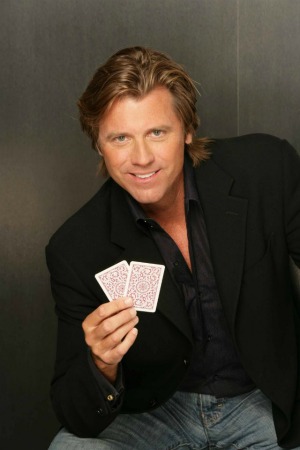 VVP: You know there's a list of young guys that are terrific and it's the greatest game of all because there's still that luck factor. And that means anyone can win and anyone can do it these days and become a TV star, a poker star. It is exciting. I'm a fan of Jonathan Little. I'm a fan of Doc Sands. That's some of the younger guys. I think Will Failla – "Will the Thrill"– is an exciting player. I'm not going to put him in the class of his own—well he's up there, he's a fine player, but just for pure charisma I like "Will The Thrill." Dwyte Pilgrim, great personality. I mean if "Will The Thrill" or Dwyte would have made it on the World Poker Tour in the first three seasons, they would have been the biggest things in poker, bar none. It's just, as the years go by it just all gets diluted a little bit and you've got to fight a little bit harder for that stardom. But these guys are charismatic and interesting players and have a lot to say at the table. They make great TV time. So it is fun to watch. Still great. Better than ever.
CS: Who would you say is the most entertaining player at the table?
VVP: Well I always look out for Tony G.
CS: Yeah!
VVP: He's really an air bag, you know.
CS: (Laughs) yeah.
VVP: He's great with the insults and funny at the same time. And I'll put Helmuth right up there, too. I still enjoy Phil Helmuth. You know he's just fun to laugh at. His own frustrations out on the table, it's classic. Those two guys are fantastic. So I enjoy the characters. I think most people really do. It's just fun to watch when you see their cards, you see their frustration, you see what they're doing, and on top of that they're great players. It's truly exciting.
CS: So do you think that Phil Helmuth or Tony G have mellowed out over the years or do they still bring the same ferocity each time?
VVP: Oh I think Helmuth has mellowed a little bit. I think he's become such a big name in the game and he's happy with his life and he's made a lot of money with it, and actually he's kind of getting it that "hey yeah, I was acting like kind of a jerk" and I'll go along with some of that but, you know, I've seen him pull back too in a moment where he could have, you know, gone over the top like the old Phil.
CS: Right.
VVP: Now he's sort of protecting himself, saying "hey I'm gonna roll with this one" and it's good to see. As for Tony G I haven't seen him play enough tournaments lately to see how crazy he gets. But he never was his own worst enemy. He never looked like the fool, in my opinion. He always made other people look like the fool.
CS: (laughs) right.
VVP: And he actually was kind of right. I mean he was just a great trash talker that could get underneath other people's skin. Did he go too far? Yes, on many occasions. But he still was entertaining and he always helped his game and I never felt like "oh this guy's an idiot", you know? "He's a fool". Whereas others truly come off going "ugh, go home."
CS: So what do you think is the most overrated starting hand in hold 'em?
VVP: That's a good question. Hmm … you know … I'm very open to hands. I just feel like every hand is either your best friend or your worst enemy. That goes for aces, that goes for ace-king, and jack-ten and diamonds and pair fours. I've seen so many that it's just—you know more people get knocked out on ace-queen over the years than any other hand. So if you have to go with one that really seems to make a lot of people go broke I would say it's ace-queen.
CS: Okay. Fair. Now what does an amateur player need to do to get to the next level, start appearing in tournaments and really step up their game?
VVP: I think an amateur player really has to study, know it, and get a better poker face.
CS: (laughs)
VVP: Take their ego out of the game, and really want it bad. You've got to hate to lose and love to win. And you've got to be 100% focused and excited or don't bother. And you have to have great restraint when things are going bad. Do you have that character? Do you have the heart when things are going bad not to tick off? Not to go into a different mode of bad play? If you do, you'll be the next superstar. If you don't, you'll be another hack and you should stay away.
CS: When poker players have success how much of it do you think is attributed to math, an analytical mindset and understanding the odds versus just a gut feeling that you get from a straight time-on task?
VVP: I think there's 80% of the mathematical nowadays and about 20% of gut and moves and heart. But you know, you can know every move in poker. You can see every move and know what you're supposed to do, but the tendencies to make a bad decision at that point are very great. Probably up to 80% you won't do the right thing. Only the 20% of the top people are doing the right thing when they're really supposed to. And that takes heart, character, wisdom and bravery.
CS: Do you think there should be a main event with only poker pros where you kind of get the best of the best squaring off against each other?
VVP: No. No I've always been against that, I think it's boring. I think a lot of the top poker big names are very boring. A lot of unknown poker names are playing just as good poker, right? So you have to see better poker. What TV really needs to see is more characters
CS: Right.
VVP: You want to feature excellent, top notch players, but also the great characters of the game that have something to say, that's good TV watching. Otherwise I don't think it matters.
CS: Would you rather win Wimbledon or the World Series main event?
VVP: Oh. Well to be honest with you, I would be so excited to win the World Series of course, but there's so much luck involved, you'd never get the appreciation or you could always say "yeah you know how lucky I had to be to get that run?"And I would know that. So that wouldn't mean as much. You win Wimbledon, you know you are the best in the world. No one is better. There was no luck involved. So I think for me to win a major tennis event would be more satisfying.
CS: What kind of bankroll do I need to get in on those pot limit cash games in Beverly Hills?
VVP: It'll vary now but when I was playing—and I'm still playing some but I'm playing smaller games now, not as big. But there's so many games in Los Angeles that are like home games and I'm not playing but I've heard games are going where they play for $100,000, win or lose. But they have all different kinds of games where you can win or lose $2,000 to $10,000 to $20,000. Pick your choice of what you want to lose or win.
CS: (laughs)
VVP: All around town I get all kinds of texts about playing this game or playing that game, but I'm down to one a week and I play a nice social game and it's just kind of fun.
CS: I know there are tons of celebrity poker players out there and you have the moniker of being the "King of the Hollywood Home Games." Or at least previously like you said. Who are some underrated celebrities? I mean we know like the Ben Afflecks, Tobey Maguires and these kind of guys, but who's  little bit more under the radar?
VVP: Jennifer Tilly is a nice player. The girl who played in American Beauty – Mea Suvari, she's a great player. She played our celebrity tournament and she's like, really good. She had great instincts and a poker face and saw through people. She would be one in my opinion. Hank Azaria is a nice player.
CS: Does he do voices at the table?
VVP: Yeah (laughs) he's always doing something.
CS: (Laughs)
VVP: Doing all kind of characters. He has a weekly game which I play once in a while and he does all kind of characters (laughs). But he loves poker, loves poker.
CS: Last question, who's the nicest poker player out there? Like just the best all around person?
VVP: Andy Frankenberger.
CS: Okay.
VVP: I like Andy Frankenberger. I like his demeanor, I like his intelligence. He's a classy guy. I respect him a lot. But there's lot, there's a lot of those guys.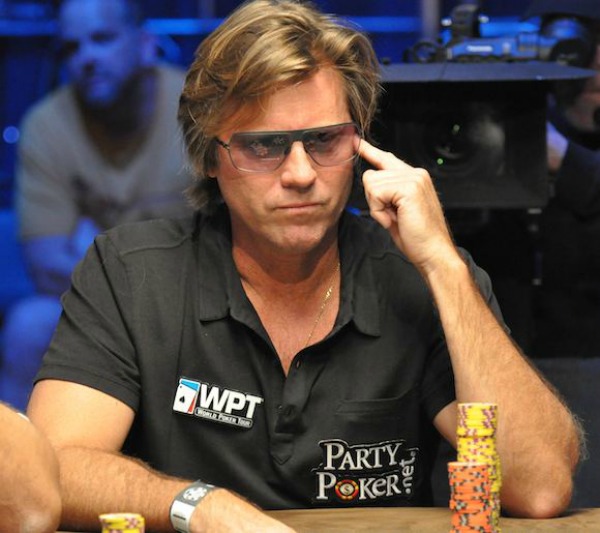 The King of Beers is launching a new online program to cater to tech-savvy beer drinkers of the 21st Century. That's right, Bud's going digital and bringing your brew to life with the a new campaign called "Track Your Bud."
Have you ever wondered what went into that Bud you're holding on game day or sipping at the bar? Where did this beer come from? Who gave birth to this brew? What kind of journey did it take to end up chilling in your hand?
Well now you can find out your beer's entire backstory. The Track Your Bud program from Anheuser-Busch lets you trace the origins of your Budweiser bottle from farm to brewery to coozie. You can even learn about the brewmaster responsible for crafting your beer.
To get the full story of your Bud, just use your smartphone to scan the QR code located on your Budweiser packaging. You can download the Track Your Bud app or visit www.trackyourbud.com to learn about how your beer came to life. You can find out all about the beer-making process and discover where the hops and barley that went into your beer came from.
So next time you sip a Bud, spent a couple minutes and get a download of your brew's personal history.
St. Patrick's Day is finally here. Before you map out your day-to-afternoon-to-evening drinking plans, why not spend a quick minute to help MANjr and Guinness set a new world's record for the biggest St. Patrick's Day bash of all time! Help this noble cause and you'll feel better about yourself tomorrow. Here's what you need to do:
1. Visit Guinness.com
2. Click "Count Me In"
3. Enter your first name, zip code and date of birth
4. Enter the promo code "MANJ"
That's it! Get in on the action, drink Guinness responsibly and have a safe and happy St. Patrick's Day!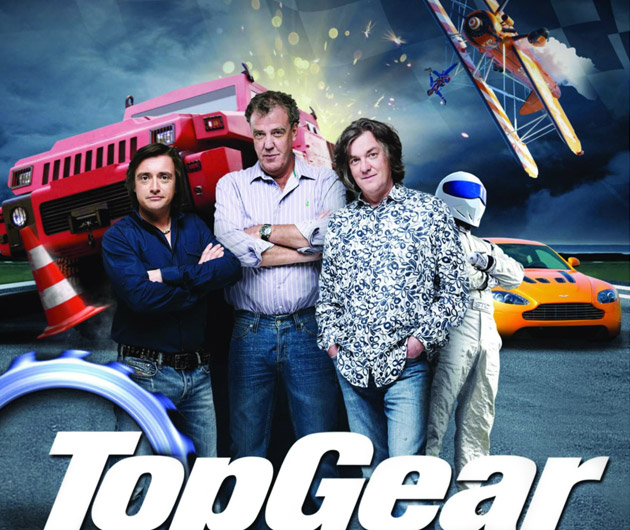 Top Gear is awesome. You know this already. It's like the perfect balance of supercar porn, beautiful camera work, engaging personalities and the right amount of humor and celebrity banter. Jeremy Clarkson, Richard Hammond and James May have been doing Top Gear since the 2002 relaunch of the BBC television series (when James May replaced previous presenter Jason Dawe). The original version of Top Gear began in 1977 as a local series on BBC Birmingham. It ended up on BBC2 and until 2001. Clarkson has been at the helm of Top Gear, which one of the most popular television programs in Britain, since 1988.
The best thing about Top Gear is that the co-presenters have such great, genuine chemistry. Clarkson is witty, pompous, self-important and clever. He treads that fine line between arrogant snob and approachable everyman. Not an easy task, this.
Richard Hammond, that impish, big-smiled comic foil, fully embraces his role as a loveable hamster. He feels approachable, but still spends an awful lot of time whitening his teeth. In 2006, Hammond survived a serious car crash when the Vampire dragster he was driving crashed while traveling at 288 MPH. He made a full recovery and returned to his Top Gear hosting duties.
James May is the black sheep of the bunch. He's always bringing up the rear in racing challenges. His car is always first one to break down. May has appeared in different programs about space travel, science fiction, toys and wine. He balances the wonder of a child with a sharp tongue and he carries an affable underdog vibe with him at all times.
And then there's the Stig. Some say he's a the mystery driver who sets lap times, trains all the Stars in the Reasonably Priced Cars and has cousins all over the world. But no one knows for certain who the Stig really is. We just know that he listens to some really weird stuff when driving around the track at top speed.
Season 17 kicks off with a 50th birthday bash for the Jaguar E-Type, hosted by Jeremy Clarkson. Richard Hammond heads to South Africa to test out a Hummer on steroids and James May battles Amy Williams in Mini Rally Car race. Other highlights of the season include: a trip to Italy to test high performance hatchbacks; a head-to-head battle between the McLaren MP4-12C and the Ferrari 458 Italia; a comparison of the Jaguar XKR-S and the Nissan GT-R; demolition of derelict houses; a seaside evaluation of two electric cars (the Nissan Leaf and the Peugeot iOn); and celebrity laps from Alice Cooper, Ross Noble and Sebastian Vettel.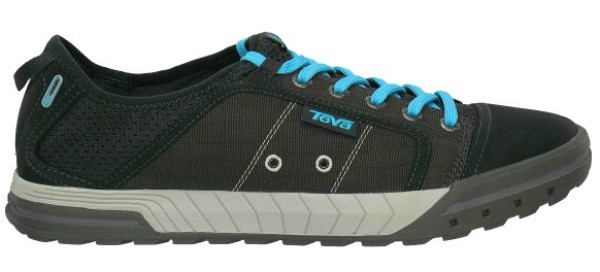 Teva has always been known as brand that caters to outdoor enthusiasts. From water shoes to sandals that can take a beating, if you've ever tried to expose a pair of Teva shoes to the elements, you know these kicks are comfortable in the wild.
Lately though, the whole outdoor performance thing isn't enough. Teva's trying to focus on the dual-use factor. We received a pair of Teva Fuse-Ion shoes to review, and it's clear that the company wants to offer the type of outdoor, elements-be-damned performance that you'd expect from the brand, while also providing a bit of everyday style to go along with the package. As the Teva website puts it, "We designed a shoe that you can wear to the bar, then made it the highest performing water shoe ever built. No big deal."
So did they succeed in this effort? I think so.
From a performance/wetness-battling standpoint, the Teva Fuse-Ion uses Ion Mask material to keep the shoe extra dry. What's Ion-Mask, you ask? It's a nano-coating material that's a thousand times thinner than human hair and molecularly bonds to a surface to provide extreme liquid repellency while still allowing for maximum breathability. Oh, and it's also solvent-free and only uses tiny bits of protective monomer so it won't have a negative impact on the environme Basically, shoe stays dry.
Other outdoorsy features of the shoe include the use of spider rubber technology for crazy grip (even in wet conditions) and a quick heel pop down feature that allows for instant slip on action. The pop down thing is pretty cool. Even if you're not asking for extreme liquid repellency, and you just want to slip some shoes on real quick to take out the trash or something, you can slide your feet in there, totally stomp on the heel, and the heel part of the shoe will pop back into place, no problem.
As far as the "I can totally where this to the bar" factor, you can see that the shoe is pretty stylish. It doesn't look like something developed by NASA in a lab or anything like that. They're kind of form-fitting with a bit of a thin sole. If you have extra wide feet, you might find Fuse-Ion a bit restrictive, but not more restrictive than, say,  your average pair of Adidas. Also, neon blue laces aren't my thing, but the shoe pictured above also came with some light gray laces. I think those are the more subtle, bar-friendly play.
The Teva Fuse-Ion kicks retail for $90 and are available in black (pictured above), bungee cord (nice two-tone throwback action) or duck green (which, to me, has a bit of ninja turtle vibe going on). If you want a breathable shoe that can stay all kinds of dry and not look like some kind of futuristic aqua sock, you'll find a nice middle ground with the Fuse-Ions.