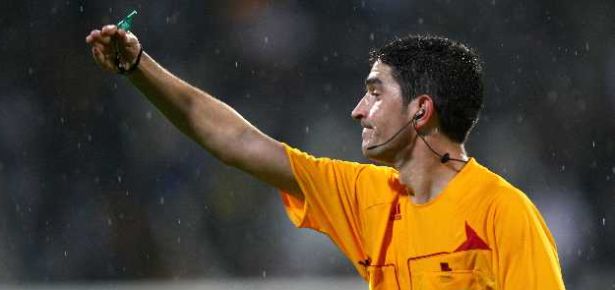 Somebody boo this man! It always sucks when poor officiating overshadows a great game. Today's early World Cup match between Germany and Serbia was totally tainted by referee Alberto Undiano Mallenco and his card-happy calls. The Spanish ref became the focal point of the game. Mallenco reached into his wallet a grand total of 9 times in the match. If bullshit had a face, it would look like Mallenco.
During the match, any type of contact resulted in a yellow card. Sneezing was a bookable offense. It was truly a ridiculous situation, with players not knowing how aggressive they could be with challenges. The calls were inconsistent at best; just laughable all around. The announcers couldn't believe it. The players couldn't believe it. I got up to get some breakfast and when I looked back at the TV, Alberto Undiano Mallenco gave me a yellow card, too.
The Germans lost their top striker, Miroslav Klose, after he collected two quick, wack yellows in the first half. Serbia went up immediately after that with an instant goal from Milan Javanovic. Ze Germans attacked early and often during the second half. Lukas Podolski took like a dozen shots on goal and even had a chance to equalize with a PK, but it was not to be.
This was an exciting match that would have been much more entertaining without Alberto Undiano Mallenco putting his mark on the game. The man deserves to be booed.