Sports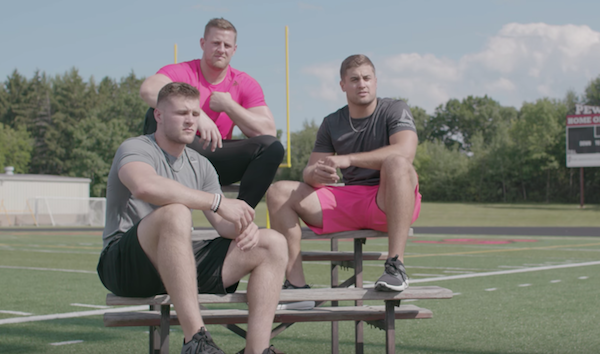 Some cool news coming out of Reebok recently. They announced the launch of the Reebok Hydrorush, the newest men's functional training shoe from the global fitness leader. Put to the test by one of the most athletic families in sports, the Watt brothers, the Reebok Hydrorush is built from the ground up to withstand the tough workouts of even the highest performing professional athletes.
The Reebok Hydrorush helps enable athletes of any level to attack their workout with the same unyielding drive as the Watt Brothers. With maximum foot security and a full rubber outsole for workouts on all surfaces, the shoe provides everything needed to achieve peak training performance.
Defined by a constant commitment to redefining their own boundaries, J.J., Derek and T.J. Watt rely on the Hydrorush in training to help improve performance on the field. Now, athletes nationwide can join the Watts in their relentless pursuit of greatness with Reebok's latest release.
Additional technology and comfort benefits of the Hydrorush include:
• Unmatched Responsiveness: Dual density liquid foam technology cushions during high impact movements
• Versatile Traction: Full rubber outsole for workouts on all surfaces
• Dependable Security: Midfoot stability supports quick cuts and changing direction
Reebok ambassador Derek Watt says, "Every time I step on the field, film room, or hit the gym, I try to give it my full effort and leave everything out there. The Hydrorush is the perfect shoe to train in because I can do any workout – from speed drills to lifting and agility – all in one shoe.  The Hydrorush adds tremendous value to my training and allows me to perform at my best both on and off the field."
"What I've learned from my brothers is that what you see on the field is the result of the intense training off of it. As a rookie this year, I've had to train harder than I ever had to before, and the Hydrorush is the perfect shoe for me to do this.  It is breathable, lightweight, and a style that I can wear both in and out of the gym," adds Reebok ambassador TJ Watt.
On the development of the Reebok Hydrorush, Tal Short, Project Manager, said: "We know our customers need to have a shoe that can adapt to their training as and when they need it. We developed the Hydrorush to attack and withstand any level of training, whether it's professional athletes training to enhance their game or high schoolers striving to make varsity. At an affordable price point of $80, the Hydrorush is an accessible and essential tool for any athlete or individual who's looking to take their performance to the next level."
The Hydrorush is now available for purchase at Reebok.com for $80. For more information visit www.reebok.com/watt