Cars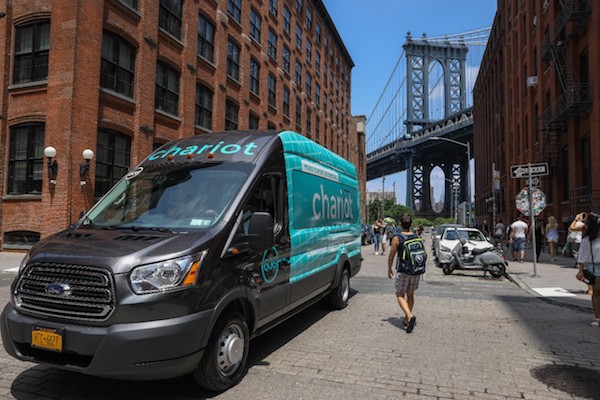 Getting around New York City can be tough. I know I used to work in the Big Apple for a bit and man let me just say that going from point A to point B was sometimes a headache. Ford is looking to change all of that. Ford is going to expand its mobility offerings. Ford Motor Company is launching its crowd-sourced shuttle service Chariot in New York City in August, aiming to provide new mobility solutions to consumers.
Chariot offers commuters, some of whom live in transit deserts – areas that are not within walking distance of public transportation – a new way of getting from point A to point B. During typical commuting times, Chariot shuttles will travel to busy areas where people work, then bring them back at the end of the day. Each Chariot comfortably accommodates more than a dozen people and guarantees seats for every rider.
"Our mission at Chariot is to provide reliable, safe and affordable transportation for as many people as possible," said Chariot CEO Ali Vahabzadeh. "We want to connect people more easily to where they want to go – whether they need help making it to a transit hub or live in an area underserved by public transportation."
New York is the latest market to get Chariot's service, which is launching with two pre-planned service areas in Manhattan and Brooklyn, at a flat rate of $4 per ride. People can create additional service areas through crowd-sourcing. By this fall, Chariot plans to have 60 vehicles operating in New York City.
Using Chariot is easy. Riders simply check the APP find commuter routes near them, then reserve a guaranteed seat as they head toward their assigned Chariot. Keeping the service affordable is a priority, and solutions such as WageWorks and commuter checks – which allow people to use pretax wages to pay for commuting costs – are fully compatible with Chariot use.