2018 Lincoln Navigator Review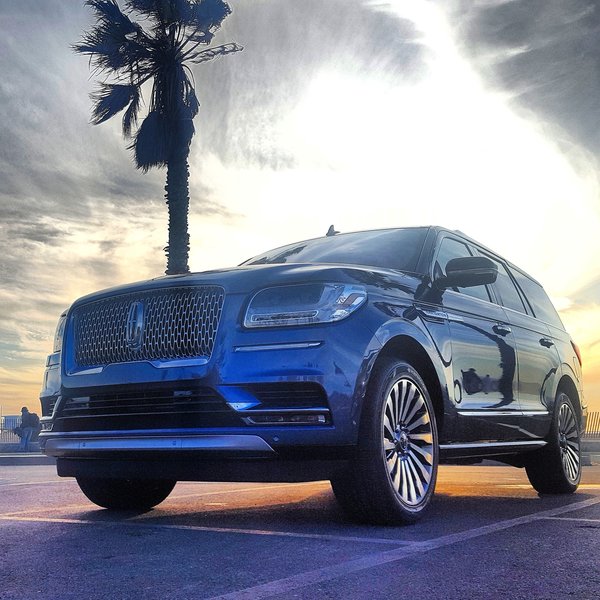 It's no secret that LA drivers spend an uncomfortable amount of time sitting in traffic. Workdays, weekends, holidays, late nights – it really doesn't matter. People in the LA area are so used to being stuck in their cars that we view our vehicles as extensions of our home. So naturally, us LA drivers want all the comforts of home in our cars, but I've never been in a ride where all these comforts are available in one giant luxury package. Until I spent a weekend in the 2018 Lincoln Navigator.
The 2018 Lincoln Navigator is a giant luxury living room on wheels. It doesn't feel like a car. It doesn't feel like an SUV. It's more like a lobby of a boutique hotel. A rolling spa day that you can take on the freeway. Luxury SUVs aren't anything new, but the over-the-top comfort, class and refinement available in the 2018 Lincoln Navigator is something I've never experienced before.
The Lincoln Navigator has been in production since model year 1998. It was Lincoln's first full-size SUV and it was based on the Ford Expedition that was first produced the previous year. The Navigator was the first Lincoln SUV to offer seating for more than six people and it also offered the greatest cargo capacity of any Lincoln to date. The major distinction between the Lincoln Navigator and the Ford Expedition is that the Navigator was always billed as a more refined machine, an upgrade in terms of trim levels, content and overall luxury.
After it first launched, the Lincoln Navigator faced immediate competition the following year when GM responded with the Cadillac Escalade. Although the initial head-to-head sales battle was close, the Escalade ended up taking over as North America's preferred full-size luxury SUV. The Navigator was revamped in 2003 and 2007 (with a refresh in 2015), but despite shedding its Expedition roots in favor of a design that was produced by the same team that created the 2013 MKZ, the Navigator was unable to take the top spot as America's favorite huge car for rich people.
That's about to change. This 2018 Lincoln Navigator is something else. Completely redesigned for 2018, the fourth generation Lincoln Navigator is the mobile luxury condo you've always wanted, but were never able to afford. It's gorgeous and intuitive. It's shamelessly comfortable. It's the kind of car that you should feel guilty about driving, but, once you start driving it, that guilt melts away like hot wax that contours precisely to snuggle your body in Lincoln's Perfect Position seats. This full-size SUV is unapologetic luxury at its most indulgent. You don't reach for the top shelf and feel bad about it afterward. If you're going for the topmost premium experience, you grab it, enjoy it and feel happy about the fact that you treated yourself.
The superlatives roll of the tongue with this ride. It's the ease of everything that stands out the most. Effortless luxury. Quiet comfort. These Lincoln tag lines never rang truer than with the 2018 Navigator.
The Perfect Position seats adjust in a standard 10-way, available 24-way or top-option 30 different positions. That doesn't even factor in the Active Motion massage chair option. An entire glowing review could be written about just the seat situation, but you get the idea. It really is quite nice just sitting in this car.
Back to this effortless luxury thing for a moment. It's hard to take stock of the many effort-removing features in this car. The list is just so long. The car illuminates when you walk toward it, with the Lincoln star projected on the ground and a welcoming LED halo inviting you to jump in. A simple wave of your foot provides access to the hands-free Liftgate in the back. The 2018 Navigator has memory recall for all your specific seat, audio, pedal and mirror settings. The 10-speed SelectShift automatic transmission makes on-the-fly moves for you so you can seamlessly shift without thinking about it. It just about drives itself.
Leveraging the same technology that's used in digital movie theaters, the Head-Up Display projects information like local speed limit, current speed, time, temperature, miles left in the tank and even navigation directions directly in your line of vision. It's bright, somewhat distracting, but impossible to miss.
Adaptive LED headlamps adjust automatically based on your speed. The rain-sensing wipers activate themselves in wet conditions. Auto Hold does the brake pedal work for you when you're idle. The Lane-Keeping System alerts you when you start swerving. This car also parks itself with Enhanced Active Park Assist maneuvers out of parallel parking spots with Park-Out Assist. You get alerts when you're too fatigued to drive or cars are in your blind spot or objects are too close to the front or rear of the vehicle. Active Braking will help prevent you from accidently colliding into people and things. The 2018 Lincoln Navigator will even do your taxes for you. It's unreal.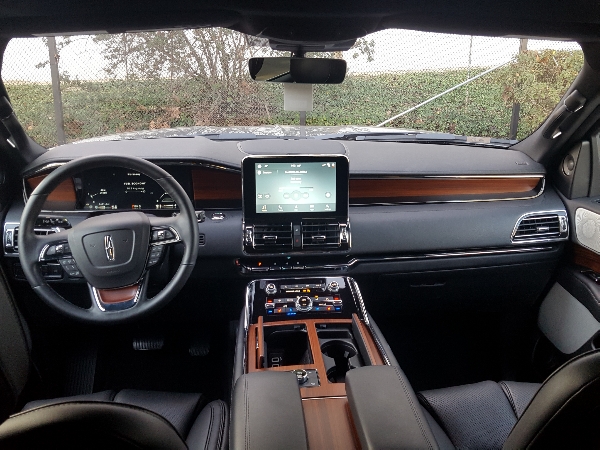 An effortless living room on wheels wouldn't be complete without some quality tech options. I mean you have to engage in something while inside these best-in-class interior quietness conditions. The 10" LCD screen is well-positioned and uncluttered in the center stack. It manages to be both non-intrusive and well-within reach. Nestled amid the real wood trim and European leather the LCD screen really completes the overall living room feel. Navigation and music control is easy to deal with, whether you push buttons on the screen, the steering wheel or just use your voice to control calls, music, etc. on the SYNC 3 system.
Synching up to Spotify is super easy and an absolute must if you want to leverage the world class Revel audio system that uses Waveguides, Clari-Fi music restoration, QuantumLogic Surround sound and cabin tuning tech to fill your core with rich, dynamic, robust, 20-speaker-strong sound. It's the kind of music system that keeps you sitting in your car long after you've arrived at your destination.
There's a wireless charging pad in the enormous media bin. Six USB ports are scattered throughout the vehicle, including two ports in the third row. You can keep your devices plugged in and they will continue to charge up to 75 minutes after the engine has been turned off. If you need a full 12V power outlet, that's available in the rear cargo zone. Up to 10 devices can connect to the 4G LTE Wi-Fi hotspot in a 50-ft radius of the vehicle.
If you want to tow stuff, there's 8,700-lbs of best-in-class towing available. If you want to move stuff, you got the best-in-class rear cargo area that leverages a tiered management system where you can partition the cargo space in four different ways. Passengers can stretch out in the best-in-class shoulder, hip and leg room space in the second row. You can sit up to 8 or 9 people in this road-living room. And if you want to admire the stars, the Vista Roof provides the largest panoramic opening in its class. https://www.imperianews.it/2021/09/16/leggi-notizia/argomenti/economia-3/articolo/le-slot-online-sono-i-giochi-preferiti-dai-giocatori-gioca-ai-casino
First class. Top drawer. Flawless. Believe the hype. It's all true. The Escalade had a nice run, but it's reign of luxury terror is over. A car that costs nearly $100K when fully loaded should feel like a $100K driving experience. Whether you go with the base level, select or premium reserve options, you're going to feel like a celebrity hosting a swanky party every time to drive around the block in this unquestionably luxurious mobile living room.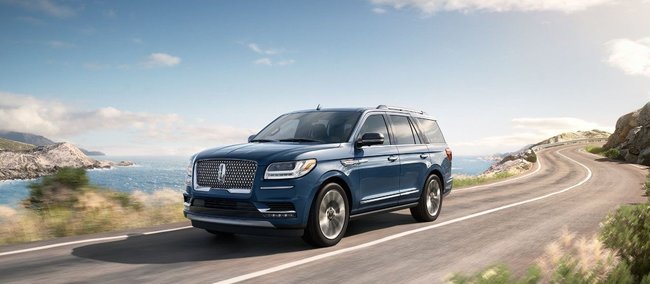 Related Posts
| | | |
| --- | --- | --- |
| | Print article | This entry was posted by Chris Stout on December 28, 2017 at 2:52 pm, and is filed under Cars. Follow any responses to this post through RSS 2.0. Both comments and pings are currently closed. |
Comments are closed.