Jeremy Johnson
Jeremy has been writing for MANjr since October of 2012. He also manages MANjr's Twitter and Facebook page.
Posts by Jeremy Johnson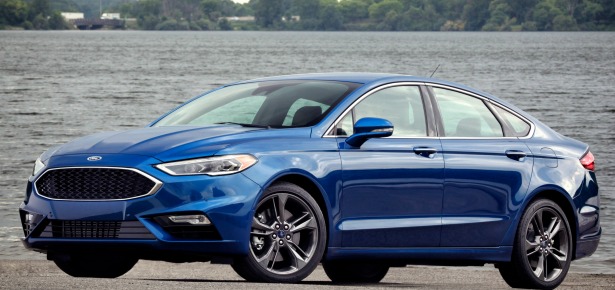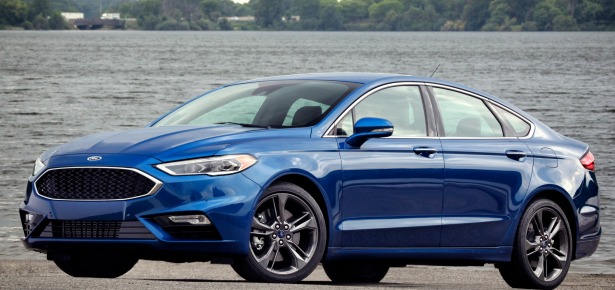 MANjr takes on Mother Nature herself with the 2017 Ford Fusion Sport

It's difficult to write this review without first setting the scene.
It was November of 1846 and the Donner party had hit a snag. After nearly 6 months on the trail, an early snowstorm pummelled the Sierra Nevada Mountains and trapped the party of 87 near Truckee California. As livestock and supplies began to dwindle and rescue operations were delayed, many in the Donner Party resorted to cannibalism to survive. It wasn't until March of 1847 that 48 emaciated survivors trudged their way through the mountain pass to tell their story.
It was this on my mind as I thought about our food supplies in the back seat of our 2017 Ford Fusion Sport. When I went to bed the night before, I was comforted by the weather report of 1-3″ of snow. By morning's light the totals on the ground were over 18″ and growing fast. We had to get on the road and we had to do it right now.
I grew up in the snow. Any self respecting native New Englander knows how to drive in the snow. Alpine snow is different though, at 7,000 feet sometimes it comes down harder than any forecast can predict. Steep inclines and switchback turns give even the most seasoned driver pause, and white roads hide what ice may lie underneath. Chains become a legal requirement, and all their hand numbing, bloody knuckle curse word inspiring fun along with it.
Quick PSA for those attempting an escape from the mountains in a Ford Fusion Sport.
Caltrans might let you slide if you have AWD (check) and brand new tires (check).
They will not let you know this on the internet, the official word is 4WD (nope) and snow tires (nope).
So I bought two pairs of chains, in order to not destroy the differential on my brand new loaner car. I attempted to install these chains in a Starbucks parking lot with 30 mph winds blowing snow into my everywhere. I failed. I felt like less of a man.
Turns out, according to the nice men at the local gas station, my (wow what kind of car is this? Ford? No Way!) 2017 Ford Fusion Sport did not take too kindly to chains. The low profile 19" wheels were so close to the wheel wells that any attempt by me and my meat mitts to squeeze in between was useless and likely even bad for the car. (Manhood restored!) With our recently purchased and now useless chains stowed securely in our trunk, we chose to risk it and get our butts back to Los Angeles.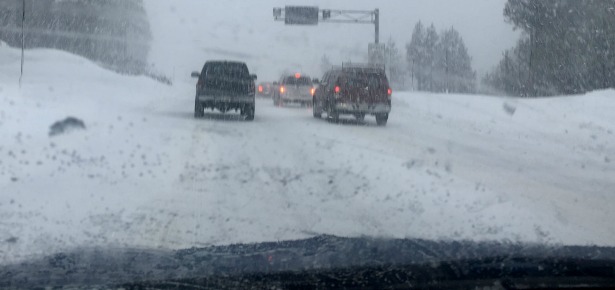 To make a long story of focus and perseverance short, it took us 16 hours to get home. Our first 100 miles took over 8 hours. We were trapped in holiday traffic, mixed with apocalyptic snowfall, and raging winds. Our route was marked by cars and trucks in snow banks, bathroom lines over 30 minutes long, and a near complete breakdown of simple human decorum. We retraced a portion of the Donner Party's route and lived to tell the tale.
The Look
The Blue Lightning paint job and athletic stance stand out from the curb. Even though it shares its now signature Fusion grill with more standard trim levels, accents and flares across the body separate the Sport from the herd. It looks like a million bucks. Well, more accurately, it looks like 70,000 bucks. (MSRP as tested $41k)
The Drive
The trip began innocently enough, the clean dry roads of Southern California allowed the V6 2.7L engine ample room to shine. 380lb-ft of torque may not mean much to you, but trust me, good times were had. The car is quick, responsive, and drives like a luxury sports sedan. My love affair turned Stockholm Syndrome with the Fusion Sport began on the 405 North, merging and passing at will, deftly passing mile markers and semi trucks. The handling is smooth yet responsive, the 6 speed automatic transmission shifted seamlessly, and the steering was responsive without being overly tactile. The AWD, truly tested repeatedly and necessarily, was an all star. There never came a moment where I asked the car to do something it couldn't do. Like all great AWD systems in the snow, simply pointing the nose of the car in the desired direction was enough. The slipping and gripping of the tires is all handled automatically and the car finds its way straight again.
The Inside
This is really the only knock on this car. A look from the outside and a test drive might have you wondering how it is priced at less than half of what some of its luxury cousins are sold for. This is where some of the money is saved. Leather and fancy composites give way to more familiar upholstery and plastics. It's nice enough, it is an American car after all. Functional interiors made with less than premium materials are kind of the hallmark of this nation's automobiles. Comfortable seats, effective infotainment software, and all the appropriate spots to stow your gadgets. Not much to complain about inside and what little there was only exists because the bar of expectations had been raised so high. Perhaps the the Platinum and Sport trim levels will combine one day to take on the BMW 3 series? 2018 anyone?
The Home Stretch
I could argue that I lost all objectivity somewhere between hour 3 and 4 of our drive home. We had been stopped for over 30 minutes in the blinding snow and wind on Interstate 80, mere miles away from the point where some in the Donner party met their fateful end. I was out of the car, clearing the ice off our windshield wipers and talking to a fellow stranded motorist. We chatted about the weather and the fact that we were standing in the middle of an interstate highway when he said, "That's a Ford?". I nodded and told him a little about it, when suddenly we both stopped speaking and stood there. Two men, surrounded by thousands of stranded motorists, in the middle of a major weather event. I pondered the earth and human constructs like society. I figured I could get maybe three days out of the snacks we had, if we were on survival rations. We could always drink the snow and surely Caltrans wouldn't just forget about the people in the countless cars they just waved through. We said our goodbyes and got into the warm embrace of our vehicles. My heated seat comforted my back, as any unbiased attempt at a review melted like flakes on the windshield. My loving wife handed me some almonds and traffic began to move again. I couldn't help but imagine that the Fusion Sport nodded and smiled as we slid into gear and continued to trudge along our way.
2017 Ford Fusion Sport
MSRP (as tested) $40,995
2.7L GTDI Ecoboost Engine
325 HP
19" Premium Wheels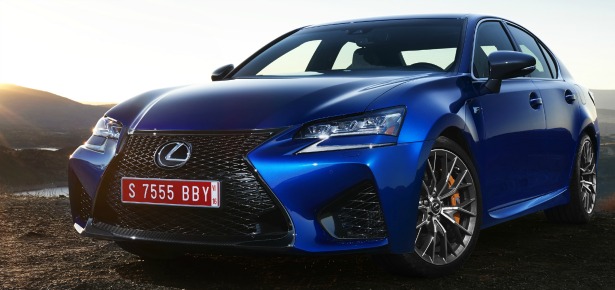 Lexus dives head first into the performance sports sedan battle with the GSF.
In the interest of full disclosure, I'll admit I was never a big fan of the Lexus GS. It always felt like the fulfillment of an obligation to offer a mid sized luxury sedan. Previous incarnations of the GS, even the 350 F-Series felt just a little big and heavy on the track and when offered the choice of models it was usually one of the last options I chose. I like cars that are clearly designed for a purpose and the older GS series just felt like an afterthought.
The GSF is no afterthought. The GSF looks and drives like a Marvel Comics redesign. From its signature "Ultrasonic Blue Mica" paint job, bold and polarizing design, and 467 HP V8 engine, the GSF has been designed with a certain kind of driver in mind. This time around it was me.
The Look
The paint job alone costs more than some people's cars. The GSF flares where it should flare, pinches tight where it should pinch. It's wide and athletic in the front and has just enough of a swoop in the rear to distinguish the trunk from its less affluent cousin, the Toyota Camry. I'm on record for loving the spindle grill and remain a big fan of the overall posture of Lexus' brand refresh. This car is not a mild mannered sedan with sports styling. The GSF is a luxury sports sedan and everything about the look promises a bold driving experience. A glance puts it in the same category as some heavy hitters with initials like M5, AMG and E63. Will the drive measure up?
The Drive
I'm familiar with the 5.0L 476 HP V8 engine, having tested it on the RCF last year. Spoiler alert, it is still super fun to drive. In a day of ecoboost this and turbo that, the thrill of pressing the gas and getting raw horsepower can be forgotten. Not so in the GSF, even in ECO and Normal mode, the engine springs to life with a roar. When the drive mode select is placed in S or S+ mode, the enhanced engine noise growls and fills the cabin with the noise of delightful revving and downshifting. Speaking of downshifting the 8 speed automatic transmission is a revelation. In canyons and straightaways it seemed to predict my next move, anticipating downshifts and never getting caught awkwardly between gears. The suspension was stiff but comfortable enough, stopping just short of a luxurious ride. Potholes and grooves in the road were managed without any rattling and overall the car felt very snug and well put together. Out on the highways, wind and road noise are a dull murmur and the engine noise only kicks in when aggressive maneuvers began.
What the F?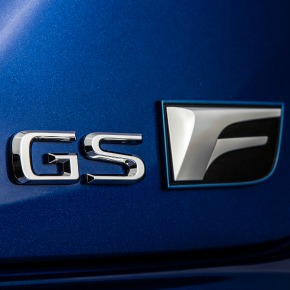 What the F is the F? What the F is the F series? Aren't they the same?
Short answer, no.
Medium answer, welllll they do have some overlap.
Long answer?
The F Series badge is a trim level and a suite of options available across the Lexus lineup. It includes better components and bigger engines, premium sound, etc. The F is a stand alone. It's an answer to the M series or the AMG of its european competitors, a car custom built for the well heeled driving enthusiast. Fans of Silicon Valley will get it, this car, um, F's.
So, when you see the "F Series" badge, the driver thought enough of themselves to add a few extra touches. When the badge says "F"? It means this guy really likes to party.
Interior
Overall very sharp interior in the GSF. Lots of carbon fiber, well accented lighting and the familiar dash design work well with the comfortable bolstered seats and mid sized back seat, The increasingly dated infotainment system remains largely as is, utilizing the Remote Touch Controller to navigate the 12.3″ screen. The software has begun to feel a little clunky for a car so technologically advanced and is surely up for an update in the coming model years.
Features
Lexus has the GSF packed with so many safety features it dominated the Monroney sheet. Obvious ones like airbags give way to the less obvious like Pedestrian detection, Lane Departure Alert and Cross Traffic Alert. The entire suite of safety features really combine to impact the way you drive the car. Radar assist cruise control remains my favorite. It allows the driver to set a safe follow distance and an optimum top speed and the car does the rest. Best used on the open highway, it essentially takes over the throttle and braking responsibilities, even bring the car to a full stop if traffic dictates. A welcome step in the road to cars that have more and more self driving capabilities, this practical innovation is a pleasure to use and extremely effective at predicting slowdowns up ahead. The optional Mark Levinson Audio system is crystal clear, allowing max volume without distortion or buzzing.
The Lexus GSF comes in at high marks. What it lacks in refinement it makes up for in enthusiasm. The bold look and large, naturally aspirated engine will attract a more youthful part of the marketplace sometimes felt forgotten by the legacy brands of Cadillac and Lincoln and offer a clear alternative to M5 and AMG. An exciting drive, an aggressive look and a sharp interior design make the GSF stand out from the crowd.
MSRP as tested $86,760
5.0L DOHC 32 Valve V8
467 HP
19″ Forged Alloy Wheels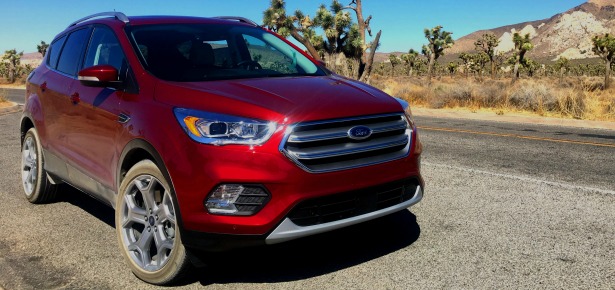 MANjr writer Jeremy Johnson takes the 2017 Ford Escape to Joshua Tree, CA
The desert has a way of putting you in your place. One step out of our press fleet Ford Escape and the hot air stuck to my face like the oven door was open. I was stunned by the sudden shift from a dual climate controlled cocoon to the bone dry desert air and took a moment to get my bearings. The Mojave desert is definitely not Los Angeles. The barren moonscape is dotted with mystical rock piles and joshua trees straight out of a Dr Seuss book. With red tailed hawks circling overhead, we departed the electronic influence of civilization, flipped on the satellite radio and cranked the AC. Our peaceful retreat to the desert had begun, and with it our test of the 2017 Ford Escape was underway.
The Briefing
Though still a flagship vehicle for Ford (306,492 sold in 2015) the Ford Escape is under heavy fire from competitors at home and abroad. It's not hard to see why the compact SUV segment is in such demand, the size and accessibility offers a little bit of everything for everyone. Increased competition by automakers has resulted in an arms race of features and comfort, traditionally found in more luxurious brands. This one-upmanship helped get us to the 2017 model year, where Ford has focused on refreshing the design of the Escape, offering new engine sizes, a tightened up exterior, and a more upscale and open interior.
We gave the Escape a fair shake, asking it to perform in many varied terrains. It delivered.
The Look
From the front, the Escape benefits from some minor tweaks. The trapezoidal grill and headlights are framed in chrome while the air intakes and fog lamps have a more subdued finish. Side panels follow two clear lines with slightly concave door panels and gray matte rocker panels run the length of the doors. Up top the Escape pinches smoothly towards the back and manages to appear aerodynamic without losing all of its aggressive notes. The rear finishes with strength in the corners and a broad shouldered roofline. The 2017 refresh ends all comparisons to older Explorers and latches firmly on to the styling embraced by the newer Explorer and Edge models.
The Interior
Clearly a lot of attention paid here. The gear shifter has been moved back and the traditional pull parking brake has been replaced with an electronic model, opening up the center console for two cup holders and device storage. The arm rest is wide and useful and the instrument panel remains simple and clearly laid out. Nearly all surfaces have been refreshed with more high end materials and the cabin succeeds in offering a more open and useful space. The two rows of seating offer enough to comfortably seat four full size adults and the split fold 60/40 rear seats give an already substantial cargo area in the rear more than double the space. We packed a 3 night weekend, including groceries, with room to spare and the back seats upright. Plenty of space for glamping and play dates alike.
The Drive
My favorite part. In city driving, the Escape showed off it's car chassis and modest size with a smooth ride and easy parking. The optional Parallel Park Assist and Adaptive Cruise Control offer more than a glimpse of self driving technology to great success. Swinging into a perpendicular spot between two cars was a breeze, the added height of the driver's seat position combined with the slightly tapered nose gave great visibility in and out of tight spots. Mostly seamless automatic start and stop helped save fuel mileage (20 city, 27 highway) and the constantly monitoring blind spot indicators helped keep an extra eye on adjacent lanes. Out on the open road the 2.0L turbocharged engine flashed enough power to overtake semis and commuters with ease and managed little to no turbo lag. The 6 speed automatic transmission shifts smoothly through it's paces and a "Sport" setting offers the option of paddle shifters and a more responsive throttle. We spent most of our time in the sport mode, where the Escape was able to showcase it's relatively nimble handling and effective acceleration in turns and straightaways. Ford's claims of best in class handling may be up for debate but the 2017 Escape showed an athleticism rarely found in the Small Crossover SUV marketplace. Out of the city and off of the road, the optional 4WD proved very capable in loose sand and gravel across the California Desert. There was little to no backslide and when encouraged to do so, the Escape found its nose and continued on with little oversteer at all.
The Finish Line
The 2017 Escape grew on me the more we asked it to do. It is an exceptionally useful vehicle, combining practicality with some premium touches to offer a definite upgrade of years past. 2017 seems to be a year where Ford addresses some of their critics biggest complaints by fixing the infotainment system and focusing heavily on more upscale interiors. The Ford Escape starts at $23,600 and tops out fully loaded at just over $38k.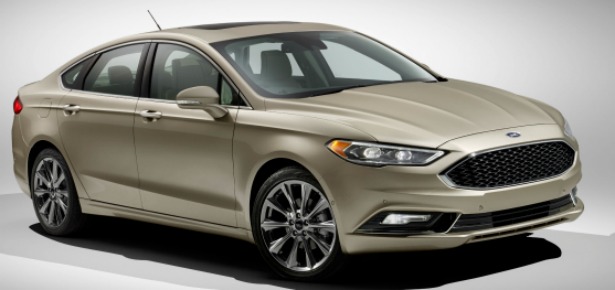 While the Fusion remains one of the standard bearers of the mid sized sedan category, it faces increased competition from all sides. Traditional segment customers are flocking to crossover SUV's while the more well heeled continue to be enticed by the comfort and high tech offerings of luxury brands. It's this market sweet spot that the 2017 Platinum Fusion takes aim at, combining the steady style of the 2nd generation Fusion and the luxury of the Lincoln MKZ into the highest level Fusion available.
Bold on the Nose, Mellow on the Finish
Ford stuck with their wildly successful 2013 redesign with a few subtle additions. Chrome trim is everywhere, most notably wrapped around the headlights and now signature oval shaped grill. The Platinum benefits from the sharp accents of LED head and tail lights and the 19" wheels give the car a stout and bold profile. The front quarter angle allows the car to really shine, showcasing the premium sport grill and the strong lines down the sides. The dual exhaust and slight flare on the trunk help finish the design with character and flow.
A Steady and Capable Drive
Though the 2017 model year will offer a Fusion Sport Trim level (325-hp twin-turbo V-6!!!), the Platinum Model is not engineered for overt performance. The drive is smooth, utilizing continuously controlled damping technology to adjust the shock absorbers to current road conditions. This allows the suspension to be firm in the corners without rattling your jaw every time the tires find a bump. The "S" mode creates a more aggressive shift that can be controlled by paddle shifters on the wheel and does provide a noticeable difference in performance. Steering is responsive and provides good driver feedback while the 2.0L Ecoboost engine proved capable in negotiating freeway on ramps and passing lanes.
Inside it's Time to Shine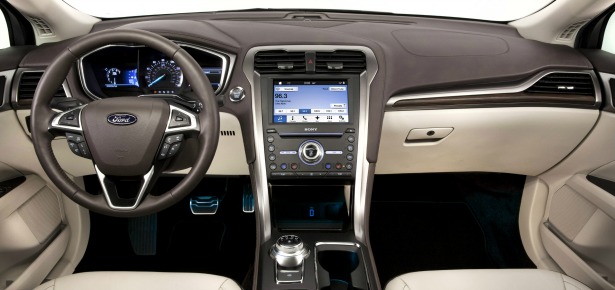 This is where you stop and say whoa.
The interior of the Platinum is not what you expect from a Fusion, not one bit. Glove soft leather is mended with big attractive stitches and diamond shaped patterns on the seats and door panels. The steering wheel is hand wrapped in supple leather that is equal parts luxurious and functional. The slightly bolstered seats promise hours of driving comfort with their deep cushion and firm support. Chrome trim is tastefully applied throughout the cabin and useful space is prominent. The dial shifter frees up space in the center console for two cupholders and easy to access device storage. The minimalist design of climate and media controls proved to be as functional as it is modern, giving the dash a clean and uncluttered look.
Don't Sleep on the Technology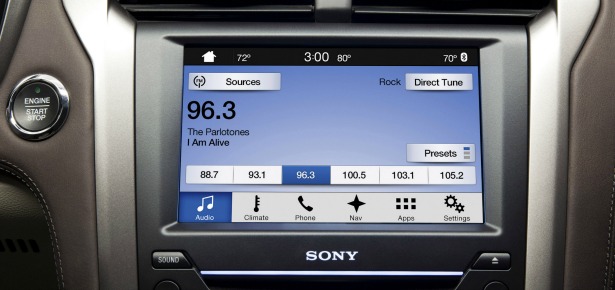 Ok first things first and if you've read our reviews you know this is a big one.
The new Sync 3 software is hands down the best infotainment interface we have seen in a car to date. Its simple and intuitive layout knocks all other suites out of the water. Finally gone is the clunky and frustrating Microsoft powered Sync system, the Sync 3 wins because everything is easy to find, easy to touch and right where you think it should be. The strip at the bottom of the screen provides constant access to Audio, Climate, Navigation, Phone and Settings. It features the smartest and fastest phone pairing process to date, and buttons large enough to touch while you're paying attention to the road. It requires no learning curve for the reasonably tech savvy and enough RAM onboard to switch between menus with little to no lag. Simply put, the Sync 3 is now our new standard bearer in infotainment software.
Outside of that, the Platinum offers an automatic parallel and perpendicular park that is actually useful in real life applications, rear cross traffic alerts, blind spot monitoring, and a lane keeping system that helps to keep the car between the lanes if it starts to drift. Heated and cooled seats continue the luxury, as does a power moonroof and a 12 Sony speaker audio system.
Smashing the Line Between Economy and Luxury
Ford's newest offering to the Fusion line hits all the marks of a mid sized sedan while raising the bar on the segment's highest trim levels. From the curb, the Platinum refreshes and accents the successful Fusion design but it's on the inside that really counts. With premium luxury and class leading comfort, the Fusion Platinum comes a whisper away from joining a new class entirely. The late summer addition of the Fusion Sport will join the Platinum in rounding out a full slate of styles for most types of mid sized buyers. If the goal is to surprise and coddle, the 2017 Platinum hits all the marks. Whether it has enough to slow the tide towards crossover SUV's remains to be seen.
2017 Ford Fusion Platinum
MSRP $36,620
231 hp 2.0L Ecoboost Engine
6 Speed Automatic Transmission
0-60 in 6.7 seconds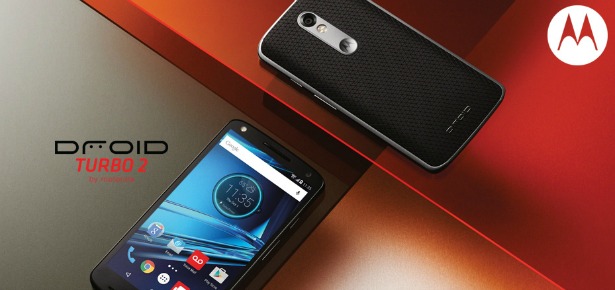 In a world dominated by iPhone and Samsung, how does a legendary company like Motorola produce a device that stands out from the crowd?
By making the DROID Turbo 2, that's how.
The DROID Turbo 2 essentially takes every iPhone and Samsung users wish list and puts it to work.
Battery life got you down? Try out this powerhouse 3760mAh for two days of use. The quick charge will give you 13 extra hours in only 15 minutes on the wall.
Tired of getting gouged by Apple for storage space? How about expandable memory, up to 2TB's with a micro SD card. (Two Terabytes! In a phone!) It's a good thing too because you'll be using that 21mp camera to take massive and high quality pictures and videos everywhere you go.
No more bricked phones thanks to a careless spill either, the DROID Turbo 2 is also splash proof, with a water repellant coating that protects the phone inside and out.
All this is great, but what really caught our eye here at MANjr is the claim of the shatter-proof screen.
I mean c'mon. How shatter-proof are we talking? So we put in a request for a DROID of our own and put it through some very serious real world testing.
Turns out the secret to a shatter-proof screen is in the layers. Five layers to be exact, including two functioning touch screens in the rare case that one of the screens is compromised. (Still not sure how that could happen, by the end of the testing we were practically throwing it on the concrete floor.)
End of the day, if the goal is to stand out in a marketplace that is a near duopoly, Motorola hits all the marks. Unlike us in our video review.
Motorola DROID Turbo 2
(exclusively on Verizon)
$624.00 or $28.80 / month
21 mp camera
Android OS
Customizable backings and colors
Shatter-proof screen
48 hours of battery life between charges
Expandable storage using Micro SD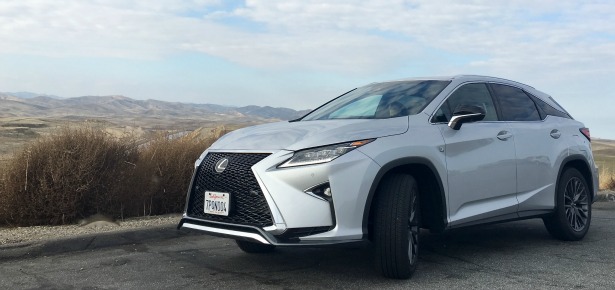 What do you do when you're already on top?
Do you answer your critics or double down on what got you there?
That's the question facing Lexus these days. Every few years since 1998 Lexus has launched a new RX in the American market. Each version is lauded as the pinnacle of comfort and practicality and gently dismissed as lacking performance and excitement.
The RX then spends another year at the top of the Luxury Crossover SUV segment, often selling 100,000 units and beating the market by a wide margin.
This year, more than ever before, the RX looked to answer the criticism with a renewed emphasis on driver experience and performance.
The Look
The new RX has ditched the egg shaped profile of its past, leaving previous models looking a bit tame by comparison. The redesign lets us read the tea leaves into the next 5 years of design from the Toyota Motor Corp. They have embraced sharp angles and masculine lines and gone all in on their now signature spindle grille. This younger, more masculine look will undoubtedly move down the line until finally landing on the Corolla. Notes like L shaped LED daytime running lamps give a brightness to the front end of the car. The vehicle uses long, pronounced lines and the appearance of a floating roof to make it look as though more than 5″ has been added to last years model.
The Drive
Even more than the visual redesign, this is where Lexus tried to address their critics the most. Easily the biggest improvement in the F Sport trim level is the addition of the Adaptive Variable Suspension. This allows you to adjust the ride to "S+" mode, which lowers the vehicle by nearly an inch and tightens the shocks. This stiffens the ride, allowing for a better driver experience with tighter turning and less body roll. The winding roads of Marin County and the Pacific Coast Highway proved a fine testing ground for the 25 extra horsepower and tightened suspension. For a vehicle with a curb weight of almost 4,400 pounds it performed well in and out of turns and provided enough acceleration to pass slower traffic with ease. Though far from a sports car, the improvements to handling and acceleration are noticeable and worthy of the F Sport badge.
Inside
Classy. Pronounced stitching and premium materials give the interior a very posh appearance. The optional 12.3″ navigation system (8″ standard) perches atop the center of the dash and communicates all of the entertainment, climate control and navigation information clearly. The Remote Touch makes a slightly less clunky reappearance. The software now predicts what you're trying to interact with to varying degrees of success. As you get used to the tendencies it gets easier but the industry wide struggle for intuitive controls continues another year. The 2016 edition builds on the success of its previous incarnations with a comfortable and luxurious ride up front with just enough space in back for average sized adults. The driver centered cabin helps the operator and vehicle communicate safely and comfortably.
Features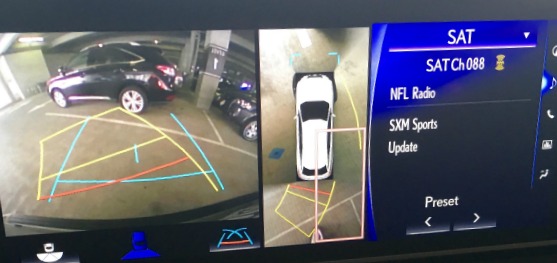 It's not often I get into a car and get surprised by a new bell or whistle. The empirical nature of auto design gives away the surprise a little at a time every year, so by the time a feature is in place it's already been hinted at for years.
Not so with the 360 degree view shown when you put the RX in reverse. Four cameras are used, one in the grille, one under each side mirror and the backup camera in the rear. The resulting image is stitched together by all four, giving you a helicopter style view in tight spaces. Think the original Grand Theft Auto overhead view. I called it my validation cam. Get into a tight spot, engage the overhead camera and see how great (or terrible) of a parking job you did. The usefulness of the technology really shines when reversing out of parking spaces into busy streets or lots. The Rear Cross Traffic Alert warns of any bogeys coming in from the side, the overhead camera gives a 360 degree view and the parking assist shows the line that the car will continue on if the wheels are set in that direction. For a car with a big hood and a long body these features are invaluable for visibility. Absolutely loved them and used them constantly.
Then there's All Speed Dynamic Radar Cruise Control. Alphabet soup, I know. That rather wordy feature is new to the RX and can be summed up easily. It is quite simply the future of driving. Set the maximum speed you wish the car to attain and let your foot off the gas. The vehicle will maintain a safe follow distance up to that speed without any input from the driver. On a long road trip this feature is an absolute game changer. Set the control to 73 and rest your legs. The car will sense when the vehicle in front slows down and adjust speed safely until the desired follow distance is achieved.
This feature works with normal traffic and unexpected stops alike. If necessary it is capable of bringing the car to a complete stop.
Anyone who has driven the 5 Freeway through central California just salivated a little at the idea. I felt fresh as a daisy and never strayed too far over the speed limit. As an enthusiast I can't say I looked forward to the driverless car but this feature got me thinking.
For Lexus, and every automaker, design and engineering is a balancing act. Go too far to the new and they lose their roots. Too much performance usually means too much comfort, too much comfort makes for a pedestrian ride. A vehicle that sits squarely in the middle will be accused of being vanilla and lacking identity. This years Lexus RX is a great redesign in that respect. They manage to push back against their detractors without losing much of what a hundred thousand buyers a year are looking for.
Now, about those self driving cars…
2016 Lexus RX 350 F Sport
3.5L V6 Engine with 295 HP
8 speed automatic transmission
0-60 6.9 seconds
19-26 mpg
$55,645 – $59,325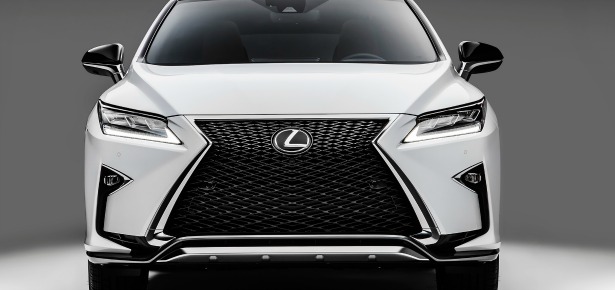 Lexus jumps head first into the luxury coupe marketplace with the inaugural version of the RC-F.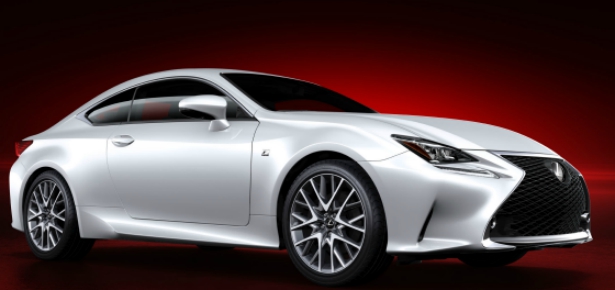 Something I learned right away, the Lexus RC-F is not a "sporty" car.
It does not have "racing inspired" handling or a "peppy" engine. This was not going to be a review about a car with "sport in its DNA". With rear wheel drive, a big front engine and tires made for canyon carving, the 2015 Lexus RC-F is a legitimate sports car with the stones to make some moves on the perennial champion BMW M4.
The Look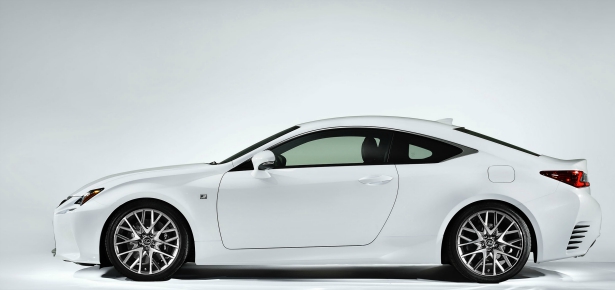 Looking at the RC-F is an interesting experience. I alternated characters in my language, inventing The Autosommelier, "Big and vibrant with pepper on the nose" The Horse Track Announcer Guy-"Look at the strength in the rear quarter" and the Lexus PR Guy -"In addition to the trademarked spindle grill which emphasizes the humble roots of the Lexus brand, the 2015 Lexus RC-F embraces the challenges…"
After an hour or two of this I started doing some research. Turns out, the familiar look was easily explained. The front half borrows heavily from its little brother, the GS and the back of the car is taken from the IS and IS convertible. If the people of California and Western Nevada are any indication the look of the car is a big success. I was approached at every gas station and grocery store parking lot I visited.. Men and women alike wanted to ask about the car and talk about the cars they've owned over the years. One woman in Mojave made the very astute observation that it reminds her of a bigger, stronger Mazda 6. Good catch by Patty from Lancaster. Not an immediate comparison but an accurate one with a tilt of the head and a squint of the eyes. Motortrend called it a Frankencoup, which technically is accurate, I guess.
In spite of, or maybe because of its blended frame and considerable heft, the Lexus RC-F manages a bold and impressive look. The flare of the lower front and the brake cooling vents anchor a line that sweeps over the hood with length and grace. Whenever the design threatens to become too fluid and ladylike another element rolls its shoulders and takes its seat.
In a word, the car is hot.
Speeeeeeeeed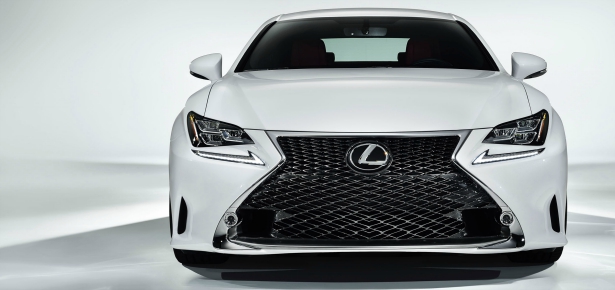 5.0 Liter Naturally Aspirated V8 with a 471hp engine.
In a Lexus.
Yea.
I drove in constant fear of speed traps. At one point I had convinced myself that I was about to be pulled over for the smart ass move of driving at exactly the speed limit. Driving 65 in an RC-F feels like some rude joke. I drafted mental letters to State Senators, deploring them to consider an Autobahn approach to California travel. While the man had me down I debated the societal benefits of speed limits vs a merit based approach. With myself.
I lost.
I did not pass others, I dismissed them. I spent hours in cruise control only to burst out with the flick of a toe. I felt like Mike Trout in a high school game. These fools can't hang with me. I toy with them out of boredom and necessity, planning my jail breaks with some police per mile hack algebra and a prayer they wouldn't double up on me. 0-65 is nice (4.4 seconds) but what about 65-100? And beyond? Not that I would… right?
Truth is the car is fast. It's always waiting for you. It wants you to speed. It challenges you to speed. The struggle is real. Somehow I survived the week without a ticket. . In dash lap times and G-Force vectors help nudge you to a private track. On a long enough timeline, if you own this car, you will end up taking a track day. It's inevitable. They should be sold with a day at the autocross. Lexus can contact me for more marketing ideas. They know where to find me.
Handling
On straightaways and mountain curves the RC-F performed very well. The TVD (Torque Vectoring Differential) settings of "track" and "slalom" made for miles of fun testing the difference in power and throttle availability over the road. Ultimately I spent more time in "Slalom", I found it well balanced and suited for many road conditions. The nimble steering is responsive and accurate, the brakes effective and stable.
The 8 speed automatic transmission performed best in sport and sport + modes. At times I felt like I was waking it up from a cat nap when in "ECO" or "Normal". It got there, it just took an extra second. The paddle shifters and manual style hand shifter give nice engine control in the hills and turns and reverts back to full automatic in an intuitive amount of time.
Stylish and functional interior design with luxury level comfort in a sports coupe. No real departures from the accessible luxury you expect from the Lexus brand. The automatic seats kept me comfortable for a pair of day long drives and the high bolstering held me in close during the more aggressive drives. The infotainment system relies on a mostly successful app suite that integrates your phone's data connection. Cool dials and buttons that actually change the look and feel of the car are always fun too. In a car with primary focus on the engine and appearance, the RC-F's interior holds up. It's comfortable and stylish but traditional enough to offset the very bold exterior design.
Stats
2015 RC-F
5.0L 32 Valve V8
467 horsepower
8 speed automatic transmission
19″ wheels
10 way power seats
$62,400-$75,210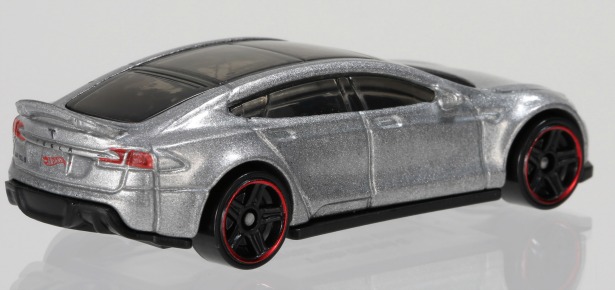 No, this version won't go zero to 60 in 3 seconds and yes, it may be better suited to Paul Rudd's character in Ant Man. But what's one thing for sure that this 1:64 Scale Model S Tesla has over its big brother?
Price.
Hot Wheels is offering flagship luxury you can hold in the palm of your hand for only $1.09. At the very least this should tide you over while you save up for the $70,000 version.
No word yet on sales restrictions in Texas.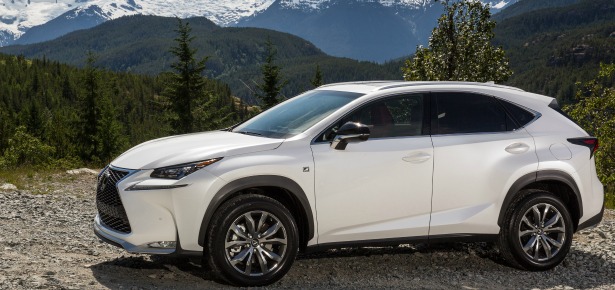 Lexus jumps into the Luxury Compact SUV market with the 2015 NXt. MANjr got their hands on one and put it through its paces on the long country roads of Central California.
1. That it even exists at all
As recently as 2014 Lexus had a total of zero offerings in the "Luxury Compact SUV" class. The closest it came was the RX, an extremely comfortable and capable car that sorely lacked in the performance category. No more.
2. Looks. This cah looks wicked shahhp
The NX looks like an RX that just finished cross fit boot camp. (I know, I know, the first rule of cross fit is you NEVER ALWAYS talk about cross fit) The NX has pinched lines, sharp flares and a very athletic stance. It's not quite the head turner of say, the new Porsche Macan, but it's damn close.
3. Performance
The 2.0L 235HP Turbo Engine gives the NX a certain punch on the road that it's bigger siblings lack. You won't win many races off the line but when it comes time to pass a semi you'll find the NX is up to the task.
4. Did you say TURBO?!
Finally a turbo engine in a luxury sports model. I'm a fan.
5. Comfort
Performance by it's very nature means a stiffer ride. Part of the charm of a responsive car is feeling every bump and line in the pavement. The NX manages to mix luxury and sport quite nicely, the stiff body really lengthens out against the road at speed. The well constructed interior is free of rattles and noise. Little body roll in the turns and just enough road feedback to keep the driver connected.
6. The 10 Way Power Seat
Speaking of comfort, there's that whole chair you're sitting in thing. In what remains one of my favorite features of most new luxury cars, the seat automatically moves to your preset standards of perfection. You slide forward while the steering wheel telescopes into your waiting hands. It's a truly personal touch, one that gives you ownership of the car from your first moments behind the wheel.
7. Electrochromic Rear and Side View Mirrors
Say it with me… Electro-Chrome-ick. Fancy way of saying Auto Dimming. You know how when you're on the road at night and one of those gaudy new cars comes up behind and nearly blinds you? Not in the NX. The mirrors automatically dim your pursuer's floodlights to a level that will leave your retinas unscarred.
8. Cornering LED Headlights
No more leaps of faith as you travel a dark and winding road. The headlights on the NX turn into the road with your eyes. They could also illuminate a high school football game. Yea, I'm totally a part of the problem here. On one hand I curse the masses with their search light caliber headlights, on the other hand I say to my wife, "Look at how BRIGHT THE ROAD IS HONEY!" There's a metaphor for modern society in here somewhere. I'll leave it to you.
9.F SPORT TRIM LEVEL
Sorry for shouting. Thing is, these Lexus' (Lexus's? Lexi?) that I test drive are almost all the F Sport trim level. That means a veritable paragraph of features that aren't available on the base model. Features like cornering headlights, 18" sport wheels and Drive Mode Select. If you're one of the few and proud to read every car review I've ever written (hi Mom!) you'll remember Drive Mode Select. While the NX lacks the S+ mode that its more nimble cousins have, the S mode on the dial definitely creates a different driving experience. The gears stretch longer, the engine revs louder and the car takes off just a little bit faster on command. Drive Mode Select lets you choose between the smooth and safe fuel economy of ECO, the traditional stability of Normal or the "Get me the heck out of here" oomph of Sport mode.
10. Technology
Lexus continues to embrace technological advancements in the NX. Standard back up camera and Infotainment system meet optional features like "Qi- Compatible" Wireless Charger in stride and help to create a largely intuitive and nearly seamless integration of modern technology into your drive.
11. Safety
Loaded with airbags and crumple zones, the best safety features are the ones that keep you out of an accident in the first place. Blind spot monitoring and Rear cross Traffic Alert join forces to keep you more aware of your surroundings than the naked eye ever could.
12. Intuitive Parking Assist
I don't wrestle any bears and have never wielded an axe in battle but in todays urban battlefield, skills like parallel parking hold as much value as medieval warfare did in its time. The Intuitive Park Assist feature helps anyone become the William Wallace of parallel parking. Not that I needed it, I'm a tough guy. It was nice though, I could get used to it. Hey I'd like to see Mr. Wallace street park at Venice Beach on a holiday weekend.
13. Paddle Shifters
Paddle shifters get better every year. I use them constantly on the road to regulate my speed without moving my feet. These shifters changed gears seamlessly and instantly, reducing speed and increasing RPM's with the flick of your hand.
14. Price!?!
Price? Am I about to say "only" about an extravagant sum of money? No! Ok, Maybe! You can buy a brand spanking new reasonably equipped Lexus NXt for $34k. Not bad at all if you consider what it stacks up against. Only the Acura RDX starts lower priced amongst it's peers. A recent ranking by US News and World Report had the NX ranked at #2 in the class overall. The 1st place finisher starts at $50k. A fully maxed NX comes in shy of that by almost seven thousand dollars at $43k. Good value for the luxury segment.
15. Improvements
Lexus must have heard the chorus of well fed writers quibbling about it's standard infotainment system and Enform App Suite. I was one of them. The Remote Touch controller is still far from perfect but it's certainly better than last year's model. The ergonomic wrist support is a nice touch, the intuition of the mouse tracker is vastly improved and the entire interface is more useful and pleasant to interact with. Year to year improvement on a software and hardware level? I'll take it.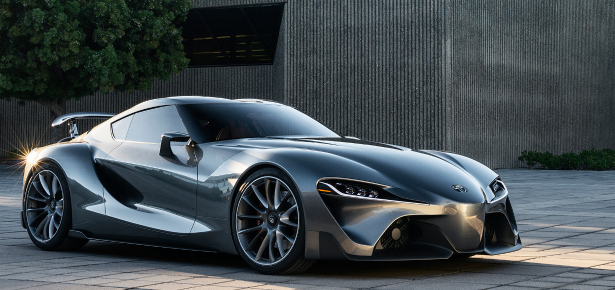 MANjr writer Jeremy Johnson tackles the LA Auto Show
Full disclosure. I'm not what you'd call a big fan of trade shows.
It's always the same. Square miles of displays that hit you over the head with the best marketing and design that money can buy. Glossy looking women smile for pictures with eager fanboys and shiny products. Legions of brand ambassadors buzz and hover around you until the exact moment you need to ask a question. It's a trail of tears usually punctuated with a choice elbow or two from a stranger as you jockey for some cheap swag. I often make it halfway through the floor before my feet start to swell and my brain starts to wander. The perfect booth? The one with couches and recliners. Those people know what's up.
Yet here I am. To be fair, the LA Auto Show manages to rise above it all as much as a trade show can. Cars are big business, it's not like they're selling bingo accessories here. End of the day, what do we learn at these shows and how do we convey it?
What do you need to know? How many thousand words to say it?
Being the internet, a top ten list seemed in order. I'll be taking private requests for 5,000 word dissertations on each brand. PM me.
10. Fuel economy remains a crucial focus.
Automakers across the spectrum are touting fuel economy more than ever. Classes previously left out like SUV's and trucks are advertising higher mpg's and the numbers are actually pretty respectable. Toyota is releasing a hydrogen fuel cell vehicle this year. This is huge news. Electric cars, plug ins and hybrids are nearly ubiquitous at this point. Efficiency is king.
9. New cars are loaded with extras.
Loaded to the point that standard features like Bluetooth and connectivity are hardly mentionable. Most cars, even on the low end, come with some sort of touch screen infotainment system. Steering wheel controls and hands free systems have become nearly standard across the board.
8. Safety
New cars are very, very safe. Decades of research have collided with modern technology to provide useful features like rear cross traffic alerts, assistive braking and blind spot monitoring. Subaru is putting front facing cameras in your windshield to help prevent accidents caused by a sudden stop in front. (I'm looking at you texters) While these features attempt to keep you out of a crash in the first place, old school technology like air bags, crumple zones and reinforced cages are there when the accident can't be avoided.
7. Cars are getting expensive
As a result of all this, cars are not cheap. Entry level sedans start around 15k, good family sedans or SUV's will easily run you 30k. Semi-luxury cars break 40k with ease. There are lots of great cars out there but they sure aren't giving anything away. BMW, Audi and Mercedes have several 6 figure offerings. The exotics are way out there. Here's my advice. If you have to ask, you can't afford it.
6. KIA really wants the world to know they are not cheap and they ready for adventure
KIA is pushing hard to get away from some older brand impressions. KIA is cheap? No way. Not with wine and cheese stations in their press area. KIA is boring? Look at the styling! Beaded seat cover inspired grills, bold and powerful lines inside and out, KIA is visually standing out more and more every year. Hell, Blake Griffin jumped over an Optima 3 years ago. You think that was it for them? KIA is all in. Over the top adventure ready imagery? The guy rappelling up and down from the KIA sign says no. I'll agree with anyone dangling over my head.
5. The Big Players Remain the Big Players… For a Reason
I've always been fascinated to see an automakers entire line in one space. From an anthropological stand point, the vehicles they manufacture essentially categorize every type of person according to what type of car they drive. The common theme, from the Civic to the Dodge 2500 is that if it worked last year, do it again, but bigger and bolder. Outside of that Ford, Toyota, GM and Honda remain the big boys on the block. Ford has kept to its newest redesign and still retain notes from the Aston Martin. Honda keeps hitting it's mark in their favorite categories of sedan, small SUV and small crossover. From Scion to Lexus, Toyota seems to have its fingers in every single aspect of the auto buyers life cycle. GM continues to flood the US market with very distinct and often niche brands. It's business as usual for the big 4. Except…
4. Big, Bad, Toyota?
Toyota is getting aggressive! This is not just a cute Corolla with a pointy nose. This is a conscious and brand wide effort that starts at the top thanks to direct orders from Toyota President Akio Toyoda. Each year they get a little more sporty looking and a little more aggressive in style and substance. There is of course the new FT-1 concept. (Welcome back Supra!) Which looks awesome. If Toyota's recent use of concepts holds true the FT-1 announces a major shift in design language across the line. We will see notes from the FT-1 and the Lexus LF-C2 in everything from the Corolla to the 4 Runner a lot sooner than you might think.
3. Goodbye to the Van as You Know It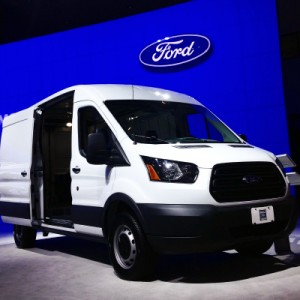 The van is dead! The van is dead! Long live the euro van! Starting with Ford and Nissan, the van as we know it is gone. The new and boxy style van we've become accustomed to seeing on European cobblestone is our new master. Get used to it. Even the less enthusiastic interpretations out there show signs of transition. For what it's worth the Ford Transit offers 487.3 cubic feet of cargo space for only 35k starting. That is a ton of room. I can walk in the back standing nearly straight up. Working men rejoice!
2. Dodge remains a bunch of badasses.
Dodge continues it's unapologetic use of machismo to lure in auto buyers. (707 hp Hellcat!!!). Big bold cars loaded with horsepower and aggressive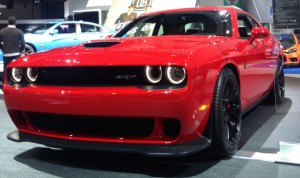 styling. Dodge makes no apologies for itself. I like that even more than I like their cars.
1. Subaru goes mainstream?.
Subaru seems to have caught up in terms of driver amenities and their traditionally quirky styling has been toned down to something a little easier to digest. Brand consistency doesn't hurt either, it's been 18 years since Paul Hogan G'day mated us the Subaru outback and the car remains a top seller. Subaru is growing exponentially in markets they've only sniffed a decade ago and their car offerings reflect that. 25% annual growth will do that.
All in all some interesting and exciting things to learn this year. Cars mirror society like few other consumer items and this years crop is no exception. We are attempting to become a more efficient and practical society. The gap between the elite and the bottom continues to grow yet many reasonable facsimiles of luxury remain available to the middle class. Our country retains great access to credit and new vehicles remain accessible to many. Automakers continued focus on performance and the driver experience mean great things are ahead for new car buyers in 2015.
That is of course if you can afford it.
Jeremy is can be found on Twitter at @jeremyspeaks and Instagram @jeremybjohnson. He likes cars, food and long walks on the beach and absolutely loves typing about himself in third person