10 Car Trends for 2015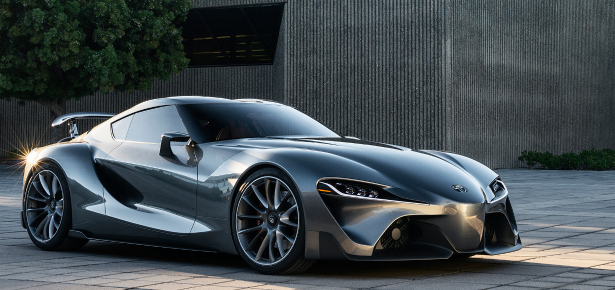 MANjr writer Jeremy Johnson tackles the LA Auto Show
Full disclosure. I'm not what you'd call a big fan of trade shows.
It's always the same. Square miles of displays that hit you over the head with the best marketing and design that money can buy. Glossy looking women smile for pictures with eager fanboys and shiny products. Legions of brand ambassadors buzz and hover around you until the exact moment you need to ask a question. It's a trail of tears usually punctuated with a choice elbow or two from a stranger as you jockey for some cheap swag. I often make it halfway through the floor before my feet start to swell and my brain starts to wander. The perfect booth? The one with couches and recliners. Those people know what's up.
Yet here I am. To be fair, the LA Auto Show manages to rise above it all as much as a trade show can. Cars are big business, it's not like they're selling bingo accessories here. End of the day, what do we learn at these shows and how do we convey it?
What do you need to know? How many thousand words to say it?
Being the internet, a top ten list seemed in order. I'll be taking private requests for 5,000 word dissertations on each brand. PM me.
10. Fuel economy remains a crucial focus.
Automakers across the spectrum are touting fuel economy more than ever. Classes previously left out like SUV's and trucks are advertising higher mpg's and the numbers are actually pretty respectable. Toyota is releasing a hydrogen fuel cell vehicle this year. This is huge news. Electric cars, plug ins and hybrids are nearly ubiquitous at this point. Efficiency is king.
9. New cars are loaded with extras.
Loaded to the point that standard features like Bluetooth and connectivity are hardly mentionable. Most cars, even on the low end, come with some sort of touch screen infotainment system. Steering wheel controls and hands free systems have become nearly standard across the board.
8. Safety
New cars are very, very safe. Decades of research have collided with modern technology to provide useful features like rear cross traffic alerts, assistive braking and blind spot monitoring. Subaru is putting front facing cameras in your windshield to help prevent accidents caused by a sudden stop in front. (I'm looking at you texters) While these features attempt to keep you out of a crash in the first place, old school technology like air bags, crumple zones and reinforced cages are there when the accident can't be avoided.
7. Cars are getting expensive
As a result of all this, cars are not cheap. Entry level sedans start around 15k, good family sedans or SUV's will easily run you 30k. Semi-luxury cars break 40k with ease. There are lots of great cars out there but they sure aren't giving anything away. BMW, Audi and Mercedes have several 6 figure offerings. The exotics are way out there. Here's my advice. If you have to ask, you can't afford it.
6. KIA really wants the world to know they are not cheap and they ready for adventure
KIA is pushing hard to get away from some older brand impressions. KIA is cheap? No way. Not with wine and cheese stations in their press area. KIA is boring? Look at the styling! Beaded seat cover inspired grills, bold and powerful lines inside and out, KIA is visually standing out more and more every year. Hell, Blake Griffin jumped over an Optima 3 years ago. You think that was it for them? KIA is all in. Over the top adventure ready imagery? The guy rappelling up and down from the KIA sign says no. I'll agree with anyone dangling over my head.
5. The Big Players Remain the Big Players… For a Reason
I've always been fascinated to see an automakers entire line in one space. From an anthropological stand point, the vehicles they manufacture essentially categorize every type of person according to what type of car they drive. The common theme, from the Civic to the Dodge 2500 is that if it worked last year, do it again, but bigger and bolder. Outside of that Ford, Toyota, GM and Honda remain the big boys on the block. Ford has kept to its newest redesign and still retain notes from the Aston Martin. Honda keeps hitting it's mark in their favorite categories of sedan, small SUV and small crossover. From Scion to Lexus, Toyota seems to have its fingers in every single aspect of the auto buyers life cycle. GM continues to flood the US market with very distinct and often niche brands. It's business as usual for the big 4. Except…
4. Big, Bad, Toyota?
Toyota is getting aggressive! This is not just a cute Corolla with a pointy nose. This is a conscious and brand wide effort that starts at the top thanks to direct orders from Toyota President Akio Toyoda. Each year they get a little more sporty looking and a little more aggressive in style and substance. There is of course the new FT-1 concept. (Welcome back Supra!) Which looks awesome. If Toyota's recent use of concepts holds true the FT-1 announces a major shift in design language across the line. We will see notes from the FT-1 and the Lexus LF-C2 in everything from the Corolla to the 4 Runner a lot sooner than you might think.
3. Goodbye to the Van as You Know It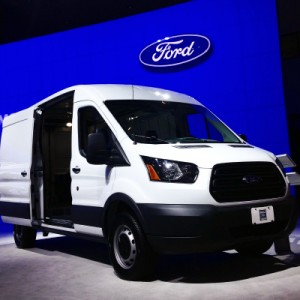 The van is dead! The van is dead! Long live the euro van! Starting with Ford and Nissan, the van as we know it is gone. The new and boxy style van we've become accustomed to seeing on European cobblestone is our new master. Get used to it. Even the less enthusiastic interpretations out there show signs of transition. For what it's worth the Ford Transit offers 487.3 cubic feet of cargo space for only 35k starting. That is a ton of room. I can walk in the back standing nearly straight up. Working men rejoice!
2. Dodge remains a bunch of badasses.
Dodge continues it's unapologetic use of machismo to lure in auto buyers. (707 hp Hellcat!!!). Big bold cars loaded with horsepower and aggressive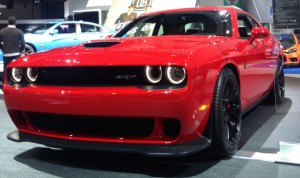 styling. Dodge makes no apologies for itself. I like that even more than I like their cars.
1. Subaru goes mainstream?.
Subaru seems to have caught up in terms of driver amenities and their traditionally quirky styling has been toned down to something a little easier to digest. Brand consistency doesn't hurt either, it's been 18 years since Paul Hogan G'day mated us the Subaru outback and the car remains a top seller. Subaru is growing exponentially in markets they've only sniffed a decade ago and their car offerings reflect that. 25% annual growth will do that.
All in all some interesting and exciting things to learn this year. Cars mirror society like few other consumer items and this years crop is no exception. We are attempting to become a more efficient and practical society. The gap between the elite and the bottom continues to grow yet many reasonable facsimiles of luxury remain available to the middle class. Our country retains great access to credit and new vehicles remain accessible to many. Automakers continued focus on performance and the driver experience mean great things are ahead for new car buyers in 2015.
That is of course if you can afford it.
Jeremy is can be found on Twitter at @jeremyspeaks and Instagram @jeremybjohnson. He likes cars, food and long walks on the beach and absolutely loves typing about himself in third person
Related Posts
| | | |
| --- | --- | --- |
| | Print article | This entry was posted by Jeremy Johnson on November 19, 2014 at 10:45 pm, and is filed under Cars. Follow any responses to this post through RSS 2.0. Both comments and pings are currently closed. |
Comments are closed.