2015 Lexus RC-F Review
Lexus jumps head first into the luxury coupe marketplace with the inaugural version of the RC-F.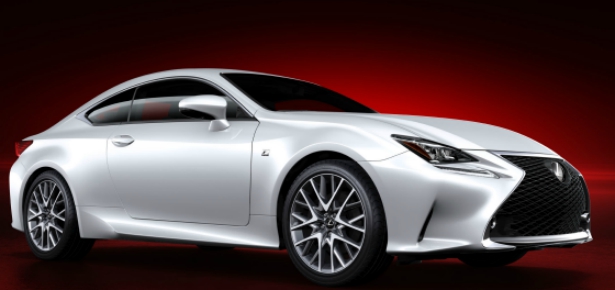 Something I learned right away, the Lexus RC-F is not a "sporty" car.
It does not have "racing inspired" handling or a "peppy" engine. This was not going to be a review about a car with "sport in its DNA". With rear wheel drive, a big front engine and tires made for canyon carving, the 2015 Lexus RC-F is a legitimate sports car with the stones to make some moves on the perennial champion BMW M4.
The Look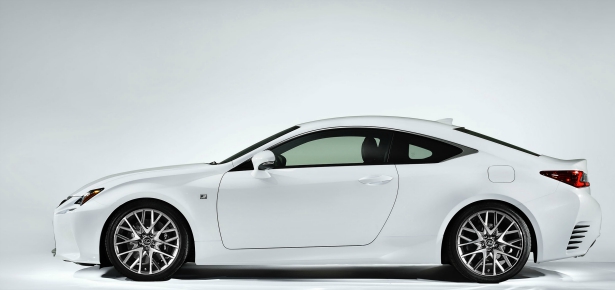 Looking at the RC-F is an interesting experience. I alternated characters in my language, inventing The Autosommelier, "Big and vibrant with pepper on the nose" The Horse Track Announcer Guy-"Look at the strength in the rear quarter" and the Lexus PR Guy -"In addition to the trademarked spindle grill which emphasizes the humble roots of the Lexus brand, the 2015 Lexus RC-F embraces the challenges…"
After an hour or two of this I started doing some research. Turns out, the familiar look was easily explained. The front half borrows heavily from its little brother, the GS and the back of the car is taken from the IS and IS convertible. If the people of California and Western Nevada are any indication the look of the car is a big success. I was approached at every gas station and grocery store parking lot I visited.. Men and women alike wanted to ask about the car and talk about the cars they've owned over the years. One woman in Mojave made the very astute observation that it reminds her of a bigger, stronger Mazda 6. Good catch by Patty from Lancaster. Not an immediate comparison but an accurate one with a tilt of the head and a squint of the eyes. Motortrend called it a Frankencoup, which technically is accurate, I guess.
In spite of, or maybe because of its blended frame and considerable heft, the Lexus RC-F manages a bold and impressive look. The flare of the lower front and the brake cooling vents anchor a line that sweeps over the hood with length and grace. Whenever the design threatens to become too fluid and ladylike another element rolls its shoulders and takes its seat.
In a word, the car is hot.
Speeeeeeeeed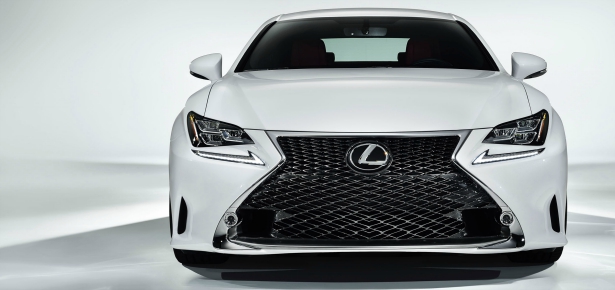 5.0 Liter Naturally Aspirated V8 with a 471hp engine.
In a Lexus.
Yea.
I drove in constant fear of speed traps. At one point I had convinced myself that I was about to be pulled over for the smart ass move of driving at exactly the speed limit. Driving 65 in an RC-F feels like some rude joke. I drafted mental letters to State Senators, deploring them to consider an Autobahn approach to California travel. While the man had me down I debated the societal benefits of speed limits vs a merit based approach. With myself.
I lost.
I did not pass others, I dismissed them. I spent hours in cruise control only to burst out with the flick of a toe. I felt like Mike Trout in a high school game. These fools can't hang with me. I toy with them out of boredom and necessity, planning my jail breaks with some police per mile hack algebra and a prayer they wouldn't double up on me. 0-65 is nice (4.4 seconds) but what about 65-100? And beyond? Not that I would… right?
Truth is the car is fast. It's always waiting for you. It wants you to speed. It challenges you to speed. The struggle is real. Somehow I survived the week without a ticket. . In dash lap times and G-Force vectors help nudge you to a private track. On a long enough timeline, if you own this car, you will end up taking a track day. It's inevitable. They should be sold with a day at the autocross. Lexus can contact me for more marketing ideas. They know where to find me.
Handling
On straightaways and mountain curves the RC-F performed very well. The TVD (Torque Vectoring Differential) settings of "track" and "slalom" made for miles of fun testing the difference in power and throttle availability over the road. Ultimately I spent more time in "Slalom", I found it well balanced and suited for many road conditions. The nimble steering is responsive and accurate, the brakes effective and stable.
The 8 speed automatic transmission performed best in sport and sport + modes. At times I felt like I was waking it up from a cat nap when in "ECO" or "Normal". It got there, it just took an extra second. The paddle shifters and manual style hand shifter give nice engine control in the hills and turns and reverts back to full automatic in an intuitive amount of time.
Stylish and functional interior design with luxury level comfort in a sports coupe. No real departures from the accessible luxury you expect from the Lexus brand. The automatic seats kept me comfortable for a pair of day long drives and the high bolstering held me in close during the more aggressive drives. The infotainment system relies on a mostly successful app suite that integrates your phone's data connection. Cool dials and buttons that actually change the look and feel of the car are always fun too. In a car with primary focus on the engine and appearance, the RC-F's interior holds up. It's comfortable and stylish but traditional enough to offset the very bold exterior design.
Stats
2015 RC-F
5.0L 32 Valve V8
467 horsepower
8 speed automatic transmission
19″ wheels
10 way power seats
$62,400-$75,210
Related Posts
| | | |
| --- | --- | --- |
| | Print article | This entry was posted by Jeremy Johnson on September 9, 2015 at 3:25 pm, and is filed under Cars. Follow any responses to this post through RSS 2.0. Both comments and pings are currently closed. |
Comments are closed.