Jeremy Johnson
Jeremy has been writing for MANjr since October of 2012. He also manages MANjr's Twitter and Facebook page.
Posts by Jeremy Johnson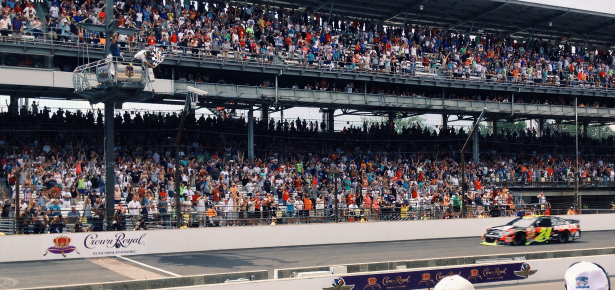 I'll admit that I'm a city boy. Being born in Massachusetts and living in Los Angeles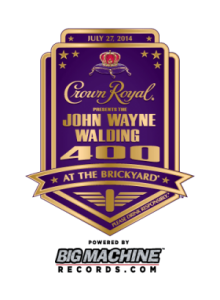 will do that to you. I'd go so far as to call myself a Yankee but I'm a Red Sox fan and can't stomach it. In the northeast you root for professional team sports. You speak quickly and directly and regularly offend others. Distance is measured in minutes, time is currency and watching NASCAR and listening to country music is something that other people do. I do not say things like "y'all", "race day" or "we have to get to the start line before they wave the green flag".
At least I didn't before this week.
Indianapolis isn't exactly Arkansas but when NASCAR comes to town you'd never know it. Biscuits, gravy and twang for breakfast, smoked meat and greens for lunch. Country music and freedom rock ride the breeze and shirtless men with denim cutoffs are everywhere you look. Had she been there I would have had to restrain my beautiful wife from applying sunscreen to strangers.
I'm not joking.
Yet when the news came down that MANjr founder Chris Stout was unable to attend his 3rd consecutive Crown Royal 400 I leapt at the chance. If you're even a casual follower of the lifestyle blogosphere you know that this annual event is one of the biggest invites of the year. Cryptic messages and hashtags bounce around twitter for months prior to the race. A #ReignOn here, a #teampurplecup there. Pictures and videos from trackside bubble up from some unlikely sources as dozens of bloggers descend upon the Indy Motor Speedway with fully credentialed hot passes hanging from their necks.
The purpose of this trip is to highlight Crown Royal's sponsorship of the Brickyard 400. More importantly, Crown Royal's "Your Hero's Name Here" contest and winners. Every year Crown Royal holds a nationwide search for an everyday hero in someone's life. They then name the Brickyard 400 after this person and help them tell their story to the world. This year's winner was a man named John Wayne Walding. His story is one that deserves to be told.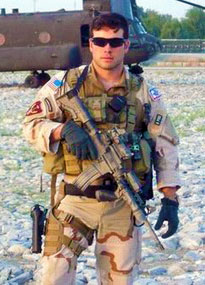 John was a Green Beret. He fought in Iraq and then returned to combat duty in Afghanistan for another campaign. His medal chest holds a Silver Star, a Bronze Star and a Purple Heart. Should be enough, right? Not quite. While being a total bad ass in Shok Valley, Afghanistan, John took a snipers bullet to his leg with such force that it severed his leg below the knee.
Damn.
John proceeded to tie his severed leg to his thigh and return fire for over 4 hours before he and his unit were extracted.
You got that right. Instead of laying on the ground and clutching at the space where his leg once was John tied his leg to his thigh and continued firing at the enemy for over 4 hours.
John's heroism doesn't stop there. Upon rescue and rehabilitation, John took his prosthetic leg and graduated from Special Forces Sniper School. He hand cycled the Boston Marathon in under two hours.
Did I mention he was born on the 4th of July?
John proceeded to start a rifle manufacturing company in Texas that hires wounded veterans and become an advocate for veterans with PTSD.
After seeing this man in action I came away impressed by more than a list of his achievements. John is a funny and generous man. His charisma and authenticity was on full display and he carried the day with grace and humility. A fine and worthy choice by Crown Royal as a hero among us.
The Race? As in the annual scavenger hunt and race I had been invited to attend? Well #TeamHailey was pretty stacked. We won the first challenge on the strength of Z Smith's extensive NASCAR knowledge and finished second in the next thanks to DJ Foothill and Victor Macias leading us on a half mile jog back to the cart. So much for sitting behind a keyboard in safety, this years Capture the Crown was full contact. Don't buy it? Ask Katherine Fotinos about her run in with a moving golf cart. By the time we were eliminated I was grateful for the rest.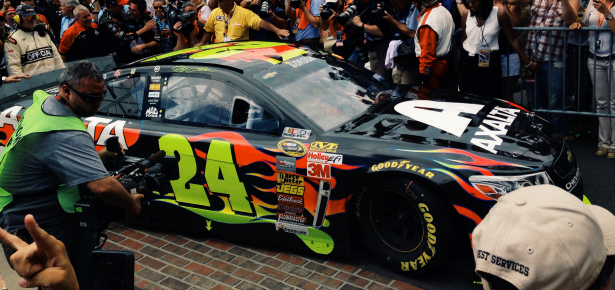 Ohhh… that race. Right. Well now that I'm this big time NASCAR reporter I can tell you that Jeff Gordon won for the fifth time at the Brickyard, overtaking Hendrick Motorsports teammate Kasey Kahne on a restart with 17 laps to go. The visibly pumped Gordon later said that winning the race was "as good as it gets". He lingered over the traditional kiss of the brick finish line with his family and seemed to relish the moment. The day itself was blessed by weather as violent thunderstorms spared the region. The sun even poked it's head out for a spell.
A successful trip to say the least. Good times, great people and all the Crown Royal I could drink.
Responsibly of course.
Got a hero of your own to nominate? Keep your eye on MANjr for information on next years "Your Hero's Name Here" contest.

It's July, it's Indianapolis, it must be Capture the Crown time again!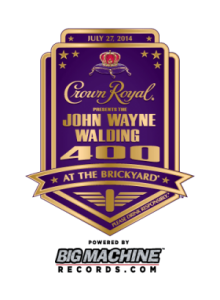 Follow our exploits as we traipse around Indianapolis for the Crown Royal Presents the John Wayne Walding 400 at the Brickyard Powered by BigMachineRecords.com.
Say that all in one breath.
Lot of words. Let's break it down. Brickyard 400, huge NASCAR race. John Wayne Walding, American hero. Crown Royal? Awesome drinking whisky. BigMachine Records.com? Sure why not, they paid for it.
I'll be looking to reclaim the throne for MANjr founder and 2012 winner Chris Stout. What is this throne we speak of? The annual hub of all social media? The scavenger hunt to end all scavenger hunts? Check @manjrcom, #JWW400 and #ReignOn all weekend for some super VIP access to the race and the weekend's festivities. Big prizes for winners the last few years and we'll need that MANjr reader karma to pull it off again.
Wait? John Wayne? That John Wayne? No. Ten times better. John Wayne Walding is man who's heroic actions on and off the battlefield remind us all of what kind of man we can all aspire to be. Sip on a few of Stouty's original "Five Toes Texas Cooler" during the race and raise your glass to an American Hero, Mr. John Wayne Walding.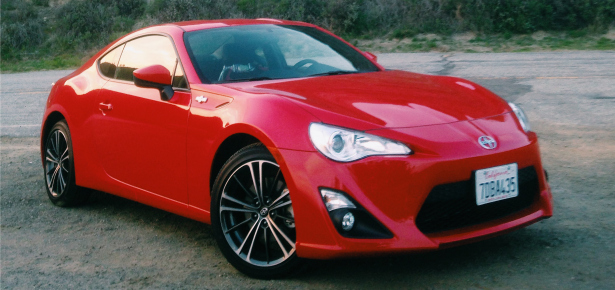 MANjr writer Jeremy Johnson takes the Scion FR-S through the best and worst of driving in and around Los Angeles.
LOS ANGELES- It's been nearly ten years since Toyota submitted a car for the sports category. Somewhere in the 90's they put away their leather jacket and retired the supercharged Supra and MR-2 Spyder. Toyota settled in nicely into responsible adulthood, releasing sensible car after sensible car inspired by economy and reliability. Rinse. Repeat. One reasonably priced car after another rolled off of the automakers assembly lines, filling driveways and carports and city streets with practical and dependable options for every walk of life.
That's nice. Commendable even. Cars impact people's lives like few other consumer products can. We count on them to be there at the ready for work and play. We trust our lives to their safety standards and our finances to their dependability. Toyota understands that and hits the sweet spot over and over again.
Though… when done properly, cars can be all that and so much more. Shoot, they can even be fun! Thankfully, in Toyota President Akio Toyoda passionate drivers may have the staunch ally they need. Toyoda-San demanded sport and excitement from his engineers and developers and we are just now beginning to see the fruits of their efforts. The Scion FR-S embodies this mission.
The Look
Sexy. The car is extremely low to the ground. Its athletic stance and aggressive curves stand out from blocks away. I took and accepted stare downs from pedestrians and drivers alike. The FR-S is not marketed aggressively and only has two model years under it's belt so it remains a novelty to many. Upon entry to your new Scion FR-S you become initiated into an unofficial ownership club. FR-S owners nod at each other. They like each other's Instagram photos. A woman blew me a kiss. Questions you should prepare yourself for include, "Is that the new Scion?" "What is that thing?" and especially, "Is it fast?"
The Drive
To answer question number 3, YES! Not Lamborghini goes 60 in 1st gear fast, not even Subaru WRX STi human catapult fast. But yes the FR-S is fast and it is glorious. You will be hard pressed to have more fun between 0 and 80 miles per hour. The car is so successfully tuned and so tightly suspended that each one of it's 6 manual gears hits like a sling shot pulled to its firing length. It manages to feel fast from the moment you let your foot off of it's snappy clutch. This car is not just sport mode "go kart handling" like that foresaken mini Cooper S. The 200hp Boxer engine emblazoned with the Toyota and Subaru name helps keeps the weight of the car flat to the ground and the optional exhaust roars with thanks each time you bury the throttle.
The "R" in the FR-S of course stands for rear wheel drive. This means at any moment in your drive you can switch off your safety hat and drive like a stunt man. Go ahead and let that rear end slide out or chirp your tires. Oh yea… it looks good on you. It's not dangerous if you do it in the right place at the right time. Don't be a dummy! Look twice!
Speaking of looking twice, if you manage to get your hands on one of these awesome cars your first stop should be the auto parts store for two of those 5 dollar blind spot mirrors. Save your neck the pain. In fact just bring them with you to the dealership and stick them on before you drive off the lot.
The drive is an A+. Next time you see a FR-S drive by take a look at the driver. 9/10 times they're smiling. I know I was.
Interior
Spartan. Nothing here you don't need except for maybe the standard touch screen 7 speaker sounds system. Built in AUX and USB jack, obligatory clunky 3rd party app suite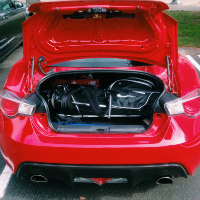 and an interesting cup holder design that I think I like. Irrelevant. The car's interior is built around the driver, the seats are bolstered high enough to be called sidewalls. You will not be thrown around in this car's warm embrace. An extremely stiff yet comfortable suspension and the near absence of moving parts contributes to a very tight and rattle free ride. The back seat can barely fit two duffel bags. The trunk can fit a set of golf clubs. Good enough for me. Track guy? Put down the seats and slip racing tires in the trunk.
Price
Dare I say cheap? Brand new drive off the lot for just under $25k. Lease it for $300 a month. It drives like a car twice the price.
Overview
It's a home run. Sure it could use a little more torque. Yes, a turbo engine would be incredible. Blind spot mirrors sure… But that's really all I've got. I drove this car in canyons and on freeways, up the coast and in bumper to bumper. It's fun pulling out of my driveway, it's fun changing lanes downtown. It's really, really fun searching for an apex on a winding road. I grew attached very quickly and separation anxiety set in hard on my last day. I didn't want to give it back. In Los Angeles you spend far too much time in the car. May as well enjoy every minute of it.
FR-S Stats
22 / 30 m.p.g.
2.0L 4 cylinder Boxer Engine
200 Horsepower
2,758 lbs
0-60 in 7.6 very quick seconds
MSRP $24,700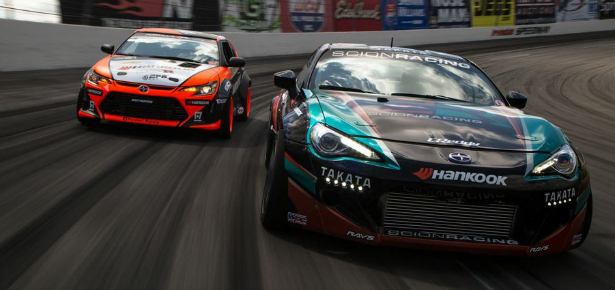 IRWINDALE- The sweet stench of burning rubber and al pastor tacos filled the air as I shoehorned myself into the passenger's seat of Ken Gushi's 1000 horsepower Scion FR-S. He waited patiently while I fumbled with my 5 point restraint. Click. Click. Click.
I'm suddenly confused as the sound from the gentle rumbling of the engine is replaced by the roar of some sort of screaming banshee and we must have just been shot out of a cannon or something because I am pinned in my seat and all I can smell is burning rubber and I am wishing I was wearing some sort of adult diaper because holy crap we are flying through the air.
Oh. No cannon. We're cool. That's just hot laps with Ken Gushi.
Ken Gushi is a legend in drifting circles. He was drifting his fathers Toyota AE86 by the age of 13, and won his first race before he even had a drivers license.
By race I mean a drifting race, which aside from quadruple digit horsepower and disintegrating tires bears more resemblance to March Madness and figure skating than NASCAR.
Drivers in the Formula Drift series race head to head in a bracket style competition. Each driver is given a score by judges based on optimum line, angle and style. The highest scoring driver moves on to the next round until one remains.
Wait, back it up. What exactly is drifting?
Yea. Now take your Dramamime and check out my view from the passenger seat.
Pretty bad ass. See it in person this weekend as Formula Drift kicks off their 11th season on the streets of Long Beach, California.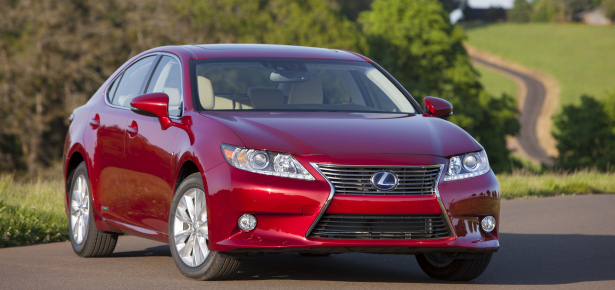 LOS ANGELES- The first time my fiancé and I drove to San Francisco from Los Angeles was in her 1995 Toyota Corolla.  My lush by comparison 1997 Saturn SL2 had, um, "insurance issues" and sat unused on the streets of Venice while we rattled our way through the San Bernardino mountains and farmlands of the central valley. It was 2003, we had recently met, and the purpose of our trip was to show off this amazing girl to some old friends. We listened to music on the tinny speakers of my iBook and shouted over the wind from our open windows. Love was in the air. Luxury was decidedly not.
This year we made the trip in a fully equipped 2013 Lexus ES 300h. We packed my future mother in law in the full size trunk and our luggage in the spacious back seat… err… and began our 394 mile drive with a question I would hear and think countless times over our 5 day trip, Is the car on?
It was, of course, though you wouldn't always know it. The silent electric idle made for some bumbling moments in the drivers seat. We may or may not have eaten a delicious lunch with the car left running outside of M.H. Bread & Butter. Yea, we probably did. I double checked from then on.
Fuel Economy
EPA rating is 40 city, 39 highway. We averaged about 34 mpg in mostly highway driving. One tank of gas got us from Los Angeles to north of San Francisco with over a hundred miles worth of fuel to spare. Not too shabby for a car that weighs over 3,600 pounds. A revelation really, to not have to stop in dreaded Coalinga to fuel up for the home stretch. Be careful with the in dash screen or you'll end up rear ending someone trying to gauge your mpg's. After some truly distracted driving, I used the assistive touch mouse to set the 8" screen to a more pedestrian map / music split.
Comfort

Top class. Our fully equipped ES contained the "Ultra Luxury Package"  which features heated and cooled leather seats, leather trim, power sunshades, front seat position memory and a power tilt and telescopic steering wheel. The dual climate zone control wrapped us in it's warm (or cool) embrace as we flew over the countryside. Easy bluetooth connectivity and USB inputs round out the experience.
Performance
Though the ES performed admirably on the open road it's still pretty far from a sports car. The Continuous Variable Transmission may be the answer when it comes to fuel economy but even changing Drive Mode Select to "Sport" couldn't force the car to be something it isn't. With a CVT the gears shift through an infinite amount of combinations so that you are always using the perfect amount of RPM's for maximum efficiency. It makes for a ride lacking in driver feedback and raw experience. My half hearted attempt to carve some roads in the redwoods of Marin County ended abruptly as the engine revved late and understeer pulled me a little too close to the edge. I went back to monitoring my miles per gallon soon after that.
Safety
Loaded. 8 airbags, crumple zones, stability control, anti-lock brakes and smart stop technology top the list but some of the more subtle features really impacted the drive. Blind spot monitoring is a comforting presence in the side views and I love the auto dimming rear view mirrors. I even got to use the Rear Cross Traffic Alert backing out of our Air BnB home's driveway. (Beep Beep Beep!) Parking assist and the rear view camera made parallel parking a simple exercise, no small feat in a car 16 feet long.
Summary
The redesigned 2013 ES is a satisfying and pleasant car to drive. You and 3 adult sized passengers will easily ride to your destination in comfort and style. The luxury marketplace lacks competition in the hybrid sedan segment and Lexus is poised to capitalize with this strong offering. The tradeoffs in performance and driver experience are compensated more than adequately by comfort and luxury. All in all this years incarnation of the ES is a true joy to drive.
$38,850 – $47,944
0-60 mph 6.8 seconds
2.5L Dual Cam 4 Cylinder Engine with Electric Drive Motor for 200hp combined
40 / 39 EPA MPG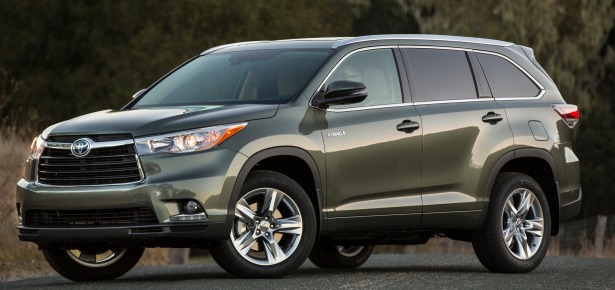 CARMEL- Sometimes being first just isn't good enough. When Toyota pioneered the Mid Sized Crossover SUV segment in 2001 they were so far ahead of the curve the term "Crossover" had yet to exist. It was easier in those days; the masses clamored for an alternative to their gas guzzling SUV's and minivan chariots of suburbia. The people were pleased with the Highlander and all was good in Toyota's kingdom. Today the gates bulge with game rivals from Seoul to Detroit and memories of total dominance in the category are but a memory. Merely existing is no longer enough to stand out in the now crowded marketplace. The throngs have a taste for sport and design and not even the family SUV's are safe. Toyota's message is clear. The tall wagon is dead! The tall wagon is dead! Long live the manly crossover SUV!
2014 Toyota Highlander Look

Toyota embraces the styling accents of the day with a very pronounced grill and wide chiseled front. Viewed from the corners the Highlander stretches gracefully towards a pronounced back edge. The belt line is accented by concave panels at the bottom of the doors and depending on the viewing angle I see elements of the Lexus RX, Dodge Durango, and the BMW X5. The new look goes further and further away from the look of a tall wagon and more towards the styling of a truck based SUV.
2014 Toyota Highlander Interior

Inside the cabin is where you leave the truck behind. The Highlander may look like a tough guy on the outside but on the inside it remains a family car. This is where Toyota's design team really connects with their customers. A simple shelf under the dashboard is covered in a soft material that keeps your phone from sliding around while you drive. The intuitive pass through for your USB and AUX cables prevents the irritating and sometimes unsafe tangling of wires around your gearshift. The center console is large enough to fit a small bag or large purse. Turning around to yell at back seat passengers will soon be extinct thanks to the brilliant Driver Easy Speak. The new feature amplifies the driver's voice through the speaker system to the back of the vehicle. A sneaky convex mirror in the sunglasses caddy allows drivers to check on their rear seat passengers with a glance. It might be years before the kids figure out how you know exactly who started it and who's seat belt isn't buckled. These are hardly game changing innovations but they are the kind of features that simplify and improve a drivers daily life. The Entune App Suite incorporates apps like Yelp, OpenTable and Pandora into it's native LCD infotainment display. The software needs some work and can be clunky at times but it's effective enough once you get comfortable with it.
2014 Toyota Highlander Driving Impressions

The driving experience is surprisingly good for such a large family vehicle. The steering and suspension is relatively tight. The V6 engine feels powerful at times and the 6 speed transmission holds up well during rapid acceleration and braking. Acoustic glass and noise dampening insulation make for a quiet cabin even at highway speeds. I pushed the car pretty hard on the hairpin turns and winding roads overlooking Monterey Valley and came away, well… impressed. The suspension is firm enough to minimize body roll yet it maintains a soft ride. Although it will never be confused with a Porsche Cayenne or Infiniti FX, the 2014 Toyota Highlander does have some shreds of sport and fun in it's DNA. Just make sure you drop the wife and kids off first.
2014 Toyota Highlander Safety

Blind Spot Monitor, Rear Cross Traffic Alert and rear view camera all join 8 airbags as standard features. The Star Safety System is a veritable alphabet soup of acronyms designed to help the driver maintain control of the vehicle while cornering and braking. Available features like Lane Departure Alert and Safety Connect fill out an impressive list.
Overall
The 2014 Toyota Highlander is bold where it's older brothers were dull. Driving mechanics are more interesting and the car is loaded with personal touches and intuitive design. If you're in the market for a family SUV the gestures made towards performance and aggressive style may be just enough to swing you their way. However, the Highlander does seem expensive at it's higher end and it remains to be seen how many buyers will ante up close to $50,000 for a Crossover SUV without a luxury badge. The $29,000 base LE trim level comes reasonably well equipped but some of the more exciting features are only available in premium packages. Underneath the cosmetic changes and adjustments to the driving experience, the 2014 Toyota Highlander remains true to it's roots as a safe and dependable family car. Everything else is just icing on the cake.
2014 Toyota Highlander Specs
$29,215 – $41,100
Hybrid $47,300
2.7L 16 Valve 4 cylinder engine on the LE with 185hp
Available 3.5L 24 Valve V6 with 270hp
V6 3.5L Hybrid Engine with combined 280hp
6 speed Automatic Transmission
2.7L MPG 20 / 25
3.5L MPG FWD 19 / 25
3.5L MPG AWD 18 / 24
Hybrid V6 3.5L 27/28
Available Tow Package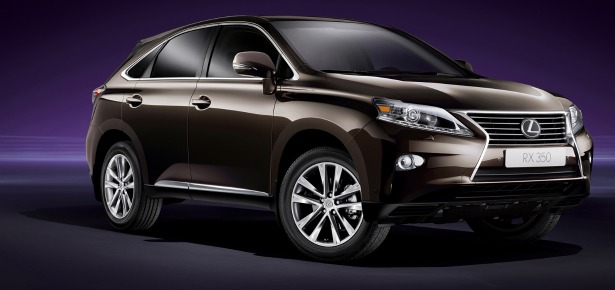 2014 RX 350 Review
It's been 16 years since Lexus launched the RX series and the iconic luxury crossover still claims some tricks up it's sleeves. My welcome assignment? Drive the RX 350 through the Sierra Nevada Mountains and into the glorious back country of Northern California and Nevada. I was joined by my lovely fiance for the second part of our mission, to find a venue suitable to be wed next September. The RX and all of it's grown up sensibilities provided us an appropriate chariot for this symbolic drive towards family life. Discussing a modest wedding budget while driving a $53,000 car was a risk I was willing to take.
The Look
Upon delivery of the test car the first thing I notice is the addition of the spindle grill. Previous incarnations of the 3rd generation RX had a more muted look with their trapezoidal grill about half the size of the 2014's. It gives the new model a bolder look in spite of many of the same lines and a very similar shape. Overall the car manages to appear refined and luxurious without being garish or stately. It's a luxury SUV that hides it's heft with an egg shaped profile and long lines from nose to peak.
Comfort
Simply put, impressive. In my week of testing this vehicle I would estimate that I was behind the wheel for over 30 hours. Never once did I get tightness or cramps in my legs, my back remained well supported, my head fit the headrest suitably. Each time out of the car the seat would automatically move backwards to give me more room to exit. Once back in the car it finds your preset custom position again without prompting. We put a couple of adults in the back seat for a field trip to the casino and they spent half the ride exclaiming about how much room they had and how soft the seats were. A center console was discovered, side door cup holders used. The largest of our passengers reclined his seat and made me turn to look at how comfortable he was. Our loaner didn't include the optional entertainment options for the back seat or I may have found myself alone up front on the long drive home.
Features
The car is packed with features inside and out. We had a near fully loaded F Sport edition but a quick glance at the base model's pricing tells me you'll be well equipped even at their lowest price point. Premium audio systems, dual climate control, heated and cooling seats to name a few favorites. The 7" LCD screen remains your base for all information and entertainment needs. Most of your interactions with the system go through the standard Remote Touch Controller, a clunky but valiant effort to clean up some of the interface issues that plague every in dash computer system I've encountered. Most of the issues with the system come from the software end, the design lacks intuition and overall ease of use.
Thankfully though the feature keeps me from hunting and pecking on a touchscreen and for that I give it a pass. I beg the automaker gods to use google maps and be done with it. The new "Siri Eyes Free Mode" incorporates your iPhone into the infotainment system but that remains only as effective as the Siri software itself. The new Lexus Enform app for Android and iPhone devices is a nice touch but those with limited data plans may one day balk at using their own data stream. The ability to essentially tether to my device and use the in dash system to stream Pandora and search for a lunch spot on Yelp is undoubtably useful but until the user interface can be as easily manipulated as the one on our phones it remains a limited solution.
Safety
Safe as can be. This car's list of safety features runs as long as it's luxury ones. Intuitive airbags line the vehicle, crumple zones await the sudden and unexpected. Assistive brake technology can sense when a crash is imminent, blind spot monitor keeps watch where you can't quite see. I might have been the dummy once or twice on our trip but thankfully our days with the RX were void of any real life crash testing. The optional Parking Assist came in handy when navigating tight parking lots in the medium size vehicle and the optional Heads Up Display quickly became my primary method of checking speed, gears and turns through the nav system.
Handling and Performance
Kind of a catch twenty two here. On one hand you have a car who's strength and focus remains luxury and comfort. It's hard to expect what is largely accepted as the most comfortable vehicle in it's class to carve the roads like a sports car. On the other hand you have the promise of the F Sport badge and all the aggressive driving it represents. Ultimately for me the performance angle fell a little flat. The 270hp engine had enough get up and go to pass any of the countless semis I encountered on the highway, especially when using the 8 speed manual paddle shifters. Down shift from cruising gears with the throttle down and the car seamlessly accelerates to speed, covering 60 to 80 in a proper fashion. The soft handling and body roll associated with the comfort mostly showed on the downhills of the mountain roads as our weight distribution rolled through the wheel base. On long and winding uphill stretches the car showed off it's strengths, gamely accelerating to speed, hugging the lines while finding the apex of the turn. Sorely missing is the "Drive Mode Select" found in the sedan versions of the F Series. That dial and all of the suspension tightening it controls would instantly firm the ride up and likely change all my minor quibbles about the handling. Maybe next year.
Bad Weather
Our brief foray into the snow demonstrated a capable AWD system. The 7.3 inches of ground clearance were high enough to drive over the days old remains of an unplowed snow storm. The Active Torque Control system only had to kick in once and like all AWD cars the nose of the car led the way out of the slide. Our rain sensing windshield wipers stayed hidden in the dry mountain air and our Emergency Assistance button remained mercifully untouched.
Conclusions
The 2014 RX 350 manages to retain it's broad based luxury appeal, hitting all of it's notes without becoming vanilla or uninspired. It does not possess the raw handling that I've come to expect from an F Series but it certainly compensates for it with a comfortable and luxurious ride. It's a good fit for a man looking towards the days when a little more space might be needed and safety becomes the priority concern.
Oh, the wedding? We found a spot. Look for more from Tahoe in the coming months.
2014 Lexus RX 350 F Series Specs
3.5 Liter 270hp Four Cam 24 Valve V6 Engine
18/26 mpg
8 speed automatic transmission
0-60 in 7.7 seconds
$39,760 – $54,000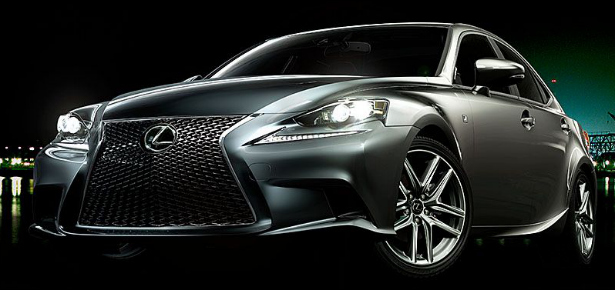 LAS VEGAS- Over the past 24 years Lexus has built their reputation on luxury and dependability. They're no slouch on the innovation front either, introducing the luxury marketplace to aftermarket customization and leading its class in hybrid technology. They make comfortable, safe, reliable cars. Up until recently they've come up short against their competitors in the sports category. Up until they started borrowing elements from their LFA supercar that is.
With the introduction of the Lexus IS F in 2006, the automaker sought to confront that public perception head on. These efforts were on full display in the hot desert wind at Las Vegas Motor Speedway, where MANjr joined a few dozen other media outlets for a thrilling track day in all of the 2014 Lexus F series offerings.
Prepare yourselves for some serious alphanumerics here.
We drove and raced the F SPORT models of the IS 350 AWD and RWD, the IS 250, the CT 200h, the GS 350, the LS 460 and we did it with class. Every few turns around the track I'd get out and switch cars. The sweet stench of burning rubber filled the nose while fighter jets from nearby Nellis Air Force Base danced overhead. Truly a Goose, Maverick and Iceman kind of day filled with speed, desert mountain vistas and displays of our military might. We were missing only a hot dog, a slice of apple pie and oh yea, an American car.
By missing of course, I mean not really missing at all. The new Lexus F Series cars roar and screech and slide and glide like any good sports car should. What they do differently than many sports minded sedans is drive away from the track quietly and respectfully, holding you tightly in bolstered seats all while minding the standards of decency and tact we expect from our luxury cars.
They do this primarily with one of my favorite features on any car, the dial they refer to as "Drive Mode Select". Take one drive around the track… err your neighborhood with the knob turned to "Normal". Go ahead, we'll wait.
The car handles fine. Smooth, mellow drive. Nice soft suspension, responsible turning and acceleration. Gentle turns that make your mother in law nod silently as she judges your fitness for fatherhood.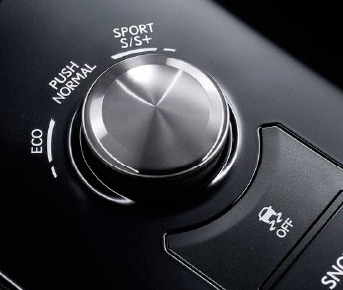 Now switch your IS 350 F Series to S+. Drop that lovely woman off with a responsible party and (safely) roar onto the freeway. Accelerate to speed and find yourself an open road. Feel the oversteer and body roll all but disappear. Feel the RPM's stay high between gears while the weight of the car shifts seamlessly from front to back as you (safely!!) carve that canyon road.
The car literally changes in the flip of a switch. What Lexus has done with their F Series is recognize that today's luxury driver is a long way from the smooth boring rides of their forefathers. Our inevitable slide towards practicality is underway but sometimes you just want turn the corner and feel some power and strength in your hands. The IS 350 RWD F Series achieves this middle ground without coming off moderate or average. They've made a car that somehow still finds itself compared to the BMW 335i and Cadillac ATS4 . To me, it can go up a class and stand toe to toe with the BMW M3 and the Audi S4.
Ok at this point you're looking for my Lexus name tag and wondering when I'm going to tell you we can get you in this car today. Well here are some of the cons… The engine is a tad underpowered. A turbo in the high end F Series would be a revelation. Another couple dozen horsepower and a little weight reduction would serve it well in the performance categories it's striving to dominate.
Also, when discussing the European dominated sports sedan market, the lack of an available manual transmission stands out. At this point, with robust American sales numbers and an over 50% F Series purchase rate, Lexus may not even care too much for the approval of the sometimes snooty European luxury customer. It'd make a great viral campaign, blindfolding BMW and Audi enthusiasts and turning them into fans of the <gasp> Japanese product. On second thought maybe blind test drives aren't such a great idea. I'll leave the marketing up to the pros.
End of the day, Lexus hit it's mark with the 2014 F Series line. The cars have strength and style, they can be driven smoothly or enthusiastically in the flip of a switch. Don't want to drop all the extra coin but want some of the fun? Add F SPORT components ala carte, at home or at the dealership. They'll even cover parts (and labor done) under a manufacturer warranty.
Smart.
Here are the numbers you want to know
IS 350 RWD F SPORT
3.5 L V6 engine
306 Horsepower
8 Speed Automatic Transmission with Paddle Shifters
19/28 MPG
0-60 in 5.6
$43,000 – $61,000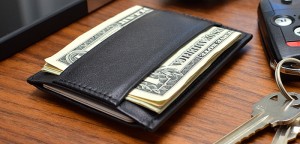 It's hard to be a nimble and modern man with a George Costanza wallet. That's why I was so thrilled when I got my hands on a Minimalist Wallet by Kickstarter success story Capsule.
This little beauty has become the centerpiece of my pocket downsizing movement. The high quality leather and practical design hit me right in the sweet spot of form and function. The CashStrap feature holds my money tight while the dual card pockets fit my essential plastic easily. Easily two thumbs up from the MANjr team.
$50-$65 USD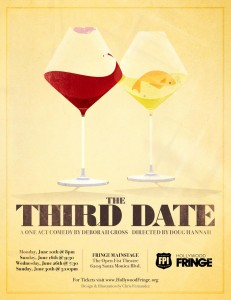 'The Third Date', Written by Deborah Gross, Directed by Doug Hannah, is a funny and original one act play featuring Peter Cilella (Evan) and Megan Raye Manzi (Allie). The likable pair meet at Evan's apartment for their infamous third date, filled with nerves and expectations for the night. The expected awkward banter is interrupted by the appearances of Barrie (Rebecca Mader) and Helmer (Antonio Alvarez). These ghosts of relationships past proceed to charm, distract and antagonize our young would-be lovers from each other's arms while their fears and neuroses are revealed to each other and the audience.
Megan Raye Manzi and Peter Cilella do good work as Allie and Evan, portraying the clumsy early moments of a relationship without becoming caricatures. Rebecca Mader plays Barrie with enthusiasm, giving "the hot exotic ex girlfriend" character both charm and humor. Antonio Alvarez, who stepped in for Chris Wylde on our night, was convincing and likable as Helmer. Both Barrie and Helmer were written and played as likable yet pompous, finding camaraderie with their 'competition' while also sabotaging their efforts from within.
At 40 minutes, this well written and subtly directed piece deserved it's full and raucous house. The one act satisfies it's mission and leaves you entertained and amused.
There are two showings left, Wednesday, June 26th at 7:30 pm and Sunday June 30th at 5:00 pm. Tickets and information can be found here, via the Hollywood Fringe's web site.