Art Eddy III
This user hasn't shared any biographical information
Jabber/GTalk: Art Eddy III
Posts by Art Eddy III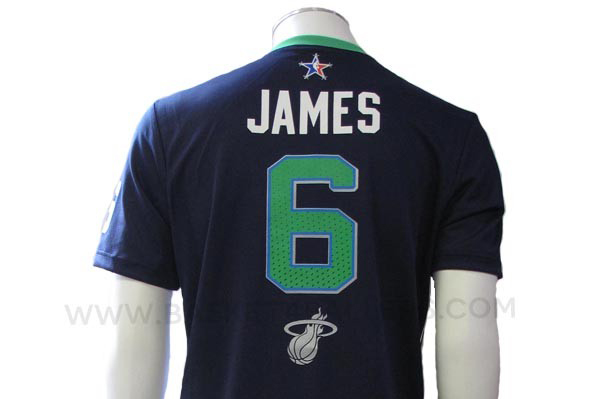 adidas, the official on-court apparel provider for the National Basketball Association (NBA), today unveiled the uniforms and apparel for the 63rd NBA All-Star Game on Feb. 16 in New Orleans, La.
Designed by adidas, the uniforms are inspired by New Orleans' rich and unique culture, featuring vibrant Mardi Gras colors and shiny brass and silver accents on a short-sleeved silhouette. The NBA All-Star logo appears on the chest of the blue "East" and red "West" jerseys in the shape of the fleur-de-lis, the official symbol of Louisiana, with a purple "W" or green "E" cut out to identify the conference of each player.
"Each year, we look forward to developing a unique on-court look for the players that pays homage to the host city and adds to the excitement of this highly anticipated game," said Chris Grancio, adidas head of global basketball sports marketing. "This year's All-Star collection reflects New Orleans' festive musical history while also providing the premium performance elements that NBA athletes have grown accustomed to."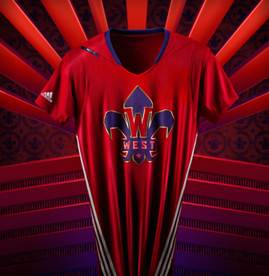 The All-Stars will take to the court in black, white and gray varsity-style warm-ups featuring conference logo patches.  Each player's jacket will be customized to represent individual career accomplishments such as NBA All-Star Game appearances and NBA All-Star MVP awards, NBA Championships, regular season accolades and scoring titles. Players will also wear shooting shirts that feature a colorful primal print.
NBA All-Star jerseys ($80 – $130) will be available at NBAStore.com in addition to a full range of NBA All-Star apparel from adidas including men's and women's T-shirts ($22 – $30), track jackets ($80 – $120) and headwear ($16 – $26).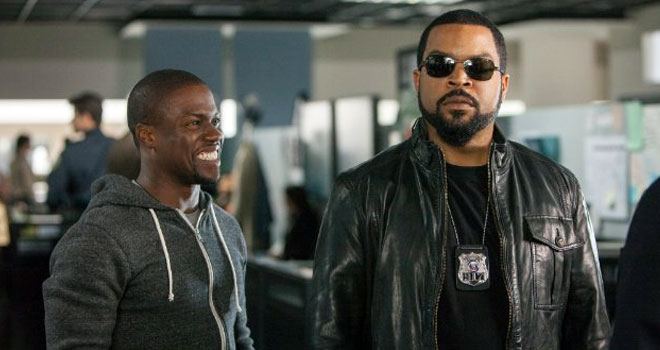 Growing up my music of choice was rap. One of my all-time favorite rappers is Ice Cube. From his work in N.W.A. to his solo career to Westside Connection I would listen to his albums over and over again. Not only did Ice Cube make a name for himself in the world of Hip-hop, but he started to work on the big screen.
Seeing him in "Boyz in the Hood" and "Higher Learning" I was able to see some of his acting skills. When the film "Friday" came along I became an even bigger fan of his work. "Friday" was hilarious and to this day it is one of my favorite comedic films. Cube would venture out into directing and producing shows as well.
Now Ice Cube is working with director Tim Story again in the film "Ride Along." The film centers on Ice Cube's character James Payton, who is a police officer. James takes his sister's boyfriend Ben Barber with him on his patrol to see if he is man enough to marry his sister. Barber is played by the very funny Kevin Hart.
I had the great pleasure of talking with Ice Cube about "Ride Along," Hip-hop, and if he prefers his rap career over acting.
Art Eddy: "Ride Along" looks to have the classic buddy type of film theme to it. You and Kevin Hart look hilarious together. Was this project something you guys talked about doing together?
Ice Cube: Yeah. This project has been on the shelf for more than ten years. It came across my desk years ago. My company Cube Vision, we had our eyes on it, but we never knew who was going to be the other guy. It fell to the wayside. Then my guy Matt got it to Will Packer. Will Packer loved it. He showed Tim Story, who just worked with Kevin Hart. That is how the team came together.
AE: How good was it to be working with director Tim Story again?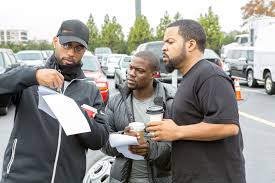 IC: Oh man. It is a dream. I worked with him before on "Barbershop." He was a first time director. Even though he was such a cool dude to work with he was still learning the process. Now it has been years later and he has some great and big budget films under his belt as well as small budget films. He is a vet now. He is a pro at what he does. Working with him was one of the easiest and most comfortable experiences I had.
AE: Not trying to jump the gun, but will there be some deleted scenes on the DVD that you wish made it into the film?
IC: Oh yeah. There is always certain things that you wished was in the film, but tight is better than loose. We definitely used the funniest takes, but the other takes are funny in their own right. It will be cool to see how people feel when they see the whole thing.
AE: You came into the spotlight as a rapper. There is not that much laughter and levity in rap. Yet in films like "Ride Along" and of course classics like "Friday" you have a gift to make people laugh. Did you always have the comedic side to you?
IC: Always. Even when you listen to the music it is rough, but it still has a comedic element to it. It might be dark and twisted, but it still has that flavor. I think that is just part of how I grew up. Comedy was big. If you knew how to make people laugh you were loved in the neighborhood.
To me that is just as a part of the neighborhood as crime, violence and drugs. Comedy goes hand in hand with it. So I always have been funny. I always had funny friends. I am fans of pretty much everybody that I put in my movies. So it would be just like how I would hang out with some of my funny friends. I got pretty good timing. Out of my friends I was the funniest one so, but people might not know that.
AE: You are a rapper, actor, director, writer, and producer. Two things. One, how do find enough time in the day to do all these things? Second do you prefer one role over the others?
IC: To me it is a trip because I find myself sitting around and being like damn I am not doing anything. I need to get busy. I need to figure something out. I love to create. When you are like that you don't really rest on what has been done. You are caught up in what you are doing. When things are done it is really in my rear view mirror. I am now focused on what I am planning to do. The process is what I have fun with just as much as the final product. That is what keeps me working.
The answer to the second question is that I love to do both. Both of them tap into different creative abilities. In music I can just do what I want to do. I can be creative or as uncreative as I want to be. For Hip-hop whatever I want to do I can do because I don't have a label putting pressure on me to come up with a radio hit. That is freedom for an artist. That is fun.
For movies I have to be a team player. I have to make sure that this whole machine is working. You hire people who are better than you at what they do. You work with them, motivate them, and let them do their thing. You let them be part of a team. You have to be a master motivator, which is a whole new way to create.
AE: Is there one album in your great resume that you are most proud of?
IC: "AmeriKKKa's Most Wanted" was the most pressure I felt doing a record. Yet it was the most enthusiasm that I put into an album. I felt like I was creatively free of any shackles. It was my show. I could run it anyway I wanted to. I worked with some of the best producers that I have ever worked with. I can remember working on that album more vividly than any other album that I have worked on. So I have to say then it was "AmeriKKKa's Most Wanted."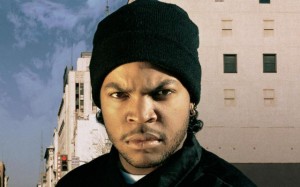 AE: "No Vaseline," "Bow Down," and I guess the list can go on and on for me for my favorite tracks of yours. Which album or track do you hear from fans that they love the most?
IC: "It was a Good Day." Hands down. People have claimed that as my biggest hit. It is cool. It is such a dope song. It is done in the spirit of the movie "Friday." You think it is bad in the neighborhood until you have one of those days.
AE: Yeah. Mess around and get a triple-double.
IC: Yeah. You know it happens. To acknowledge it shows me that I am true to what I am doing. I was not just doing a gimmick or sensationalizing things. I was trying to give people a slice of life. People sometimes go under the impression that I grew up with money or that I didn't come straight out the neighborhood. I did. I know what it is about.
AE: Is there anyone that you would you like to have on your next album or work with on their next track?
IC: No, not really. I don't think like that. I am just trying to be on my own page. I am not a super callabo guy. I grew up when a rapper can hold his own. He could hold the whole album. You didn't need all these guest appearances or collaborations. You listen to Big Daddy Kane and that is who you heard. I am from that tradition. So I usually have an album that doesn't have a lot of features.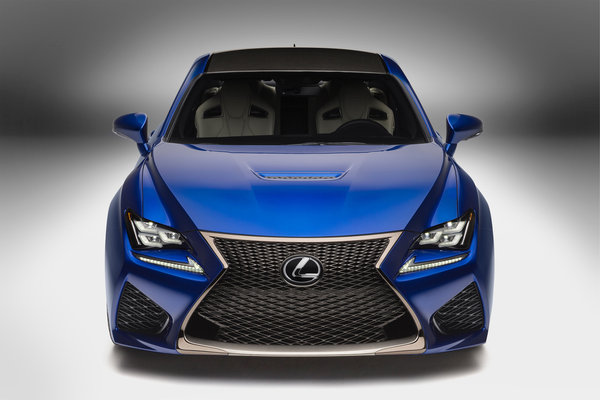 Want power, precision and passion? Lexus revealed its most powerful V8 engine in the all-new 2015 RC F performance coupe at the North American International Auto Show in Detroit.  The F performance model, based on the RC coupe, gets its powerful roar from more than 450 horsepower and more than 383 lb.-ft. torque.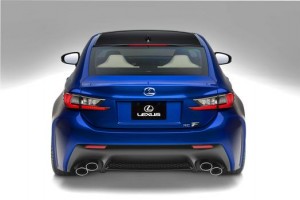 To get that amount of power efficiently to the ground the RC F will make use of a Torque Vectoring Differential (TVD) to ensure remarkable handling and performance. The power will transfer through a newly calibrated eight-speed Sports Direct Shift (SPDS) transmission with paddle shifters.
"I've built RC F to be enjoyed by all enthusiasts – no matter what their level of expertise," said RC F chief engineer Yukihiko Yaguchi.
"There's a misconception that racing cars are hard to drive. In fact, they're easy in the right hands because they've been purpose-built for the skill level of their drivers. It's the same with RC F.
"Electronics can be modified instantly on board to provide appropriate levels of performance and protection. But even at its basic setting, it's a blast."
Driving Dynamics with More Power and Usability
The RC F has an all-new 5.0-liter 32-valve V8 engine that will provide increased maximum power at higher engine rpm than previously possible. For the first time in a Lexus performance engine, the RC F uses the Atkinson cycle at cruising speeds for enhanced fuel economy and then switches to the Otto cycle at higher rpm to develop impressive performance levels.
Driver engagement has been made possible by purpose designed sound and power delivery. A uniquely tuned eight-speed Sports Direct Shift (SPDS) transmission improves linear throttle response.
It helps the driver control the torque and power precisely as it is applied.
The newly calibrated VDIM adds a vertical G-sensor to provide greater vehicle stability
Torque Vectoring Differential
The RC F uses a Torque Vectoring Differential (TVD), a first in a Lexus, to increase driving performance.  It has three operating modes:
Standard for a balance of nimble performance and stability;
Slalom for emphasis on nimble steering response; and
Track to help with consistent stability, ensuring the vehicle stays on the intended corning line as the driver applies more throttle.
Handling
The foundation for the vehicle's mechanical grip is the highly rigid body with large cross-section rocker panels and a very stiff front lower brace. Specialized Lexus manufacturing techniques are also used, including body adhesives, laser-screw welding, laser brazing and multi-spot welding. Grip is further enhanced through use of a wider tire and wheel assembly.
RC F has front and rear coil-spring independent suspension, with monotube gas-filled shock absorbers and ball-jointed stabilizer bars. Unsprung weight is reduced by the adoption of three new 19-inch diameter forged aluminum wheels which minimize tire/wheel assembly mass and maximize rigidity.
Exterior Design
Lexus RC F adds to the stylish body of the new RC coupe on which it is based. The RC F features its own version of the Lexus signature spindle grille which dominates the front of the vehicle from hood line to lower lip. The grille has a subtle F-mesh pattern on the lower half.
In profile view RC F has a unique front hood which raises the peak of the vehicle, creating a powerful side view.
The RC F takes design cues from the Lexus LFA supercar, especially in essential air cooling and aerodynamics. Its hood air vent, such as those on the LFA, combined with front cooling ducts contribute to engine cooling and overall vehicle stability.
As in the LFA, an active rear spoiler is incorporated into the trunk lid to provide down force at speeds of more than 50 mph. The active spoiler is a highlight of RC F's aerodynamic package which includes careful tuning of the underbody, the intakes in the grille and the front fender vents, and strategic placement of the aero stabilizing fins.
To the side, front fender ducts in the shape of an L also aid cooling performance while adding to the aggressive stance.
The RC F's available carbon fiber package offers a clear coated carbon fiber roof and active rear spoiler drawn from the LFA production experience.
Interior Design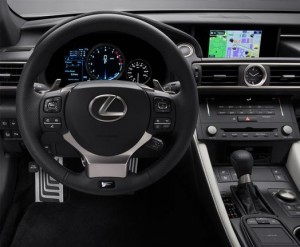 Uniquely designed components, including combination meters, the steering wheel, seats, ornamentation and pedals, convey a sense of connection with the driver that only a Lexus F performance model can achieve.
RC F's all-new combination meters are further developed from LFA while also referencing aircraft cockpit instruments. The meters provide a wide range of easy to read information for the various drive modes.
The combination meters include a large centrally mounted tachometer that alters according to drive mode, digital and analog speedometer, differential torque vectoring monitor, G-Force meter, oil and water temperature gauges, mileage information and a stopwatch.
The driver's connection to the RC F is paramount. The RC F debuts a Lexus-first elliptical cross-section thick grip steering wheel for greater control during performance driving. The placement, shape and operation of paddle shifters make it easier to change gears on the track and in other performance circumstances.
The all-new high back seats have been designed for exceptional holding performance. An integrated foaming technique creates a highly supportive and taut fitting seat with trim material that stays fixed.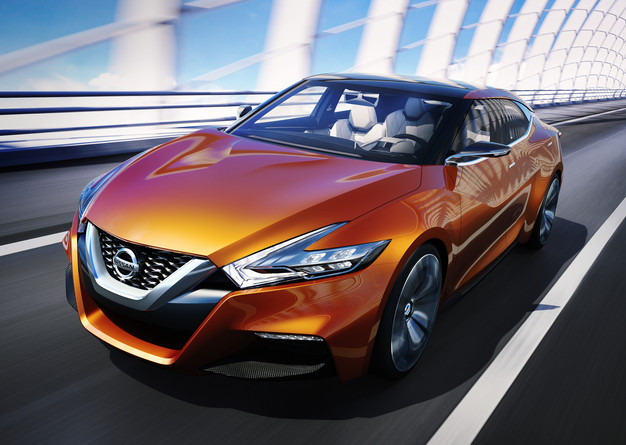 Design has long been a differentiator between Nissan and its competitors – along with performance, innovation and technology. Now, as the company celebrates its 80th anniversary, it is doing so with the world debut of the Nissan Sport Sedan Concept at the 2014 North American International Auto Show in Detroit.
The Sport Sedan Concept, a design study with a particular emphasis on next-generation design and sporty style, was created to embody the essence of a true sports sedan – that rare execution of 4-door sedan with the aura of a real sports car. It previews a future production vehicle intended for owners with a passion for cutting-edge design and driving dynamics.
"The Sport Sedan Concept shows a new, highly emotional and energetic design direction that takes Nissan's legendary approach of applying sports car principles to a sedan to the next level," said Nissan Senior Vice President and Chief Creative Officer Shiro Nakamura. "The Sport Sedan Concept captures that essence with bold and exciting sports car design and proportions."
Next-Generation Nissan Design Language
The Sport Sedan Concept joins a trio of advanced concepts that share signature design aspects that will be adapted to all future Nissans. Along with the Nissan Resonance and Friend-ME concepts that were introduced in 2013, the Sport Sedan Concept shares the new V-Motion front aspect, "floating" roof and boomerang-shaped headlights and taillights.
As demonstrated by the three diverse concepts, these distinctive design cues will be incorporated into a range of body types from sedans to crossovers.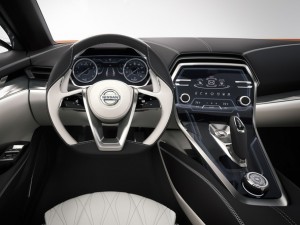 "Our new design direction mirrors the strength, power and capabilities of the engineering and innovation that serves as the foundation of every Nissan vehicle," said Nakamura. "Nissan is a brand for people seeking bold and passionate experiences, and who are willing to make choices outside of traditional boundaries. That's why Nissan is committed to breaking new ground in automotive design, as expressed in the stunning new Sport Sedan Concept."
The exterior of the Sport Sedan Concept is marked by low, wide proportions, with a lowered hoodline and reduced ground clearance compared to traditional sedans – elements that would be right at home in a sports car.
The "V-Motion" movement of the front end flows from the dramatic chromed grille up through the hood. The front of the Sport Sedan Concept also incorporates the large LED boomerang headlights, a deeply scooped front fascia and wide, sloped windshield.
The profile of the vehicle is equally powerful, with its dynamic bodyside lines adding a strong sculptural feel and connecting the wheels and tires – which are pushed out to the four corners.
There is a projection of motion, even when the vehicle is standing still. The Sport Sedan Concept rides on custom 21-inch aluminum-alloy wheels mounted with low-profile 275/30R21 tires.
The distinctive silhouette blends smoothly into the rear design, which is capped by the high deck, large chrome trunk accent and wide, deeply scooped rear fascia. As in the front, the boomerang rear combination lights accentuate the centered feeling and push outward to edges.
The unique "floating" roof adds a sense of openness and lightness in contrast to traditional sedans' heavy cabin appearance.
"The innovative roofline, which is also prevalent on Resonance and Friend-ME, makes it seem as if there are no pillars at all, enhancing the sense of athleticism and sportiness," said Nakamura. "The roofline also contributes to the Sport Sedan Concept's class-leading stance, which balances the look of the substantial lower body and a streamlined cabin."
The final exterior touch is the unique "Strad Amber" paint that was inspired by the craftsmanship and rich finish of noted classic violins – instruments capable of producing vibrant intensity at times and at other times a soft stillness. The elaborate candy color paint finish is achieved through application of an orange-amber topcoat over a base of gold paint, creating a distinctive depth and bespoke richness.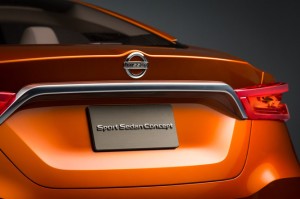 The Sport Sedan Concept's interior also offers cues to future production designs. Premium materials are found throughout, with the use of diamond-shaped graphics on the quilted seats, stitching and panels enhancing the sense of dynamic motion. Rather than traditional flat surfacing, the diamond treatment adds three-dimensionality. The edgy and geometric look was inspired by modern furniture, apparel and accessories. The interior also features high-contrast colors and facet metallic accents. All these aspects finely express Nissan's individual authenticity and modernity.
The front-wheel drive Sport Sedan Concept is powered by a 300-plus horsepower 3.5-liter V6 engine backed by a sport-tuned Xtronic CVT® and features an innovative suspension layout with performance dampers.
The Nissan Sport Sedan Concept was created by Nissan Design America in San Diego, California and developed at the Nissan Global Design Center in Atsugi, Japan.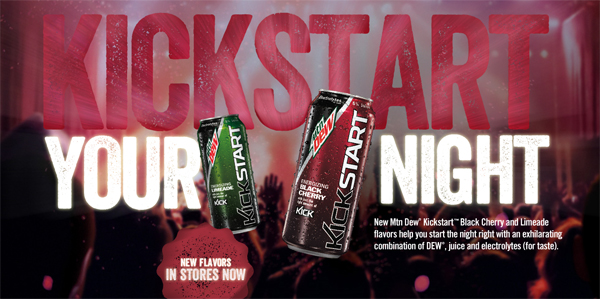 Mountain Dew Kickstart took mornings by storm in 2013. Now, DEW Nation can get ready for the night with a pair of new refreshing and bold Mtn Dew Kickstart flavors developed for nighttime consumption.
Mtn Dew Kickstart Black Cherry and Mtn Dew Kickstart Limeade fuse the great taste of Mountain Dew with five percent real fruit juice, plus electrolytes for taste. With only 80 calories per 16 oz. can and just the right amount of kick, Mtn Dew Kickstart is the ideal beverage to get you ready for whatever the night will bring.
"Mtn Dew Kickstart Black Cherry and Mtn Dew Kickstart Limeade give you just the right amount of kick to get you ready for anything the night brings your way," said Greg Lyons, Vice President of Marketing at Mountain Dew. "Whether it's an epic road trip, a winner-take-all gaming tourney or a standing-room-only concert, Mtn Dew Kickstart packs 16 ounces of energizing refreshment so you and your buddies can start the night right."
Mtn Dew Kickstart Black Cherry and Mtn Dew Kickstart Limeade drop in retail stores nationwide today.  Meanwhile, five Mtn Dew Kickstart "Night Machines" are hitting the street across the U.S. to give fans an opportunity to taste the new flavors.
Visit mtndewkickstart.com or Facebook.com/MountainDew for more information and join the conversation at @mtn_dew #KickstartYourNight.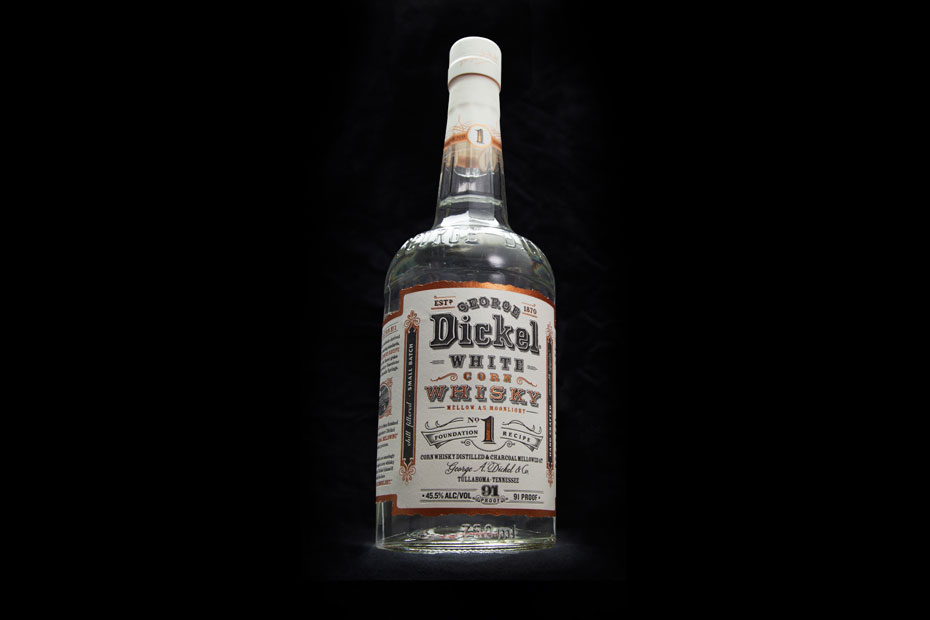 As we enter 2014 George Dickel Whisky introduces a new spirit to their great beverage line. It is called George Dickel No. 1. It uses their "Foundation Recipe" that has been a staple in some of their whiskies including No. 8, No. 12, and their Barrel Select. This unaged whisky is handcrafted from grains and water from the Cascade Spring. Then it goes through their signature Chill Charcoal Mellowing process that gives the whisky a soft, smooth finish. Some whisky fans think that using the Chill Charcoal Method in the mellowing process makes it perfect for the wintertime.
No. 1 is 91-proof, which is 45.5 % ABV and has a clear appearance. When I took a sniff I found that it had a soft smell and wasn't overbearing. I also took in hints of raw grain. As for the taste, well it is very smooth with a sweet corn flavor.
Whether you like to enjoy your whisky neat, on the rocks, or mixed into a cocktail, the No.1 could become one of your all-time favorites. When I tried the No. 1 I was extremely pleased with the taste and finish. It just came out on the market and has a suggested retail price of $21.99 for a 750 ml bottle. Below I added some cocktail recipes that work really well with George Dickel No. 1.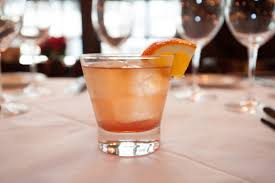 Dale DeGroff's Holiday Old Fashioned
Ingredients:
1.25 oz George Dickel No. 1
1 dash DeGroff's Pimento Bitters
0.25 oz Dale's Cherry Liqueur
0.5 oz Simple syrup
2 orange slices
2 cherries
Directions: Muddle a cherry and orange slice with the syrup and liqueur and the dash of bitters in a bar mixing glass. Strain into an Old Fashioned glass. Add the whisky and ice and stir Garnish with an orange slice and a cherry.
Mr. Loveless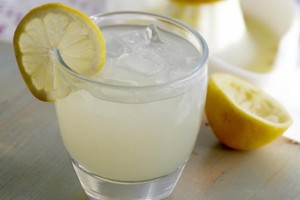 Ingredients:
1 oz. George Dickel No. 1
1 oz. sweet vermouth
0.2 oz. maraschino liqueur
2 dashes Angostura bitters
Directions: Stir all ingredients and strain into old fashioned glass over ice. Finish with lemon wheel.
Southern Spritz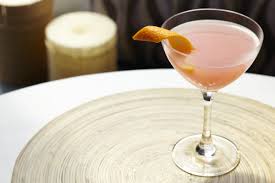 Ingredients:
1 oz. George Dickel No. 1
0.25 oz. Italian aperitif bitter
0.5 oz. lemon juice
0.5 oz. honey syrup (equal parts honey & hot water)
2 dashes orange bitters
Directions: Shake all ingredients with ice and strain into cocktail glass. Top with 3 oz. dry sparkling wine. Garnish with orange twist.
Tennessee Roots
Ingredients:
1.33 oz. George Dickel No. 1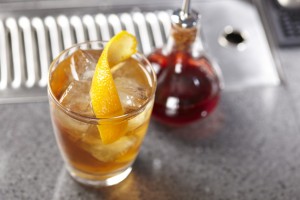 0.33 oz. lemon juice
0.33 oz. simple syrup
0.33 oz. pineapple juice
Directions: Shake all ingredients and strain over ice into old fashioned glass. Top with 1 oz. ginger beer. Garnish with lemon wheel.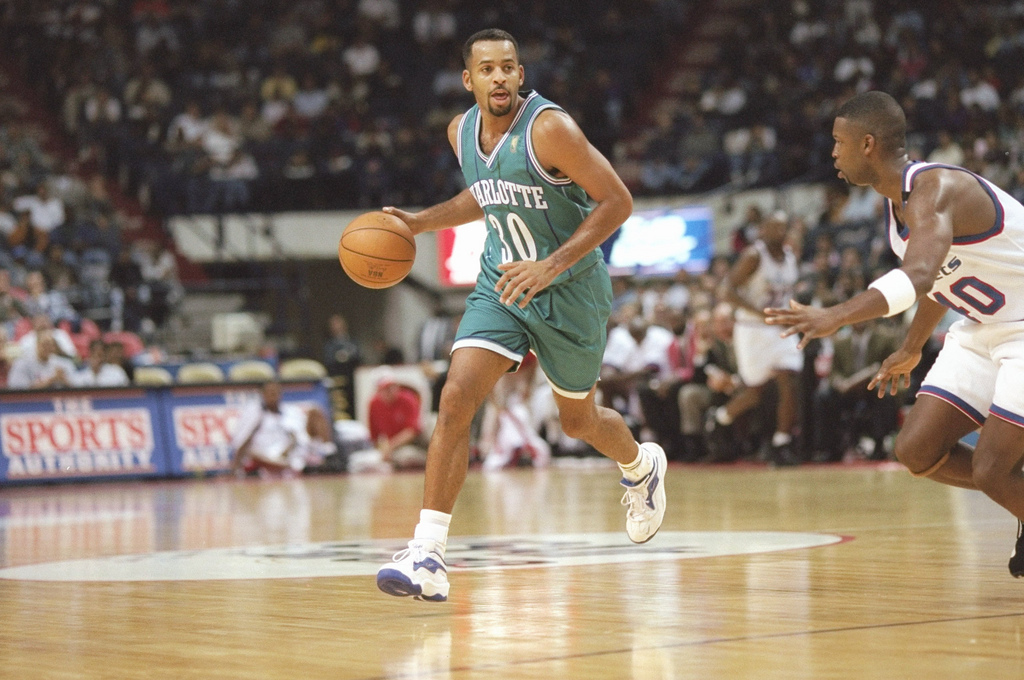 Dell Curry was one of the best shooters in the NBA during his time in the league. Curry would play either at the shooting guard position or at small forward. He played for five NBA teams, most notably for the Charlotte Hornets. In 1994 he won the NBA Sixth Man of the Year award. To this day he still holds some team records.
Now working for FOX Sports as a commentator on Charlotte Bobcats television he gets to still be around the game he loves. His son, Steph Curry currently plays in the NBA for the Golden State Warriors. Like father, like son, Steph has a sweet shot and is a force to be reckoned with on the court.
I was able to talk with Dell about his time in the NBA, his son's career in the league, and how the game has evolved.
Art Eddy: Looking back at your career in the NBA what aspect of your time in the league do you cherish the most?
Dell Curry: Just the fact that I was able to sustain a career for 16 years and that I am still friends with all my teammates and have a relationship with them. It was great to spend time with my family and watch my kids grow up while I was in the league. I still just cherish the relationships I have with some of my teammates while still living here in Charlotte.
AE: I bet you are excited that Charlotte's team name will be the Hornets once again right?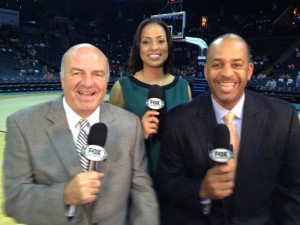 DC: Absolutely. It was great to play for the Hornets back then. The town was ecstatic and electric and we are trying to get that back. I can't wait until next year when I get to say the Charlotte Hornets.
AE: For you was there a team or player that got you more hyped up than other teams or players?
DC: You better get ready for every player, every game, and every night. (Both laugh). Obviously I think everyone enjoys going up against the best players in the world. They give you the best competition and gives you something to compare your game to.
The best player that I played against while I was in the league was Michael Jordan. Anytime you played against the Bulls, back when I played, were one of the best teams in the league. They had one of the great runs in the NBA. It was always special to go up against them because you know you were going up against the best.
AE: You have such a sweet shot. How many hours a week did you just stay in the gym shooting around?
DC: (Laughs). I tried to make 500 shots a day. We shoot in practice and it wasn't really about how many you shot, but about how many you made. That is the bottom line. You want to make as many as you can. I always tried to set up a number and try and reach that goal.
It was steady practice and I was blessed with the ability to shoot a basketball. With that said that skill was honed in on by putting in work every day. So on average I would try and make about 500 shots per day.
AE: What did winning the Sixth Man of the Year award mean to you?
DC: Well one thing is it is about consistency. It is very hard to come off the bench and be consistent on a nightly basis. That was something that I prided myself on. Everybody would love to start. I did start a few games. To have a guy come off the bench and the coach can rely on you on a nightly basis and as well as your teammates was a good thing.
Just like the starters, your teammates needed and expected your input to help win the game each night. To win it that one year and finish second a couple of years showed the consistency that I tried to play with while I was in the league.
AE: It was cool to see you and your son Steph play a game of P.I.G. last year. You showed the people at your basketball camp that you still have it by wining that game. How cool is it to see your son excel in the league just like you did?
DC: It is a father's dream. For me to reach the highest level in that sport and make a career out of it. Having my son grow up and watch me do that and reach that level as well. To know how hard it is to get there. To have the success there that he has had is a father's dream come true.
Also for him to be a better player than you are is great. I can still shoot that basketball. I can hold my own there, but he is a much better all-around player then me. I am very happy for him and his team right now.
AE: How do you feel the game has changed since the time you played to now?
DC: I think it is the youth of the game. We have so many young players right now. The game has gotten smaller and quicker. The game is not as physical as when I played. It is more fan oriented now. Fans want to see players run up the floor, make shots, and dunk.
It is very entertaining. Don't get me wrong. I love today's game, but it is different because it is a little less physical, a little quicker, and the players are not as big as before.
AE: Would you like to see the hand-check come back?
DC: No. (Both laugh). I like where it is at right now. It gives the guards a bit more flexibility. With my son being in the league and not being one of the biggest and strongest, if the hand-check came back into the league it might hurt his game a little bit. He would get to the free throw line a bit more so there is give and take there.
AE: Does Steph ask you for advice after games at all?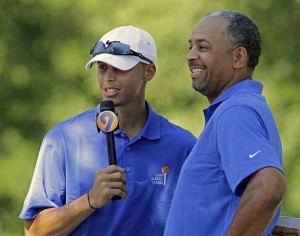 DC: No. We talk about basketball a little bit. I coached him when he was growing up. I tried to give him all my knowledge to make him play the right way. Now he has all the best coaches in the world. They have all the equipment, training facilities, and film. They have one of the best organizations in the world. He gets it enough from them.
If I see something that I feel that I need to point out that would help him I do. Mostly we talk about his team, their goals, and what they want to do. I try not to talk to him about it because it is always on his mind. We probably talk more about golf than anything.
AE: Who has the better golf game?
DC: He does.
AE: Really?
DC: Yeah, he does. We are both in single digits, but he is closer to the scratch than I am. We are very competitive. We are close, but I started him playing way earlier than I did as a kid.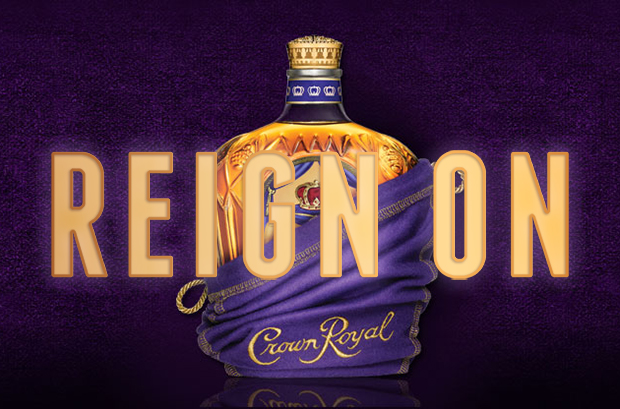 With the third pick in this year's NBA draft Crown Royal selects…..me! Well kind of. This year I will be bringing you the biggest and brightest moments of the Chicago Bulls NBA season. I am teaming up with Crown Royal for their #ReignOn NBA campaign.
From now through the rest of the NBA season I am going to be following my team DA' Bulls. I will be sharing with you the sickest dunks, ridiculous buzzer beaters, and come from behind wins that Chicago pulls off. Granted the team got a huge setback when their star Derrick Rose injured his knee which forced him to miss the rest of this season, but my hopes are still high for the team.
Former Bulls player and now executive Vice President of the Bulls, John Paxson said recently, "We do believe that Derrick's going to be a great player again. We can't promise anybody that, but that's a belief of ours because we know Derrick well enough and we think he's going to work hard enough." So you have to feel the Bulls will still try to make a run this year to keep up pace with the rest of the league.
Heck, they are still 5th overall in the Eastern Conference. I can see them making the playoffs. Coach Tom Thibodeau always finds a way to get the most out of his players. He is a strong defensive minded coach, which is key in the NBA to win games.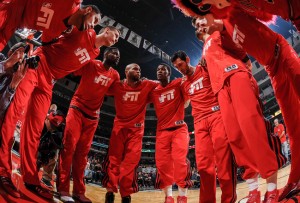 I will also be in New Orleans next month for the NBA All-Star Game. I will be checking out all the All-Star Weekend activities and share them with you. I will try and get myself to be a participant in the dunk contest. You think the NBA will allow me to dunk on an 8 foot hoop? A guy can dream can't he?
Crown Royal recently launched a new whisky called Crown Royal XO and I will checking it out and letting you know my thoughts on the XO.
Make sure you're following me on Twitter, @DadatworkNJ to know when there could be some special Crown Royal giveaways for those 21+. I will be using #ReignOn in my tweets. I suggest you do the same!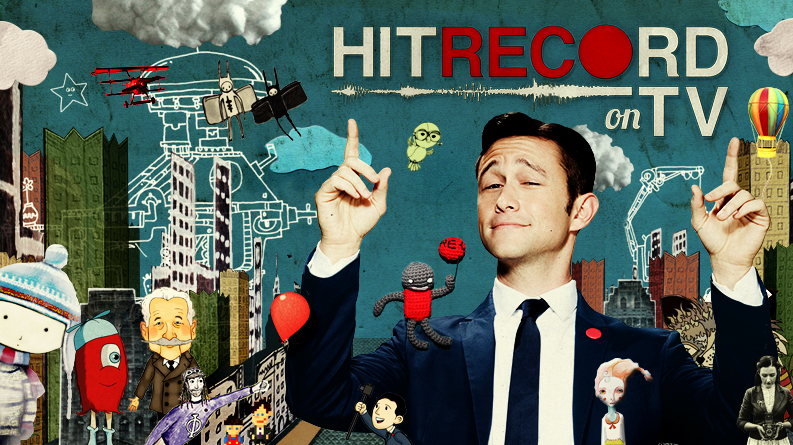 HITRECORD ON TV is an extension of Joseph Gordon-Levitt's popular open-collaborative production company hitRECord. The show's unique take on the variety show format puts the spotlight on the final product after Gordon-Levitt and his team culls these individual pieces from hundreds of contributors to create short films, live performances, music, animation and more.
From the words of Joseph Gordon-Levitt himself:
Ladies and gentlemen, I am beside myself with joy and anticipation

D It is my sincere pleasure to present the very first episode of HITRECORD ON TV! Watch the entire first episode here before it premieres on television.
Everything you're gonna see on this show was made collaboratively on our site — hitRECord.org — and the work of 426 Contributing Artists is featured in this particular episode. There's gonna be 8 episodes this season, each revolving around a different theme, like RE: Space, RE: The Other Side, and RE: Money. And since this is our first ever episode, I figured the theme of this one would be RE: The Number One. HITRECORD ON TV will be coming out on January 18th on a new cable channel called Pivot.
I'm deeply proud of this show, and I think you're realllllly gonna like it. Honestly, making this thing together with all the artists from around the world in our hitRECord community has been one of the most challenging and rewarding experiences of my life so far. So, without any further ado, enjoy the show!
Thanks again
J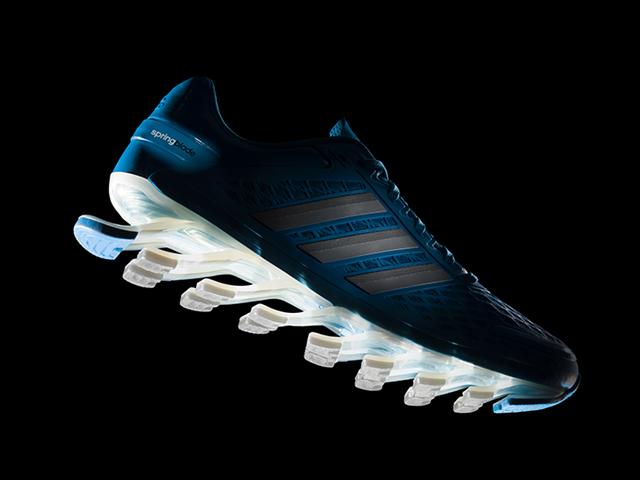 adidas launches Springblade Razor, the next generation of explosive energy under your feet.  The new running shoe is available for pre-order on adidas.com this weekend starting Sunday, January 12.
Springblade, introduced last year, is the first running shoe with blade technology designed to help propel you forward. The Razor features a unique web design over sock-like Techfit technology that helps lock your feet in place and enhances breathability. The shoe's 16 individually tuned blades instantaneously react to any environment, compressing and releasing energy.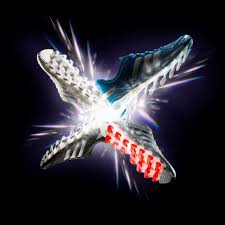 Springblade Razor goes on sale on adidas.com, at adidas Sport Performance stores and retailers nationwide including Finish Line on January 16.
The Razor launches in four colorways for men, including Solar Blue/Tech Grey Metallic/Black, Black/Tech Grey Metallic/ Light Scarlet, Metallic Silver/Black/Light Scarlet and Light Scarlett/Black/Metallic Silver, and three colorways for women including Solar Blue/Tech Grey Metallic/Black, Black/Black/Vivid Berry and Bahia Pink/Metallic Silver/Black.
Join the conversation on Twitter at #Springblade and @adidasUS and check out facebook.com/adidasrunning