Best Cleavage 2011 – The Top 100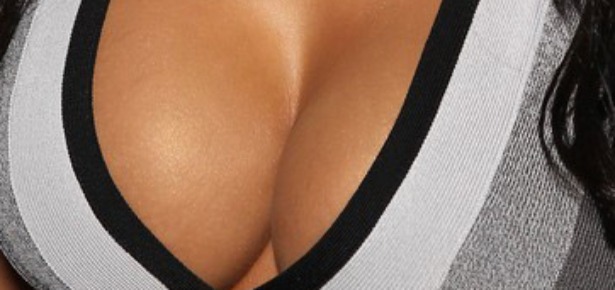 Everyone loves cleavage. We certainly do. But the sight of two breasts can be a double-edged sword. Stare too long and you get in trouble. Look too little and you miss out. When quality cleave is on display, it makes you want to stop time for an extended stare of booby-mush. But sadly, us dudes don't have the ability to stop time. We're left with crooked glance tactics like the photographic-neck-whip snapshot, the I'm-just-looking-for-someone-over-there shifty peek, and of course, the reflective surface bounce-look.
Society tells us it's wrong to look, but the shirt cut says a gaze is a must. We can't help it really. We're hard-wired to love boobs, and nothing's more distracting than the supple intersection of two gorgeous breasts.
We shouldn't hide our love for sexy chest valleys. We shouldn't be ashamed of our appreciation for booby neighbors. We should celebrate the cleave on the regular. We should applaud those happy few who display the best cleavage of the year.
The following list contains breast sets of all sizes. We tried to include some variety; fit busts, grand canyons, subtle cleave, after-market add-ons and all-natural sweater puppy pairings. The selection factors are all highly subjective, but we feel like we know good cleavage when we see it. Overall hotness certainly plays a factor. You're not gonna find any goat-faced girls with fantastic racks on this list.
And yea, we know 2011 just got underway, but why wait 11 more months to celebrate fantastic cleavage? Let's get to it…
100.

Sophie Turner

This Australian supermodel might not a have a belly button, but she makes up for it with her after-market top-bollocks.
99.

Carmen Electra

We know, it's 2011, but Carmen Electra is still pretty hot, man. Just take a look at her new calendar.
98.

Mary Elizabeth Winstead

She survived Final Destination 3, Live Free or Die Hard and Scott Pilgrim vs. the World. She's got a gorgeous face but she's not afraid to show off a little indie cleave either.
97.

Rihanna

Rhianna gets points for the most publicized sneaky cleave.
96.

Lindsay Lohan

Anytime Disney has to shield audiences and reduce your bust using CGI, you definitely got some junk upstairs. Rehab cleave may not be the sexiest look, but if homegirl ever cleans up, she'll put her pups back on display.
95.

Hayden Panettiere

Everyone's favorite cheerleader will be showing off her pompoms in Scream 4.
94.

Alyssa Milano

Milano's bra buddies need no introduction. It's hard to read her tweets without thinking about her 'tas.
93.

Padma Lakshmi

We don't care how old she is. She's got delicious milk cans and she's not afraid to show 'em.
92.

Katherine Heigl

She's come a long way from My Father the Hero.
91.

Eliza Dushku

If you sat next to her, you'd sneak a peek too bro.
90.

Isla Fisher

She rocks that approachable, down-to-earth ginger cleave to perfection.
89.

Heidi Klum

After pumping out so many kids with Seal, Klum still looks delicious. Her umlauts are still world-class.
88.

Blake Lively

Subtle cleave FTW. Plus, she pushed those peaches up wicked hard in The Town.
87.

Hayley Atwell

This lovely looker from London is will be showcasing her loaves in the new Captain America film.
86.

Odette Yustman

She makes painfully horrible films (The Unborn, Beverly Hills Chihuahua 2, etc.), but she's total-package cute. Yustman kinda reminds us of Megan Fox without all the miles. She also gets bonus points for being in Kindergarten Cop.
85.

Kendra Wilkinson

What she lacks in the face, she makes up with the boob.
84.

Paula Patton

Halle Berry's former stunt double is carving out a name for herself. The movie Mirrors was definitely a break out role for Paula's Pattons.
83.

Kate Beckinsale

Drop dead gorgeous with subversive subtle cleave (possibly due to a tasteful boob job).
82.

Emmy Rossum

Totally shameless.
81.

Angelina Jolie

Jolie's no spring chicken. Just look at her hands. She's got Madonna hands, man. But for the purposes of this list, don't look at her hands. Just look at her Jolies.
80.

Karolina Kurkova

Pouty Czech cleave courtesy of Victoria's Secret.
79.

Aishwarya Rai

You don't get to be crowned Miss World without some world-class peaches. This Bollywood-crossover star's got more curves than the 405 freeway.
78.

Jennifer Lopez

Past her perky prime, no doubt, but J Lo's not afraid to put her puppies out there still.
77.

Yvonne Strahovski

Not the biggest pumpkins in the patch, but she's the only reason anyone watches Chuck.
76.

Jessica Biel

She's not all butt and teeth. Biel's got some hot buttons too. Don't believe us? Here are six words that'll make your day: Powder Blue on Netflix watch instantly.
Related Posts
| | | |
| --- | --- | --- |
| | Print article | This entry was posted by The MANjr Team on February 1, 2011 at 4:23 pm, and is filed under Girls. Follow any responses to this post through RSS 2.0. Both comments and pings are currently closed. |
Comments are closed.