Posts tagged
football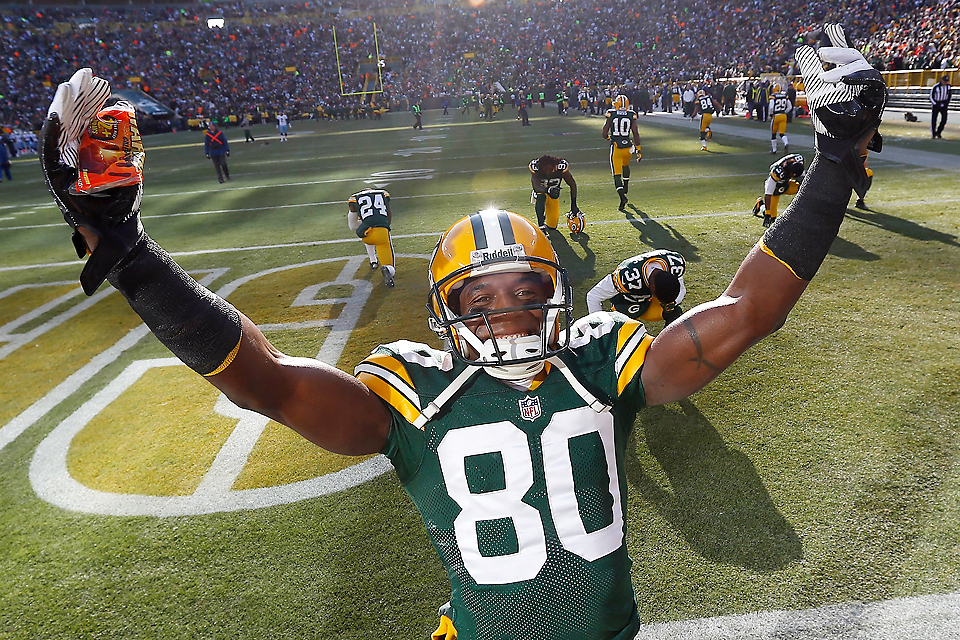 Donald Driver didn't just make an impact in the NFL, but he did off the field as well. Growing up as a kid Donald and his family faced tough times. Driver took that adversity and used it as motivation to create a better life for himself. Football fans know the mark he left not only in Green Bay, but throughout the league. The four time Pro Bowler helped the Packers win Super Bowl XLV in 2011 as Green Bay beat the Pittsburgh Steelers 31-25.
The Green Bay Packers Receiving Yards All-Time Leader also won the Ed Block Courage Award. This award is given to players, who are voted by their teammates as role models of inspiration, sportsmanship, and courage. Driver continued to inspire people when he created the Donald Driver Foundation in 2001. The foundation helps families find homes, assists in educating kids, and helps recognize those people who do wonderful things in their community.
Driver is an accomplished author as well. His book "Driven" was on the New York Times Best Sellers list. He has also written three children's books. Each book focuses on a challenge a kid or an adult may experience in life. He will have another children's book out later this year called "Quickie Handles a Bully."
Art Eddy: Many players who get drafted in the late rounds have chip on their shoulder. How much of a factor was that for you to prove that to the teams that passed on you that they made the wrong choice picking someone else?
Donald Driver: In 1999 when I got drafted that was the first thing I did. Teams told me that they were thinking about drafting me the first day. Then they would say we would draft you the second day and you shouldn't go no later than the fourth round.
So when all these teams are calling you to tell you that they are going to draft you, but you sit there during the draft at home with your family and the first day goes by and you don't get picked up. The next day comes and you don't get picked up again and you basically think your career is over.
Now you have to go and find a normal job. I had that chip on my shoulder. When the Green Bay Packers called me in the seventh round after 32 receivers got taken before me I just wanted to prove to the league and to the other teams that they made the wrong choice. They should have drafted me earlier. The Green Bay Packers took a chance on me and that is why I was able to retire with them and give them a legacy instead of another team.
AE: Can you describe your emotions and memories from your first NFL game?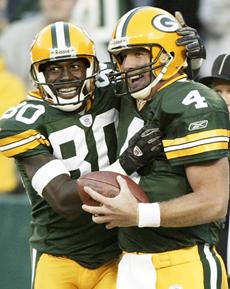 DD: Oh wow. My first memory that I actually made it in the NFL was our first family night scrimmage in Green Bay, Wisconsin. I remember Brett (Favre) sitting down with me and telling me that this wasn't Alcorn State University where you only have 20,000 people. It is going to be about 60,000 people in those stands.
I remember walking out that tunnel just for that family night scrimmage, offense versus defense and there were 57,000 fans in the stands. They were yelling and screaming. From there I was just going nuts. I remember Brett and I walking out of the tunnel and he said to me, 'Hey Drive, welcome to the NFL.'
I had an amazing practice that week. I was catching everything. I think from there it solidified my opportunity to make it on the Green Bay roster.
AE: As fans of the game we all know that Lambeau Field is one of the most iconic stadiums in all of sports. For you who played there, what does Lambeau Field mean to you?
DD: It means everything. If you never had the chance to experience Lambeau you should go to a game. I don't care if it is a cold game or a hot game. You want to be there. You want to experience the atmosphere. The fans have been great throughout my entire career.
They have proved to me that they have shown their loyalty to me. For me it was to show my loyalty back to them. They have been supportive through my charity, through my family, and to be the person that I am today. I have always said this. My fans have put me on a pedestal. It wasn't me playing that put myself on that pedestal. When they put you on a pedestal you always have to remember that you are no better than they are.
AE: Who does the best Lambeau Leap?
DD: You know I think a lot of people have given me that title. They say I do the best Lambeau Leap because one time I remember playing the Detroit Loins at home. I scored a 60 or 70 yard touchdown. I ran and I looked up and I saw the Detroit fans. When I jumped up they were trying to catch me. So I jumped down and then took two steps over and then jumped back up. (Both laugh.) I went back into the Packers' fans hands and I stuck my tongue out at the Detroit Lions fans. It was a great, great time. It was an amazing experience.
When I scored my first touchdown I had no clue that everybody should do the Lambeau Leap. I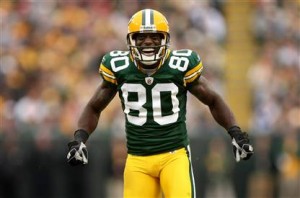 thought it was just LeRoy Butler's thing. I didn't want to step on his toes. So I didn't do it when I scored my first touchdown at Lambeau. I remember getting to the sideline and so many guys gave me grief. They told me that the next time I score I better do the Lambeau Leap. Since then every time I scored I would do the Lambeau Leap.
AE: What was the toughest part about playing in the NFL?
DD: For me it was just the speed of the game. Coming from Alcorn State, college is just a different atmosphere. The speed of the game is just so much faster. So I wanted to make sure when I got there I just learned and learned. I would sit back and learn from all the veteran guys and took what they said.
They told me that I needed to stay focused and make sure to make every play count. The opportunities are slim. In college you could always make it up. In the NFL it is hard to do. They taught me that. I was able to use that year after year.
AE: Which safety or cornerback challenged you the most? Who did you love to play against?
DD: I will say this. I played against a lot of great corners. Antoine Winfield, Champ Bailey, Deion Sanders, Kevin Smith. I mean the list goes on and on. DeAngelo Hall, Charles Woodson, Al Harris, Mike McKenzie. That list continues to grow.
Every week I knew when I stepped on the field I had to play my best game. The good thing is that I was able to play with some great corners. Mike McKenzie was there before he went to New Orleans. Charles Woodson played in Oakland before he played in Green Bay. Al Harris was in Philly before playing here. I played against those guys, but I knew them as well and they knew me.
Every day at practice I knew that if I could beat them then I knew that I was going to have a great game. There was no one else out there that was tough enough to stop me. That's the way I played the game. I knew if I could beat my guys one on one in practice that I could do that in the game. That is what I did. I was able to step up my game a bit more.
AE: I am guessing that your answer will be winning a Super Bowl title, but is there one moment that sticks out the most in your great NFL career?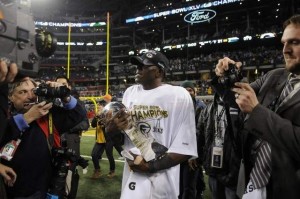 DD: I have so many moments that I will always cherish. The Super Bowl is a moment that I think every NFL player would want to reach. That is the greatest milestone for us. To win that Super Bowl title and to have that Super Bowl ring on our finger will let us always cherish that forever.
When I became the all-time Packers receiving leader in franchise history it solidified my legacy in Green Bay. There were so many great players like James Lofton, Don Hutson, Sterling Sharpe, Antonio Freeman, and Robert Brooks. All those great players played before me. For me to be on top of that list now, that stat stands the test of time.
I know that someday a player might come in and break my record. I hope it never gets broken. I hope it stays there forever. That is the same thing that Sterling and James Lofton thought. Those guys hoped that their record would never be broken. That stood for almost 30 years, but look what happens now. I guy steps in and breaks those records.
You just never know. The way the game is played now those records will be broken. Those are the things that I know I will cherish, the record breaking, the Super Bowl, and the fans.
AE: Two things I want to touch upon from what you just said. One, I appreciate your honesty about your record not wanting to be broken, and two….
DD: Yeah, right. I don't want anyone to break that record. I can be honest about that. (Both laugh.)
AE: Also two, you probably get this a lot with all the catches you had in your career. I want to thank you for your work on the field. You helped me win a few fantasy football championships when I drafted you.
DD: (Both laugh.) You are more than welcome on that.
AE: Tell me about the great work you and the great folks at the Donald Driver Foundation do especially with the "Driven to Achieve Awards".
DD: We started the foundation back in 2001. We wanted to give families the opportunity to have a better life. We created the Donald Driver Foundation to help families in homeless shelters transition from homeless shelters to houses, where we pay subsidized rent for them from six months to a year.
We also came out with a computer scholarship as well as an academic scholarship. We give kids that are either going to a two year or a four year college either a $1000 scholarship or a computer scholarship. They must maintain a 3.0 GPA and they must do community service.
We also started supporting a program called Blessings in a Backpack. We give kids the opportunity to have food on the weekends. We have seven schools that we help supply with that. There is a three year commitment. It only takes $80 to feed a child for the entire school year. So we have been blessed to help over 1,000 kids.
We just launched the "Driven to Achieve Awards." It is something that I came up with to give so many people an opportunity. So many people are doing great things in this world that don't get recognized for what they do. I wanted to take the shine off myself for a while and put a shine on those great people.
We have honored eight great recipients to receive that award this year. We had six local winners from Wisconsin and two national winners. Our two national winners were Gladys Knight and Anthony Robles, the Arizona State wrestler.
It shows you that when you continue to go great things in the community people support you. I have had so much love and so much support throughout this all that I could not have this without all my fans and all my sponsors.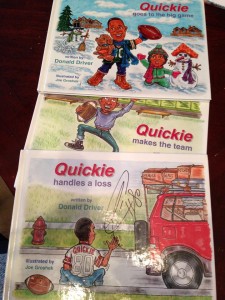 AE: You have written three children's books and another one is scheduled to come out this year. What inspired you to write these books?
DD: What inspired me to write these books was when I was telling these stories to my son when he was two years old. He was lying in bed and kept asking questions. He would ask if I played sports and if I played football. I told him that I play football for a living. At two years old they might not understand that you are playing in the National Football League. I kept on telling him the stories of how everyone kept telling me I was too small to play football. I was too small. Choose another sport. You are going to get hurt.
One of my good friends said that I needed to start writing a children's book. Every kid in the world is going through that. Either their mom is telling them, or their teacher, or a friend is telling, or an older sibling is telling them that. You need to put that in a book so a kid can understand that you can make the team. That is why I created "Quickie Makes the Team." Quickie was a kid that nobody believed in that could play football, but he believed. He tried out for the team and made it. At the end of the book he wins the game for the team.
The second book was "Quickie Handles a Loss." Regardless of what you may face in life, whether it is losing a job, failing a test, losing a loved one in your life, do not let that dictate how you live your life. Continue to strive and move forward. It only gets better. It doesn't get worse.
Then I came out with "Quickie Goes to the Big Game." As an NFL player the greatest milestone for a player is to make it to the Super Bowl. Quickie gets to go with his dad to a place where his dad has been dreaming for a long, long time to go to. That is the Super Bowl. That story is whatever you dream of, continue to dream. Your dream will come true. Dreams come true if you put the effort into it.
The book later this year is "Quickie Handles a Bully." Everyone out there faces a challenge. Whether it is a kid getting bullied at school or an employee getting bullied at work by his boss, every single person is having that issue. I want my kids to know that it is not okay to be bullied. So I put that message in this book. You hurt bullies with kindness. You don't have to fight back unless he or she puts their hands on you. That's why I wanted to create this book. It can be a conversation.