There Are Good Guys In College Sports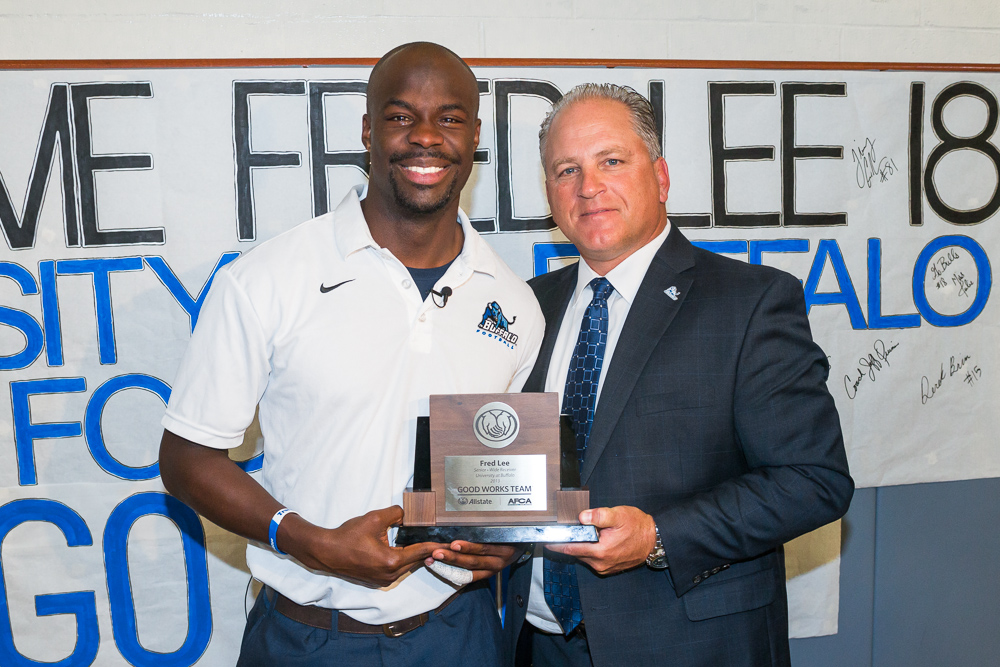 Day after day it seems that there is a new scandal going on in college football. As sports fans we wonder if there is any good that is happening off the field. Well I am here to say yes. There are plenty of noble people out there who are making a difference. It is not just with their athletic ability, but it is also with the positive impact that these young athletes have had on their communities and the lives of others.
Allstate Insurance Company and the American Football Coaches Association (AFCA) today announced the 22-player roster for the 2013 Allstate AFCA Good Works Team.  Recognizing the "good works" of a select group of college football players from across the country, the Allstate AFCA Good Works Team is one of the most prestigious off-the-field honors in college sports.
For more than two decades, the Allstate AFCA Good Works Team has recognized college football players at all levels of the sport for inspiring acts of service and off-the-field achievements. This summer, the program received a record 150 nominations from colleges and universities across the country.  From the nominations, an esteemed voting panel comprised of former Allstate AFCA Good Works Team members and college football media selected 11 players from the Football Bowl Subdivision and 11 players from the Football Championship Subdivision, Divisions II, III and the NAIA to comprise the 22-player team.
"Allstate is thrilled to embark on another year of collaboration with the AFCA, and together honor this group of extraordinary young men for their "good works" in the community," said Cynthia Whitfield, field senior vice president of Allstate's Southern region and a member of the 2013 voting panel.  "As fans of college football, Allstate continues to be inspired by the remarkable performances that take place on-the-field, but equally inspiring are the acts of service that have earned these 22 players a spot on the 2013 AFCA Good Works Team."
The following players have been selected to the 2013 Allstate AFCA Good Works Team:
Football Bowl Subdivision (I-A)
Name                          Cl.        Pos.     School                                     Hometown
Fred Lee                      Sr.       WR      Buffalo                                      Chester, S.C.
Nick Forbes                Jr.        LB        California                                 Frederick, Md.
Jordan Luallen            Sr.       FB       Cincinnati                                Greenwood, Ind.
Dave Harding              Sr.       OL       Duke                                       Orlando, Fla.
Jacob Karam             Sr.       QB       Memphis                                 Friendswood, Texas
Stephen Morris           Sr.       QB       Miami (Fla.)                             Miami, Fla.
C.J. Zimmerer            Sr.       RB       Nebraska                                Omaha, Neb.
Asa Watson                Sr.       TE       North Carolina State               Rock Hill, S.C.
Jeff Budzien               Sr.       PK       Northwestern                          Hartland, Wis.
Eric Soza                   Sr.       QB       Texas at San Antonio             Beeville, Texas
Carey Spear              Sr.       PK       Vanderbilt                                Mayfield Village, Ohio
Football Championship Subdivision (I-AA), Divisions II, III and NAIA
Name                          Cl.        Pos.     School                                     Hometown
Tyler Simmons           Sr.       DE       Aurora                                     Crystal Lake, Ill.
J.D. Mehlhorn             Sr.       DB       Bethel (Minn.)                         Lakeville, Minn.
Curt Duncan              Sr.       PK       Carson-Newman                    Morristown, Tenn.
Ryan Cobb                  Jr.        TE       Delaware                                 Saddle River, N.J.
Miles Williams             Jr.        DB       Elon                                         Roebuck, S.C.
Kevin Rodgers            Jr.        QB       Henderson State                     Rockwall, Texas
David Brackett            Sr.       OL       Kenyon                                     Ahoskie, N.C.
Jordan Sitzmann         Sr.       P          Morningside                            Le Mars, Iowa
Jordan Reid               Sr.       QB       North Carolina Central            High Point, N.C.
Winston Wright            Sr.       DB       South Dakota State               Lee's Summit, Mo.
Bo Cordell                  Sr.       QB       Tusculum                                Cincinnati, Ohio
This year's Allstate AFCA Good Works Team boasts some of the most impressive service resumes in the award's 22-year history.  From building houses overseas, to founding a mentorship program for at-risk youth, to serenading cancer patients at the local children's hospital, this unique group of young men continues to raise the bar for the impact that student-athletes can have on their peers, teammates and communities.
"The AFCA, along with our partner Allstate, has been honoring football student-athletes for their good works, volunteerism and community service for 22 years with the Allstate AFCA Good Works Team," Grant Teaff, AFCA Executive Director said. "The 2013 class of Good Works Team members is another great example of the outstanding athletes, and even better men, that our nation's college football programs produce each year."
Fans can vote for the 2013 Allstate AFCA Good Works Team Captain by visiting ESPN.com and searching "Good Works."  There, fans can learn more about this year's team members and vote for the player who they feel represents the "best of the best" in the areas of giving back and contributing to the greater good of their communities.  The Team Captain and his fellow award recipients will be invited to New Orleans to take part in a community project leading up to the 2014 Allstate Sugar Bowl.
Related Posts
| | | |
| --- | --- | --- |
| | Print article | This entry was posted by Art Eddy III on October 10, 2013 at 4:32 pm, and is filed under Sports. Follow any responses to this post through RSS 2.0. Both comments and pings are currently closed. |
Comments are closed.