Deacon Jones' Wife Elizabeth Refects On Husband's Career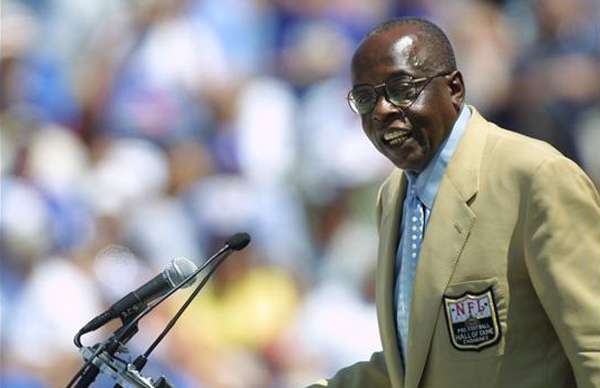 Deacon Jones, former NFL defensive lineman, Hall of Famer, and Orlando Florida football legend, was honored in his hometown community as part of a special program called "Hometown Hall of Famers" presented by the Pro Football Hall of Fame and Allstate. The event took place at Edgewater High School where Deacon grew up. Representatives of the Hall of Fame, Allstate, the Orlando community, and Deacon's friends and family will be in attendance.
Elizabeth Jones, his wife was kind enough to speak with me about her late husband's career, the hometown ceremony and what it means to their family and his legacy.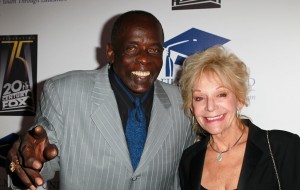 Art Eddy: Can you tell me about the "Hometown Hall of Famers" event that is presented by the Pro Football Hall of Fame and Allstate that is happening in Orlando to honor your husband?
Elizabeth Jones: It is really a great, great promotion. There are so many things that young people can learn about life from my husband. He was always preaching about where he came from and fighting very hard to become what he became and do be the best at what he could be.
So I think that Allstate sponsoring this event and going back to the hometown of these guys is a great educational tool. Hopefully it will not only promote the Hall of Fame, but it will be inspirational for some of the kids, if not all of them. Maybe it will push them to go into life and do good things.
AE: This is a great honor and I know Deacon would appreciate this event. What does this ceremony mean to you to honor Deacon's legacy?
EJ: So many thing have happened since he passed away. He was honored for things when he was alive, but since he has passed away there has been so many accolades and honors. Seeing now how much he was loved and really respected and how he helped out many people's lives in ways you don't even think about when he was alive is amazing to see.
I think he would be very, very pleased. I think for his legacy to continue in the place where he grew up would be especially poignant to him. As you know in the times in which he grew up are quite a bit different than they are now. Often times I think young people don't know it or they forget about it. I think that it would be a lot to him for them to maintain that knowledge and understand how far they come and what it means now.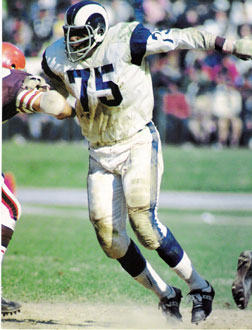 AE: Deacon had a very long list of accomplishment and accolades. What motivated him while he was playing in the NFL?
EJ: What motivated him more than anything else was where he came from and the times in which he grew up. Nobody thought that he could make it. Nobody gave him credit for being as good as other white people. You are well aware of the circumstances and it really annoyed him so much. It motivated him so much to prove to the world that he was not only as good as, but better than.
People in hometown believed he was a dreamer and he would never accomplish his goals. They thought his goals were something that wasn't accomplishable. He just refused to accept that. He would not accept the fact that he was lesser than anyone else. What also motivated him was anger. A lot of anger. It served a purpose for him.
AE: What do you think was your husband's greatest moment in his phenomenal career?
EJ: I think for him the greatest moment was when he was inducted into the Pro Football Hall of Fame on the first year of his eligibility. That was validation for him. You know that my husband was a very in your face kind of person. So that was a big deal to him. Getting into the Hall of Fame meant the world to him. People thought that he couldn't do it, but he felt like well here I am.
That was a huge accomplishment for him. When he started playing football in the NFL he never played to be a Hall of Famer. It wasn't a consideration. The fact that he was not only a Hall of Famer, but he achieved that in his first year eligibility was a great moment for him.
AE: Tell me about the Deacon Jones Foundation and the many great things your organization provides.
EJ: Deacon often said that he wouldn't know what his life would have become if he didn't get the opportunity to go to a good school and to further his education in ways some others don't get to. He wanted to give young people the opportunity and really level the playing field.
In terms of the Deacon Jones Foundation it was much more than a scholarship situation. We look to mentor them. We get them involved with corporate America. We introduce them to people in business that can mentor them as well. We teach them about giving back to their community. One of the things that Deacon wanted was to make sure these kids wanted the education we provided for them and give back to their community.
It is a very hands on program with a lot of different aspects to it. Primarily it was created to create leaders in the community and be able to help those in need.
AE: I know Deacon did a lot work with the military. What are some of the things beyond football you want people to know about Deacon?
EJ: Oh my gosh! He was so impressed with the soldiers. He went to Iraq and that scared the devil out of him. When he went to Iraq and saw the risks that these young people were taking. He loved the military beforehand and the fact that people would go into battle for thing that they believed in. It affected him very deeply. The last trip he took in Iraq made him want to be more involved in helping the military.
Deacon was really unique. He was big, bad, fierce, and tough. He was also the sweetest, warmest, and most caring person in the world.
Related Posts
| | | |
| --- | --- | --- |
| | Print article | This entry was posted by Art Eddy III on September 25, 2013 at 7:35 am, and is filed under Sports. Follow any responses to this post through RSS 2.0. Both comments and pings are currently closed. |
Comments are closed.