Videos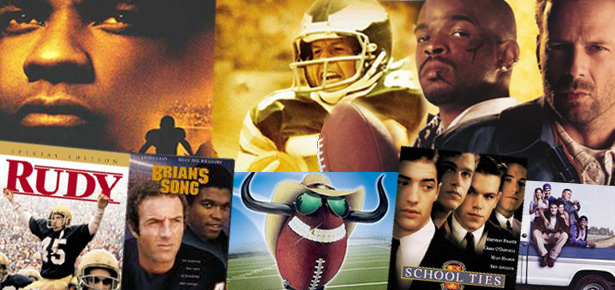 Who doesn't love football movies? They're packed with real action and genuine inspiration. They're filled with raw emotions and extended montages. Football movies can change your life. They can teach you about love, teach you about success and they can even teach you a thing or two about yourself. Here are the top 25 football movies of all time, in order of awesomeness:
25. The Blind Side
To be honest, this movie sucked. Yea, I said it. The film portrayed Michael Oher as a jumbo moron whose super-sweet, inner-city innocence was matched only by his inability to comprehend the purpose of blocking. The whole thing just felt so exploitative on too many levels. But hey, Sandra Bullock won an Academy Award for that accent, and that should count for something.
24. Heaven Can Wait
It's hard for this generation to remember what a badass Warren Beatty used to be (it's also hard to remember that the Rams once hailed from Los Angeles). This movie has to be one of Kurt Warner's favorites – it's got the Rams, the romance, an injured QB, a dude who uses his millions to do the right things and lots of angels and heaven and other Christian stuff.
23. Radio
Yea, Radio made the list. But why not, right? Ed Harris is a coach who really cares about football and making a difference. Cuba Gooding Jr. is a special person who loves listening to his radio and overcoming adversity. Spoiler alert: Ed Harris retires from coaching in the end, thus showing he cares more about making a difference than he does about football.
22. Lucas
Lucas is Corey Haim's hit flick about geekiness, romance and how it all ties together with football. Haim is the weakling who can't defend himself. Charlie Sheen is the standup captain of the football team who protects Haim. Everything changes when new girl Kerri Green arrives at school and the nerd and the jock battle for her affections.
21. Jerry Maguire
This movie seems kinda dated now. Although it's starting to be okay to like Tom Cruise movies again, it's hard to think back to a time when Renee Zellweger was attractive and Drew Beldose was the biggest thing in the NFL. Gushy love story and annoying spiky-haired kid aside, this film is still a worthy addition to the list.
20. The Waterboy
May not have much rewatchability, but this movie served its purpose. It was the gridiron Happy Gilmore, and it accomplished what it set out to do. Before The Blind Side melted people's hearts, this film was the highest grossing sports movie of all time. Seriously.