Bret Freemyer
This user hasn't shared any biographical information
Posts by Bret Freemyer

Anderson Silva vs. Chael Sonnen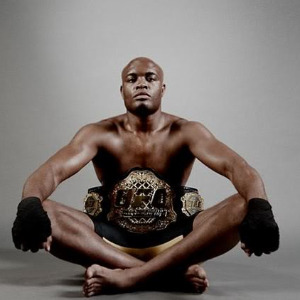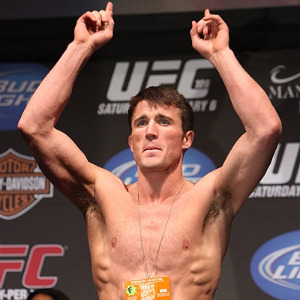 UFC 117 takes place this Saturday from the Oracle Arena in beautiful Oakland, California. The main event features Anderson "The Spider" Silva defending his middleweight (MW) title against Chael Sonnen. Silva has won 12 straight and this will be his 10th UFC fight as the MW champ. Sonnen's mouth will be entering the octagon far ahead of him, following weeks of verbal abuse directed toward the champ. He even went as far as to proclaim that "Silva is the champ, but I'm the best." Not wise considering Silva has destroyed UFC fighters more brutally than this fat kid demolishing McDonalds. First he'll play with you a little, then he'll friggin annihilate you like like a helpless McNugget. Just ask Rich Franklin and Forrest Griffin how it feels to fight the Spider.
Here's the promo vid:
Jon Fitch vs. Thiago Alves
The co-main event is a welterweight match featuring Jon Fitch and Thiago "The Pitbull" Alves. The winner presumably will fight the winner of George St. Pierre and Josh Koscheck following their match at the conclusion of this season of The Ultimate Fighter.  Fitch has been on a tear in the UFC, posting a 12-1 record with a victory over the Pitbull already. His only loss was at the hands of St. Pierre, and a rematch would be well deserved with a victory. Alves will be looking to avenge a 2006 loss to Fitchand get back to winning after a loss to St. Pierre, injury and a year outside the octagon. Here's the preview for the rematch: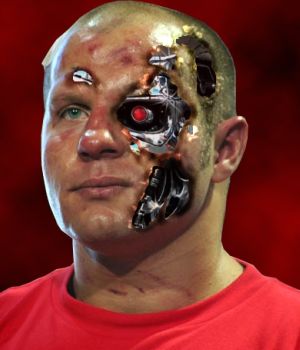 Fedor "The Last Emperor" Emelianenko is considered a nice guy by most accounts.  The soft spoken Russian would also rip your heart out of your chest if he needed to. The most prolific fighter in heavyweight (HW) mixed martial arts history returns to the Strikeforce cage June 26th in San Jose, California.
Having already defeated champions the  likes of Andrei Arlovski, Tim Sylvia, Mark Coleman, Mirko CroCop, and Antonio Rodrigo Nogueria, most expected (and prayed) for him to sign with the UFC.  Unfortunately, a deal could not be struck between the UFC and M1-Global, Fedor's management team who co-promotes all his fights.   So we are forced to see him fight against guys who aren't talented enough for the UFC.  This week he faces off against Fabricio Werdum who has lost to two fighters Fedor has already defeated.  Should be fun!
See some highlights of Fedor here, him fighting 7'6'' Korean Hong Man Choi, and Kevin Randleman slamming the shit out of him, and Fedor submitting him a minute later.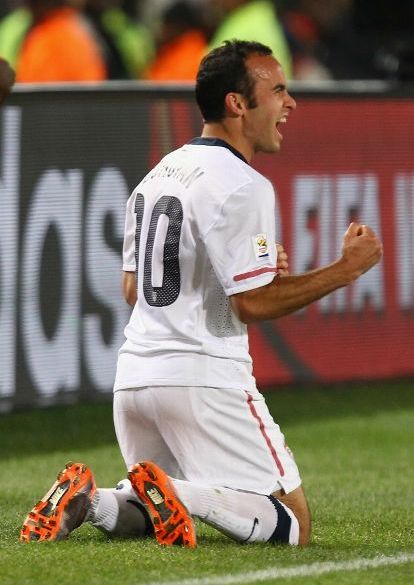 It was over…it was all over. The Americans were done. Fielding the most experienced and talented team in their history, they should have been going home early. Needing a win to advance out of group play and into the round of 16, the USA looked like they were headed for another disappointing draw and a plane ride home.
For 90 minutes the U.S. national team peppered the Algerian goalie with chance after chance, putting 7 shots on goal and having one disallowed on another bogus call. Here's the clip (in German). Then in the 1st minute of extra time, following a Tim Howard save, his Everton teammate Landon Donovan started the counter. He pressed the right side of the pitch, laid the ball to Jozy Altidore whose cross found Clint Dempsey's foot, then bounced off the keeper. Donovan was waiting, stalking the play from behind and put the ball in the back of the net for the most improbable and memorable goal in the World Cup to date. The leading scorer in U.S. history, Donovan emphatically solidified his spot as the country's greatest player as well.
It was another late goal in a year of late goals for the cardiac kids. During the World Cup and qualifying, the U.S. has twice as many goals in the last five minutes than any other team in the world. The Yanks claimed the top spot in the group with 5 points and advance to the round of 16 with England (5 points as well, but less goals than the U.S.), who bested Slovenia 1-0 to earn second in group C.
It makes you proud to be an American, fuck yeah!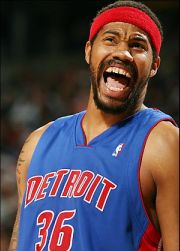 Love him or hate him, Rasheed Wallace is always television gold. His highlights include throwing balls at teammates while they give interviews, not fearing the referees, scoring on himself, , and what may be the only case of someone being tossed for not saying anything. Call me crazy, but I love seeing him fly off the handle, especially on obvious foul calls. He led the league with a whopping 17 technical fouls this year despite only playing 22.5 minutes per game. Imagine if he actually played the whole game! His trademark moves include screaming, making puzzled faces, throwing headbands and/or towels, and creating general disarray. Here are five things I would pay to see Rasheed flip out about.
5. In honor of the World Cup: Someone blowing a vuvuzela in his ear
How could you not wanna see this??? Imagine 'Sheed is napping, and his annoying neighbors just came back from South Africa with a new present! I see this playing out as a combo of 'Sheed breaking the vuvuzeka over the person's head, or sticking it up his neighbors ass (the wide part) and playing it until the person's head explodes. Either way we win.
4. Returning an overdue book at the library
A sanctuary of silence, where else would be a better place to see him flip his lid? I could see him now, knocking down stacks, scaring kids and homeless people, or just yelling at a librarian until she cries. Yes, Yes, Yes!
3. 'Sheed drunk and stealing someone's prosthetic leg to play catch with it
Oh shit, I forgot that this already happened. My bad.
2. Getting short tipped as a waiter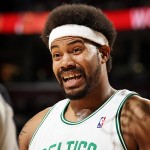 The local Denny's crowd isn't happy with their service, so a table that just spent $50 only end up giving him a dollar, three nickels, and pocket lint for a tip. When 'Sheed discovers his "tip," Moons over my hammys starts flying, plates get broken over the bus boy's head, and old people start stroking out. As 'Sheed is dragged off the premises, we still hear him yelling, "I refilled that asshole's drink three times!!!!…..THREE TIMES!!!" Imagine if the movie "Waiting" featured 'Sheed? This clip might of killed you with laughter instead of boring you to death.
1. Having a paternity test read on Maury Povich
What I would give for this! The crowd boos him more furiously than any other guest in history right? As Maury stays stoic and calm, 'Sheed yells, "that ain't my kid! He ain't got my bald spot! Maury prepares us for the truth and calmly says, "Rasheed, you are not the father!" 'Sheed jumps out of his chair and delights the stunned crowd with the Carlton dance.
Uh-o. The game that changed the game is back, son!
If you're like me, all you remember from 1997 is roaming around in the complex and just hoping that a bunch of proximity mines don't blow Baron Samedi's face off.  This game caused more fights amongst friends/controllers being thrown about more than any game in history. Especially when someone wants to be Oddjob because he is so damn small and hard to shoot.
This game was a classic for it's one-of-a-kind, epic multiplayer action. Who doesn't love a good knife fight? The new trailer for the Wii version made it's E3 2010 debut this week.  Let's hope that it lives up to it's predecessor and isn't thrown together halfheartedly.
If you've never seen the original (then you're probably a liar, but just in case), here is a good review:
<object width="640″ height="385″><param name="movie" value="http://www.youtube.com/v/wfbq7O0vg7k&hl=en_US&fs=1&"></param><param name="allowFullScreen" value="true"></param><param name="allowscriptaccess" value="always"></param><embed src="http://www.youtube.com/v/wfbq7O0vg7k&hl=en_US&fs=1&" type="application/x-shockwave-flash" allowscriptaccess="always" allowfullscreen="true" width="640″ height="385″></embed></object>

With most teams content to sit back and play it safe during their opening match, early goal keeping play has been the deciding factor in many matches. Here are the top five stories to date:
5. General Miscues
Blame it on the wet and cold conditions (it is winter in South Africa) or the new "Jubalani" ball, but most keepers haven't looked very sure handed. As the case with every new ball, they are designed to travel faster and provide more offense. See the Jubalani in action:
4. Buffon Done?
Widely considered the top goalie in the world, Gianluigi Buffon may miss the remainder of the cup with what is being called a serious back injury. He said after the match that his sciatic nerve flared up and expects to return. Without him, Italy will be crippled in the back, literally. See his best work here (be warned it's set to Evanescence, so we suggest having someone blow a vuvuzela in your ear, or simply muting it):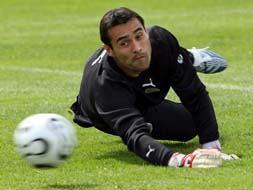 3. Paraguay's Justo Villar's Whiff
In the 63rd minute and up 1-0 on the favored Italians, Villar makes an inexcusable whiff on the ball, allowing Daniele Di Rossi to equalize. Being the top two teams in the group, Paraguay should not have allowed this win to get away: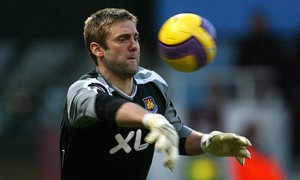 2. Green's Blunder
It's not on the same level as Bill Buckner, but its pretty damn close. However, it would make a great Southwest Airlines commercial: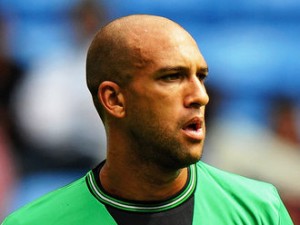 1. Tim Howard's Dominance
The man of the match vs. England had five saves and took Emile Heskey's boots to his ribs midway through the opening half. Following a painkiller injection at halftime, he stifled the British attack again and again allowing the Americans to secure a much needed point. If the Yanks expect to make it out of group play, they will need him to look good every match. Check out the video of his post-match interview.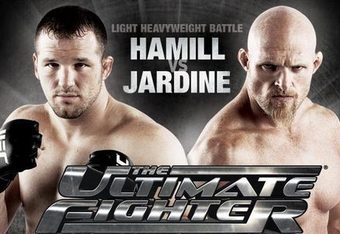 It's going down June 19th at the Palms Casino in Vegas. Here's a breakdown of the fights.
Always a crowd favorite, "The Hammer" is coming off his "victory" over Jon Jones at the last TUF finale.  His always-improving stand up game is backed up by his solid wrestling background.  Look for him to box initially to set up takedowns for his ground and pound.  Jardine "The Dean of Mean" is coming off three straight losses to some of the LH division elites (Rampage Jackson, Thiago Silva, and Ryan Bader).  His unorthodox style of striking can present issues for his opponents and his keys to victory are avoiding takedowns while utilizing effective leg kicks as he did versus Chuck Liddell.
McGee, the now clean former heroin addict, used his grinding never-say-die attitude to surprisingly earn a spot in the final.  As an underdog during most of his fights on the show, he earned a clear win over the talented Brad Tavares in the semi-finals and also owns a win over former TUF 9 member DaMarques Johnson.  He proved that he can stand and bang or take the fight to the mat.  McCray's season looked to be over after losing to Josh Bryant early, but an injury gave him a second chance at Bryant in the other semi-final.  Following new coach Rich Franklin's advice for preserving energy, the seemingly always gassed McCray got his revenge and narrowly edged Bryant.  But can he do more than his standard thai clinch knee and lazy uppercuts?  Lets hope so, but look for McGee to emerge victorious.
Other Fights
The A-Train looks to continue his undefeated ways.  The former Arizona State All-American wrestler in 1996 & 1998 got a late start in the UFC, but is making up for lost time.  Leben, a former TUF cast member, is polarizing as they come.  He is most famous for urinating on people's beds, getting busted for steroids, being on the receiving end of Anderson Silva's fists and knees, and pretty much the most awesome tattoo in the world (a samurai holding a bloody katana and a decapitated head).
"The King" appears to be regulated to a lightweight division gatekeeper, while the Russian-German Siver is worth watching for his famous spinning back kicks/punches.
After UFC 115, Dana White made it clear that the Iceman is done. In this solid interview from Fanhouse's Ariel Helwani, Dana talks about Chuck being finished for a second time, Pat Barry's man crush on Mirko Crocop, his frustrations on having no control over terrible officiating, Strikeforce still being minor league, and James Toney/Jake Shields contract updates:

Four years ago this would have been hyped as the fight of the decade in MMA.  In 2006, Chuck "The Iceman" Liddell had a tight grip on the light heavyweight (LH) division (205 lbs.) after wins against the likes of Randy Couture, Tito Ortiz, and Renato "Babalu" Sobral. Rich "Ace" Franklin had the middleweight (MW) crown (185 lbs) before "The Spider" Anderson Silva began his current annihilation of the division.
Fast forward to 2010 and the newest installment of the Spike TV series "The Ultimate Fighter" with coaches Chuck Liddell and Tito Ortiz renewing their rivalry in hopes of completing their trilogy of fights. Oritz, looking for his first win against Liddell, was surprisingly the first coach to ever be fired by Dana White after having to pull out of the Liddell fight during the ninth week of taping due to a recurring neck injury that will require surgery and rehabilitation. Chuck took it in typical Chuck fashion. Here's the video.
In stepped Franklin to coach the final week of the TV series and fight Liddell. The previously iron-chinned Liddell had been brutally KO'd by Quinton "Rampage" Jackson, "Sugar" Rashad Evans and current LH champ Mauricio "Shogun" Rua in his recent 1-4 slide since beating Ortiz in 2006.  Ace, after being taken behind a woodshed and beaten to near death twice by "The Spider," moved up to the LH division looking for new competition.
Though not the sexy match up that it would have been years ago, it was still tantalizing enough to be the main event of the evening.  Liddell controlled the opening round with precise boxing and great kicks, one of which broke Franklin's arm just a minute into the fight while he was attempting to block the high blast.  Franklin later recalled during his post fight interview with Joe Rogan that his busted limb was clicking and took him out of his game a little, but there was no chance of him not answering the bell for the second round.
It turned out he never had to worry about it, as Franklin landed a short right counter hook on the chin sending the overextended Liddell down to the canvas and out to the hospital with just five seconds remaining in the opening round. Next up for Ace should be a bump in competition in the crowded LH division with possibilities being Forrest Griffin, Rampage Jackson, Thiago Silva or Antonio Rogerio Nogueria.  As for Liddell, who has lost five of six and looked every bit like a 40-year-old fighter, hopefully retirement.
Check out the post-fight interviews.