Sports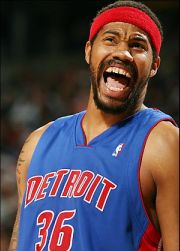 Love him or hate him, Rasheed Wallace is always television gold. His highlights include throwing balls at teammates while they give interviews, not fearing the referees, scoring on himself, , and what may be the only case of someone being tossed for not saying anything. Call me crazy, but I love seeing him fly off the handle, especially on obvious foul calls. He led the league with a whopping 17 technical fouls this year despite only playing 22.5 minutes per game. Imagine if he actually played the whole game! His trademark moves include screaming, making puzzled faces, throwing headbands and/or towels, and creating general disarray. Here are five things I would pay to see Rasheed flip out about.
5. In honor of the World Cup: Someone blowing a vuvuzela in his ear
How could you not wanna see this??? Imagine 'Sheed is napping, and his annoying neighbors just came back from South Africa with a new present! I see this playing out as a combo of 'Sheed breaking the vuvuzeka over the person's head, or sticking it up his neighbors ass (the wide part) and playing it until the person's head explodes. Either way we win.
4. Returning an overdue book at the library
A sanctuary of silence, where else would be a better place to see him flip his lid? I could see him now, knocking down stacks, scaring kids and homeless people, or just yelling at a librarian until she cries. Yes, Yes, Yes!
3. 'Sheed drunk and stealing someone's prosthetic leg to play catch with it
Oh shit, I forgot that this already happened. My bad.
2. Getting short tipped as a waiter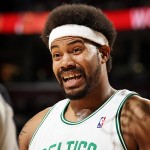 The local Denny's crowd isn't happy with their service, so a table that just spent $50 only end up giving him a dollar, three nickels, and pocket lint for a tip. When 'Sheed discovers his "tip," Moons over my hammys starts flying, plates get broken over the bus boy's head, and old people start stroking out. As 'Sheed is dragged off the premises, we still hear him yelling, "I refilled that asshole's drink three times!!!!…..THREE TIMES!!!" Imagine if the movie "Waiting" featured 'Sheed? This clip might of killed you with laughter instead of boring you to death.
1. Having a paternity test read on Maury Povich
What I would give for this! The crowd boos him more furiously than any other guest in history right? As Maury stays stoic and calm, 'Sheed yells, "that ain't my kid! He ain't got my bald spot! Maury prepares us for the truth and calmly says, "Rasheed, you are not the father!" 'Sheed jumps out of his chair and delights the stunned crowd with the Carlton dance.