Brett Favre News – The Third Tri-Annual Retirement Announcement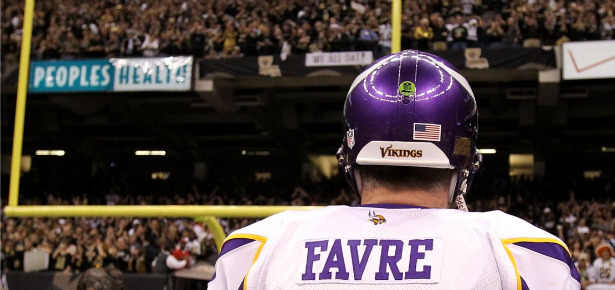 Oh my god, Favre retired again. And this time, it's for reals, yo. Well, maybe it's for reals. No one can really be sure. He says his ankle is all messed up. I can believe that. Look at how nasty his shit was after the NFC Championship game: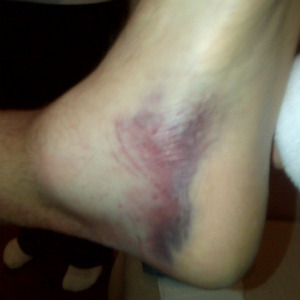 Gross, dude. The guy got offseason surgery to try to fix that mess, and according to Favre, his ankle isn't responding as well as he'd hoped. So now he's going to hang 'em up and let the Tavaris Jackson era begin anew in Minnesota.
How can we believe this guy? He could say anything – my wife left me, I hate Wrangler jeans, I'm definitely playing, I'm definitely not playing – it doesn't matter. We don't believe him. We don't believe a single word that comes out of his scruffy, graybeard pie-hole.
And why should we? He's lost all credibility. Back in 2006, this guy was getting standing ovations in Solider Field as a sign of retirement respect from Bears fans. He ended up coming back for the 2007 season. In March 2008, Favre announced his first annual retirement and cried like a little girl for the people of Green Bay. Remember all those tears?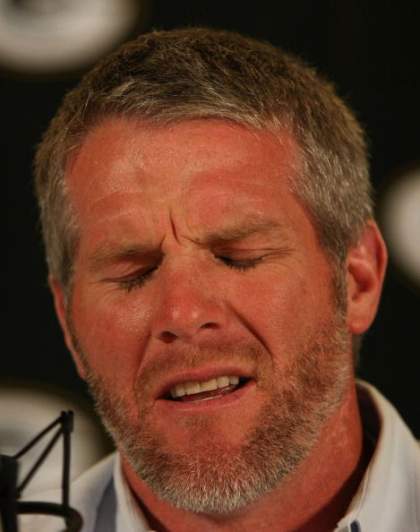 By July, Favre was itchin' to come back to the team, but the Packers had moved on. Green Bay was committed to new starter Aaron Rodgers, but the team wanted to keep Favre from going to Minnesota. The Packers ended up filing tampering charges against the Vikings and Favre wound up being traded the Jets. After a promising season ended with string of losses and a bum shoulder, Favre's time with the Jets was over. He retired for the second time in Februrary 2009.
In June 2009, Favre threatened to unretire again. By July of 2009, he told the Vikings he was staying retired. He signed with the team the next month. Favre went on to have the best season of his career. Now it's August and he says he's retiring again.
There's an old saying in Tennessee…
So we'll believe this retirement mumbo jumbo when Favre is put down for good. If the guy still has legs and at least one arm, he's a threat to show up and play. The Vikings are prepared to give Favre more time, money, women, tractors, sizzurp – whatever it takes – if he'll just unretire for a third time.
Favre's old teammate, LeRoy Butler, broke it down nicely on a recent radio appearance with former NFL player Tom Waddle:
"I actually feel sorry for the guy because he can't do like we do," Butler said. "I've always said, from the day when he cried in front of the media in Wisconsin and retired, the guy is a football player. He's not good at anything else."
It's true. Favre is really, really good at playing quarterback in the National Football League. I give him 3-4 weeks before he realizes that and shows up in Minneapolis wanting back in.
Related Posts
| | | |
| --- | --- | --- |
| | Print article | This entry was posted by Chris Stout on August 3, 2010 at 1:04 pm, and is filed under News, Sports. Follow any responses to this post through RSS 2.0. Both comments and pings are currently closed. |
Comments are closed.