Matty Byloos
Matty Byloos attended Santa Clara University (BA 1996) and the Art Center College of Design (MFA 2001). His first collection of short stories, Don't Smell the Floss, was published in 2009 by Write Bloody Books; Byloos is an accomplished painter with a history of exhibiting both nationally and internationally. He runs the environmental blog Easy Ways to Go Green. Follow him on Twitter here: Matty Byloos Or on his personal site here: Matty Byloos Official Site
Posts by Matty Byloos
This is another one of those roundup list style posts wherein taste and subjectivity will vary wildly like a rabid dog, with one camp saying, are you kidding me? You included that? Or, WTF? You didn't include Pink Floyd's The Wall? Are you a freakin' zombie? But the truth is, these are among the best in my opinion, and I don't think I'll be alone here in listing these five, and I'll offer as a caveat that it was probably stupid in the first place to try to narrow it down to five, so the hell with it. Here's five. Don't like 'em? Make your own damn list next time.
1) Martin Scorsese's The Last Waltz
Whether or not you like the music is almost totally a non issue. So what if you've never painted a house and you have no idea how to appreciate "classic rock" which is pretty much besides the point. You know Bob Dillon. He trumps all musical styles. He's a friggin' icon for chrissakes. Anyway. When he finally put together a back up band after going electric, his band was called The Band. You should take that to mean exactly what it sounds like. So good, they should be referred to as The Band, as in, The Only Band. Anyway. They put together a final show after touring for nearly all their lives, and invited many of their friends and coincidentally also musical luminaries of the sixties and seventies to come up on stage and join them for a tune or two. The Last Waltz was filmed amazingly by Martin Scorsese. 1978. 117 minutes.

2) Straight, No Chaser: Thelonius Monk
Jazz enthusiast or not, those cats from decades past were from another planet, and film absolutely loves them. Too bad you weren't around to visit a Harlem night club in the fifties or sixties, or even better, to have visited Paris to see some expatriates play to a crowd that was actually smart enough to try to understand what they were doing and maybe even appreciate it. Produced by Clint Eastwood of all people, this fine documentary is also (bit of trivia here), the origin of Fenster's line, I'll Flip Ya, I'll Flip Ya Fo Real, from the movie which you probably are a fan of, The Usual Suspects. Shot in black and white, and totally compelling, based on the life and concerts of the jazz great, Thelonius Monk. 1988, released in 1990. 90 minutes.

3) I Am Trying to Break Your Heart, Wilco
Some of you may not be fans, and some of you might not even have ever heard of Wilco. My guess is that a lot of you will know of them, maybe know only a bit about their music, but maybe never have seen this masterwork of cinematography. In this film, first-time filmmaker and award-winning photographer Sam Jones documents the recording of Wilco as they write, record and produce their album, "Yankee Hotel Foxtrot." In the process, singer Jeff Tweedy deals with vomiting and migraines, guitarist Jay Bennett pulls a diva move (open to interpretation) and quits the band, and the record company essentially backs out of the deal while handing the completed album, rights and all, back over to the band. A real story of musical beauty and creation, with, again, unreal film-making talent behind it. And literally some of the most gorgeous opening film credits ever put on to a screen. 2002. 92 minutes.

4) Dig! Featuring the Dandy Warhols and the Brian Jonestown Massacre
Footage shot over 7 years, comparing what essentially amounts to the two roads that any contemporary musician has to choose from when taking the rock walk into wherever it lands them. Mostly narrated by Courtney Taylor-Taylor of The Dandy Warhols, the documentary called simply Dig! chronicles these two bands, and their messianic lead singers, as they descend into drugs and madness on the one hand, and pop star celebrity on the other. Anton Newcombe, lead singer of the BJM, is among the most interesting and somewhat tragic figures in recent music history, if you buy into that kind of thing. Darling of record A&R people but never quite tipping over beyond cult and insider status, the Brian Jonestown Massacre developed a reputation for mayhem that was beyond well-deserved. On the other hand, the Dandy Warhols seemed to figure something more practical and constructive out about being in a band and living a life — it's up to you, the viewer, in the end, to decide which road leads to the more interesting music. 2004. 107 minutes. Directed by: Ondi Timoner.

5) The Clash: Westway to the World
Joe Strummer should be your idol if you are making music, I don't care what kind. Deep without being pretentious, punk without trying, an icon in his own right with so much humility and clarity and self awareness. The story of The Clash is like a lot of stories of bands coming together and falling apart, only most of those other bands were never as good as The Clash, either as individual musicians or as a collective. For those of you who came to punk music through American versions, or merely starting and stopping with the Pistols, educate yourself and see exactly what was going on back in the late '70s in the UK. Westway to the World is way too interesting to miss, and chock full of DVD extras when you buy or rent. Don Letts, director. 2000. 79 Minutes on the UK Director's Cut.

Yes, yes, yes. No docs on the Rolling Stones, no inclusion of No Direction Home or Spinal Tap or The Wall or The Kids Are Alright or We Jam Econo or The Sex Pistols or The Ramones or even Woodstock. Sorry. I think if I had to narrow it down to just five, and five that I would want to watch over and over and over again, that's my list. Would I rather give you 25? Yes. But it would take way too much time. Trust me.

If you're a dude (and I am guessing you most likely are or will easily be able to tell that you are not), then it is safe to assume that you know MMA. Mixed Martial Arts has seen explosive and exponential growth, sustaining this unprecedented run in terms of both eyeballs in the stadiums and on tv, as well as financially, given the monetary prowess of the now-institutional UFC, or Ultimate Fighting Championship.
As with all trends in sports, there are standout moments. The defining heroics and antics that stand out in short-term history, whether for water cooler gossip or long-term holy shit moments. If the sport ends up making it for the long term, and this will only happen if UFC single-handedly corrects the ills that led to boxing's tragic downfall, then we just might be talking about some of this stuff for the long haul. But only time will tell. These appear numbered below, but not necessarily "ranked" in priority or meaning.
5. Ginger Fighters
Not gonna' lie. My sister and I have a lifelong fascination with Gingers. This did not start with the onset of South Park, either. This is a much weirder deal. Now if little red headed freckled people are singled out and considered sissies as children, then MMA would surely end up being a likely safe-haven for them once they reach early adulthood. And the UFC, being the pinnacle of organized MMA at this point (and into the foreseeable future, thankfully), did its part to salute Gingers everywhere, just about chopping the head permanently off the rumor that redheads can't fight. Season 3 of The Ultimate Fighter featured grudge-match coaches Tito Ortiz and Ken Shamrock going toe to toe, but what really stood out about that season (spring/summer '06) were the fighters, which included among others: Michael Bisping, Kendall Grove, Matt Hamill, and of course, ginger Ed Herman. This Team Quest member, Pacific Northwest native, redhead fights in the 185-lb. weight class and excepting the injury that has sidelined him recently, Ed "Short Fuse" Herman is a complete and total badass. Although Kendall Grove ended up taking the TUF season finale, all three judges scored the fight 29-28, very close, and Dana White granted Herman, the loser in this case, a 6-figure deal as well.
4. Vegans in MMA? WTF?
You'll have to excuse yourself for thinking about eating beef in terms of a training regimen, and MMA practitioners. It's just not the case every single time. Far be it from you and I to understand how a Vegan of all personalities and persuasions, could make the leap up to UFC caliber fighting. But again, the Ultimate Marketing juggernaut that is The Ultimate Fighter Reality Show produced just such a spectacle for its ongoing PR campaign in TUF Season 6, in the form of lightweight fighter Mac Danzig. Now I am sure I'm not the only one who has been a bit disappointed with Danzig's performance since joining the pro ranks of the UFC, but he is a confident, capable fighter who might just be temporarily missing that "x" factor that makes a champion. Still worth the watch, for sure.
3. TUF as a Franchise: The Only Reality TV (Barely) Worth Watching
The Ultimate Franchise: a reality television show that extends and controls the brand, introduces brand new personalities to its audience, and shows the true struggle in terms of training and living that these fighters go through in order to be the real athletes that they are before they step in the cage — that is The Ultimate Fighter. I don't think that cage fighting could have become what it is today without this television show. Sure, rules and regulations have made the sport something beyond just blood and gore to talk about the next day at work. Creating a shift in perception that is monumental? Leave that up to tv — and Dana White nailed it with this one. Just enough of the at-times locker room toddler bullshit, and right before you get sick of some of these occasional idiots' bravado, you get to see them fight. I don't care for watching people argue, or trash talk, or puff themselves up with lofty ideas of becoming champions. What I care about is picking a winner, developing an appreciation for a fighter's craft, and watching them grow into true professionals. And there is all that and more on TUF.
2. Throwdown Cage Bed for Kids? Kidding?
When you are looking to build a paradigm-shifting enterprise, then any smart marketer knows you start somewhere in childhood, and you go no-holds-barred. Which is why one look at the Throwdown cage bed for kids will have the most savvy understanding just where this new bed-cum-training accessory is coming from. It's pretty much like a fun-style bed, think "racing car bed form for toddlers," and then throw it up on steroids and have its father beat the holy hell out of it when it's just a little toddler bed. Which we have before now, always referred to simply as "a crib." That's right. We're forced now to retrofit our language as we evolve as humans, thanks to MMA. Your infant's crib is a four-sided cage, and when the little hooligan grows up just a little bit, you're gonna' do nothing more than double the amount of walls he will be surrounded by. Octagon, baby. Don't ever look back.
1 Old School Vs New School Shit Talking: Gracie vs Hughes
I'm guessing I'm not alone when I tell you that as a television personality and a fighter, I don't like Matt Hughes. I don't know what it is, but his arrogance, regardless of his wealth of talent, just rubs me the wrong way. Now were I to meet him in real life, maybe he's a great guy. I could see a ton of integrity and grit. I have nothing against him personally, I don't even know him. But in terms of the entertainer aspect that I do know of him, I don't like him. So when the grudge match went backwards through history, and no one other than the father of the sport was called out, Royce Gracie, there seemed to be a lot on the line there. I only wish, as I am sure many other do too, that these two fighters had met in their prime. To watch old bouts of cage fighting, with round robin tournaments and fewer rules and no weight classes, Gracie practically put the first iteration of the sport on the map, without any help from anyone else. Playing up the historical aspect of the brand was one of the greatest things that Dana White and UFC could have done. Genius marketing, to be sure — but marketing that works well typically has a great product behind it. And in this case, heck yes.
The bottom line here is that the UFC has made a good product a great one, through marketing. And in a very basic light, the lynchpin of their marketing strategy has been to link up MMA and its constituent parts with other areas of popular, contemporary culture: vegan eating habits and politics, reality television, raising children to succeed as athletes beyond known levels and at any cost. Continued growth will require a consistent parallel development where new viewers are given reasons to watch these pure athletes go up against each other in a cage that shows off how one combination of fighting styles might just be superior to another similar combination that is not exactly the same.
(Images Via: Sherdog, Sherdog, Bloody Elbow)

For die-hard New York Yankees fans the world over, trying to put a list like this together is a ridiculous task. What the heck are you supposed to do? It's the stuff of nightmares, to be honest. What about this guy, what about that guy, better change up the list version, add another modifier, etc. Nightmares, I tell you. So — here was my list of solutions: narrow it down to the modern era. Like that's gonna' help much at all. Oh well. Second, don't make it about hitting or pitching or Gold Gloves or All Star nominations, etc. Make it about clutch players, the whole diamond over. Still, this is by no means a small feat.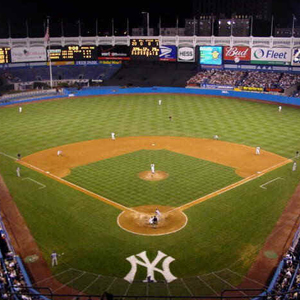 Here's my list of a few top Yankees, all playing in the modern era, all doing what they do to contribute in the clutch moments of the game, the season, the Series. That means biggest saves of all time. That means multiple home runs in the post season. That means home run records and super high RBI production. That means bottom of the ninth walk off hits like we Yankees fans have come to depend on. So here goes; Top 5 Clutch Yankees.
5) Reggie Jackson
The ego and brazen nature of the icon who is known as Reggie Jackson was not always a Yankee, no. We know this. And yet, you'd be hard pressed to try not including him in a list of this nature. Flash back: 1977 is the year. It's October, a month for which this man was ultimately nicknamed. And why? Well, figure it out. If it's hard enough to hit a tiny little ball coming at you from close range at nearly 100mph, then try to up the ante and do it when the entire title is on the line. That's what he's known for. Three home runs in a single game of the World Series? Notches in the belt also include 5 World Series titles, inclusive career-wise (two Yankees in that list), fourteen All Star game appearances and a spot at lucky number 13 on the all-time home run leader list, with 563 homers.
4) Mariano Rivera
Don't argue. Like a dog, I will tell you to go and lay down in your bed if you choose to argue. This is the single greatest closer in all of baseball, perhaps in all of the history of the game of baseball. Sure, they rack up stats that count to some people, saves, strikeouts, memories. Whatever. You want offense. You want twenty-plus wins a season. That's what you want to see to make a Top 5 Yankees list? Well this is clutch play, and there is perhaps no one of greater value to a team than their closer. And this is the Yankees closer for more than a decade. And astronaut alien grizzly bears using the state of Rhode Island as a baseball bat can't hit the guy, so go lay down. Four World Series and the lowest ERA in the post season, ever.
3) Whitey Ford
This is weird, but running down the statistics I don't see how to not include the guy. Here's his rap sheet, and you can argue this one amongst yourselves or in the comments of the post: Hall of Fame Inductee 1974, full career with Yanks, six World Series under the belt, Cy Young in '61, World Series MVP in '61, Babe Ruth Award in '61, retired jersey, ten All Star game appearances.
2) Mickey Mantle
Some of the longest home runs ever hit in the history of the game. Seriously. All Star game appearances in nearly every one of his eighteen total seasons. Seven World Series titles and eighteen total homers in those appearances. Three MVP awards in the American League, and a Triple Crown distinction as well. Retired jersey. Major League Baseball All Century Team, people. Check it.
1) Joe DiMaggio
Entire career played as a Yankee, which gets big points. Any contribution made during his career, was laced up with pinstripes. Multiple MVP awards for the American League. But that doesn't do any justice to the history making efforts of DiMaggio. Maybe you're reading this and you won't know what The Streak is. Hell, I'm too young too, but I know. You try doing anything 56 times in a row, in any organized sport. And try doing it with the thing being thrown at you. Unbroken record, people. There are few sports feats in existence that have that as a caveat. 56 games in a row with a hit. Yikes.
(Image Via: On the Buzzer)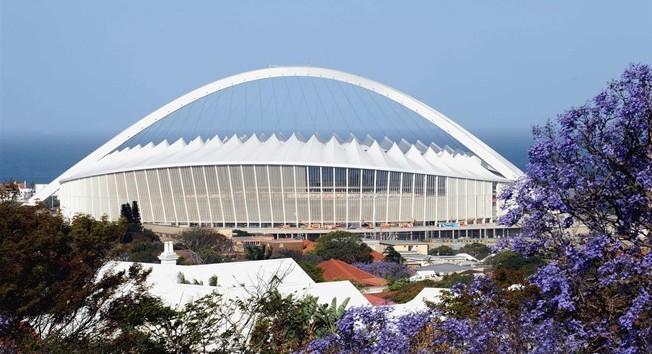 With the onset of World Cup 2010 in South Africa, soccer, or football (as it's referred to internationally), has once again captured the global imagination. Tens of thousands of fans from around the world will flood into the republic of South Africa to see the games, as hundreds of thousands of fans around the globe will tune in to the broadcasts on their televisions. Another exciting opportunity, while the world's attention is focused, to slip in some handy information on how we all might be a little bit more green, reducing our collective carbon footprint. So what about sustainable architecture, the challenge of hosting a multi-nation global sporting event, eco-friendly architecture when it comes to these soccer (football) stadiums, and more environmental concerns? Here's a site where you can find out more on green soccer stadiums in this year's World Cup 2010 in South Africa, and discuss some other eco-oriented thoughts too.