Lifestyle

Mother's Day gets all the attention, but Dad's need some appreciation too. Father's Day is coming up this Sunday, and if you're like most dudes, you probably aren't prepared to show your Dad some love. We all wait until the last minute to get gifts for our Dads (if we bother to get 'em anything at all). Father's Day gifts tend to be a bit unimaginative – ties, socks, Best Dad Ever mugs – that sorta thing.
This year, don't jip your Pops. Get him something you know he'll enjoy (and possibly share with you). Get him some Johnnie Walker. If you're wondering which bottle to get him, don't worry. This quick rundown of the different Johnnie Walker labels will help you sort out which bottle is right for your Dad.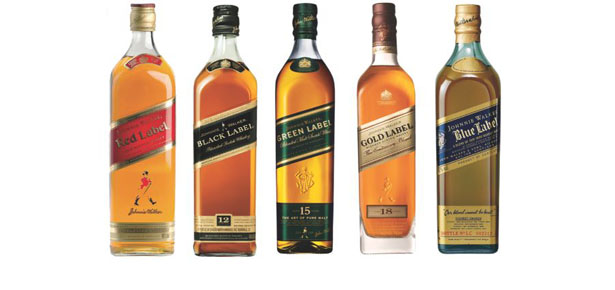 Johnnie Walker Red Label
Does your Dad like spicy food? Does he enjoy mixing Scotch with other stuff? Are you on a budget this year? If you answered yes to any of these questions, Red Label is your pick. Red Label is a utility, everyday scotch that has a bit of a bite, but plays well with other mixers.
Johnnie Walker Black Label
Is your Dad old school? Is he a stubborn, no-nonsense kinda guy who knows what he likes and sticks with it for the long term? If so, you can't go wrong with Black Label. It's complex, smoky, well-crafted and perfect straight up.
Johnnie Walker Green Label
Does your father care about the environment? Does he like variety, earthy blends and subtle aromas? If so, go with the Green Label this Father's Day. It's an intense, flavorful whiskey that combines pure malt blends from multiple regions in Scotland. If you're Dad has a discerning palate, get him some Green.
Johnnie Walker Gold Label
Does your Pops drink Scotch on the rocks? Does he have a bit of a sweet tooth? If your Dad likes smooth, creamy Scotch that unleashes warm, satisfying flavors when served chilled, Gold Label is the way to go.
Johnnie Walker Blue Label
Okay, has your Dad been especially awesome to you this year? Have you skimped out on great Father's Day gifts for awhile? If you really want to show your Dad that you appreciate him, you gotta go Blue. Blue Label is liquid amazing. It's the pinnacle of the Johnnie experience. Only hand-selected, cash-money casks get set aside to make Blue Label bottles. Created by Master Distiller Jim Beveridge, Blue Label is the best of the best. It certainly beats the hell out of a Best Dad Ever mug.
Johnnie Walker is offering complimentary custom engraving on bottles of Blue Label for Father's Day. Check out the Johnnie Walker site to learn more.