Art Eddy III
This user hasn't shared any biographical information
Jabber/GTalk: Art Eddy III
Posts by Art Eddy III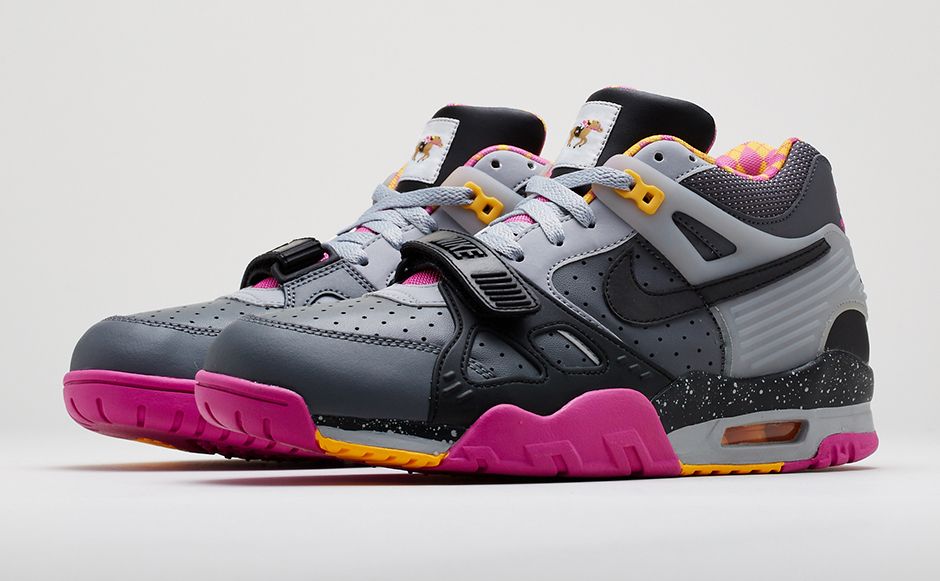 This weekend as horse racing fans are getting ready for the Kentucky Derby, sneakerheads were all set for Nike to drop this limited edition of the Nike Air Trainer III Premium today. Some athletes allow their sport to define them, but others define their sport. Bo Jackson, the two-sport marvel, and arguably, the greatest pure athlete of all time, fits the latter. His ability couldn't be contained to one arena. Rather, he performed on both, the gridiron and the diamond, popularizing cross-training in the process by sporting the legendary Air Trainer SC and follow-up models.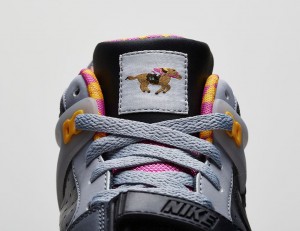 Now, one of Jackson's iconic cross-training silhouettes breathes new life with the forthcoming Air Trainer 3 PRM. When he was balancing sports, it was often said that his athletic prowess knew no bounds. Classic Bo Knows spots depicted him surfing, playing cricket, and, yes, competitive horse racing. The Air Trainer 3 PRM sources design inspiration from these same ads, repurposing the colors of Jackson's jockey outfit. The theme is kept up with two pixelated logos on the tongue and heel; one picturing a horse and jockey duo and the other depicting his now-retired collegiate number.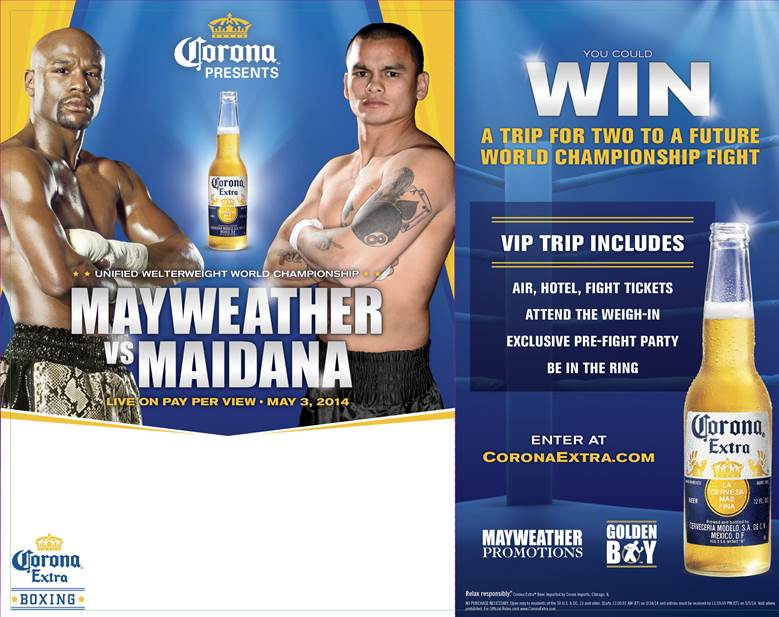 Cinco de Mayo is swiftly approaching. The day of celebrating Mexican culture and heritage is the busiest holiday of the year for Corona Extra. Once again, the iconic brand, that has become synonymous with the holiday, is primed to make Cinco the official fiesta to kick off to summer by tapping your passion for boxing through the Corona Extra Boxing program and partnership with Golden Boy Promotions.
In 2014, Corona Extra will engage boxing fans leading up to the Unified Welterweight World Championship fight between Floyd "Money" Mayweather and Marcos "El Chino" Maidana on Saturday, May 3 at the MGM Grand Garden Arena in Las Vegas. In addition, the brand has launched the "Corona Extra Boxing Sweepstakes" –providing fans the opportunity, through May 5, to win a trip for two to a future world championship fight.
Go to CoronaExtraUSA.com for exclusive content for boxing fans including fight information, rankings, photos, videos, and the opportunity to enter the "Corona Extra Boxing Sweepstakes.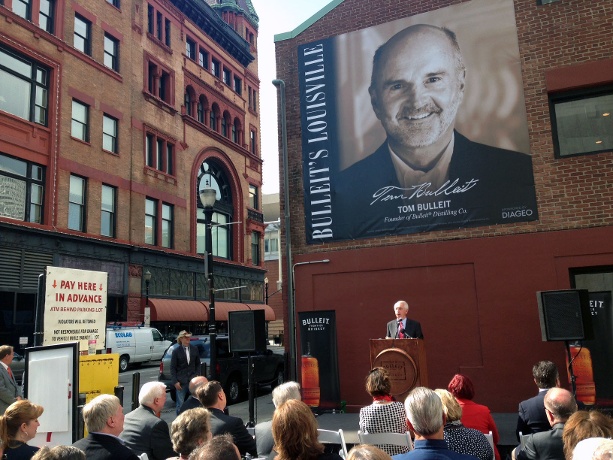 History was made today as the bourbon pioneer, Tom Bulleit, was recognized by Ky. Governor, Steve Beshear and Louisville Mayor, Greg Fischer for excellence in his respective field of entrepreneurship. For the past 12 years, The Greater Louisville Pride Foundation has strived for the campaign to enhance community pride and serve as inspiration for Louisville residents. Today, a giant mural was unveiled in honor of the 22nd Louisville Hometown Hero, Tom Bulleit.
A proud and hardworking Kentuckian, Tom's southern charm can be noticed by all through the mural currently displayed in downtown Louisville at 138 South 3rd Street, between West Market and West Main Street.
In 1987, Tom quit his job as a successful Louisville lawyer to start the Bulleit Distilling Company– forever forging his family name into the annals of bourbon history. Today, Bulleit Bourbon, Bulleit Rye and Bulleit 10-Year are some of the fastest growing small batch whiskies in America and have been launched in countries around the world.  Fiercely passionate Kentuckians, Tom and his wife Betsy are proud to call the Bluegrass State home. Sharing his passion for bourbon, he travels the country introducing his family's Kentucky recipe to thousands of people each year.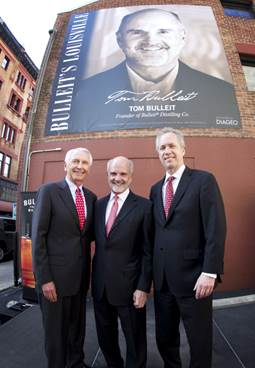 In addition to an unwavering dedication to reviving a 150-year-old family bourbon recipe, Tom has been a mainstay in the Louisville community throughout his life.  After graduating from Trinity High School and earning his B.A. from the University of Kentucky in 1966, Tom served his country during the Vietnam War as a member of the U.S. Marine Corps from 1967-1969. Upon returning home, he earned a law degree from the University of Louisville School of Law, all while working in Kentucky distilleries between terms.
Stemming from his commitment to share his family's legacy, Tom was appointed by Kentucky Governor Ernie Fletcher as a member of the Honorable Order of Kentucky Colonels in 2006, the highest accolade a Kentucky citizen can receive. In 2009, Tom was inducted into the Kentucky Bourbon Hall of Fame – the most prestigious honor available for those in the industry.
"Having been raised in a Louisville family that values its history and native roots, I am overwhelmed and deeply honored to be placed among such an elite group of individuals who have brought such pride to our city," Tom Bulleit said. "Bourbon's history is deeply rooted in Louisville, and to have the chance to play a role in American Whiskey's international renaissance and rising popularity is something I cherish. To be honored in this way, in a place that has done so much for me and for my family, is truly one of the most humbling moments of my life."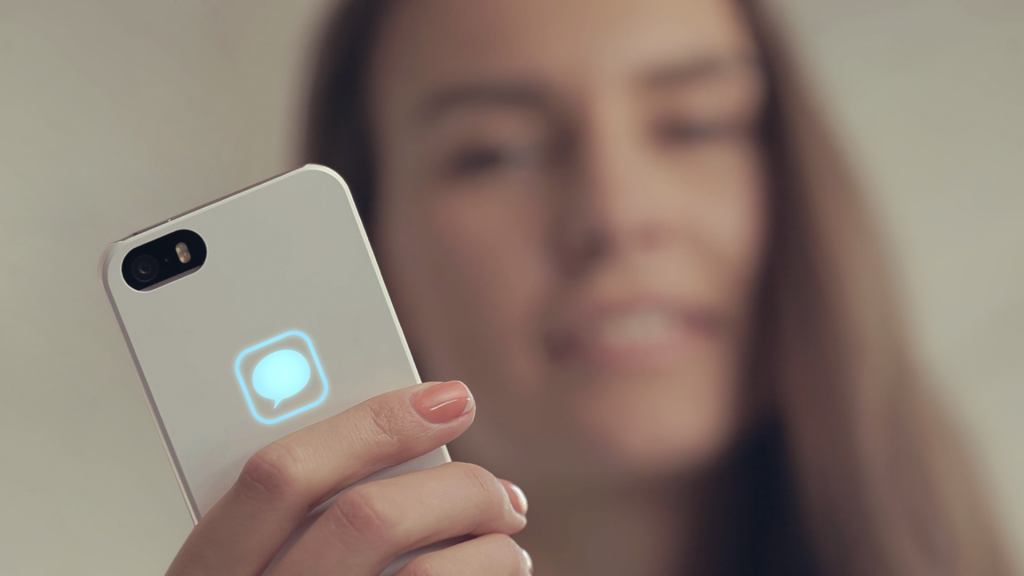 It's a known fact that electronic devices emit very small amounts of electromagnetic energy.  Concepter has created Lune technology, which harnesses this energy to power exciting and innovative products.  The first product to feature Lune technology is an intelligent iPhone case, Lunecase. The Lunecase does not use batteries or any connection with the phone, but users simply snap the case on their iPhone 5/5s/5c and it will go to work straight away.
The Lunecase knows and identifies when users receive an SMS message or a phone call before it is even displayed on the iPhone's screen. The Lunecase will identify the type of notification, whether it's an incoming call or a text message, and displays a visual notification on the back of the phone with the help of LEDs powered by the free energy that is emitted by the device.
"Accessories made for the iPhone can sometimes take the beauty and easy functionality away from the phone," said Concepter founder Vlad Tislenko. "Lunecase brings the back of your phone to life and enhances the natural iPhone functionality with no batteries, no cords and no bulk."
Lunecase was created to not only be smart, but also to be protective and sleek.  The case is made out of durable materials that will protect the phone.  The case is thin and contours the curves of the iPhone to perfection.
Currently, pledges start at $30 for super early bird supporters to receive a black Lunecase for iPhone 5/5S or 5c at the time of launch.  For $39 you can choose a black or white Lunecase for iPhone 5/5S and an engraved Lunecase with personalized engraving is also available for $99.
Estimated delivery on the project is August 2014.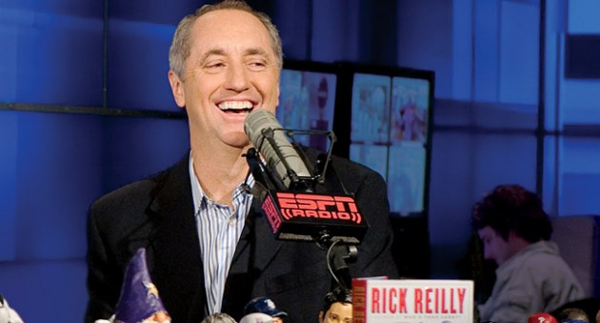 Growing up in high school besides the text books and novels I had to read for school most of my reading material consisted of comic books. That was until I started reading Rick Reilly's column in "Sports Illustrated." Rick has a way of telling a story that perfectly intertwines sports and life. Rick has been voted NSSA National Sportswriter of the Year eleven times. He currently writes for ESPN, but will be stepping down from that role on July 1st.
On May 13 you can get his new book, "Tiger Meet My Sister: And Other Things I Probably Shouldn't Have Said." This book is a collection of his work that even has a postscript section after each story to let the reader know if anything has changed since he posted each story.
I had the pleasure to chat with Rick about his new book, how Muhammad Ali played many pranks on him, best and worst interviews, sports, and more.
Art Eddy: I am loving your latest book. The forward/obituary sections were amazing. I am guessing since you are a writer you may have written your obituary a few times right?
Rick Reilly: (Laughs.) When you have to write a weekly sports column, which I feel like I have been doing since I was 20, you just go through dozens and dozens of ideas every week. Sometimes they don't work out. You kind of hide them. I have this file on my computer that has about 500 ideas. Out of those 500 ideas 300 of them have been started and then abandoned.
I have probably worked on my obituary about ten different times. I was thinking okay I got nothing else this week, so let me try the obituary. Finally I thought this would be the perfect forward because beginning July 1st I am giving up the sports column for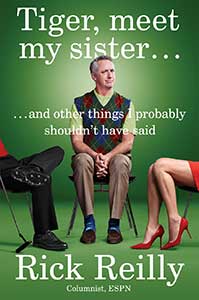 good. I am just going to write books. So I thought hell why not eliminate the middle man and write your own obituary. It was really fun. It was really fun to look back on your life and say it wasn't that bad.
AE: The section where you talk about fortitude when small people act big was very inspiring. From all that you have seen which story will always stay with you?
RR: Over my career I have found that those are the stories that I like doing the best. When you write about small people doing big things and overcoming things. There was this kid I wrote about who refused to give up running for the cross country team. He was a high school kid. It took him 35 more minutes than his teammates because he had cerebral palsy. The right side of his body didn't work. He kept falling. In cross country you are going over fields and streams.
His face was all scarred up from these falls. His parents begged him to quit. So did his coaches. He wouldn't quit. Pretty soon his teammates would go out there and finish the race. Then they would go back a mile and a half and finish with him. Pretty soon the girl's team started doing. Then the cheerleaders started doing it.
Then at the last meet that he ran the opposing teams did it. At the finish line it was a bunch of crying parents. That kind of column sticks with me. I would say that there are five of those in this book.
AE: You have a section in your book about how some of your articles got you into hot water. For those articles how do you make up your mind whether to publish a story or not?
RR: Truth. You try to tell the truth. Sometimes you fail and get it wrong. I think I have published over two million words in my 37 year writing career. So you are going to screw up. Especially if you are an idiot like me you are going to screw up a lot. So the times you regret the most is when you accidentally misquote someone. Or when you realize later when meet someone you didn't paint the right picture of them.
Sometimes you get into hot water, but you would still do it again. I think of Sammy Sosa, who at the time around 1998, was saying that he couldn't wait for drug testing. He couldn't wait for steroid testing. He said, 'I am going to show all you people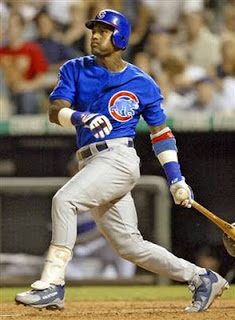 that my numbers are real.'
I said to him, 'I found a drug testing lab ten minutes from Wrigley Field. You don't have to wait for drug testing. Let's do it now.'
He flipped out. He started screaming at me in Spanish. He started grabbing this baseball bat and threatening me. I was like hmm, someone doesn't want to be tested. His point was about the (baseball players) union. It was sort of a mild post in a steroid story. He freaked out at the idea of being tested. As we know he did show up on a steroid failed test list. He shrunk by about 40 pounds as soon as he got out of baseball. His best friend was busted with 20 thousand dollars' worth of steroids in the Dominican. I was in hot water for months over that, but I thought I was right.
AE: I have been a big fan of your work since I found your column in "Sports Illustrated." Love the way you tell a story. How did you hone your craft as a storyteller?
RR: Thanks for saying that because I am 56 years old, but people come up to me like I invented the printing press. They will say, 'I was 13 years old and that was the first reading I ever did. You taught me how to read.'
I am like come on. I am not "Dick meets Jane." I was like you. The first really good reading I ever did was sports. It was a guy named Jim Murray. He was this great columnist for the "L.A. Times." He wrote sentences that I have never seen before. They just jumped off the page and punched you in the nose. There were sentences and you would be like how did he do that?
I would read it over, over, and over again to see how he did it. It would be things like, 'John Wooden is as square as a pan of fudge.' Or things like, 'Gentleman start your coffins.' That is what he said once at the start of the Indy 500. This was a whole new way to write. That guy became my friend, my mentor, and my hero when I went to the "L.A. Times." He said, 'Make the writing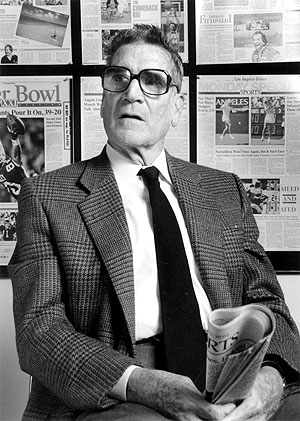 fun. There is no city ordinance. No one has to read you. They have got to want to read you.'
That was what stuck with me more than anything else. Make them want to read you. Make it fun. Don't make it a job. That is how I tried to write from then on.
AE: Who has been the best person that you have interviewed and who has been the worst?
RR: Charles Barkley would be one through four. Then playing golf with Bill Clinton when he was the standing President was fascinating. I have never been around someone with that much charm, knowledge, and wit all wrapped in one. I know people think he is some kind of redneck hick, but this guy knew more about the world which I learned in four hours of golf. I thought he was really fascinating.
Another fascinating interview was with Mike Tyson. You didn't know if you were going to get out of there with a punched eye or you were going to be his best friend or you were going to do crystal meth. You didn't know if he was going to threaten you. You think anything could happen.
I always found him so fascinating because he was always so self-loathing. Yet in so many ways he was sort of an idiot savant. He knew more about Mao Tse-Tung and rebels in China and boxing, but he could hardly make his car payment.
So if you talk about most interesting interviews like Mohammad Ali when you would get him in the morning and he could still talk to you. He played tricks on you. One time he pretended to fall asleep during an interview with me. It was just me and him in this room. At that point I was like okay I guess I will just read this magazine. Two minutes later he dove across the couch and choked me. It was all a fake. So guys like that are things that I will never forget.
The worst. There have been so many bad interviews. Some people just start with a chip on their shoulder. Reggie Jackson started off that way. Sam Snead was terrible. What is funny is that some of these people who have never been interviewed are the worst. They say no comment. Dude you are really never going to be interviewed again so you better make a comment.
AE: Is there a person that you have tried to interview and to this day you are still trying to get?
RR: To this day and I can't get him anymore was Johnny Unitas. The great quarterback would charge money for an interview. We weren't ready to do it. Well I was ready to do it because I thought that alone was worth a column. That was a guy that I was never able to get. The companies that I worked for refused to do it. I can see why, but still. Wouldn't it have been fascinating to interview Johnny Unitas and pay for the privilege?
AE: Recently you tweeted out that you are giving up your column at ESPN. How tough of a decision was that?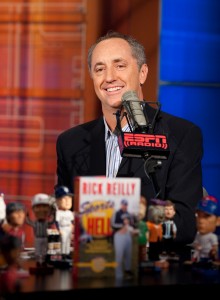 RR: Not tough. Not tough. I have been doing this for a living since I was 19 years old. It has always been sports. It has never been anything else. It is kind of like when a dog as an electric fence and finally the owner dies. The dog is like can I really leave this yard?
I could have left the yard about five years ago. I said okay I will go five more years and that is when I did this ESPN thing. I have been dying to try and write music, movies, politics, travel, and I want to do books. I have written 11 books. Three of them have been novels. I love the novels because the characters say stuff that you are laughing at the things that they are saying. And it is coming out of your fingers. So that is a really fun experience. We are going to live in Italy for six months. There is just a whole new life waiting out there for me. I am not dying. I am still going to write. I am certainly not going to write that much sports.
AE: Well maybe writing your obituary in this book might not have been the best thing since people might think you are dying.
RR: Yeah, they might really think that I am dead. A lot of them wish I were.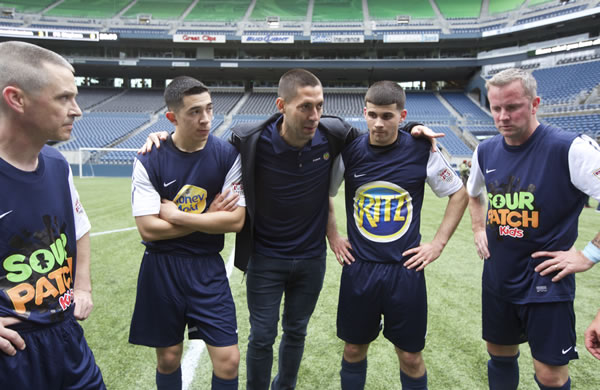 Mondelēz International, the makers of OREO, RITZ, TRIDENT, HONEY MAID and SOUR PATCH KIDS, unveiled an innovative and engaging new campaign which highlights the unique and personal ways that fans and consumers embrace soccer – and invites people everywhere to #PassTheLove.
Beginning this month and continuing as the U.S. Men's National Team prepares for the world's largest sporting event, these beloved cookie, cracker, candy and gum brands – collectively known as the Official Snacks of U.S. Soccer – will partner with soccer stars like Clint Dempsey, Alex Morgan and Omar Gonzalez to create a consumer movement where soccer enthusiasts across the country unite to #PassTheLove of the sport.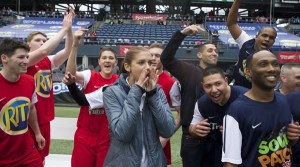 This bold, integrated campaign – the company's largest multi-brand program to date – was designed to be sharable at its core and utilize real-time content, adaptive advertising, experiential events and ongoing consumer engagement to empower and reward consumers when they help celebrate the cheers, anthems, pageantry, rituals and all other elements that feed the spirit of soccer.
For complete details about the contest, including entry requirements, visit www.passthelove.com.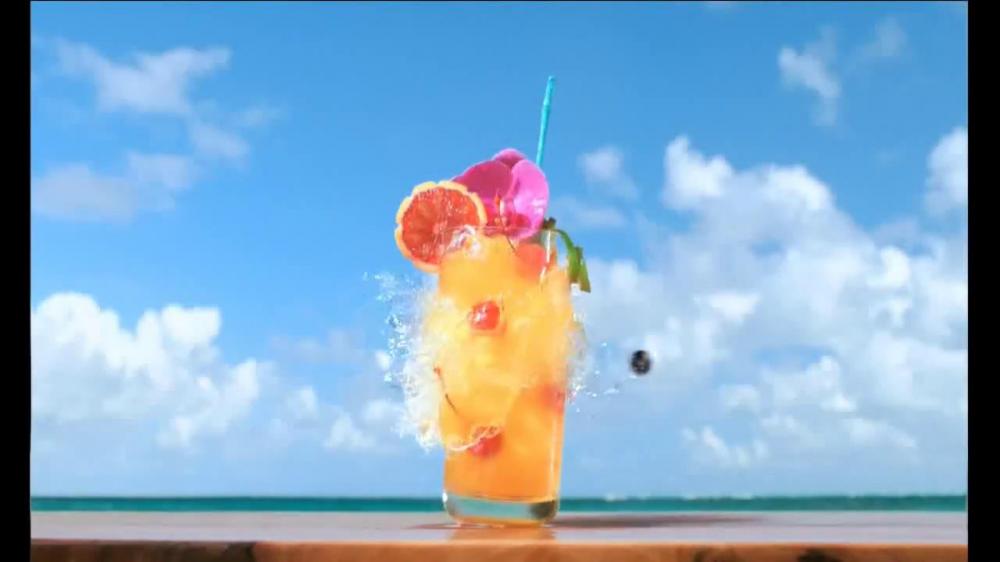 With summer right around the corner, Captain Morgan has teamed up with world-renowned YouTube personalities "The Slow Mo Guys" to remind everyone to break free from the same-old boring daiquiris and piña coladas this year!
The Slow Mo Guys have amassed nearly 4 million subscribers on YouTube thanks to their use of a high-speed camera to film content in slow motion, which provides viewers with an entertaining, and often hilarious perspective on physical contact.
Through a series of explosive videos, the British duo expands on the popular theme integrated into the Captain Morgan White Rum ad spots released earlier this year. In each video, the Slow Mo Guys obliterate traditional summer cocktails in outrageous ways – such as firing off a "Cannon" – while showcasing Captain Morgan White Rum as the new, breakthrough leader in the white rum category.
To support the premiere of this video series, the Captain Morgan brand will be hosting a two-week contest that challenges fans 21+ to guess the number of cocktails that were demolished during the making of "Cannon." The 100 fans who come the closest to the correct amount of cocktail causalities will win a Captain Morgan branded cannonball. The contest will be hosted on Facebook, where fans will be able to submit their entries in the comment section.
Below are a few new drink ideas and the other cool videos from The Slow Mo Guys!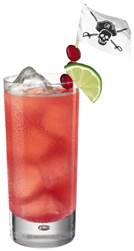 White Madras
Ingredients:
1.5 oz. Captain Morgan White® Rum
2 oz. cranberry juice
2 oz. orange juice
Preparation: In a shaker half filled with ice, add Captain Morgan White® Rum, cranberry juice and orange juice. Shake well and strain into highball glass filled with ice. Garnish with lime.
White Mojito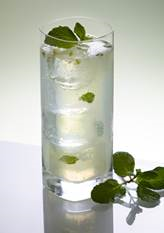 Ingredients:
1.5 oz. CAPTAIN MORGAN WHITE® RUM
0.5 oz. fresh lime juice
0.5 oz. simple syrup
Fresh mint, muddled
Fresh limes, cut into small pieces
1 oz. club soda
1 mint sprig
Preparation: Put all ingredients except club soda and mint sprig into a mixing glass. Add ice and shake vigorously. Add club soda, shake once, and pour into a tall glass. Garnish with a mint sprig.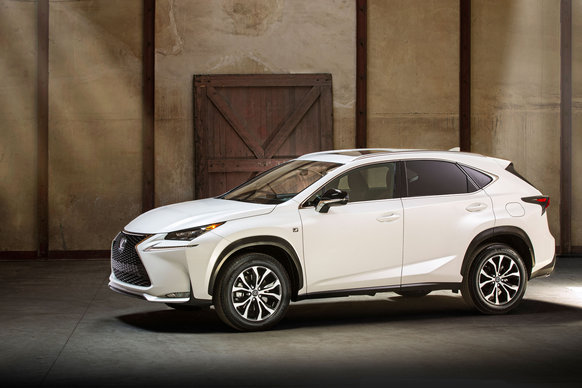 There's a first for everything! The all-new Lexus NX comes to market as the brand's first entry into the luxury compact crossover segment and with the first turbo in the lineup. The NX will also be offered in naturally aspirated and hybrid powertrains. Powertrains will vary by region. The U.S. market will offer the NX 200t turbo and NX 300h hybrid. The NX 200t F SPORT will also be available with unique exterior and interior features.
Lexus will maintain its role as the luxury hybrid leader with six hybrid models including the NX 300h. The NX will be the fourth vehicle in Lexus' luxury utility vehicle lineup and positioned below the popular RX.
Exterior Design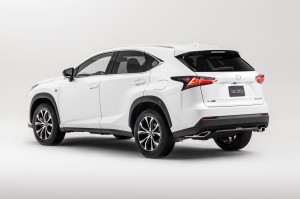 The NX was developed to have more agility than a SUV plus a bold, eye-catching exterior with its low profile and unique roofline.
As with all Lexus vehicles, the aggressive exterior starts with the spindle grille. Innovative LED headlamps and daytime running lamps firmly express Lexus' bold styling.
The front and rear wheel arches add to the NX's wide and low, muscular stance with bold flares.
The arches house standard 17-inch or available 18-inch wheels.
The profile is accentuated by a roofline peak set towards the back of the vehicle to create a tight silhouette and provide ample head-room for rear seat occupants.
Subtle, luxury details are included in the innovative Lexus-first door handle with a hidden key barrel and integrated lighting.
The rear is punctuated by Lexus' signature 'L' shape combination lamps, each with seamless LED lighting, while the bodywork echoes the spindle grille design.
The NX 200t F SPORT will feature exclusive design elements and enhanced driving performance.

Interior Design
The NX's cabin combines the structural beauty of a high-performance machine with luxury materials that maximizes functionality. The combination of hard metallic surfaces and contrasting soft materials help create a unique interior.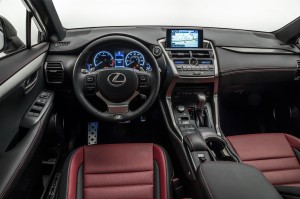 A strong, center silver frame surrounds and defines the center instrument panel. Knee pads located at the base of the center stack help support the driver and passenger. The Human Machine Interface (HMI) technology continues the impression of an advanced vehicle and is also located at the bottom of the center stack.
Seating played a significant role in the cabin design. The NX possesses a low hip point adding to the connection of the driver to the vehicle and increasing overall head room. The NX also has a long cargo area length and a wide front to rear couple distance.
Technology
The NX introduces an innovative all-new 2.0-liter gasoline turbo in NX 200t and a naturally aspirated engine in NX 200 with the choice of front and all-weather drive. Lexus also offers a highly efficient hybrid in NX 300h.
The NX has an array of innovative on-board technology, including an available Lexus-first Wireless Charging Tray to enable a mobile phone to be charged. Other available technology includes the first application of a new Lexus Remote Touch Interface with a touch pad; and a comprehensive Multi- information Display, including a Lexus-first G sensor and boost meter, Heads-Up Display, All-speed Dynamic Radar Cruise Control, Blind Spot Monitor with Rear Cross Traffic Alert.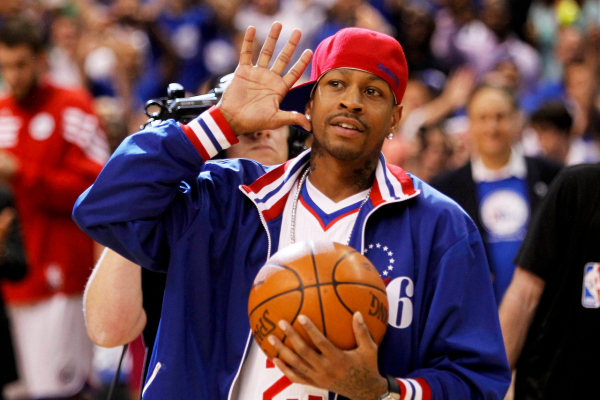 IVERSON is from 214 Productions and first time director, Zatella Beatty.  Beatty produces alongside Ted Faye and Mandalay Sports Media and Moore Entertainment are executive producers. The documentary premieres at the Tribeca Film Festival this Sunday night at 9:30PM and sold out in under 2-hours.
IVERSON is the ultimate legacy of NBA legend Allen Iverson, one of the world's most iconic and controversial sports figures.  Told in his own words, IVERSON is a testament to the power of authenticity and determination; an incredible journey where spectacular success is no protection against demons from the past.
Allen Iverson always turned the voices of haters into white noise, and now Reebok is flipping that into a white shoe that's sure to make noise of its own.
The Reebok Question Mid "White Noise" will hit stores on Friday, May 23rd for $140.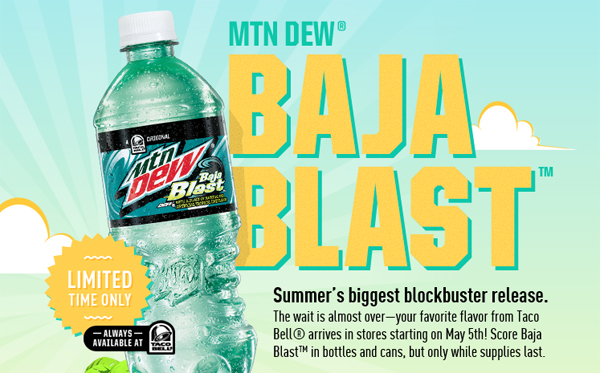 Mountain Dew announced today that, for the first time, Mtn Dew Baja Blast – which was introduced 10 years ago as a "Taco Bell® Original" – will also be available for a limited time in bottles and cans.  The tropical lime flavored beverage will hit shelves starting on May 5.  While Mtn Dew Baja Blast is always available at Taco Bell, consumers will have to move fast to buy it at retail, as the fan-favorite will head back to Taco Bell exclusively at the end of the summer…or when supplies run out.
Mtn Dew Baja Blast will be available in single serve 20 oz. bottles and 24 oz. cans, as well as 12-packs of 12 oz. cans.
On May 5, fans will also be able to download and play the "Baja or Bust" mobile gaming app.  Based upon the widely-played Motocross Elite app, "Baja or Bust" will be available for iOS and Android platforms and will: enable players to enter for a chance to win exciting prizes, including adventure and beach vacations; and be able to enter codes, available under every cap of Mtn Dew Baja Blast, to unlock in-game upgrades and advantages.
Visit www.MountainDew.com/BajaBlast or Facebook.com/MountainDew for more information, and join the conversation at @mtn_dew #SummerOfBaja and  @TacoBell #SummerOfBaja.