Posts tagged
Bud and Burgers Championship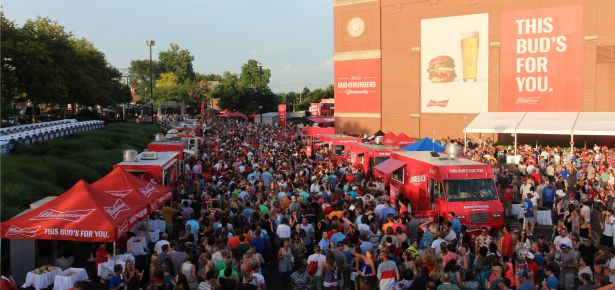 Our pals at Budwesier shipped us to St Louis this past weekend to attend the Bud and Burger Championships held at the storied Budwesier brewery. We first told you about this competition back in April after we attended the launch event hosted by Chef David Chang. Since that time, amateur chefs have been competing at festivals around the country for the chance to battle it out in the finals.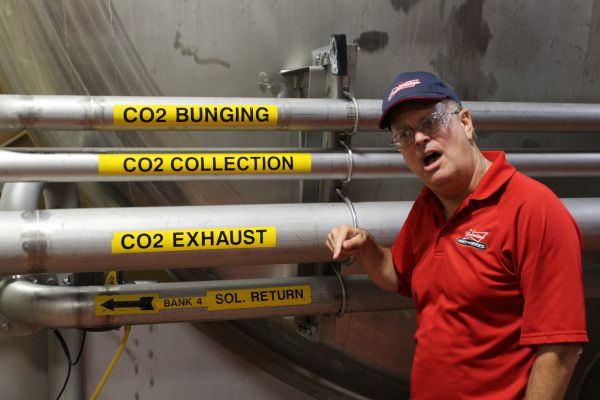 Before the burger action kicked off, we got a grand tour of the Budweiser Brewery from our old friend Brewmaster George Reisch. I met George in LA and we talked for a long time about Kolsch, Austrian vs. German beer, yeast, beechwood aging, all kinds of stuff. George is a fifth-generation brewmaster. His family started brewing beer in the mid 1800s in Springfield Illinois. George also served as the President of the Master Brewers Association of the Americas from 2008-09. Believe me when I say you will never meet a guy who has more passion or knowledge for the art of making beer. Having this master craftsman lead the Budweiser Brewery tour with all his enthusiasm and wisdom was a real treat.
Back in the mid-1800s, German immigrants came pouring through St. Louis and they brought their tasty lager beer with them. Lager is a crafted brew that takes time to make. It needs to rest and chill out. Back in the days before refrigeration, that required a cool dark place to store beer. This is why many lager breweries had underground faults.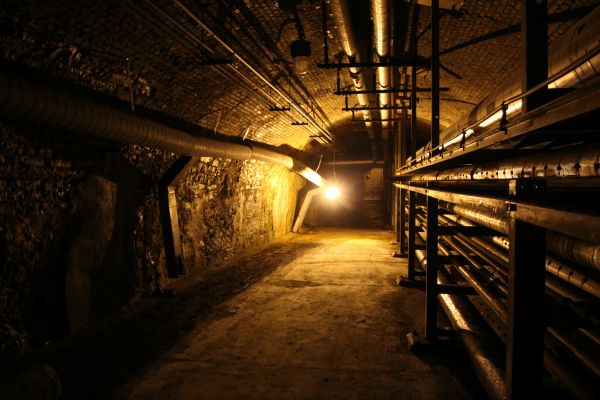 Sampling ice cold Budweiser straight from the source, visiting the Clydesdale stables and seeing beechwood aging and big beer science in action was cool, but I was really digging our visit to the vaults underneath the Budweiser Brewery. Just one of the many perks of having Brewmaster George as your tour guide. As George explained, German immigrants would seek out areas where they could carve vaults out of limestone. This area of the brewery hasn't been used for ages and back in the day, there wouldn't have been any pipes in fault. When I showed George the photo of the vault, he sent me anold advertising tin from the 1870s that shows the vaults as they were originally used.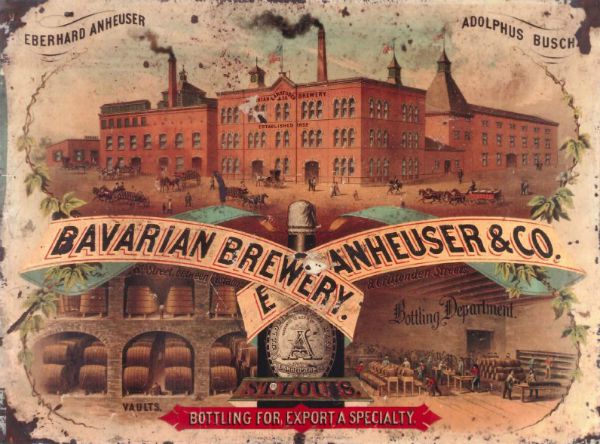 The Bud and Burger Championship wouldn't be complete without the burgers. The finalists and their food trucks lined up to get samples out to everybody and the folks who attended had some serious options to choose from. BBQ pulled pork with bacon in one corner. Smoked bacon with brat sausage in another. Ground veal with a special mesquite steak sauce next to a truck serving burgers with Portobello mushrooms, red onion relish and garlic herb aioli. You get the idea.
In the end though, the people voted and it was the Angie Burger that came out victorious. The creation of Angie Bos, the Angie Burger featured glazed bacon with provel cheese and caramelized onions. Here's the recipe:
The Angie Burger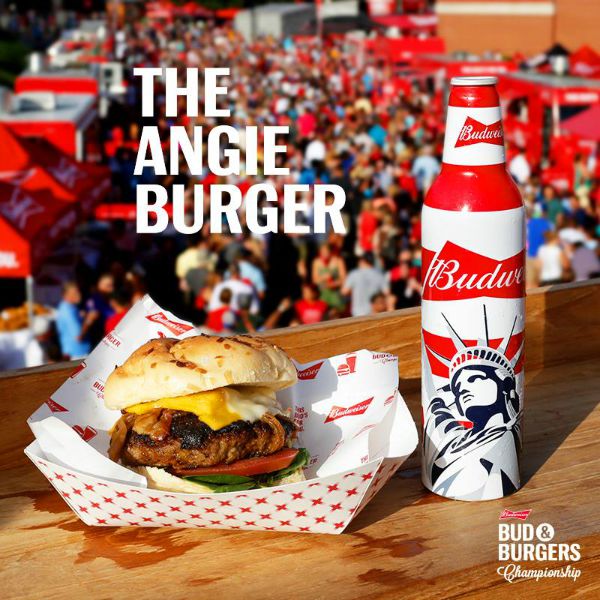 Glazed Bacon, Provel Cheese, Caramelized Onions.
Type of Bun: Onion Bun.
Prep time: 15 minutes.
Cooking time: 20 minutes.
INGREDIENTS
2 lbs. ground beef.
1 lb. ground pork sausage.
8 oz. shredded cheddar cheese.
3 oz. crumbled bacon.
1 egg, beaten.
Seasoning salt: mix salt, pepper, garlic powder, onion powder, minced garlic.
Slice of American cheese.
Slice of Provel cheese.
2 stripes glazed bacon (glaze is 1:1:1: ratio of brown sugar, maple syrup and honey).
Caramelized onion (1/6 of a sliced onion, cooked in 1 tbsp sugar and 2-3 oz. Budweiser).
Fresh spinach for topping.
Tomato slices.
METHOD
ONION
Head skillet to medium heat. Add in butter or oil, then sliced onion. Stir in sugar and Budweiser. Cook until the Budweiser is reduced and the onions are soft.
GLAZED BACON
Heat oven to 400 degrees. Lay out bacon strips on parchment paper or greased rack on baking sheet. Combine brown sugar, maple syrup and honey in a bowl. Bake bacon for 15-20 minutes until it reaches desired crispness. Every 5 minutes, flip and glaze the bacon. (If using a rack, remove bacon to cook so it doesn't stick.)
BURGER
Combine ground beef, ground pork sausage, shredded cheddar cheese, crumbled bacon, egg and seasoning mix. Shape into 8 oz. patty. Put a divot in the center of the patty. Cook patty in skillet over medium-high head. Add a little Budweiser. Flip and cook the other side (flip only once). Place slices of American and Provel cheese on the patty, then cover skillet so cheese melts.
BUN
Assemble the burger: bottom bun, patty with cheese, glazed bacon, caramelized onions, spinach, sliced tomato and top bun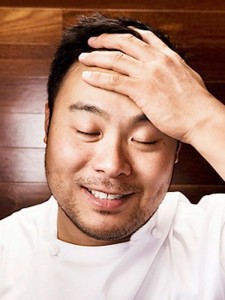 Chef David Chang
Angie took home a check for $100K and will also get the chance to star in a new cooking show that will appear on Esquire. Chef David Chang helped judge the competition and he was also present for a few of the different festivals where amateur chefs battled it out to get the the championship. Part of the reason that Chang signed up was that he wanted to be inspired.
"It was enlightening in ways that I never thought it would be," Chang told me. "I wanted to do it partly to get inspired. As a professional I sorta get stuck in my own ideas or the people I'm surrounded with. It's like being stuck in high school with the same kids your entire life," he said.
"I surround myself with the people I know and it doesn't really change. It gets homogenized. More importantly, even as a professional you get stuck with the ideas that you think you already know. Sometimes wisdom isn't necessarily the best thing," Chang said.
Chang explained that some of the recipes he saw were things that he would never do, but that's a good thing.
"You can learn from anything," Chang said, "and it's stupid to say that you can't."
True learning and growing as a chef comes from the mistakes you make as well as the wild ideas you see from others.
"The real discovery isn't knowing how to do it. The discovery is in fucking it up. Fucking up so hard is something I do less and less and less, even though that's how I know I'm going to learn," Chang said.
All of us can relate to that, especially in the kitchen. So if you want some burger inspiration to get your creative culinary juices flowing, check out the full list of the final Bud and Burger Championship recipes at www.budweiser.com/recipes.html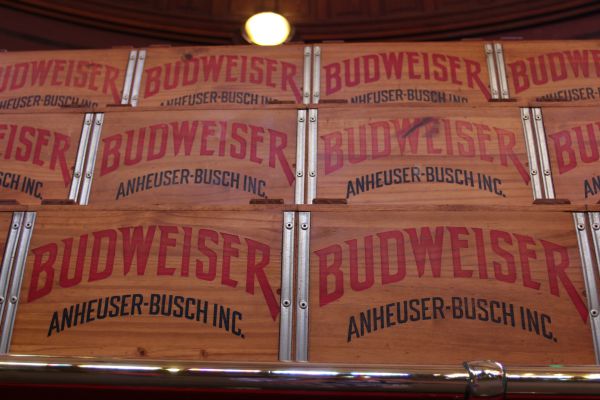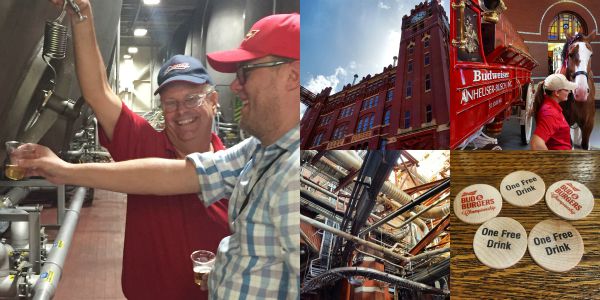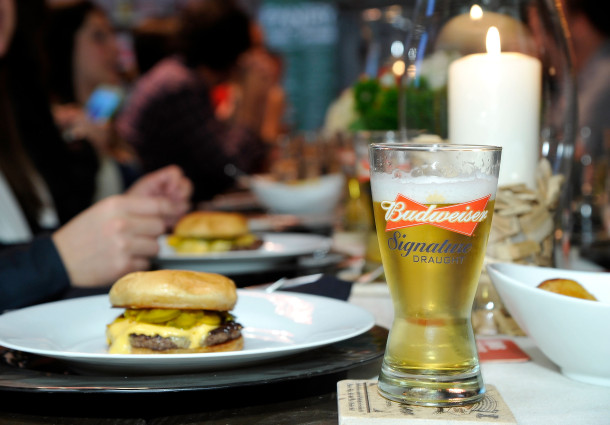 Ah, Burgers and beers. They go together like peas and carrots. Like peanut butter and jelly. Or football and Sundays. This winning food and beverage combo forms the bedrock of the American belly. It's what most of us are made of, really.
We already told you about the announcement of the Bud and Burgers Championship. It's is a three-month nationwide competition where amateur chefs will compete at major festivals across the country. The winner will take home $100,000 to jumpstart their culinary career. The winning chef will also be invited to compete in a new cooking competition show on the Esquire Network.
Last week, I got to experience the higher end of this fine Bud and burger pairing at an exclusive dinner hosted by Budweiser and Chef David Chang. Before Chef Chang was introduced, the folks from Budweiser announced the upcoming burger competition with the bold claim that the burger was first unveiled to the world at the 1904 World's Fair in St. Louis. This meant that burgers and Budweiser were joined at the hip from the get-go.
I decided to look into this a bit, and it turns out the 1904 World's Fair was a pretty big deal. The origins of the burger in America are a bit murky, but one thing's for sure, people were probably chomping on burgers and sipping Budweiser during in St. Louis in 1904.
Also known as the Louisiana Purchase Exposition, the 1904 World's Fair in St Louis lasted for seven months. Sixty-three countries participated in the expo and over 19 million people attended. The first Olympics ever held in the US took place during that summer in St. Louis. Geronimo was on display in a teepee. Helen Keller gave a lecture. Max Weber was there. TS Elliott wrote a short story about his expo experience for his high school newspaper. Jack Daniel and his Tennessee whiskey were awarded a gold medal at the World's Fair, something that's still advertised on every Jack Daniel's bottle.
Was it the first time the world was introduced to hamburgers? Hard to say, but if you believe different accounts, it was arguably the first time people were introduced to things like Dr. Pepper, peanut butter, cotton candy and the waffle cone, too.
So yea, a lot went down at the world's fair that year, but let's get back to burgers in 2015, specifically the burger that was served at the dinner that kicked off this whole Bud and Burgers Championship thing last week in Santa Monica.
Too often a premium burger has too much going on. If you can't hold it in one hand and put it in your mouth, is it really still a burger at that point? I say no. But i'm a simple man. Chef Chang's burger recipe was simple by design.
"Keep it simple," Chang said. "Simple is hard to do."
And simple it was. Simply delicious. Here's the recipe:
Short rib beef blend (or at least a 80/20 lean/fat blend)
American Cheese Slices
Hamburger Buns
2 TBSP Neutral, High heat Oil
Bread & Butter Pickles
Cast Iron Skillet
How You'll Make It
Ask your butcher for a short rib blend (16oz will make four 4oz burgers). If you can't get a short rib blend, make sure ou get a blend that has 20-30% at content
Form the patties. Measure/estimate out 4oz portion and form into 1/4" thick patties
Season liberally with salt on each side
Add oil to cast-iron skillet over medium-high heat
Cook patties for 3 minutes  on each side. During the last minute, add one slice of cheese to the patty and a dab of butter to the pan. Baste burger until cheese is melted and set aside on a cooking rack to rest
In the same pan, toast buns face down until golden brown
To assemble the burger, place the patty on the bun, dress with bread and butter pickles to taste and top with the other side of the bun
What's this, you ask? No veggies?
"If you want vegetables," Chang said, "eat a salad."
The no frills burger was perfect. The short rib provided the proper fat balance, it was just salty enough, and the pickles were a nice crunchy complement. Did it look pretty? Not really, but who cares? Taste should dictate success in any burger sampling exercise, and the taste quality was off the charts. Pair it all with a frosty Budweiser Signature Draught, and you get a room full of happy people. The bud and burger combo wasn't complicated. It was familiar and user-friendly, and according to Chef Chang, that's all part of the appeal.
"Cooking Zeitgeist is changing," Chang said. "The burger is the perfect example of where food is going. You're doing something delicious that's also accessible."
Think you got a winning burger concept? Submit a photo or video of your burger creation to Budweiser.com/burger to see if you can score a festival invite and a chance to compete in the final burger battle at the Budweiser Brewery in St Louis. Good luck, burger lovers!