Posts tagged
budweiser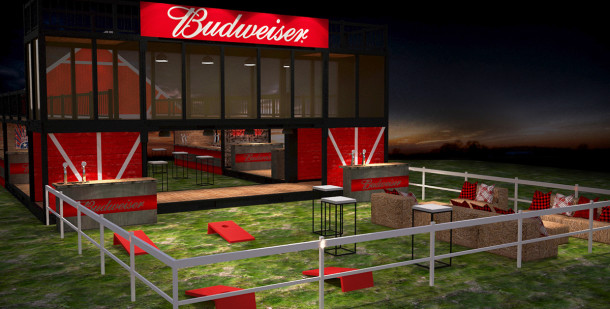 Your spring and summer is about to get better thanks to Budweiser. They are looking to showcase country music where they feel that the genre whose fans and artists share the same love for authenticity and storytelling as America's No. 1 full-flavored lager. Budweiser will be present at some of the year's biggest country music moments to enhance fan experiences and provide surprise moments with top artists that only Budweiser can deliver.
The Budweiser Country Club is a brand new, three-level structure that will appear at four live country music events, starting with Stagecoach Festival in Indio, CA in late April. Designed with the same level of detail and care that Budweiser puts into brewing its lager, the open-air build out will provide elevated views of the festival and feature two 20-foot bars, Budweiser Signature Draught towers, outdoor games, and goods for purchase from local craftsmen. The Budweiser Country Club will appear at the following events:
Stagecoach Festival in Indio, CA (April 29 – May 1)
Country 500 in Daytona Beach, FL (May 27 – 29)
CMA Music Festival in Nashville, TN (June 9 – 12)
Faster Horses in Brooklyn, MI (July 15 – 17)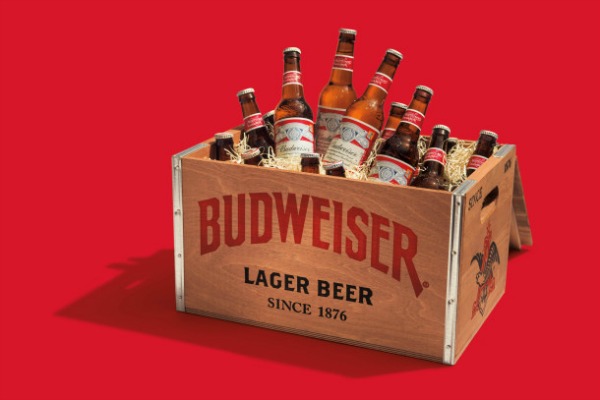 Holidays and nostalgia go hand in hand. Traditions, happy memories, throwbacks to yesteryear – these are all part of the holiday enjoyment process. Budweiser understands this well. Last year, Budweiser released 10,000 limited edition wooden crates during the holidays, and due to popular demand, they released 60,000 crates this year.
The 2015 Budweiser holiday crate is a throwback showpiece to a different time. The handmade wooden crate features classic packaging, 18 bottles of tasty Budweiser and two long and svelte pilsner glasses. The bottles are adorned with labels from 1933, the first label produced after the repeal of prohibition.
And what a happy holiday season it was back in December 1933. On December 5th, 1933, FDR announced the repeal of Prohibition in Presidential Proclamation 2065. After the the ratification of the 21st Amendment (which repealed the 18th Amendment of January 16, 1919) the long national nightmare was over, just in time for the holiday season. The failed social experiment officially went into effect in January of 1920, and 13 years later, Americans could once again enjoy their inalienable right to beer.
So this holiday season, celebrate eight-plus decades of post-repeal good times with a bit of nostalgia from the fine folks Budweiser. This crate is like a warm hug from a great grandparent. Also, it's really good for holding vinyl records.
Happy Holidays! #ThisBudsForYou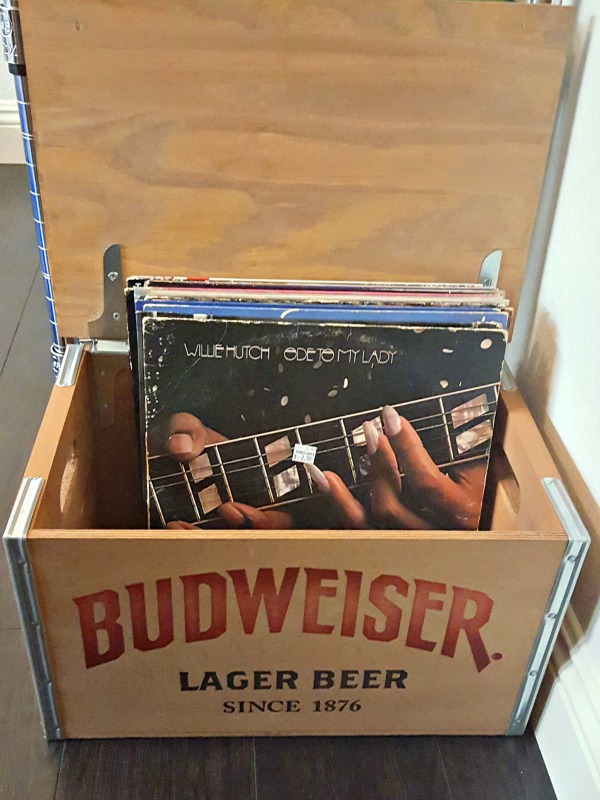 Happy Holidays! #ThisBudsForYou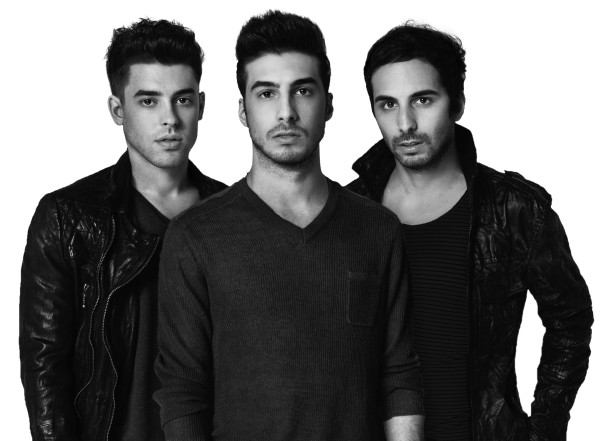 As the summer rolls on Budweiser continues to celebrate America with their concerts in different landmarks around the country. The Monument Series at the Statue of Liberty was a night to remember. Now Budweiser looks to continue the trend with a private concert featuring CASH CASH, E-40 and DAY WAVE on August 15 to be held at Crissy Field underneath the Golden Gate Bridge in San Francisco. As the second event of this concert series, Budweiser is creating another monumental music moment ahead of its Made In America festival in Philadelphia this Labor Day Weekend.
Held at another iconic American national park as a prelude to the BMIA Festival, this concert raises awareness for the Find Your Park movement, celebrating the centennial anniversary of the National Park Service and Budweiser's Partnership with National Park Foundation. Budweiser announced its partnership with the National Park Foundation (NPF) in April with the roll out of limited edition patriotic packaging featuring the iconic silhouette of Lady Liberty.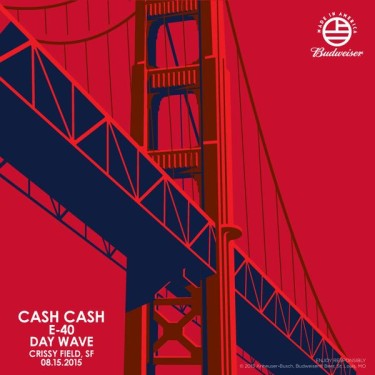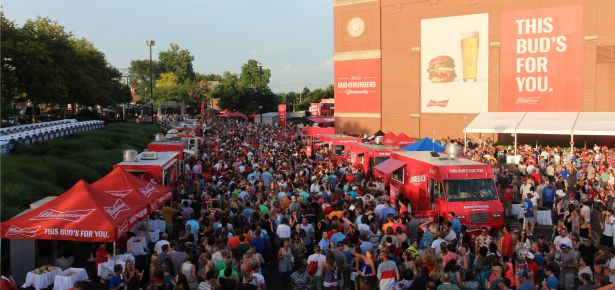 Our pals at Budwesier shipped us to St Louis this past weekend to attend the Bud and Burger Championships held at the storied Budwesier brewery. We first told you about this competition back in April after we attended the launch event hosted by Chef David Chang. Since that time, amateur chefs have been competing at festivals around the country for the chance to battle it out in the finals.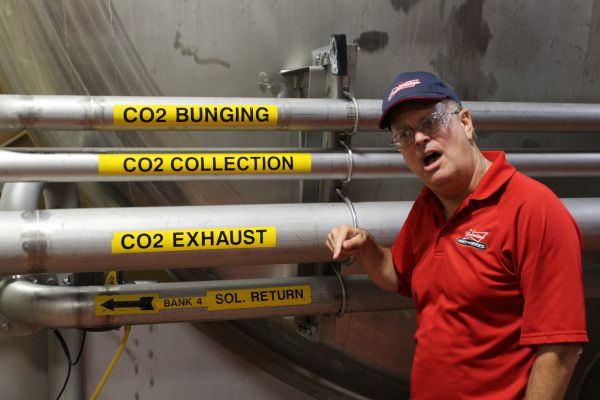 Before the burger action kicked off, we got a grand tour of the Budweiser Brewery from our old friend Brewmaster George Reisch. I met George in LA and we talked for a long time about Kolsch, Austrian vs. German beer, yeast, beechwood aging, all kinds of stuff. George is a fifth-generation brewmaster. His family started brewing beer in the mid 1800s in Springfield Illinois. George also served as the President of the Master Brewers Association of the Americas from 2008-09. Believe me when I say you will never meet a guy who has more passion or knowledge for the art of making beer. Having this master craftsman lead the Budweiser Brewery tour with all his enthusiasm and wisdom was a real treat.
Back in the mid-1800s, German immigrants came pouring through St. Louis and they brought their tasty lager beer with them. Lager is a crafted brew that takes time to make. It needs to rest and chill out. Back in the days before refrigeration, that required a cool dark place to store beer. This is why many lager breweries had underground faults.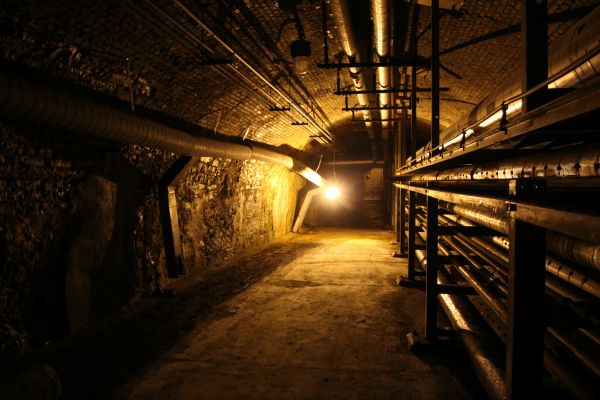 Sampling ice cold Budweiser straight from the source, visiting the Clydesdale stables and seeing beechwood aging and big beer science in action was cool, but I was really digging our visit to the vaults underneath the Budweiser Brewery. Just one of the many perks of having Brewmaster George as your tour guide. As George explained, German immigrants would seek out areas where they could carve vaults out of limestone. This area of the brewery hasn't been used for ages and back in the day, there wouldn't have been any pipes in fault. When I showed George the photo of the vault, he sent me anold advertising tin from the 1870s that shows the vaults as they were originally used.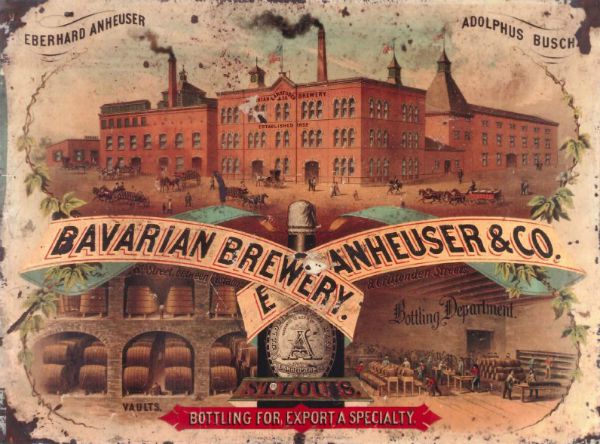 The Bud and Burger Championship wouldn't be complete without the burgers. The finalists and their food trucks lined up to get samples out to everybody and the folks who attended had some serious options to choose from. BBQ pulled pork with bacon in one corner. Smoked bacon with brat sausage in another. Ground veal with a special mesquite steak sauce next to a truck serving burgers with Portobello mushrooms, red onion relish and garlic herb aioli. You get the idea.
In the end though, the people voted and it was the Angie Burger that came out victorious. The creation of Angie Bos, the Angie Burger featured glazed bacon with provel cheese and caramelized onions. Here's the recipe:
The Angie Burger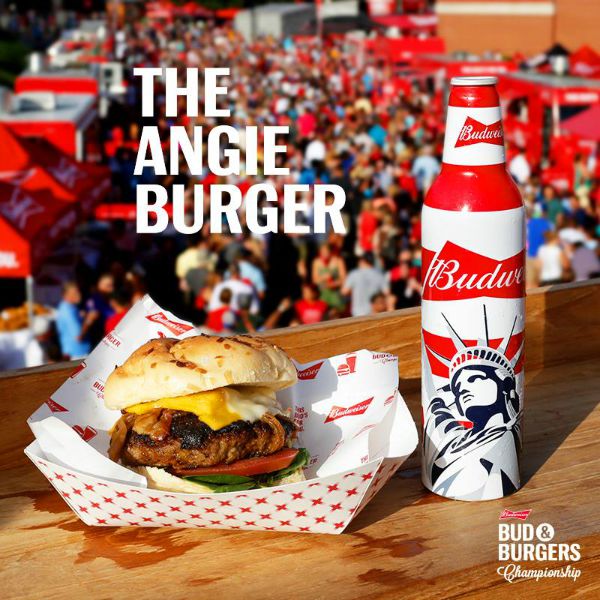 Glazed Bacon, Provel Cheese, Caramelized Onions.
Type of Bun: Onion Bun.
Prep time: 15 minutes.
Cooking time: 20 minutes.
INGREDIENTS
2 lbs. ground beef.
1 lb. ground pork sausage.
8 oz. shredded cheddar cheese.
3 oz. crumbled bacon.
1 egg, beaten.
Seasoning salt: mix salt, pepper, garlic powder, onion powder, minced garlic.
Slice of American cheese.
Slice of Provel cheese.
2 stripes glazed bacon (glaze is 1:1:1: ratio of brown sugar, maple syrup and honey).
Caramelized onion (1/6 of a sliced onion, cooked in 1 tbsp sugar and 2-3 oz. Budweiser).
Fresh spinach for topping.
Tomato slices.
METHOD
ONION
Head skillet to medium heat. Add in butter or oil, then sliced onion. Stir in sugar and Budweiser. Cook until the Budweiser is reduced and the onions are soft.
GLAZED BACON
Heat oven to 400 degrees. Lay out bacon strips on parchment paper or greased rack on baking sheet. Combine brown sugar, maple syrup and honey in a bowl. Bake bacon for 15-20 minutes until it reaches desired crispness. Every 5 minutes, flip and glaze the bacon. (If using a rack, remove bacon to cook so it doesn't stick.)
BURGER
Combine ground beef, ground pork sausage, shredded cheddar cheese, crumbled bacon, egg and seasoning mix. Shape into 8 oz. patty. Put a divot in the center of the patty. Cook patty in skillet over medium-high head. Add a little Budweiser. Flip and cook the other side (flip only once). Place slices of American and Provel cheese on the patty, then cover skillet so cheese melts.
BUN
Assemble the burger: bottom bun, patty with cheese, glazed bacon, caramelized onions, spinach, sliced tomato and top bun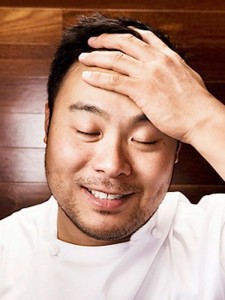 Chef David Chang
Angie took home a check for $100K and will also get the chance to star in a new cooking show that will appear on Esquire. Chef David Chang helped judge the competition and he was also present for a few of the different festivals where amateur chefs battled it out to get the the championship. Part of the reason that Chang signed up was that he wanted to be inspired.
"It was enlightening in ways that I never thought it would be," Chang told me. "I wanted to do it partly to get inspired. As a professional I sorta get stuck in my own ideas or the people I'm surrounded with. It's like being stuck in high school with the same kids your entire life," he said.
"I surround myself with the people I know and it doesn't really change. It gets homogenized. More importantly, even as a professional you get stuck with the ideas that you think you already know. Sometimes wisdom isn't necessarily the best thing," Chang said.
Chang explained that some of the recipes he saw were things that he would never do, but that's a good thing.
"You can learn from anything," Chang said, "and it's stupid to say that you can't."
True learning and growing as a chef comes from the mistakes you make as well as the wild ideas you see from others.
"The real discovery isn't knowing how to do it. The discovery is in fucking it up. Fucking up so hard is something I do less and less and less, even though that's how I know I'm going to learn," Chang said.
All of us can relate to that, especially in the kitchen. So if you want some burger inspiration to get your creative culinary juices flowing, check out the full list of the final Bud and Burger Championship recipes at www.budweiser.com/recipes.html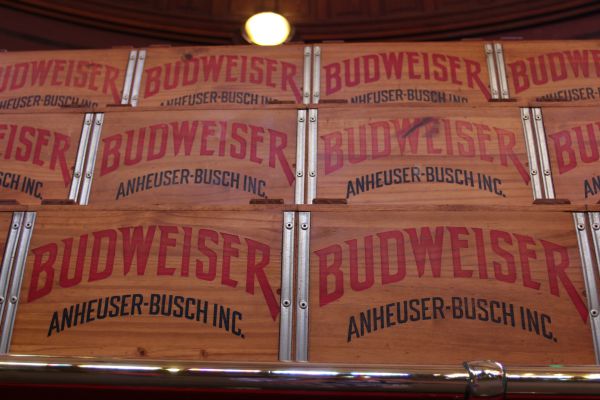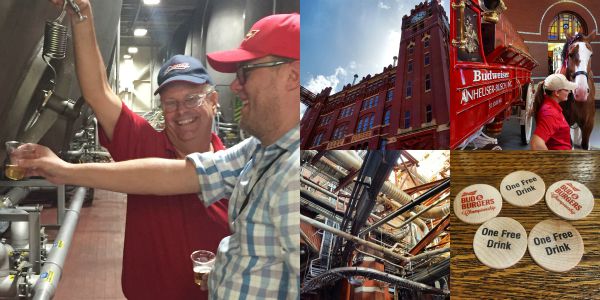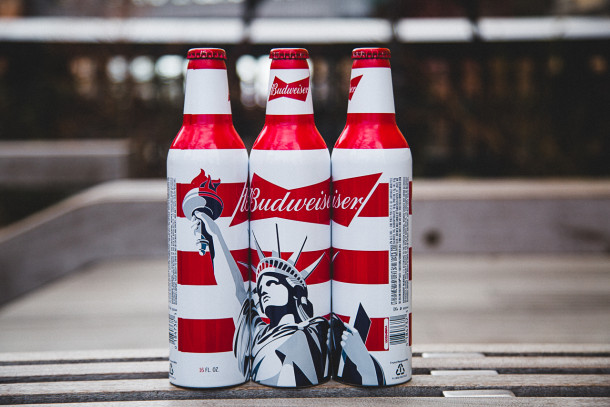 In honor of Earth Day, today, 13th Witness teamed up with Budweiser to showcase the company's new patriotic summer packaging. There was a photo shoot in NYC in famous locations around the city.  This unique summer packaging features the Statue of Liberty in celebration of Budweiser's partnership with the National Park Foundation which the brand announced today, complete with a donation and much-needed manpower to support the Foundation's "Find Your Park" initiative.
A monumental packaging conversion like this one was worthy of a monumental debut – so Budweiser commissioned cityscape photographer and Instagrammer 13th Witness to capture images of the new Budweiser bottle against iconic New York City backdrops, including aerial shots above Liberty Island.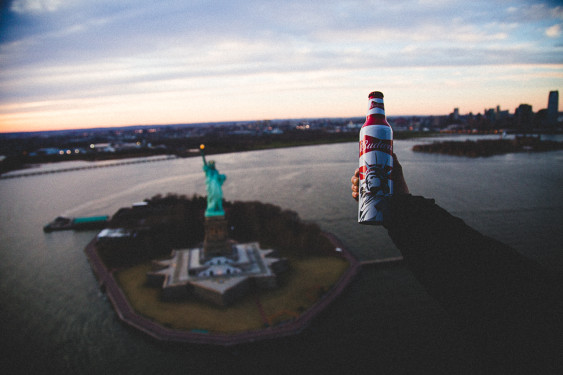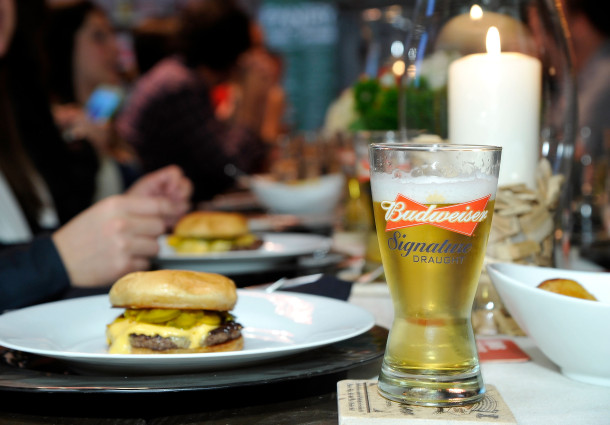 Ah, Burgers and beers. They go together like peas and carrots. Like peanut butter and jelly. Or football and Sundays. This winning food and beverage combo forms the bedrock of the American belly. It's what most of us are made of, really.
We already told you about the announcement of the Bud and Burgers Championship. It's is a three-month nationwide competition where amateur chefs will compete at major festivals across the country. The winner will take home $100,000 to jumpstart their culinary career. The winning chef will also be invited to compete in a new cooking competition show on the Esquire Network.
Last week, I got to experience the higher end of this fine Bud and burger pairing at an exclusive dinner hosted by Budweiser and Chef David Chang. Before Chef Chang was introduced, the folks from Budweiser announced the upcoming burger competition with the bold claim that the burger was first unveiled to the world at the 1904 World's Fair in St. Louis. This meant that burgers and Budweiser were joined at the hip from the get-go.
I decided to look into this a bit, and it turns out the 1904 World's Fair was a pretty big deal. The origins of the burger in America are a bit murky, but one thing's for sure, people were probably chomping on burgers and sipping Budweiser during in St. Louis in 1904.
Also known as the Louisiana Purchase Exposition, the 1904 World's Fair in St Louis lasted for seven months. Sixty-three countries participated in the expo and over 19 million people attended. The first Olympics ever held in the US took place during that summer in St. Louis. Geronimo was on display in a teepee. Helen Keller gave a lecture. Max Weber was there. TS Elliott wrote a short story about his expo experience for his high school newspaper. Jack Daniel and his Tennessee whiskey were awarded a gold medal at the World's Fair, something that's still advertised on every Jack Daniel's bottle.
Was it the first time the world was introduced to hamburgers? Hard to say, but if you believe different accounts, it was arguably the first time people were introduced to things like Dr. Pepper, peanut butter, cotton candy and the waffle cone, too.
So yea, a lot went down at the world's fair that year, but let's get back to burgers in 2015, specifically the burger that was served at the dinner that kicked off this whole Bud and Burgers Championship thing last week in Santa Monica.
Too often a premium burger has too much going on. If you can't hold it in one hand and put it in your mouth, is it really still a burger at that point? I say no. But i'm a simple man. Chef Chang's burger recipe was simple by design.
"Keep it simple," Chang said. "Simple is hard to do."
And simple it was. Simply delicious. Here's the recipe:
Short rib beef blend (or at least a 80/20 lean/fat blend)
American Cheese Slices
Hamburger Buns
2 TBSP Neutral, High heat Oil
Bread & Butter Pickles
Cast Iron Skillet
How You'll Make It
Ask your butcher for a short rib blend (16oz will make four 4oz burgers). If you can't get a short rib blend, make sure ou get a blend that has 20-30% at content
Form the patties. Measure/estimate out 4oz portion and form into 1/4" thick patties
Season liberally with salt on each side
Add oil to cast-iron skillet over medium-high heat
Cook patties for 3 minutes  on each side. During the last minute, add one slice of cheese to the patty and a dab of butter to the pan. Baste burger until cheese is melted and set aside on a cooking rack to rest
In the same pan, toast buns face down until golden brown
To assemble the burger, place the patty on the bun, dress with bread and butter pickles to taste and top with the other side of the bun
What's this, you ask? No veggies?
"If you want vegetables," Chang said, "eat a salad."
The no frills burger was perfect. The short rib provided the proper fat balance, it was just salty enough, and the pickles were a nice crunchy complement. Did it look pretty? Not really, but who cares? Taste should dictate success in any burger sampling exercise, and the taste quality was off the charts. Pair it all with a frosty Budweiser Signature Draught, and you get a room full of happy people. The bud and burger combo wasn't complicated. It was familiar and user-friendly, and according to Chef Chang, that's all part of the appeal.
"Cooking Zeitgeist is changing," Chang said. "The burger is the perfect example of where food is going. You're doing something delicious that's also accessible."
Think you got a winning burger concept? Submit a photo or video of your burger creation to Budweiser.com/burger to see if you can score a festival invite and a chance to compete in the final burger battle at the Budweiser Brewery in St Louis. Good luck, burger lovers!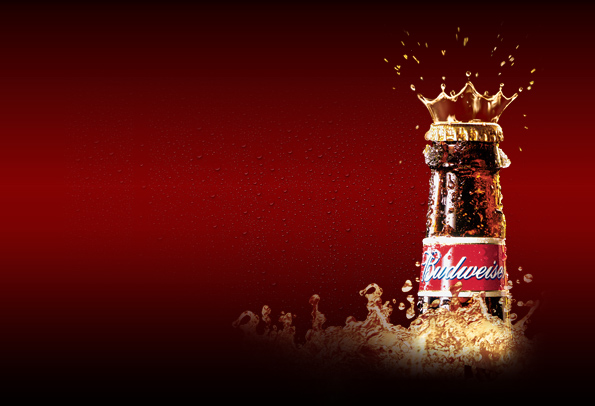 Last month during NYC Restaurant Week, a production crew invited young adults 21-and-older a sneak peek at a new bar in Brooklyn, weeks before its official opening. On tap was a smooth, crisp golden lager, aged over beechwood, that has boasted the same recipe for 139 years – and only after guests sampled the beer did they find out they were drinking Budweiser. Yes, the King of Beers.
Check out the video for their reaction.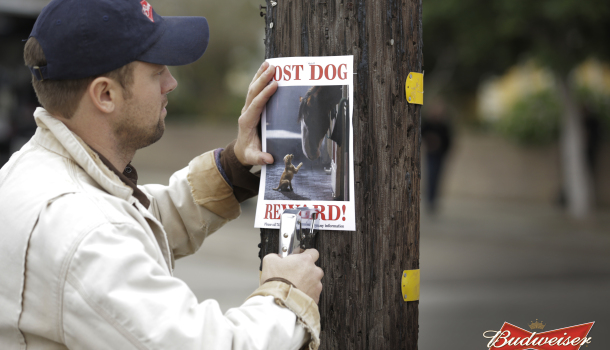 As the exclusive category advertiser for Super Bowl XLIX, Anheuser-Busch today announced it will feature three ads spotlighting two marquee brands during the NBC broadcast on Sunday, Feb. 1. Budweiser and Bud Light will represent Anheuser-Busch with new creative.
"The mass appeal of the Super Bowl presents an unparalleled platform to launch 360-degree campaigns that ultimately deliver against our top priority: sell more beer," said Jorn Socquet, vice president, U.S. marketing at Anheuser-Busch. "With our track record, we know consumers look forward to our iconic spots and what viewers see during the game is just the beginning of what they'll experience from Anheuser-Busch in 2015."
Anheuser-Busch's flagship brand, Budweiser, will debut a 60-second ad that highlights the brewing credentials for America's No. 1 full-flavored lager.
The second Budweiser ad, "Lost Dog," will feature the world-famous Budweiser Clydesdales and their favorite companion. In the spot, the Budweiser Clydesdales will tell an emotional story and help a puppy who has lost his way learn the true meaning of friendship.
"The Budweiser Clydesdales have appeared in our Super Bowl ads for nearly three decades. They continue to serve as time-honored symbols of how we brew our beer: remarkable care and attention, sparing no expense, the highest quality and consistency," said Brian Perkins, vice president, Budweiser. "This year, they will live up to their reputation and once again save the day in a heartwarming story about best buds never letting you down."
The creative agency for both Budweiser spots is Anomaly.
As the "Perfect Beer for Whatever Happens," Bud Light will bring the unexpected to Super Bowl XLIX.
This year's 60-second ad, "Coin," features an everyday Bud Light fan who experiences an unforgettable night with '80s iconic old school fun simply by indicating he is "Up for Whatever."
"We believe that our new Super Bowl commercial and the Bud Light House of Whatever will make Bud Light the most talked about experience at the Super Bowl," said Alexander Lambrecht, vice president, Bud Light. "Bud Light will continue to create unexpected experiences for 'The Perfect Beer' campaign in 2015 and win with millennials through unforgettable, authentic experiences."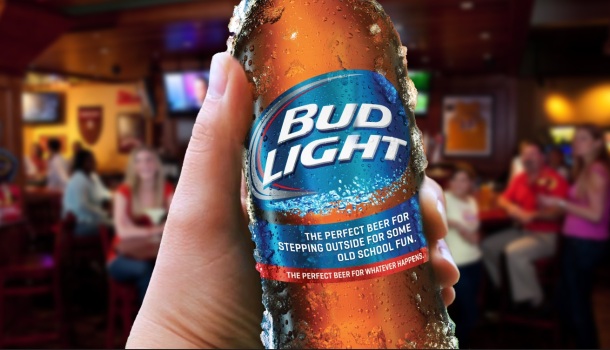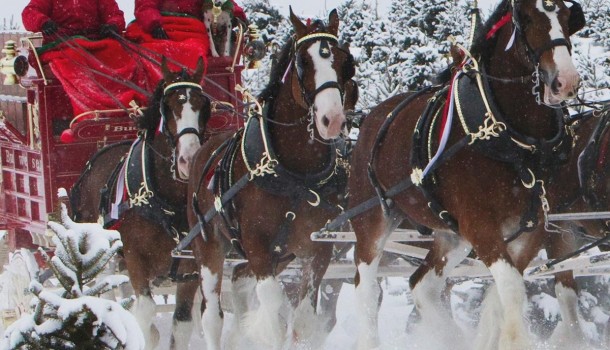 Don't believe everything that trends. The Budweiser Clydesdales are not going anywhere.
"We are excited to see exactly how much the Clydesdales can still touch the hearts and minds of our passionate fan base," said Brian Perkins, vice president, Budweiser. "There have never been any plans to remove our beloved Budweiser Clydesdales from our brand identity. In fact, we can confirm they will return to the Super Bowl in 2015. And they are stars of our new online holiday campaign that has been in production for months."
The Budweiser Clydesdales can be found giving folks a safe ride home in a new video promoting responsible drinking during the holidays.
"Let me be clear," added Perkins. "Straight from the horse's mouth: The Budweiser Clydesdales are here to stay and will continue to play a central role in our campaigns, including holidays and Super Bowl. They represent the quality and heritage of the No.1 full-flavored lager in America."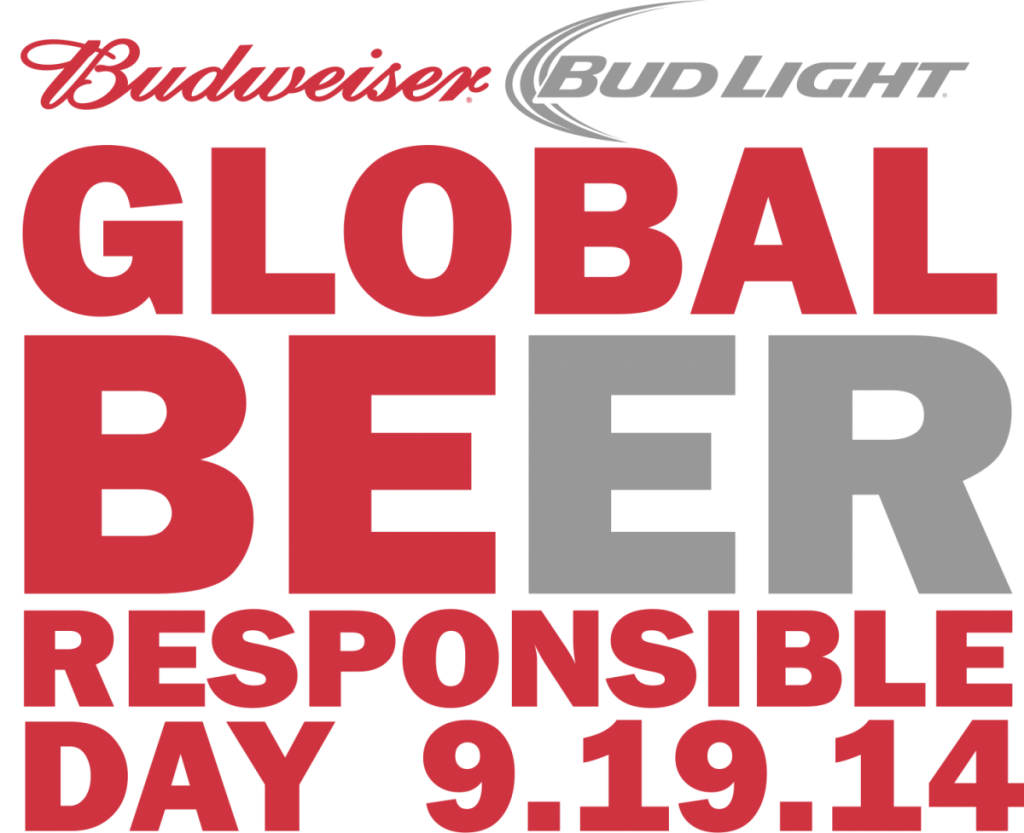 Budweiser today released an exclusive digital video to raise awareness for drunk-driving prevention. Unlike previous spots from Anheuser-Busch's flagship beer brand, the online-only content carries a more emotional tone and portrays how having a plan to get home safe can result in a positive ending.
Anheuser-Busch and Budweiser believe drunk driving is 100 percent preventable when adults make a plan to get home safe. However, lives are still lost in drunk driving-related crashes every year. The "Friends are Waiting" video opens with the deep bond between two best friends—Luke and his dog Cooper—and culminates with Cooper's reaction when Luke doesn't come home after a night out.
Anheuser-Busch is one of the first alcohol companies to widely deliver a responsible drinking message with this tone, and the new video represents an evolution in how the company talks about responsible drinking. Although Budweiser is sharing this message with anyone of legal drinking age, the brand is releasing the video digitally to capture the attention of drinkers ages 21-27, who consume and share content via online news sources and social sites.
"Budweiser has long championed the message to 'designate a driver and enjoy the great times,' but this video goes a step further to reinforce the importance of making a plan to get home safe while showing how our decisions impact those around us," said Kathy Casso, vice president, Corporate Social Responsibility, Anheuser-Busch. "Creating this video to live – and be shared – digitally is an important way to keep the momentum going and reach as many adults as possible."
The launch of the 60-second video is being timed with Anheuser-Busch's 5th annual Global Be(er) Responsible Day on Friday, Sept. 19, a day Anheuser-Busch InBev and 155,000 colleagues worldwide dedicate to promoting responsible drinking worldwide.