Chef Gerry Garvin Tells MANjr How To "Give It Up For Good"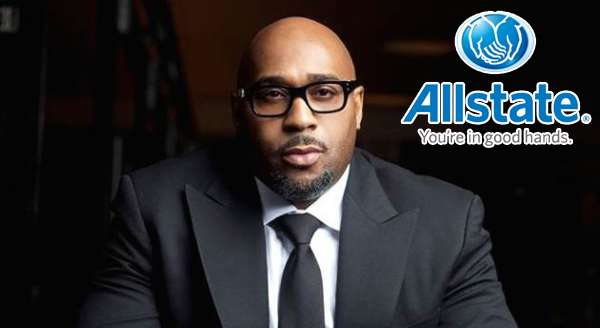 Gerry Garvin is an acclaimed chef, cookbook author and TV host. He is known for his television series, "Turn Up the Heat with G. Garvin", which ran for seven seasons on TV One. Next he started another show called "G. Garvin: The Road Tour", which premiered in 2007. Garvin also appeared in many cooking specials. He is also known for cooking everyday meals while keeping it simple with a Southern twist.
This summer, Allstate and Chef Garvin are teaming up for the second year of the "Give It Up For Good" campaign, and are celebrating the remarkable stories and acts of good within local communities. Launched in 2013, the national campaign shines a spotlight on the heartwarming stories of good – giving back to the community, unexpected good deeds, and unsung local heroes – taking place every day. In addition, the "Give It Up For Good" campaign encourages everyone to find simple ways to do good and then share those stories to inspire even more good. For more info click here to go to Allstate's website.
I had the pleasure of talking with Gerry about his work with Allstate, how he got into cooking, and what it was like to cook dinner for Halle Berry.
Art Eddy: Let's first talk about your work with Allstate for the "Give It Up For Good" campaign. Tell me a bit about that promotion?
Gerry Garvin: It is something we both wanted to do. We are both very passionate about it. We are spotlighting remarkable stories and remarkable people, who are doing really good things in their local communities. As you know as a writer a lot of the news you hear is always negative. There are some good people doing some good work in their community. We want to reach out to them and show them that they are appreciated.
AE: How can people help?
GG: When you find someone doing something good in their community have them go to Allstate's website and go to their "Give it up for Good" section and just share the story. We want people to know what other people are doing and use the hashtag give it up for good. Just share, share, share, and share. That is what it is all about.
AE: What got you into cooking? Was there a person or an event that triggered your passion for cooking?
GG: I have been cooking for over half my life. It literally started just from being in the kitchen with my mom. Being from a single parent household we were learning how to cook because that was what we were supposed to do. The rules were simple. Do your homework, clean the house, and start dinner.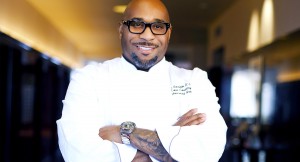 I found that it was the easiest job next to mowing the lawn. As a teenager I learned my way around the kitchen. When I turned 17 I thought it could actually be something serious so that is what I did.
AE: You have cooked meals for some very notable people such as former President Bill Clinton as well as Halle Berry. Do you have any fun stories from those experiences?
GG: The first call I got didn't come from the White House. It came from someplace that was the lead security of some sort. When I first got the call to do a dinner for President Clinton he was still in office. I just hung up the phone. I thought it wasn't real. I thought it was a joke. Then I get a call from the guy who set it all up and asked why I hung up on the staff at the White House. I was like I think I did. So that was a funny story, but I ended up doing a really great dinner for the president.
Then you know sitting in the kitchen with Halle Berry and having a glass of wine and making dinner for her is pretty exciting also.
AE: You have been on many TV shows here and there. Take me back to the first time you started your career on TV. What thoughts raced through your mind at that time?
GG: I have always done live TV and special guest spots, but the TV show, "Turn Up the Heat" the very first show I remember going is anyone going to ask me if I know what I am doing because no one ever did.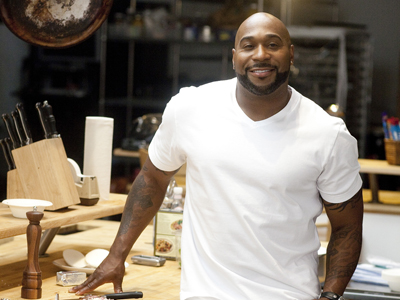 I signed the contract. I never stood in front of a teleprompter before. I never did anything like that before besides being funny.
I spent some time trying to prefect the business part of television. The rest of it I said that I am going to have some fun. My very first guest was Hill Harper. I called up Hill. I told him that he was on the show tomorrow. I asked him what he was going to wear, what he did or didn't want to talk about, was he going to stand on my left or my right, and so forth. I thought I would be human about it. It was a really interesting experience.
AE: Which other famous chef or celeb would you like to cook with or have them cook for you?
GG: There are a couple of people that I really like. I don't know if I would ever get the opportunity to work with them, but Thomas Keller is one of the brilliant minds behind the culinary world. Sidney Poitier. He just represents the human species really well. That is a man that I am impressed with that I would love to cook for.
AE: What is the process like for creating new dishes? Is there a lot of trial and error?
GG: There is a lot of trial and error when you are younger. As you get older and you understand the culinary science of food it gets easier. When I think about a dish I imagine what that dish could be like. I do a lot of thinking before I go into the kitchen. So I spend a lot less time testing and failing, but rather testing and developing. So for me I draw inspiration from whether it is a flower or a fruit or a dish that I saw that can be enhanced. For me it is getting in and really developing the dish.
Related Posts
| | | |
| --- | --- | --- |
| | Print article | This entry was posted by Art Eddy III on August 4, 2014 at 8:22 pm, and is filed under Lifestyle. Follow any responses to this post through RSS 2.0. Both comments and pings are currently closed. |
Comments are closed.