Cole Whitt Interview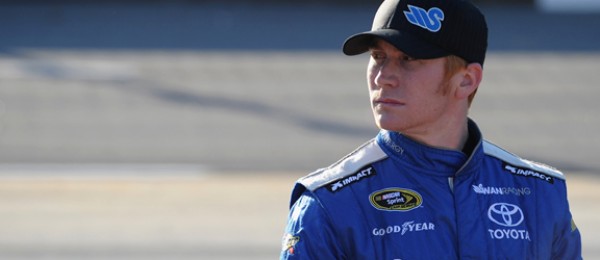 Last week we had a chat with NASCAR Sprint Cup Series Rookie of the Year candidate Cole Whitt as he was preparing for the Daytona 500. Whitt is just 22 years old, but the guy's been racing for years. HE started racing when he saw one of his cousins with a go kart. He moved from go karts to midget cars to sprint cars and trucks and made his NASCAR debut in 2010. He has 11 top ten finished in the World Truck Series, 18 top ten finishes in the Nationwide Series and now he's driving the No. 26 Toyota Camry car for Swan Racing in the Sprint Cup Series. Men's Speed Stick GEAR will serve as Whitt's new NASCAR sponsor, and the brand will be featuring a documentary series on Whitt's journey to the Daytona 500 starting in March on the Speed Stick Power YouTube Channel. After overcoming a bit of car damage adversity to make the race, Whitt finished 28th overall at Daytona.
Whitt told us about his leisurely activities, his participation in the Red Bull Driver Development Search program, his favorite tracks and, after seeing this photo on his website, you know we had to ask the man all about bow season:

CS: So to start off, I was checkin' out your website and it looks like you're into hunting because you got a picture of you front and center with a bow and arrow. Can you explain to me what bow season's all about?
CW: You know the bow hunting is just something that I've enjoy. It's not so much going out and having to harvest something, but just the fact that bow season is kinda the opposite of racing. It's nice to be able to slow down and relax. Bow hunting is all about getting close. There's a whole other challenge to it. I enjoy the tricking part of it. Technically, I just spear hunt mostly, so tricking deer for the most part.
CS: Racing is kind of in your family – well, not kind of, it certainly is. When did you first realize you were going to be a professional race car driver?
CW: I don't know. It's in me right now, you know it can be taken away at any moment I know that that's why I don't take it for granted. You know I'm very blessed to be able to do this and to do it at the level I am right now and I've just been doing it. Even when I was racing go karting, we just never took it for granted and we always knew at any moment things could be taken away. And you know, there's been many times where it has and things have always worked out to come back around for something else. Just staying focused with having a good family behind me and raising me the right way made a big difference and I think just being able to be this far is pretty exciting, regardless of what happens from here.
CS: Can you tell me a bit about your participation in Red Bull's Driver Development Search?
CW: Yeah. That whole thing kind of came together last minute. They were doing that Red Bull driver search looking for actually an F1 driver and I wasn't going to do it. I was actually just kind of racing go karts at the time with my family and just having fun. We were winning a lot of races and championships, but we were just having fun and clearly didn't think anything of it.  And the next thing you know someone's like, hey you really need to go do this thing they're going to let you go straight to a qualifying round. So alright, we go out there and have fun with it and after the whole thing was said and done, long story short, they wanted to meet and it progressed into a sponsorship. They're actually probably the only reason why I've made it this far in the sport. It was a great partnership and it was great while it lasted. Just a great company. They did a lot for me.
CS: Their racing program has since shut down. How did that go down, do you know?
CW: Yeah, I don't know the specifics on it but I think whatever they needed to do was for their best interests and I support every decision that they've ever made just because of how much they've done for me. You know, they were great people. They were great to me and took care of me well. I don't know the logistics behind why or what they did, but I'm sure they had good reasoning.
CS: You're a rookie of the year candidate this year, so you're certainly holding your own and then some. Is there specific preparation that you go through or any kind of rituals or superstitious stuff that you do before each race?
CW: Nah, I'm not superstitious. I kinda feel like it's going to be whatever it's supposed to be. I'm pretty confident that everything will take care of itself. For the most part though, like you said, being in that rookie class, this is one of the biggest rookie classes they've had in the cup series and one of the most talented. To be part of that's a pretty cool honor and to be able to say that we had a good shot of winning it is pretty cool also. It says a lot about me and what we stand for as a team and what we're getting ready to build. I'm pretty excited to see how that turns out.
CS: What's your favorite track ever? Go karts, sprint cars, stock cars, any of the above.
CW: I'd say my favorite track so far is either the Old Phoenix before they repaved it and then probably Kokomo speedway the dirt sprint car track in Indiana.
CS: Nice. Now I also saw that you're pretty up on social media. How do you leverage social media to connect with the fans of the sport?
CW: Yeah, social media is pretty neat and I've actually gotten better with it over time because I really didn't use it to connect with fans at first, but now I've been using it more to connect with fans. It's been a lot more fun once you do that and you realize how much they enjoy it and I like that. You know there's no reason why we can't, it takes two seconds. You're on your phone anyways probably looking at it or reading it and when someone posts something to you and you reply or talk to them or give them something they want to know or give them an inside look at something, that's what gets people excited. And without those fans our sport would be nothing. Just having the gratitude and the mindset that these guys are paying for the seats and coming to watch us at the race track is what drives our sport in the first place.
CS: What would you say is your most anticipated race of the season?
CW: I'd say right now Daytona 500 is probably my biggest anticipation. There's a lot riding on this and there's a lot that could happen here. But at the same time if things don't work out for the best there, I know I can pull through and look forward to Phoenix and other races down the road. I look forward to the whole season, but Daytona 500 right here is something I'm really looking forward to.
CS: I got one more question about your leisurely activities. How good is your golf game?
CW: (laughs) Um, not too well. I actually started playing more in the past little while (laughs), but not too good. I'm more into the cross fit training and a lot of fitness is what I probably do the most.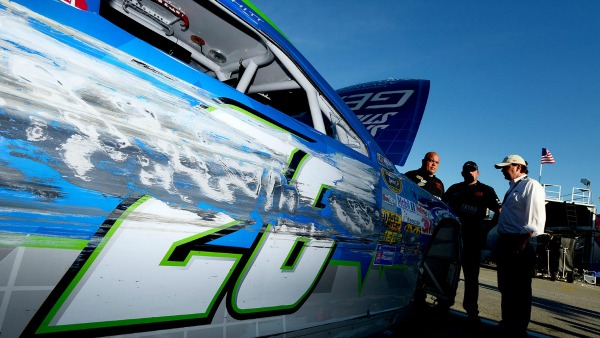 Related Posts
| | | |
| --- | --- | --- |
| | Print article | This entry was posted by Chris Stout on February 27, 2014 at 8:19 pm, and is filed under Sports. Follow any responses to this post through RSS 2.0. Both comments and pings are currently closed. |
Comments are closed.