Posts tagged
Cole Whitt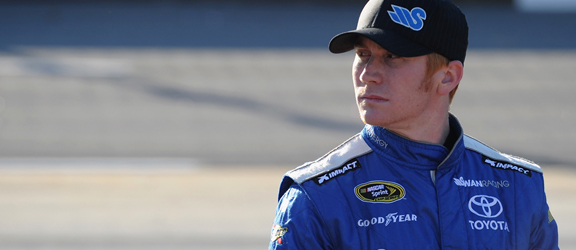 What creates doubt in your mind? Do you let it get to you? NASCAR driver, Cole Whitt knows what it is like when people are always doubting him. Some wrote Whitt off even after a successful rookie year. Cole did have a few challenges including off-season shoulder surgery, working with a new team, vehicle and crew – and of course the sophomore jinx.
Yet he is looking to defy any doubt. He is working with Men's Speed Stick. Together they are celebrating the 2015 racing season with an exclusive, online sweepstakes to celebrate fans who mirror Whitt's courage to step up in high-pressure moments. Whether it's walking confidently into that big interview or climbing Mount Everest – any moment can be an opportunity to succeed and #DefytheDoubt.
Sounds cool right? You could be the lucky fan, selected on May 30, to attend a NASCAR race of your choice, meet Whitt and watch the action from pit row alongside Witt's racing team.  Want to enter? Here is how you do it!
To enter the #DefytheDoubt Speed Stick Sweepstakes you need to follow @SpeedStick on Twitter. Next tweet a photo showcasing ways they courageously prepare to step up and silence their doubters and use the hashtag #SpeedStickSweepsEntry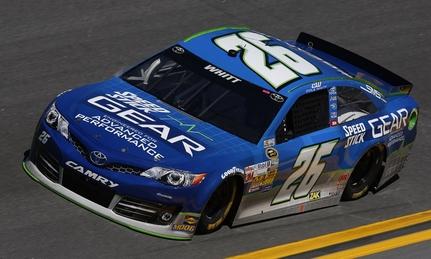 Good luck!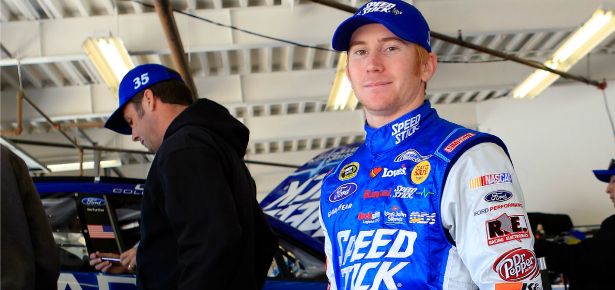 I'm not going to pretend to know Cole Whitt. I mean, how can you really get to know someone after two interviews and a weekend in Daytona? But I think I got a good read on the guy, and if I could use one phrase to describe him, I'd say that he's approachably focused.
He's equal parts humble and hungry. Whitt doesn't carry himself like a superstar race car diva. He's got work to put in and he welcomes that work. That doesn't mean he won't flash a big, genuine smile when meeting a fan or take time to answer silly questions from bloggers like me.
When you meet Cole, you sense quickly that he's a private guy. Not a limelight seeker by any stretch. He prefers CrossFit and the outdoors to press rooms and podiums. Behind this surface of shyness, though, there's a big heart and a ferocious sense of purpose. You don't earn a nickname like the Ginger Lion by being a pansy.
It should be noted, that racing ain't easy, man. Especially if you want to compete in the NASCAR Sprint Cup Series, the nation's highest stock car division. It's a taxing endeavor all around. You need financial backing from your teams and sponsors, and soul support from your family and crew. On a weekly basis, you have to overcome the physical rigors of driving hundreds of miles with inches separating you from disaster. Then there's mental prep required to get your head right before, during and after competition.
This is some seriously stressful stuff, but the stakes are high, my friend. This year's Daytona 500 had a purse of over $18 million. That's a lot of coin for 43 drivers to chase in one day.
Thanks to our friends at Speed Stick, we were able to follow Cole Whitt's full experience of the 2015 Daytona 500. Join us for a moment as we step into his racing shoes…
Imagine you're a pocket-sized, 23-year-old professional driver entering your second full season in the NASCAR Sprint Cup Series. You're a full-blown ginger and your height and weight aren't listed on your NASCAR profile. The biggest expectations you have come from within. You're confident, because you've been racing for more than half your life. There's doubters all around, but not in your inner circle.
Your first season had its set of challenges. Your car got jacked up during practice at the Daytona 500 and there was no backup car available. Your team rallied to make repairs, just to get you into qualifying. With no guarantee that you'd even compete, you make up eight spots on the final five laps of your Budweiser Duel to secure entry in the 2014 Daytona 500.
You showed a ton of promise in your first full Sprint Cup season. You finished better than you qualified in three of every four races you entered. You created some rookie of the year buzz and things looked promising.
With little warning, your racing team shuts down operations in April. You switch teams to close the year out and it's unclear who'll have a spot for you next season. Shoulder surgery that cuts into your offseason prep, but at least you secured a spot a new team. With your second season set to begin, you find yourself back in Daytona needing to fight your way in again.
This is where the Ginger Lion stood, right before the Budweiser Duels. Running in the #35 car for Front Row Motorsports, Cole Whitt was on the outside looking in and needed a good showing to earn a spot in the Great American Race. It's #DefyTheDoubt time for damn sure.
"I told all the guys, it's like, everything kinda rides on the 500," Whitt said after qualifying. "If we can get into the 500, from there, the pressure is a little bit off. We still got a lot of work to do for sure, don't get me wrong. But missing this race could turn the whole career to the wrong side. It could make it pretty hard to get through the season."
So, no pressure, right?
"I've been through this situation more times than I want to be. Last year was very stressful and this year was just as stressful. As far as I was concerned, we had to run top 15. And we did."
Whitt's strong finish in the Budweiser Duels meant that he punched his ticket into Daytona to start the 2015 season.
"To be able to lock ourselves in and get all three cars in and push Front Row down the right path, it's going to be awesome. I look forward to see what we can do this year."
Speed Stick gave us the opportunity to follow Whitt and his #DefyTheDoubt attitude around Daytona for an important weekend in his young career. Here's the beat and video we put together to chronicle the experience:
November Update
The folks at Speed Stick shared this sweet video chronicling our boy Cole Whitt's complete sophomore season in NASCAR. Check it out: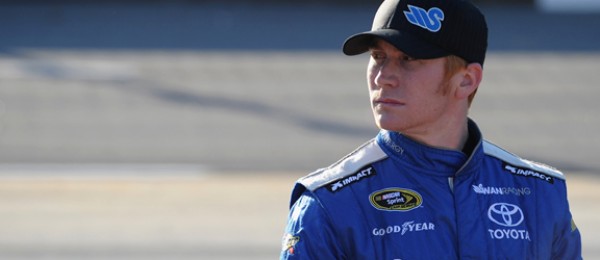 Last week we had a chat with NASCAR Sprint Cup Series Rookie of the Year candidate Cole Whitt as he was preparing for the Daytona 500. Whitt is just 22 years old, but the guy's been racing for years. HE started racing when he saw one of his cousins with a go kart. He moved from go karts to midget cars to sprint cars and trucks and made his NASCAR debut in 2010. He has 11 top ten finished in the World Truck Series, 18 top ten finishes in the Nationwide Series and now he's driving the No. 26 Toyota Camry car for Swan Racing in the Sprint Cup Series. Men's Speed Stick GEAR will serve as Whitt's new NASCAR sponsor, and the brand will be featuring a documentary series on Whitt's journey to the Daytona 500 starting in March on the Speed Stick Power YouTube Channel. After overcoming a bit of car damage adversity to make the race, Whitt finished 28th overall at Daytona.
Whitt told us about his leisurely activities, his participation in the Red Bull Driver Development Search program, his favorite tracks and, after seeing this photo on his website, you know we had to ask the man all about bow season:

CS: So to start off, I was checkin' out your website and it looks like you're into hunting because you got a picture of you front and center with a bow and arrow. Can you explain to me what bow season's all about?
CW: You know the bow hunting is just something that I've enjoy. It's not so much going out and having to harvest something, but just the fact that bow season is kinda the opposite of racing. It's nice to be able to slow down and relax. Bow hunting is all about getting close. There's a whole other challenge to it. I enjoy the tricking part of it. Technically, I just spear hunt mostly, so tricking deer for the most part.
CS: Racing is kind of in your family – well, not kind of, it certainly is. When did you first realize you were going to be a professional race car driver?
CW: I don't know. It's in me right now, you know it can be taken away at any moment I know that that's why I don't take it for granted. You know I'm very blessed to be able to do this and to do it at the level I am right now and I've just been doing it. Even when I was racing go karting, we just never took it for granted and we always knew at any moment things could be taken away. And you know, there's been many times where it has and things have always worked out to come back around for something else. Just staying focused with having a good family behind me and raising me the right way made a big difference and I think just being able to be this far is pretty exciting, regardless of what happens from here.
CS: Can you tell me a bit about your participation in Red Bull's Driver Development Search?
CW: Yeah. That whole thing kind of came together last minute. They were doing that Red Bull driver search looking for actually an F1 driver and I wasn't going to do it. I was actually just kind of racing go karts at the time with my family and just having fun. We were winning a lot of races and championships, but we were just having fun and clearly didn't think anything of it.  And the next thing you know someone's like, hey you really need to go do this thing they're going to let you go straight to a qualifying round. So alright, we go out there and have fun with it and after the whole thing was said and done, long story short, they wanted to meet and it progressed into a sponsorship. They're actually probably the only reason why I've made it this far in the sport. It was a great partnership and it was great while it lasted. Just a great company. They did a lot for me.
CS: Their racing program has since shut down. How did that go down, do you know?
CW: Yeah, I don't know the specifics on it but I think whatever they needed to do was for their best interests and I support every decision that they've ever made just because of how much they've done for me. You know, they were great people. They were great to me and took care of me well. I don't know the logistics behind why or what they did, but I'm sure they had good reasoning.
CS: You're a rookie of the year candidate this year, so you're certainly holding your own and then some. Is there specific preparation that you go through or any kind of rituals or superstitious stuff that you do before each race?
CW: Nah, I'm not superstitious. I kinda feel like it's going to be whatever it's supposed to be. I'm pretty confident that everything will take care of itself. For the most part though, like you said, being in that rookie class, this is one of the biggest rookie classes they've had in the cup series and one of the most talented. To be part of that's a pretty cool honor and to be able to say that we had a good shot of winning it is pretty cool also. It says a lot about me and what we stand for as a team and what we're getting ready to build. I'm pretty excited to see how that turns out.
CS: What's your favorite track ever? Go karts, sprint cars, stock cars, any of the above.
CW: I'd say my favorite track so far is either the Old Phoenix before they repaved it and then probably Kokomo speedway the dirt sprint car track in Indiana.
CS: Nice. Now I also saw that you're pretty up on social media. How do you leverage social media to connect with the fans of the sport?
CW: Yeah, social media is pretty neat and I've actually gotten better with it over time because I really didn't use it to connect with fans at first, but now I've been using it more to connect with fans. It's been a lot more fun once you do that and you realize how much they enjoy it and I like that. You know there's no reason why we can't, it takes two seconds. You're on your phone anyways probably looking at it or reading it and when someone posts something to you and you reply or talk to them or give them something they want to know or give them an inside look at something, that's what gets people excited. And without those fans our sport would be nothing. Just having the gratitude and the mindset that these guys are paying for the seats and coming to watch us at the race track is what drives our sport in the first place.
CS: What would you say is your most anticipated race of the season?
CW: I'd say right now Daytona 500 is probably my biggest anticipation. There's a lot riding on this and there's a lot that could happen here. But at the same time if things don't work out for the best there, I know I can pull through and look forward to Phoenix and other races down the road. I look forward to the whole season, but Daytona 500 right here is something I'm really looking forward to.
CS: I got one more question about your leisurely activities. How good is your golf game?
CW: (laughs) Um, not too well. I actually started playing more in the past little while (laughs), but not too good. I'm more into the cross fit training and a lot of fitness is what I probably do the most.