NASCAR driver Trevor Bayne chats about racing and The Ford/AAA Student Auto Skills Competition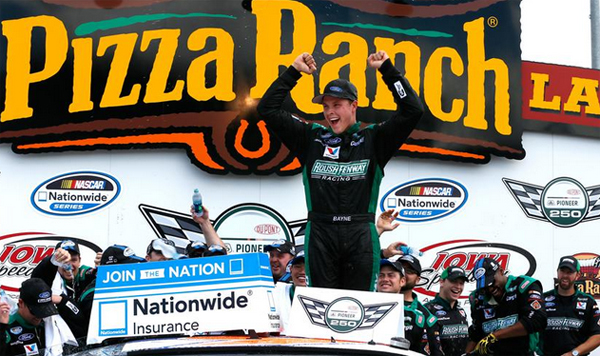 Trevor Bayne had a really outstanding week this past week. He got married and then come Saturday he headed straight to Iowa where he landed in Victory Lane. This weekend he will be driving at the Michigan International Speedway.
While he is in Michigan he took part in the 2013 Ford/AAA Student Auto Skills Competition National Finals. Students compete to win scholarships and prizes. Plus the winning team will also have a weeklong job shadowing Bayne and Wood Brothers Racing leading up to and during the Coke Zero 400 this July in Daytona.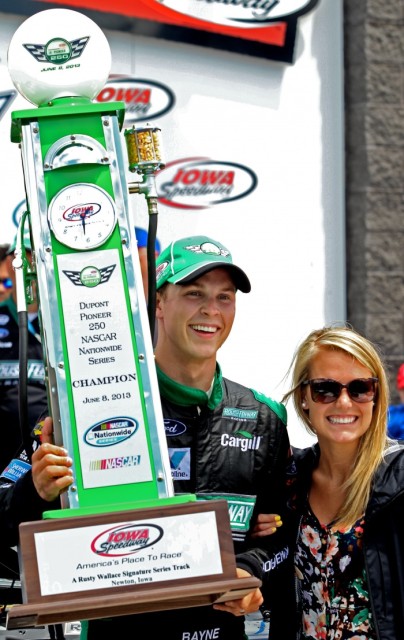 I was able to talk with Trevor on the phone about racing, his wedding, and the 2013 Ford/AAA Student Auto Skills Competition. Plus I also got to ask him what his car of choice is when he is not on the track.
Art Eddy: I have to say congratulations twice to you. One for getting married this past week and then winning the Nationwide at Iowa on Saturday. Tell me how you plan to top last weekend with this weekend?
Trevor Bayne: (Laughs) Well that was a big weekend for us. It was a big week getting married and it was a huge deal and bigger than anything I could ever do on the racetrack. I topped it off by winning at Iowa last weekend. Pretty incredible weekend for us. Ashton told me all along that as soon as we got married I had to win the next race. So I guess I should have married her a long time ago. That's when we knew we lived up to the pressure she put on me. So we will have to keep that going.
AE: How hard was it to transition from wedding day to racing day?
TB: It was okay. I have been doing this since I was five years old. This is pretty much all I have ever known. Ashton is obviously a trooper because we got married on Tuesday. We ended up going to Iowa for our honeymoon. If she can handle that she is a big support factor.
For me as far as flipping the switch it seems like we do that every week. We have crazy stuff going on just like I am up in Michigan today. Flying back to Charlotte. Then flying back to Michigan on Thursday morning to get ready for the race. It is always a busy lifestyle, but once you get to the racetrack you can turn it all off, hop in the car and try and get the most out of it.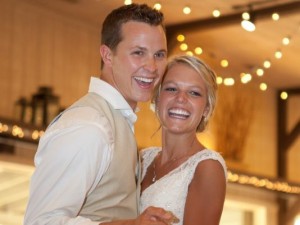 AE: People joked about having your honeymoon at the Iowa Speedway. I take it that the honeymoon will happen after this season is over.
TB: Yea I am hoping so. I am hoping that this offseason we will get together somewhere whether it's somewhere warm like a beach. Get to go on vacation for a little bit and call it a honeymoon. So that will be a good excuse for it.
AE: Your first win was in 2011 with coming in first place at the Daytona 500. What a place to get your first win right?
TB: Winning the Daytona 500 in 2011 was beyond anything I could ever imagine. Being my first time at that race driving for the Wood Brothers. Seeing them back at Victory Lane was worth it. I have been waiting on that moment ever since I started racing. I wanted to make it to the Sprint Cup level in NASCAR and be a contender to win.
I never really pictured it to happen that soon in the first attempt there. I just have great people around me that gave me that opportunity and a great racecar that day. Everything worked out perfect. It was pretty much a miracle. There was no way I should have won that race. I was praying all day and saying God I want to experience you and see your power. I didn't know that that meant a win, but I guess that is how it happened that day.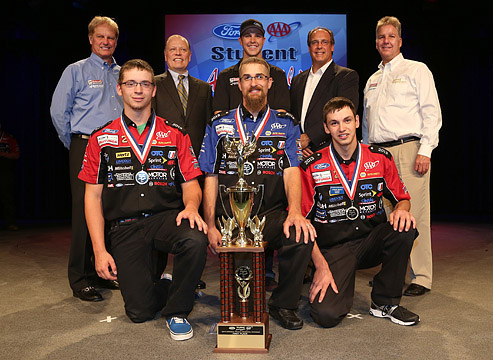 AE: You are now in Michigan for the Ford/AAA Student Auto Skills competition. Tell me a bit about this great program.
TB: Yea it is an awesome program. I have been a part of it for the last three years. For that last two years I have come up to Michigan for the grand finale. Ford and AAA have put it on for the last 64 years. Ford actually has been with it for 19 years, but 64 years is how long the competition has been going on.
It starts out with 13,000 students. They narrow it down to 100 students. Two from each state along with an instructor from that state. They come here to Michigan for the finals. They had Ford Explorers here today. They were all bugged. I think that they had 14 bugs on the car. They didn't tell what the students what was wrong. Then the students have to go in and try and figure out what is wrong, why the thing won't run. Why the windshield wipers don't work, or the blinkers or whatever. Try to fix the car and put it through the line for inspection.
The quickest team with the least flaws obviously, there was a perfect car today and pass a written test. The people that win that are rewarded with scholarships. They get to come to Charlotte, North Carolina for a week and hang out with our race team and then go to the Daytona Speedway with us in July.
AE: How psyched are you to be part of this program?
TB: Just getting people interested in the automotive industry whether it is working at a Ford dealership or being part of a NASCAR team. It is awesome to see these kids who are 17, 18 years old with as much knowledge as they have can perform under pressure like they did today.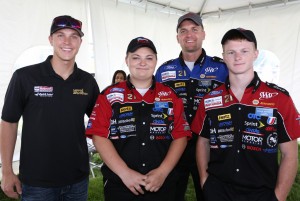 AE: Where is your favorite track to compete at?
TB: I would say one of my favorite tracks is the Atlanta Motorsport Speedway or Bristol. Bristol being the home track. Atlanta just being a cool place, kind of worn out and old school and I enjoy racing there. So I would say those are my favorites.
AE: What do you do in the off-season when you are not racing?
TB: The off-season is normally kind of time for me to reload. We go 10 months straight without any off weekend from pretty much Valentine's Day to November. It is a lot of work and a lot of time. It is a full time job. So my wife and I would go on some trips with some friends. I try to gain some perspective because you can caught up in racing and think you have a bad day since you came in fifth. Whereas some people in the world don't have anything.
AE: Out the cars you own which is your favorite to drive?
TB: My Ford Raptor. That thing is fun to drive. I got it in 2011 after winning the 500. I never want to give it back.
To listen to the entire interview click here!
Related Posts
| | | |
| --- | --- | --- |
| | Print article | This entry was posted by Art Eddy III on June 12, 2013 at 5:10 am, and is filed under Sports. Follow any responses to this post through RSS 2.0. Both comments and pings are currently closed. |
Comments are closed.