Boomer Esiason Chats With MANjr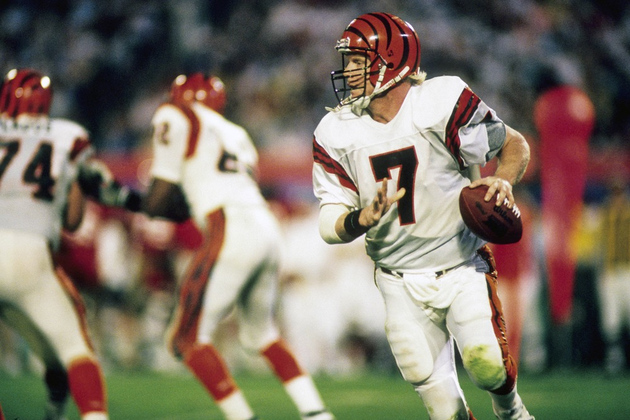 Boomer Esiason played 14 great years in the NFL. He played for a total of three teams, the Cincinnati Bengals, the New York Jets, and the Arizona Cardinals. In 1988 the four time Pro Bowler won the NFL MVP award. Even after retiring from the game, Esiason is still making an impact on the NFL.
Boomer can be seen during the football season on CBS breaking down the game. He also is on the radio as a color commentator for Monday Night Football. He even has a morning show on a New York sports radio station called "The Boomer and Carton show."
Yet if you ask Boomer what he is most proud of, he would probably say all the work he does through his organization, The Boomer Esiason Foundation. The foundation looks to support and improve the lives of those who have Cystic Fibrosis. His son, Gunnar was diagnosed with Cystic Fibrosis in 1993. Boomer used his popularity to raise awareness for the disease to not only help his son, but other children who have CF.
I had the great pleasure of talking with Boomer about his foundation, his time in the NFL, and more.
Art Eddy: You played 14 years in the NFL. What sticks out the most to you from your great career in the league?
Boomer Esiason: Well for me and I think most of the players will tell you the same thing. It is really the relationships that you develop when you play for different teams. Now for me I played in three different cities, in Arizona, New York, and Cincinnati. You develop these close relationships with coaches, players, and front office people. Those are the memories that you hold on to for a lifetime. Even when you are going through tough times Art. Whether it be a bad season with the Jets or Bengals or going to the playoffs and Super Bowl, or throwing for over 500 yards in a game with the Cardinals I always say the positive memories always outweigh the negative ones.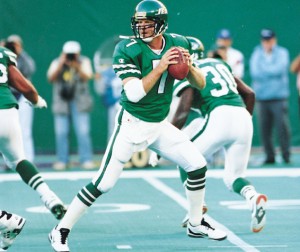 When you play 14 years there will be all sorts of emotions that you are dealing with. For me I always think back to all the great relationships that I was fortunate enough to make. It wasn't just for what the NFL did for me as a player, but as a person too. In my world now with broadcasting I don't think I would be doing what I am doing if it wasn't for the 14 years I spent in the NFL.
AE: From watching you on the field and now hearing you breakdown the game on TV and the radio I know that you have a team mindset, but winning the MVP in 1988 had to be up there as one of the all-time greatest moments for you right?
BE: It was, but it was also a little bit embarrassing. I used to say back then and I say it today. An MVP award in an ultimate team sport like football really doesn't make any sense.
I am a voter for the MVP award now that the AP gives out. I take that vote pretty seriously. This year it happened to be Peyton Manning. He would be the first to tell you that he wasn't able to accomplish the things in his five MVP seasons without the teammates and coaches he goes to work with every day. That is how I felt when I won my MVP. While it is certainly displayed proudly in my home I will tell you that I owe a lot to the players and coaches in 1988 when I did win that award.
AE: Not that many people get a chance to play quarterback in the NFL. I think the role of the quarterback is one of the hardest positions in all of sports. As a fan of the league can you walk me through what you experienced as a quarterback?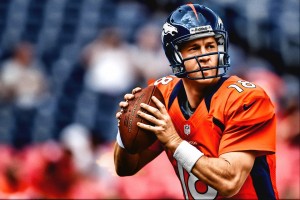 BE: It is an amazing responsibility. I take the upper echelon of the quarterbacks today like (Tom) Brady, Manning, (Drew) Brees, (Aaron) Rodgers, and (Ben) Roethlisberger. They are on a different plane than the bottom half of the league.
The reason that they are on that plane is that they not only understand how the game is played on the field, but how to carry themselves in the locker rooms and in the meeting rooms. Not only do the put accountability on their shoulders, but they hold their teammates accountable. They do that by more with their actions than words.
When the team wasn't doing well the last thing that my team wanted to hear from was me. So I would go out and practice harder. I would try and challenge players on the practice field. Hopefully that would turn up on Sunday or Monday night when we were playing into a winning football game.
I always say that about quarterbacks. It is certainly about how you can communicate verbally, but it is really your ability to communicate through your actions. That is when you don't need words to describe what you are doing or what you are trying to get done. Other players will react to that. That to me is the genius of one Peyton Manning.
AE: During your career when the game was on the line did you have a go to guy that you knew would deliver?
BE: Well yeah you do. It is somebody that you really, really feel comfortable with. For me I had a couple of those guys. It was Cris Collinsworth and Rodney Holman back in my days in Cincinnati. When I was with the Jets it was with Rob Moore. Fortunately for me I had Rob Moore as a receiver in Arizona too.
When I went back to Cincinnati there were younger players that I really didn't know that much about. I knew that I could have a profound impact on their careers by doing what I just said. I would show them how to prepare and how to use that preparation on the field and turn it into a success.
When I think back about my last year in the NFL I had a running back who was a rookie that year. He had a phenomenal rookie year. That rookie was Corey Dillon. I think about how Corey Dillon became a great running back in the NFL. I hope in some small way that I helped him become a success in the NFL. After I retired Corey continued to have a great career and even won a Super Bowl with the New England Patriots.
That is what I think quarterbacks are known for by helping players become great. Hopefully when people think of me that they will say that I had an impact on their career to make them successful in the league.
AE: During football season people can see and hear you pretty much everywhere. You are on TV, the radio for Monday night football, and you have a morning talk show on the radio as well. You do a great job breaking down the game. With that you are very busy during the NFL season. I do have to say though you must have great time management skills.
BE: (Both laugh) I guess so, but I love the fact that people feel good about me to employ me in such high profile jobs. I will never ever take for granted the opportunity to speak about something that I love so much. The NFL has been great to me.
Covering the NFL is the ultimate for a football junkie like myself. I don't have to coach. I don't have to be a general manager. I don't have to make those fourth and one decisions that a (Bill) Belichick or a Tom Coughlin have to make.  Then on Sunday or Monday I can sit in judgment about those decisions and be able to sleep at night and not worry about it with any repercussions.  (Both laugh.)
AE: Your son Gunnar was diagnosed with Cystic Fibrosis in 1993. You and the many great people at your foundation have done so much for the CF community. For those who don't know too much about your foundation can you give an overview?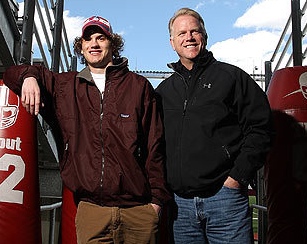 BE: I was actually exposed to Cystic Fibrosis in 1989 by Frank Deford. Frank was speaking at a banquet that I was at. He had lost his daughter Alex to Cystic Fibrosis. Cystic Fibrosis is a genetically transmitted disease. My wife and I didn't know that we carried the recessive gene trait.
The disease itself involves the lungs and the digestive system. The lungs are marked with bacterial infection. Saying all of that when Gunnar was diagnosed in 1993 at the age of two when I became the quarterback of the Jets the second phone call I made was to Frank Deford. He was just as shocked as I was that destiny and irony had found our family when Gunnar was diagnosed with the disease that ultimately killed his daughter.
He said that this was God's way of saying that we have an opportunity here. To use your celebrity in New York to raise funds and awareness for Cystic Fibrosis. I have never ever not taken that piece of advice as seriously as it deserved to be taken. I feel really strong after 20 years of watching Gunnar grow up and graduate from Boston College that we have taken Frank's ideas and trying to create a world for Cystic Fibrosis patients to live a healthy, normal, and productive life as any child in the world.
I can say that watching Gunnar fight this disease every day that I am most proud as a dad of what he has already accomplished in his young life. I want him to become a father himself. As any father can attest to that there is nothing more fulfilling and greater than becoming a father. So for me we are trying to make a difference in the lives of Cystic Fibrosis patients. Gunnar is a prime example of that. I think we have accomplished our mission, but the ultimate goal is to cure this disease but we are still a ways from that.
AE: How has research and medicine evolved since the early 1990s?
BE: Well a number of things have come to fruition. First and foremost if people want to find out more about Cystic Fibrosis they can go to our website at Esiason.org or they can go to the National Cystic Fibrosis Foundation website, which is CFF.org.
In the past 20 years we have raised the median age. The average lifespan with Cystic Fibrosis was from 19 to now 37. Which in a greater understanding of the disease there are better ways to handle the symptoms of the disease. Lung transplants are more commonplace than ever before. We ask people and beg people to become organ donors because you never know when you can have the positive impact on somebody else's life. You can give them a second chance at life, which I have seen and lived through many times over in the world of Cystic Fibrosis.
The drug from the patient to the test tube has been fast and furious over the last 20 years. There have been at least six or seven new therapies that Gunnar and all Cystic Fibrosis patients have been benefitting from. There is a better understanding of the disease, the symptoms of the disease, and the drug delivery in terms of the types of infections these kids are dealing with.
Even though it is not easy living with Cystic Fibrosis as Gunnar has proven and many young adults like him have proven it is an attitude that you have to have. You got to be positive. You got to be realistic. You got to be aggressive in dealing with the disease. That is one of the reasons that we are seeing kids live a lot longer. We are seeing female CF patients being able to deliver their own babies and becoming moms themselves. It is really becoming quite the story.
We have a number of CF patients that run in marathons. The story of triumph in the world of Cystic Fibrosis has really been nothing short of a miracle thus far. We continue to see miracles each and every day. We are going to continue to fund the research, college scholarships, lung transplant grants, and every other aspect of Cystic Fibrosis that we can improve we will continue to do.
Related Posts
| | | |
| --- | --- | --- |
| | Print article | This entry was posted by Art Eddy III on May 5, 2014 at 10:27 am, and is filed under Sports. Follow any responses to this post through RSS 2.0. Both comments and pings are currently closed. |
Comments are closed.