ESPN's Herm Edwards Tells MANjr. who he thinks will be playing in the Super Bowl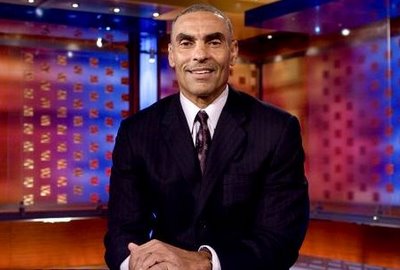 Fans of the NFL or ESPN know who Herman Edwards is. The former NFL player that made a name for himself with the Philadelphia Eagles also was a head coach for the New York Jets and Kansas City Chiefs. Edwards was the player who recovered a fumble by Giants quarterback Joe Pisarcik on a play that has been nicknamed "The Miracle at the Meadowlands."
You can now catch Herm breaking down the NFL as an analyst for ESPN. Not only does Edwards still stay close to his passion by talking football, but he goes around the country to speak in front of large crowds. Whether he is speaking on a college campus or at a business convention, when he speaks people listen.
I had the great pleasure of talking with Herm about his time in the NFL as a player and as a head coach. Since I am a football fan I did ask him to breakdown this upcoming NFL season and tell me who he thought will be playing in the Super Bowl.
Art Eddy: First off let's talk some NFL for this upcoming season. You do an outstanding job on ESPN. You are informative, funny, and to the point. So which teams do you think will have a great season?
Herman Edwards: This is a quarterback driven league. Yet I say that with some hesitation in the fact that this preseason right now there are a lot of injuries. There are some critical injuries too. Some guys that are going to lose some time especially when you think about Denver. They were the favorite going in this year to go to the Super Bowl.
The have lost some key components.  When you lose (Von) Miller and (Elvis) Dumervil due to the fact that you didn't get a contract done right and the other kid didn't pass the drug test. Well now that is 30 sacks out of the building. That is not good. How do you replace that? Now their schedule will say that if they can get past the first six weeks, then they can make a run like they did last year. You still have to look at them as one of the favorites in the AFC.
New England I think is always going to be in the mix. I think that they are still good enough to win the AFC East. In the AFC North I think the favorite is Cincinnati. You look at the NFC West it is going to be between San Francisco and Seattle. I think Seattle is the team in the end that will be playing Denver in the Super Bowl.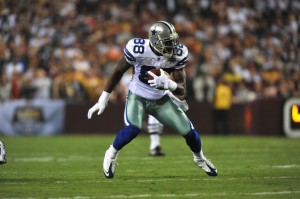 AE: Which team or player do you think will look to have a breakout year?
HE: I think Dez Bryant is maturing as a wide receiver. I really like him. I think he is going to have an outstanding year. I think the rookie down in Arizona, Tyrann Mathieu, I think he is going to make a bunch of big plays. We are going to be talking about him a lot on "SportsCenter." He has instincts that you can't teach. I like that in the guy. I watched him in college. I think that he is a guy that is always around the ball who can do something. It seems like every preseason game it is like he just made another play. If he can keep his life in order off the field he is going to be a very good football player.
A lot of people are saying that Andrew Luck will be having a down year. I don't know that. I watched Andrew Luck in college. It didn't surprise me that he had seven fourth quarter comebacks. It is going to be a fun year. There is always going to be a guy that explodes that comes on the scene. So we will just have to wait and see.
AE: Many Dallas Cowboys fans and fantasy football owners hope that you are right in that Dez Bryant will have a breakout year.
HE: Yea, especially for fantasy fans. They love touchdowns. (Laughs)
AE: I know your mantra is "Next man up." There seems to be a lot of injuries this preseason. Which teams are going to feel the biggest brunt of the injury bug this year?
HE: Obviously you have to look at Denver. That is a team that is like whoa. You lost Miller and you already lost Dumervil. That is a problem. I think that when you look at the Pittsburgh Steelers they lost Le'Veon Bell. They were counting on him to run the football. Now he is gone along with Mike Wallace.
You look at the players on free agency that leave and you look at the players that go hurt and the offensive line in Pittsburgh that really struggled. Now you have the same scenario with Ben (Roethlisberger). He is running around trying to protect himself. When I watched Ben play against Washington it looked like the Ben of old. Running around trying to make plays. The offense didn't look too different to me.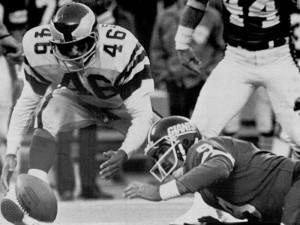 AE: This is where guys on the bench have their moment to step up. That happened to you as a player when you started out your career with the Philadelphia Eagles. What was it like to finally reach the top of the football mountain and be a starter in the NFL?
HE: When you are young you have these wild dreams. I think kids should always dream. Especially when I speak to young people I tell them we are very goal orientated. Your parents or your teachers say write down your goals. I tell them this. It is more than just writing down your goals. A goal without a plan is a wish.
You have to have a plan. When people tell me their goals, I say okay what is your plan? I had a plan to learn and to dedicate myself and to sacrifice myself. To make sure that if I didn't make it as a pro football player I didn't have any excuse. We sometimes reflect on our lives and use excuses for some of the situations we put ourselves in or not achieving the goal that we set out. You have to understand your talent level. Then you have to understand your passion.
I believe God gives everyone a talent. A lot of people are in search of that and they struggle. Then there is work involved in it and there is sacrifice. There is an old saying at the barbershop, 'Everyone wants to go to Heaven, but no one wants to die.'  What are you willing to sacrifice to achieve that goal?
When I was young there were things that I was willing to sacrifice that other people didn't want to do to be an athlete. So when I made it I was like okay how do you stay here? It is the same old story. You got to work. You have to roll up your sleeves and go to work. You have to want to get better. You can't live on your laurels. There is a guy out there that is working just as hard. He is trying to take your job.
That is the one thing about pro football. You don't graduate. Not like college. You have a graduating class in high school. You have a graduating class in college. In pro football you have to take somebody's job. I think sometimes we don't realize that the hardest competition is within. You have to learn how to compete against yourself. See I never competed against an opponent. I played right corner for ten years. It didn't matter who the wide receiver was. It was about me competing against me. How much better can I compete against myself? That was always the driving force for me.
AE: I guess you already answered my next question which was, who was the toughest receiver you had to guard in the NFL? I guess you were your toughest challenge.
HE: People always ask that question. I say this. If you can play at the professional level, you are pretty good. You are one of the best players in the world. If you are a professional athlete you are the best. You are pretty good.
AE: You also moved up the ranks in coaching. You started in college and worked your way into the NFL. When did you realize you wanted to become a head coach?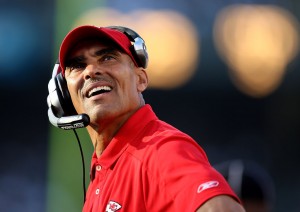 HE: I never wanted to become a head coach. (Laughs.)
AE: Really?
HE: No, no. Not at all. That was never my goal to be quite honest. My goal after playing was to give back to football. It had given so much to me. I first got in as a scout. I think that helped me to become a coach. I was a scout for the Kansas City Chiefs for two years. I first went to college and coached at San Jose State. Then I left the college job and went to the Kansas City Chiefs and worked with Marty (Schottenheimer), Tony (Dungy), and Bill Cowher. There I learned how to scout.
I think that is so important about how you can learn about players when you scout. How to view players and how to evaluate players. You learn how to evaluate different positions, which I thought was great. Then from there I became a secondary coach. I was satisfied being a secondary coach. I had a group of guys that I enjoy coaching. Then I went with Tony to Tampa to be an assistant coach. Then after two years being there I got calls about becoming a coordinator. Tony said that I didn't need to become a coordinator. You just sit here and be an assistant head coach and one day you will be head coach.
I said I didn't want to be a head coach, but he said you will be a head coach. For Paul Tagliabue I was on his list. He gave me the privilege to some owner meetings with the GM's and head coaches. It was almost like an interview process. I was the only assistant head coach that was at those meetings. I actually spoke at one of them. They were grooming me to be a head coach. I was on the fast track, but really had no intentions.
I had no ambitions of being a head coach. Why would you want that job? It is a thankless job. So sure enough these calls started coming in. I had five interviews. My first interview was with New York. A few days after the interview the Jets call me and say you need to come back up here. I asked why and they said if I wanted the job it was mine. So I said okay. (Laughs) You just sit there and say whoa. It was a lot of fun. I really appreciated the opportunity Woody Johnson gave me to become a head coach.
Related Posts
| | | |
| --- | --- | --- |
| | Print article | This entry was posted by Art Eddy III on September 3, 2013 at 12:03 pm, and is filed under Sports. Follow any responses to this post through RSS 2.0. Both comments and pings are currently closed. |
Comments are closed.