Posts tagged
NFL


NFL star and CBS analyst Tony Gonzalez is teaming up with Marriott Rewards to give back to the most passionate NFL fans across the country with every fan's dream opportunity.
Now through December 2, 2014, football fans are invited to share their passion for the NFL through 30-sec videos or captioned photos that show an unrivaled spirit for the game and their favorite player. Six lucky fans who can prove they are among the "Most Passionate" will receive the ultimate NFL experience hosted by Gonzalez – an exclusive trip for two to Phoenix, tickets to the Pro Bowl, and the opportunity to hang with their favorite player on January 24, the day before the game.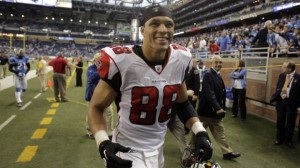 "One of my best memories when I was younger was having Merlin Olsen come out to my Pop Warner practice field and come talk to us, and drop knowledge, and the things that he told me back then like, work hard, follow your dreams, stuck with me for the rest of my life," said Gonzalez. "The 'Marriott Rewards Most Passionate Fan' contest is the same type of thing – to be able to hang out with your hero, it's a dream come true and I encourage everybody to go out there and make it happen."
A voting period for the top 100 entries, which is open to the public, lasts from Dec. 2 – 19. To enter the contest and read the official rules, visit MarriottRewardsMostPassionateFan.com.